Introduction
An ultrasonic cavitation machine is a great way to remove your stubborn fat and sculpt your body. It's not as risky and expensive as liposuction. Best of all, they are proven effective at fat reduction and skin tightening. And you can use them from the comfort of your home.
One study conducted by three medical PhDs suggested that the group using ultrasonic cavitation and diet presented better improvement than the diet-only group in suprailiac skinfold and waist circumference. Professional ultrasound cavitation is one effective and safe method to reduce abdominal fat thickness and help abdominal contouring [1].
In addition to abdominal fat removal, ultrasound cavitation treatment also has an amazing performance on thigh shaping. According to a credible clinical study, " At 16 weeks, thigh circumference improved, on average, 2.8 cm (P = .0059) at the midline" and 90% of subjects who were treated with ultrasound showed satisfaction with the results [2].
In this article, you will discover the 10 best cavitation machines in 2022 that melt body fat and improve skin elasticity. If you're sceptical about the effectiveness of cavitation for fat loss, we also explore how ultrasonic liposuction works and whether it delivers the results it promises.
Our Picks for The Best Lipo Cavitation Machines for Home Use 2022:
In this article,
First, let's explore what cavitation machines are and how they work to help you shed fat, slim down, and tone your body.
What is an Ultrasonic Cavitation Machine?
A cavitation machine, also regarded as a slimming and beautifying machine, is a body sculpting machine that uses ultrasound waves to break down fat deposits, making it easy for the body to shed unwanted fat. They usually make low frequencies for areas with sensitive skin but high intensities for those with thicker skin [4] [5].
It emits ultrasonic waves that melt adipose tissue and apply pressure on the fat cells. Air bubbles are formed within the fat cells and cause the cells to burst and release the liquefied fat into the body.
The lymphatic system absorbs the fat and converts it into waste, which the liver eliminates from the body. The result is a leaner figure with reduced fat mass.
Related:
Other Scientific Trials of Ultrasonic Cavitation Therapy for Body Sculpting & Contouring
In a review about non-invasive fat reduction in 2015, Kennedy J. et al found that there were four main non-invasive techniques to reduce localized subcutaneous adipose tissue and high-density focused ultrasound (HIFU) is one of the important methods. A total of 31 studies were identified in the review with 843 out of 2937 patients receiving HIFU therapy for body contouring or fat reduction. Most patients experienced obvious and satisfying improvements with no serious adverse reactions. The circumference of local fat tissue was decreased by 2 centimeters or more across the hips, abdomen, and thighs [7].
In another study made by Hong et al., adults with an abdominal subcutaneous fat tissue thickness of more than 2.5 cm and a body mass index of less than 30 kg/m2 were subject to the HIFU therapy at energy levels of 150 J/cm2 (1st session) and 135 J/cm2 (2nd session). The research results showed a significant fat reduction of 3.43 cm in mean waist circumference [8].
Overall, fat ultrasound cavitation is a safe and effective therapy for fat removal or body sculpting without any obvious adverse reactions.
Types of Fat Cavitation Machine
Although all cavitation devices utilize ultrasound waves to cause fat loss, there are different types of cavitation slimming systems on the market. Based on the number of wands or heads each machine has, there are 3 in 1, 4 in 1, 5 in 1, 7 in 1 personal cavitation machines, and so on.
3 in 1 ultrasonic weight loss machines come with an ultrasound cavitation wand, a multi-polar radio frequency (RF) wand, and a tri-polar RF wand.
4 in 1 ultrasonic cavitation sliming machines offer the same devices as a 3-in-1 model, plus a bipolar or tripolar radiofrequency instrument to treat lines and wrinkles on the face.
5 in 1 cavitation machine comes with the same devices as a 4-in-1 model and includes a small tripolar radiofrequency instrument to help treat facial skin, especially around the eyes.
7 in 1 ultrasonic cavitation machines provide the same devices as a 5-in-1 model, plus a red light instrument to smooth the skin.
Beyond this, more advanced machines come equipped with infrared (IR) wands and electronic wands. Here is an overview of what each type of wand does:
Radio Frequency (RF) nodes work on the skin. The radio frequencies they emit heat the dermis layer of the skin, promoting collagen regeneration.
Multi-polar RF probes penetrate through thick skin and reduce cellulite. Tripolar RF wands deliver a gentle treatment for the eye area, while bipolar RF heads lift the skin by getting rid of wrinkles and saggy skin. Vacuum RF wands help dissolve fats, promote drainage, and tighten skin.
Infrared (IR) heads use infrared light to warm up tissues, melt fat, increase blood circulation, and promote healing. Finally, Electronic Muscle Stimulator (EMS) wands use electrical impulses to contract muscles and tone the body.
Benefits of Professional Ultrasonic Cavitation Machine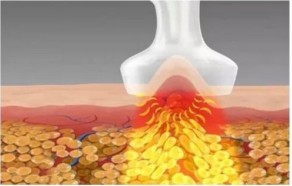 Ultrasound cavitation machines come with plenty of fitness and cosmetic benefits. In contrast to the sham-treated control group, ultrasound cavitation is one of the promising and safe technology for localized fat reduction, according to the study by Daniele Bani et al. [3]. If you're aiming for a leaner figure and rejuvenated skin, here are some specific benefits you can expect to reap from ultrasound cavitation and radio frequency (RF) therapy:
Pain-free & Effortless Fat Loss
The ultrasound fat machine may feel like a soothing massage during a lipo cavitation session. While some people report tingling or sensitivity, it is a painless and harmless process. Tissues, cells, and organs in the immediate vicinity are all far from getting any painful effects. In addition, it can get rid of persistent fat deposits without much effort. All you have to do is massage the area as instructed and maintain a healthy lifestyle.
Skin Tightening & Body Sculpting
Cavitation machines come with RF wands that promote collagen regeneration and restore skin elasticity. If you're looking for a way to get rid of wrinkles and saggy skin after weight loss, look no further. By removing fat deposits that cause bulges such as pot bellies and love handles, ultrasonic cavitation creates a slimmer figure. The greatest thing is that you can decide exactly where to reduce the inches.
Cellulite Reduction & Remover
An ultrasonic cavitation machine works by liquifying fat deposits that leave your body through the waste system. In addition to reducing the appearance of cellulite and stretch marks, ultrasound also stimulates tissue and collagen regeneration. It also helps to shape your overall physique.
Non-Surgical, No Downtime
There is no downtime when it comes to cavitation machine treatment. This is because there is no surgery, anaesthesia, or any kind of recovery period. Well, you can resume your routine immediately after this beautiful treatment.
Effective and Easy Way Out
When diet and exercise fail to impress you, ultrasonic fat cavitation therapy comes to the rescue. It is a viable option. You can sculpt your physique, eliminate cellulite, and feel confident in your skin. To gain the best outcomes out of the therapy, all you need to do is increase your water intake and eat well. Also, continue a modest exercise regimen.
Related: Can ultrasonic cavitation cause cancer (side effects/risks)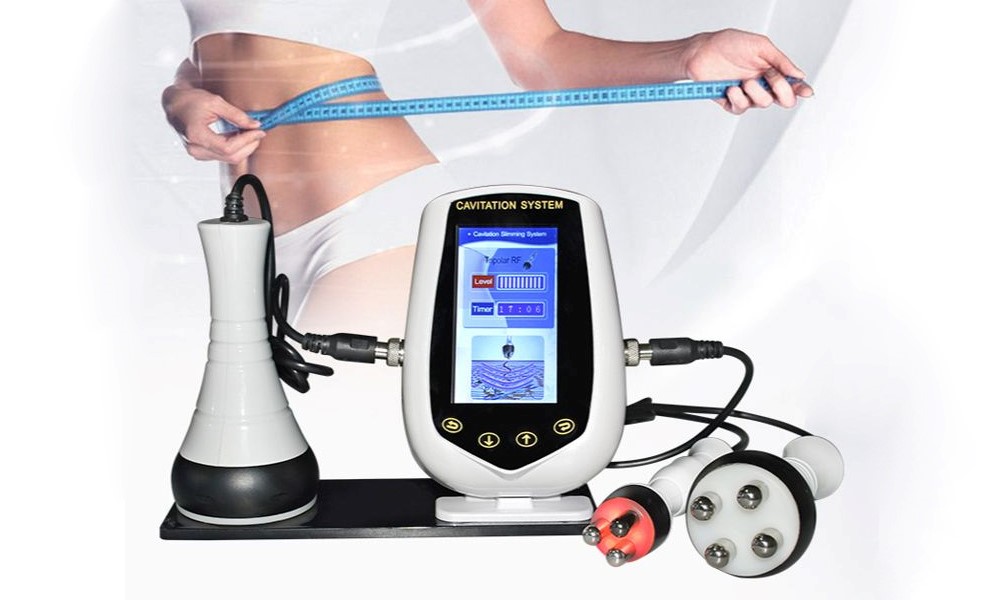 10 Best Professional Ultrasonic Cavitation Machines for Home Use – Body Sculpting at Home
1. Best Value: Ultrasound Cavitation Machine for Body Sculpting at Home
Voltage: Not Found
Radio Frequency: 40K HZ
Number of Probes: 3
Target Areas: Arms, Face, Belly, Waist, Hip, and Leg
Rating: 4.1 out of 5.0
This personal cavitation machine provides complete spa therapy. Besides being an ultrasound cavitation machine, it's a radio-frequency device for skin treatment and body slimming.
The cavitation head emits sound waves at 40 kHz. The frequency is strong enough to penetrate the skin and turn solid fat deposits into liquid form. You can count on it to sculpt your body and deliver the figure you have wanted for a long time.
The body sculpting device is also a radio-frequency beauty machine that does wonders for skins. Red photon, multipolar, and radiofrequency vacuum probes detoxify the body and improve skin elasticity. The three RF wands allow you to increase skin flexibility on different body parts, including the eyes.
In addition, it's recommended to use the body slimming machine once or twice a week, for 15 to 20 minutes each time. Overall, the high-quality fat loss machine at home comes at an affordable price and delivers fantastic value for money.
Pros
Affordable price
Increase skin elasticity
Portable design
Easy to use
Adjustable intensity
Fantastic results
Cons
2. Best Overall: FAZJEUNE Multifunctional Cavitation Slimming Machine for Body Beauty
Voltage: 110-240V
Power: 50W
Number of Probes: 3
Target Areas: Body, Skin, and Face
This cellulite cavitation machine achieves body massage and skin rejuvenation by focusing the message energy in the right place. Using effective and safe energy, the body machine can relax your muscles and body, boost skin elasticity, smooth facial wrinkles, relieve fatigue, and minimize pores, thus helping you always keep a perfect body figure.
Three beauty heads are equipped with this body sculpting machine. They are designed for different body parts and can be replaced at any time. The machine is very portable and easy to use, allowing you to enjoy your spa at the hotel, home, or office.
Moreover, the best cavitation fat machine comes with kind customer support. If you have any questions, you can freely contact the BeautyHuoLian team. They will help you solve the questions within 24 working hours.
What's in the Package
1 × Main device
1 × Quad-polar probe
1 × Tri-polar probe
1 × Body probe
1 × English manual
Pros
Simple to use
One-year after-sales guarantee
Easy to install and portable
Three replaceable beauty heads
Multiple effects
Cons
Some users complained that the machine was a little loud while working
3. Upgraded Version: Sextupole 9 in 1 Multifunctional Cavitation Machine for Body Massage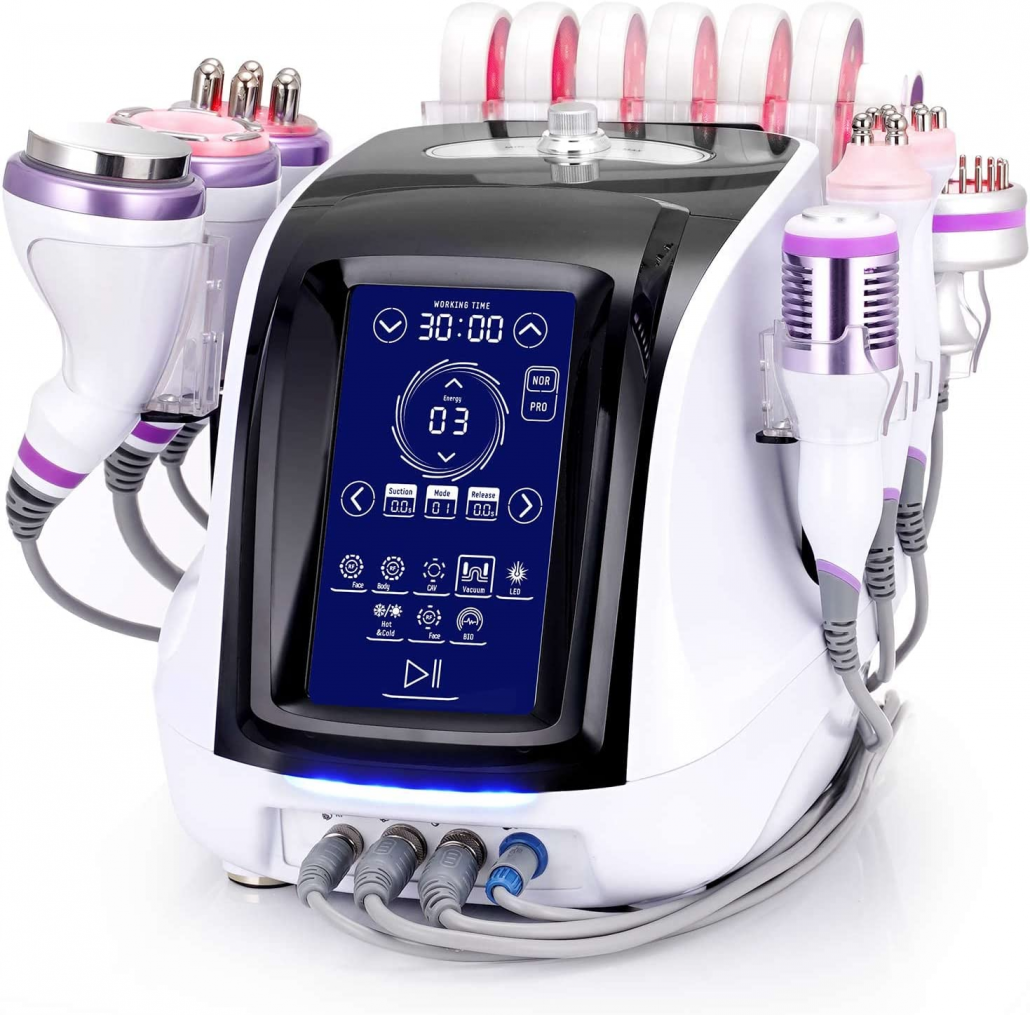 Radio Frequency: 40 kHz
Number of Probes: 9
Target Areas: Belly, Legs, Hip, Thigh, and Upper Arm Areas
Warranty: One Year
Rating: 4.4 out of 5.0
This body slimming machine comes with a 2-polar probe for eyes and 6-polar probes for face and body to guarantee efficiency and effectiveness. The adjustable strength and intensity allow you to use the beautifying device on most of the body parts.
The body sculpting massage machine is also simple to operate. The equipped English color display screen makes it easy for you to adjust the mode or time. It's very convenient to use and takes little time to recover, with no interruptions in your daily life and work.
Moreover, the device is an upgraded version with an elegant and stylish appearance. The version 2.0 flat handle is more effective and powerful than version 1.0, which won't vibrate or heat up while working.
What is in the Package
1 × Body sculpting cavitation machine
1 × 6-polar vacuum handle
1 × 6-polar 3D smart body handle
1 × 6-polar face handle
1 × Bipolar 3D smart handle
1 × Flat handle
1 × Hot and cold hammer
1 × Microcurrent handle
8 × Body facial pads
Pros
9 in 1 professional cavitation machine for home use
Adjustable intensity for wide use
Upgraded version 
Safe and effective
Easy to use
Skin firming and cellulite removal
Cons
Better to use with gels, but no cavitation gels are provided
Also Read: Best Cavitation Gels
4. Best 6 in 1: Lolicute 6 in 1 Professional Lipo Cavitation Machine for Body Sculpting at Home
Radio Frequency: 40 kHz
Number of Probes: 6
Target Areas: Neck, Arms, Back, Thighs, Buttocks, and Knees
Guarantee: One Year
Rating: 5.0 out of 5.0
You don't have to break the bank to get an effective ultrasonic cavitation machine. This Lolicute 6 in 1 lipo cavitation machine is reasonably priced but powerful and multifunctional.
The professional ultrasonic cavitation probe puts out powerful 40 kHz ultrasonic waves that penetrate deep and break down tough fat layers buried deep in the subcutaneous layer. This dissolves the adipose tissues to leave your body leaner and toned.
Fat burning for weight loss is not the only thing this personal cavitation machine does. It's also a radiofrequency cosmetic machine with a tri-polar head for the sensitive skin on the face and a multipolar RF head for the body. The radiofrequency waves stimulate collagen regeneration, leaving skin with a healthy and youthful aura. It can also rapidly remove fatigue and relieve stress.
What is in the Package
1 × Multipolar RF head for body
1 × Vacuum bipolar RF head
1 × 40 kHz cavitation head
1 × Tripolar RF head for face and eyes around
1 × Quadrupolar RF head for face and body
8 × Positioning plates
1 × Power cord
Pros
6-in-1 fat removal cavitation machine
Strong sonic frequency
Great value for money
Skin lifting probes
Pain relief and decompression
Cons
5. Best for Comfort: IXAER 7 in 1 Body Shaper Machine for Body Slimming
Voltage: 110-220V
Number of probes: 7
Target Areas: Virtually Any Body Parts
Coming with 7 different probes, the body sculpting machine can break down your fat cells into a liquid with no influence on the surrounding tissues. No discomfort will be found during and after the treatment,
Thanks to the complete paddles and heads, you can almost use the body slimming machine on any body parts with extra weight.
Besides, according to the seller, visible results will be shown only after half a month, rendering you a wonderful weight loss experience.
Pros
Easy to use
Visible effects after half a month
Instructions included
Cons
6. Best for Anti-Ageing: Enshey 8 in 1 Anti-Aging Body Machine for Fat Burning and Removal
Voltage: 110-240V
Power: 50VA
Number of Probes: 8
Target Areas: Arms, Waist, Back, Thighs, Legs, Buttocks, and Abdominal Muscles
This Enshey fat burning machine can dissolve fat and stimulate lymphatic drainage while not causing uneven skin. It helps firm your skin and enhance skin elasticity, letting you reshape your body figure.
Besides, this beauty machine can also be used for pain relief and decompression. For example, it's one of the best choices for people suffering from sciatica or joint pain. The soothing effect brought by the cold hammer probe stimulates the regular mechanical aerobic exercise of your skin tissues and helps you relieve fatigue and stress in a short time.
In addition, this device also comes with a red light probe that works for anti-aging therapy. It can promote circulation and metabolism, activate cells, and repair the elastic fibers in tissues to keep the skin tight and firm.
Pros
8 probes provided
High-quality and effective cavitation weight loss machine
Good for curing sensitive skin
Various functions
Cons
Only one set of body machine included in the package (no manual)
7. Multiple Functions: ASWF 9 in 1 Multifunctional Body Cavitation Machine for Fat Reduction
Voltage: Not Found
Radio Frequency: 40K HZ
Number of Probes: 9
Target Areas: Arms, Face, Waist, Back, Thighs, Legs, Abdominal, and Buttocks
Rating: 4.4 out of 5.0
Equipped with a 7-inch touchscreen with all parameter information, the ASWF 9 in 1 cavitation slimming machine is one of the most multifunctional cavitation machines on the list. If you are looking for an easy-to-operate and safe cavitation RF device for home skin care at your convenience, you can't go wrong here.
Adopting the newest system, the body sculpting machine can well relax your back muscles and meet your demand for a slimming figure. Like the other cavitation machines on this list, it puts ultrasound waves at 40 kHz. The frequency is powerful enough to liquefy fat deposits yet safe enough to use at home. The eight different parts and five heads equipped with the best ultrasonic cavitation machine ensure the effectiveness and efficiency of the treatment.
Besides, this fat-burning and beauty machine is also convenient to use. It takes no time to recover and won't affect your daily work and life.
Pros
9 in 1 cavitation system for body sculpting
Good for home spa and beauty salon
Easy to use
Safe and efficient
Newest system
Money-back guarantee
Wide application
Instructions provided
Cons
8. Best for Strong Power: Funwill 9 in 1 Body Message Cavitation Machine for Home Use
Power: 200 W
Radio Frequency: 1-5 MHZ
Number of Probes: 9
Target Areas: Face, Limbs, Body, Buttocks, etc.
Guarantee: Half Year
Rating: 4.0 out of 5.0
Funwill 9 in 1 cavitation machine impresses you with amazing benefits: fat dissolution, accelerated blood circulation, improved skin elasticity and firming, as well as muscle relaxation.
Advanced technologies are adopted to make this quality body contouring and face lifting machine, including innovative three-dimensional conversion technology, pressure technology, and microcomputer chip-controlled roller axis.
The vacuum body sculpting machine heads waves at 1-5 MHZ frequency to exhaust free fatty acids and integrated glycerol through hepatoenteral circulation. The heat and resulting vibration will dislodge stubborn adipose reserves. Once you shed the excess fat, the body and face RF wands come in handy to tighten and tone the loose skin of your body parts.
In addition, nine types of handles and an optimized interface are provided to enhance the functions. Overall, this ultrasound cavitation machine is one of the best gifts for people who pursue body sculpting.
What is in the Package
1 × Body cavitation machine
1 × Unoisetion cavitation 2.0 handle
1 × Sextupole RF handle
1 × 3-pole RF handle
1 × Quadrupole RF handle
1 × Vacuum & Bipolar RF head
1 × Hot cold hammer
1 × Microcurrent & Photon
6 × Big led laser paddles
2 × Small led laser paddles
1 × Power cord
Pros
Advanced technology
Amazing body shaping and slimming
Effective body skin care
Powerful 9-in-1 vacuum body shaping massager
Skin tightening and face lifting
Cons
9. Best Budget: YUKUI 3 in 1 Cavitation Machine for Body Sculpting at Home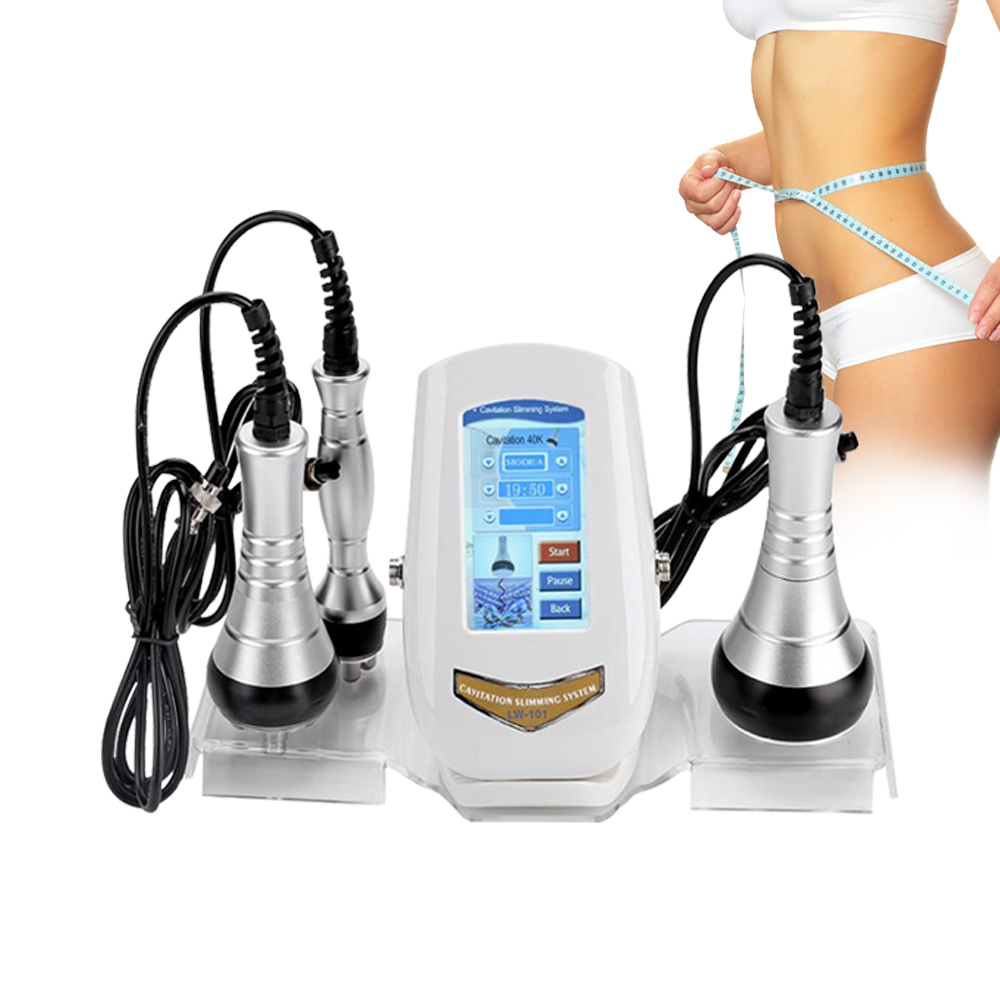 Radio Frequency: 40KHZ ultrasonic RF
Number of probes: 3
Target areas: Face, Arm, Waist, Leg, etc.
This body sculpting machine is the most affordable device on our list. Even so, the machine doesn't compromise on quality. You can freely choose the targeted areas to realize the fastest therapeutic effect, such as the face, arm, neck, abdomen, and leg.
Using 40KHZ ultrasonic radio frequency, the cavitation machine helps you remove cellulite and eliminate oedema without any surgery or anaesthesia and achieve the effects of wrinkle firming, weight loss, skin tightening, and anti-aging. The ultrasonic sound wave can accelerate fat burning and improve body metabolism by impacting the fat cells inside the body.
Overall, it is a safe and effective ultrasonic weight loss machine that allows you to enjoy your treatment at home and realize body slimming and fat removal without worries.
Pros
Cheap price
Safe and effective
Various functions
CE-certified
Cons
The number of probes can be more
10. Best for Skin Improvement: OUWALD 9 in 1 Professional Ultrasonic Cavitation Machine for Home Use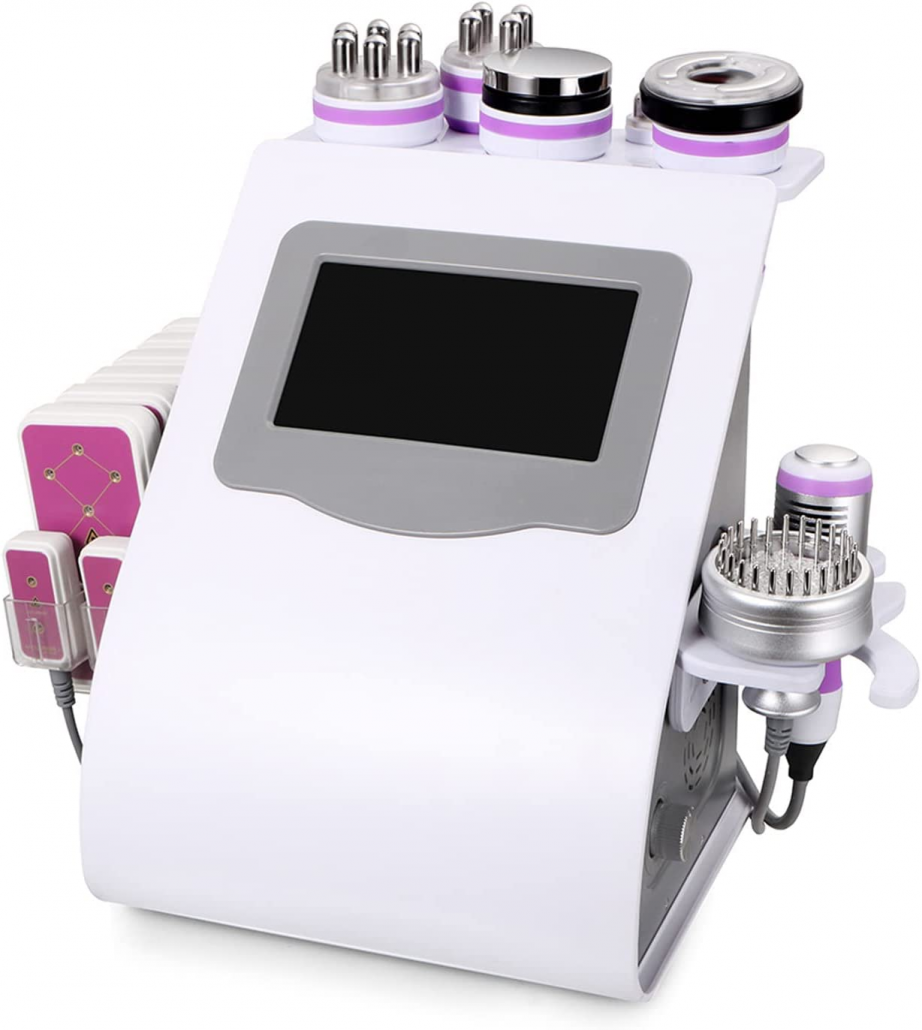 Radio Frequency: 40 kHz
Number of Probes: 9
Target Areas: Belly, Legs, Hip, Thigh, and Upper Arm Areas
Rating: 4.0 out of 5.0
Powerful and multifunctional, the OUWALD 9 in 1 cavitation machine for body sculpting and skin massage takes the top spot as the top-rated cavitation machine. It makes a great professional ultrasonic cavitation machine and is also easy to use at home.
The ultrasound cavitation wand sends sound waves at a 40K frequency. These waves travel deep into the skin and dislodge unwanted fat deposits, leaving you with a trimmed-down figure.
You will also be able to use the body slimming machine to treat loose and wrinkled skin. For this, the beautifying device comes with a multipolar radio frequency wand for the thicker skin on the body and a tripolar RF wand for the delicate skin of body parts. These wands improve skin elasticity by promoting collagen regeneration and effectively treat common skin problems, like dark circles, poor skin quality, lagging skin, eye bags, facial wrinkles, etc.
However, the professional cavitation machine can only be used on the belly, legs, hip, thigh, and upper arm areas. You cannot use the body sculpting device on the face, back, or chest. Despite that, it is still a perfect present for people pursuing beauty because of its amazing outcomes. You can have peace of mind that you're buying a high-quality device you will use for years to come.
Pros
9 in 1 professional ultrasonic beauty cavitation machine
Good for skin tightening and rejuvenation
Good for body management
Emits strong ultrasonic waves
Improves skin elasticity
Multifunctional body machine for home use and beauty salon spa
Cons
Better use with cavitation gels
No instructions
How to Use a Professional Ultrasonic Cavitation Machine
The beauty of cavitation liposuction is in its ease of use. You don't need special training to use it at home. You don't even have to pay a professional beautician for sessions. It's possible to treat yourself from the comfort of your home. Simply follow these steps:
Read the manual to learn how to use your cavitation machine efficiently and safely.
Apply a generous amount of ultrasound gel to the area you want to work on. The gel enables the wand to glide smoothly on the skin and helps the ultrasonic waves penetrate deep. It also protects your skin against burns.
Switch on the cavitation machine by pressing the power button.
Select the right mode and setting for the problem area you want to work on.
Use the appropriate node or head to massage the area in circular and sliding motions.
Related:
Before and After Results of Professional Cavitation Machine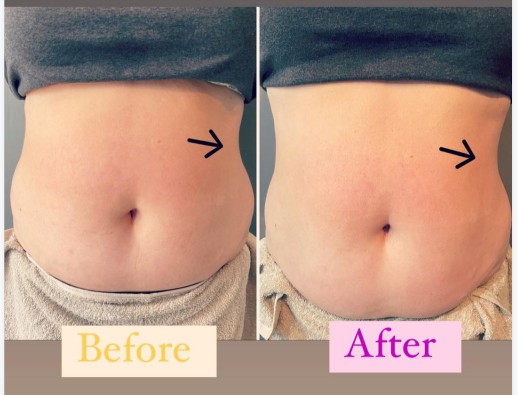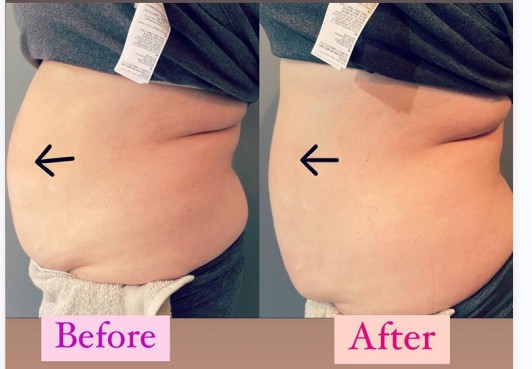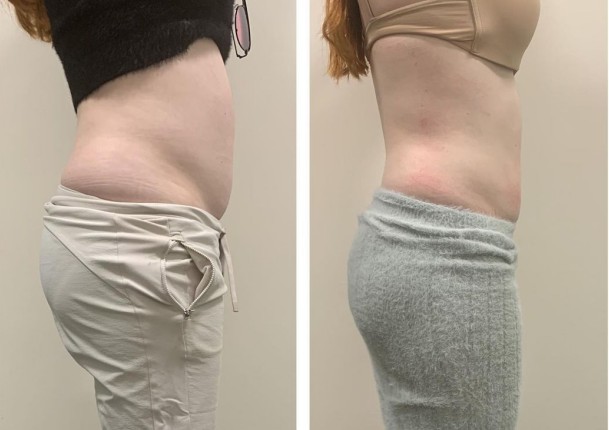 How to Maintain the Results after Cavitation Treatment
Professional ultrasonic cavitation is a helpful instrument for body contouring or slimming. If you don't know how to maintain the amazing results you've got, however, your efforts may end in vain.
Before we proceed, you should keep in mind one thing: clean and wipe out the probe of your cavitation machine with a damp cloth and put it away for next use.
As to keeping your body in shape after the treatment, here are some suggestions for you to follow:
Drink plenty of water every day, at least 3 to 4 liters or 8 glasses;
Insist on a healthy low-carb diet and avoid heavy and greasy food, alcohol, sugar, processed food, etc;
Develop a habit of exercising. Any type of exercise is helpful, such as yoga, cardio, and stretching;
Ensure enough sleep. 6 to 7 hours of sleep is good for keeping healthy;
Consult a doctor.
How to Choose the Best Cavitation Machine for Home Use
No two cavitation machines are alike. They differ in the number of probes attached, settings, features, price, size, and other things. To make choosing easier, here are the factors to have in mind as you select which body sculpting machine for home use:
Frequency
How effective a cavitation system is depends on the strength of the ultrasound waves it emits. Frequency is, therefore, one of the most important things to consider when buying a cavitation device. The stronger the sound waves, the more effective the machine.
So what is the best frequency for an ultrasonic cavitation machine? Look for a device that emits ultrasound frequencies at 25, 30, or 40 kHz. This kind of frequency is strong enough to penetrate deep into the skin and burst fat cells.
Features
Fat Cavitation machines range from simple single wand devices to complex machines with a host of attachments and settings. Some features of cavitation machines include RF heads, color displays, EMS massagers, and more. Check the following examples:
1. Intensity setting: Ultrasonic cavitation machines come with different energy intensities that can be adjusted.
2. Gel-based: Most machines use lubricating lotion or gel to help to slide easily into the skin. However, there are models available where no gel is used. You can select based on how conveniently you want to use the machine.
3. Massage: Some machines have more than one massage setting. Depending on your needs, select the one you like most.
4. Screen: These machines come with a display screen that shows all settings. While a few machines have smaller LCD screens, others have bigger screens. In general, bigger cavitation machines come with larger screens.
However, the more features a device has, the more expensive it is. It's, therefore, crucial to look for a device equipped with the features you need and don't mind paying for.
Treatment Duration
Different ultrasonic cavitation devices have different treatment lengths. It's a good idea to consider how long each session will take.
Additionally, find out how long the wait time in between treatments is. The treatment length and frequency can affect how long it will take to see the desired results.
Size
You can get a compact device or a large, powerful ultrasonic liposuction machine. A small machine is easy to store and carry around but not as powerful as a large machine.
Large machines are more powerful and have more complex settings to help you reach your body sculpting and skin toning goals. However, they take up more storage space, and you can't easily move them around.
Multiple Settings
Different parts of the body require different treatments to achieve the desired results. A cavitation machine that allows you to choose from various intensity settings will enable you to work on different parts of the body. For example, some devices have massaging, kneading, and tapping nodes.
Safety Features
An ultrasound cavitation machine should come equipped with a host of safety features. Look for a device with an auto shut-off timer. Such a machine will go off automatically once the treatment duration is over.
Since cavitation machines release heat waves, they need a way to dissipate excess heat. A reliable heat-regulation system is also vital to prevent heat build-up.
Ease of Use
Cavitation devices require precision in their use. A well-written manual is essential to teach you how to operate the various knobs and settings. The manual should be comprehensive and written in clear, easy-to-understand language.
Certification and Warranty
For quality assurance, only choose a machine with a quality certification by a reputable organization. All the lipo cavitation machines here bear the CE certification. Warranty support is also vital as it gives you peace of mind that you're covered just in case you end up with a defective machine.
Related: Cavitation machine buying guide
Tips on Using an Ultrasonic Cavitation Machine at Home
Even when using the best professional cavitation machine, your results vary, depending on how you use the machine and what you do after the treatments. Here are some tips to help you make the most of your cavitation device and realize body sculpting.
For your first session, select a low power and intensity level. You can increase the power as your body gets used to the experience.
Be sure to exercise for about 30 minutes after each session.
Drink plenty of water before and after your treatment. Hydrating helps your body eliminate the loosened fat quickly.
Each healthy and nutrient-dense food. Steer clear of fatty foods and alcohol. Your liver is already working overtime to eliminate the dislodged fat.
Engage in moderate but regular and consistent exercise several times a week.
Consult a doctor if you have a chronic or skin condition, are on medication, or have other health concerns.
Related:
Frequently Asked Questions about Body Cavitation
1. Do Ultrasound Cavitation Machines Work?
Professional ultrasonic cavitation machines are scientifically proven to reduce fat deposits and slim down the body. Studies show that they can reduce the fat layer by 13% and slim down the waist by 2 to 4 cm [3]. They work effectively on fat melting and body slimming.
2. Who Can Use a Home Ultrasonic Cavitation Machine and Who May Not?
Although ultrasonic cavitation is a safe and effective way of body sculpting, not everyone is suitable for this treatment. Normally, cavitation machines are ideal and helpful for healthy people in hopes of losing 50 to 100 pounds in some focused areas.
But some people do need to avoid using a cavitation machine with caution, including women during pregnancy, breastfeeding, and menstruating and people with diseases like diabetes, cardiac diseases, hypertension, skin sensitivity to heat/light, skin cancer, epilepsy, fatty liver, etc. Besides, you can consult a doctor if you're not sure whether it's okay to use a cavitation machine.
3. How Does Ultrasonic Cavitation Work to Remove Cellulite?
Ultrasonic cavitation uses ultrasound waves to agitate and break down fat deposits. The liver then takes over and eliminates the liquefied fat.
4. How Often Can I Use My Cavitation Machine at Home?
Cavitation machines shouldn't be used daily. The typical frequency is three times per week. This gap allows enough time for the body to process the dislodged fatty substances and for the liver to eliminate them.
However, how often to use it also depends on the machine you're using. Be sure to check the manufacturer's recommendation on how many times to use your device per week.
5. How Long Does It Take to See Results from Ultrasonic Cavitation?
It usually takes 8 to 12 sessions to achieve the desired results. It takes the body this long to eliminate the excess fat deposits. On the positive side, you will start noticing a positive change after the third treatment.
6. How Long Do Ultrasonic Cavitation Results Last?
Although ultrasonic cavitation gets rid of fat permanently, you can still regain the deposits over time. It's essential to eat healthily and exercise regularly to prevent the fat from coming back.
7. How Safe are Ultrasonic Cavitation Machines?
Cavitation machines are generally safe to use. They don't cause scarring, pain, or bleeding. No downtime, as you will be able to walk, drive, and resume work right after a session.
As for side effects, you may experience some bruising or feel slightly unwell as the fat gets eliminated from your body, but this is only temporary. Besides, it may cause adverse reactions, including transient tenderness, oedema, and bruising. But overall, it's proved to be a safe and efficacious method for body contouring [6].
This isn't to say that ultrasonic cavitation at home is entirely risk-free. It's vital to observe the necessary safety precautions. For example, follow the instructions in the manual, apply the ultrasound gel, and stick to the specified treatment duration and spacing.
Conclusion
No matter how hard you exercise, some stubborn fat deposits refuse to budge. The good news is that you don't have to resort to invasive procedures like liposuction to get rid of stubborn bulges.
Cavitation machines are among the best inventions in body sculpting and skin tightening. They offer an easy way to dislodge stubborn fat deposits and get into your dream shape.
Now that we have presented the 10 best cavitation machines for home use, it's up to you to pick the right one for your needs and use it. You will start seeing positive changes after only a few sessions.
Adopt a healthy diet coupled with physical exercise to make the fat loss and skin toning benefits of cavitation treatments permanent.
References
Articles about professional ultrasound cavitation posted on LumBuy are supported by verified materials from academic journals and research papers to ensure accuracy and credibility.