Introduction
Mobility is improving day by day, and that is why electric mobility scooter companies aren't sleeping. Razor is one of the known brands producing some of the best kid and adult scooters. They are known internationally for reliability and performance.
Razor electric scooters with seats are some of the bestselling. They are unique in that you can drive while seated. Consequently, even older adults can use them with great comfort. In this guide, we are reviewing some of the top 4 electric razor scooters with seats.
In this article,
1. Razor EcoSmart Metro & SUP Electric Scooter – Powerful Motor
Top Speed: 18mph
Motor: 500W
Range: 12 miles
Battery: 36V
Payload: 220lbs
Weight: 65.3 lbs
Wheel size: 16'' Air filled
Charging Time: 12 hrs
Rating: 4.4/5
Nothing beats having a great electric scooter. Even more, one with a seat provides some of the best experiences. Razor EcoSmart Metro is a heavy-duty electric scooter that has a seat.
The comfortable padded seat has an anatomical design to contour with your back. Additionally, the hollow design at the center lets your body enjoy a free flow of air. Even when riding this scooter for long, there is no excessive sweating.
Apart from the seat, the broad bamboo deck is durable and sleek, creating a large platform for the rider's legs and guaranteed comfort. Besides, below the deck is where the battery is stationed, creating more stability.
The lead-acid battery delivers 36 volts and lasts for 40 minutes or 12 miles. Therefore, EcoSmart Metro is perfect for daily commuting and other functions.
If you have small luggage, this scooter has a large wire basket. With a weight capacity of 220 pounds, it can accommodate the rider and small loads.
Powering this electric scooter is a 500W motor with super high torque. Also, the scooter has a top speed of 18mph, while disc brakes ensure safety during the stoppage.
Pros
Large luggage basket
Reliable chain drive system
Shock absorbing pneumatic tires
Anatomical seat
Cons
2. Razor E200 Electric Scooter with Seat – Best Priced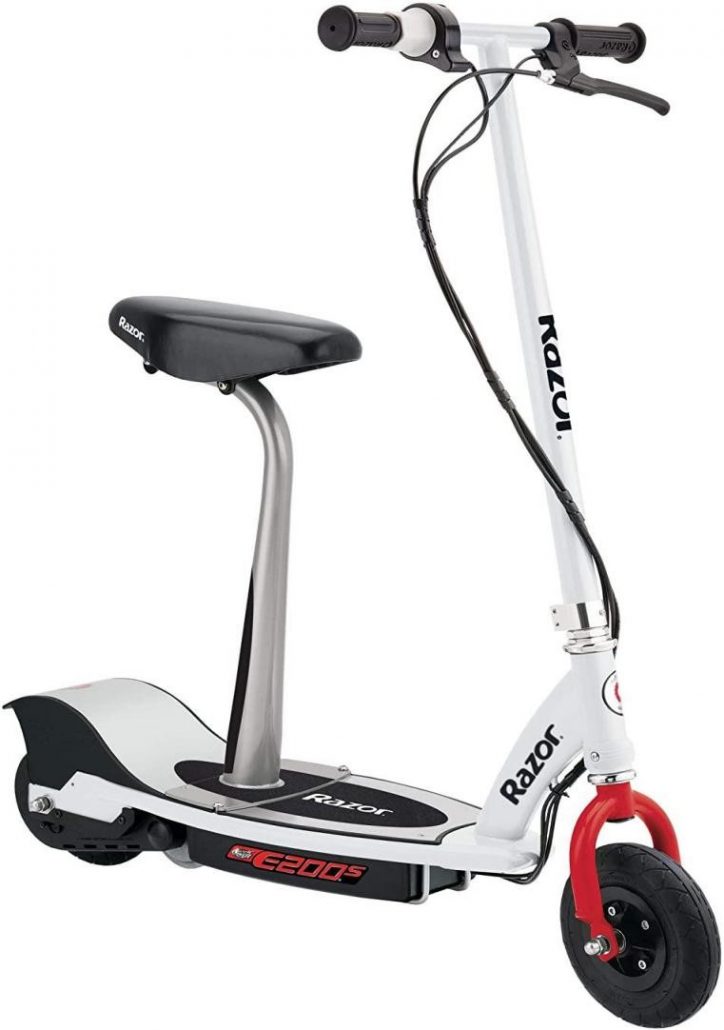 Top Speed: 12mph
Motor: 200W
Range: 12 miles
Battery: 24V
Payload: 154lbs
Weight: 46.4 lbs
Wheel size: 8 inches
Age range: 13+
Rating: 4.3/5
As you look for the latest electric scooter for adults with a seat, Razor E200 is the ultimate pick. With a 200W motor, the scooter delivers exceptional performance. Additionally, the high performance ensures this scooter clocks a maximum speed of 12mph.
Besides enjoying speed, the 14volts battery pack provides more range. Unlike other brands, this scooter utilizes a chain transmission system. There is high efficiency compared to others with direct drive.
The good thing we love about this scooter, and you will love it, is the comfortable seat. Moreover, the seat has a contouring design and waterproof cover to keep it safe from weather elements.
Despite this scooter lacking a suspension system, rides are always smooth due to pneumatic tires. They are reliable when it comes to shock absorption thus great for use even on unpaved surfaces.
Pros
Soft and sensitive twist-grip throttle
Retractable kickstand
Large tires
Full-size deck
Cons
The seat isn't adjustable
3. Razor E300S Seated Electric Scooter – Best Lightweight
Top Speed: 15 mph
Motor: 250W
Range: 10 miles
Battery: 24V
Payload: 220lbs
Weight: 19.5lbs
Wheel size: 9'' air-filled tire
Age range: teen
Rating: 4.4/5
Enjoying a seamless ride while seated on your scooter is an incredible experience. However, to enjoy such a feeling, Razor E300S with a comfortable seat is the real deal. This scooter has an extra powerful 250W motor churning tremendous torque that enables smooth propulsion.
Apart from the great power, chain transmission feels unique and enables high efficiency. Additionally, the 24V batteries have enough juice to propel E300S for 40 minutes or 10 miles.
Riding the scooter offers a super cool feeling as handles are non-slip, while the twist-grip throttle is easy to operate. Furthermore, the frame is rigid, which allows it to carry up to 220 pounds.
Despite the scooter carrying massive weight, it weighs 19.5 pounds. Rear-wheel drive allows for excellent traction. Equipped with 9 inches tires, they are ideal for you to drive the scooter anywhere. Additionally, the rear-drive is super for increased traction hence the topmost efficiency.
Unlike other scooters with a shaky brake system, the E300S has a hand-operated brake. Also, the seat is easily detachable and enables the rider to ride standing or seated.
Pros
Smooth and quiet chain drive
Non-slip handle with soft throttle
Removable seat
Efficient brake system
Cons
Seat height isn't adjustable
4. Razor UB1 250W Seated Electric Scooter with Seat – Best Lithium Battery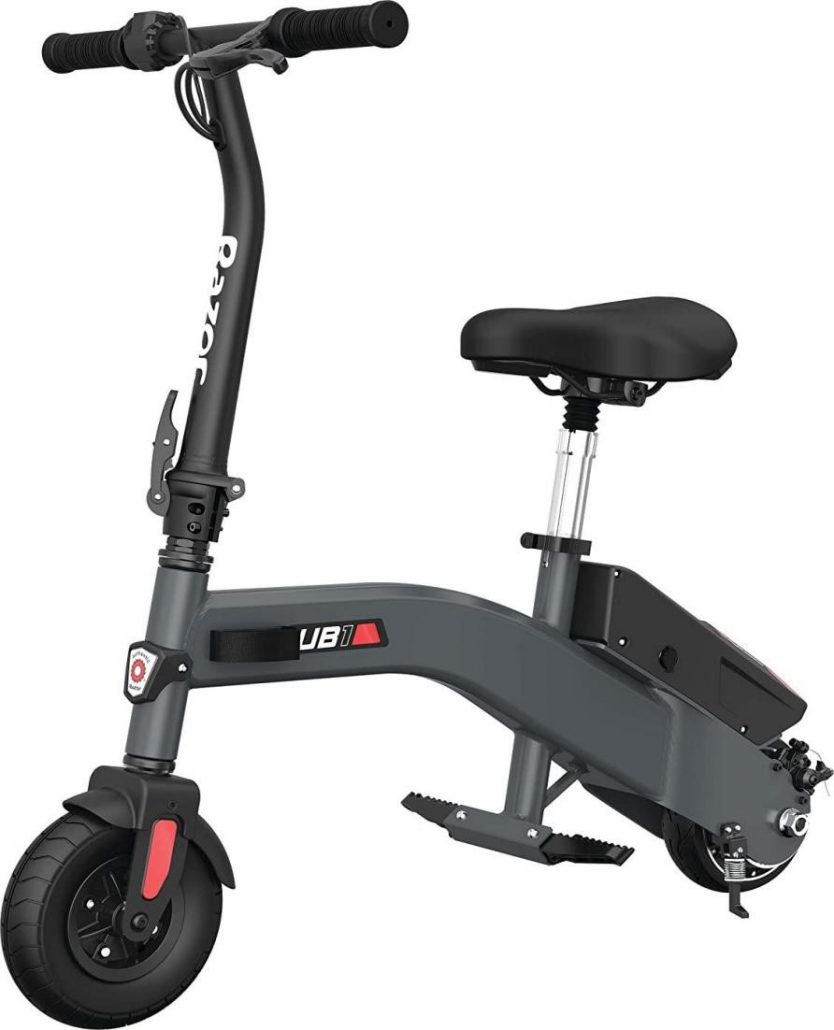 Top Speed: 13.5mph
Motor: 250W
Age range: teen
Battery: 36V
Payload: 220 lbs
Weight: 24.9lbs
Wheel size: 8'' tires
Brakes: Disc brake
Rating: 4.0/5
Razor UB1 seated electric scooter with a sophisticated style and unique look. Boasting a large seat with an adjustable bar, people of different heights can ride without compromising comfort. Additionally, the thick padding on the seat ensures a great experience when riding.
Besides the padding in the seat, large wheels with rubber tires enable a reduction of impact. Although the UB1 doesn't have suspension, a combination of pneumatic tires and seat padding provides smooth rides.
Unlike the other models, on this, you enjoy a super lightweight aluminum frame. Not only does it feel light, but there is improved efficiency. As a result, the scooter weighs 24.9 pounds which is lighter than other featured models.
Equipped with a lithium battery, the performance is superb as well as range. Riding UB1 will offer you 40 minutes of a perfect ride. Moreover, it clocks 13.5 mph, which is excellent for ensuring you reach your destination faster.
Uniquely, the handlebar is adjustable, electronic thumb-activated throttle and rubber handles offer maximum grip.
Pros
Adjustable handlebar
Lightweight aluminum frame
Rubberized grip
Excellent impact absorption
Cons
How to Choose the Right Razor Electric Scooter with Seat
Range
The range is one of the priorities when you want to buy an electric scooter. There are different scooters with varying ranges hence need for consideration. The motor power, battery capacity, and driving surface will determine the overall electric scooter travel range. Always go for a scooter that offers the best range per charge.
Payload
The weight capacity is another issue that buyers need to check when buying a scooter. Due to the frame, the scooters provide different weight capacities. In most cases, when choosing adult scooters with seats, go for one with over 220 pounds weight capacity. However, you can get an ideal one depending on your budget.
Top speed
Speed is also essential as you shop for an electric scooter with a seat. Nobody wants a scooter that takes hours to cover a short distance. Although each scooter has a varying top speed, check the one with a minimum of 10mph. However, if you are willing to spend more, some can hit 30mph, but they are a bit expensive.
Motor power
The power of a scooter motor determines how fast it can move. The more watts a motor is, the more power it churns. Standard scooters come with 200W-500W motors. These are enough to experience average performance. But, you can choose high-end motors with over 700W motors to enjoy more performance which will cost you extra dollars.
Seat quality
Despite their small size, electric scooters should offer great seats with great comfort. Apart from the size, check for the padding and design. A well-designed seat is necessary to ensure the comfort and safety of the rider.
FAQs About Razor Electric Scooter with Seat
1. How fast can Razor electric scooter with a seat go?
Razor electric scooters can achieve 18mph, like in the case of Razor EcoSmart Metro.
2. What type of battery do Razor electric scooters use?
The good thing is you can choose Lithium-ion or Lead-acid scooters. This gives buyers choices depending on the preference.
3. Are Razor seated electric scooters foldable?
Most of the seated electric scooters from Razor aren't collapsible. However, some like Razor UB1 have adjustable handlebars.
4. Can you drive a Razor electric scooter in the rain?
Razor makes waterproof and non-waterproof scooters. Depending on your model, you can if it's indicated waterproof.
5. How long does the battery last in the Razor seat-enabled electric scooter?
How long the battery lasts in Razor electric scooters varies from model to usage. Lithium-ion batteries last longer as well as when driving on flat surfaces.
Summary
Razor makes some of the best seated electric scooters. The featured ones in this list have an exceptional performance to guarantee the best experience. Whether you want a large one like Razor EcoSmart Metro or a compact one like Razor E300S, they all have the best performance.
If your dream is to have the best electric scooters with seats, these are your perfect choices.
What Next?
Now since you have learned something about the best Razor electric scooters with seats, why don't you also check out our other related guides as follows:
Top electric scooters for commuting
Best electric scooters for heavy adults