Do you plan to open a cavitation clinic but hesitate because you're not a professional? Are your clients going to trust you without a license? No, they will not. You need to have a license for cavitation, according to the laws of where you're living. Otherwise, you'll be in deep trouble. Different countries have different laws and regulations regarding cavitation licenses.
The concept of eliminating extra fats from the body is becoming popular in countries like the United States. A painless procedure with no surgery requirements is the reason for its popularity. People love the concept of ultrasonic ways to remove unwanted fat and get their favorite look. Nevertheless, they need to get it done by a professional who has a license and knows what to do. Besides that, you can't open a cavitation clinic without a license as you're answerable to the country's government.
License Requirements in the United States:
As we already mentioned, different countries and states have their own rules and regulations regarding obtaining permits for cavitation. Different states of the US also provide cavitation licenses based on unique requirements. In some states, the license doesn't matter a lot by the government, but clients do care about it. In contrast, some states have strict rules regarding the license to do cavitation or any other procedure.
License Requirements in the Different States:
Texas can be comparatively easier than other states to get the cavitation license because ultrasonic cavitation doesn't need surgery or operation. It's more of an aesthetic or external procedure that a trained nurse can do. To answer the question "Do you need a license to do cavitation?", yes, you still do need a license as it would be more appealing to your future clients so that they can trust you more. Whether in Florida or Texas, having a license is always a great idea to boost business.
How to do Cavitation At Home:
Ensure to read all risks, rules, and regulations regarding the process if you're doing the cavitation process at home. It would be best if you still had decent and required knowledge regarding the fat-reducing process. Cavitation at home comes in handy but does have minor risks. You can read our article about cavitation at home if you plan to do so.
How to Get a License to do Cavitation?
Here are some tips for you to get a license for ultrasound cavitation.
Institutes offering a special cavitation course can help you get an official license for cavitation.
You need to get enrolled in one of those courses to learn about the procedure and implement it in your clients to satisfy them.
After completing the course, you can apply for a license. Choosing a well-known institution for the course plays a vital role in the credibility of your license.
Also, you need a different kind of training for a specific cavitation machine to offer the best services in town.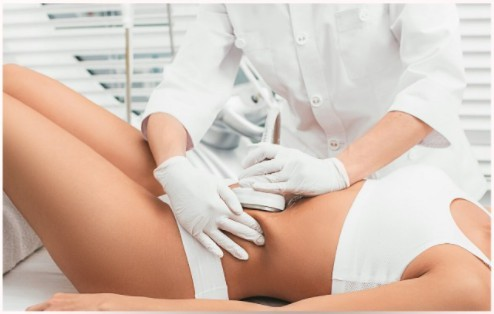 Benefits of Getting Cavitation Done by a Professional:
The professional technician always takes care of hygiene and cleanliness, such as wearing gloves, cleaning the probe before and after using it for the client, and a comfortable clinic environment.
Getting quicker results as they know the exact ultrasonic sensitive areas.
Privacy during such sessions is also a concerning point. Exposing yourself to professionals is much easier as they respect your privacy.
Expert technicians notify you about the potential risks, if there are any. Such as pregnant women should avoid cavitation, people with some heart disease or other serious illness should not consider this fat removal process.
Frequently Asked Question:
Q1. Am I eligible to perform ultrasonic cavitation?
After getting proper training and passing the exam, you will be eligible for cavitation. Without having a license can cause trouble in your clinic career. It's better to get trained first and have an official license to do cavitation.
Q2. From where can I get my training or license for cavitation?
As mentioned in the previous section, the well-reputed institution or beauty academy helps you get the cavitation license. The training could be face-to-face or online sessions.
Q3. Is ultrasound cavitation worth it?
The noninvasive process got popular because of noticeable results after a few sessions. People love to have the desired body if the procedure is painless and accessible. But you have to be patient with the results as it is a time-consuming process. However, the waves method to reduce extra fats from the body is worthy if done correctly.
Q4. Do I need a license to do cavitation at home?
No, you don't. But you still need to know the risks and the proper way to use the cavitation machine at home. It would help if you learned the basics of cavitation before doing the procedure.
Q5. Are licensed cavitation technicians worth trusting?
Yes, definitely. Licensed technicians are the best when it comes to cavitation. They know about the correct method and the right amount of sensation on a specific area of the body. It isn't easy to find one, but you can get the help of your friend and family to find a reasonable cavitation technician.
Q6. Which type of license is required for ultrasound cavitation?
You need a certain type of license, depending on the laws of where you're living and the classification of the cavitation machine. Never forget to do your research before taking any step.
Conclusion
If you're all set to start your cavitation clinic, then you must have a license to prove your credibility to your clients. Some countries have stringent technician laws, while some don't have such strict rules. Whether the case is in your state, you should consider getting proper training and knowledge about the noninvasive procedure. We hope our article cleared your doubts regarding the need for a license to do cavitation. You can leave a reply or any question down if you have any.
What Next?
Now since you have learned license about doing cavitation, why don't you also check out our other related guides as follows: