Do you want to lose weight? Losing weight with only diet and exercise is often tricky. You may have heard cavitation therapy for body slimming. But what is cavitation treatment? It's a therapy that enables you to lose weight safely and systematically. The best part is you can use cavitation machines in the comfort of your home.
Professional ultrasonic cavitation is a noninvasive fat-burning therapy for beautifying and cosmetic purposes. Based on the study of Daniele Bani et al [1], noninvasive ultrasound cavitation treatment is a promising and effective technology for localized fat reduction.
The non-invasive procedure will help get rid of fat from your face, upper arm, glutes, thigs, waist, and belly. Low-frequency sound and heat waves penetrate the skin and break the fat cells. Keep reading to learn if a professional cavitation machine process is for you. Apart from this, you can also learn how to use it, when to expect visible results, and safety considerations to follow.
In this article,
What is Cavitation Treatment
Ultrasonic cavitation uses low-frequency sound and heat waves to penetrate the skin and break down fat cells into liquid. The liquid fat then gets extracted by the liver like other toxins getting eliminated from the body.
The non-invasive body contouring treatment can get done from the comfort of your home. The stubborn fat areas of the body get targeted, which will help you lose inches from your body.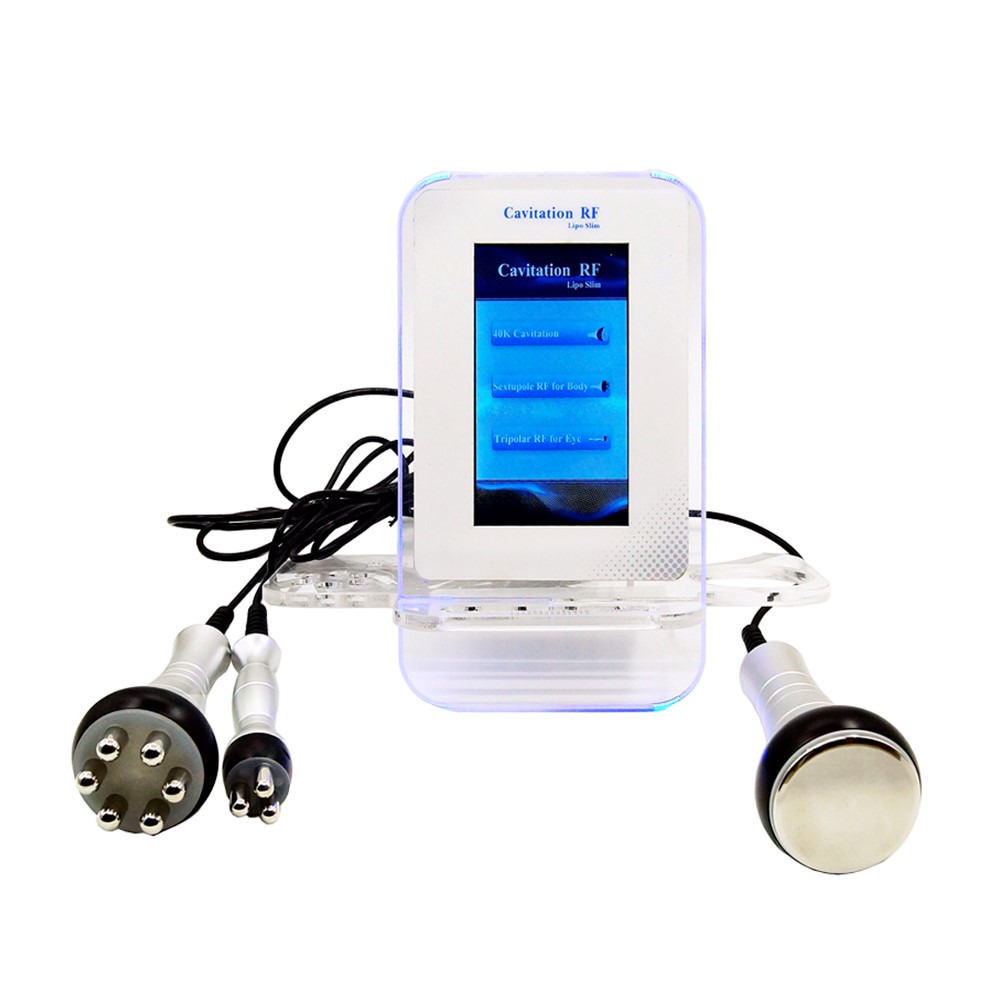 Scientific Trails of Ultrasonic Fat Cavitation for Body Sculpting
Before you learn more about the functions of the ultrasound cavitation machine, you need to understand that it is a body-slimming treatment. The body contouring treatment is safer than the many surgical weight loss options available. There are several pieces of research performed by experts to explore the safety and efficacy of ultrasonic cavitation treatment.
Through a study including 60 participants with a BMI over 30 kg/m2, Mohamed Taher Mahmoud ELdesoky et al found that ultrasound cavitation treatment, the same as cryolipolysis, was proved to be an effective and safe way to reduce abdominal fat thickness and achieve abdominal contouring [2].
In another review about a noninvasive fat reduction in 2015, Kennedy J. et al discovered that high-density focused ultrasound (HIFU) was one of the four main non-invasive techniques to help people sculpt the body. The review included 31 studies in total, with 843 patients treated with HIFU for fat reduction or body slimming. Most of them turned out to be satisfied with the improvements. No serious adverse reactions were recorded during the process [3].
Moreover, there is one study made by Hong et al. concluding that a significant fat reduction of 3.43 cm in mean waist circumference was found in people subject to the HIFU therapy [4].
How Does Fat Ultrasound Cavitation Help Lose Weight or Remove Fat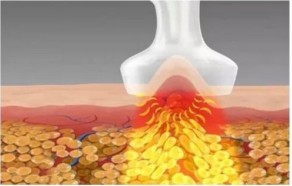 Cavitation machines make use of ultrasound technology to break down fat cells in the body. This non-surgical procedure helps reduce local fat and cellulite.
Low pressure from ultrasonic vibrations gets applied to the targeted fat areas. It helps break the fat into liquid, and the body gets rid of the liquid form through urine.
The cavitation machine helps tone the body by using low-frequency ultrasonic waves and radio frequencies. The waves that pass underneath the skin form bubbles around the fat, and the bubbles burst and break down the fat deposits.
The fat deposits break down and change into free fatty acids and glycerol. The free fatty acids soaked up by the liver get excreted as waste, whereas glycerol gets used again by the body.
The treatment procedure often gets customized as per the needs of the individual. While it takes only a few sessions for some individuals to see visible results for others, it might take longer. Besides, it works best on the back and chest, and also has good performance on the face, thigh area, hips, stomach, upper arms, and neck.
The standard treatment process only takes 2 – 4 sessions, and you will have a gap of two weeks between each session. Each session time ranges from 45 to 75 minutes. Most often, you can see visible results within 6 – 12 weeks.
A professional ultrasonic cavitation machine delivers the best results on body parts with localized fat. Upper arms, hips, thighs, and abdomen are areas where localized fat tends to accumulate. Avoid performing any procedure on bony parts of the body like the neck and head.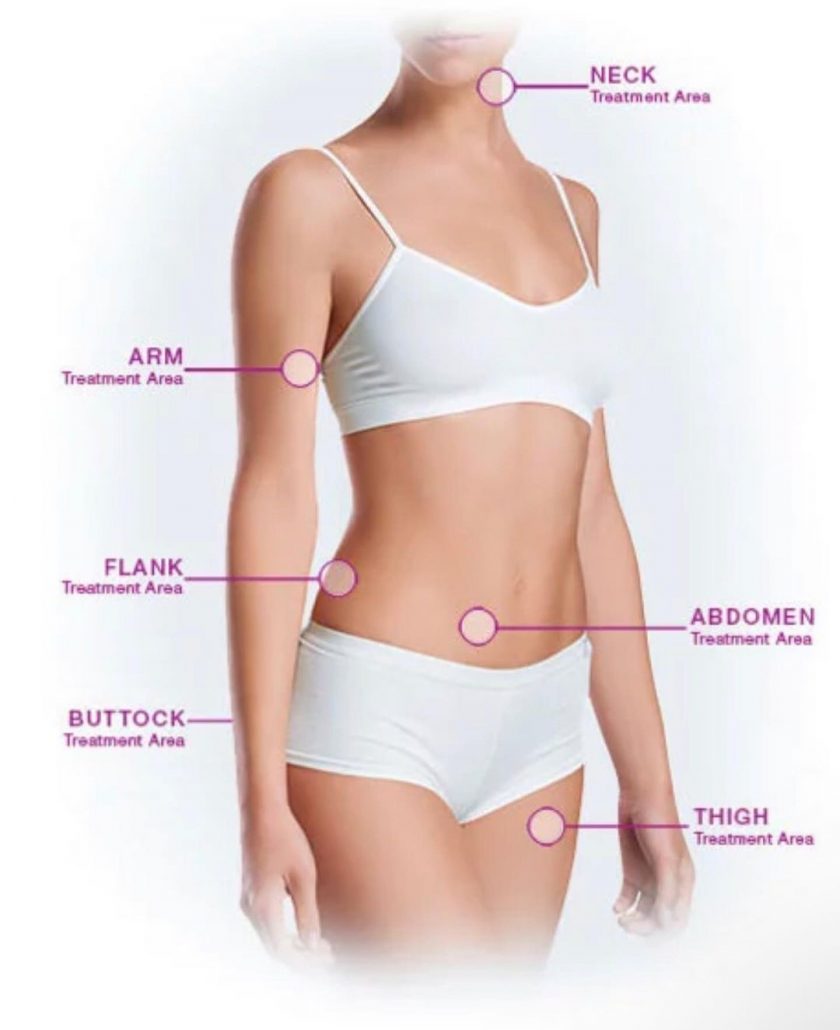 How Much Does a Professional Cavitation Machine Cost
There are many cavitation machines that you can buy for home use. The cost and effectiveness of these devices will vary depending on the features they have.
The lipo cavitation machine cost will vary depending on how you use the machine. Devices with advanced features will cost more, and the price will range from $100 – $1,200.
A typical home cavitation machine will disburse a 4.4 – 7.5 MHz (megahertz) of ultrasound. You may use it for 20 – 50 minutes each session.
The average cost of a session will vary from $100 – $500. The provider's experience and the number of sessions you need for fat removal will also determine the cost of the treatment.
No extra costs are associated with the treatment as the individual undergoing it doesn't need anesthesia. The treatment cost appeals to most people as the recovery time is less, and you can get back to work after the procedure.
How to Use a Professional Ultrasonic Cavitation Machine
An ultrasonic cavitation machine helps provide a body contouring treatment by removing fat deposits underneath the skin layers. The treatment procedure is safe when compared to the many surgical options available.
Ultrasonic radio waves help break the fat deposits, which get absorbed by the body's lymphatic system. As there are no incisions on your body during the treatment process, the recovery time is minimal.
The individual who can undergo this treatment method should be:
In good health with no other health complications.
The individual should exercise and follow a healthy diet to be within range to achieve their ideal weight.
The person opting for this treatment shouldn't smoke.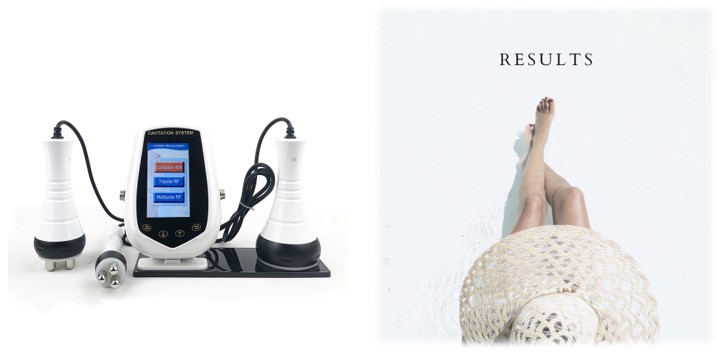 Even though the treatment will show visible results after a few sessions, you need realistic expectations. If you are overweight and have unrealistic expectations, then this treatment process is not for you.
A professional ultrasonic cavitation machine gets used to focus on small fat areas of the body. It will help contour the body and enable you to get in shape.
With 40 kHz – 5 MHz ultrasonic waves for fat reduction, the process doesn't need anesthesia or surgery. The procedure focuses on fat cells found in the underlying skin layers of the body.
The ultrasonic waves work on the body's fat cells and don't cause any damage to the other healthy tissues and organs. Only the membranes of the fat cells get affected and reduced to liquid which is later eliminated as waste.
During the treatment process, the individual will feel a warm sensation over the skin and also hear a light buzzing of the device. Depending on the surface area of the treatment, the session might last from 20 – 50 minutes.
Before you start using the cavitation machine at home, you need to read the machine's manual so that you know how to use it effectively. If the treatment procedure gets provided by a doctor, you need to follow all the instructions specified by them.
Outcomes of Using a Lipo Cavitation Machine?
The outcome of using a cavitation machine will vary depending on the age, treatment area, individual tissue structure, and metabolism. All these factors will influence the final results.
If you want to get the best out of cavitation treatment, you need regular exercise and eat a healthy diet. A good diet and exercise plan will help avoid any side effects.
You will need to have many sessions to see visible results. The sessions will vary based on gender, age, and the fat deposit area you target.
If you target a large area such as the stomach, you will need more sessions than those required to get rid of fat in the arms. Adequate rest between each treatment session gets recommended so that the skin gets time to recover.
Reduces Cellulite, Fat, and Stretch Marks
One of the positive outcomes of using a cavitation machine is that the treatment helps get rid of cellulite and stretch marks, apart from reducing fat. The process also helps improve body contouring.
After each cavitation treatment session, the fat deposits get reduced and secreted as body waste. The ultrasound waves help stimulate collagen and tissue regeneration, and this helps reduce stretch marks and cellulite.
During the treatment, you will feel like you are getting a massage. If you have sensitive skin, you might experience a tingling sensation. The procedure is pain-free and harmless.
The surrounding organs, cells, and tissues don't get affected, and you can resume your routine immediately.
Non-Surgical and Non-Invasive Treatment Process
You don't need any anesthesia or surgery, and this makes it a non-invasive treatment process. The recovery time is less as the procedure is non-surgical.
Suited for All Skin Types
The cavitation machine can get used on different skin types, and it is safe to use irrespective of your skin color and texture. You should avoid the process if you have any skin sores or injuries in the treatment area.
Even though the fat loss procedure is entirely safe, some individuals may experience temporary side effects. You must be aware of these side effects so that you can deal with them easily.
Before using a cavitation machine, the provider will apply the gel on the surface area getting treated. The gel will help protect the skin layer from ultrasound waves.
Some individuals may experience skin sensitivity after the treatment session. Swelling or itchiness is common, and this symptom will disappear within a few days.
After cavitation treatment, redness or bruising is common within the initial few hours. The bright red spots will vary in intensity depending on the individual's skin type and eventually go away in a couple of days.
If the bruising or redness continues even after a week, you need to consult a doctor to get relief from the pain.
When the fat cells break down unevenly, you will notice bumps and lumps on the skin surface. You will need follow-up sessions so that the fat cells break down entirely and you can get rid of bumps and lumps.
Dizziness or headaches are common symptoms that individuals undergoing the treatment experience. It is advisable to stay hydrated so that the toxins get flushed out faster.
The results that you get from a cavitation machine treatment are permanent and not temporary. Remember to eat a healthy diet and continue with your exercise routine to stay toned and in good shape.
Safety Considerations When Receiving Cavitation Treatment
Before receiving cavitation therapy for body sculpting, you need to ensure that you are healthy and eating a balanced diet. The daily consumption of water should get increased to eight glasses of water to stay hydrated.
When you have adequate liquids in your body, it will help flush out the broken-down fat deposits easily. Avoid alcohol as it will restrict the functioning of the liver affecting the extraction of the toxins from your body.
It would be best to avoid tanning, as it affects the sensitivity of your skin. Your skin might get quite sensitive after a good tan, and this can affect the treatment process.
Even after completing the cavitation machine procedure, you need to ensure that you drink the recommended amounts of water each day. You can also continue with the exercise routine so that the body benefits ultimately.
If you have health issues, it is best to consult the doctor before going ahead with the cavitation treatment process. Follow the instructions of the specialist doctor so that you get the best results.
Some individuals should not undergo this procedure, and they include:
Pregnant and breastfeeding women.
Minors.
People with skin cancer and other significant diseases (cardiac diseases, diabetics, hypertension, and epilepsy) and continuing treatment.
Any individual suffering from skin allergies, skin infection, and photosensitive skin needs to avoid the procedure.
Individuals with surgical scars and metallic implants.
Menstruating women.
Summary
The cavitation machine is the best choice for healthy individuals looking to lose fat and sculpt their bodies. The treatment process helps rid stubborn fat from the belly region, waist, upper arms, legs, and thighs. Get a well-toned body within a few sessions and start looking and feeling good.
References
Articles about professional ultrasound cavitation on LumBuy are supported by verified materials from academic journals and research papers to ensure accuracy and credibility.
"Histological and Ultrastructural Effects of Ultrasound-induced Cavitation on Human Skin Adipose Tissue"

https://www.ncbi.nlm.nih.gov/pmc/articles/PMC4174158/

"Ultrasound cavitation versus cryolipolysis for non-invasive body contouring" from Australasian Journal of Dermatology.

https://doi.org/10.1111/ajd.12386

"Non-invasive subcutaneous fat reduction: a review"

https://pubmed.ncbi.nlm.nih.gov/25664493/

"Efficacy and Safety of High-Intensity Focused Ultrasound for Noninvasive Abdominal Subcutaneous Fat Reduction" from Dermatologic Surgery.

doi: 10.1097/DSS.0000000000002016
What Next?
Now since you have learned something about the ultrasonic cavitation machine, why don't you also check out our other related guides as follows: