Introduction
Having quality Molle accessories boost your chances of success in any endeavor. It's no different if you're a hunter, military personnel, or law enforcement agent with a shotgun. A good MOLLE shotgun shell holder will be your good helper for you to make the best shots.
Well, that's not the only difference-maker when using a shotgun, considering there are only so many bullets a shotgun can carry. A MOLLE shotgun shell holder is needed to help you carry your ammunition. A quality MOLLE shotgun shell holder can be easily attached to your gears and kept within reach for easy access while reloading.
We understand that making the right choice of a MOLLE Shotgun shell holder can be daunting. That's why this article contains a detailed description of 10 of the best shotgun molle pouches on the market.
Related: best molle accessories
Our Picks for the Best Molle Shotgun Shell Holder
Best Shotgun Shell Holder Molle for Range Shooting
Product Name: KOSIBATE HOT 25 Round Shotgun Shotshell Reload Molle Pouch
Closure Type: Snap
Capacity: 25 Shotgun Shells
Build material: 900D Nylon
Colour: Black
Rating: 4.7 out of 5.0
The shell pouch is our pick for the best Molle shotgun shell holder for range shooting because of its capacity, functional design, and easy attachment. KOSIBATE prioritizes the flexibility and easy accessibility of shotshells in the design of this product for easy maneuvers during practice at shooting ranges.
It has three rows of MOLLE straps that make it attach easily to the outside of any MOLLE backpack. Therefore, there's no need for your shotgun shells to take up valuable space inside the backpack. It can be attached to your MOLLE gear inside out, allowing you to use the shotshells in batches.
Furthermore, the Molle shotgun shell holder can hold up to 25 rounds of shotshells. This can last you for quite a while on any shooting range, giving you multiple options to perfect your shot.
Pros
Sturdy construction
Excellent ammunition storage
Easy to clean
Cons
Noisy Velcro closure
Velcro closure peels off easily
Best Budget-Friendly Shotgun Shell Molle Holder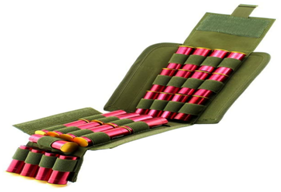 Product Name: Depring Tactical 25 Rounds MOLLE Shotgun Shell Holder
Closure Type: Hook and Look Flap with Snap
Dimensions: 8 x 4 x 1.5 Inches
Capacity: 25 Shotgun Shells
Weight: 180 Grams
Build Material: Nylon
Colour: Army Green
Rating: 4.7 out of 5.0
For just $12.99, you get all the important features of a shotgun shell holder in our pick for the budget-friendly shotgun shell holders. The Depring Tactical Reload Ammo mag bag gives you quick access, a sturdy construction, and enough storage space for your ammunition.
It has a hook, loop, and pulls the tab, which functions with the adjustment flaps to help you open it up in a split second. The best part is that Depring intends to let you enjoy these benefits for a long time, as the shell holder is made with reinforced stitching of durable nylon material.
Despite its nondescript appearance, it has the essential features you'll need to get the job done. That's a good deal!
Pros
Functional design
Nondescript appearance
Easily accessible
Cons
Most Practical MOLLE Shotgun Shell Holder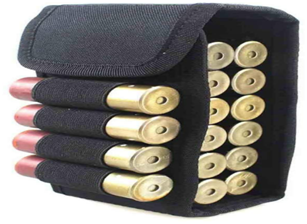 Product Name: Tactical Molle Shotshell Holder for 12/20 Gauge
Closure Type: Hook and Loop
Dimensions: 6.7 x 3.3 x 2.4 Inches
Capacity: 16 Shotgun shells
Build material: Nylon
Rating: 4.6 out of 5.0
The Tactical Molle shotgun shell holder is the handiest shell holder on the market right now. We have picked it as the best practical MOLLE shotgun shell holder because it has the right features to perform in real-life situations.
It is made from durable materials with reinforced stitching, which helps it stand the test of time. It is small and foldable for easy use yet holds 16 rounds comfortably.
Besides, it comes with two straps and a Velcro attachment strap for easy attachment and detachment from belts or MOLLE gears. All these make the Tactical Shotgun Shell Holder a comfortable holder for range use.
Pros
Comfortable to use
Sturdy design
Long-lasting
Cons
Best Shotgun Molle Shell Holder For Tactical Training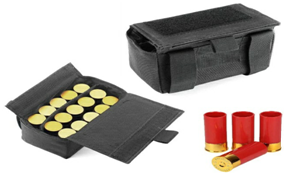 Product Name: Medesion Tactical Molle 15 Rounds Shotgun Shells Bandolier
Closure Type: Hook and Hook Tie
Dimensions: 7.1 x 2.53 x 2.36 Inches
Capacity: 15 Shotgun Shells
Build material: Nylon
Colour: Black
Rating: 5.0 out of 5.0
This bandolier is the tactical trainer's best bet for a shotgun MOLLE pouch due to its easy carriage, space, build, and comfortable design. It can be worn across your shoulder, giving you extra mobility during tactical pieces of training.
It houses 15 shotgun cartridges in its specially made plastic and rubber pouch. With pockets divided into three separate sections, the Medesion Tactical MOLLE 15 Rounds Shotgun Shells holder is built to hold cartridges in place for easy maneuvering during tactical pieces of training and missions.
Further, it comes with a Velcro cap to aid with easy loading and unloading. This is indeed every shotgun enthusiast's dream.
Pros
Durable materials
Lightweight
Functional carriage
Cons
Ultimate Molle Shotgun Shell Holder for 12/20 Gauge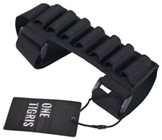 Product Name: OneTigris 7 Round Tactical Shotgun Stock Shell Holder
Closure Type: Hook and Loop
Dimensions: 7.9″ (L)*4.7″ (W)/20 cm (L) *12 cm (W)
Capacity: 7 Shotgun Shells
Build material: Nylon
Colour: Black
Rating: 4.6 out of 5.0
The OneTigris Tactical Shotgun Stock Shell Molle Holder is an all-black shotgun MOLLE pouch that houses 7 Shotgun rounds at once. It is our best pick for 12/20 gauge shotguns.
The easy carriage can be either attached to velcro or rubber flaps of gun stocks or tactical chest plates, belts, etc.
Built with Nylon, the OneTigris shotgun pouch is very durable and will survive the harsh conditions of both hunting and other tactical field operations.
Pros
Rubber straps ensure a secure fit
Durable material
Accessibility
Cons
Can only hold seven rounds
Best Compact Molle Shotgun Shell Holder Pouch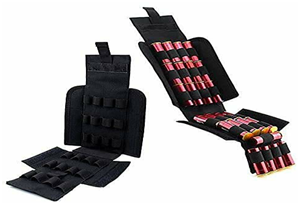 Product Name: Tactical Pro Sports MOLLE 25 Rounds Compact Foldable Shotshell Pouch Holder
Closure Type: Hook and Loop
Dimensions: 8″H x 4″W x 1.5″ D (Folded)
Capacity: 25 Shotgun Shells
Build material: Nylon
Colour: Black
Weight: 6.3 Oz
Rating: 4.5 out of 5.0
This is the most compact shotgun shell holder the market offers right now. It is made with comfortable, lightweight, durable nylon, making it easily foldable and compact.
It was built to easily attach to MOLLE equipment gears like belt straps, backpacks, and chest rigs.
It is excellently optimized for easy and secure access. It also comes with an adjustable flap with hook and loop capabilities.
Pros
Lightweight
Compact build
Easy to use
Cons
Not ideal for rough terrains
Most Versatile Tactical MOLLE Shotgun Shell Holder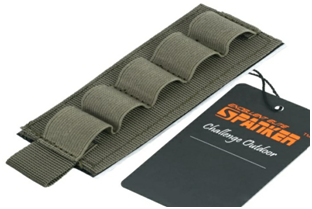 Product Name: Excellent Elite Spanker Tactical Nylon 12 Gauge Shotgun Bullet Shell Holder
Dimensions: 2″H x 5″W
Capacity: 5 Shotgun Shells
Build material: 500D Cordura Nylon
Colour: Ranger Green
Weight: 19.8 Grams
Rating: 4.5 out of 5.0
This shotgun shell holder is the go-to MOLLE holder for multipurpose use. It is built to be attached to virtually any surface, ranging from the stock of your firearm to belt straps.
Moreover, the molle holder is sturdily built from highly durable nylon material that can be trusted to withstand the test of time. It also comes with slots for five shotgun cartridges.
The cartridge loops are consistently sewn so that your ammunition is reliably in place and accessible whenever you need it. It is also lightweight and easy to transport, making it more convenient than a bulky sack of bullets.
Pros
It fits snugly into firearm stocks
Good stitching
Lightweight and durable
Cons
Velcro adhesives wear after a while
Finest MOLLE Shotgun Shell Holder For Tactical Vest Plates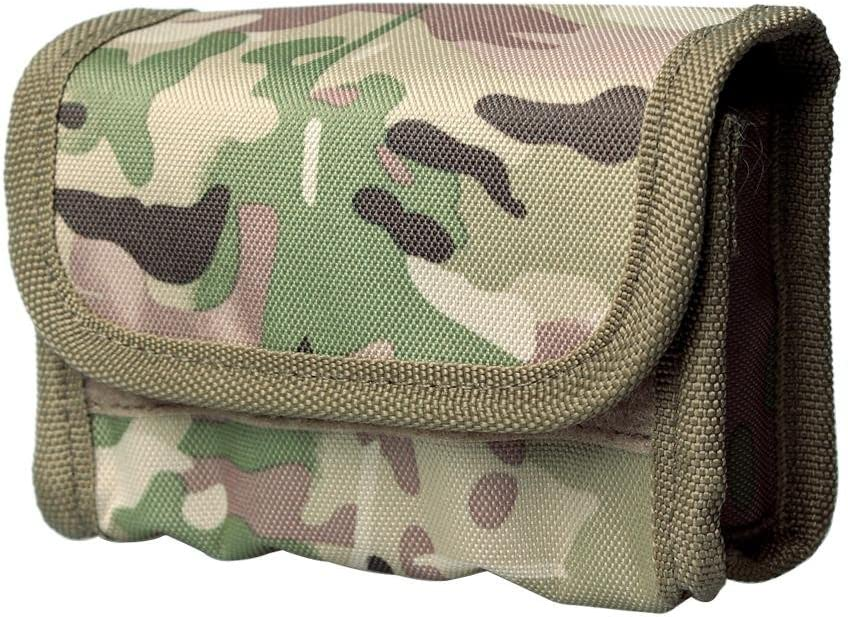 Product Name: Firedog 10 Round Shotgun Shotshell Reload Holder Molle Pouch for 12 Gauge/20G
Dimensions: 5 x 2 x 3 Inches
Capacity: 10 Shotgun Shells
Build material: Nylon
Weight: 76 Grams
Rating: 4.4 out of 5.0
This is a lightweight MOLLE carrier designed to allow you to carry ten shotgun rounds while hunting and reloading ammo. It is ideal for infield or tactical use. It is meant to be attached to a conventional chest plate or tactical belt and any other MOLLE system.
Additionally, the Firedog pouch is made from durable nylon, allowing it to last long in any weather condition.
It also comes with Velcro that secures the pouch flap.
Pros
Spacious
Good quality materials
It comes in 3 colors
Cons
Best Portable Outdoor Molle Shotgun Shell Holder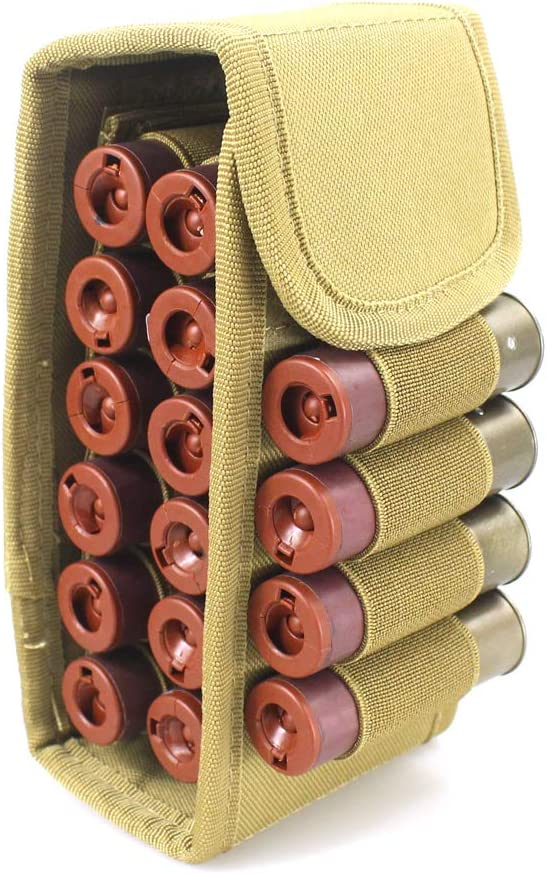 Product Name: Liviqly Tactical 12G Bullets Hunting Shotshell holder
Dimensions: Width 8.5 X Height 18 X Thickness 6 CM
Closure Type: Buckle
Capacity: 16 Shotgun Shells
Build material: Nylon
Weight: 145 grams
Rating: 4.5 out of 5.0
This pouch is special, and it's our pick for the ultimate outdoor carrier. It is made from high-quality nylon material that makes it waterproof, corrosion-resistant, long-lasting, and soft to the touch.
Quite surprisingly, for a small pouch-like, the Liviqly carrier can house up to 25 shells while you hunt or run shooting drills. The silver lining is that the small size allows you to carry your shotshells seamlessly.
It also features a beautiful slim/tall design that makes for easy attachment to your tactical vests, belts, and girdles.
Comfort and an effortless operation are two of its strong suits as it spots a flap that opens and shuts using nylon clasp-assisted buttons. This flap also enables easy loading and unloading.
Pros
Well-made
Compact and lightweight
Easy to pull from
Cons
Poorly fitted elastic loops
Most Spacious Molle Shotgun Shell Holder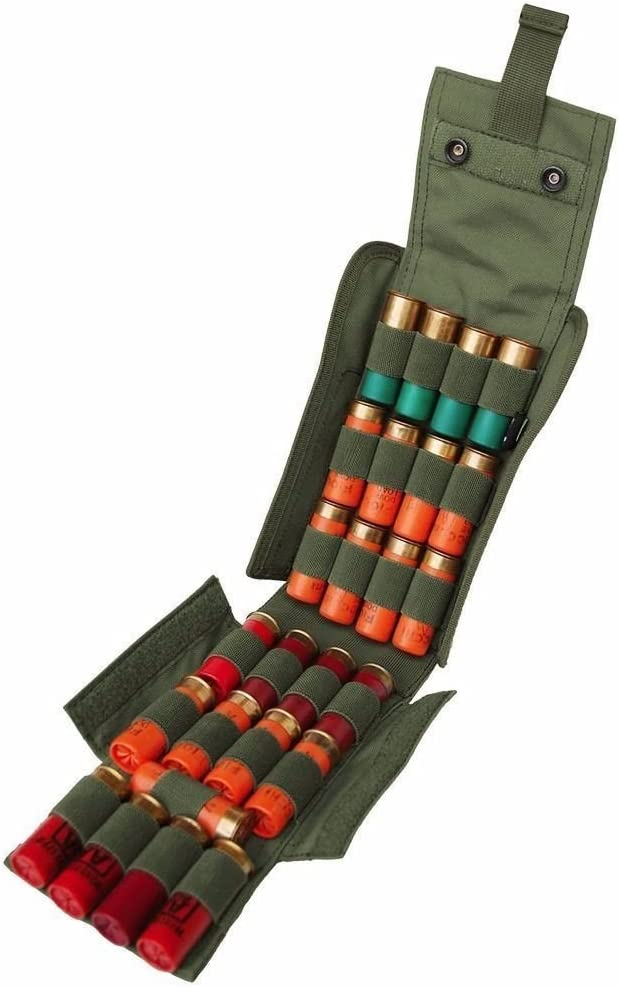 Product Name: Viriber Equipment Mobile Tactical Shotgun Shell Bag
Closure Type: Hook and Loop Flap
Capacity: 25 Shotgun Shells
Build material: 600 Denier
Colour: Black
Rating: 4.6 out of 5.0
The Viriber Shotgun Shell Holder is a quick and easy way to access your shotgun rounds conveniently. This tough shotshell pouch is MOLLE/PALS system compatible and holds 24 rounds. The biggest advantage of this bag is its size and weight. Imagine having a lightweight shell carrier that can hold all your extra bullets in one spot.
It may be easily integrated into your existing tactical equipment.
This pouch has an overlapping elastic cover to keep your rounds secure while holding them together.
Pros
Spacious (holds a whooping 24 rounds)
Pocket friendly
Sturdy
Cons
It comes in only one color
Summary
Overall, there is a multitude of MOLLE shotgun shell holders available in the market. To avoid getting lost in the sea of options, you should consider your budget, build quality, and primary use of the various shell holders before buying one.
The KOSIBATE HOLDER presents the best value for money; THE MEDESION TACTICAL MOLLE 15 ROUNDS SHOTGUN SHELLS BANDOLIER is the best for training, while THE VIRIBER EQUIPMENT MOBILE TACTICAL SHOTGUN SHELL BAG can house the most bullets.
Have fun making a decision depending on intended use!
What Next?
Now since you have learned something about the best Molle shotgun shell holders, why don't you also check out our other related guides as follows: