Do your cigars deteriorate and get dry? We exactly know what you need.
Imagine you want to show off your cigar collection to your friend. But wait! Your cigars become an embarrassment for you because of their flavorless and wishy-washy taste. It might happen to you if you have no mandatory products to preserve your collection. To avoid such incidents, you must have a functional and decent humidor to keep your cigars in.
It is almost impossible not to have a cigar humidor if you call yourself a cigar aficionado. If this is the case, is it even fair to call yourself a tobacco lover? No, right! Then go through our article to get the best options of humidors for cigars and get rid of stale and dry cigars.
In this article,
Why is A Humidor Necessary?
If you're a new cigar collector, you must know the purpose of the humidor; otherwise, your cigars end up drying and withering. Plants can dry out if not at optimal conditions, so are the cigars. For that, you need to have a good humidor box. Following are the reasons you should think about buying a humidor box.
Providing an optimal environment
Too little or too much moisture can destroy the delicious flavor of cigars. Humidors offer control and favorable conditions to the tobacco so they can preserve the specific taste they had, no matter how long you have them in the humidor.
Around 65-72% moisture and 63-70F temperature are favorable settings for cigars. Tobacco beetles and other insects can make your cigars their home at temperatures above 70F. Make sure you avoid any extreme conditions.
Maintaining the Cigar taste and smell
Keeping the cigars in the humidor box and taste and aroma go parallel. You can't enjoy your cigar if you don't own a fine humidor. A moderate amount of water content and temperature retain that specific aroma in the cigar you love.
DON'T HAVE TIME? CHECK OUT OUR FAVORITE ONES
What to Look For in a Cigar Humidor?
You can't shop for something when you don't know what you're looking for. That's why we compiled this little guide on cigar humidors shopping. After reading this, you'll not waste your money on a nonfunctional humidor.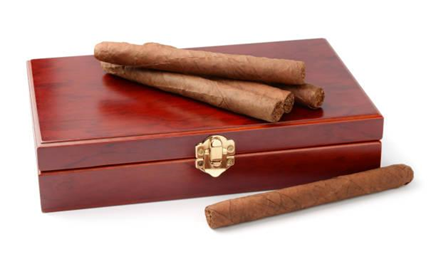 Size/Capacity
It's hard to specify the size of the humidor without knowing the extent of your cigar collection. If we are talking about the bigger collection, the humidor that holds 150-200 sticks should be the ideal size to accommodate all of your charming cigars.
You can go for a small-sized humidor box if you just jumped into the tobacco game. The selection of the humidor depends on the cigar collection size.
Seal
Make sure that the humidor lid can seal the box properly. Even a little unsealed area can disturb the internal environment that makes no sense to have a humidor. That little unsealed area can turn your investment unworthy.
A tightly air-sealed lid will make a whooshing sound when closed. You want that kind of effectiveness for your cigars. Avoid any humidor that creates a thudding sound as the humidor is not tightly sealed and can be of no use.
Construction/Material
Cedarwood considers the most favorable material for a humidor for cigars. Cedar material makes the overall internal atmosphere adequate for cigar maintenance. Cedar can retain enough moisture content from the environment with no cracking at all.
Composite wood can be a good option if you're on a budget – relatively cheaper than cedarwood.
See-through window
As a cigar admirer, you would certainly want to cherish your cigar and want to check how they are doing. But doing so will disturb the setting of the humidor.
A humidor with see-through glass can make it possible for you. A view of your cigar collection will make your day joyful while not disturbing the humidity level. Amazing! Right?
Lockable door
You probably won't appreciate kids opening your humidor as it should be. You must go for a lockable door if you have naughty kids and curious teenagers.
Cigar accessories
Well, there are a lot of cigar accessories a humidor should come with. Some brands don't offer all accessories, while some do. Let's have a look at those valuable things.
With the help of a divider, you can organize your collection cleanly and neatly. Every cigar stick will get sufficient air this way. Less mess with the cigar divider.
Almost every cigar humidor box comes with a hydrometer. The hydrometer measures the moisture level inside the box and shows the accurate reading so you can take action accordingly. The digital hydrometer also tells the temperature as a plus point.
A humidifier is a device that adds moisture to the environment if there is less water vapor content. A lot of brands offer humidifiers with humidors. But you can't be sure about the provided humidifier. You must get an alternative soon.
Related:
List of Our Picks For Best Humidor
Best Small Humidor
Product name: Mantello Royal Glass-Top Cigar Humidor
Material: Spanish Cedarwood
Cigar Capacity: 25-50 cigars
Humidification: Yes
Weight: 3.8 Pounds
Rating: 4.6 out of 5
Price: $44.99
Want something small yet spacious for your cigars at home? Mantello Glass-Top Cigar Humidor is one of our favorite humidors, offers excellent service that won't cost you one month's rent. Tempered glass at the top allows you to have a good sight of your stogies.
A great choice indeed, a box made of Spanish Cedar creates a controlled and stable environment inside. A perfectly sealed lid keeps the ambient elements out and doesn't let moisture out. An attached hygrometer is another plus as you don't have to buy it separately. Moreover, a humidifier also comes with this cigar box.
This long-lasting and reliable humidor box is a complete package of royalty and facility. Easy arrangement of your sticks is possible with a cedar divider that comes with the deal.
Features we love
Looks expensive and fancy on your desk
Cedar divider keep cigars arranged
Scratch-resistant bottom
A thoughtful gift for cigar enthusiasts
Worth considering points
Non-detachable hydrometer makes the calibration impossible. You have to buy another calibration-able hydrometer for accurate readings.
Click here to find more best small humidors.
Best Travel Humidor
Product name: Amancy Portable Travel Leather Cigar Humidor
Material: Cedarwood and PU leather
Cigar Capacity: 5cigars
Humidification: Yes
Weight: 11.18 ounces
Rating: 4.7 out of 5
Price: $21.99
Going on vacation but don't want to leave your dignified cigars behind? No worries. Amancy Travel Cigar Humidor made your traveling easier than ever. Round shaped box has five cigar hold storage while you travel.
The exterior of the humidor is made of leather, giving expensive vibes. The interior has cedarwood which makes sure to preserve and retain moisture in it. Built-in hygrometer on the lid and long humidifier are attractive points for cigar lovers.
Features we love
Easy to carry design
Space-saving cylindrical shape
The leather exterior gives an elegant look
Travel and budget-friendly
Worth considering points
People complain that the humidor lid is quite loose and comes off in the suitcase while traveling. So you have to be careful with the lid and make sure to close it tightly. Some cigar lovers noticed the attached hydrometer doesn't give accurate reading sometimes.
Click here to find more best travel humidors.
Best Cabinet Humidor
Product name: Woodronic Handmade Cigar Humidor Cabinet
Material: Spanish cedar and veneer
Cigar Capacity: 200+ sticks
Humidification: Yes
Weight: 14.45 pounds
Rating: 4.7 out of 5
Price: $199.99
Your cigar collection is getting bigger and wants to upgrade the humidor game? Woodronic handmade cabinet humidor can be your cigar game-upgrader. The cabinet gives a very fancy and royal look with the capacity of holding 200+ cigars.
A cabinet with three large and spacious drawers is meant for passionate collectors. The magnetic seal is our favorite feature so far. Your cigars are safe and stable in a controlled environment as soon as you close the door. Spanish cedar lining and veneer make the overall look magnificent.
Features we love
See-through window and clear acrylic glass
Maximum cigar capacity
Digital hygrometer/thermometer
Double humidifier
Worth considering points
You must calibrate the hygrometer before trusting it blindly. Some people say that they have got a defective hygrometer. It can be the manufacturer's fault. Don't forget to calibrate.
Click here to find more best cabinet humidors.
Best Electric Humidor
Product name: NewAir 250 counts Electric Cigar Humidor
Material: Spanish Cedar
Cigar Capacity: 200-250 cigars
Humidification: Yes
Weight: 26.9 Pounds
Rating: 4.3out of 5
Price: $399.99
The NewAir Electric Cigar Humidor may be a bit costly and does its job effectively. You should consider having it to flex your fine collection if its price is no big deal for you. We must say that its advanced features do justice to the price.
A thermoelectric cooling system will keep your cigars alive, full of flavor, and aromatic for the longest time. Another convenient feature is the digital touch control panel. You can easily adjust the temperature and humidity with one touch.
The list of features offered by the brand goes on and on, such as an upgraded lock and key system, digital hygrometer, adjustable temperature, and removable Spanish cedar drawer.
Features we love
Thermoelectric cooling system
Wide and ample space for cigars
Adjustable temperature
Beautiful finish
Worth considering points
The cooling fan tends to make some noise so keep it in such a place where noise doesn't bother you.
Click here to find more best electric humidors.
Best Cheap Humidor
Product name: Scotte Cigar Humidor Jar
Material: Leather and Cedar
Cigar Capacity: 12-18 cigars
Humidification: Yes
Weight: 1.43 Pounds
Rating: 4.7 out of 5
Price: $20.99
One of the easy to use and cheaper on-the-pocket humidity is the Scotte Humidor for Cigar. It comes with a built-in hygrometer on the lid and a long humidifier to provide moisture content to thirsty cigars.
The cylindrical-shaped box can also go traveling with you without causing any mess. The outer leather and inner cedar material make the construction sturdy and keep cigars fresh and savory.
Features we love
Best cheaper option
An extra traveling bag
Wear-resistance material
Worth considering points
A lot of buyers are not satisfied with the accuracy of the hygrometer. Make sure to calibrate it before using it.
Click here to find more best cheap humidors.
Best Large Humidor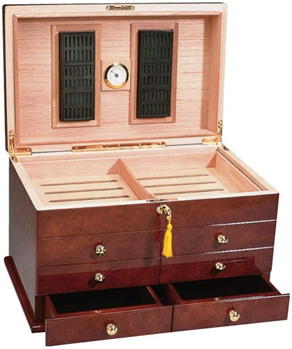 Product name: Ravello Humidor 2 Large Humidor
Material: Cedarwood
Cigar Capacity: 300 Cigars
Humidification: Yes
Weight: 20.6 Pound
Rating: 4.1 out of 5
Price: $164.39
Want a large humidor at a decent cost? The Ravello large Humidor is a larger two-sided box for your cigars to have fun inside. Double rectangular humidifiers keep the inside climate optimal. One hydrometer with a brass frame inside the humidor box keeps telling you how your cigars are doing.
What's the best thing? SureSeal technology never allows any harmful external particles inside. When you have Ravello Humidor, you can't complain about any unsealed area.
The Ravello offers two drawers to keep the cigar accessories safe with one Spanish cedar tray, two dividers, and a gold-plated lock with a tasseled key.
Features we love
Scratch-resistant felt-lined bottom
Maintain humidity very well
Cigar count is great
Good sealing technology
Worth considering points
Cigar lovers believe that the locking mechanism is not up to the mark, could be better. Moreover, you can't check the humidity level on the hygrometer without opening the upper lid.
Click here to find more best large humidors.
Best Cigar Cooler
Product name: Schméché 250 Cigar Cooler Humidor
Material: Spanish Cedar
Cigar Capacity: 250 cigars
Humidification: Yes
Weight: 50.72 Pounds
Rating: 3.9 out of 5
Price: $379.99
If you're seriously passionate about your cigar collection and searching for a great cooler, you can stop your search right away. The Schméché Cigar Cooler is an all-rounder that fulfills cigar requirements and keeps them fresh.
Inside heater and humidor regulate temperature and humidity in a way that helps your cigar to have a long life. The brand claims a quiet cooling system and makes little to no noise.
No UV rays can affect your favorite cigars as the box has a smoked glass door – a defense layer of your stogies. Want more? The features list is just never-ending such as recessed door handle, user-friendly control panel, LED interior of lights, solid insulation, and a lot more.
Features we love
LEDlights give a delightful inside sight
Temperature and RH regulators
Smokedglass door
Easy arrangement of sticks
Worth considering points
The overall experience could be easy if the brand gives an instruction manual. Also, the cooling fan makes some noise which can be problematic for most people.
Click here to find more best cigar coolers.
Best Premium Humidor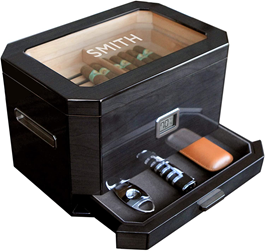 Product name: Monogrammed Octodar Black Piano Finish Humidor
Material: Cedar
Cigar Capacity: 50-100 Cigars
Humidification: Yes
Weight: 11 Pounds
Rating: 4.7out of 5
Price: $209.77
The Monogrammed Octodar Cedar Humidor is one of the favorites boxes because of its looks and unbeatable features. No cigar enthusiast can argue about it. This premium product is a must-have if you love your savory cigars.
The octagonal shape with a luxurious finish will give you elegant vibes, and you'll love having it on your desk. You don't have to lock the box as a magnetic lid will do the job. The sealed lid won't let you bother about annoying elements going inside of the box.
This Cigar box has every feature a good humidor should have: a digital hygrometer, cigar accessory drawer, good humidification system, glass top display, and last but both least, a removable cedar tray. See for yourself.
Features we love
High gloss finish
Amazing service
Top glass display
Worth considering points
We went the extra mile but couldn't find any solid drawback of the box.
Click here to find more best premium cigar humidors.
Best Acrylic Humidor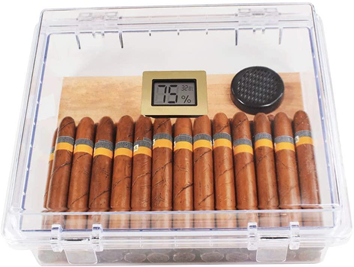 Product name: Amancy Crystal Clear Acrylic Humidor
Material: Acrylic
Cigar Capacity: 25-50
Humidification: Yes
Weight: 1.98 Pounds
Rating: 4.6 out of 5
Price: $32.99
Amancy is the brand you should look for when it comes to your lovely little stogies. Amancy acrylic humidor is different from traditional cigar boxes. Its unique design and modern ideas are what people love the most after its features.
The whole box is made of acrylic material, but it has cedar lining on the bottom to moisture the cigar. Silicone ring and clasp locking ability make it a functional humidor.
Features we love
Best for newbies
Easy to use
Easy on pocket
Worth considering points
The hygrometer on the lid is removable, so you can't calibrate it. Keep this flashpoint in your mind while buying it. If you have an accurate hygrometer, you can go with this humidor. If not, then you can check our article on humidor hygrometers.
Click here to find more best acrylic humidors.
Tips On How to Maintain Humidor
You don't want to ruin your investment by not taking care of the humidor properly. Buying a humidor is not enough. You have to maintain it to make your investment worthy. Let's see, how do you maintain a humidor?
Always season your box
Don't place your cigars right away in the humidor after getting one. You need to season the box; otherwise, its wood will suck all the moisture from your cigar. Would you want that? No, right. So always season your humidor with distilled water.
Cool and dry place
Don't put your humidor in hot and damp places, as it'll affect the humidor significance badly.
Check the hygrometer regularly
Regularly checking the hygrometer will tell a lot about your cigar's health. Also, don't forget to calibrate a hygrometer now and then.
Use the right filling
To provide a proper amount of humidity to the cigar, you need to use the right filling or humidity source. Experts prefer propylene glycol over distilled water. If you want something easier to use, then Boveda humidity packs are the best choice.
That's all lovely cigar lovers. We hope our efforts helped you and you gained some information from this article.
What Next?
Now since you have learned something about the best humidors, why don't you also check out our other related guides as follows: