Introduction
If you have been smoking cigars for a long time now, you must be familiar with the term "humidors." However, if you have recently developed a habit of smoking cigars, you would like to know more about humidors. Humidors are containers that provide a humidified environment for your cigars so that they remain in optimal smoking conditions.
Pre-made humidors can turn out to be heavy on your pocket, especially if you are on a tight budget. On the flip side, you might be able to save a couple of bucks if you consider making your DIY humidor. Learning the skill to build your humidor is simple, and it will provide you with the opportunity to test out your woodworking skills and creativity.
Considering that most people are not very experienced with DIY work, this guide can help you out.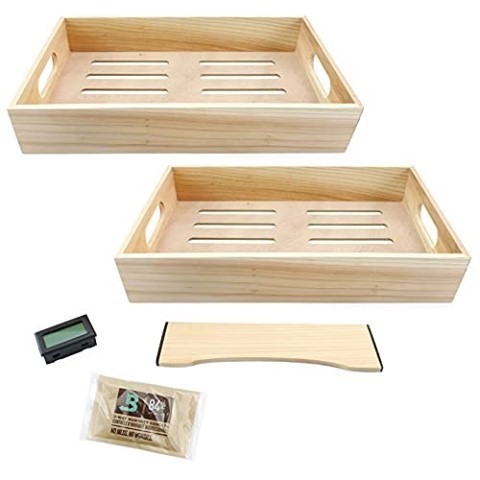 What Are the Different Types of Humidors You Can DIY?
Cigar humidors can be constructed from several different materials and in several different ways. For a clear picture, let's have a look at some of the types of DIY cigar humidors.
Made from Tupperware
Made from Wooden Box or Antique Cabinet
Made from Ice Chest
Made from Beer Cooler
Now, since you have a brief idea of what can be used to make your DIY humidor, let's discuss how you will be able to accomplish that.
DIY Humidor Made from Tupperware
Tupperware happens to be one of the most versatile tools in any household. It serves as a highly effective yet economical way to store your cigars. The Tupperware containers tend to come in various sizes that help you choose the ideal size according to the number of cigars you need to store.
The Construction Method
The method to construct a DIY humidor out of Tupperware is the simplest when compared with other methods. Load up the container with cigars and add a damp sponge that acts as your humidification device. Yup, it's that simple!
However, you need to ensure that your cigars don't touch the sponge to get wet. To do that, you can use a small cup or a small dish to hold the sponge in the container and keep it from touching your cigars.
You can also make a sponge holder out of any salt shaker; not only would it be cheap, but it would also get the job done effectively. Moreover, make sure to cut the sponge into an ideal size because a big sponge could result in over-humidification, which can lead to the splitting of cigars, whereas a small one can dry up quickly. You are also recommended to use distilled water as it would limit the chance of bacteria and mold.
If you wish to enhance the aroma and taste of your cigars, you can lay Spanish Cedar Sheets on the bottom and the top of the cigars.
DIY Humidor Made from Wooden Box or Antique Cabinet
Making a DIY cigar humidor out of a wooden box or an antique cabinet can be a wildly gratifying project. Not only will you be able to create an ideal storage place for your cigar collection, but you will also be able to flex your creativity. It is recommended that the box or cabinet that you choose should have the following characteristics.
Spanish Cedar Interior
Solid Wood Bottom
High-Quality Hinges
Thick Walls
Tightly Fitting Seal Lid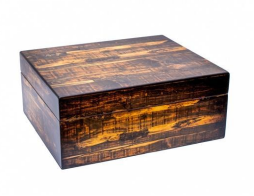 The Construction Method
Firstly, to make a DIY humidor out of a wooden box, you would have to find a well-built wooden box with the above-stated characteristics so that it provides the best environment for your cigars.
Next, check if the box has an interior of moisture-absorbing wood material like Mahogany or Okume; otherwise, you can consider applying Spanish Cedar.
Then, you need to choose a humidifier that is optimized according to the size of your box or cabinet and add distilled water to it. Usually, humidifiers can be easily attached to the bottom of the lid. Thus all you need to do is the drill to accommodate the power cord of an electronic humidifier.
For extra efficiency, you can place a hygrometer inside the box or cabinet, and it will let you check the status of humidity, just at a glance. Once you're done with everything, add cigars to the box and arrange them so that adequate airflow is managed for efficient humidification.
Related:
DIY Humidor Made from Ice Chest
Being a hardcore cigar addict can cause many problems for you as you wouldn't have any humidor large enough to store your pack. However, building a DIY humidor out of an ice chest can ease the situation up for you.
Yup, you heard that right; an ice chest is not just limited to keeping your ice cool. It can also help in keeping the moisture in and can hence be a great humidifier.
The Construction Method
The first step would be getting an ice chest and checking whether the seal is snug or not. You can consider strengthening the seal by ensuring that weather strippers are placed on the rim. It would be great if the interior were wiped down as it would remove any odors or stains from the previous usage of the chest.
Once you are done with the things mentioned above, you must coat the chest's interior walls with Spanish Cedar. These Cedar sheets can either be loosely fitted or placed in a sliding tray or box.
For necessary humidification, you should add distilled water to the humidification device until it is fully saturated. Any excess water is to be shaken off or dried. Once done, place it inside the chest at a position where it doesn't contact cigars but is also easy to remove for maintenance in the future. A hygrometer can also be installed to check the status of humidity at a glance.
Having finished installing the humidification device and the hygrometer, you can test them out by leaving the chest empty for a few days so that you can ensure whether the humidifier is working properly or not. The optimal humidity level range is between 65% and 72%.
DIY Humidor Made from Beer Cooler
A homemade humidor made from a beer cooler will not only look cool but will also provide a home for your cigars that is equal to any high-priced cigar humidor. Since beer coolers have a perfectly tight-fitting seal, they are the ideal choice when climate control is concerned. In addition to that, they also offer significant storage space for you to store your cigars.
The Construction Method
If proper steps are followed, converting a beer cooler into a humidor for your cigars is not a difficult task at all. Whether pre-used or new, beer coolers would probably have odors and moisture from the surrounding air. Hence, the first thing you would have to do is clean your cooler by wiping down the interior using a soft cloth or a sponge. If the smell remains, you can consider placing a bowl of baking soda as it will absorb any odor molecules.
Next, you would have to add a humidification device to your cooler. You can create a humidification device of your own or buy any electronic cigar humidifiers. While the electronic humidifiers may be a little expensive, they may offer great versatility and control. However, you would have to drill holes in your cooler as they require an external electricity plug.
On the flip side, standard humidifiers would be an easy choice as they would only require you to add distilled water, and they won't require electricity to operate.
Moreover, you would also have to add Spanish Cedar lining to your beer cooler as it would help optimize humidity control and enhance the aroma of your cigars.
Related: best cigar coolers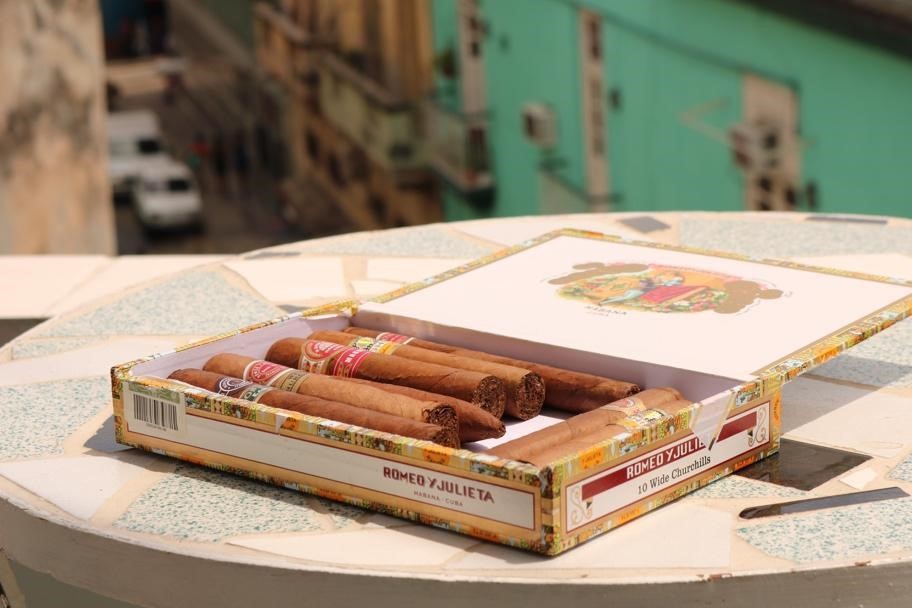 Why Should You Make Your Own Humidor?
Multiple reasons persuade you to make your humidor. It is also generally believed that people enjoy the satisfaction of using the items that they have created. We have explained some reasons that suggest why you should consider building a homemade humidor.
Budget
Upon searching up the market, you will get to know that cigar humidors are quite expensive. Hence, the first reason you would consider making your DIY humidor is that it would be particularly cost-effective.
However, it depends on the material that you wish to choose for your DIY cigar humidor project. For example, cigar humidors made out of Tupperware would be generally cheaper than the humidors made out of wooden boxes.
Storage
Storage is another one of the reasons why most people lean more towards making their humidors. The main reason behind it is that the humidors available in the market are either too small or too large for your needs, or it is pretty difficult to find the one with an ideal size that also comes under a pocket-friendly price tag.
Customization
Customization is more like a perk of building your cigar humidor. From the material type to the size of the container and the way you want it to look, you hold the power to customize it all. Consider a situation where you have an old wooden box that you like, but it isn't useful to you anymore; you can easily turn it into a cigar humidor and showcase your handiwork.
Flexibility
If you're a cigar lover and love to explore and enjoy new and different cigars every time, you should also know that certain cigars may require you to provide them with a certain humidity level. In this case, you would have to buy different humidors for different cigars. It may turn out to be pretty heavy on your pocket. Making your humidors can provide you with the benefit of having different humidors for different cigars, that too at a low price.
How to Maintain the Humidity in Your DIY Humidor?
To maintain the ideal humidity range in your cigar humidor, you need to learn about the humidity adjustment. Ideally, the humidity level should be maintained at 70%, but since this percentage is hard to maintain, a range between 62 to 74% is provided. For your ease, we have noted down some tips that may help you in controlling the humidity.
Seasoning Your Humidor
Seasoning your humidor after short time intervals ensures that it keeps operating properly. To ensure that you're effectively carrying out the seasoning process, you can watch online tutorials regarding how to do it. Some common approaches to seasoning include using a sponge and distilled water to wipe the inside of the humidor lightly or filling a small dish with distilled water and placing it inside the humidor for a couple of days. It can help in reaching the optimal humidity level.
You may want more about humidor seasoning.
Storing Your Humidor in the Right Place
How and where you store your humidor plays a vital part in its maintenance. To prevent mold, you are required to keep it in a cool and dry environment. Moreover, you must not place it under direct sunlight as it can develop fungus on your cigars. If the humidity or temperature gets too high, they may even become infected by tobacco beetles. The ideal room temperature where you store your cigar humidor should be between 65-70 Degree Fahrenheit.
Related: How to use a humidor
Hygrometer Calibration
You should also ensure that your equipment is working the way it should work. Having a faulty hygrometer will make things tough for you, as it would become challenging for you to keep your humidor at optimal humidity and temperature levels. You can look out for ways to test out whether your hygrometer is working properly or not. If not, you should immediately calibrate it.
Related: Humidor hygrometers
Conclusion
Learning to make a DIY humidor can no doubt save you quite a lot of cash. Not just that, it can also ensure that you get a product that not only ensures the freshness of your cigars but also protects them and provides you with ample storage space to store your pack. Moreover, you also have the freedom to explore endless options for customization as per your desire and budget. In addition to that, with the tips explained above, maintaining the optimal humidity level in your homemade humidor won't be a difficult task at all!
What Next?
Now since you have learned something about DIY humidors, why don't you also check out our other related guides as follows: