Are you someone who loves to start the day with a fresh cigar? Get a cigar cooler humidor to preserve your classy cigars.
A cigar cooler, also known as a humidor fridge or a cigar fridge, is a storage container that comes with a temperature control system. It lets you set the optimum temperature for your cigars, keeping them crispy and fresh.
Some cigar lovers who live in hot and humid climates store their cigars in wineadors. While it might work to some extent, you need a specific solution, like a cooler humidor, to prevent your cigars from cracking and losing flavor.
Unfortunately, with so many cigar cooler humidors available, selecting the right one is challenging.
To make things easier, we have compiled a list of the best cigar cooler humidors in several categories. Besides, we also include what makes a good cigar cooler, benefits and drawbacks, as well as a maintenance guide in this article.
In this article:
Our Picks for the Best Cigar Cooler Humidors and Fridges
1. Best Overall Cigar Cooler Humidor & Fridge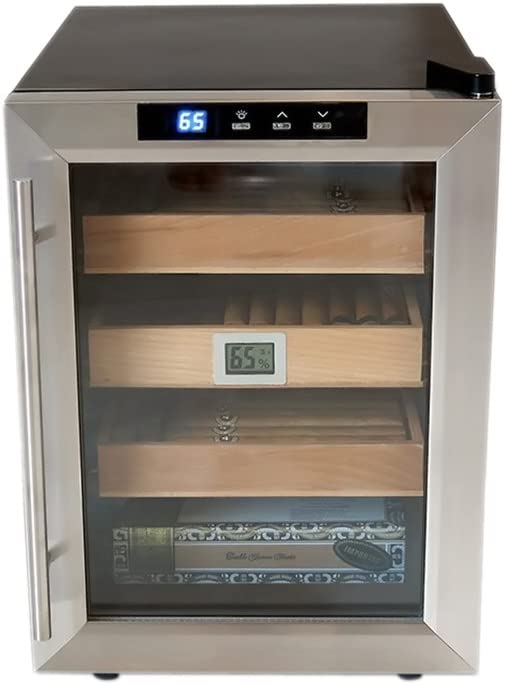 Product Name: Prestige Import Group Clevelander Thermoelectric Cooler Humidor Fridge
Item Weight: 20 Pounds
Shelf Type: Wood
Finish Type: Stainless Steel
Humidifier: No
Hygrometer: Digital
Capacity: 250 Cigars
Rating: 4.5 out of 5.0
We picked Prestige Import Group Clevelander Cigar Fridge as the best overall cigar cooler humidor because it comes with many good features that will never disappoint cigar aficionados.
First, the cooler humidor features three removable sliding trays with side walls to accommodate up to 250 counts. Both individual and boxed cigars will be securely and comfortably stored in the fridge. The adjustable feet, free-standing design, and good-looking stainless steel tempered glass door together offer you incredible convenience for cigar preservation.
Second, a digital hygrometer is available to display the temperature (in Fahrenheit or Celsius) and relative humidity (RH) levels inside the cigar cooler, so that you're able to monitor if the internal environment is optimal at any time. The thermoelectric cooling system helps adjust the temperature to an ideal level, while a removable humidification tray (no sponge) regulates the moisture level by being filled with distilled water.
Noise is no longer an issue, too, because this humidor cooler runs ultra-quietly and produces little noise. The possible major drawback of this cigar fridge is that the glass door on the Clevelander cannot provide UV protection. But, overall, it's one of the best cigar cooler humidors that deserves the investment if you have no issues with the missing UV protection.
Pros
Stores up to 250 counts (individual cigars or complete cigar boxes)
Silent operation
Strong-built stainless steel tempered glass door
Digital hygrometer helps monitor the RH and temperature levels
Removable humidification tray for humidity control
Efficient thermoelectric cooling system
Cons
The glass door doesn't provide UV protection
2. Best Budget-friendly Cigar Cooler Humidor & Fridge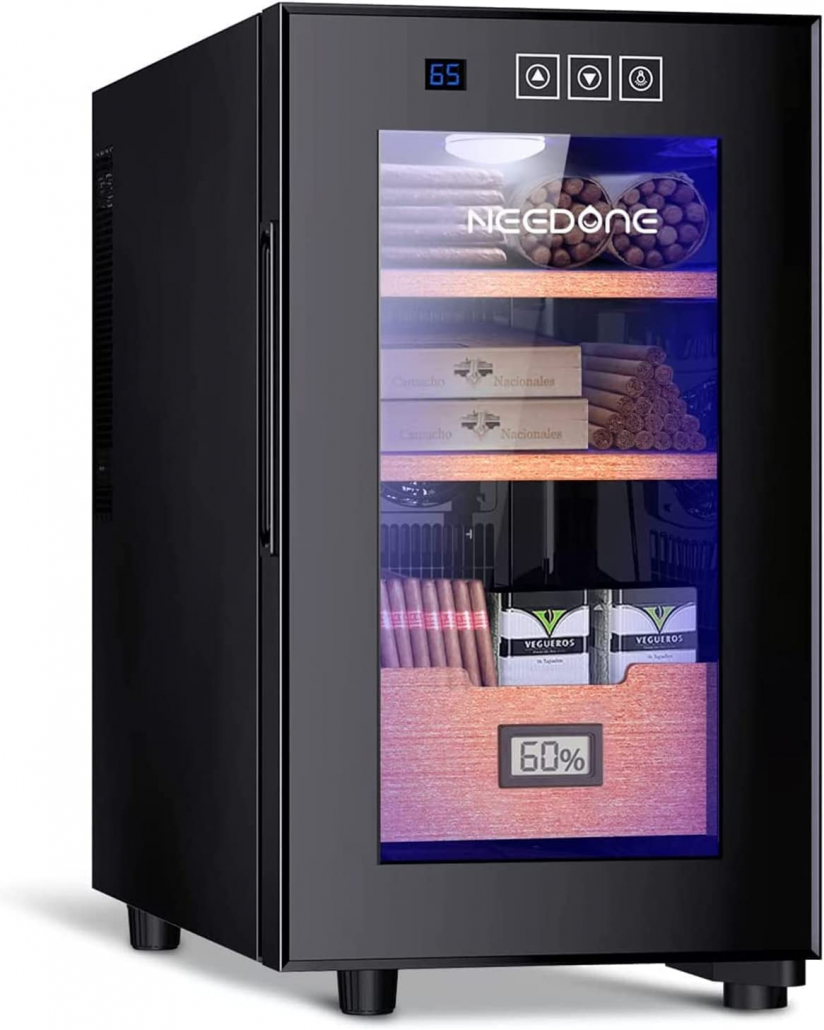 Product Name: Needone 23L Cigar Cooler Humidor with Spanish Cedar Wood Shelves
Item Weight: 23.7 Pounds
Shelf Type: Spanish Cedar Wood
Humidifier: No
Hygrometer: Digital
Capacity: 150 Cigars
Warranty: 1 Year
Rating: 4.4 out of 5.0
As a true cigar aficionado, you must have heard of Needone humidors. As a popular brand that provides cigar coolers, Needone has been committed to bringing the highest level of quality and comfort to customers. So, we've added the Needone 23L cigar cooler humidor to our list of the best cigar fridges. Here are our detailed reviews on this cooler humidor.
With a temperature range of 54 ℉-74 ℉, the Needone cooling humidor stores your cigars at an ideal temperature and creates a more cigar-friendly environment by avoiding humidity and temperature fluctuations (The best climate for cigar collection is 64 ℉-74 ℉, 55-65% RH).
Made from Spanish cedar wood, the two adjustable shelves and one drawer not only mediate moisture but also protect cigars from worms and insects to preserve the flavor and aroma of your special babies. Water tanks are also available to help you control the humidity levels in the cooler.
In addition, for better climate control, semiconductor refrigeration technology is adopted and combined with a built-in fan to allow free air circulation and even humidity distribution throughout the fridge. The double-tempered glass door is scratch-resistant and firm enough to guarantee safe cigar storage, and the upper LED light allows you to observe the internal situation without opening the cooler's door.
If you've never tried Needone cigar cooler humidors, then the 23L version can be your first choice. It's totally beginner-friendly and comes at an affordable price with enough capacity (150 counts). Overall, it's a good-quality cigar humidor fridge to upgrade your life.
Pros
Adopts semiconductor refrigeration technology for humidity control
Accommodates up to 150 cigars
Provides an adjustable temperature range
Shelves and drawer made from Spanish Cedar Wood
Ideal gift for men, elders, etc
Affordable price
Backed by one year warranty
Cons
Only manual control of humidity is available
Some people complained about the accuracy of the accompanied digital hygrometer
3. Best 3-in-1 Cigar Cooler Humidor (Cigar Fridge)
Product Name: Schmécké 250 3-in1 Cigar Cooler Humidor
Country of Origin: USA
Material: Stainless Steel and Spanish Cedar Wood
Humidifier: Yes
Hygrometer: Digital
Capacity: 250 Cigars
Rating: 4.1 out of 5.0
Are you looking for a humidor fridge that improves the flavor and lifespan of cigars? Consider Schmécké 250 Cigar Cooler Humidor.
The cigar cooler humidor is very practical as it consists of a fridge, heater, and humidor altogether to provide the best possible temperature. Its advanced compressor cooling technology creates an ideal temperature (61°F-72°F and 65 % and 75% humidity) for cigars. Therefore, it preserves the natural aroma and flavor of your cigars.
This cigar refrigerator humidor features a glass door and Spanish cedar shelves. The glass door blocks harmful rays, while cedar shelves preserve the flavor.
It also has a digital hygrometer to monitor the moisture level inside the cooler. The exterior of this temperature-controlled humidor has stainless steel, giving it an elegant look. It also makes a good gift for cigar enthusiasts.
Pros
It keeps your cigars fresh and flavor-rich
You can store up to 250 cigars
Spanish cedar shelves and drawers for easy organization
Stylish stainless steel exterior body
Double-pane glass door
Interior LED light for easy visibility
Cons
If the upper shelves have cigars, the bottom drawer is not visible even with the light on
4. Best Beautiful Cigar Cooler Humidor & Fridge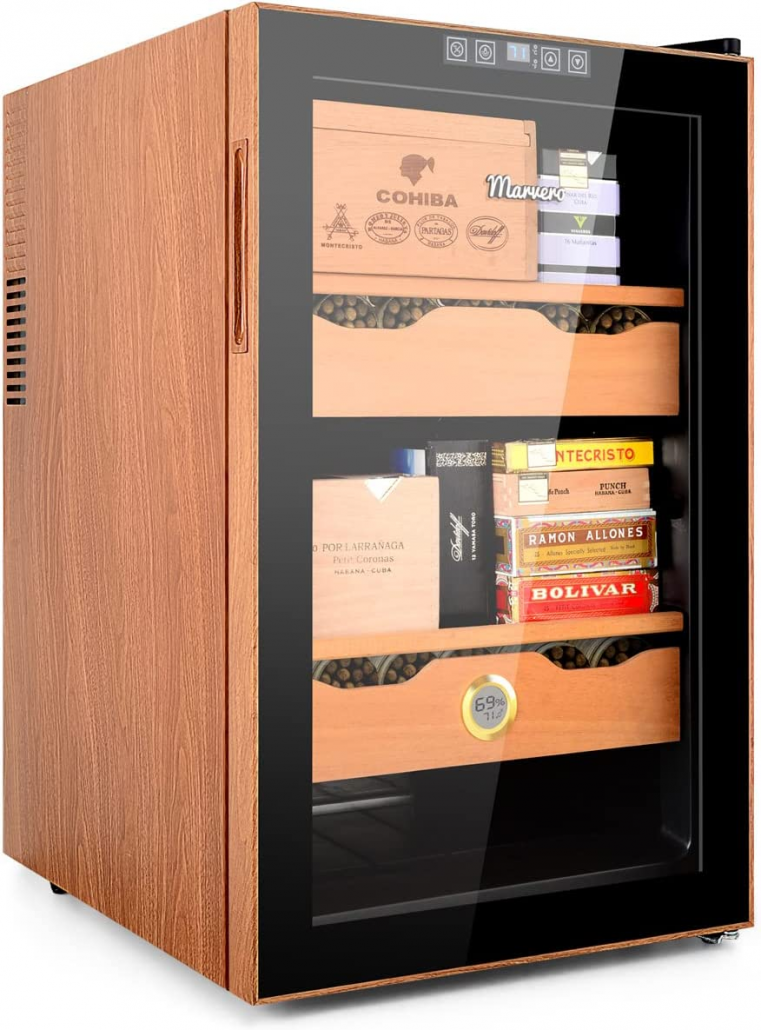 Product Name: Marvero 70L Cigar Cooler Humidor (Cigar Fridge)
Item Weight: 52.85 Pounds
Lining Material: Spanish Cedar Wood
Humidifier: Yes
Hygrometer: Digital
Capacity: 600 Cigars
Rating: 4.5 out of 5.0
As a brand with a long history, Marvero is known for skilled crafts and age-old woodworkers and is committed to bringing cigar lovers a pleasurable experience with the Marvero 70L refrigerated humidor.
Combined with modern and classical styles, the 70L cigar cooler humidor boasts exquisite craftsmanship and is finished with beautiful wood grain trim. The beautiful design can blend well in with any elegant home decoration.
Like other humidor fridges, the cooler also features adjustable temperature (54 ℉-74 ℉). The heating and cooling functions perfectly help you handle winter and summer conditions. The digital hygrometer installed accurately displays the relative humidity and temperature (in Fahrenheit or Celsius), and a large humidifier and a water tank are provided to help you regulate the RH level if you find it's not at an optimal level.
When it comes to capacity, the Marvero 70L cigar fridge humidor is also a winner. It has two removable Spanish cedar wooden shelves and two large cedar drawers to hold up to 600 counts. The high-quality Spanish cedar wood helps manage the humidity level by absorbing excessive water inside and lends a cedar wood flavor to the collection.
Other Impressive Features:
Double-layer tempered glass door effectively protects cigars from damaging UV rays;
Simple yet elegant glass panel touch control helps stabilize the humidity and temperature without frequently opening the door;
Air circulation system quietly maintains moisture in an effective manner;
Semiconductor refrigeration is adopted to enhance operational efficiency;
High-powered fan evenly distributes cold air throughout the cooler.
Pros
Elegant and beautiful design that blends modern and classical styles
Holds up to 600 cigars
Suitable for both summer and winter conditions
Provides a large humidifier
Precise cooling and heating control
Comes with many impressive features
Relatively low price considering the large capacity
Cons
5. Best Cigar Cooler Humidor with Low Noise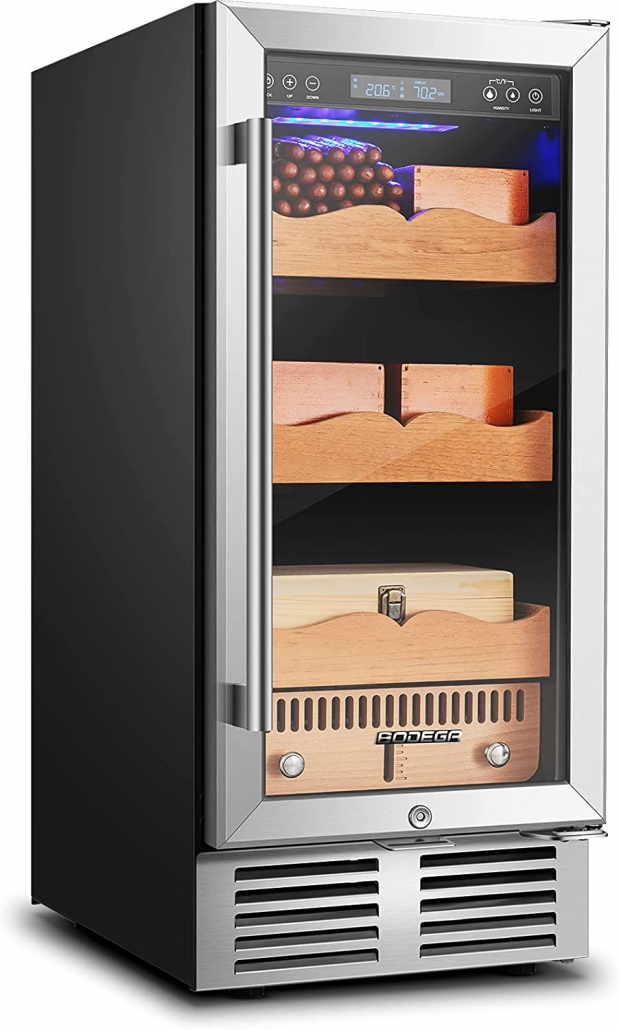 Product Name: Bodega 15 Inch Cigar Cooler Humidor Fridge (546 Cigars)
Item Weight: 77.8 Pounds
Shelf Type: Wood
Humidifier: No
Hygrometer: Yes
Capacity: 546 Cigars
Rating: 4.3 out of 5.0
In addition to manufacturing wine and beverage coolers, Bodega also excels at making cooling humidors for storing cigars. The Bodega 15 inch cigar fridge boasts a large capacity of 546 counts. It comes with one adjustable drawer and three adjustable shelves made from Spanish cedar wood, which absorbs excessive water for humidity regulation and releases a cedar wood aroma.
An energy-efficient compressor that meets standards of global energy consumption is equipped with this cigar cooler to ensure efficient and silent running so that you won't feel disturbed or distracted.
With an electronic control system, humidity and temperature fluctuations are avoided to create a cigar-friendly environment in the cabinet. The temperature can be adjusted from 62 ℉-72 ℉ and the humidity level ranges from 50%-80%, both of which are ideal for extended cigar storage and enhanced cigar taste.
The fan-forced air circulation system adopts semiconductor thermoelectric (refrigeration) technology and allows free air circulation between the inside and outside. The moist air won't sink to the bottom of the cooler humidor, ensuring uniform humidity distribution throughout the fridge. Besides, the large-capacity water tank is provided to assist in easier humidity regulation.
To sum up, the Bodega 15 inch cigar cooler humidor fridge is a perfect choice for preserving the taste and flavor of your special babies. It matches any home decoration and can be installed in any room in your home, thanks to its modern, stylish design.
Pros
Holds up to 546 cigars (both individual and boxed cigars)
Energy-efficient and high-quality compressor
Carbon filters purify air to avoid dust and odor inside
Runs silently with no vibration
Provides an ideal climate for cigar storage
Adjustable temperature and humidity levels
Modern stylish design that fits any home decoration
A safety lock prevents kids from frequently opening the cooler's door
Intelligent touch panel and high-definition LCD for easy and quick operation
Cons
Comes with a high price tag
6. Best Cigar Cooler Humidor & Fridge for Temperature Control
Product Name: NewAir 250 Count Cigar Cooler Humidor Wineador
Country of Origin: China
Material: Stainless Steel and Spanish Cedar Wood
Humidifier: Yes
Hygrometer: Digital Hygrometer
Capacity: 250 Cigars
Rating: 4.2 out of 5.0
This cigar refrigerator from NewAir keeps your cigars cool to excellence thanks to its Opti-Temp system. It lets you set the temperature as low as 52F with its touchscreen control panel.
The NewAir Cigar Cooler Humidor Wineador uses Spanish cedar for shelves and drawers. Not only it enhances the flavor, but also it maintains the humidity level.
It is the best in class when it comes to storage capacity. You can store up to 250 large-sized cigars.
This humidor refrigerator also has a digital hygrometer to check the humidity level. Moreover, it also includes a security lock system so that no one can access your premium cigars without your consent.
Pros
Better storage capacity (250 cigars)
Thermoelectric cooling and secure door seal to lock in moisture
Spanish cedar shelves and drawers to improve cigar flavor
Digital hygrometer with user-friendly interface
Compact design and elegant stainless steel casing  
Advanced lock system
One-year warranty
Cons
7. Best Cigar Cooler for Sleek Design
Product Name: Whynter CHC-120Sa Cigar Cooler Humidor with Sleek Cabinet (Black)
Country of Origin: the United States
Material: Stainless Steel and Spanish Cedar Wood
Humidifier: Yes
Hygrometer: Analog Hygrometer
Capacity: 250 Cigars
Rating: 4.2 out of 5.0
Whynter CHC-120Sa cigar cooler is another affordable cigar fridge humidor on the list. While it is affordable, it does not compromise on the features. The cigar cooler humidor features a hygrometer and humidity tray. You can store cigars at the ideal humidity range, which is 62 to 75%.
It comes with detachable Spanish cedar shelves that let you store 250 plus cigars. The cigar cooler humidor also has a digital temperature display. It makes it easier to read the temperature.
With an adjustable thermostat, you can set the inside temperature between 50ºF – 66ºF. Furthermore, the humidor fridge distributes humidity uniformly throughout the cabinet.
Pros
Can hold more than 250 cigars altogether
Stainless steel body with glass door
Self-Supporting cigar cooler
Removable Spanish cedar shelves
Interior LED light to find cigars in the dark
Adaptable thermostat (Temperature range 50ºF – 66ºF)
Cons
8. Best Large-capacity Cigar Cooler Humidor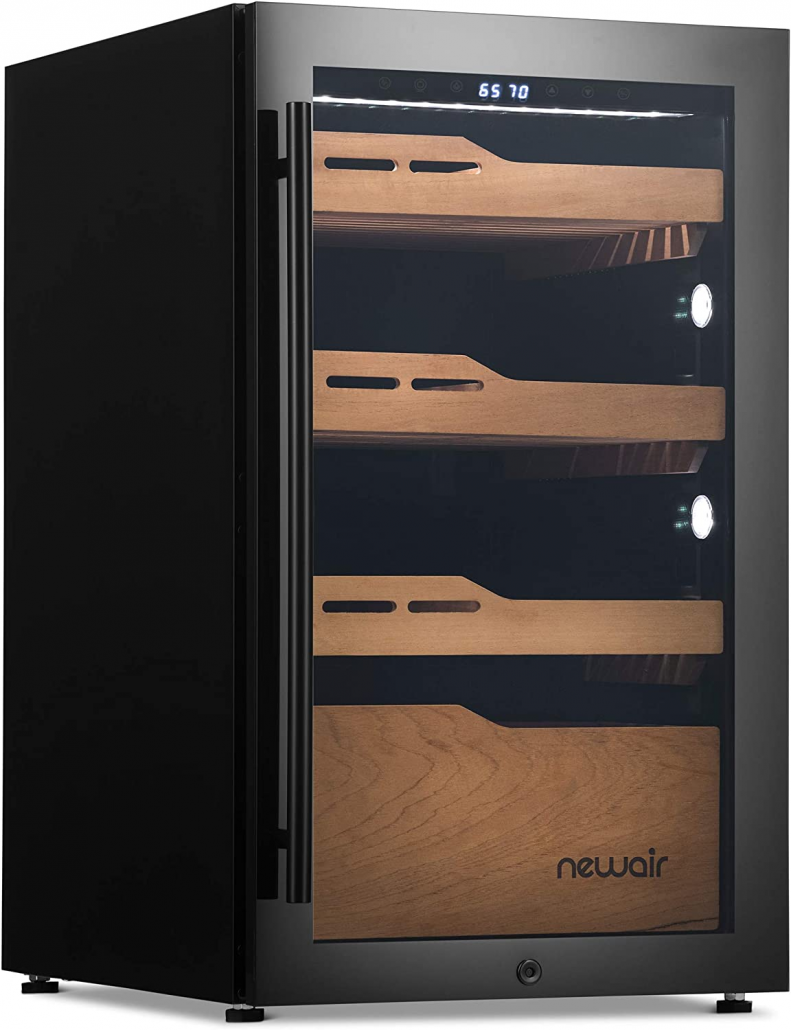 Product Name: NewAir 840 Count Black Cigar Cooler and Humidor Fridge
Item Weight: 81.4 Pounds
Country of Origin: China
Drawer Type: Spanish Cedar Wood
Humidifier: No
Hygrometer: No
Capacity: 840 Cigars
Rating: 4.2 out of 5.0
This NewAir 840 cigar coolidor features a smooth storage of 840 cigars and has Spanish cedar wooden drawers to repel insects and enhance cigar taste. You'll always have room to store your cigars decently. Moreover, the unique cutaway front allows you to easily check the shelf without opening the door.
With this large cigar cooler, building your own wineador becomes a piece of cake because the inside humidification system regulates humidity levels and ensures the internal environment is not affected by the outside changes.
The temperature is also taken care of by the cigar fridge itself. It heats or cools the collection inside with a built-in heater or a cooling compressor for an ideal temperature. Thanks to the thermostat, the temperature is adjustable between 54 and 72 degrees Fahrenheit.
In addition, bright LED lights are installed to light up each drawer and help you find what you want much quicker – no need to open the door and thus affects the temperature and moisture inside. And the safety lock and sturdy double-paneled glass door assure you that your special babies will be securely stored.
Pros
Stores up to 840 cigars
Efficient humidification and temperature control system
Easy-to-use refrigerated humidor
Adjustable temperature
LED lights are installed for every drawer
A unique cutaway front for easy check
Cons
Very expensive
Noisy and loud
What to Look for in a Cigar Cooler Humidor
A cigar cooler gives your cigars longevity and protection against excessive heat and cold. However, you will get the desired outcomes only when you choose an appropriate cigar cooler.
Consider the following factors when buying a cigar fridge.
Types
There are two major types of cigar coolers for people to choose from. One type comes with a compressor system that stores your cigars at the optimal temperature, while the other adopts thermoelectric cooling technology for gradual temperature control.
Temperature and Humidity
Temperature and humidity are two of the most important factors when buying a humidor fridge because cigars should be stored at certain temperature and humidity levels to preserve their taste.
In terms of temperature, the ideal temperature range for cigar storage is around 64 ℉-74 ℉. Most cigar coolers have an adjustable temperature level to create a perfect climate to store cigars.
As for humidity, ideally, cigars should be kept with about 70% relative humidity levels. A lower humidity level will dry the cigars and evaporate the oils inside. Dry cigars lose most of the original flavor and burn quickly, causing a bitter taste. On the contrary, a higher humidity level makes cigars absorb excess water from the air and become damp, which will be hard to light on and cause the aroma to change.
Therefore, a cigar cooler humidor that creates an ideal environment is crucial for cigar storage. Many good cooler humidors are installed with a hygrometer (analog or digital) to help you monitor the humidity levels inside.
If the humidity is not ideal, you should also consider a humidor humidifier. Some coolers come with one, and some are not. You can buy it separately or just look for a cigar fridge with a humidifier, like the Marvero 70L Cigar Cooler Humidor we've reviewed above.
Air Circulation System
An air circulation system is another essential feature that a good humidor fridge should have. It promotes an even air distribution throughout the cooler and ensures cigars in every corner remain fresh. Hence, a humidor cooler with a decent built-in fan is a must-have.
Size
Although cigar coolers are usually large enough compared with those small wood or acrylic humidors, they still have many large options. Some coolers hold up to 250 cigars, while other super-big models can accommodate 800+ cigars at one time. Hence, carefully check your storage plan and select the size that suits you the best.
Shelf Material
It's well known that Spanish cedar wood is the best material for storing cigar collections. They can absorb excess water and release a wood fragrance to enhance the taste of cigars. Look for a cigar cooler humidor with natural Spanish cedar wood, and you will benefit a lot.
Insulation
Insulation is a necessity if you live in a humid or hot climate. Good insulation stops hot or damp air outside from entering the cigar cooler and ensures that the outside environment will not affect the cigars stored inside.
Nowadays, many cigar coolers are equipped with a double-layer tempered glass door to achieve insulation. Some better models even come with a design that provides UV protection to prevent cigars from damaging UV rays.
Benefits of Cigar Cooler Humidors & Fridges
After reviewing the 8 best cigar cooler humidors, you may already know that precise temperature control is one of the largest benefits of a cooler humidor.
Compared to wood or acrylic humidors, cigar coolers offer an adjustable temperature range for cigar lovers to choose from. An ideal temperature greatly helps create a suitable climate and preserve the natural flavor and aroma of cigars.
Besides, cigar coolers often have a much larger storage capacity than regular humidors. Some of them can hold up to 800+ cigars at one time, similar to a large humidor cabinet. But they are more airtight and work like a typical refrigerator to extend the lifespan of your cigars.
Finally, good cigar humidor fridges often provide excellent insulation to protect your cigars from harmful environmental and UV rays. If you're living in a place with extremely high temperature and humidity levels, a cigar cooler will be the perfect option to store your cigars.
Drawbacks of Cigar Cooler Humidors & Fridges
Although cigar coolers have many benefits, they do have some issues that should be paid attention to.
One of the biggest issues of a humidor fridge lies in its electronic components. Sometimes, the electronic components are poorly made and cannot ensure adequate temperature control. It may do more harm than a regular humidor.
Besides, cigars are sensitive to light and should not be exposed to excessive UV rays. You should take careful consideration about where to place your cooling humidor. Not all cooler humidors have a glass door that protects against UV lights.
In addition, humidification is also a worth-noting issue of a cigar cooler. Not all coolers provide precise humidity control. If you want one, you may need to pay a lot.
Finally, a cigar cooler is an expensive investment. It's often priced much higher than a traditional cigar humidor and requires high maintenance costs, similar to a standard refrigerator. And don't forget that a cigar fridge is also an electronic appliance heavily dependent on electricity. It will be useless if there is a power cut.
Tips on Cigar Cooler Humidor Maintenance
Like every machine, a humidor refrigerator also needs maintenance from time to time. Regular maintenance improves the lifespan and efficiency of a cigar cooler humidor.
Below is how you can maintain your cigar fridge.
If your humidor cooler has wooden shelves, you should dry it thoroughly before placing the cigar. It will help your cooler attain a proper humidity level.
Do not place your cigar refrigerator in wet locations like the basement. Such areas might attract fungus.
Don't place your cigar cooler in direct sunlight.
Keep the cigar cooler humidor away from the area with extreme temperature swings.
Check your cigar cooler regularly to see the humidity and temperature level.
FAQs About Cigar Coolers
1. Can You Use a Cooler as a Humidor
Yes. Converting a regular cooler into a large cooler humidor turns out to be an affordable and easy way to store your cigars. To achieve that, you should get a new cooler, sanitize and season it, add a humidification system (i.e., Boveda humidity packs), and get a humidor hygrometer to monitor the humidity and temperature levels.
2. Who Makes the Best Cigar Cooler
There are many brands known for making cigar cooler humidors, such as NewAir, Whynter, Prestige Import Group, Redford Lite, etc. The cigar coolers we've reviewed above are also high-quality humidor fridges worth investing in.
3. Does the Cold Ruin Cigars
Cold temperatures can dry out a cigar and affect the cigar wrapper, resulting in a bad smoking experience. Hence, it's very important to store your cigars in a humidor during the winter.
4. Should Cigars Be Refrigerated
The ideal climate for storing premium cigars is about 65 ℉-70 ℉ and 65%-70% RH. If you use a refrigerator that is too dry and cold, your cigars will dry out and taste bad when you smoke.
5. Do You Really Need a Cooler Humidor for Cigars
If you take cigar storage seriously and have enough budget, then a cigar cooler will be your perfect option to keep your special babies. They are large and efficient enough to offer you a fantastic smoking experience.
Conclusion
A cigar cooler humidor is a must-have for every cigar enthusiast who wants to enjoy a fresh and flavorful cigar every time. It stores hundreds of cigars together and keeps them fresh for a long time. Cigars lovers who live in a humid and hotter climate must get it.
However, to get desired results, invest in a quality cigar fridge only. Depending on your budget and needs, you can buy any of the best cigar cooler humidors above.