Premium cigars need premium cigar humidors to keep their freshness and taste. They preserve the natural flavor of cigars by maintaining an appropriate humidity level. Furthermore, humidors protect cigars from the damaging effects of the environment and ultraviolet radiation.
So if you are a cigar lover who loves to smoke fresh cigars every time, get a high-end cigar humidor. It is an essential investment for all those who relish tobacco products.
Nowadays, most companies claim to provide premium cigar humidors. However, not all stand to their claims. As a result, you must carefully analyze the quality of a humidor before buying it.
We know it is not as easy as it seems. Therefore, we have put together some of the top premium cigar humidors for you. We will quickly review each of them so that you can buy the one that best suits your needs.
So without any further delay, let us begin it.
Our Picks for Best Premium Cigar Humidors
Best Multi-Use Premium Cigar Humidor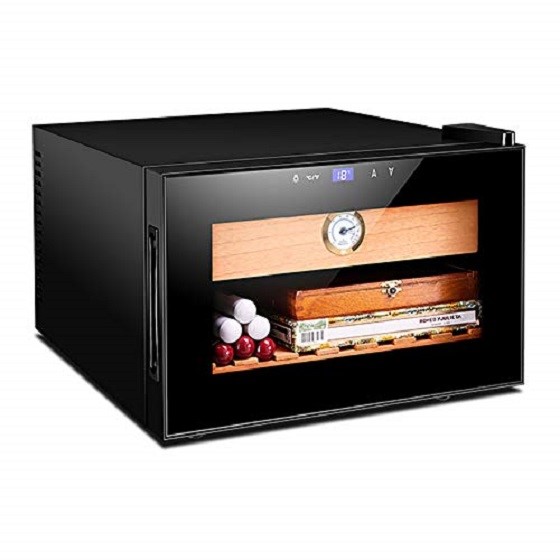 Product Name: IRi Freestanding Cigar Cooler
Brand: IRi
Material: Stainless steel & cedarwood
Humidifier: Natural Humidifer
Hygrometer: Analog
Capacity: The whole box of cigar
Price: $1,554.99
Freestanding Cigar Cooler from IRi is among the top versatile premium cigar humidors. It provides you with better control over temperature and ventilation, thanks to its automatic humidification system.
The cigar humidor uses compressor technology to control humidity and temperature. Therefore, it keeps your cigars fresh for a long time. There is a touch screen display to set the temperature.
The main body of the humidor has stainless steel, making it durable. Its front door uses a unique glass material that protects your cigars from UV rays.
Since the dimension of this humidor is 42*48*28.5 cm, you can store cigars in bulk. Always place your cigar box in the lower part for better humidification. The humidor has a small vent at the back for ventilation.
Pros
High-quality glass door for better visibility
Noiseless operation compressor
Stainless steel frame
Spanish cedar drawers
Cons
Best Novel Design Premium Cigar Humidor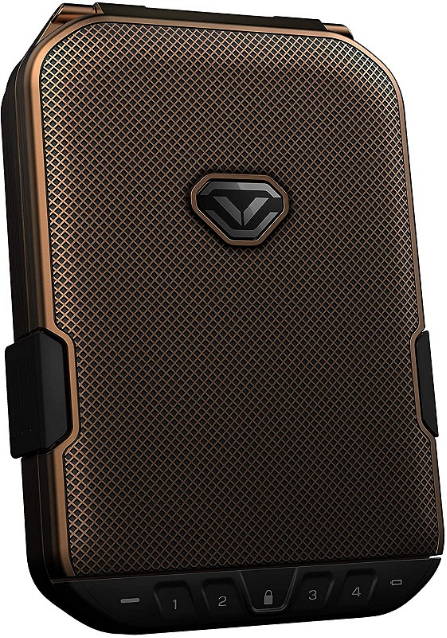 Product Name: LifePod Humidor Cigar Lock Box by Vaultek Safe
Country of Origin: USA
Material: Steel
Hygrometer: On App via Bluetooth
Capacity: 6 Cigars
Rating: 4.4
Price: $279.99
Manufactured by Vaultek Safe, LifePod Humidor Cigar Lock Box is one of the most premium cigar humidors for individuals who travel a lot.
Since this high-end cigar humidor has an innovative design, we have put it in the best novel design category.
This smart and secure humidor can hold six cigars. We call it intelligent because it uses Bluetooth technology.
You can connect this humidor to your smartphone using the Bluetooth Smartphone App. Thus you can monitor the humidity level inside the box. Remember, you will need a humidity pack to humidify it.
LifePod Humidor Cigar Lock Box has an advanced inbuilt lock. You will need to enter your unique 4 to 8 digit code to access your cigars.
This luxury humidor does not compromise on functionality as well. You get cigar trays made out of Spanish cedar. The humidor also features a leather lid organizer.
Pros
Stylish appearance
Easy to carry Bluetooth-enabled humidor
Spanish cedarwood
Smart built-in lock
Smart App for see humidity level
Cons
Best Wooden Premium Cigar Humidor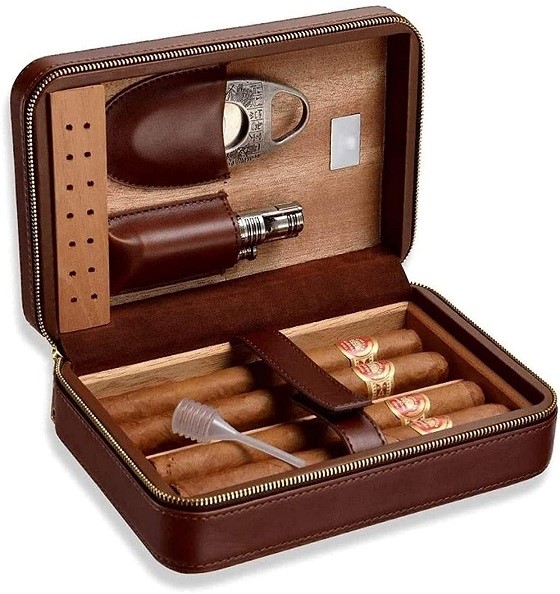 Product Name: GRBD Portable Cigar Case
Brand: GRBD
Material: Stainless Steel and Spanish Cedar Wood
Humidifier: No
Hygrometer: No
Capacity: 4 Cigars
Are you in search of a classy wooden cigar humidor? This portable cigar case from GRBD is what you need. The manufacturer has used Spanish cedar wood that maintains appropriate moisture inside the box.
Cow leather fabric gives this premium cigar humidor a glossy texture. As it is a portable case, you can store only four cigars.
It also makes the best gift for Christmas, Father's Day, and Thanksgiving.
Pros
Made out of Spanish cedarwood
British sewing technology for smooth and fine stitching
Convenient for traveling, business club, etc
Cons
No hygrometer to analyze the inside humidity level
Best Premium Cigar Humidor With Elegance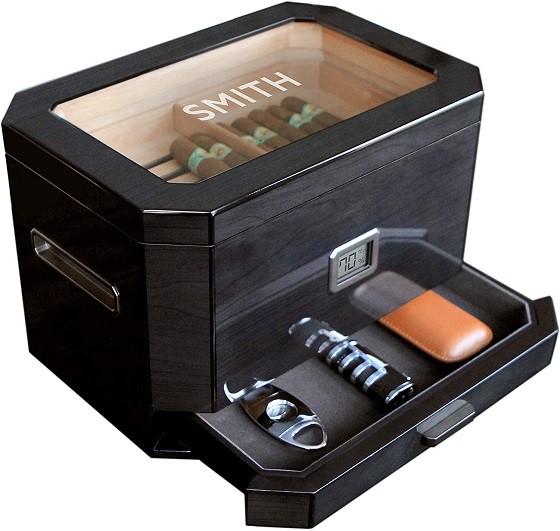 Product Name: Monogrammed Octodor Glass Top Cedar Humidor
Country of Origin: the United States
Material: Stainless + Cedar Wood
Humidifier: Yes
Hygrometer: Digital
Capacity: Up to 100 Cigars
Rating: 4.7
Price: $209.77
This piano-finish cedar humidor is one of those premium cigar humidors that captivate individuals with its sophisticated design.
Monogrammed black color, piano finishing, and glass top design look elegant. On the other hand, a digital hygrometer and an extensive humidification system make it practical. You can also buy a humidor solution for better taste.
This high-end cigar humidor can hold up to 100 cigars. It features an advanced hydro system that maintains accurate humidity (65% to 70% RH).
It also has a built-in digital hygrometer for accurate humidity monitoring. The humidor features an octagon-shaped glass top for easy visibility of your cigars. Since the humidor has a detachable storage tray, it ensures good airflow.
Pros
Space for holding up to hundred cigars.
Elegant monogrammed black color and Octodor shape
Digital hygrometer and humidifier
Detachable storage tray
Additional storage for cigar cutter, lighter, etc
Cons
Best Premium Cigar Humidor With Large Capacity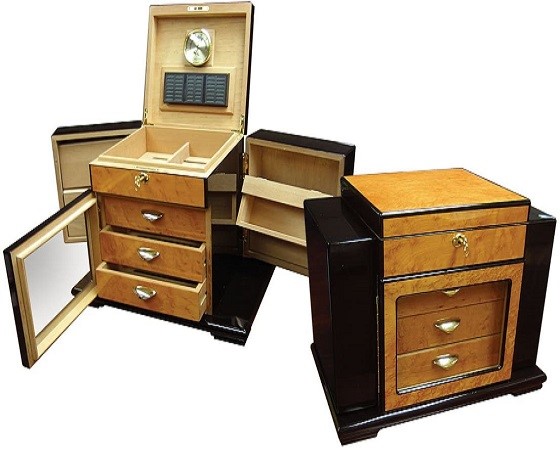 Product Name: Modern Art Deco Cigar Humidor
Country of Origin: the United States
Material: Spanish Cedar
Humidifier: Yes
Hygrometer: Analog
Capacity: Up to 200 Cigars
Rating: 4.6
Price: $249.95
Cigar enthusiasts often complain that premium cigar humidors lack adequate storage space. If you are one of those, Modern Art Deco Cigar Humidor from Prestige Import Group is for you.
This luxury humidor can store up to 200 cigars in its multiple drawers. You will find three cedar-made drawers in it.
For carrying accessories and extra cigars, you can use its side compartments. It has one humidifier and one analog hygrometer. This dual-color humidor will look graceful in your home.
Pros
Three drawers for holding 200 cigars
Side compartments for storing accessories and extra cigars
Eye-appealing Dual tone
Cons
Best Luxury Cigar Premium Humidor with Classic Design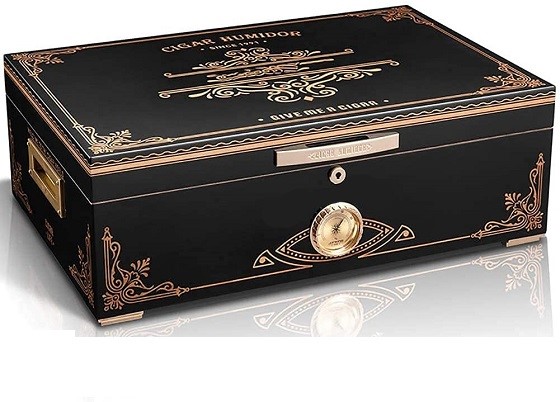 Product Name: Desktop Cigar Humidor Cigar Box
Country of Origin: China
Material: Spanish Cedar Wood
Humidifier: Yes
Hygrometer: Digital
Capacity: Up to 250 Cigars
Price: $2,521.75
If you want a timeless, high-end humidor, go for this classic desktop cigar humidor from ZHJBD. It is one of the most premium cigar humidors on the list.
This handmade humidor features cedar wood lining and has elegant black color. The humidor box has multiple sections to store cigars allowing you to store up to 250 cigars.
This desktop cigar humidor box is a great example of a beautiful craft. It has a built-in humidifier to maintain the appropriate humidity inside.
Also, there is a hygrometer to read the humidity level.
Pros
Stores around 250 cigars.
Handmade cigar box with a classic appearance
Digital hygrometer in front
Storage components made out of Spanish cedarwood
Cons
Bit expensive for an average user
Why Choose a Premium Cigar Humidor—— Learn the Benefits
It can be frustrating for cigar lovers to smoke premium cigars that have lost freshness and flavor because of poor storage. If you can buy high-end cigars, why don't you invest in a premium cigar humidor as well? Do not forget that the life of your cigar depends on how you store them.
There are several reasons you should get a good humidor.
Provides Freshness
All true cigar lovers know the importance of fresh cigars. If you do not store them at the appropriate temperature, they can lose their flavor and essential oil.
The ideal humidity level for cigars should be between 67 to 73%. Therefore, you need a high-performing humidor.
Protection against Bad Environment
A premium humidor protects your cigars against direct sunlight and a bad environment.
Improves shelflife
Premium cigar humidors improve the life of your cigars many times.
Final Words
Premium cigar humidors not only preserve your expensive cigars but also describe your personality. Therefore, it is a good idea to invest in a classic one. We hope this in-depth article helps you choose the best high-end cigar humidor as per your needs.
What Next?
Now since you have learned something about the best premium cigar humidors, why don't you also check out our other related guides as follows: