The best strollers for newborn and toddler can make it easier to move around with your young one. However, choosing the right one can be difficult. There are so many factors to consider and lots of features to choose from.
Do you want a 3 in 1 stroller or a 2-in-1? Should you go for a three-wheel or four-wheel option? Do you need one that is front-facing or rear-facing? How much will you spend on a baby pram? Considering all these decisions and making the right choice can be overwhelming.
Fortunately, we have had the handwork for you. We have created a list of the top 6 options and a buying guide to help you out. Read on to make the right buying decision.
How To Choose The Right Baby Strollers For Newborn And Toddler
There are several factors you need to consider when choosing a baby stroller. These are:
There are different types of strollers. These include travel systems, double systems, umbrella strollers, jogging strollers, and more. The type that you choose will depend on your need. If you are traveling with your infant, we recommend that you choose a travel trailer. If you are an outdoor enthusiast, we recommend jogging strollers.
Click here to find more details about stroller types.
If you need somewhere to put your diaper bag, handbag, and other accessories, you will need to choose a baby stroller with enough storage. Some models have zippered pockets and dividers where you can store your valuables. This basket should be in an accessible area even when the infant seat is completely reclined. It should also be sturdy enough so that it doesn't drag on the ground.
Baby strollers often have two types of wheel designs: 3-wheel and 4-wheel designs. No matter the design you choose, you will want to ensure that the wheels run smoothly and easily turn in different directions. Large wheels make it easy to maneuver the stroller around.
You should ensure that stroller meets the U.S safety standards. You can research to find out if they have ever been recalled. Check if it comes with a seal that shows the manufacturer is certified by the Juvenile Products Manufacturers Association (JPMA).
If you need a stroller that will serve your baby for a long time, you will want to choose one that is rated for a higher weight limit. Most strollers have a maximum weight rating of 30 to 65 pounds. If you need a double stroller, you should ensure that the stroller has a weight rating for two infants.
Most strollers have 5 point harnesses, which is essential to guarantee the baby is secured at the shoulders, waist, and between the legs, ensuring they can't fall, climb out or slide out. It should be easy to use and adjust the straps. However, it should be hard for your infant to unfasten themselves.
You will want to choose strollers for newborn and toddler that allow you to recline the seat and can be connected to an infant car seat. When it's possible to recline a stroller seat, it means that your baby can sleep comfortably.
Choose a baby toddler stroller with a canopy that can shield your baby from the sun and other harsh weather elements. Canopies are available in different styles and sizes. Some provide full coverage at the front of the stroller. If you go for this option, ensure a mesh panel to keep your infant at a comfortable temperature. Consider choosing a model with a plastic window to help you see your baby.
Click here to check out the complete buying guide about baby strollers.
Best Strollers For Newborn And Toddler
If you are searching for a stroller for a newborn and toddler, you should consider here are two options.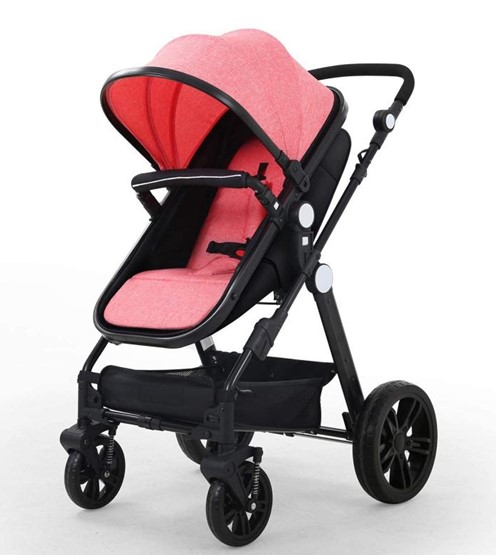 Product name: Wonfuss Stroller for Newborn
Style: 2-in-1
Harness type: 5 point
Weight limit: 5-33 pounds
The Wonfuss stroller is a 2-in-1 bassinet that can be changed into a car seat. It is suitable for toddlers aged below six months. It comes with a sun canopy and foot cover to keep your infant protected from harsh weather elements. Your baby can face out or in, allowing you to interact with him.
The stroller is super versatile. It has different levels of recline, allowing your baby to lie down or sit up. There are breathable ventilation nets on the three sides. The bassinet function enables you to take your baby on stroller rides without putting them in the car seat. The stroller has front wheels that have anti-shock springs, providing stability.
While the aluminum frame isn't as strong as steel, it's understandable as the stroller is suited for toddlers below six months. It has a maximum bearing of 33 pounds, making it a bit weak. Overall, this stroller offers good value for money.
Pros
Foldable design makes it compact
Cute color
Easy to use and Maneuver
Sturdily made
Cons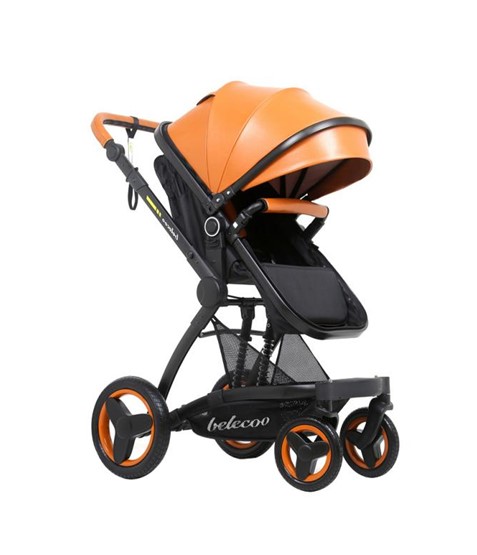 Product name: Baby Trend Double Stroller 2 In 1 Car Seat Carriage
Style: 2-in-1
Harness type: 5 point
Weight limit: 26.5 pounds
The LumBuy 2 in 1 baby stroller has been made for parents with two babies aged between 0 and 3 years. This is because it features two seats to accommodate two kids. It's also versatile enough to be used as a car seat. The stroller has sturdily-made breaks protecting you from slipping.
The strollers for a baby and toddler come with a 5-point seat belt enhancing the safety of your kid. It's easy to buckle it up and unbuckle. The stroller has folding clips that enable it to fold down completely, saving on space. The stroller features a thick waterproof material that protects your infant from sunlight and rain.
Pros
Compact and foldable design
Sturdily made
Versatile
Waterproof material
Cons
Best Stroller For Infants
If your kid is aged between 3 months and 12 months, you may want to consider these two strollers for infants.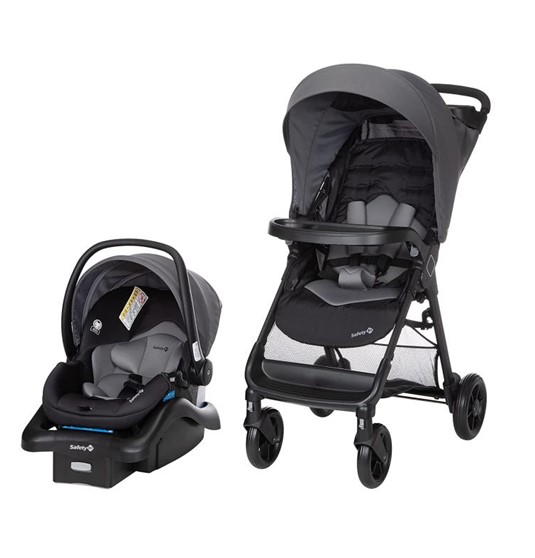 Product name: Safety 1st Smooth Ride Travel System
Style: 2-in-1
Harness type: 5 point
Weight limit: 77.16 pounds
The Safety First baby stroller is another exciting baby stroller that is excellently padded and offers ample support for your baby. The stroller comes with a large canopy with a flip-out visor and a peek-a-boo window, providing the much-needed airflow on a sunny day. This window also enables you to keep an eye on your little one. The stroller features the quick click technology that allows you to secure the car seat to the stroller without disturbing your baby.
The stroller for baby and toddler is a travel unit that doubles as a stroller and car seat. It is lightweight and can be easily set up with one hand. It's also easy to fold it at the end of your day as all you need to do is lift it. The stroller has side impact protection and a rear-facing infant seat with neck and back support for newborns. It has a 5 point harness that keeps your kid safe. You can use the adjustable harness heights to provide a customized fit.
Pros
Compact and lightweight
Easy to open and close
Ample storage space
Easy to clean
Cons
Small latches for attaching to car seat
The car seat is a bit narrow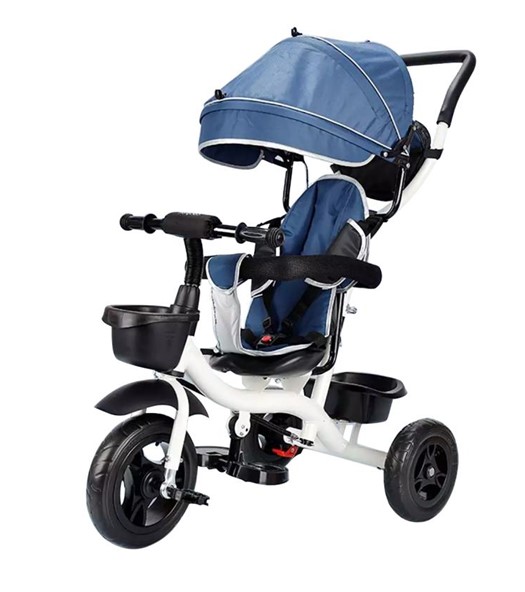 Product name: LumBuy Lightweight Baby Stroller
Style: 2-in-1
Harness type: 5 point
Weight limit: 51 pounds
The Lightweight Baby Stroller 2021 is a baby pram that is a great choice for traveling. It features a seat swivel that enables the baby to either face forward or backward. It also has a 5-point seat harness that keeps your baby safe and secure. It's easy to buckle and unlock the seat belt.
The lightweight stroller features an adjustable canopy that protects your baby from harsh weather elements. The three-wheel design makes it easy to control. It also enables the smooth and stable movement of the stroller. It has stable breaks on two wheels that make it perfect for rough terrains.
Pros
Great for rough terrains
A 5-point harness keeps your baby secure
Easy to fold and unfold
Easy to clean
Cons
Best Strollers For Toddlers
Finally, here are some of the best strollers for toddlers and babies.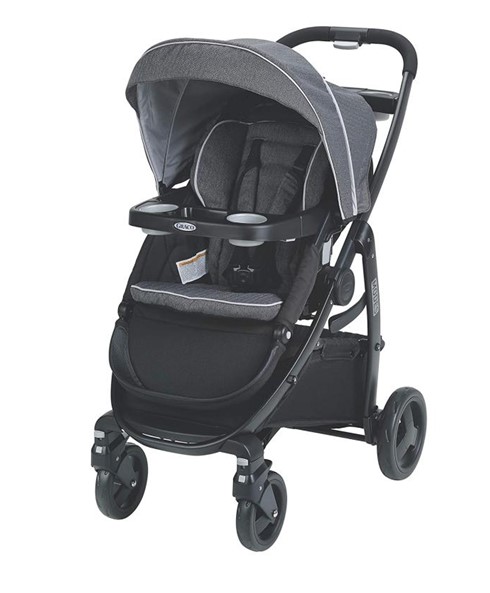 Product name: Graco Modes Click Connect Stroller
Style: 3-in-1
Harness type: 5 point
Weight limit: 50 pounds
The Graco Modes Click Connect Stroller is a 3 in 1 stroller that works as a toddler stroller, infant stroller and combines well with a Graco car seat. It is a lightweight unit that features a huge sun canopy that makes it a great outdoor stroller. It has a great recline that folds completely flat, enabling toddlers to sleep easily. It has a rear-facing option, a big basket, and cup holders. The unit is sturdy enough, making it suitable for newborns to preschoolers.
The stroller has a mesh peek-a-boo pocket, enabling users to interact and play with their babies. The unit is compact and doesn't take a lot of space. The wheels are great, but this isn't an all-terrain stroller. The harness can be converted from 5 points to 3 points.
Pros
Sturdily-made
Bassinet converts into a bed
Compact and lightweight
Spacious basket
Cons
A bit bulky
Plastic wheels instead of rubber
No car seat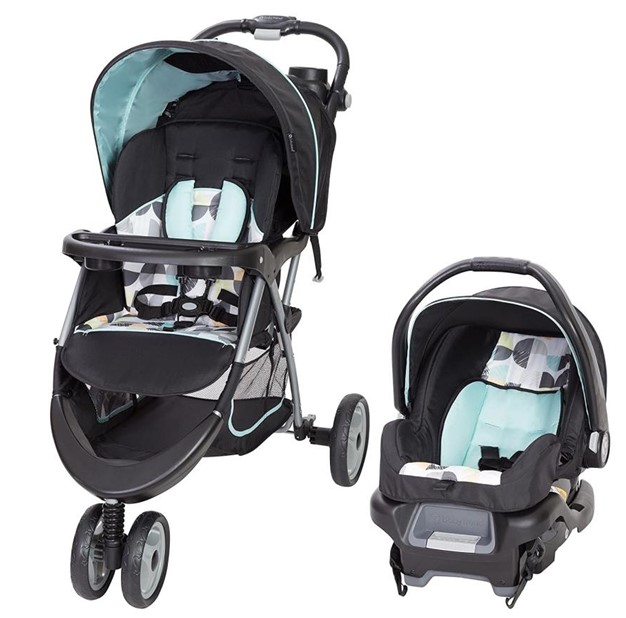 Product name: Baby Trend EZ Ride 35 Travel System
Style: 5-in-1
Harness type: 5 point
Weight limit: 4-35 pounds
The Baby Trend EZ Ride 35 Travel System features a stroller and an infant car seat with 5-point safety harnesses. It has a padded seat with different recline positions, a storage tray, and cup holders. The stroller also has a canopy with a peek-a-boo window.
The sides of the baby toddler stroller are made of EPS foam, ensuring ample protection of your baby from impact. It has a padded seat with different recline positions. At the front are two wheels that provide superior maneuverability. The stroller is pretty lightweight, making it easy to push around.
Pros
Maneuvers easily and smoothly
Easy to assemble
Lightweight
Large canopy
Cons
A bit wide, making it hard to maneuver tight spaces
Final Thoughts
There you have it; the top 6 best strollers for newborn and toddler. These units are sturdily made, lightweight, and have most of the features you will ever need. Therefore, with one of the above options, moving around with your infant or toddler should be a breeze.
---
What Next?
Now that you've learned something about the best strollers for newborn and toddler, why don't you also check our related guides below for further information: