Life becomes tougher as a parent when you have to return to your daily chores and your baby starts to grow up simultaneously. As they begin to sit upright or crawl, it's not possible to leave them alone anymore while you go grocery shopping or take a walk in the park. Moreover, it's the best time to bond with your toddler. Help them satiate their curiosity to experience the sights and sounds of the world around them. A stroller is just the thing you need at this point to help you achieve all of these with convenience and comfort.
Strollers for babies come in a variety of features from various reputed childcare brands. Here, in this article, you shall get to know the 7 best baby strollers brands to help you choose the one that seems ideal enough.
Our Picks for the Best Stroller From the 7 Top Brands
# Best For Large Families: UPPAbaby VISTA V2 Stroller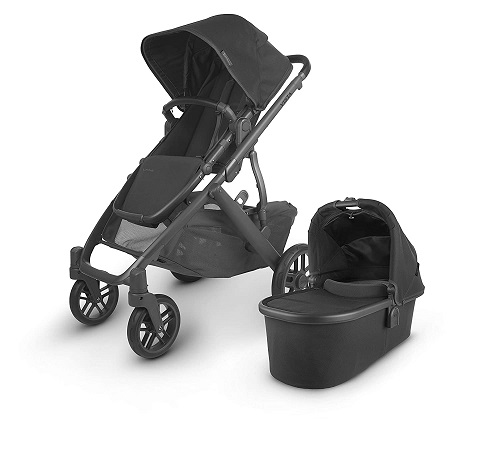 UPPAbaby is an American brand that has earned a reputation for manufacturing the best products for children. The high-quality products suit the needs of parents with toddlers, making life easy and convenient. With three decades of experience in manufacturing baby products, UPPAbaby strives to create lighter, more practical, and more convenient strollers for new-age parents. The Vista-2 range boasts sleek and sophisticated designs for modern needs. It is one of the best baby strollers for growing families.
The stroller is perfect for accommodating up to three children. It starts as a single-capacity baby stroller and expands to accommodate three children of different ages. There is a bassinet to let your newborn sleep when needed. Your toddler can ride the reversible toddler seat and adjust it backward, forwards, upright, or reclined. Thus, your baby can recline and sleep or sit upright and see the world.
Also, the toddler seat has an adjustable higher back and a deeper footrest to provide added comfort as your child grows. There is also a ventilated canopy and an extendable UPF 50+ sunshade to keep your baby cool, shaded, and comfortable. The shock-absorbing feature ensures that your child has a comfortable ride all along, even when you walk down bumpy pavements. The extra-large storage box lets you store baby food, a diaper bag, and toys. Overall, if you have plans for a large family with multiple children, investing in this baby stroller can be wise.
Features
Weight limit: 50 pounds
Suitable for: Newborn to toddlers
Accommodates up to three children
Bassinet for newborn baby
Reversible toddler seat
Ventilated canopy
Extendable UPF 50+ sunshade
Multi-position recline
Telescoping leather handlebar
Extra-large basket
Pros
Offers smooth ride  
Easily controllable with one hand  
Great for twins and large families  
Bassinet is suitable for sleeping  
Adjustable sunshade for protection
Very easy to use  
Cons
Click here to learn more best strollers from UPPAbaby.
# Best For Travel: Chicco Bravo Trio Travel System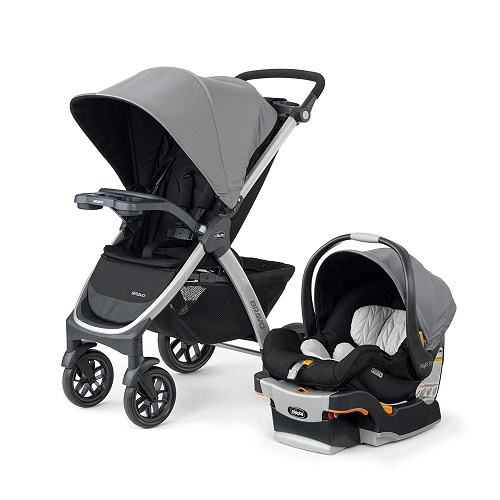 Chicco is a reputed Italian brand well-known across the United States. Parents widely love it for the wide range of versatile baby products. With sixty years of experience in crafting the most trustworthy baby strollers, Chicco is committed to a sustainable parenting initiative. The brand works towards delivering the best baby products while taking care of the environmental impact.
The Chicco Bravo Trio Travel System includes a car seat, base, and stroller for an unbelievable deal. With a wide range of versatile features, it's one of the best strollers for babies you can think of. The design transforms to suit your needs and convenience as and when needed. You can place your toddler directly into the stroller's recliner seat or detach the seat for a rolling travel system.
The best thing about this stroller is how convenient it is for parents. There is a parent tray with storage capacity to carry your wallet, phone, and a few other items. The height-adjustable handle gives you control and comfort. You can fold up the baby stroller in a one-handed motion very easily. The UPF canopy with a mesh window shields your baby from the harsh sun rays when you are out during the day.
However, parents feel that the stroller isn't as durable as some other options, and the ride could be more shock-absorbing to comfort the child. The wheels do not glide smoothly over rough surfaces. However, considering the other convenient features and the price, it is worth a try.
Features
Item Weight: 24.9 Pounds
Includes top-rated KeyFit 30 Infant Car Seat
Removable toddler seat
One-hand fold design
UPF-rated canopy with peek-a-boo mesh window
Large wheels having treaded tires
Large storage basket
2 organizer pockets
Pros
Easy to fold with one hand
Stores in a compact way
Easy to use and control
Parent tray for convenience
Large storage basket for carrying baby products while traveling
Inexpensive
Cons
Not as durable as other options
Click here to learn more best strollers from Chicco.
# Best Stroller For The City: Baby Jogger City Mini GT2 All-Terrain Stroller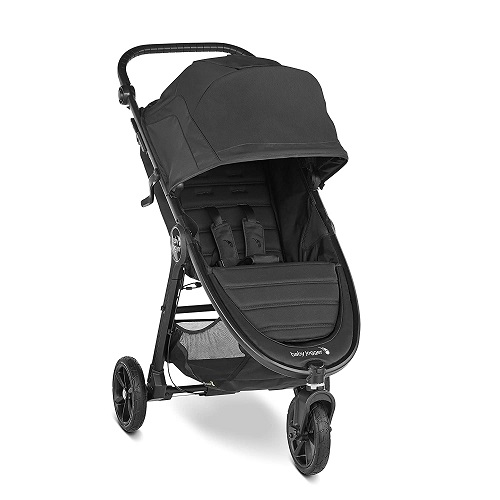 Baby Jogger believes that you should explore the city as a family. Why leave your baby behind at home when you can walk around the city with your baby? In 1984, Phil Baechler founded the Baby Jogger brand to invent a jogging stroller to stop a parent from sacrificing running because of a baby in life. The City Mini is the ideal stroller for a baby that can help you go about your life and step out into the city with your baby on a smooth ride.
The Baby Jogger City Mini GT2 Stroller is a revolutionary invention for city dwellers who frequently need to travel by public transport and carry their babies. To meet such requirements, this is a lightweight baby stroller with robust wheels to glide smoothly over any surface without hurting the baby. The three-wheel design and the all-wheel suspension make it easy and comfortable for maneuvering over sidewalks, boarding, or alighting public transport. It is ideal for carrying around newborn babies to toddlers up to 65 pounds. The adjustable handle and the hand-operated brake make it easy to maneuver and park the baby safely.
You can use the baby stroller as a travel system because it comes with a car seat adapter. The convenient design makes you fold the stroller with one hand and shields your baby during the day with the UV 50 sun protection canopy. But there is also a peek-a-boo mesh window for your baby to look at you and feel happy and secure.
Features
Stroller Weight: 22 lbs
Age Range: Newborn to 65 lbs
Adjustable handlebar
Air rubber tires with all-wheel suspension
Hand-operated parking brake
Infant car seat adapter included
UV 50 protection sunshade
Pros
High-coverage sun protection
Very comfortable for a baby on all terrain
Car seat adapter is compatible with car seats
Easy steering and control
One-handed access
Reasonable price
Cons
The storage basket is small
Click here to learn more best strollers from Baby Jogger.
# Best All-Terrain Stroller: Evenflo Pivot Xplore All-Terrain Stroller Wagon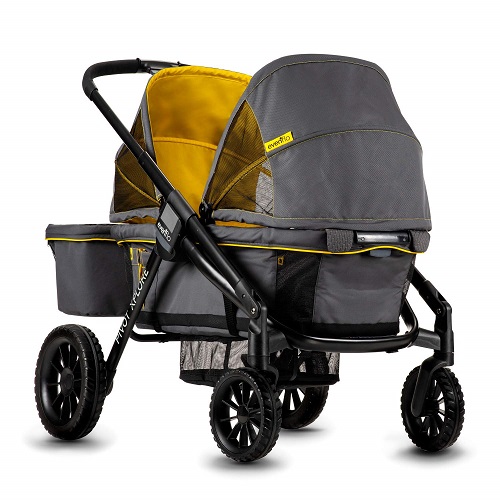 Evenflo has dedicatedly served generations of parents and children, stepping up their products by adopting the latest innovation and technology. First launched as a brand for manufacturing baby-feeding products in 1920, Evenflo has become a premium brand that creates the best strollers for babies, car seats, travel systems, and baby essentials.
If you are looking for a stroller for a baby that gives you loads of easily accessible features at a moderate price, Evenflo Pivot Xplore All-Terrain Stroller Wagon is just the one you should settle for. This part stroller and part wagon give your baby a pure joyride. The push or pull convenient handle lets you switch as needed while moving uphill or shifting to the pavement. The all-terrain wheels let you have the comfort of moving around your baby on the sidewalk or in the park without giving him a bumpy ride. The wheels absorb shock and provide a comfortable ride by smoothly running over all terrain.
The stroller-cum-wagon is large enough to accommodate two children. Thus, if you have twins, you can put them together and walk around merrily like a happy family. A table for 2 lets your kids enjoy their food and drinks while on the go. The two UPF 50+ canopies allow you to shade one or both of your children when the sun is too strong. The tip-down front makes it easy for your children to climb up on their own without having to carry and put them in. The 10 pounds storage basket accommodates diaper bags, food items, toys, and other baby essentials.
Features
Weight: 1 lb
Suitable for: Toddlers
Seating capacity: 2 children
Push or pull handle
All-terrain wheels
Table for two
Tip-down front
Two UPF 50+ canopies
Pros
Offers a smooth ride on all terrain.
Tires move easily on all surfaces without wearing off.
Large storage capacity.
Moderate price.
Big enough to hold two toddlers.
Sun protection canopy to shield both children.
Cons
Takes up space when folded and stored.
Click here to learn more best strollers.
# Most Lightweight Stroller: Baby Trend EZ Ride 35 Travel System, Doodle Dots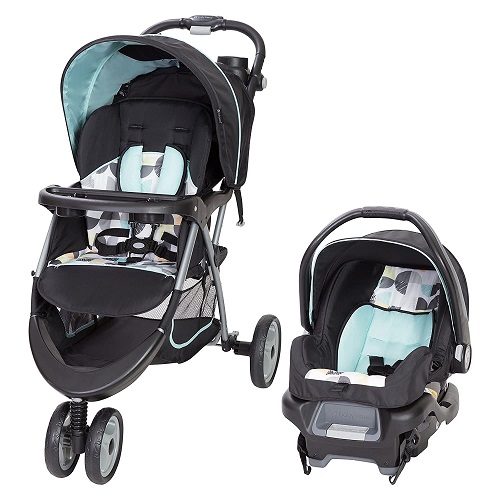 Baby Trend is a brand with 30 years of experience in manufacturing world-class juvenile products. It has risen to be one of the leaders in launching the most reliable baby products for new parents. Their innovative solutions have always met the ever-increasing demands of modern-day parents.
The Baby Trend EZ Ride 35 Travel System is the perfect stroller for babies that offers maximum protection. The travel system consists of the EZ Ride Stroller and the Ally 35 Infant Car Seat. While it makes things convenient for you when you need to travel with your baby, the secure system keeps your baby safe all the time. The padded seat has multiple recline positions to adjust according to comfort. Parents can feel comfortable as it is one of the most lightweight baby strollers available and doesn't tire you out while pushing. There is also a height-adjustable handle and a parent tray with 2 deep cup holders to store your items.
Thus, if you need something lightweight and moderately priced without compromising on your child's safety, here is what you need.
Features
Item weight: 31.9 pounds
Stroller capacity: Newborn babies to 50 lbs
Car seat capacity: 4 to 35 lbs and up to 32″
Dual front wheels
Large storage basket
Big canopy with peek-a-boo window
Height-adjustable handle
Parent tray
Swing-away child's tray with cup holders
Multi-position reclining seat
Pros
Great maneuverability
Excellent travel system
Extremely secure
Very lightweight
Convenient for parents
Easy one-hand fold
Seat is easily reclinable in multiple positions
Inexpensive
Cons
Some parents have difficulty adjusting the canopy
Click here to learn more best strollers from Baby Trend.
# Best for Twins: Graco Ready2Grow LX 2.0 Double Stroller, Clark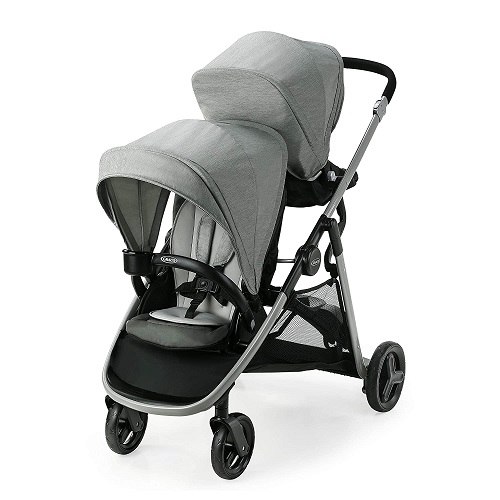 Graco has been catering to parental needs since 1953 when Rex Thomas came up with the Swyngomatic automatic baby swing. The brand understands the concerns of parents of newborns and active toddlers. It is dedicated to a range of highly functional and trustworthy products for babies, especially an impressive collection of car seats and baby strollers to let them see the world.
The Graco® Ready2Grow™ 2.0 Double Stroller is the one stroller you need if you plan a big family with two to three kids. It's a twin stroller to accommodate both of your children at the same time. Even a big kid can ride along on the standing platform. However, even though it is a double stroller, it folds as a single stroller and takes less storage space. Thanks to the full-sized canopies, your kids will stay protected from the sun and wind. Then you can maneuver the stroller easily in comfort and make use of the storage box and the parent cup holder for essentials.
Features
Item Weight: 32 lbs
Weight limit: 50 pounds
Two stroller seats, a bench seat, and one standing platform
One-step, self-standing fold
Removable rear seat
Full-size canopies with visors
Removable child arm bar with cup holder
Body support
Large and easily accessible storage basket
Removable parent cup holder
Compatible with Graco infant car seats
Pros
Easy storage and transport.
Best for twins and growing families
Can accommodate a newborn and a toddler at the same time.
Standing platform good for an independent toddler
Fully-shaded canopy for ultimate sun protection
Large storage basket
Cons
A bit on the heavier side.
Click here to learn more best strollers.
# Best Shaded Stroller: Summer 3Dlite Convenience Stroller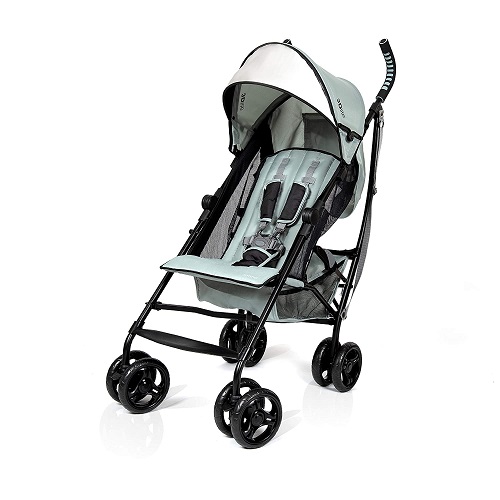 Summer® is a brand that is dedicated to making every moment special after a baby arrives. The range of bath, meal-time and play-time products make parenthood exciting and convenient. The range of car seats and strollers by Summer makes traveling with your kid more fun.
The Summer 3DLite is one of the best baby strollers around for hot summer days. If you need a highly comfortable and extremely safe stroller for your child, it is one of the best options you can get at this unbeatable price. The five-point safety harness makes it a great option for toddlers, while the umbrella-style canopy gives the best shade in the sun. Moreover, it is a very lightweight option for parents who feel tired after pushing a heavy stroller for a long time. But, even though it is light and weighs just 13 pounds, the durable frame, anti-shock front wheels, and locking rear wheels keep the baby safe.
Features
Item weight: 13 lbs
Weight limit: up to 50 pounds
Suitable for: 6 months and above toddlers
Large seat area
Mesh siding
4-position recline seat
5-point safety harness system
Extra-large storage basket
Parent cup holder
Pros
Very lightweight
Most inexpensive option
Durable
Convenient to use for parents
Convenient to use for parents
Very safe and comfortable for children
Maximum sun protection for summer days
Cons
Not suitable for newborn babies and toddlers under 6 months.
Not compatible with car seats.
Click here to learn more best strollers.
Doesn't life feel better when you have a highly functional baby stroller at your convenience? Wish you a great time bonding with your baby every day, even while carrying out your routine activities.
What Next?
Now that you've learned something about the top 7 brands of baby strollers, why don't you also check out our related guides about baby strollers below: