Motorized Wheelchair
The Bright Future of Alternate Mobility
With technology reaching new levels of advancement, the healthcare sector isn't too far behind in making notable breakthroughs of its own. A prominent example of this is all new healthcare accessories such as the motorized wheelchair.
The motorized wheelchair is the perfect upgrade to a manual one. It has helped take a user's living standard up a notch by enabling a more independent approach towards daily life tasks.
These wheelchairs come in a variety of shapes and available options. You could go for a temporary one in case of acute illness. However, for chronic and progressive diseases, there are customizable options as well.
Before dwelling into details, let's first get into the hows and whats of a motorized wheelchair.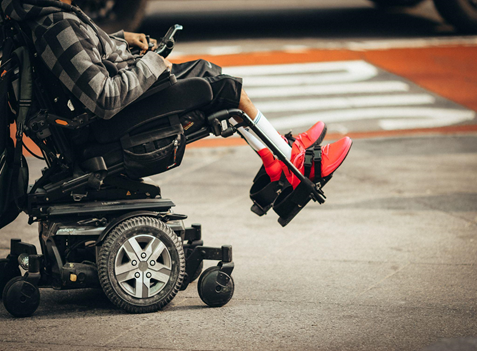 What's There to Know About a Motorized Wheelchair?
A motorized wheelchair, alternatively known as an electric wheelchair, is a battery-powered mobility alternative. Unlike its predecessor, it doesn't require hefty manual input. Instead, one can easily operate a power wheelchair using the joystick provided at arm's length.
Hence, you can say goodbye to the strenuous arm maneuvering involved in moving a manual wheelchair.
With ongoing work in developing these accessories, customizable technologies for wheelchairs are also being worked upon. One of these is the "complex rehabilitation technology" for motorized vehicles.
The Cost of an Electric Wheelchair
A Motorized wheelchair is priced according to its functionality and machinery used in it. For example, a basic one such as the Cirrus Plus HD could be bought for under $2000. This owes to the fact that the manufacturer is relatively new in the market.
However, if you look for better options like the Quickie Q500 M Power Wheelchair, it will cost around $6000. However, the price is justified in its user-friendly features and adjustability.
The most expensive motorized wheelchair, with maximum customization and technical features enabled, will cost at least $12000. This could easily go up to $50,000, depending on the brand and other specifications.
What to Look for When Buying an Electric Wheelchair?
So, you've decided to upgrade to motorized wheelchairs? Here is a guide on what features to focus on for your purchase.
1. Percentage of Slope
The incline ability of your motorized wheelchair is a priority when choosing which one is best for you. Then, choose the appropriate wheels and infrastructure depending on the percentage of the slope required in the area where you plan to use your chair.
For example, the Atlantis Heavy-Duty Bariatric Power Wheelchairs can handle up to 10-degree inclines. This makes them the perfect companion for adventurers and travelers.
On the other hand, the Power Wheelchair LiteRider Envy, with its six percent incline, is the right choice for indoor maneuvering and offices.
Furthermore, rough terrains require a more heavy-duty device, so keep that in mind along with the percentage slope.
2. Types of Wheelchairs
Here are different types of power wheelchairs to aid your choice according to the purpose of each one. For further understanding, check with your healthcare store or ask to see one if it's available.
● Portable Power Wheelchairs
These are perfect for traveling owing to their lightweight design and dissembling features. They are very convenient to transport as well.
● Front-Wheel Power Wheelchairs
The main driving force for these wheelchairs is the front wheel. This wheelchair is one of the more comfortable options. This is because space has been designated for feet placement.
● Mid-wheel Power Wheelchairs
These wheelchairs are tri-wheeled. There are small wheels at the front and rear part of the chair. In contrast, the middle portion is instilled with larger wheels. These are easy to move around hence suit users moving in smaller areas.
● Rear-wheel Power Wheelchairs
The rear wheels in this type of wheelchair are albeit small but are battery-powered. This helps at inclines and rougher areas. Hence, these wheelchairs are suitable if you are in rural areas or have a knack for the great outdoors.
● Heavy-duty Power Wheelchairs
As the name suggests, these wheelchairs have a sturdy build. They are specifically designed to keep overweight people in mind. They can handle weights up to 400 to 600 lbs thanks to their infrastructure and high power.
3. Front-, Mid-, & Rear-Wheel Drive
Electric wheelchairs incorporate anywhere between four to six wheels. However, only two of the wheels in a motorized wheelchair influence its functioning. This is because they are the power wheels, while the rest are casters that aid the functioning of the power wheels.
The positioning of the power wheels affects the area the wheelchair is suitable for. For more precision and maneuvering control, it is advised to choose a mid-wheel drive wheelchair.
However, if longer journeys on rough terrains are a routine, one should go for rear and front-wheel drive wheelchairs. These wheelchairs have a smoother drive and longer battery life.
4. Turning Radius
The turning radius is the wheelchair's ability to make the sharpest u-turn. This is significant when choosing an electric wheelchair indoors. Precision and turning radius in the range of 20″ to 35″ make the power wheelchair perfect for homes and offices.
If the chair is heavy-duty or weighted in general, the turning radius will be large. Other factors influencing the radius are footrest angle and wheel drive. These should be checked to make the right purchase.
5. Travel Range
The travel range of your vehicle is a measure of how far it can take you on a single full charge. Longer terrains would require long-lasting batteries. Moreover, if you are rather independent and prefer to run your errands by yourself, go for a range of up to 20 miles.
The travel range of wheelchairs can vary due to multiple factors. For example, older batteries will discharge faster. Similarly, rougher terrains require more effort from the batteries. In addition, a heavier load may also shorten the battery life of the motorized wheelchair.
The minimum travel range of wheelchairs is four to five miles.
6. Comfort
The wheelchair is where you spend most of your time. Hence, it's only fair that it should be as comfortable as possible. The following features will keep you easy on your motorized wheelchair.
● Cushions
Cushions help prevent pressure sores between the knees and in the sacrum area. This is because they divide your weight appropriately and prevent uneven postures. You could opt for anything from gel-based cushions to headrests. The main goal is to feel comfortable in your wheelchair.
● Tilt and Recline Features
For older people with sensitive skin, this is the perfect feature. You can adjust the wheelchair according to your need and comfort.
● Leg Rests
Long duration in the same position can cause the limbs to swell. One can prevent this by elevating the legs on a power leg rest. When used consequently with the tilt and recline function, it brings ultimate comfort to users.
7. Size
Appropriate seat size plays a significant role in the long-term comfort of users. However, standard seat size is often not enough for certain users. Hence it is important to check the dimensions and size of your chosen wheelchair. Then, if you find it feasible, try and get one with an adjustable seat to vary according to your needs.
8. Weight Capacity
The weight capacity of a normal motorized wheelchair is up to 350 lbs. However, heavy-duty machines can carry up to 400-600 lbs of weight.
9. Lifestyle
Your lifestyle is the major deciding factor of the type of wheelchair that suits you. For example, people who have a more active lifestyle or jobs requiring traveling have different needs from others. In this case, a more sturdy and durable wheelchair suits you.
Along with this, a long-lasting battery and portability are also important requirements. On The other hand, those with more indoor activities requiring motility in a concise space need a particular device. They should go for a mid-wheel drive wheelchair for easy maneuvering and precise movement.
10. Battery
Motorized wheelchairs function on one or two batteries. The cost of a wheelchair battery is $200-$300.
The travel range of an average wheelchair is more or less 10 miles. Hence, you can charge your chair every other day or every day, depending on the utilization.
The batteries will be good for at least three years for most users, which is good enough for the long run.
11. Controller
A joystick commonly controls the wheelchairs. It is a simple apparatus that is used to choose the direction of movement. Certain models may have additional buttons to control motion sensitivity and modes.
Alternative control methods include breathing and remote control.
12. Transportability
The transportability of a wheelchair can be a concern for users who commute often. Consequently, for public transport and other such utilities, a portable wheelchair is the preferred choice.
Most lightweight vehicles are perfectly portable. However, heavy-duty wheelchairs can be difficult to transport. It's harder to pick them up and place them in a vehicle, and they consume more space too.
It is also advisable to opt for foldable wheelchairs because they are easier for traveling and storage.
If you are looking for the best electric wheelchairs, please click here.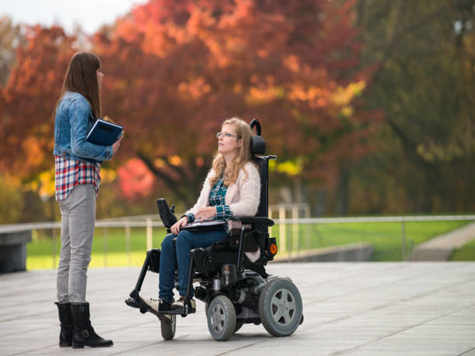 Does Medicare Cover Electric Wheelchair Expenses?
A motorized wheelchair can be a hefty expense. However, it does come under the Medicare coverage as Durable medical equipment in Part B.
It is necessary to point out that Medicare's reimbursement of an electric wheelchair bill isn't easy to come by. You will have to go through a thorough inquiry and proper prescription to receive reimbursements.
The first requirement set by the company is "No ambulation." This means a person must have zero ability to walk. Secondly, you'll need a prescription from your physician or qualified therapist.
Then comes a meeting with a Medicare-approved wheelchair provider accompanied by the prescriber for your physical assessment.
This is done to ensure and assess your need for an electric wheelchair. Unfortunately, the whole process of acquiring an electric wheelchair through Medicare can take four months to a whole year.
What Kind of Transport Can I Use With My Electric Wheelchair?
Most buses, trains, and planes are wheelchair friendly, with ramps attached for entry. However, it is advised to check beforehand if you are traveling to a new place. Some cars, such as the Chevy Silverado 1500 and Kia Soul GT-Line, are wheelchair compatible.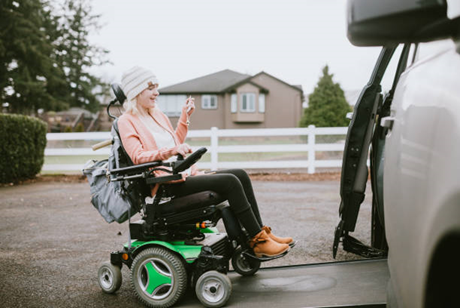 How to Maintain an Electric Wheelchair?
Here are a few steps to keep your electric wheelchair functional and top-notch for longer life.
1. The Motorized Wheelchair Toolkit
Designate a specific toolkit for your wheelchair maintenance. This will save you a lot of time and effort when you run into a problem. Keep the necessary tools and accessories in the same toolkit and place them in the wheelchair pocket for quick access.
A few essentials that should be in the wheelchair toolkit include:
Towels and small cloth pieces
Bucket to put water in
Surface cleaner (Not oil based as it isn't compatible with electric wheelchairs)
Flat-head screwdriver
Allen wrench
Brush to scrub and clean
Phillips screwdriver
2. Daily Cleaning of the Motorized Wheelchair
Clean your wheelchair at the end of each day. The cleaning should involve the use of your surface cleaner. Spray and wipe down all parts of the wheelchair to remove any debris or food. Make sure to go over the controller as well, as it is the part you're mostly in contact with.
Once you're done with the wet cleaning, use a dry clean cloth to wipe everything dry to prevent moisture from remaining.
3. Battery Maintenance of the Motorized Wheelchair
Wheelchair batteries mostly have a lifetime ranging from three to five years. The variation occurs due to the care provided to the batteries. If you properly and periodically charge them, they'll last longer. Here are a few key points for battery maintenance:
Be mindful of charging a brand new set of batteries fully
For the first ten days, the charging should stay above 70%
Use the original charger
Don't let more than 80% charging drain
For more information, please click here.
4. Protecting the Wheelchair from Moisture
Like any other electronic device, an electric wheelchair doesn't bond well with moisture. Hence, be sure to wipe it dry after any interaction with moisture. Moreover, try to avoid contact with water or snow in the first place.
In case moisture is unavoidable, make sure to wrap the electric components of the wheelchair in plastic to prevent any permanent damage to your expensive device.
5. Tire Maintenance of the Motorized Wheelchair
The tires are the main functional organs of the power wheelchair. If these aren't healthy and good to go, you can't expect a functional vehicle. Make sure they are appropriately inflated.
In the case of tubeless tires, beware of pinch flats.
6. Weekly Overall Maintenance of the Motorized Wheelchair
Your weekly wheelchair examination should follow these SOPs:
Physical examination for wear and tear should be done where you sit in the chair and check for dysfunction. This could include tire issues, worn leather, or alignment issues
Stability is checked by moving around in the wheelchair. Observe loose nuts and screw them tight
Adjust the footwells
Visual examination for any hanging wires or accessories should be done. If you find anything out of place, refer to the user manual to tie it back into place
Turn the wheelchair on and check the motor sound for anything out of the ordinary. If you find something, refer to the handbook or get it checked by a professional
7. The Wheelchair Manual
The wheelchair manual is the first thing you'll refer to in case of any issues with the motorized wheelchair. Hence, it should be kept in easy reach. The first thing you should do is thoroughly read the manual for information and guidance on your wheelchair.
Can I take my wheelchair on a plane?
It is possible to take a wheelchair on a flight. However, you might not be allowed to keep it in the cabin. The wheelchair will be transferred to cargo because it can not move in the narrow space of the cabin. You'll be provided a compatible cabin wheelchair for the flight, and you can later get your wheelchair back.
How long does it take to charge a wheelchair?
Leave your wheelchair on charge for at least eight hours. A 12-hour charge from time to time will also be good for battery health.
How far can my wheelchair go?
An eight-hour charge can let you travel anywhere between 10-20 miles depending on the battery's health.
How long does an electric wheelchair battery last?
If your battery is in optimal health, an eight-hour charge will last for at least eight hours.
How to charge an electric wheelchair?
To charge your wheelchair, first turn off the controller power.
Put your device in drive mode
Place your off-board charger in the respective socket present on the controller
Now, place the off-board charger in the nearest electrical outlet
Unplug the charger from both places once charging is complete
Final Words
This completes our extensive guide on selecting the most suitable wheelchair for you. With all the options present in the market, it can get difficult to make your choice. We hope this post cleared your perspective and put your priorities straight regarding the best-motorized wheelchair for you. Happy moving!
Try This Out
Five Power Assist Wheelchair -Best Reviews and Buying Guide
The Best Foldable Electric Wheelchair – Detailed Reviews in 2022
5 Best Jazzy Electric Wheelchairs in 2022: Reviews and Buying Guide
8 Best Accessories for Your Power Wheelchair—Best Reviews & Buying Guide
Electric Wheelchair Buying Guide- Top 6 Product Reviews [All You Need To Know]
Power Wheelchair Battery: Tips on how to Charge and Maintain It
Top 5 Standing Wheelchair- Best Reviews & Buying Guide