Power Wheelchair Accessories are Your Wheelchair's New Best Friends
Since a wheelchair is where you spend most of your time, it's only fair that this chair is well accessorized and comfortable.
With technology escalating with rapid rolls, the wheels you roll on are bound to receive an upgrade or two as well. An example of this is wheelchair accessories. Power wheelchair accessories enable a more independent approach towards alternate mobility while keeping comfort in mind.
As the number and types of wheelchair users have gained abundance, so have the power wheelchair accessories. Hence to help you choose what is best for you among them, here is our well-researched take on these power wheelchair aids.
Our Top Picks
| | | | | |
| --- | --- | --- | --- | --- |
| Sr. No. | Product Name | Brand | Purpose | Buy it on Amazon |
| 1. | YGYQZ Wheelchair Side Bag | YGYQZ | For storage | ↗ |
| 2. | Power Wheelchair Armrest Cover | ANER | Waterproof for protection | ↗ |
| 3. | Mobility Cup Holder for Adults | Easy To Use Products | To keep bottles and cups | ↗ |
| 4. | Wheelchair Lap Tray with Two Cup Holders | Fanwer | To eat, write and place things | ↗ |
| 5. | Scooter – Wheelchair Backpack Bag | P&F High-Quality Products Store | For storage and safekeeping | ↗ |
| 6. | TRANSITIONS Modular Aluminum Entry Ramp | EZ-ACCESS | To increase mobility across thresholds | ↗ |
| 7. | Everlasting Comfort Gel Memory Foam Wheelchair Seat Cushion | Everlasting Comfort | For comfort | ↗ |
| 8. | ZHEEYI Oxygen Cylinder Bag for Wheelchairs with Buckles | ZHEEYI | To hold oxygen cylinders | ↗ |
Looking for electric wheelchairs, please click here.
1.  Best Storage Power Wheelchair Accessories: YGYQZ Wheelchair Side Bag Electric Wheelchair Parts Cell Phone Holder
The three-pocket bags are of premium quality with 80% cotton material and 20% synthetic mix. This ensures the durability and tear-protection quality of the side carrier. In addition, they are designed to hang on the side of your wheelchair.
Moreover, the addition of a bright line to the bag keeps your wheelchair safe. The 12.8×7.1 inch waterproof bags are not only sturdy, but they are waterproof as well.
Why Should You Buy It?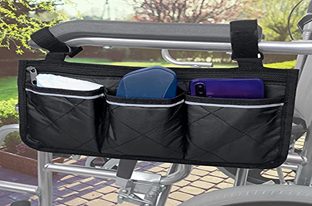 Pros
Premium quality secure zipper
Compatible with baby prams and strollers
Quality assurance guarantees a full refund without returning the product
12-month refund guarantee in case of damage by non-human factors
Cons
It might not fix on all types of wheelchairs
2.  Best Electric Wheelchair Parts: ANER Joystick Handicap Waterproof Electric Wheelchair Cover
These waterproof covers are the perfect electric wheelchair parts to keep your electric components safe. The biggest fear for electric wheelchair owners is moisture.
The plastic or leather material of the cover keeps it safe against this danger. Furthermore, it keeps the wheelchair joystick safe from other types of damages as well.
Although the original dimensions of the cover are 9.8 "Lx 5.9 "W, it has a flexible tape for altering the size. This enables versatility in the cover for it to be compatible with most wheelchairs in the market.
Why Should You Buy It?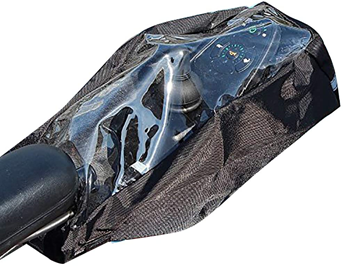 Pros
Adjustable size
Easy to install and convenient disassembly
Durable and serves its purpose well
Cons
Some users have complained that the cover is too big
3.  Best Value Electric Wheelchair Parts: Easy to Use Products Handicap Portable Drink Holder
Being in a wheelchair means adjusting all your daily activities accordingly. In this case, portable power wheelchair accessories make tasks easier. For example, portable drink holders are useful because they allow you to carry your daily drinkables without keeping your hands busy.
This 3.84-pound portable cup holder is a firm yet adjustable apparatus. One can easily alter it to fit the size of their mug.
Furthermore, its installation is a piece of cake. This owes to the sturdy strap attached to the holder, which diminishes the use of tools for attachment. In addition, this strap effortlessly grips the handle of not only your wheelchair but an array of other strolling equipment.
In addition, the ABS plastic used in the construction of this holder guarantees its sturdiness and durability. The 5.5″ x 4″ apparatus can tolerate the heaviest of weights, such as full-sized water bottles. The weight tolerance is up to 2lbs, which is impressive considering its weight isn't too much.
The cup is not only easy to use, but it is also convenient to store. You can store it away in your wheelchair bag and take it out when needed, thanks to its foldable nature.
Why Should You Buy It?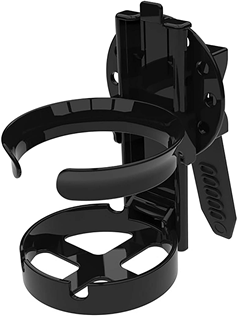 Pros
Easy to attach (no tools required)
Foldable and lightweight design
Prevents spilling of liquid from the cup
Adjustable size
User-friendly design for the elderly
Cons
Not suitable for horizontal bars
The elastic strap needs a little work
Could use an adjustable upper ring
4.  Ultimate Independence Mobility Wheelchair Accessories: Fanwer Lap Tray Handicap Chair Tray Attachment
This lap tray by Fanwer is probably one of the best power wheelchair accessories you'll buy. Of course, just like cup holders, you will need something to hold your food. However, the independence that comes with grabbing your food yourself is worth the bucks you spend on this one.
The tray comes with two cup holders and is 3.62 x 22.05 x 1.18 inches in overall dimensions, giving you enough space to move around. Additionally, the tray isn't just for eating. You can do a variety of other activities on it.
There is no spillage with this flat tray because the cups are 0.6 inches deep. Moreover, it weighs only 3.23 lb itself, so no worries about it being heavy.
The ABS plastic will make sure the lap tray stays by your side for a long time. Overall a good option due to its user-friendly design.
Why Should You Buy It?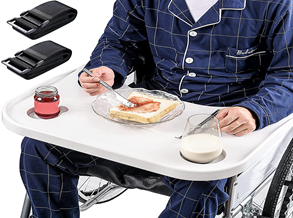 Pros
Four-piece tray straps included
Raised molding prevents spills
Lightweight and easy to use
Cons
Only suitable for wheelchairs having an 18.5 to 21.5 in space between armrests
Package lacks instruction manual
5.  Best Overall Handicap Power Wheelchair Accessories: P&F HIGH-QUALITY PRODUCTS Backpack
Among other Electric Wheelchair Parts, a backpack is the perfect extra hand a person needs. This is especially in the case for users who travel long distances.
This insulated bag by P&F is a very handy accessory to own. It is designed to carry essentials like water bottles, medication, and any other handy equipment. In addition, it even has cardholders to keep them at arm's reach.
The medicine section has a red-colored symbol on it to allow easy identification during an emergency. The overall design makes it easy to carry, and reflectors make traveling a safe option.
Why Should You Buy It?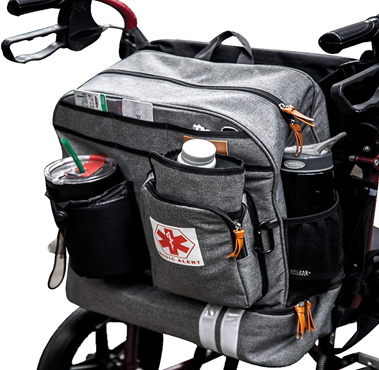 Pros
Insulated compartment present
Reflective tapes added for safety
Shoulder straps for portability
Heavy-duty and durable
Cons
Reinstallation is tricky due to the lack of clips at the top of the straps
6. Best Overall Power Wheelchair Accessories: EZ-ACCESS TRANSITIONS Entry Ramp
This 17″ x 34″ x 3″ ramp is perfect for enabling mobility across thresholds. The ramp is sturdy considering its aluminum build and anti-slip design. It is light in weight (8 lbs) yet can tolerate up to 700 lbs.
The ramp is adjustable to accommodate various lengths ranging between 75″ to 3 25″. A 25″ increased range is also possible thanks to the pivoting flap at the top of the ramp. Overall the ramp is a top-tier accessory that increases mobility by many folds.
Why Should You Buy It?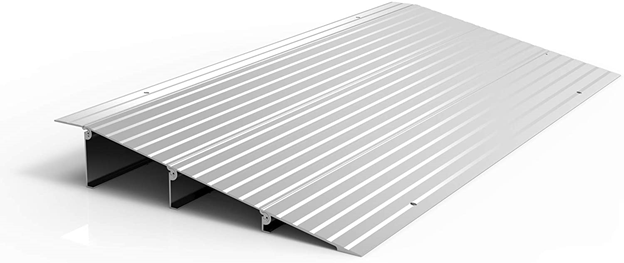 Pros
Adjustable
Easy to install
Slip-resistant surface
Increases opportunity for mobility by multiple folds
Cons
Shipment quality control needs work
Pivoted flap creates noise
7. Most Comfortable Power Wheelchair Accessories: Everlasting Comfort Gel Seat Cushion
The gel cushions make spending long hours on the wheelchair a little more bearable. In addition, the memory foam adjusts according to form to provide ultimate comfort to the user.
In addition, it has optimum lower body support owing to its padding. Secondly, one can use the cushion for long hours due to its ventilated form, which keeps it cool throughout.
Other than comfort, it also utilizes body heat to soothe the back, providing a therapeutic effect.
Why Should You Buy It?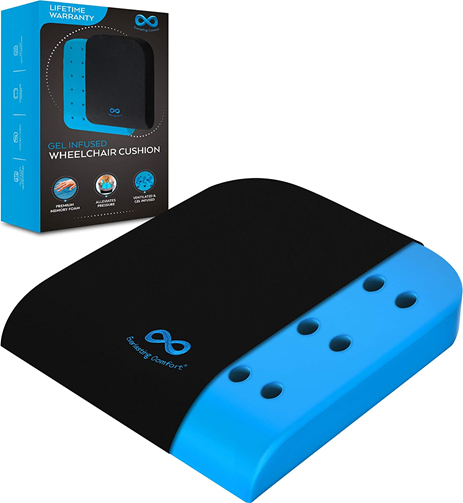 Pros
Its 18x17x3 in dimensions make it suitable for most wheelchairs
Durable and retains shape
OEKO-TEX tested as safe to use
Optimum coccyx and lower body support
Cons
Causes pressure sores
Some users have complained of it being too hard for them
8.  Most Practical Electric Wheelchair Attachment: ZHEEYI Oxygen Cylinder Bag
This oxygen-carrying bag is one of the best Electric Wheelchair Parts for users who need oxygen support. In addition, ZHEEYI has come up with adjustable bags to cater to cylinders of various sizes.
The nylon fabric that it's made of is not only wear-resistant, but it's also easy to clean.
Furthermore, its 25.8″ (H) x 8.5″ (W) dimensions make it slightly wide, which only makes placing the cylinders easier.
The installation is made simple thanks to the clasps that it comes with. All you need to do is secure them in place and adjust the straps according to your requirement. The best position to adjust your straps is off-center. This place prevents it from coming into contact with your head and back. Overall it is a better purchase than those sketchy bags that don't last very long and cost a fortune.
Why Should You Buy It?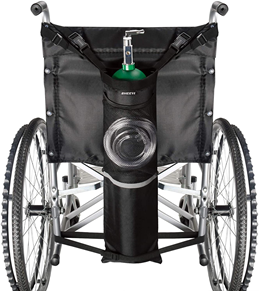 Pros
Space for multiple oxygen cylinders
Built-in zippers
Compatible with almost all wheelchairs
Easy to install
Adjustable straps to place at the desired position
100% risk-free
Money-back guarantee in case customer isn't satisfied
Cons
The strap isn't very durable
The bag could use better quality fabric
Click here to get the best electric wheelchairs!
Final Words
This concludes our list of the top eight power wheelchair accessories that are making rounds in the market. Of course, all these Electric Wheelchair Parts have individual purposes, so we can't say which one is better. However, we can guarantee that each of these is the best in its own category.
We hope this post helped you understand your wheelchair requirements better. Good luck with your purchase!
Try This Out
Five Power Assist Wheelchair -Best Reviews and Buying Guide
The Best Foldable Electric Wheelchair – Detailed Reviews in 2022
5 Best Jazzy Electric Wheelchairs in 2022: Reviews and Buying Guide
Electric Wheelchair Buying Guide- Top 6 Product Reviews [All You Need To Know]
Motorized and Electric Wheelchair: All You Want to Know
Power Wheelchair Battery: Tips on how to Charge and Maintain It
Top 5 Standing Wheelchair- Best Reviews & Buying Guide