As electric skateboards are gaining immense popularity, you can come across a wide range of models out there. The differences might be trivial; still, every model has something distinct to offer. Therefore, before buying a brand-new or used electric longboard or skateboard, it is imperative to understand the differences between different models.
Let us help you understand all about used electric skateboards and how you can get them for yourself.
What is an Electric Longboard?
It is a type of electric skateboard available compared to regular, non-motorized standard skateboards. The concept of longboards came into existence to stimulate the surfing experience while on the sidewalk. Longboards are regarded as a perfect equipment for beginners –especially the non-motorized ones. That's because, with the help of the softer wheels and more extensive decks, it becomes easier for the newbies to ensure a smoother and stable ride.
The feature makes longboards ideal equipment for electric skateboards. Electric longboards are highly comfortable to ride, easier to use, and the overall basic design has been optimized for cruising. This is why you will come across a myriad of electric longboards in the modern skateboard market.
If you are a beginner and wish to purchase an electric longboard for yourself, it is suggested to go for the used model. There is a wide range of electric longboards available online. Most individuals tend to choose used models because of limited budgets and other specifications. Moreover, if you are a beginner and wish to try out the vehicle before buying a brand-new one, the used model is perfect for you.
Things to Consider Before Buying a Used Electric Longboard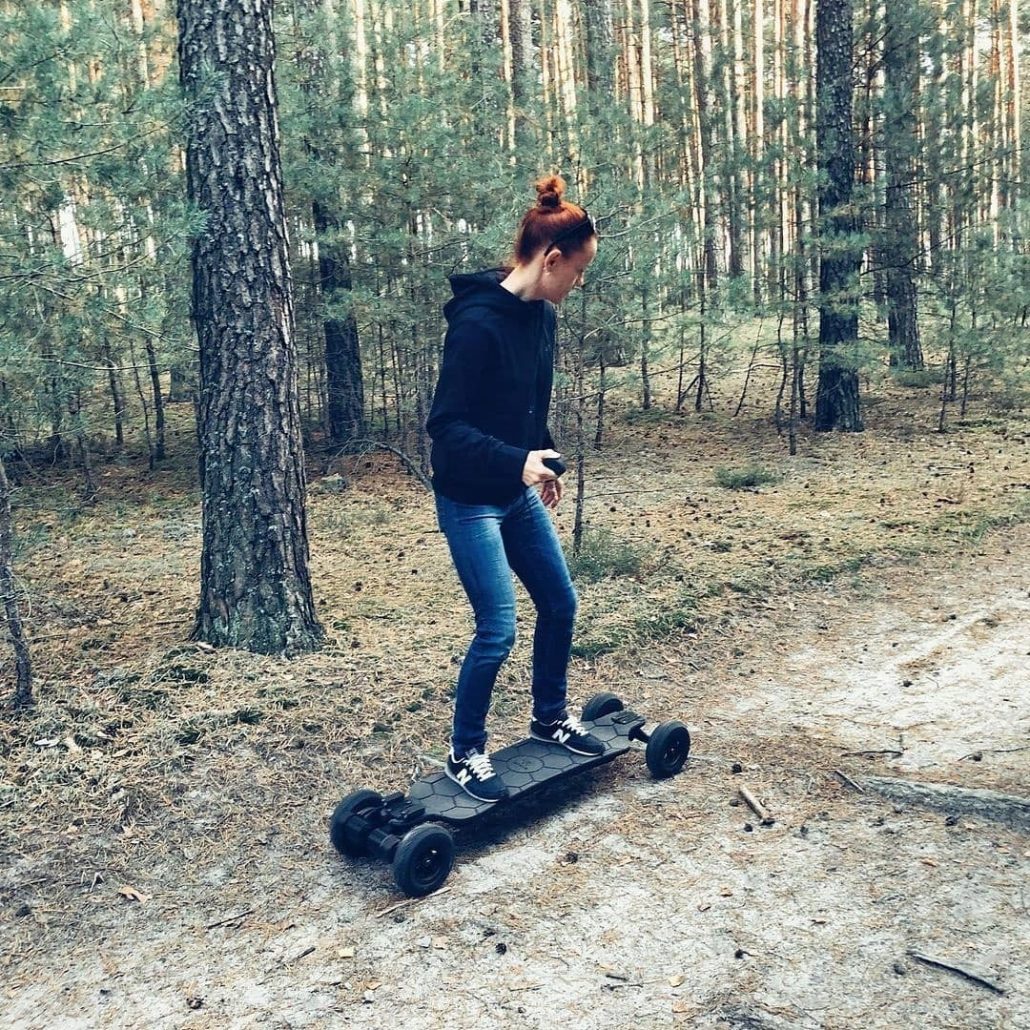 When you have decided to purchase the used version of the electric longboard, here are some factors you need to consider:
# Original Receipt with the Date of Purchase
Do you wish to know the actual age of your skateboard? Do you want to ensure whether or not it is genuine? The best way is to ask for the original receipt featuring the date of purchase of the gadget. Moreover, the original receipt turns out to be a critical component when the board remains under warranty. As a buyer, if you are searching for a board in its near-new condition, you should seek models that are still under the warranty period.
Whether or not the warranty remains valid, when you have the original receipt of the board, it helps in enhancing the overall value of the electric model. Boards that have been owned by a single owner, who eventually sells it as a second-hand model, have higher values than models that have been passed on by 2nd, 3rd, or 4th owners.
# Weight Limit
What is the total weight of the original board? With the proper use, riders who reach the maximum weight limit usually do not have any problem riding the used skateboard. However, as a rider, if you reach the upper weight limit and feel that the board is slightly 'weighed down,' the chances are that the battery unit or the board's motor requires replacement.
When you are buying an electric longboard, it should not feature decreased performance with time. The original weight limit remains valid. Therefore, if you find that the board is struggling, you should know that something might be worn-out or not working correctly.
In case a longboard is struggling with your weight (within the weight limits), it is a possibility that the board is not in its best working condition.
# The Extent to Which It was Used
If you purchase a year-old skateboard utilized every day compared to the month-old model that was only used quite a few times, it will significantly affect the total number of charges left on the board's battery. How to observe how much was the board used? Here are some potential signs of a used longboard:
Worn down wheels
Non-original replacement parts
Smoothed-down remote hold due to continuous use
Worn-down grip or grip tape that has been recently replaced
Light damage to wheels or PU due to heavy riding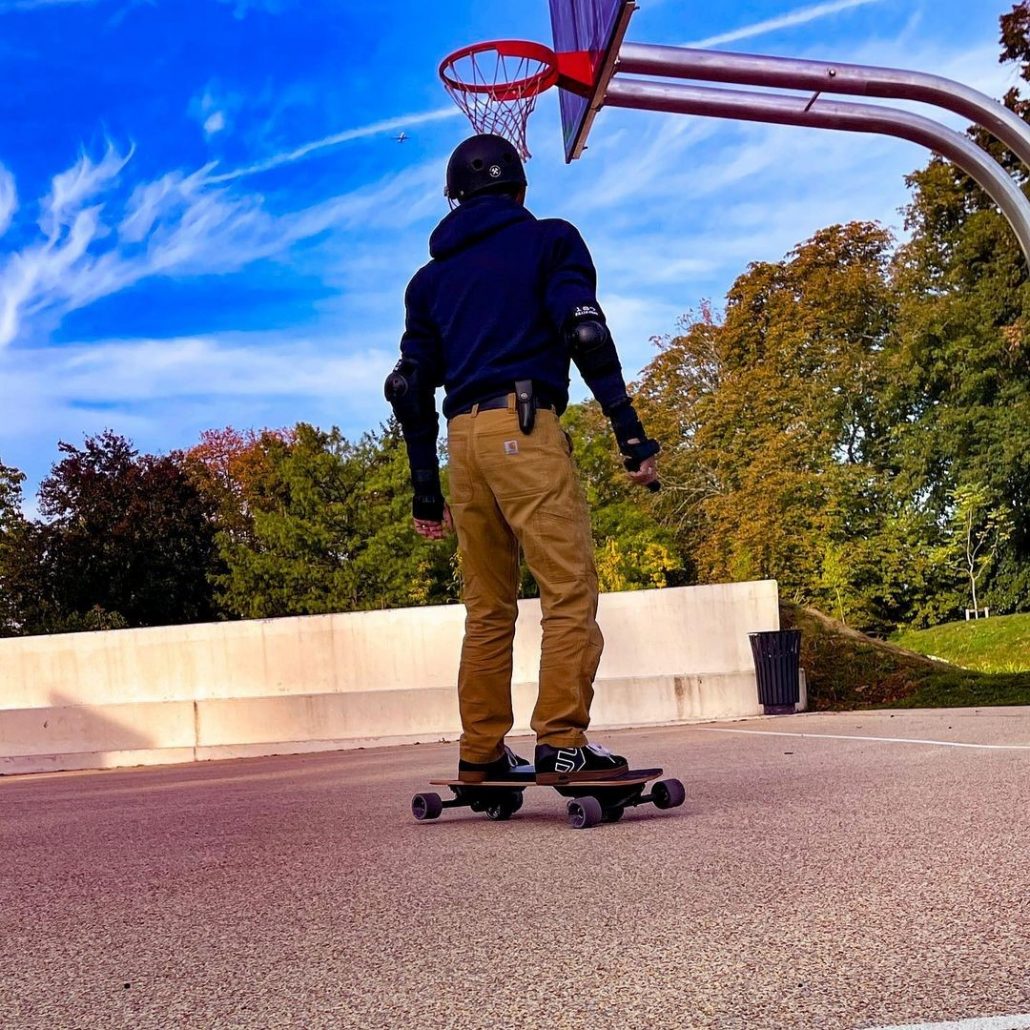 # Top Speed
Will the board be fast enough for your use? If you have used a longboard before, you know how quickly you want the model to be. Most electric longboards for adults are capable of going as fast as electric bikes. If you are searching for a faster longboard and speed is your primary concern, you should check for the original specifications of the board to achieve the desired speed.
The age of the longboard should not affect its ability to achieve the top speed or even close to the maximum speed limit. If you cannot reach the top speed on the board, you can analyze that there are some problems with the variant.
For beginners who do not require great speed, a used skateboard serves to be the first choice. However, if you have access to multiple boards, an older model is perfect –simply not designed to go too fast. Riders who prefer this type of model are regular riders (never reaching the top speed limit) and on-site or on-campus riders (usually not reaching full speed).
While most electric longboards boast impressive speed limits, most riders tend to enjoy the boards without even reaching the limit for top speeds.
An important aspect of electric longboard safety is going only as fast as you can stop safely. Riders in multiple environments observe that the safest top speed of the board tends to be less than the maximum speed of the gadget. Like with any board-specific sport, there can be riders in search of the topmost speed limits. On the other hand, you can come across riders enjoying slow and lingering rides. Those who do not need or want higher board speeds can opt for used models with the desired specifications.
# Current Working Condition or Ability to Fix
Nobody wants to purchase a broken longboard. Does your skateboard have a missing or damaged component? You can come across a helpful team of DIYers, electric longboard makers, and service providers delivering impressive deals with used models. When you purchase a used electric model for the longboard, you can come across nearly-new models that are ready to ride and can be fixed easily.
If you are looking for a ready-to-ride model, you can choose the used electric longboard in good working condition. However, whether you are a newbie or a seasoned DIYer, you can start with an outdated board. You can come across used skateboards in all sorts of conditions. Therefore, you should make sure that you buy the one in the condition that you desire.
# Range
Will your longboard be capable of going far enough for your needs? Will it be capable of taking you long on a single charge? Is the battery unit of the model easy to replace and readily available for your purchase?
When you are an experienced skateboarder, you will have an idea of what you need for the range specification. However, if you have not tried skateboarding before, it might become slightly challenging to analyze the broad range.
Are you going to use the board to get to school, work, or any other place? In such a scenario, you can calculate the overall distance and observe whether or not the board will go that far on the single charge? When the board is close to the range you are looking for, here are some points to remember:
Foot braking, drifting, or pushing hard without braking or acceleration can increase the overall range
Riders who are on the heavier end will make the board consume more power –therefore, reduced range
Conclusion
Whether you are purchasing your first used electric longboard or the 7th version, when you choose the right used electric longboard, it will make significant differences in your overall skateboarding experience.
What Next?
Now since you have learned something about used electric longboard, why don't you also check out our other related guides as follows: