Baby Strollers are probably one of the must-have baby accessories these days, with sales increasing day by day. No parent could imagine going without a stroller from short trips to the market, walks to the park, and of course, while traveling, whether that's via air or road. There's so much to consider when looking for an ideal stroller that perfectly fits your requirements and budget.
Yes, you read that right! And not only this, if you have more than one toddler aboard and are tired of carrying separate strollers, worry no more. After doing extensive research, we found one such stroller that will be your best friend from your baby's infancy up to their preschooling —the UPPAbaby Vista Stroller is designed to perfection with a seating capacity for three toddlers!
So, allow us to help you explore the world of versatile features with UPPAbaby Vista Stroller onboard with you.
Table Comparison of UPPAbaby With Other Strollers
Stroller Brand Name and Model

UPPAbaby Vista Stroller




UPPAbaby Cruz V2 Stroller




UPPAbaby MINU Stroller




Baby Trend Double Jogging Stroller




Thule Urban Glide 2 Jogging Stroller




Chicco Bravo Trio Travel System



Price
$969.99
$649.99
$399.99
$179.99
549.95
$399.99
Ease of Use
Very User Friendly
Easy to Use
Simple to Use
Very Simple
Easy to Use
User Friendly
Storage
Extra Large Basket
Extra Large Basket
Big Storage Basket
Large Storage Basket
Sufficient Storage
Great Storage Space
Foldability
Easy to Fold and Compact
One Step fold
One-Hand Fold
Easy Folding Clips
Compact Folding
One Step fold
Car Seat Compatibility
MESA Infant Car Seat, RumbleSeat, PiggyBack, Bassinet
MESA Infant Car Seat, PiggyBack, Bassinet
UPPAbaby Mesa, Maxi-Cosi, Nuna, Cybex
Baby Trend, Britax, Evenflo, Graco
Maxi-Cosi, Nuna, Cybex
Baby Trend, Britax, Evenflo
Safety
Five-point harness with adjustment
Five-point harness
Five-point harness
Five-point Seat Belt
Five-point harness
Five-point Seat Belt
Maneuverability
Fair
Fair
Good
Very Good
Very Good
Good
Rating
5 Stars
4.5 Stars
4.5 Stars
5 Stars
5 Stars
5 Stars
Main Features
● 6 Reclining Positions
● All-Wheel Suspension
● Adjustable Hand bar
● Extendable Canopy
● Multiple Reclining Positions
● Multiple Reclining Positions
● Extendable Canopy
● Double seat Design
● Dual Rear Brakes
● Stands when folds
● Extendable Canopy
● RumbleSeat
● Peekaboo Window
● Extendable Canopy
Pros
● Spacious storage
● Easily convertible
● Good suspension
● Great storage
● Compact Fold
● Good Quality
● Easy to Use
● Large Storage Space
● No Slippage
● Adjustable Canopy
● High Quality
● Easy to Push
● Easy to Steer
● Light in Weight
Cons
● Heavy
● Expensive
● Expensive
● Bulky
● Heavy
● Bulky
● Bulkier
● Harder to Transport
● Small Canopy
UPPAbaby Vista V2 Stroller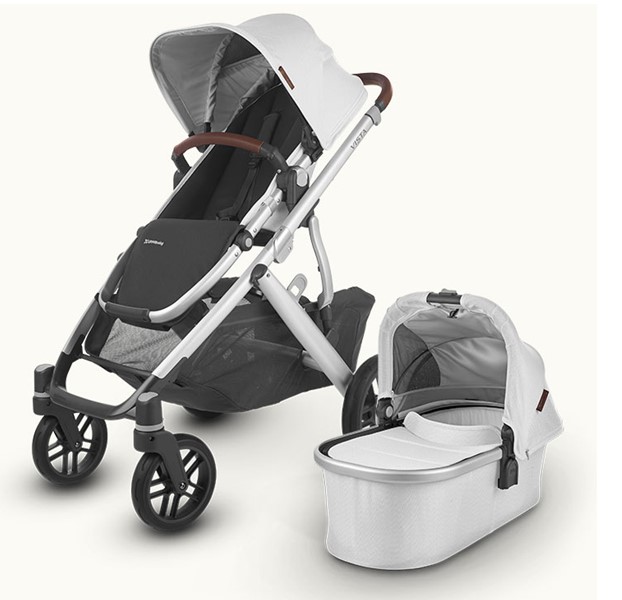 Numerous versatile features incorporated into this stroller make it stand out in a sea of other similar strollers. From storage to maneuverability, from easy steering to allowing seating capacity for up to 3 children, this stroller is worth every penny, especially if you have a growing family or toddlers with similar age groups.
Ease of use
Thanks to its super easy folding, steering, and maneuverability, the Vista V2 is one of the easiest baby strollers to use. The stroller features a super user-friendly mechanism by allowing extendable canopy shades, multiple reclining positions, and of course, separate storage trays for parents and children. When reviewed and compared to other strollers, the Vista V2 easily won the race for being the most easier stroller to handle and use.
Brakes
Well, there's no surprise about the fact that stroller brakes must be highly sturdy and effective. That means a potential hazard. You need brakes to stop the stroller immediately, slow the speed while taking a break, or turn a sharp turn.
The brake pedals of Vista V2 are designed to have single-action brakes that are immediately effective. The brake pedals are well-positioned, which makes them easy and effective to apply. Just press once to apply the brake and then press again to release; it's simple!
Fold and unfold
Folding and storing away your baby's stroller can be a hassle, but this is no longer an issue with Vista V2 on board with you. Thanks to its compact folding dimension and style, Vista V2 features one-hand fold technology, which makes the folded stroller stand on its own without any balance. You might need two hands to unfold, but still, it's not that hard. The stroller's handlebar is encased with a plastic bump that protects the leather-wrapped handlebar from getting worn out.
Storage
It's undoubtedly a nightmare to travel without having immediate access to all your baby's essentials. Vista V2 has ensured sufficient storage and easy access to all baby items by including a spacious storage basket. The basket has the capacity to carry about 30 pounds of weight. Moreover, there are inside pockets present in the basket to allow you to section items easily. The large storage basket is easily accessible from both sides, the front and the backside of the stroller.
Canopy
Vista V2 has an extendable zipped canopy to allow peaceful naps while you're on the go. It probably has one of the largest sunshades we have ever come across paired with covered peekaboo windows. The mesh on top of the window ensures optimum ventilation, so it doesn't get too humid for babies inside. The size of the canopy is adjustable as per liking and requirement. When you extend the sunshade completely, it covers the stroller entirely.
Harness
Just like every other secure stroller out there, the Vista V2 has the five-point harness mechanism to make sure that your baby sits in place at all times. The straps of the harness and the buckle work so smoothly that you won't suffer from struggling with them if your baby is trapped inside. Moreover, the straps easily slide up and down to allow multiple adjustments as per liking.
Seat comfort
The padded seat of Vista V2 is highly comfortable for the baby to lie on for even long hours. Moreover, since there are multiple reclining positions, you can easily set the position your baby is comfortable with. The seat recline is a single-hand operation- meaning you just need one hand to lift or lower the seat. The seat also reclines completely horizontally to make it easy for the baby to nap or sleep.
Car seat compatibility
Since Vista V2 allows seating capacity for up to 3 infants, meaning it can work with two infant car seats as well. Vista V2 is compatible with numerous car seats, including UPPAbaby Mesa, Chicco KeyFit 30, Maxi-Cosi, Nuna, and even Cybex. Of course, not all car seats from the above brands will work, but most will fit perfectly and remain stable.
Maneuverability
The high-quality suspension and large wheels of the Vista V2 make it easy to steer and maneuver. You can easily push the stroller forward on smooth surfaces without any extra effort. Moreover, the larger tires ensure a smooth transition when the flooring and surface change a bit. The stroller is a bit heavy, no doubt, but it easily passes through small spaces.
Handle bar
The handlebar on the Vista V2 is made from pure leather, making it visually appealing and comfortable to grab onto for long hours. It has a telescoping adjustment that moves easily without any flex.
Many parents complain about the handlebar being uncomfortable or lacking grip. Still, the Vista V2 handlebar has the feature which allows us to adjust the height of the bar as per liking. This clearly means less fatigue and easy strolling.
Overall quality
Well, now that we have discussed almost every factor of the stroller, it can be summarized that the stroller is a good pick, as specific attention has been given to nearly every aspect of the stroller to make it as convenient and user-friendly as possible.
The stroller's frame is solid and sturdy, and the telescoping handlebar makes it even simpler to hold onto. The overall design and quality of the stroller are commendable, thanks to the superior quality materials used to make it. The build quality of the stroller is perhaps top-notch. The material used to make the seat and canopy are soft and light, so the baby feels comfortable.
Summary
To sum up, the V2 stroller has cleared almost all of our comparison tests. From providing ample storage space to easy steering and strolling, from the extendable canopy shade to multiple reclining positions as well as telescoping handlebar, the Vista V2 has left no box unchecked. Moreover, what makes the stroller impressive is that it can carry three toddlers at a time! What's better than that?
If you're looking for a luxurious stroller to invest in that can easily cater to your growing family, then Vista V2 is one of the best options. Although it is a bit more expensive than the other double strollers, the stroller is worth investing. Its numerous versatile features are bound to bring a pleasant experience for both parents and the baby.
---
What Next?
Now that you've learned something about the UPPAbaby vista stroller, why don't you also check our related guides about baby strollers below: