Introduction
Everyone wants ease and comfortability, and this is precisely what a foldable electric wheelchair offers. Also known as a powerchair, this device provides convenient movement for the elderly and disabled.
This innovation gives seniors some sense of independence, some of whom may find it challenging to move around independently. Also, rather than going through the stress of lugging heavy wheelchairs about, fold-up models are lighter, making conveyance effortless.
However, despite the numerous benefits of this foldable electric wheelchair, choosing the perfect one to suit your specific needs can be a daunting task. With several options and price ranges on offer now, purchasing this equipment has never been trickier.
Understanding the struggles involved in selecting the right powerchair, we have come up with a list of the best foldable electric wheelchairs in 2022 to act as a guide in your search for a powerchair. Read on to find out about them.
Our Top Picks
| | | | | | |
| --- | --- | --- | --- | --- | --- |
| | ELECTRIC WHEELCHAIR TYPE | WEIGHT | POWER | SPEED | PRICE |
| Best Overall | Best Overall Majestic Buvan Foldable Electric Wheelchair | 31kg | 500W | 6km/h | See price here |
| Best Heavy Duty | Best Heavy Duty Foldable Electric Wheelchair | 42kg | 500W | 8km/h | See price here |
| Best for Speed | Best for Speed Foldable Electric Wheelchair | 23kg | 360W | 10km/h | See price here |
| Best for Travel | Best for Travel Bangeran Foldable Electric Wheelchair | 23kg | 500W | 10km/h | See price here |
| Best Budget | Best Budget Foldable Electric Wheelchair | 17kg | 360W | 6km/h | See price here |
Looking for other electric wheelchairs, please click here.
Factors to Consider When Buying a Foldable Electric Wheelchair
When searching for a suitable foldable electric wheelchair to buy, here are a few factors to give thought to:
1. Weight Capacity:
Every powerchair has limitations based on the user's body weight and shape. For this reason, you should look at the chair's weight capacity to choose one that can easily support your body. Also, ensure that you examine the foldable electric wheelchair's dimensions before any purchase.
2. Speed:
The primary role of a wheelchair is to move one around easily and quickly to function independently. Hence, these devices come at different speeds. When picking out a chair, select one whose speed level and engine power match your needs. Additionally, confirm whether the chair's power originates from the front or rear wheels. There is also a need to check their maximum speed options.
3. Slope Percentage:
This refers to the elevation angle along which a wheelchair moves. Since hilly areas are slopy, they will require a foldable electric wheelchair with a high slope percentage. Now, wheelchairs have specific slope percentages, and the safest value falls between 6 to 8 degrees, where they can conveniently climb elevated or sloped surfaces.
4. Turning Radius:
This denotes the space that the foldable electric wheelchair will need to make a turn. A high turning radius allows a powerchair to turn in the tightest of areas, as they will require little space to turn around.
5. Price:
As buying a powerchair is a pretty significant investment, you should make your cost findings before settling on any particular one. Set a budget, after which you can begin to narrow down your choices depending on this arranged price and features needed.
Detailed Review of the Top 5 Foldable Electric Wheelchairs of 2022
1. Best Overall Majestic Buvan Foldable Electric Wheelchair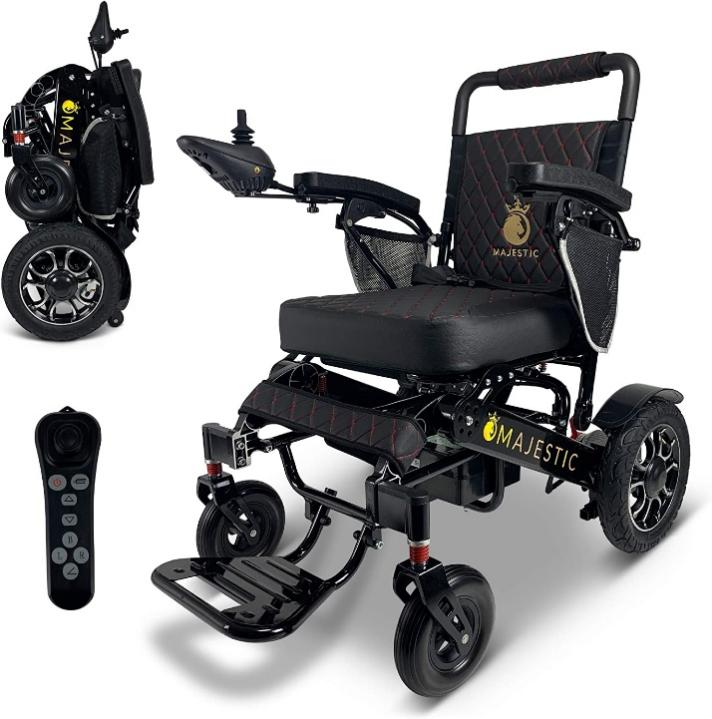 Product Specs
It is made from carbon steel.
19.5 inches seat height.
12AH Li-ion Battery.
33-inch turning radius.
500W, 31kg, 6km/h.
Pros
IDurable and doesn't require too much maintenance.
Twin powerful motors for easy mobility.
Robust and reliable battery.
Features a unique anti-leaning rear design.
It has uncomplicated handling.
It folds easily and can fit into trunks without hassles.
Airline-approved for safe flight travel.
The seat and backrest can be dismantled and refixed conveniently.
Cons
The remote control cannot fold the chair.
Not very lightweight for loading.
The seat and backrest do not have thick cushions.
It doesn't feature a headrest, and elevated leg rests
2. Best Heavy Duty Foldable Electric Wheelchair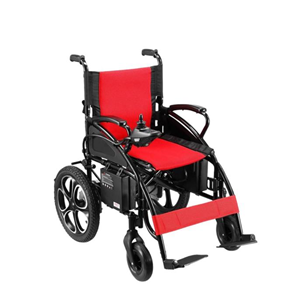 Product Specs
100KG Capacity.
24V/20AH Li-ion Battery.
6-8 hours charging time.
42kg, 500W, 8km/h.
Pros
It can be used for heavy-duty tasks.
Features huge rear tires for excellent climbing ability.
Sports a powerful 500W twin motor for better slope capability.
Operation bar is simple to understand.
It folds up very quickly and can be loaded in car trunks with ease.
It has a detachable cushion that is washable and convenient to sit on.
Cons
With a weight of about 42kg, it is very heavy.
Lengthy charging time.
Quite expensive product.
3. Best for Speed Foldable Electric Wheelchair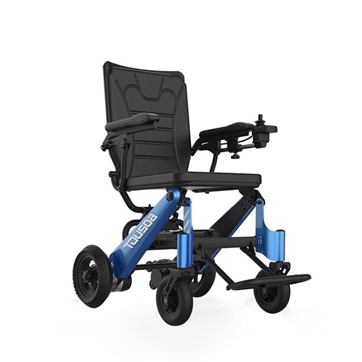 Product Specs
6AH/10AH Lithium Battery.
160kg loading capacity.
23kg net weight.
23kg, 360W, 10km/h.
Pros
Moves rapidly at a speed of 10km/h.
Remarkable 360W twin motor.
Its lithium batteries can be recharged multiple times.
Batteries have low self-discharge rates, high energy density, and voltage capacity.
It is made from magnesium alloy frame, which is lighter than aluminum.
High tensile strength.
Cons
Does not come with remote control.
Quite expensive product
4. Best for Travel Bangeran Foldable Electric Wheelchair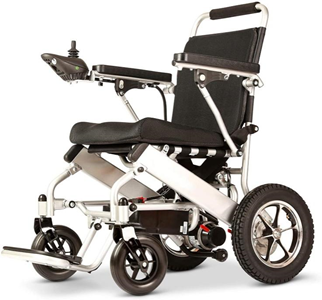 Product Specs
Made from Aluminum.
12AH Lithium Battery Capacity.
6-8 hours battery charging time.
13 miles battery range.
12.5" Inflatable Rear Wheel.
Pros
Convenient for aviation travel.
Ergonomically designed for comfort.
Sports a potent, long-lasting battery and shock absorber.
Folds in seconds without disassembling.
Features long-range and electromagnetic brake for smooth stops.
Remote control for simple operation.
Operates efficiently on various terrain types – gravel, snow, or grass.
Cons
Constructed from aluminum alloy, which isn't very long-lasting and durable.
Doesn't come in a variety of colors.
5. Best Budget Foldable Electric Wheelchair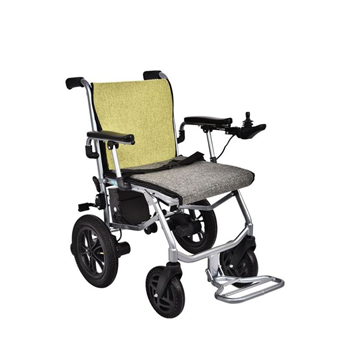 Product Specs
10AH 22V Lithium Battery.
5-6 hours battery charging time.
6km/h maximum speed.
20km endurance.
Pros
Very affordable and excellent value for money.
Features an anti-tip rear design for stability and safety.
Padded seats allow for prolonged sitting without sweating.
Has electromagnetic brakes to provide remarkable thermal efficiency.
Better thermodynamic performance than regular friction brakes.
Cons
Final Words
Now, these are five of the best wheelchairs available on the market at the moment. Once you have acquired the right folding electric wheelchair to suit your needs, you will feel relieved knowing you can move around comfortably with minimal assistance.
These power chairs are a functional and proven way to restore mobility to your life. From this article, you must have figured out your perfect option. What are you waiting for? You should go ahead to purchase that one that tickles your fancy right now.
Click here to get more best electric wheelchairs!
Try This Out
Five Power Assist Wheelchair -Best Reviews and Buying Guide
The Best Foldable Electric Wheelchair – Detailed Reviews in 2022
5 Best Jazzy Electric Wheelchairs in 2022: Reviews and Buying Guide
8 Best Accessories for Your Power Wheelchair—Best Reviews & Buying Guide
Electric Wheelchair Buying Guide- Top 6 Product Reviews [All You Need To Know]
Motorized and Electric Wheelchair: All You Want to Know
Power Wheelchair Battery: Tips on how to Charge and Maintain It
Top 5 Standing Wheelchair- Best Reviews & Buying Guide