If you need to use coarse-grit sandpaper to perform sanding tasks, a belt sander will be the best solution. Rotating belt sanders can sand tough materials like hardwood and decking more effectively than orbital sanders and vibrating devices.
A belt sander is a crucial device, especially if you need to quickly remove a lot of wood and don't mind putting in a little elbow grease.
Hand-held or stationary belt sanders are available. Given the many options on the market, selecting the best solution for your sanding procedure may be difficult. Fortunately, you'll find detailed information on the seven finest belt sanders in our article. Continue reading to find out more!
What to Look For When Buying the Best Belt Sander
Most kinds of sanding can be done using a belt sander. However, this is only true if you choose the correct model among the numerous available choices. While the kind is usually the essential element to consider while choosing one, there are multiple other factors to consider.
Here are some things to think about while looking for the best belt sander.
Form
Belt sanders are divided into bigger, fixed versions that sit on a benchtop and smaller, portable variants that travel wherever you need them.
A stationary belt sander is an essential piece of equipment in a workshop that grinds, sands, or shapes wood, metal, metalwork, and furniture. A stationary belt sander typically uses a 4-inch-wide belt 36 inches long, but there are heavy-duty machines that use a 6-inch belt 48 inches long and devices designed for more delicate work for which a 1-inch belt is 30 inches long is used.
Home users and DIYers choose portable belt sanders most often. These basic tools are useful for performing light to medium-weight sanding, polishing, and shaping tasks, removing paint, glue, or other finishes from cabinetry or furniture, sharpening tools or removing swelling from the edges of doors or windows that stick.
Power
Although sanding does not require a lot of power, you should still make sure that the belt sander you pick has a strong enough engine. Belt sanders are available with motors ranging from 6 amps to 10 amps or more.
Motors with more horsepower are more efficient and perform better than ones with lower amperage. They will, however, in most cases be more expensive. It's also a good idea to invest in a sander with adjustable power for various sanding tasks.
Speed
You may choose between single and variable speed sanders when it comes to speed. Single-speed belt sanders are the most common, although their usage is limited because of the inability to vary the speed.
Variable-speed versions, on the other hand, allow the speed to be adjusted according to the job. The rate of most versions is between 500 and 1,500 feet per minute. The quicker the engine spins, the more material it sands away.
While using a high-speed sander for more effective and smoother sanding may seem apparent, keeping measurements correct often necessitates ensuring that a small quantity of material is removed from the surface. In these situations, running the engine at a reduced speed is the best option.
Some belt sanders have just two speed settings (high and low), while others include a dial that allows you to choose any speed in between. Variable speed sanders work well with a wide range of materials.
Weight
When purchasing any portable power tool, weight is always an essential consideration. It is also a necessary element for belt sanders since it affects the ease of usage and convenience.
A heavier belt sander will be the best choice if most of your jobs need you to utilize the sander in a horizontal position while working on severely misaligned boards.
A lighter belt sander is preferable when performing vertical or overhead sanding for home improvement tasks since it is simpler to manage. Because you'll have to handle its weight physically, a portable belt sander is a better choice for vertical surfaces. With horizontal surfaces, this isn't a problem.
When dealing with vertical surfaces or confined areas, an adjustable handle is another helpful feature. This unique design allows you to sand tough areas without becoming fatigued.
A belt sander may weigh as little as five pounds, while some can weigh 15 pounds. In summary, the sander you choose will be determined by how you plan to use it.
Collection of dust
A belt sander generates a lot of dust, which means you'll have to clean up after it. It is essential to choose a belt sander with an effective dust collecting system.
An onboard dust canister or bag is usually a good idea, but make sure it's big enough, so you don't have to empty it while sanding constantly.
Some versions have a dust port or the ability to remove the dust bag/canister and attach your shop vac. These versions provide the greatest dust collection, especially if you intend to use your belt sander often.
Using a belt sander with a connected dust bag has the advantage of keeping your workplace cleaner. Sanding releases a lot of wood dust into the air, which not only makes your workshop dirty but may also be detrimental to your health in the long run.
The vacuum function guarantees that all dust is effectively gathered and disposed of with these dust bags. It's important to remember that if you're not using a sander with a dust bag, you should wear a dust mask to prevent sanded particles from entering your lungs.
Size
Although minor variations in size exist, many of these tools fall into one of two categories: 3″ x 21″ or 4″ x 24." Belt sanders are classified according to the sanding belts' sizes they employ, which is determined by the belt's width and length. Both belt sizes have replacement belts readily accessible. The 4″ x 24″ variant will finish a large panel faster, but it is a considerably larger machine. Opt for the larger model if you plan to utilize the device to level large panels and need hefty industrial equipment. If you use the device in various situations, particularly free-hand or vertical work on-site, go for the smaller model.
Belt Tracking and Changing
Examine the machine you're thinking about and how changes on belts are conducted. Most of these machines enable you to quickly and replace belts by withdrawing a lever to release tension from the belt and then pressing it back in to tighten it. Following the installation of the new belt, you'll need to track it, much like a bandsaw's blade. You may find that some devices offer automatic tracking, whereas others will require you to adjust a knob such that the belt remains in the center of the platen (the metal plate between the rollers). Note that the manual tracking system is as simple as turning a knob to the left. It moves the belt right when you turn the knob in the opposite direction. By using the tracking knob, you can track the belt sander to the center within seconds, simply by turning it upside down.
Design and Convenience
Don't overlook the convenience of hand-operated power equipment (and that entails decibel ratings). You'll be using a belt sander for a long period, so make sure it's convenient in your hands. Pay close attention to the form and placement of the switches and handles. Some versions feature handles that can be moved around or removed entirely to fit into small places. Look for a power-on lock button as well. It's inconvenient to have to keep your finger on the trigger for extended periods. Before plugging the machine in, make sure it is turned off. Belt sanders can cause a great deal of damage in a short amount of time unless they're at the beginning of an endurance race.
Most belt sanders feature one or both sides entirely flat, enabling you to sand against a vertical surface. Some are designed with three wheels, allowing for a bigger platen between the front and back wheels. This allows for a greater sanding area to be used at any one moment.
Sanding Frame
A sanding frame is one necessary item. It's a structure that elevates the belt sander from the work area. The sander is progressively lowered nearer the surface by using a dial. The sanding frame lets you sand only the high points within the first region of the structure by barely touching the surface. When it comes to flattening capabilities, the belt sander has a wider footprint than a hand plane. Moreover, the frame prevents gouging and tipping. It is recommended to buy a belt sander with a sanding frame since it is so important.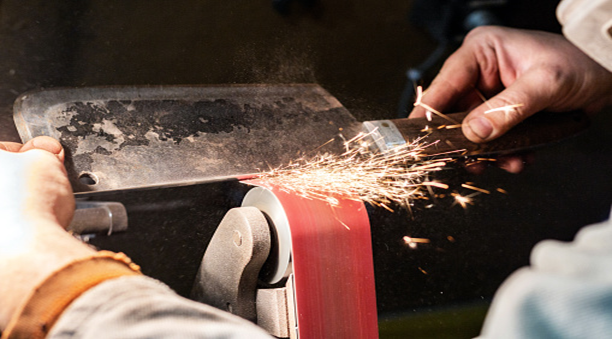 7 Best Belt Sanders of 2023
The following are the top seven belt sanders for 2023.
1. Best Angle Grinder: 300W Mini Electric Belt Sander Benchtop
The 300W Mini Electric Belt Sander is constructed of high-grade Aluminum Alloy, making it very robust and corrosion-resistant. This sander is multifunctional and can be used for blade edging, high-speed steel drill bit rough grinding, fine grinding tungsten steel turning tool, and more. Because the device's base is sturdy, you may put it on a table.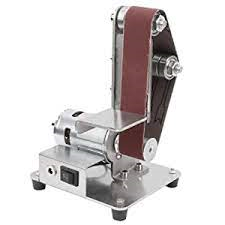 Pros
It includes a built-in double bearing, so it's non-slip and dustproof
It is anti-rust since it is made of high-quality aluminum.
It's simple to use.
Cons
Not recommended for heavy-duty tasks.
2. Best Mini Electric Grinder Sharpener: 96W 400WDIY Belt Sander Cordless
The 96W 400WDIY grinding machine is equipped with a strong motor with front and rear bearings, resulting in a reasonably quiet and efficient operation. Its movable worktable lets you alter the angle to suit your requirements by moving it up and down. The machine's pure copper core motor guarantees that it runs at high speed, and the protective motor cover allows the rate to be adjusted easily.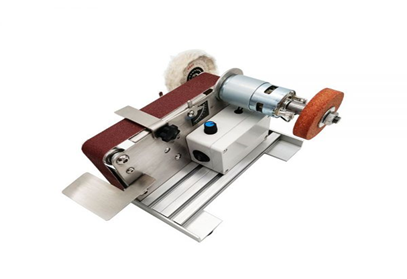 Pros
It's suitable for grinding or polishing metals
Its tool post makes it simple to adjust the angle.
The gadget is anti-slip and dustproof, thanks to its built-in double bearings.
Cons
Unsuitable for large-scale projects
3. Best Electric Belt Sander: 110-240V Polishing Grinding Machine Cordless
The Polishing Grinding Machine has a 110-240V DC motor with a maximum speed of 9000 RPM, so even when the sander is loaded, the operating rate remains high. The device's eccentric adjustable pulley enables the belt to be vertically adjusted. The belt adjustment pulley on this machine has a spring construction that automatically changes the tension. This sander has a robust base that may be put on a table to conserve electricity. It is made of high-quality metal that resists corrosion and tear while providing a long service life.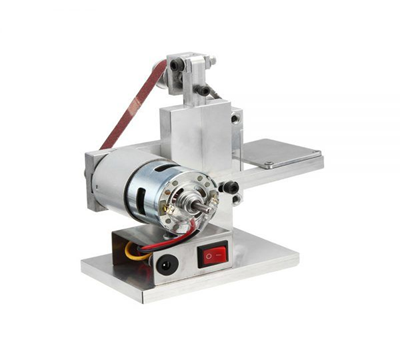 Pros
It's a multipurpose tool for grinding metal, wood, acrylic, and other materials.
Its noise-cancelling design safeguards the operator's and others' hearing.
It has a belt-tightening pulley that enables automated adjustment.
Cons
4. Best Electric Belt Sander Table: 550W DIY Polishing Grinding Machine for Woodworking Belt Sander Bench Top
The 550W DIY Polishing Grinding Machine has a pure copper motor, making it reasonably quiet and efficient. This device is a multi-angle grinding machine, which means you may change the angle between 0 and 45 degrees. Its hexagonal screw enables the belt to be adjusted from 0 to 90 degrees.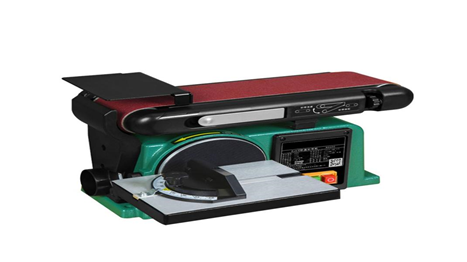 Pros
Its motor is reasonably quiet and easy to use.
Its accurate scale allows it to be adjusted from 0 to 45 degrees.
Its adjustable slide rule gives it a wide range of adjustment angles.
Cons
For people with limited room, it may be excessively bulky.
5. Best Hand-held Speed Adjustable Belt Machine: Portable Corded Industrial Belt Sander for Woodworking
The Portable Belt Sander features a flip-down polishing style, making it perfect for furniture restoration, wood and metal polishing, and metal rust removal. It has a strong motor that a switch can flexibly regulate, ensuring that the operating speed stays constant. The belt sander comes with a dust collecting bucket that keeps your workspace clean by preventing dust splash.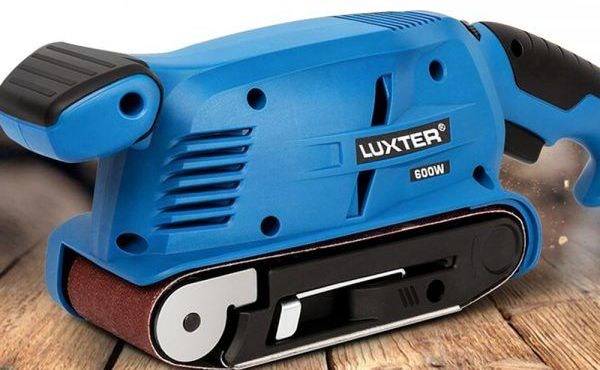 Pros
The switch may be adjusted to alter the speed.
The machine is well-designed to keep dust out of the way.
Its strong motor maintains a constant pace throughout time.
Cons
6. Best Iron Angle Grinder: Benchtop Belt Sander for Grinding and Polishing
This sanding machine is equipped with an eccentric adjustable pulley, which enables the vertical adjustment of the belt. Its belt-adjusting pulley is constructed with a spring construction, allowing it to change the belt's tension automatically. Its one-of-a-kind noise-reducing design protects the ears of the operator as well as others in the immediate vicinity. The machine's DC 12-24V motor guarantees that its operating speed remains high.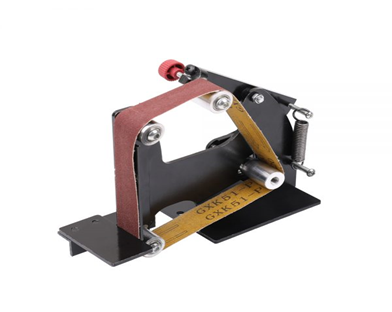 Pros
It is constructed of high-quality iron, which means it will not rust quickly.
Its base corners are equipped with anti-vibration and anti-skid footpads, making it sturdy.
It has a long life span and is resistant to wear and tear.
Cons
It's a substantial amount of weight.
7. Best VEVOR Abrasive Sanding Machine: 375W Multi-Function Grinding Polishing Belt and Disc Sander
The 375W Multi-Function Grinding machine includes a disc and belt sander, achieving fine, smooth finishes on components with ease. The gadget has a strong base with rubber cushions, which offers additional stability and protects you from any severe vibrations that may occur while it is being used. This machine's six-inch disc sander makes it an excellent choice for sanding at various angles to suit your specific requirements.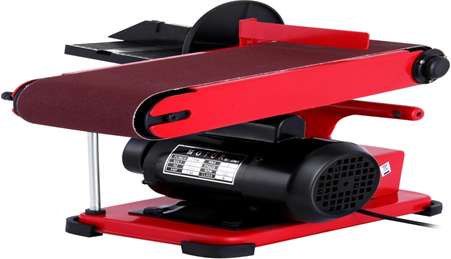 Pros
Its motor uses minimal energy and operates smoothly throughout its lifespan.
It is equipped with a watertight safety switch that is simple to operate.
It features a miter gauge, so it can make very precise angle adjustments.
Cons
Conclusion
The belt sander is one of the most reliable tools available since it is multifunctional and simpler to use. However, to receive the greatest service out of this piece of equipment, you must choose the best from the numerous choices on the market.
When selecting the best belt sander model, it's crucial to consider the belt size, motor power, overall weight, and speed of the sander itself. As a result, make certain to purchase one that is comfortable and appropriate for your requirements. Above all, invest in the highest-quality sander you can afford, and it will provide many years of reliable service.
By considering these factors and using our reviews to guide you through the process, you should have no trouble selecting a great belt sander to add to your toolbox.
Related Article
5 Best SKIL Belt Sanders of 2022 – Best Reviews Guide
5 Best DEWALT Sander – Our Top 5 Picks
5 Best Porter-Cable Belt Sander in 2022 [Reviews & Buying Guide]
5 Best CRAFTSMAN Belt Sanders In 2022
5 Best Makita Belt Sander in 2022 [Reviews & Buying Guide]