Tried and Tested Bench Sander Options to Upgrade your Workshop This Year
Introduction
Whether you're a small-scale manufacturer or find leisure in fixing things, a bench sander is a must-have in your workshop.
The initial step in any woodwork endeavor is to remove the excess wood and get a neat primary structure. Manually sanding down wood can take a lot of time and energy. However, this energy can be used more productively than slaving for hours only to attain the basic structure. This is where a heavy-duty sander comes to aid.
For the newbies, a brief definition of sanders is given below:
A sander is a machine with a rotating abrasive belt that removes waste material from woods for shaping or rounding off edges. (Bitesize, BBC)
These heavy-duty machines are electrically operated and generally carry exceptional weight to maintain stability.
You can make a permanent home for yours on a workbench in your garage, where it will serve to sand down your next project.
What Specifications to Note When Buying The Best Bench Sander
If you've finally decided to upgrade your workshop arsenal, let's look into a brief buyer's guide to help you through the choices.
One can't just pick up any bench sander and expect to fly through their DIY projects. So here are a few points to take note of when making your next sander purchase.
Type
A bench sander is a versatile tool with multiple variations to cater to the maximum needs of users. Different species of sanders having specialized functions fall into a single unifying category of the 'bench sander.'
Here are the different types with their functions:
Belt disc sanders are a crossover between the belt and disc sanders. The belt is attached either horizontally or vertically. This type is convenient for beginners, especially new DIY enthusiasts. It is relatively simple to use and serves multiple purposes like shaping or sanding.
Oscillating spindle sanders consist of vertically shaped spindles. These spindles embody sharp sleeves and move in an oscillatory motion. This helps form a smooth finish on the piece of wood and is used to obtain a finer quality of woodwork.
Drum sanders started off as free-standing equipment, but contemporary models have a convenient option of resting on a workbench. This variation is known as a drum benchtop sander.
These sanders can be synonymized as stationary belt sanders with respect to their mechanism and uses. They are used for sanding down large pieces of wood, such as panels.
Power
The power of a sander plays a significant role in defining the type of usage one can get out of it. For example, a newbie working on a small-scale project would prefer a piece of lower power equipment. These are much easier to control and don't cause abrasion to the wood structure.
Contrarily, large-scale woodwork requires high-powered machines that can provide maximum output as well as time efficiency.
These exhaustive machines are also helpful when the woodwork is a little rough and utilizes larger pieces of wood.
Finally, do look into the horsepower of the sander you're about to buy. If you're new to woodwork, a light-duty motor ( ⅓-¾ HP) will work perfectly for your DIY endeavors.
Speed
A high-speed bench sander is suitable for more strenuous and time-consuming operations such as construction. If you're building a personal bookshelf or any other small project, one with a lower RPM will cater to your needs just fine.
Adjustability
The superior quality of the best bench sander is its ability to alter rotation speeds according to the user's needs. Moreover, an adjustable sanding angle and form are additional perks of good quality equipment.
The angle adjustment features are vertical and horizontal, and the sandpaper attachment adds functionality to the tool.
Dust Collector
Dust collectors are significant to protect the user from wood waste produced by the sander. As the equipment sands down wood, the lightweight debris tends to fly around. This can be dangerous for the eyes and might irritate your airways as well.
A dust collector will save you from the trouble and health hazard by a suction mechanism at the source of wood pollution.
Miter Gauge
A miter gauge can prove to be a helpful bench sander accessory when sanding is to be done angularly. In addition, it functions to keep your workplace stable as you tear through the wood.
A premium quality bench sander should have a slot incorporated in it for miter gauge attachment.
Bevel Capacity
The bevelling phenomenon is used to chisel a piece of square wood into a refined slope structure. Beveling capacity is the corresponding extent to which a bench sander creates the slope mentioned above.
A bevelling device is used to manipulate the bevelling capacity of a sander.
There is no doubt that a bevelling device has a significant function. However, miter gauges are the go-to equipment for wood contouring.
Safety
Like any other outstanding quality hardware, safety accessories are sure to accompany a good bench sander.
A safe working environment enhances productivity and the quality of work. Some safety essentials include the following:
An in-built, removable power key prevents any mishaps from accidental or unintentional turning on of the bench sander.
A power switch that can be locked
Protective gear like eye goggles, face masks, and noise protection gear.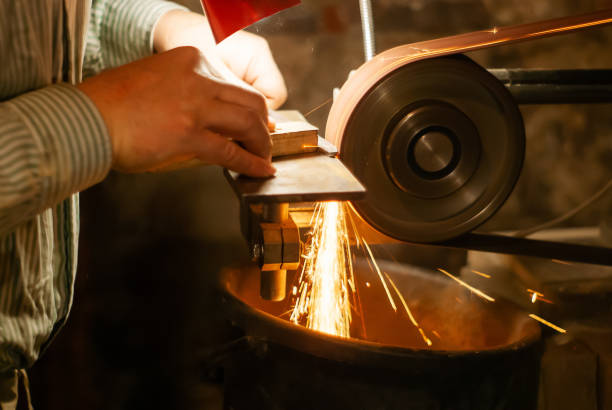 Our Top Picks
Now that we are done with our primary bench sander education, let's look at some of the best bench sanders in the market.
The variety and features are abundant when it comes to hardware as typical as a bench sander. However, choosing one specific to your craft can be an arduous task. For this, we have gathered the eight top bench sander varieties to choose from.
Their specifications are provided below so you can successfully add the proper hardware to your workshop.
Name
Brand
Speed
Price
Woodskil 4.3A 3/4 HP Bench Sander
Woodskill
3600 RPM
$145.09
Dutoofree Bench Sander
Dutoofree
2850 RPM
$358
VEVOR Bench Sander
Vevor
1420 RPM
$137
WEN 6502T Bench Sander
WEN
3600 RPM
1900 FPM
$155.38
SKIL 3376-01 Bench Sander
SKIL
3450 RPM
$179.99
RYOBI BD4601G Bench Sander
RYOBI
3600 RPM
$255.15
3M – 33575-case File Belt Rockwell Belt/Disc Bench Sander
Rockwell
3450 RPM
$128.99
BUCKTOOL BD4801 Bench Belt Sander
Bucktool
3450 RPM
$211.59
1. Best For Home Use Woodskil 4.3A 3/4 HP Bench Sander Disc Combo Sander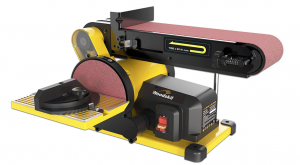 Type
Belt plus Disc Sander
Features
● Motor
The motor runs at ¾ HP that provides an output of 3600 rpm with 1800 fpm. This is enough power to carve down even the most stubborn pieces of wood.
● Adjustable Belt
The bench sander is an adjustable crossover between a belt and a disc sander. The belt is 4×36″, accompanied by a 6×6″ disc. It can be angled from zero degrees up to 90 degrees.
Furthermore, the belt can be tilted in both vertical and horizontal positions, depending on your requirement.
● Miter Gauge
The miter gauge attachment complements the adjustability features of the bench sander. It can be used to adjust the work table up to an angle of 45 degrees.
● Dual Exhaust
Dual dust exhaust ports are provided separately for the belt and disc sander wastes.
● Safety Switches
Dual Safety switches have been added to prevent accidents while the bench sander is not in use.
● Structure and Construction
The structure consists of a robust platform made of cast iron material. The purpose of incorporating such sturdy material is to stabilize the equipment during the sanding process.
● PC Guard
A transparent PC guard allows you to conveniently observe the belt's condition without opening up the machine.
Why Should You Buy It?
Pros
It is simple to operate
Exceptional battery life. This owes to the multi-wedge belt drive built into the equipment
The company provides a warranty of two years
A detailed user manual accompanies the package to help you. From setting the machine up to contouring your first piece of wood, the manual has detailed instructions to guide you
The perfect equipment for a beginner DIY enthusiast
Extensive customer support is provided by the company to answer your queries in time
Cons
Disc sander table is tricky to adjust
Disc hook and loop need to be bought separately
2. Great For Everyone Dutoofree Bench Sander Belt and Disk Sander Tabletop Belt Sander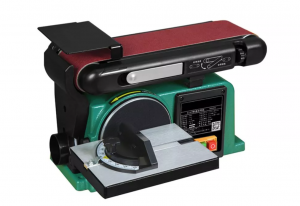 Why WEN 6307 Mini Belt Sander?
Type
Belt grinder
● Back Glue Button
Features
● Motor
The copper-wound induction motor incorporated in this electric belt sander provides 550W power, which results in 2850 RPM speed. These features make it the perfect candidate for sanding down metals.
It can be used for sanding iron, plastic, and soft metals in addition to the good old wood. With the Dutoofree sander, your creativity is as limitless as the variety of materials it can carve through.
● Multiple Grinding Angles
The machine is gifted with a precise scale supporting angles ranging from 0 to 45 degrees. The multiple angles give a craftsman various options to choose from, consequently refining the product's final look by multiple folds.
● Slide Ruler
The side ruler also has a precise scale incorporated in it. This provides mobility of up to 60 degrees, resulting in increased performance.
The glue buckle on the machine's posterior, in addition to the sand tray, makes this electrically powered bench sander an economical choice. The adhesive sand table paper comes to use when a snap button isn't required.
● Adjustable Belt
The belt is adjustable up to an angle of 90 degrees. You can easily adjust it yourself by using the hexagonal screw. Make sure to secure the hexagonal screw tightly when operating with electricity to avoid dismembering of the belt.
Why Should You Buy It?
Pros
Pure copper motor
Noiseless
Suits smaller workstations like makeshift garage workshops
Cons
Heat production
Include risk of fire or shock
3. The All-rounder VEVOR Bench Sander Woodcraft Belt Sander Bench Top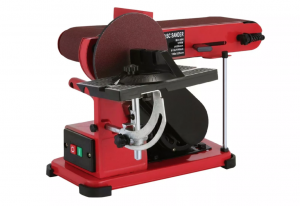 Type
Combination Disc and Belt sander
Features
● Motor
Vevor is fitted with a motor producing 375 W power. This results in a 1420 RPM, low noise, and highly efficient output. In addition, the structure of the motor is solely copper. This takes the efficiency of the bench sander to another level.
Its energy consumption is minimal, and output is optimum. If these perks aren't enough, there is a waterproof safety switch to seal the deal.
● Miter Gauge
The miter gauge this bench sander comes equipped with is of the adjustable type. This allows maximum angular freedom further aided by a high precision feature.
● Grinding Angles
If you're one to experiment with multiple angles in your craft, then the VEVOR bench sander is the perfect companion. The disc sander table can be adjusted up to an angle of 45 degrees, providing an optimum range.
● Structure and Construction
With a rigid rubber pad base and stainless steel structure, this bench sander is out to conquer the world of craft. The structure is heavy-duty and stable enough to handle larger projects.
● Standing Variations
The belt platform has variable angles having 0-90 degree range. In addition, the table apron allows for a smooth sanding experience.
Why Should You Buy It?
Pros
An innovative cross-over between a bench and a disc sander
Provides fine finish and premium quality woodwork
Pure copper motor
Low noise output
Cons
Complicated set-up and attachments
4. Budget-Friendly WEN 6502T Bench Sander Belt Sander Bench Top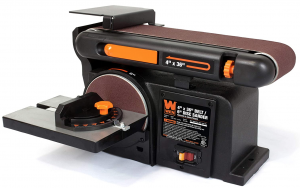 Type
Belt and Disc sander
Features
● Motor
The WEN 6502T motor runs on ½ HP. This provides a disc speed of 3600 RPM and a different belt speed of 1900 FPM. Hence the machine is suitable to handle an immense workload as well.
● Structure and Construction
The machine has a muscular cast iron base that promises durability and strength. So you can trust this beastly bench sander to handle heavy-duty tasks with ease.
● Miter Gauge
The miter gauge feature allows users to breeze through angled sanding with complete ease and guaranteed stability.
● Stop Bar
With WEN, user safety is the top priority. WEN has covered its bases in the department by adding a stop bar to make the bench sander safe and easy to use.
● Dust Extractor
The machine has a disciplined health hazard prevention policy. For this purpose, a dust extractor is attached to the equipment. Furthermore, a 2.25-inch dust port is also added to the package. This ensures that the wood waste doesn't fly around your work-station, causing nuance.
Why Should You Buy It?
Pros
The bench sander has dual abilities, thanks to the combined belt and disc sanders
Commendable customer care services
Two-year warranty
Cons
Very noisy
Too much heat production
Controls can be confusing
5. Our Favorite SKIL 3376-01 Bench Sander for Woodworking Belt and Disc Sander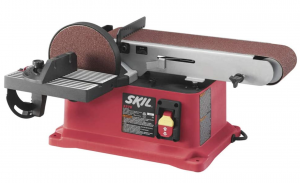 Type
Belt/Disc sander
Features
● Motor
The 0.7 HP motor enables a speed of 3450 RPM. This causes smooth functioning and maximum output from your bench sander.
● Adjustable Belt Angle
The adjustable belt works perfectly to execute the proper sanding down of wood. The angle it can adjust up to is 90 degrees. This results in flexible operation and a refined end product.
● Secure Tracking
Thanks to the tension spring adjustment feature, you don't need to worry about belt tracking. In addition, the secure tracking gives it an edge over a bench sander lacking the feature.
● Mountable Bench Top
The SKIL 337601 bench sander comes with pre-drilled holes on its base. The holes allow you to mount the bench sander on your workbench. This feature provides a hassle and hazards free operation.
● Dust Port
The 2.5-inch dust port will vacuum away any wood waste produced along with your health concerns.
Why Should You Buy It?
Pros
The dust port is a valuable addition
Simple to use and maneuver
Perfect bench sander for beginners
Cons
Difficult belt adjustment
Miter table is not very accurate or precise
Noisy equipment
6. Best Durability RYOBI BD4601G Bench Sander Belt Sand Machine Industrial Belt and Disc Sander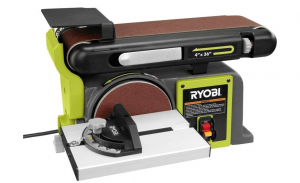 Type
Belt and Disc sander
Features
● Construction and Structure
The RYOBI BD4601G bench sander is constructed using sturdy and rigid cast iron material. This allows you to conduct even relatively heavy-duty operations on the equipment without worrying about wobbling.
● Adjustable Bed
The sanding bed or base is adjustable, providing horizontal as well as vertical settings to choose from.
● Safe Usage
Safety is ensured while using the RYOBI BD4601G, thanks to the lockout power switch.
● Changeable Belt
The arm of your bench sander's belt can be positioned at any angle between 0-90 degrees. This makes horizontal as well as vertical sanding a piece of cake. In addition to this, the vertical table also enables you to work in multiple positions. It provides angular support at angles ranging from 0-45 degrees.
● Miter Gauge
The manufacturers provide a miter gauge to help you get maximum output from your work table at angles between 0-45 degrees.
Why Should You Buy It?
Pros
Safe to use
Overall provides excellent value for money and has exceptional features
Cons
It doesn't cope well under a more enormous load
Disc sander plate could use modification
7. For All Your Needs Rockwell Belt/Disc Bench Sander Hand Held Belt Sander for Metal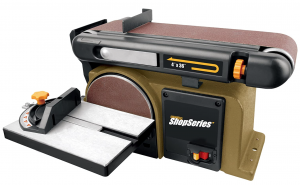 Type
Belt/Disc Combination sander
Features
● Motor
The high-functioning induction motor functions at ½ HP, emitting 3450 RPM disc speed in addition to the 1700 SFM belt speed. Therefore, the motor is bound to fulfill most of your woodwork requirements owing to this purpose-built motor.
● BevelledStock belt Edges
The worktable can adjust at angles ranging between 0-45 degrees. This feature ensures that you get woodwork with the top finish.
● Changeable Belts
A quick-release tension liver has been added to the bench sander so you can use multiple sandpaper grits for various crafts.
● Safe to Use
The safety switch present in the Rockwell sander keeps you and your workspace safe when you aren't around. Accidents are a nonexistent phenomenon when it comes to this bench sander.
● Multiple Sanding Positions
The belt platform measuring a good 4" x 36" can oscillate at an angle from 0-90 degrees to cater to all of your creative ideas.
Why Should You Buy It?
Pros
Reasonable price
Suitable bench sander for newbie artisans or a hobbyists
Cons
Stock belt isn't durable
4-inch belt spindles aren't very stable
8. Best Performance BUCKTOOL BD4801 Bench Belt Sander Belt Sanding Machine for Wood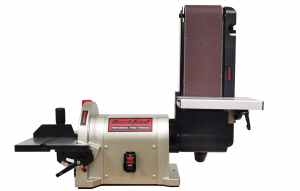 Type
Belt and Disc combination sander
Features
● Motor
The motor of the Bucktool Bd4801 is shaft-driven. It has a horsepower of ¾ HP. The disc speed is also outstanding, considering its 3450 RPM figure.
● Adjustable Belt
The 4×36-inch belt has two placement options, vertical and horizontal.
● Sturdy Disc
The disc is stable and sturdy owing to its 8-inch diameter and a steel cover that is added to weigh it down and provide smooth operation.
● Structure and Construction
The bench sander is built using a cast aluminum base and rubber paddings to provide stability and minimum turbulence during the sanding process.
It incorporates adjustable dual work tables for the belt and disc. The worktable made of cast aluminum has a tilting angle of 0-45 degrees.
This provides you with the creative freedom a craftsman deserves.
● Miter Gauge
A miter gauge accompanies the bench sander to adjust the angle of the wood and provide precision and accuracy to your work.
Why Should You Buy It?
Pros
The bench sander is easy to handle and does justice to its price tag.
It doesn't come with maintainable accessories like a belt or gear; hence, it is also light on the pocket.
Noiseless
As a Bucktool BD4801 owner, damaged cog belts will never trouble your head.
Sharpening the metal will only require changing the sander's belt, and you'll find yourself sailing through your woodwork, creating commendable masterpieces.
Cons
The frame isn't durable
Torsional strength is not ideal
Belt adjustment is tricky and complicated
Final Words
This concludes your guide on the best bench sanders available in the market in 2021. Whether you're a newbie or a professional, one of these tools is bound to end up being your next purchase.
With the suitable bench sander, even the plainest and most lifeless pieces of wood can be turned into jaw-dropping masterpieces. Make sure to choose wisely and operate your equipment safely. Happy sanding!