Introduction
Your little expeditions of hiking, camping, and other such adventures call for equipping the best survival accessories to meet the perils of wilderness with a head-on reaction. Therefore, the best companion on this journey for you can be the versatile MOLLE system, which can be built with high-quality molle attachments.
The feasibility of the Molle system depends on the right accessories to keep your equipment, weapons, and supplies at easy access points. If you are looking to learn all about the high-quality Molle attachments and accessories to keep with you, you are at the right place.
Today we will be shedding some light on the best molle system attachments that you need to stock up on as soon as possible.
Our Picks for the Best Molle Attachments
What is Molle?
Molle, pronounced as Molly, is an acronym for Modular Lightweight Load-Carrying Equipment made up of 100% nylon. It is a carrying system that comes with several attachment points to carry supplies and weapons.
The equipment was first introduced in 1997 by Natick Labs. Since then, it has remained a popular major military equipment, especially in the US and NATO armies, with a quick transition in other fields. It is now popularly used by hikers, travelers, campers, health care workers, etc.
The molle webbing attachments can easily be paired with military vests, tactical belts, backpacks, rucksacks, plate carriers, and bulletproof suits for extensive equipment storage.
Related: Molle introduction
Reviews of the 8 Best Molle Attachments and Accessories for Tactical Gear
1. Molle Pouches
The molle system accessories have durable nylon PALS, i.e., Pouch Attachment Ladder System, allowing users to attach additional pouches and equipment. The standard PALS webbing is spaced 25mm apart and sewn at 40mm intervals. The choices and functionality of the molle pouches are extensive and unlimited.
The options for molle pouches are a little overwhelming for newbies in the field. Therefore, we bring you the best molle pouch below.
Best Molle Pouch For You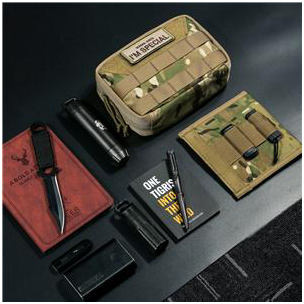 Product Name: OneTigris MOLLE Admin Pouch (Tactical Molle Attachment)
Material: 500D Cordura Nylon
Item weight: 320 Grams
Dimension: 8 × 2.5 × 5 Inches
Rating: 4.7 out of 5.0
It is a lightweight bigger EDC Molle pouch to carry your essentials. This molle pouch mainly has two versions: Advanced version 11.2oz and Basic 5.9oz. Both of them offer bigger space, greater functions, extra webbing rows, and a patch loop panel.
The molle pouch is perfect for outdoor activities and comes with numerous elastic bands to hold smaller-sized items such as pens and pistol mags. It is built for unbeatable durability and water resistance during your little adventures. The two-sided flap acts as a barrier to keep things safe.
Pros
Sturdy YKK zipper and unbreakable UTX buckle hardware
Extremely tough
Great storage capacity
Water-resistant to keep your things safe from light rainfall
The best all-weather tactical pouch
Cons
Pricey as compared to other pouches available but worth the price
Related: Molle Pouches
2. Molle First Aid Kit
Molle first aid kits are designed to attach the pouch to the MOLLE-compatible equipment. They are compact and convenient for taking medical supplies and have attachments to carry on vests, bags, etc.
Best Molle First Aid kit with an IFAK Pouch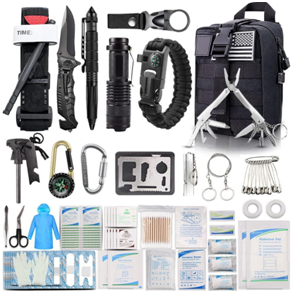 Product Name: EMAMAK Molle First Aid Kit with Tactical IFAK Pouch (Molle Gear Attachment)
Item Weight: 2.3 Pounds
Pouch Material: 600D Nylon
Dimensions: 8.3 × 4.9 × 6.7 Inches
Number of Pieces: 13 Survival Tools and 262 Medical Supplies
Rating: 4.7 out of 5.0
When the duty calls for intense missions, the preparation should also be on point and remarkable. The 13pcs survival kit and 262 medical supplies come in a strong, waterproof, portable pouch.
The molle kit consists of well-thought-out equipment: tactical knife, LED flashlights, blanket, compass, wire saw, and tactical pen (a few items to name from the pool of survival gear). The quality of first aid supplies is top-notch that could easily meet the needs of a family or a group.
Pros
Comprehensive survival tool kit
Professional built
Compact design with well-organized items
Have several pockets and loops for convenience
Cons
No pain relievers, cold packs and elastic bandages
Related: Molle First Aid Kits
3. Molle Water Bottle Pouch
Molle water bottle pouches are polyester made for maximum hydration when you are on the go. The pouch lets you carry your water bottle along with Molle attachments.
Best Molle Water Bottle Pouch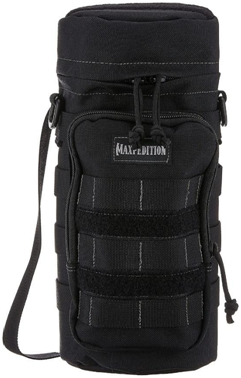 Product Name: Maxpedition 12'' × 5'' Molle Water Bottle Pouch Holder
Item Weight: 0.7 Pounds
Dimension: 12 × 5 Inches
Capacity: 750 mL
Rating: 4.8 out of 5.0
How can we leave this product when we are talking about cool molle accessories? The 12" x 5" bottle holder is tall enough to hold a bottle of wine. The triple coating of polyurethane and the final coating of Teflon fabric gives its repelling properties. It has YKK zippers and slides exclusively.
The military-grade nylon webbing is used for straps, handles, and modular attachment points. It has PALS attachment webbing on both the front and back sides.
Pros
Made with durable material
Triple-layer for protection
Quick-release hook on the back
Molle and PALS compatible
Cons
Related: Molle Water Bottle Pouches
4. Molle Holster
Molle holsters serve as a perfect carrier to keep your firearms safe. Their practical design and flexible features allow users to carry various types of pistols with ease. Molle holsters are great to ensure your and your weapon's protection, convenient keeping, and unique styles.
Best Molle Holster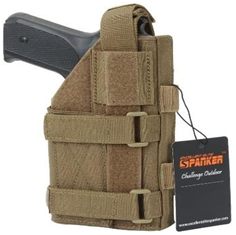 Product Name: EXCELLENT ELITE SPANKER Universal Adjustable Molle-compatible Holster for Pistols
Item Weight: 0.11 KG
Material: Nylon
Dimension: 7.5 × 4 Inches
Color: Coyote Brown
Hand Orientation: Right
Rating: 4.5 out of 5.0
Are you ready to ace up your game with the most incredible Elite Spanker in town? Whether you are a law enforcement officer or a paintball fan, this product offers enough stylish space to carry your favorite guns with you. Its adjustable features make it suitable for pistols of all sizes. Besides, the adjustments are quite simple, and the unique design can hold a variety of pistols of different sizes.
The adjustable strap secures your gun sturdily and comes with four different molle webbing for the best fitting experience. Secure it to any leg holster or bodily gear system, and you are all ready to use it.
Compatible Models: M1911, G17, 18, 19, 26, 34, CZ P-10C, XD-45acp, etc.
Pros
Made up of high-quality, durable material
Large capacity
Offers unbeatable flexibility and security
Comes with 100% warranty quality with 90 days replacement and refund policy
Durable and anti-abrasive material
Cons
Only suitable for right-hand users
Related: Molle Holsters
5. Molle Hydration Pack
Molle hydration packs, compatible with molle systems, are designed to help you carry water with an efficient drinking facility, even in the wilds. The water reservoir comes with a drinking tube to avoid the hustle of opening and closing the bottle caps.
Best Molle Hydration Pack
Product Name: SHARKMOUTH Tactical Molle Hydration Pack for Hiking, Cycling, and Running with Leak-proof Water Bladder
Item Weight: 1.98 Pounds
Material: 900D Polyester
Color: Multiple Choices
Dimensions: 16.5 × 9.1 × 2 Inches
Rating: 4.7 out of 5.0
The ergonomic design gives you comfortable back support, and the adjustable shoulders, waist, and chest straps offer a better carrying mechanism. The breathable pads keep you cool and dry. It has an insulated compartment to carry your iPad and lunch box and front pockets for wallets, phones, keys, gloves, etc.
Due to the high molle compatibility, you can easily attach your gears to the pack through the excellent molle system. It can hold a 2L of water bladder to keep the water cool for up to four hours.
It is ideal for short trips and can also serve as a decent gift for friends and family.
Pros
Sleek and compact designs
Have multi compartments for food and water storage
Lightweight and comfortable
Cons
A QR code on the bag does not open up to the relevant site
Related: Molle Hydration Backpack
6. Molle Clips (Molle Quick Attach/Detach System)
Molle clips are little clips used to clamp molle gears to the molle pouches. They can be used on vests, rigs, rucksacks, etc. Here are the best molle clips for you.
Best Molle Clips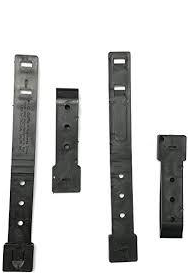 Product Name: Tactical Tailor Malice Molle Clips Short for Molle Attachment
Item Weight: 1.45 Ounces
Number of Pieces: 4
Rating: 4.7 out of 5.0
The Malice molle clips come in pairs of two; pick the shorter or longer one is your choice. Longer ones are suitable for five rows tall PALS, and shorter ones for two to three rows tall. They are specifically designed to attach modular pouches to the MOLLE or PALS equipment, packs, belts, vests, etc. The belts are strong and do not rust with use; neither do they lose their finish.
Pros
Durable, non-corrosive
Machine wash
Reusable connecting clips
Heat and cold resistant
Cons
The manufacturer does not offer free shipping
Related: Molle Clips
7. Molle Panel
Molle panels are ladder grids used on backpacks and vests for easy carrying and organizational purposes. It makes it possible to carry multiple gears at one time and saves your time rummaging through the backpack during a critical mission.
Best Molle Panel
Product Name: Yawayda Molle Panel Cover Car Seat Back Organizer for Attaching Gun Holster to Molle
Item Weight: 14.8 Ounces
Material: 1000D Nylon
Color: Black
Dimension: 14.5 × 0.1 × 22.5 Inches
Rating: 4.5 out of 5.0
The universal fit seat organizer is suitable for vehicles like Jeep, SUV, Truck, pick up, etc.
The organizer is well designed to offer ample storage space, an ammo pouch, a first aid pouch, a flashlight pouch, water bottle pouch. In short, it can accommodate all your items in one place. It has a stunning gun rack feature, two pockets, and two-loop straps for all your outdoor hunting needs.
The special buckle design allows swift transfer from seat to seat without disturbing your neck and back.
Pros
Has two adjustable straps for universal fit
Easy to install
The durable fabric prevents scratching
Allow molle gear attachment
Tough stitching allows heavier carrying capability
Cons
Need to be fixed tightly to avoid sagging
Related: Molle Panels
FAQs About Molle Attachments and Accessories
1. What is MOLLE System and How Does MOLLE Work?
As mentioned above, MOLLE stands for "modular lightweight loading-carrying equipment." The Molle attachment system makes it possible for you to attach your modules or pouches to tactical belts, backpacks, rucksacks, and plate or outer carriers with molle straps and molle clips or sticks.
To make a MOLLE system work, the equipment or gear you aim to attach usually comes with rows of heavy-duty nylon fabric known as pouch attachment ladder system (PALS) to make itself Molle-compatible so that you can easily attach molle accessories or pouches to your tactical gear.
Besides, common molle attachments or accessories include:
Grenade and magazine pouches
First-aid kits and tactical medical pouches
Water bottle pouches (or canteen carriers)
Gun holsters
Sustainment pouches
Various gear pouches for general purposes
…
2. Is MOLLE the Same As PALS
No, they are not the same. Since we have explained MOLLE a lot, I'll only focus on PALS.
PALS, standing for Pouch Attachment Ladder System, is the webbing invented to attach smaller pouches or accessories onto load-bearing equipment, like backpacks, rucksacks, vests, and other gear, thus allowing you to carry and access your essentials with no effort. Besides, PALS includes webbing sewn onto the load-bearing gear and corresponding straps and webbing on the smaller accessories to be attached.
In short, PALS is the webbing and MOLLE is the attachment, and the webbing makes the attachment a reality.
3. Is MOLLE Bulletproof
It depends. Some molle vests are designed with ballistic protection, while others are not. You need to carefully check the specifications before purchasing any piece of MOLLE equipment.
4. Is ALICE Better Than MOLLE (ALICE Pack vs. MOLLE Pack)
The answer depends on your needs and preferences. Both ALICE and MOLLE are great backpacks for military use and have their own advantages.
The military officially used ALICE (all-purpose lightweight individual carrying equipment) as a gear attachment system since 1973. Although military soldiers have phased it out, many people still love this attachment system. The biggest advantage of the ALICE system lies in its ruggedness. ALICE pack is moisture-resistant and is able to carry large loads in one large compartment, with smaller gear placed into the side pockets. In addition, no zippers are equipped to guarantee serious gear stuffing.
On the other hand, the MOLLE system attaches a series of small pockets or pouches for tactical MOLLE-compatible gear. Zippers are added to the compartments, allowing you to easily access the equipment, while the ALICE system adopts a strap system to enclose the gear, adding inconvenience for accessibility.
In summary, the ALICE pack is very good for adventurers, hunters, and survivalists going to the jungle or highly humid regions for long periods because the rugged materials are built to withstand extreme conditions. The one large compartment is also well suited for carrying bulky gear simply, while the MOLLE Pack is a perfect choice for people who go hiking or camping for a short time.
5. Can You Attach MOLLE to a Belt
Yes, you can attach a MOLLE pouch to a MOLLE-compatible belt.
What Next?
Now that you have learned something about the best Molle attachments for vests, backpacks, and other molle gear, why don't you also check out our other related guides as follows: