Introduction
Whether you're an adventurous person or a hiker that needs supplies all day round, you need a suitable carrier for your firearms. Molle is here for you. Nowadays, the molle holster is gaining popularity owing to its practical features and stylish looks.
Suppose you are looking for a Molle holster that offers more possibilities and customization options and works with standard PALS platforms, including chest rigs, vests, tactical belts, and many more. In that case, you will have to look for a molle that can help you keep your firearm sturdy, safe, and handled and have more customization available.
But due to the large variety of molle pistol holsters available in the market, you can be clouded in choosing a proper gun holster. To cut down your research time and look at the minor details that fit the best description for every firearm, we have concluded a list of the 7 best molle holsters for your tactical gear. In addition, we have added a buying guide to help you choose the best molle holster from the list.
In this article:
Our Picks for the Best Molle Holster
1. Best Overall Molle Holster: OneTigris Molle Gun Holster for Pistols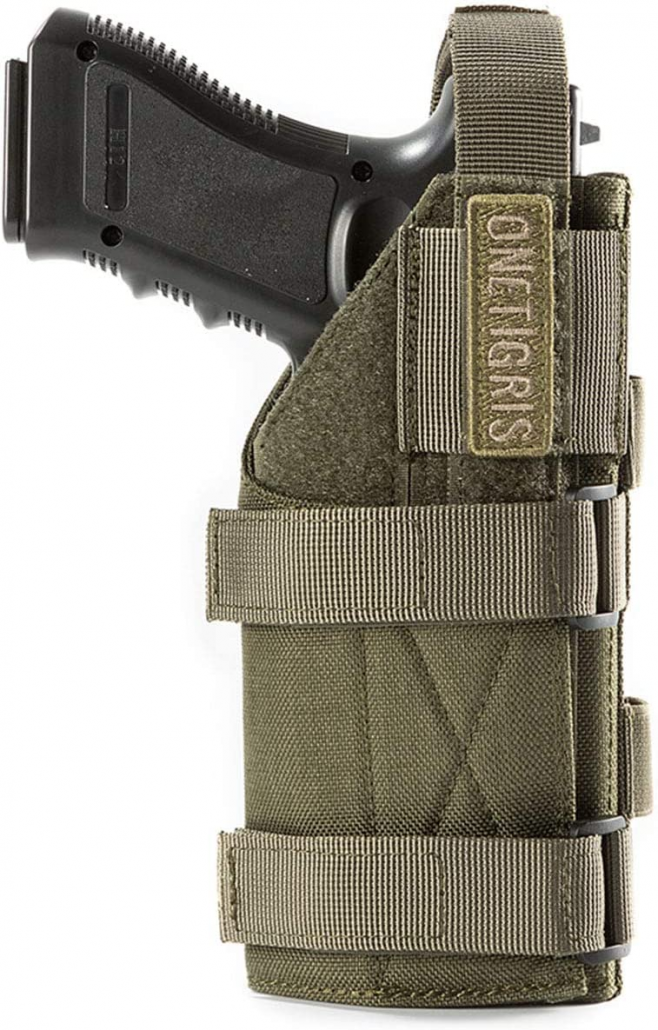 Material: 1000D Nylon
Closure Type: Buckle
Color: Green
Hand Orientation: Right
Dimensions: 7.5 × 3.7 Inches
Warranty: 1 Year
Rating: 4.6 out of 5.0
OneTigris Molle holster is our top pick because of its long-lasting durability and flexibility. The molle pistol holster is made of 1000D nylon and fits most full-sized, medium, and compact pistols.
The button-clasp release enhances the security of the molle holster, making it a perfect pouch for gun carrying and transportation.
In addition, the molle compatibility allows the pistol holster to work well with other molle attachments, such as a molle belt, molle backpack, molle panel, chest rig, molle vest, etc.
Compatible Pistols and Guns: 1911, Glock 17 19 20 21 22 40 44 45, S&W M&P Shield 9 mm, Bretta 92FS, Springfield XD, Sig Sauer P226 P229 P320, etc.
Pros
Molle holster with enhanced security
Durable material
Fit most sized pistols
Multiple applications
Works smoothly with other molle gear
Famous brand
Cons
Maybe a little bulky for some people
2. Best Durable: Excellent Elite Spanker Universal Adjustable Pistol Molle Holster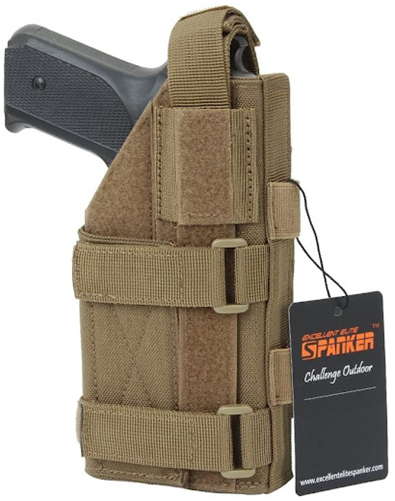 Material: 500D Cordura Nylon
Closure Type: Magic Stickers
Colors: Black, Coyote Brown, Gray, etc
Hand Orientation: Right
Dimensions: 7.5 × 4 Inches
Warranty: 90-Day Money Return
Rating: 4.5 out of 5.0
Excellent Elite Spanker universal molle pistol holster is the perfect fit for tactical situations. The holster is made of high-quality Nylon. Additionally, this molle holster can accommodate a variety of pistols and handguns ranging in size from full-sized to mid-sized, as well as small carry pistols. Furthermore, even when it is turned upside down and vigorously shaken, this molle holster holds them securely in place.
What is also included in this molle-mounted holster are top-fastening straps with a metal clasp and a magic sticker. This prevents your pistol from dropping out in the field, keeps it pointed downward, and allows you to quickly cross-draw your weapon in seconds.
It is ready to use when mounted to any leg holster, waist molle gear system, or chest molle gear system. Besides, the gun holster comes with an inside barrel depth-adjustable strap that firmly ties your pistol with many points of contact. This molle holster features well-made molle straps with a snap mechanism and ample adjustment using four different types of molle webbing to obtain the best fit.
Compatible Pistols and Guns: M1911, Glock 17, Glock 18, Glock 19, Glock 26, Glock 34, CZ P-10C, XD45acp, etc.
Pros
Provide tremendous flexibility and security in any tactical circumstance
100% Money-Back Guarantee
Many attachment options
Easy to use
Cons
It does not effectively cover the trigger guard in some firearms.
3. Most Affordable: Kwnraor Pistol Molle Holster for Right-Handed Gun Shooters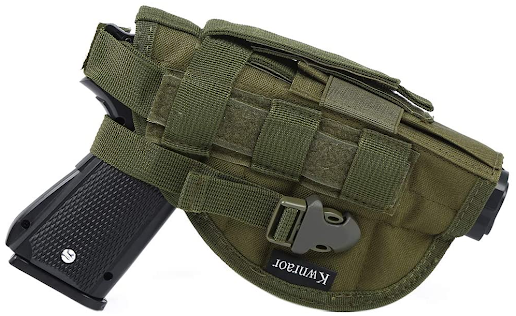 Material: 600D Nylon
Closure Type: Hook and Loop Hood Strap
Colors: Army Green, Khaki, Black, etc.
Hand Orientation: Right
Dimensions: 4.7 × 7.7 × 1.8 Inches
Item Weight: 3.9 Ounces (110 Grams)
Rating: 4.1 out of 5.0
With two top fastening straps, the Kwnraor molle pistol holster provides two degrees of safety. This feature prevents your handgun from falling out in the field, keeps it pointed downward, lets you cross-draw quickly, and allows you to reach and draw your weapon in seconds. It's also made for law enforcement, the military, airsoft/paintball lovers, or anyone who enjoys adventure or hunting.
This molle-compatible holster includes three hook and loop hood straps that can be adjusted, as well as a front pocket for additional holster storage. This right-handed shooter is also composed of 600D Nylon, is water-resistant, and features a pistol construction with a quick-drying function.
Apparently, the KWNRAOR molle holster can be your next choice due to its universal design and durable security straps mounted to the molle system.
Compatible Pistols and Guns: M1911, Glock 17, Glock 18, Glock 19, Glock 26, Glock 34, CZ P-10C, XD45acp, etc.
Pros
Designed with right-handed shooters in mind
Adjustable three hook-and-loop hood straps
Extra holster storage in the front pouch
Durable security strap with a plastic buckle that releases quickly
Affordable
Universal design
Cons
4. Best Convertible: LarKoo Universal Molle Holster Pistol Pouch for 9 mm 1911 Glock (Right Left Hand)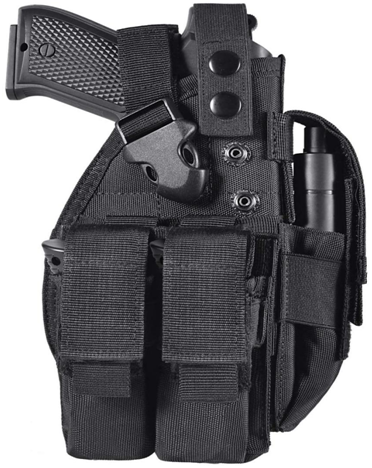 Material: 1000D Cordura Nylon
Cable Feature: Retractable
Color: Black
Hand Orientation: Right or Left (Convertible)
Item Weight: 10.4 Ounces
Rating: 4.2 out of 5.0
The Larkoo molle gun holster for 1911 Glock is built to last. Furthermore, the product is made of 1000 Denier Cordura Nylon, making this molle holster lightweight but durable, with a heavy-duty hook & loop buckle holster for ambidextrous pistols.
The most distinguishing aspect of this molle holster is ambidextrous, meaning it may be used with either your left or right hand. If you have a little practical experience, the convertible is pretty basic and straightforward to handle, whether left or right.
In addition, the molle-mounted pistol holster has additional pouches and a straightforward build.
Compatible Pistols and Guns: Fit all gun pistols with a length less than 10 inches (25 cm), such as Glock 17, G17L, G18C Springfield XD, M1911, Glock 19, Glock 26, Glock 27, Glock 32, Glock 34, Glock 43, etc.
Pros
Quick-release clasp, Snap-On button
Adjustable retaining strap for securing different-size handguns
Adjustable hook & loop belt
A built-in magazine pouch
Thick nylon material
Heavy stitching
Cons
Not high-quality fasteners
5. Best Value for Money: DYJ Tactical Gun/Pistol Molle Belt Holster with a Magazine Pouch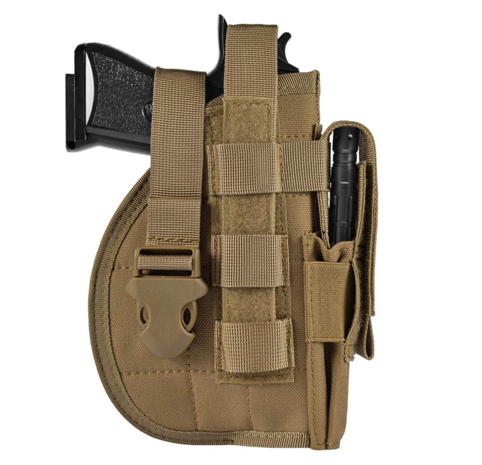 Material: 1000D Nylon
Closure Type: Hook and Loop Hood Strap
Colors: Army Green, Black, Coyote Brown, etc
Hand Orientation: Right or Left
Internal Size: 7.5 × 4.7 Inches
External Size: 7.7 × 5.3 Inches
Item Weight: 200 Grams
Rating: 4.4 out of 5.0
This molle holster is designed for right-handed shooters and made with tough 1000D Nylon, both sturdy and water-resistant. It also features universal connection straps with metal buckles for all MOLLE webbing and adjustable hook, a safety loop hood strap, and one extra magazine pouch with a Velcro retaining strap. It also has a standard durable security strap with a plastic buckle that releases quickly.
This molle pistol holster is sturdy and mounts securely to a gun belt. Though it is difficult or impossible to re-holster easily, it could be a great choice due to its retention system. The retention system consists of three straps.
The velcro strap overlaps a snap strap, and a separate third strap can be tied down over the pistol grip and has a post-lock type connector.
You can, of course, use the one Velcro strap and have quick access to the weapon while having moderate safety retention according to your needs.
Compatible Pistols and Guns: Fit most pistols, like Glock 1911 45 92 96.
Pros
Great value for money
Polymer80 Frame with holosun 507c red dot
Suits for Innovation's compensator.
Cons
A standard belt doesn't work best with this holster
It does not work with compact pistols (G43/MP Shield)
6. Best Adjustable: FRTKK Tactical Adjustable Gun/Pistol Holster with Molle Attachment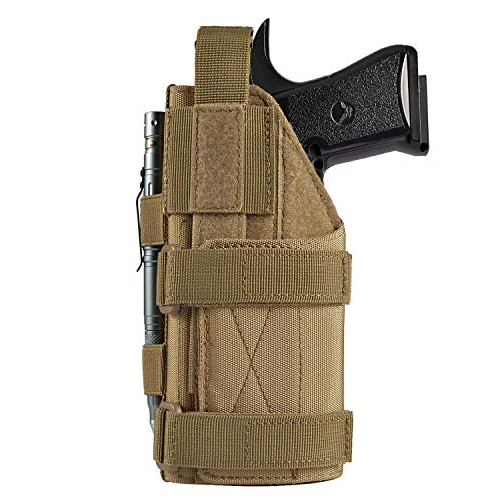 Material: 1000D Nylon
Closure Type: Buckle
Colors: Black, Army Green, and Tan
Hand Orientation: Right or Left
Dimensions: 7.5 × 3.7 Inches
Item Weight: 7.1 Ounces
Rating: 4.4 out of 5.0
If you need a durable field holster that works with many firearms, FRTKK Adjustable Tactical Pistol Holster is best for you. It's a variation of the Army's multipurpose holsters, with the improved traits and features that have been used in recent years.
This molle holster has a secure, adjustable snap strap that releases conventionally, not backward like too many others. Furthermore, the construction technique provides a stiff panel that protects the firearm and prevents breaking down, making the holster too flexible. Additionally, a stitched cloth construction that breaks down and folds into the trigger guard.
Finding a holster that properly fits more than one field pistol with any under-rail mounted light or laser is rare, but this holster does the job. The alternative is a Kydex molded holster which, too often, is a custom fit to a precise list of options and cannot be easily changed. Much fewer lead times of weeks to months for that specific model – is available at all – is where this molle pistol holster excels.
Compatible Pistols and Guns: 1911, Ruger LCP, Glock 17 19 26 34, S&W M&P 40 Shield Bodyguard, Beretta 92F, etc.
Pros
Both right-handed and left-handed options are available
Many attachable options
Offer extra straps
Adjustable design
Fit subcompact, compact, medium, and even full-size pistols and revolvers
Cons
Inferior molle straps
Uneven measures straps in some holster
7. Best for Comfort: Huntvp Universal Pistol Holster for 1911 54 92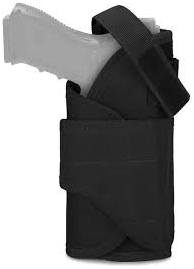 Style: Adjustable
Closure Type: Buckle
Color: Brown
Hand Orientation: Right
Rating: 4.1 out of 5.0
Huntvp Molle Pistol Holster is more of an airsoft pistol holster, but it can be used as a handgun holster due to its design. This holster emphasizes being comfortable and straightforward. The Huntvp molle pistol holster's wrap-around design with an adjustable strap makes it more secure and comfortable.
The molle webbing design on the back of the molle gun holster can be attached to your belt, vest, backpack, or other molle equipment. This molle holster includes four paste methods to fasten your pistol, usually for the right hand. Furthermore, it has high-quality straps and a quick standard many k-release buckle system, ensuring that your firearm won't fall out easily.
Compatible Pistols and Guns: Fit most large to medium handguns, such as 1911 54 92.
Pros
Universal design
Affordable molle holster
Comfortable and adjustable design
It can be used for large size handguns
Cons
Only one color is available
How to Choose the Right Molle Holster?
Molle holsters have revolutionized outdoor adventure and hiking experience due to their multi functions and comfort. It has become essential for the military, police, and adventurers. Moreover, molle holsters help carry concealed firearms, safety, and attachments.
Most of us take a lot of time to decide on the right molle holster. However, we end up buying the wrong one. Here are some factors to look at when purchasing a molle-mounted holster:
Types of Molle Holsters
Molle-compatible holsters have many types, and choosing the right molle holster depends on one's preference and needs.
Inside the Waistband Holster: This kind of molle holster secures your waistband and keeps your firearm concealed inside it.
Outside the Waistband Holster: These molle holsters help carry a revolver or semi-automatic firearm. These holsters fit outside the belt.
Shoulder Holster: These molle holsters fit in a loop over your shoulders and are helpful in a comfortable journey.
Pocket Holsters: These molle holsters are used to keep the firearm in your pocket without having the hassle of getting snug on your clothes.
Ankle Holster: These holsters fit around your ankle. However, they are highly uncomfortable while running or pulling up.
Open Carry Holster: These holsters are the most popular among many due to their accessibility and comfort.
Tactical and Duty Holster: These holsters are traditional military and police solutions. Additionally, these holsters help in keeping other equipment accessible.
Holster Design
The design of a molle holster is essential for safe use because any faults in the holster may cause many issues, like negligent discharge and damage to your firearm. Hence, if you find any malfunctions or mistakes in one holster, you'd better get a different one that can fit right.
Holster Material
The durability of a molle pistol holster depends upon the material of the pouch. There are mainly three types of materials used in holsters:
Leather: Leather holsters are versatile and trending these days. These holsters have a molded design for a specific model of pistol.
Kydex: Kydex is a rigid plastic that makes up an excellent holster material. This material is usually shaped for a specific firearm.
Synthetic Fabric: Synthetic fabrics are tough and low maintenance. This material is more waterproof than leather. However, holsters made from the synthetic fiber are bulkier.
Hand Orientation
Every molle gun holster is manufactured keeping hand orientation in mind. Always make sure that you buy a molle holster according to your hand preference.
Size of Pistol
Every molle holster is made for specific models of pistols to fit it properly. If you are looking for a molle holster, it's better to check the size of the gun beforehand.
Where to Wear a Molle Holster
Holsters can be worn on different body parts, and it is also important to determine where you aim to put on a holster. Some molle holsters are designed for specific parts, like the waist or ankle, while others may be more flexible and fit multiple places on your body.
Safety Tips on Using a Molle Holster (Negligent Discharge)
Any firearm activity can be harmful and cause severe injury, disability, and even death. So accessories related to gun use should be considered with an abundance of caution. Faulty firearm accessories may lead to negligent discharge and cause damage to both users and others. To avoid such accidents, we have concluded several tips about how to use a molle holster safely. Keep reading!
To begin with, always choose the right holster design that can fit right and avoid faulty ones. Used holsters are also not recommended because the material can fold due to long-term use and possibly cause negligent discharge;
If you want to make modifications to a gun holster, make sure that the changes are allowed or recommended by the manufacturer. Besides, please ensure to ask someone trusted and professional for help before modifying on your own if you are a rookie;
Always be cautious about adding aftermarket parts to your molle holster. It would be much better if you knew exactly what you want to add to your equipment before purchasing;
Remember to check your molle holster and firearm frequently. Having something stuck in the trigger guard can lead to accidental discharge;
Study your firearm and holster and learn the rules about firearm safety to avoid mistakes that may cause injuries or accidents.
Conclusion
While a molle holster can upgrade your pistol's security and hiking experience, it is always time-consuming to find a molle holster that really fits your needs. Therefore, to help you out, we have listed the 7 best molle holsters for tactical molle gear that are welcomed by many.
Our top picks are the OneTigris Molle Gun Holster for Pistols and the Excellent Elite Spanker Universal Adjustable Pistol Molle Holster because of their features and quick accessibility. Other molle holsters are in no way disregarded; they also have unique characteristics and could be your next ideal purchase!
What Next?
Now that you have learned something about the best Molle holster, why don't you also check out our other related guides as follows: