The frustration of putting your hand inside your huge backpack every time you need something urgent is real. Or the excitement of going camping can easily turn into annoyance when your important camping tool can't fit in that bag you bought for 100 bucks. Real bad. Isn't it? Molle pouches can solve your problem. But how? Keep on reading. Our article will make your camping or hiking trip memorable and simpler.
In this article:
What Are Molle Pouches Used for?
Molle might sound like an unusual word to you, but it holds a powerful meaning and abbreviation. MOLLE is a short form for "Modular Lightweight Load-Carrying Equipment." Quite heavy! Right? Nobody knew this term until 1997. Such heavy-duty load-bearing equipment has been used by the British and the US Army.
The rows and columns of webbing on the tactical pouch make it unique and load-bearing. That specific type of webbing is called PALS, an abbreviation of "Pouch Attachment Ladder System." In this system, rows of top-quality nylon made grids on the vest to hold stuff securely and not let it fall.
Nowadays, molle packs and pouches are popular equipment among hikers, backpackers, and travelers for all tactical needs. These molle pockets are also considered a good first aid kit because of their capacity and quick open ability. The PALS webbing system allows for keeping tools safe and right in the hands.
We dug deep to get the best and most durable molle pouches at an affordable cost to save your hard-earned money.
Our Top Picks For the Best Molle Pouches
1. Best Overall Molle Pouch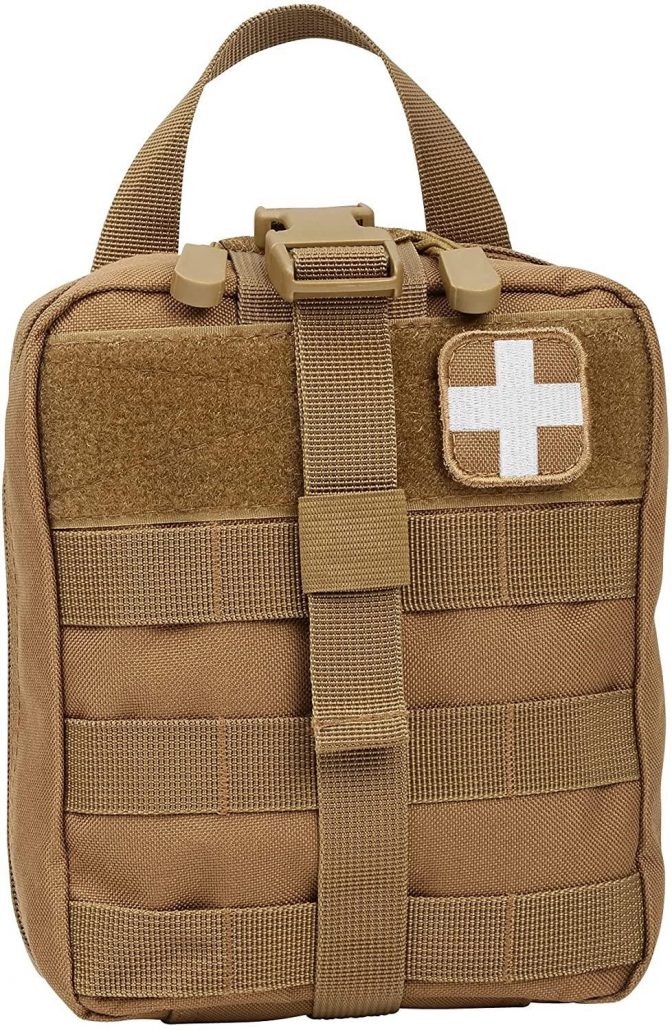 Product Name: Orca Tactical Molle Rip-Away EMT First Aid Pouch Bag
Dimensions: 8 "×6 "×3.5 "
Weight: 11 Ounces
Material: 600D nylon
Zipper: Two-way
Compartments: 2 with one mesh bag
Rating: 4.7 out of 5.0
Anyone can find himself in an emergency during hiking, camping, a match, or even in the house. Orca Tactical Molle Pouch is specially designed for that, whose rip-away design allows rapid removal in any accident case.
Large compartments with pockets provide massive storage to hold maximum emergency utensils. An additional zippered mesh compartment ensures the protection and management of your stuff. Ocra knows how to win hearts. They have added every single detail to make the medical pouch stand out.
Double stitching with high-quality material makes the molle pouch durable and sturdy. The brand is so dedicated to providing you the safety that they have added an internal bungee system to enhance security as much as possible.
Pros
Rip-away backing
Fast removal
Sturdy zippers
Mesh compartment
Designed for multiple uses
Cons
The molle bag seems bigger in pictures, but it's a bit smaller than the expected size. This might not be your best friend if you want a large molle pouch.
2. Best Molle Double Pouches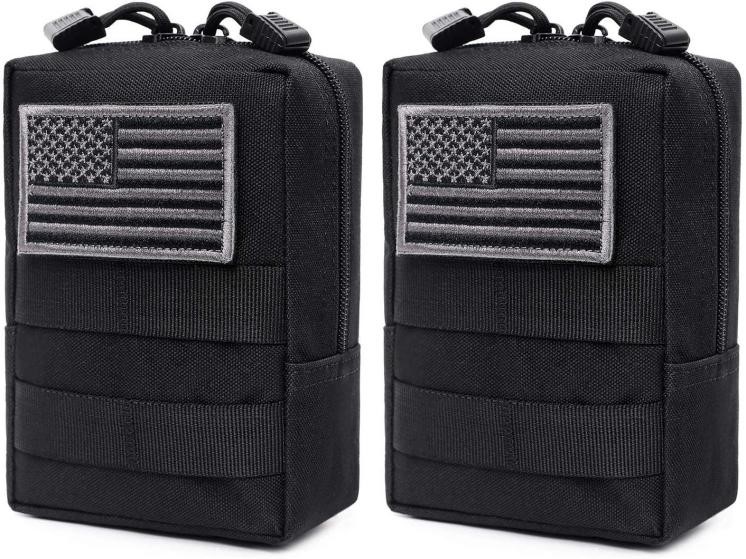 Product Name: Tacticool 2 Pack Compact and Water-resistant Molle EDC Pouches
Dimensions: 4.5″×2.2″×6.1″
Weight: 0.45 Pounds
Material: Nylon
Zipper: 2-way
Compartments: Double
Rating: 4.6 out of 5.0
Going to a beach? Don't your water-sensitive tools get useless? Not with the Tacticool 2 Pack Molle Pouches. These molle EDC pouches offer water-resistant coating to protect your important stuff such as camera, mobile, iPod, USB, etc.
You can easily attach these molle pockets to your combat vest and a large tactical backpack with the help of vertical straps and metal snaps on the back. The huge capacity of pouches is sufficient to hold all your stuff safely.
A two-way zipper, another plus for backpackers, allows you to quick-zip from either side and easy access as well. It's a fantastic deal to add storage to your backpack while hiking, camping, or on any family trip.
Pros
Waterproof material
Easy to install on your backpack
Two-way zipper
Best for adventurous trips
Cons
Some people don't like the fact that the shape doesn't seem square until it's not full of stuff. Other than that, we didn't find any other features people complain about.
3. Best Molle Pouch for Fast and Simplified Reload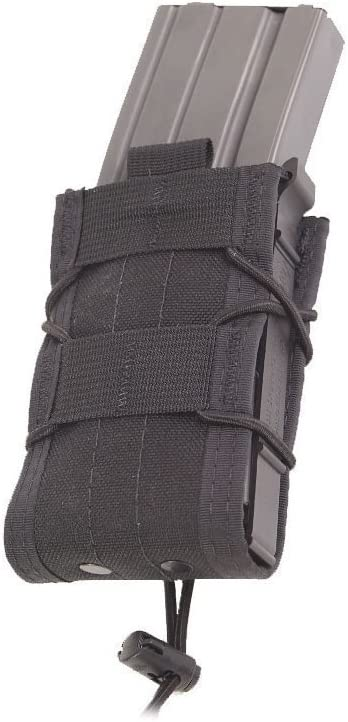 Product Name: High Speed Gear TACO Single Molle Rifle Mag Pouch
Dimensions: 1.75 × 1.2 × 4 Inches
Weight: 11 Pounds (49.9 Grams)
Material: 100% Nylon
Color: Black
Weight: 4.8 out of 5.0
Since 1999, High Speed Gear has been devoted to making high-quality tactical gear with the highest level of functionality, comfort, and versatility in the United States. Known for rapid response, the Taco Molle Single Rifle Mag Pouch is just an example to prove the company's promise to its customers.
Made from 100% Nylon, this TACO Molle rifle pouch is highly versatile and adjustable to fit multiple rifle magazines and tools, such as USGI, PMAG, ARC, HK, AK30/40, and M14 magazines. It securely holds your gear in place with no obnoxious velcro straps. No extra tabs are required to pull or remove, ensuring a simplified and faster reload.
Coming with bungee, the nylon exterior of the molle pouch can be stretched if necessary. A tight fit is guaranteed by tightening the durable polymer clips with the bungee cord.
Besides, the molle mag pouch holds more than just competition magazines. It also works for various radios, smoke grenades, flash bangs, and the like, and can be mounted to a tactical belt or vest without effort, thanks to its versatility.
Overall, covered by a lifetime warranty, the High Speed Gear TACO Rifle Mag Pouch is one of the best molle magazine pouches that can easily fit your tactical gear and always provides repaid response.
Pros
Repaid-response design to allow faster reload
Securely holds a variety of magazines and tools in position
Highly versatile
Can be easily mounted to your tactical gear
Made from 100% Nylon
Backed by a lifetime warranty
Cons
Maybe a little pricey compared to other competitor products
4. Best Quality Molle Pouch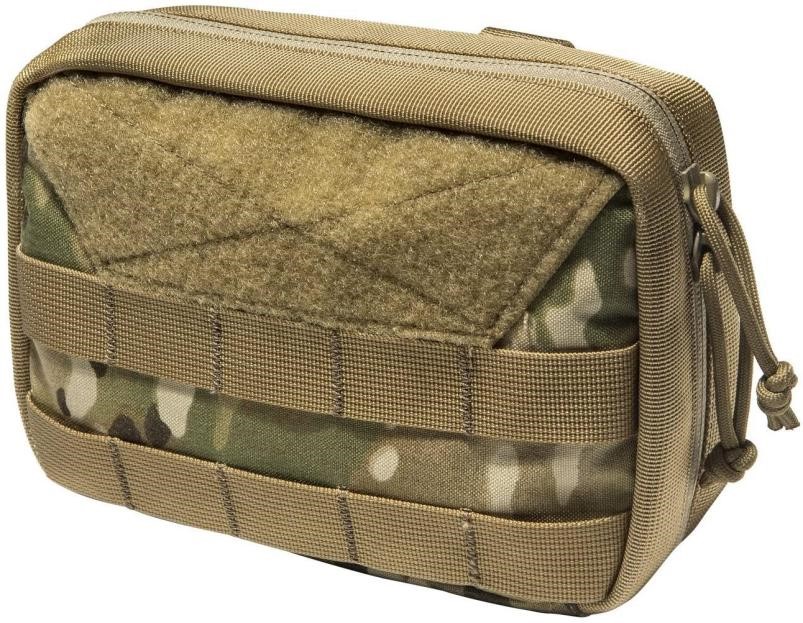 Product Name: One Tigris tactical Molle Admin Pouch
Dimensions: 9.45 "×6.1 "×1.57 "
Weight: 0.64 Pounds
Material: Nylon
Zipper: Double Zipper
Compartments: Double Pockets
Rating: 4.6 out of 5.0
Quality and durability come at a good price. But One Tigris proved it wrong by providing durability at a reasonable cost. The OneTigris Molle Admin Pouch offers a spacious interior with water-resistant ability. Multiple pockets inside the main compartments offer big space for your gear and tools.
The clamshell-designed molle pouch has two rows of webbing at the front side to carry stick-like tools. The brand did an excellent job in terms of space. Outside military patches make the design more fashionable and classy. Another very convenient feature: detachable compartment with photo/ID and map holder with pen sheath.
Pros
Well-designed molle bag
Spacious interior
Water-resistance ability
Detachable map holder
Cons
The molle admin pouch gets a bit heavy and bulky with tools inside. So it's better to skip it if weight can be an issue for you.
5. Best Double Pistol Mag Pouch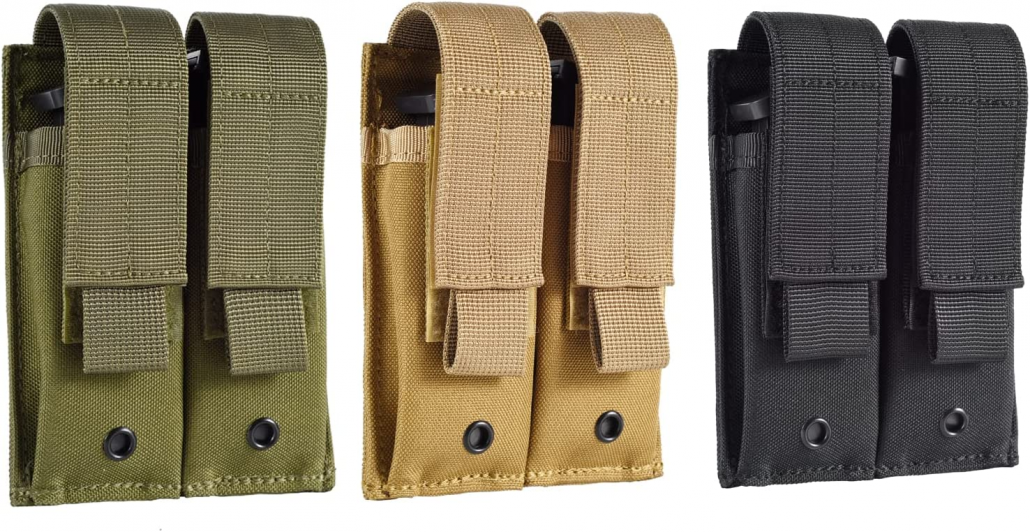 Product Name: Byupin 3pcs Molle Double Pouch for Pistol Mag
Dimensions: 7.05 × 6.26 × 2.6 Inches
Package Weight: 300 Grams
Material: Nylon
Colors: Green, Brown, and Black
Rating: 4.8 out of 5.0
The molle double mag pouch from Byupin boasts strong versatility and fits pistol mag of almost any size, including Glock, 1911, HK P8, SIG, Beretta M9, and more.
Designed to be multifunctional, this Byupin molle pouch securely holds both your magazines and small necessities (like flashlights and knives) within reach. The adjustable hook and loop flaps allow the molle double pouch to be mounted to any MOLLE/PALS gear.
Coming with three molle pouches in one package, this double mag pouch is perfect for hunters, police, and law enforcement officers.
Pros
Comes at an affordable price
Fits almost any type of pistol magazines
Completely removable and adjustable flaps
Provides a multifunctional use
1000 Denier Nylon ensures maximum durability
Cons
6. Best Budget-Friendly Molle Pouch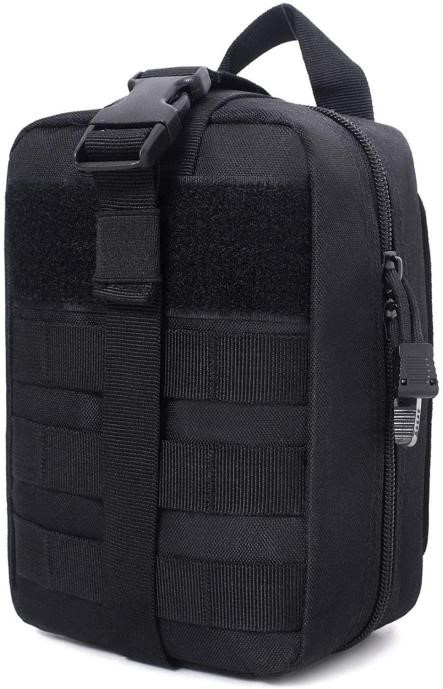 Product Name: Honestptner 600D Nylon Durable Molle Medical Pouch
Dimensions: 9.1 "×6.7 "×1.6 "
Weight: 9.12 Ounces
Material: 600D nylon
Zipper: Double Zipper
Compartments: 2 + 1 mesh bag
Rating: 4.6 out of 5.0
Are you on a tight budget and want a large molle pack? Honestptner tactical molle pouch can be a good fit for all your tactical needs at lower prices. The size might look tiny to you, but multiple internal pockets give additional storage capacity.
Regarding durability, the top-quality nylon works just fine with tear and water-resistant coating. The metal zipper that wide opens the molle pouch offers quick access to the items. You can easily travel with this pocket.
You don't have to wait for a trip to use this. It's a multi-purpose pouch suitable for military use, camping, one-day trip to the beach, hiking, mountain climbing, cycling, workout, or backpacking.
Pros
Very economical
Tear and water-resistant
Multi-purpose molle first aid pouch
Cons
Some people believe that webbing is not the best. It could be better made, while some think that the experience could have been better with a dual-direction zipper.
7. Best Large Molle Pouch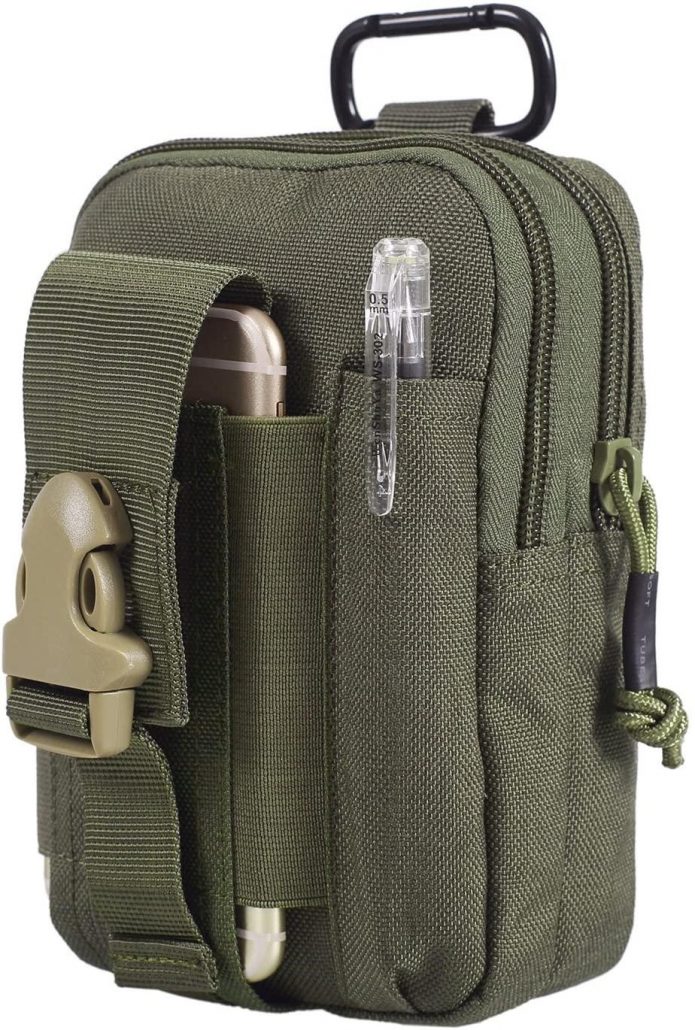 Product Name: One Tigris Compact Molle EDC Pouch
Dimensions: 8.4 "×5.4 "×1.8 "
Weight: 6.7 Ounces
Material: 1000D nylon
Zipper: One-way
Compartments: Double with Internal Pockets
Rating: 4.6 out of 5.0
Are you among those who always want more and more space with a compact design? OneTigris Molle EDC Pouch has got your back. Two main compartments with sturdy zippers allow maximum storage. Onetigris always knows how to provide value with quality.
Easy attachment with tactical gear is possible with a molle strap and fasteners. You can even attach it to your belt with the help of a hook. This feature makes it easy to put and take off.
Do you want more convenience? You got it. The molle pouch has an outer compartment with one smaller pocket to hold various small necessities, like cell phones, GPS devices, keychains, digital cameras, and medical supplies. That's impressive. Isn't it?
Pros
Extra space for mobile phone
Durable material
Multiple spacious pockets
Cons
It gets a little bulky with heavy equipment inside, which might bother most backpackers.
8. Best Molle Pouch for Quality of Material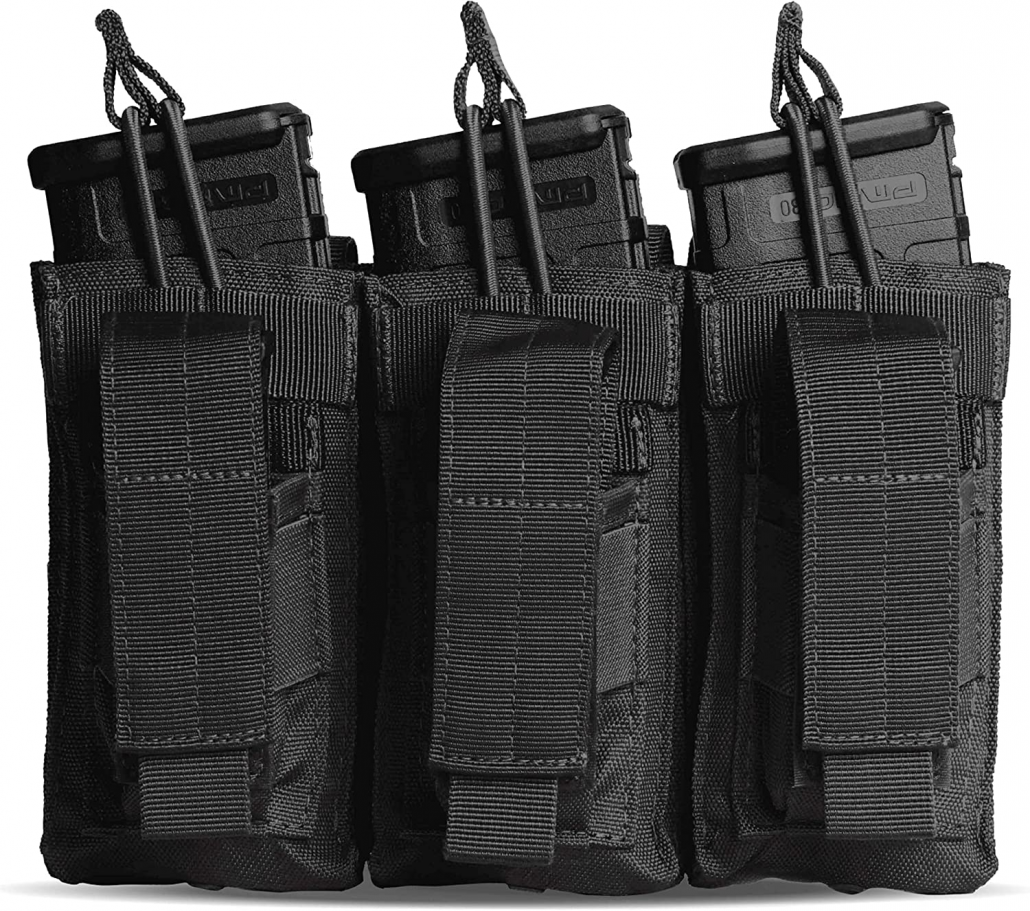 Product Name: Taction K1 K2 K3 Rifle + Pistol Molle Single Double Mag Battle Pouch
Dimensions: 9.33 × 6.77 × 1.46 Inches
Package Weight: 0.27 KG
Material: Industrial 500D PVC Nylon
Closure Type: Snap
Rating: 4.6 out of 5.0
Unlike other molle pouches, this molle battle pouch is produced by a real combat veteran who has promised only to manufacture products that he used himself as a soldier.
The industrial 500D PVC Nylon and the double-stitched system together ensure maximum durability of this molle pouch, which can be attached to various tactical backpacks, battle belts, or vests compatible with the MOLLE system.
Coming with a budget-friendly price tag, the Taction molle mag pouch is definitely one of the best battle pouches that hold any pistol magazines and most AK and AR sporting rifle magazines with no issues.
Pros
Produced by a real combat veteran
Highly durable molle magazine pouch
Combat-ready design
Compatible with almost rifle and pistol magazines
Adjustable or removable retention band
Backed by a lifetime warranty
Cons
9. Best Double Deck Molle Pouch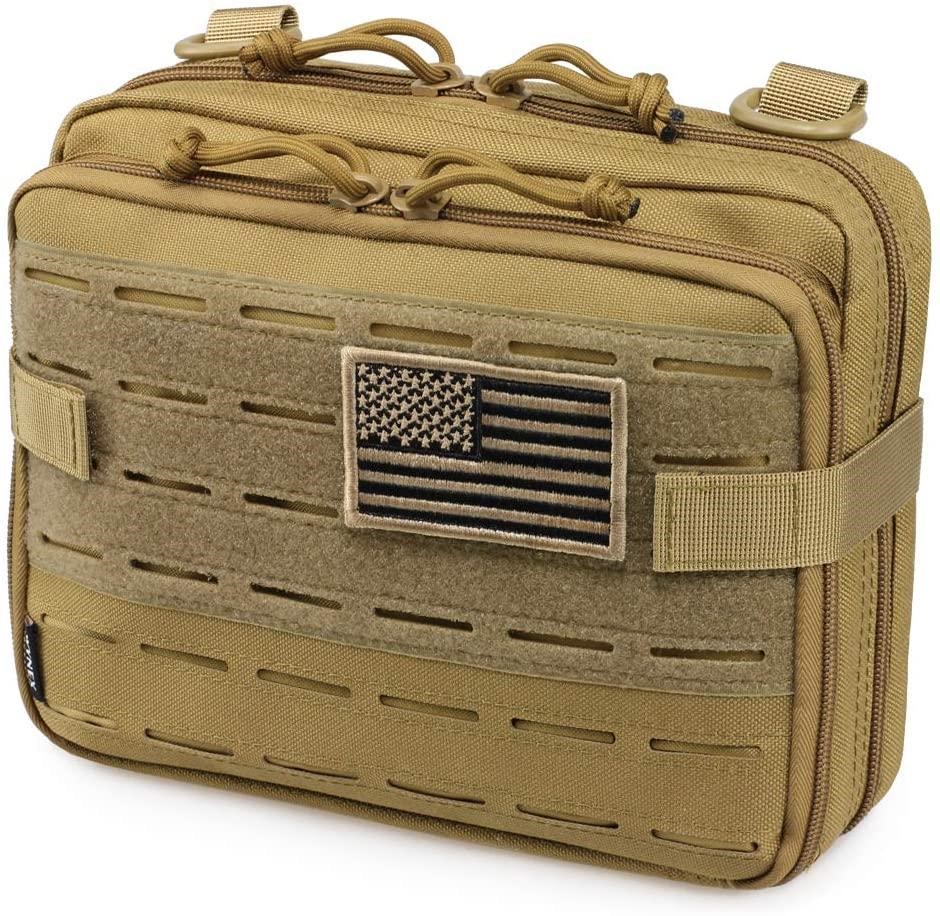 Product Name: WYNEX Tactical Molle Admin Pouch (1000D Nylon Molle Utility Pouch)
Dimensions: 10 "×7.5 "×3.5 "
Weight: 0.27 KG
Material: Nylon and Vinyl
Zipper: Two-way
Compartments: Triple
Rating: 4.6 out of 5.0
Spacey? Durable? Affordable? Safe? Long-lasting? Travel-friendly? Okay. WYNEX Tactical Molle Pouch gives you all these features, as mentioned above. You'll get dual compartments with impressive space.
Two main compartments with a two-way zipper open the whole portion completely. Besides that, you'll get one external fully open pocket with horizontal elastic loops, allowing you to store a pen, glow sticks, torch, life, and other tools—additionally, one removable vinyl sleeve to hold the map or any other documents.
The brand didn't compromise on giving features and quality as well. The premium construction of the utility pouch makes it more outstanding.
Pros
Molle admin pouch with firm stitching
Removable document or map holder
Quick and easy access to items
Cons
The map sleeve doesn't have a water-resistant feature. Water or moisture can easily enter through the open-ended bag and ruin your whole paper.
10. Best Compact Molle Pouch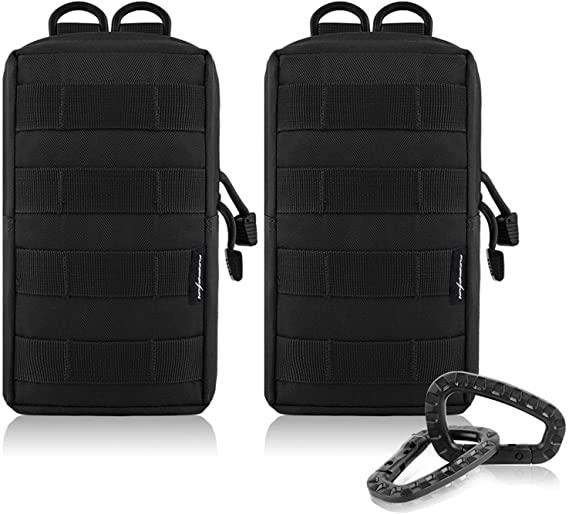 Product Name: FUNANASUN 2 Pack Molle Pouches (Tactical Molle EDC Utility Pouches)
Dimensions: 10.5″×6.5″×1.5″
Weight: 0.48 Pounds
Material: Nylon, Vinyl
Zipper: Double
Rating: 4.6 out of 5.0
Want something handy and compact while on the go? FUNANASUN Molle Pouches are the best portable and easy-going molle utility pockets. The external bags are made of fine-quality nylon, while the inside bags have waterproof material.
Thanks to the sturdiness and waterproof material, you can take the molle pouches to the mountains, hills, lakes, or beaches. The cute little bags are all around. With these pouches, you don't have to worry about installment as the package comes with two carabiners, making your attaching process much easier.
To make it waterproof, the molle pouches have vinyl material stitched from the inside. If you have a tactical backpack, the tactical pockets can be attached with two 6 inches buckle straps on the back.
Pros
Perfect space for backpackers
Functional and sturdy zipper
Waterproof bags
Triple compartments
Cons
The only flashpoint we were able to find was its smelly material. The molle pockets should be placed outdoors to remove the awful smell.
11. Best Value for Price Molle Pouch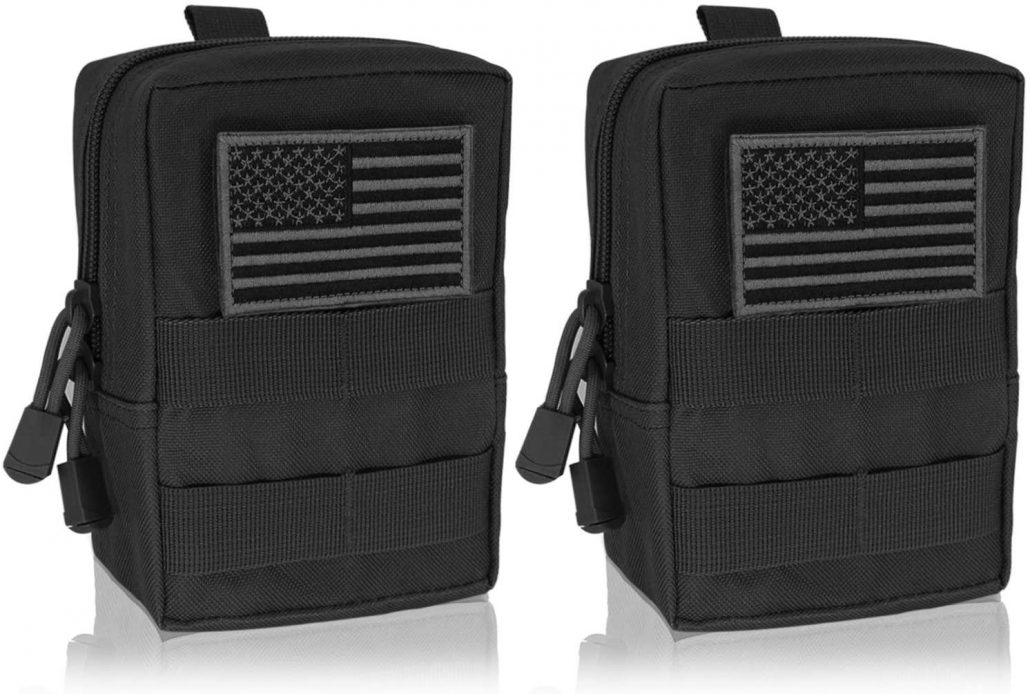 Product Name: YDa Tactical Molle Utility Pouch (Molle EDC Pouch)
Dimensions: 6.2 "×4.2 "×2.3 "
Weight: 100 Grams
Material: Nylon, Vinyl
Zipper: Two-way zipper
Compartments: One
Rating: 4.3 out of 5.0
If you want a decent and durable companion for trekking, you can't find anything better than this one. It's almost impossible to put together durability and impressive features at this cost, but the YDa Tactical Molle Pouch made it possible.
Strongly stitched nylon handles tactical gears effectively. You can't complain about stitching. Moreover, the molle pouch somehow resists water and moisture, owing to the inside sewed vinyl. The main compartment has small pockets so you can place your small-sized items such as air pods, USB, some medicine, etc.
On the go? Combat vest attachment? You can connect the molle bag with your combat vest with the help of two vertical stripes and metal snaps.
Pros
Tightly woven material
Water resistance because of vinyl
Best value of money
Plenty of room to hold things
Cons
Some travelers find the snap fastener a bit problematic.
12. Best Tri-Fold Molle Pouch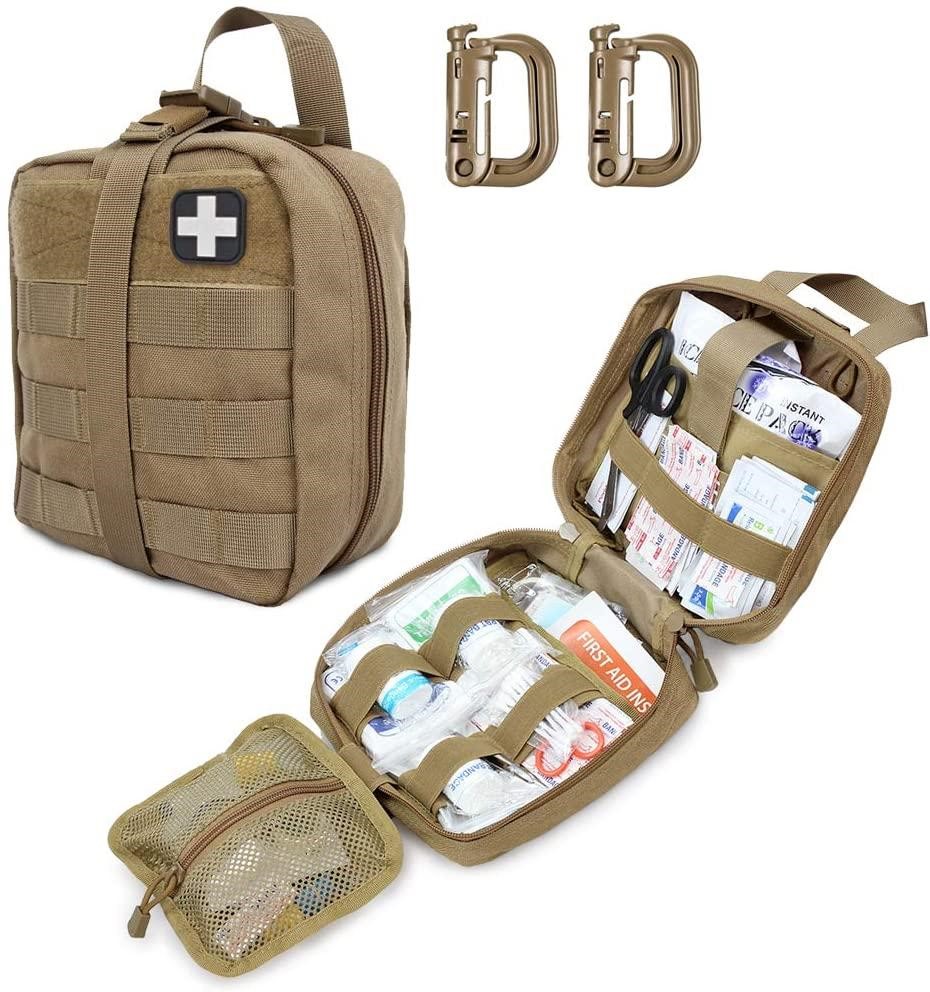 Product Name: LIVANS Tactical Rip-away Military First Aid Pouch (Molle EMT Pouches)
Dimensions: 8 "×8.3 "×4 "
Weight: 11.6 Ounces
Material: Nylon, Polyester
Zipper: Two-way
Compartments: 2 + 1 mesh bag
Rating: 4.6 out of 5.0
Tri-fold and rip-away designed pouches are ideal for molle pouches when an emergency or tactical needs are concerned. LIVANS Tactical Molle Pouch is one of those perfect molle packs and pockets that are worth your money.
This carrier system has a rip-away back style which ensures instant removal of the bag. The main compartment holds your gadgets, tools, medicines, scissors, knives, or other electronic equipment.
The list of features is quite long, so bear with us. Included features are zippered mesh compartment, velcro safety tape, elastic loops, buckle strap at the back, metal snap, and last but not least 60-day money-back guarantee.
Pros
Three D-rings for extra mounting
Larger back than other molle pouches
Comes with two red-cross patches
Cons
One of the two pitfalls is buttons on the molle don't stay snapped with stuff in it. Moreover, the velcro tape didn't do enough to satisfy buyers.
13. Best Vertical Style Molle Pouch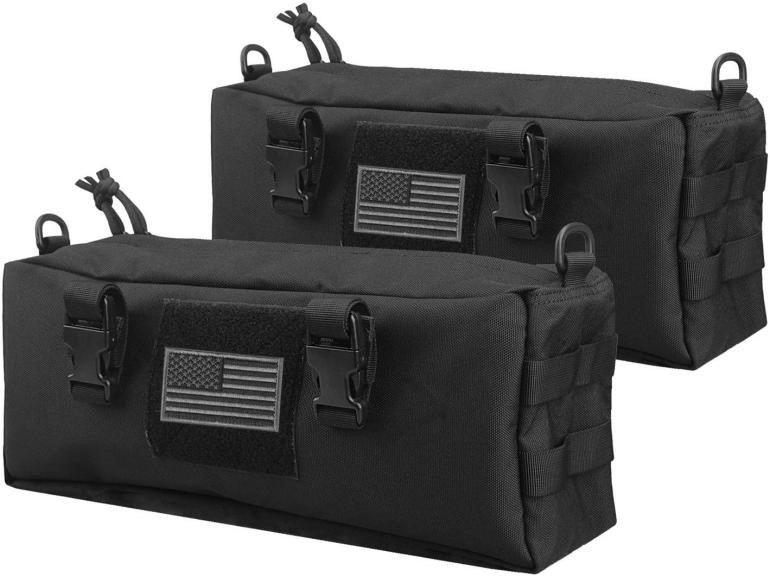 Product Name: AMYIPO Multi-purpose Tactical Large Molle Pouch
Dimensions: 6 "×14 "× 4 "
Weight: 1.5 Pounds
Material: Polyester
Zipper: Two-way
Compartments: One
Rating: 4.6 out of 5.0
AMYIPO large Molle Pouch is listed last, but that doesn't mean it's less than other molle pouches in any way. The flexible and resilient polyester fabric of the pack keeps it your travel buddy for the long term. The vertically designed bag gives a unique look.
You can attach it either with a molle backpack or with a shoulder with the help of a long strap. Easy-folding doesn't take much space without any stuff.
The durability of the material has won our hearts. No matter what you put inside, it is going to stay firm and rigorous. You can access your items in seconds as the design is not complicated.
Pros
Extra carabiners with the package
Smooth attachment
Long-lasting use
Cons
Buyers don't like the fact that the molle pocket has no water-resistant ability. You should avoid taking the bag to beaches, lakes, or any water area.
There's no internal pocket inside the main compartment. You got only one portion to keep your stuff.
Why Choose a Molle Pouch?
Do you really need a molle attachment? How will it benefit you? If these questions are roaming in your mind, then the following benefits and features of this attachment are for you.
Add extra space when your backpack feels smaller for your stuff.
It's lightweight, which makes traveling so much easier.
It can be an ideal first aid kit with the proper arrangement of medicines and mandatory medical tools.
Attachment with a tactical backpack, combat vest, or belt makes your items more accessible.
It comes in handy on any kind of trip, such as trekking, hiking, camping, running, cycling, one-day family trip.
Suitable for everyone. People like bikers, backpackers, travelers, students, guards, etc., can take a try.
What to Look For While Buying Molle Pouches?
Making up your mind by buying good molle pouches and actually buying a good one are two different things. Our buying guide will make both possible. You need to look for features carefully we'll mention down.
Price
You can get a decent and functional molle pouch at a very economical cost. We've listed some extremely budget-friendly molle pouches that are even resilient and do the job perfectly.
Material
High-grade top-quality nylon material has proved popular for the molle pouch. Almost every molle bag has nylon construction webbing. But only a few offer flexible and rigorous materials. There's clearly no compromise with the material of the pack. Water-resistant vinyl attachment is a big plus.
Space
A molle pouch should be large enough to hold every small item you need on the trip. You can find more bags with compartments from one to three. It depends on your requirements and preferences.
Purpose of use
First, you need to understand the purpose of your use. Where are you going to need it? Are you a traveler or just a guy working in a medical center? You need different kinds of pouches for these two separate cases. The rip-away and tri-fold style is suitable for medical needs, while a regular bag with strong webbing is good for climbers. You get one accordingly.
Easy attachment
Easy attachment and easy detachment come hand in hand. The molle pouch should not have a complicated attachment system. It should be suitable for most tactical gear. It must have the ability to get attached to the vest, back of the backpack, shoulder, or belt.
Zipper
The zipper of the molle pouch should be smooth and sturdy enough not to abandon you in an emergency. A two-way zipper makes the overall experience much better. With two-way, you can open and close the bag from either side.
That's all you lovely backpackers. We went the extra mile to help you in getting a durable and large molle pouch. We are hoping that our reviews made your decision right.
What Next?
Now that you have learned something about the best Molle pouches, why don't you also check out more types of molle packs and pockets: