Are you ready for hunting, hiking, or traveling? Molle first aid kit is essential for you. Imagine that only a broken bone or a minor injury can become the reason for a vulnerable infection or even death. Take into consideration that survival becomes a challenge if you are not equipped with the right gear. Remember that a good Molle first aid kit is the only solution to save you from such threatening situations.
With a perfect Molle medical kit, you can freely enjoy hunting or hiking without any hurdles. Reckon that you can even attach your molle IFAK with a belt or backpack so you can easily avail it at any time. You can comfortably choose Molle medical kits of different sizes and contents according to the specific use. Before selecting any first aid medical bag, look into the Molle first aid to know what actually suits you.
In this article,
Our Picks for the Best Molle First Aid Kit with Medical Pouch
What Does IFAK Stand for?
IFAK is short for individual first aid kits. This personal medical kit can enhance an individual's warfighter abilities and render interventions for inadequate airway and severe hemorrhage by providing easy-to-get first aid supplies. This way, the chance of soldiers surviving the battlefield may increase due to timely treatment.
Besides, for better use, the military usually chooses tactical IFAK compatible with molle system, enabling users to mount the medical pouch kit to molle gear.
What are the Essentials of the Molle First Aid Kit?
Having a perfect molle medical bag enhances your self-confidence and uplifts your spirits. Meanwhile, if you find some item is missing at the time of an emergency requirement, you may have to face severe trauma. Make sure you are carrying all the necessary items. Check out the given list to know what items will certainly help you.
Combat Gauze
Chest Seal
Burn Gel and dressing
Control wraps
Tourniquet
Nasal Pharyngeal Airway
Reviews of the 9 Best Molle First Aid Kits and Medical Pouches
Having all the necessary equipment with you during your adventurous activities will undoubtedly ease your journey. Remember that your molle first aid kit is the first thing you need to lay your hands on. Take into account that numerous molle medical kits and pouches are available. With the help of the following detailed list, you can choose the perfect one.
1. Best Value: EMDMAK Tactical First Aid Kit Survival Kit with Molle Medical Pouch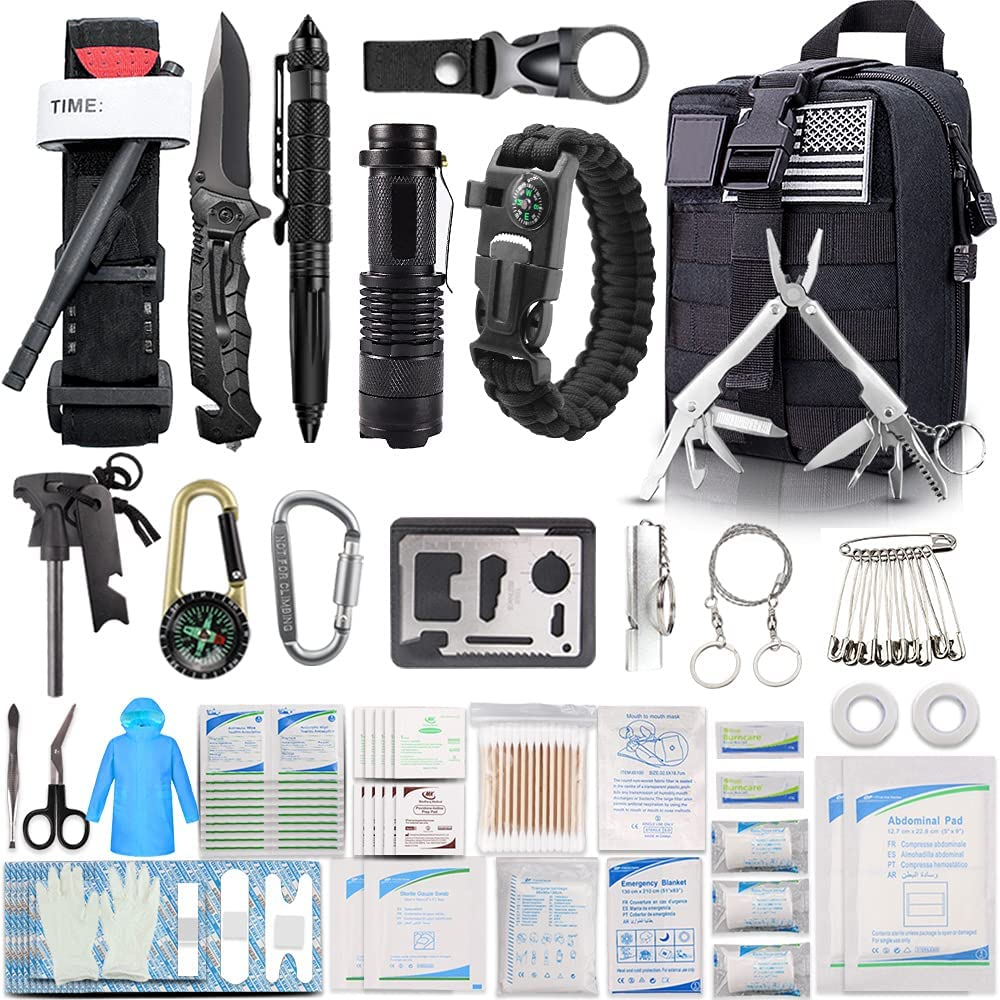 Material: 600D Nylon
Dimension: 8.3″ x 4.9″ x 6.7″
Weight: 2.3 Pounds
Rating: 4.7 out of 5.0
This molle trauma Kit comes with 262 pieces of medical supplies and 13 pieces of survival tools. EMDMAK tactical IFAK is one of the highly demanded molle first aid kits for emergency use. Likewise, its flexible, compact, and highly sensitive compass guides you in the right direction. Take heed of its fire starters which are pretty easy to use. Moreover, you can use its multi-functional flashlight pliers as a replacement for home repair tools. With its loud whistle, you can effortlessly call someone for help in an emergency.
Specific Uses: natural disasters, camping, hunting, cycling, fishing, climbing, backpacking, boating, and wilderness adventures.
What is in the Molle First Aid Kit: tactical molle medical pouch, whistle, knife, IFAK, wire saw, tactical pen, fire starter, saber card, compass, etc.
Pros
Compatibility with the Molle system
Immediate removal of the Velcro panel, compatible strips
Adjustable buckle straps
Used for any outdoor activities, especially militarily-based tasks
Portable and compact
Durable and water-resistant.
Cons
Easily breakable because of its cheap plastic container.
Waterproof only when placed in a plastic sealed bag.
2. Best Tactical: Aokiwo 200Pcs Emergency First Aid Kit with Molle First Aid Medical Pouch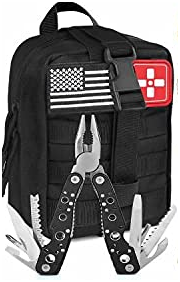 Material: 1000D nylon
Dimension: 8" x 6.5" x 6"
Rating: 4.5 out of 5.0
With 200 exclusive pieces, the first aid kit is specially designed for military veterans. The molle medical kit contains 16 trauma supplies, 28 pieces of emergency gear, and ten fishing tools. Likewise, 4 in 1 molle first aid pouch serves you for all purposes. Take on board that survival kit offers you a whistle, emergency blanket, carabiner, bottle clip, saber card, compass, fire starter, and wire saw.
Specific Uses: Ideal for any kind of emergency, such as first responders, hiking, backpacking, outdoor sports, natural disasters, wilderness adventures, motorcycle, bike, military, police, EMT, hunting, mountain biking, climbing, shooting, and traveling.
Pros
Durable molle compatible strips
Can be attached to any molle compatible gears
Water-resistant and portable
Small size with large capacity
Considerable space
Three large compartments
Cons
Frail steel-made knife
Ineffective compass
3. Best Overall: Surviveware Molle Compatible Survival First Aid Kit for Outdoors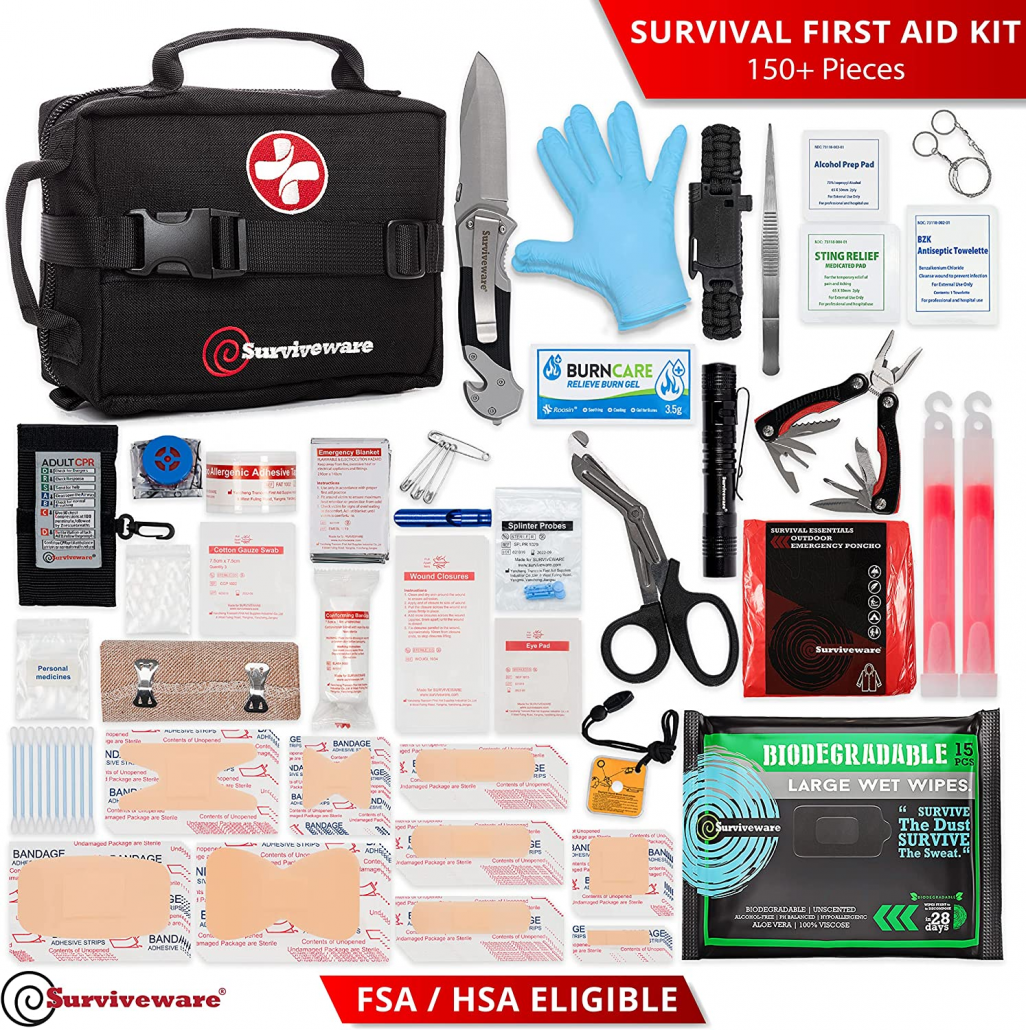 Material: 600D Polyester
Dimension: 12" x 8"x 6"
Weight: 3 Pounds
Rating: 4.8 out of 5.0
The survival molle IFAK provides you with more than 100 first aid essentials. With this first aid trauma kit, you will get nine high-quality survival items, such as a multifunction paracord bracelet, emergency flashlight, and premium knife. Buying this IFAK with a tough molle medical pouch is undoubtedly an intelligent choice because a single case is a solution to your multiple problems.
Specific Uses: Specially designed for adventurers.
What is in the Molle First Aid Kit: IFAK, flashlight for emergencies, and high-quality knife.
Pros
A durable, waterproof, laminate pouch
Removable Velcro system
Can be carried on your tactical backpack
You can attach D-rings to the roll bar of your vehicle
Robust with various outdoor adventures
Cons
Heavy due to large wet pipes
High price
4. Best Rip-Away: Miyha Tactical MOLLE Rip-Away EMT Medical First Aid Pouch (Molle Medical Bag Only)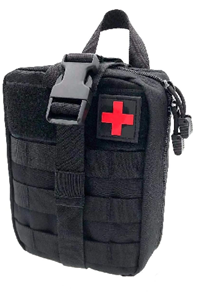 Material: Nylon
Dimension: 8.27" x 5.91"x 4.33"
Rating: 4.6 out of 5.0
With this molle medical pouch, you will get a first aid patch, a 2-inch Velcro panel, some first aid accessories, and D-rings. Having this tactical first aid pouch means you can effortlessly organize your medical essentials because it provides you with several pockets, instrument holders, a strong elastic loop, zippered mashed department, and a Velcro safety strap.
Specific Uses: Designed for hunters, hikers, adventurers, firefighters, and police.
Pros
Durable for outdoor activities
Water and corrosion-resistant
Highly flexible
Easily attached to any other molle compatible gear
Dual zippers
Secure your ID with the hook and loop panel
Cons
Only have some IFAK accessories
5. Most Popular: EVERLIT Emergency Military Molle Combat Tactical IFAK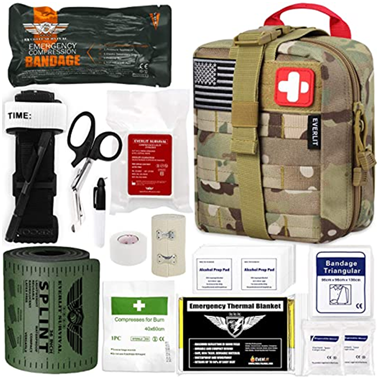 Material: Nylon
Weight: 1.8 Pounds
Dimension: 6.5" x 4" x 8"
Rating: 4.8 out of 5.0
EVERLIT molle first aid kit is especially helpful in circulatory cases and massive hemorrhages. With this compact and user-friendly kit, you can easily manage to control massive bleeding. Take on board that it offers you a compressed gauze, tactical pressure dressing, and tourniquet.
Specific Uses: Specifically designed for US military veterans, combat lifesavers, camping, hunting, disasters, and traveling.
What is in the Molle First Aid Kit:
1 × Tactical molle medical IFAK pouch
1 × 36" splint roll
1 × Tourniquet for combat
1 × Emergency trauma bandage
1 × Emergency thermal blanket
1 × Triangle bandage
1 × Elastic bandage
1 × Z-folded compressed gauze
1 × Burn dressing
1 × Universal bandage pack
1 × Mini size permanent marker
1 × Transparent IFAK tape
1 × First aid EMT trauma shears
40 × Alcohol pads
2 × Pairs of disposable gloves (latex free)
Pros
Beneficial for hypothermia and respiratory treatment
Seal with durable plastic packaging
Emergency thermal blanket included
Suitable for bone fracture treatment with its 36-inch splints roll
Elastic and triangle bandages included
Lightweight and durable
Cons
6. Best for Durability: TOUROAM IFAK Molle First Aid Kit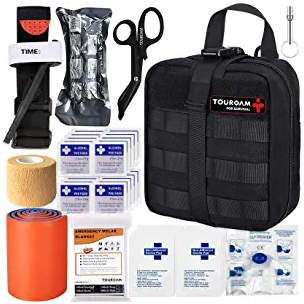 Material: 1000D Nylon
Weight: 0.8 Kilograms
Dimension: 8" x 3.5" x 7.5"
Rating: 4.7 out of 5.0
TOUROAM IFAK Molle Survival Kit comes with a 36-inch lightweight medical splint to deal with soft tissue injuries and immobilizing bones. Using this molle first aid kit, you can use a 2-inch self-cohesive bandage to stop the limb from slight movement. The first aid survival kit items help in controlling excessive bleeding. Bleeding control supplies include an Israeli battle compress bandage, non-adherent pad, self-adhering bandage, combat tourniquet, and cleaning pad.
Specific Uses: Well-built design for outdoor adventures, camping, hiking, hunting, disaster, first responders, and outdoor adventures.
Pros
Plenty of room for all supplies
Durable molle straps
Moldable, reusable, soft, and waterproof medical splint
Deals with tissue and bone injuries
A removable pouch and two-way zippers
Rip-away panel
Cons
Mediocre quality tourniquet
7. Best Premium: MediTac Tactical Trauma Molle IFAK Kit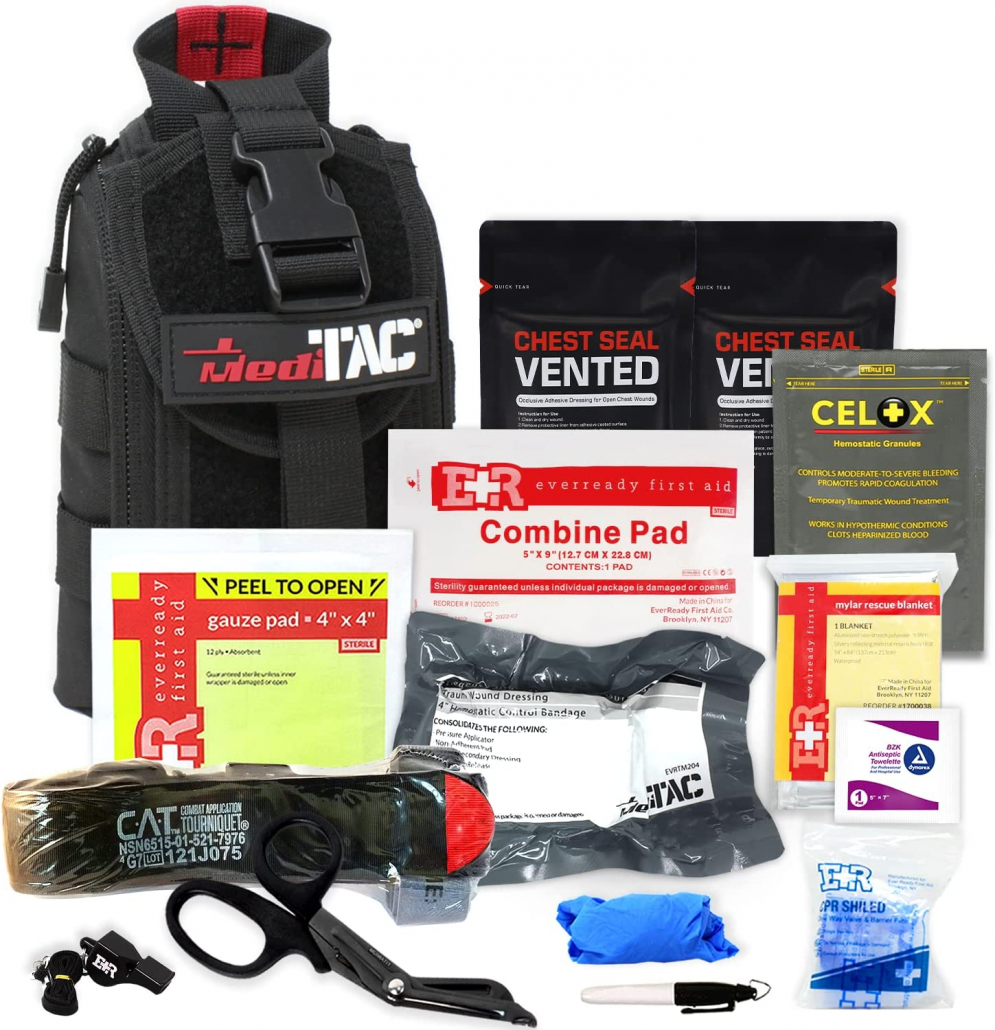 Color: Black
Dimension: 9.25" x 5.5" x 3"
Rating: 4.7 out of 5.0
With this lightweight molle first aid kit, you can avail an extensive range of high-quality medical supplies. Take on board that this molle medical kit offers quick clot, SWAT-T tourniquet, Israeli bandage, compressed gauze, bandage sheer, and nasopharyngeal airway.
With a nasopharyngeal airway, the patient instantly feels comfortable and secure. What's more, the molle IFAK kit provides a 15 Kg Celox Homeostatic Granules packet to control severe arterial bleeding. In case of open chest injury, you can use vented chest seals. Trauma Kit contains combined pads, antiseptic wipes, sterile gauze pads, mini sharpie, face shields, and an emergency whistle.
Specific Uses: Manage to control traumatic blood loss in all emergencies.
Pros
Extra space to include gauze, tape, bandages, and other medical essentials
Quick removal due to secure Velcro
Chest seals available
Quick clot with a homeostatic agent
Cons
Velcro field is not present on the front for medical patches.
Low quality tourniquet
No temperature-regulated item
8. Best for Water Resistance: Carlebben EMT Molle Medical Pouch with Medical First Aid Supplies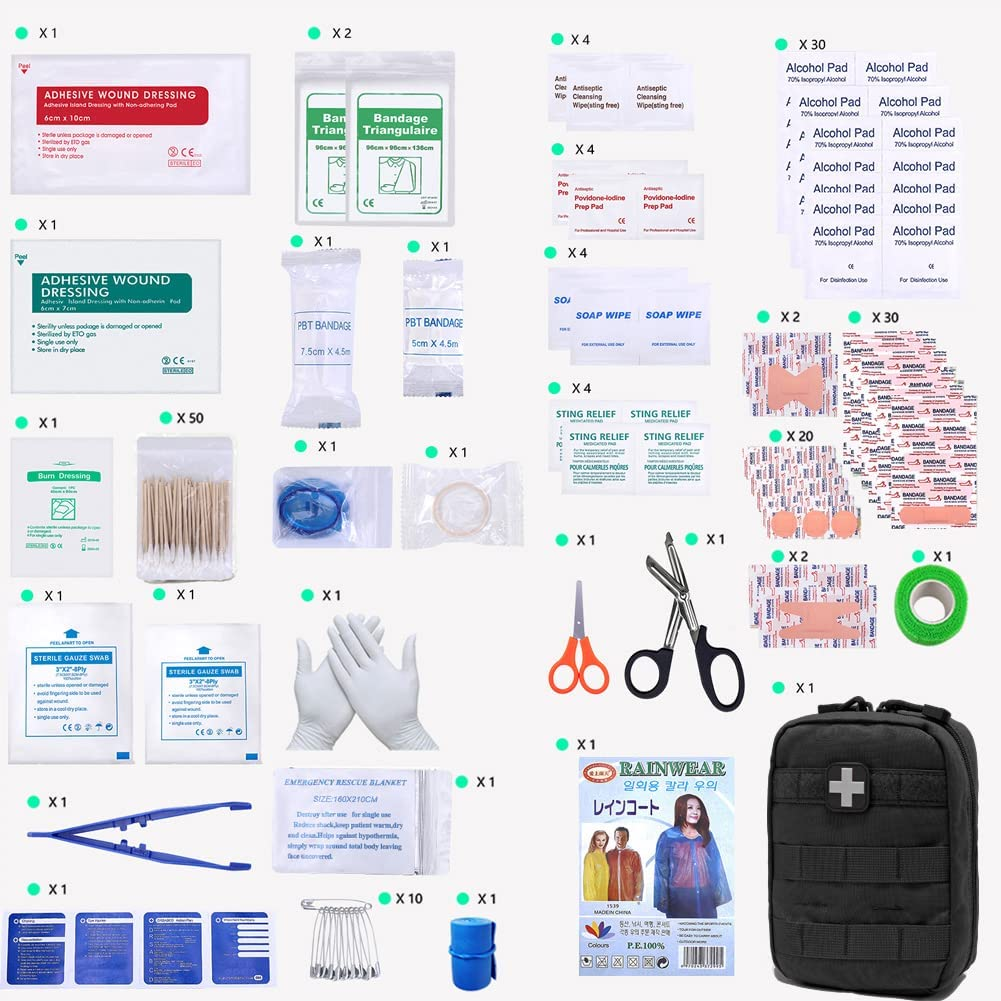 Material: Nylon 1000D
Weight: 1.17 Pounds
Dimension: 8" x 6" x 3"
Rating: 4.6 out of 5.0
With this molle first aid pouch, you will get 180 pieces of essential medical items. Take on board that you can effortlessly organize your medical supplies in inner packets. With its compatible molle system, you can easily attach it to any molle-compatible gear or even a motorcycle, belt, backpack, and vehicle seat. Reckon that it provides you tons of bandages, band-aids, foil of emergency blankets, raincoats, gauze pads poncho, 5% lidocaine, some antibiotic packets, non-sterile gloves, and tape.
Specific Uses: Bikers, hikers, and joggers can use this tactical pouch.
Pros
Easy to attach and unfasten
Elastic straps for you to search
2-way zipper
Premium quality
Sturdy double stitching ensures outstanding durability
Easy to carry
Economical price
Waterproof
Cons
No tourniquet is provided in this medical molle pouch.
9. Best Professional: ETROL Molle Survival IFAK with Tactical Molle First Aid Pouch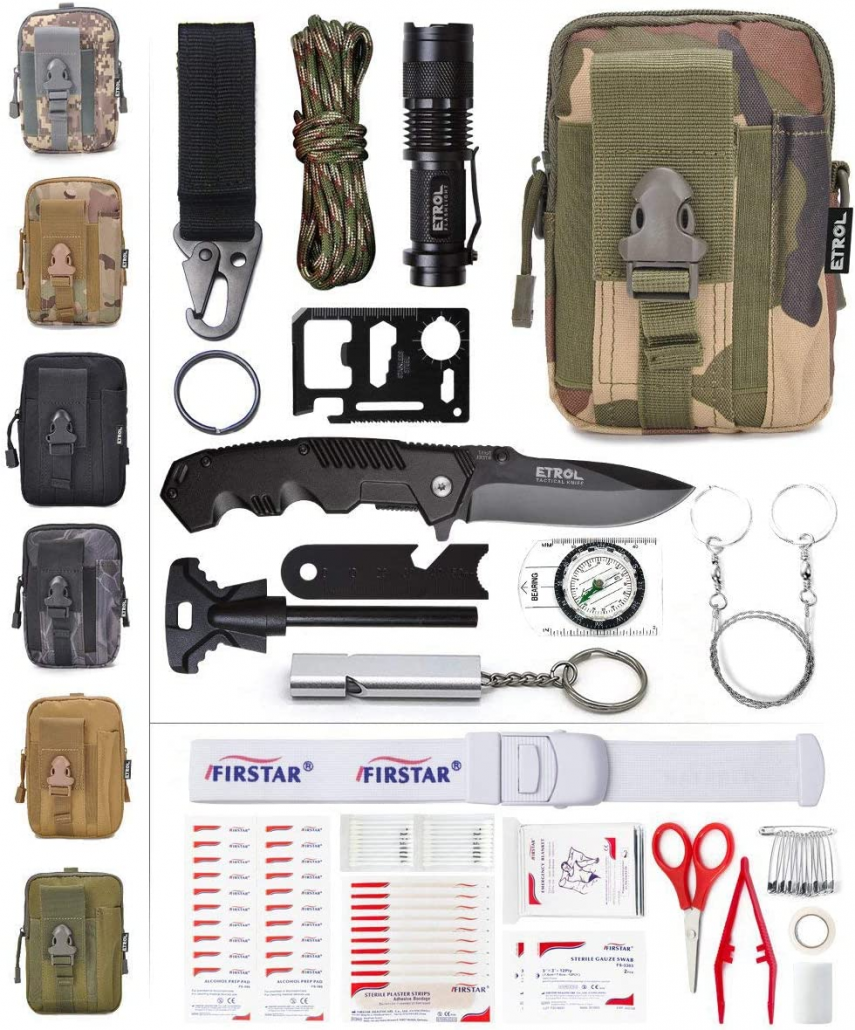 Material: Nylon
Weight: 1.4 Pounds
Dimension: 6.7" x 4.7" x 2.2"
Rating: 4.6 out of 5.0
This molle first aid kit provides you with 3-mode tactical flashlights without batteries, a fire starter, a multifunction tool card, loud whistles, and stainless steel tactical military knife. It also has basic survival gear, a compass for military users, a bottle opener, a wire saw, and an emergency blanket. Bear in mind this molle IFAK offers you basic items at a reasonable range. You may need to buy some other essential medical stuff before planning any outdoor adventure.
Specific Uses: Ideal for police, military, tactical doctors, first responders, life-saving combatants, and outdoor adventurists
Pros
Quick access
High-quality and durable items
Emergency blankets available
Helpful in controlling massive bleeding
Portable and compact due to its ultra-lightweight
Considerable space with large compartments for your supply
Offer special phone and pen pocket
Loud security whistle
Decent quality paracord
Cons
Have to add your AA battery for tactical flashlights
Mediocre quality knife
Breakable compass due to its cheap quality
How to Choose a Molle First Aid Kit?
Be mindful that a perfect molle medical bag is customized for a person using it. Take on board that you can use a bag, pouch, or knapsack to keep your molle trauma kit. Mainly, it carries critical emergency supplies that can help you until you access any medical service. Be aware that your first aid molle kit must have the following attributes:
Easy to Detach
Don't lose sight of the fact that your tactical molle first aid kit should have side pouches for holding essentials. Meanwhile, the first aid molle pouch should be handy and easy to detach so that you can simply pull it in case of an emergency.
Organized Interior
With an organized interior, you can effortlessly sort out your required stuff, and manage every item in separate pouches, compartments, and zipped areas. It will save you from fumbling through piles of stuff to find what you need.
Lightweight
A lightweight and compact molle first aid kit is comfier to carry. A heavy or bulky bag will make your traveling or hiking hard. Likewise, a lightweight bag will save time for extra packing.
Robust Zipper
Bear in mind, in an emergency condition, you will not have time to manage a snagged zipper because a slight delay can cause big trouble. With a robust zipper, you can quickly open it when you requ
FAQs About Molle First Aid Kits
1. Who Should Have a Molle IFAK?
Molle IFAK is helpful for hunters, shooters, hikers, military, police, tactical medicals, firefighters, respondents, and many other wilderness adventures.
2. How to Make an IFAK on Your Own?
You can easily make your own IFAK kit at home. Remember that you need to have all essential medical items like bandages, antibiotic wipes, and ointments. For dealing with emergencies, you can also put a compass, flashlight, thermal blanket, tourniquet, scissors, and tweezers. Remember that your survival kit should be lighter; otherwise, it becomes difficult for you to carry.
3. Why Do You Need a Molle First Aid Kit?
With these medical first aid kits, you may go hunting, hiking, or any other adventure without worrying about a medical emergency. Whether you are moving with a group of friends or a single family, the latest range of high-quality medical kits is a perfect option. With comprehensive first aid supplies, you can quickly deal with your injuries.
Consider that molle trauma kits are also helpful in emergencies related to natural disasters such as hurricanes, floods, fires, tornadoes, etc. Keep in mind that these medical kits are extremely helpful for firefighters, hunters, fire respondents, police, military, tactical medics, and outdoor enthusiasts. Make sure you have the one in your car, bike, boat, motorcycle, or even home.
What Next?
Now that you have learned something about the best Molle first aid kit, why don't you also check out our other related guides as follows: