Are you tired of carrying your baby around in your arms, even for a short stroll to get some air? Then, a baby stroller becomes necessary for parents to make life easier. A stroller is a comfortable on-the-go essential for your baby to take a nap or a haven for the baby when you get tired of carrying it around. You can also stash the diaper bag in the stroller.
Choosing a stroller, however, is no easy task, as the market competition is intense. There are, after all, many different types of strollers in a variety of price ranges and quality. Moreover, strollers can offer varying features such as storage, canopy, fabric, wheels, etc.
To make it easier for you to find one, we have reviewed some of the bestselling Baby Jogger City Mini Strollers. A comparison table is also made so you can choose one objectively.
A Comparison Between Baby Jogger City Mini Strollers and Other Strollers
Baby Jogger City Mini 2




Baby Jogger City Mini GT2 All-Terrain




Baby Jogger City Mini GT2




Baby Jogger City Tour 2 Ultra-Compact




Double Stroller With Tandem Seating Baby Trend Jogging Stroller



Storage
Fair
Good
Good
Fair
Very Good
Price
$249.99
$359.99
$251.99
$229.99
$179.99
Ease of use
Good
Very Good
Good
Fair
Fair
Foldability
Excellent
Excellent
Excellent
Very Good
Good
Car seat compatibility
Yes
Yes
Yes
Yes
No
Safety
Good
Good
Fair
Good
Good
Maneuverability
Very Good
Very Good
Very Good
Good
Excellent
Rating
4 out of 5
4.5 out of 5
4 out of 5
4 out of 5
4.5 out of 5
Features
– One-hand compact fold
– Auto-lock
– Car seat adapter
– 18.8 lbs
– Spacious storage
– Air rubber tires
– All-wheel suspension
– 21.4 lbs
– Large Canopy
– Adjustable leg rest
– All-wheel suspension
– 22. 49 lbs
– UPF 50 + Canopy
– Calf support
– 5 Point harness
– 14 lbs
– Large and adjustable canopy
– 5-point seat belt,
– Folding clips
– Double seat design
Pros
– Everyday use
– Slim fold
– One-hand fold
– For all terrains
– Easy to recline
– Suitable for newborns
– Adjustable recline
– car seat adapter
– Uses minimal trunk space
– versatile
– cost-effective
– lightweight
– Ample storage space
– Best for two babies
– Dual rear wheel brakes
Cons
– Heavy
– Fiddly harness
– No rain protection
– Not for small car boots
– Some safety failures
– Basket hard to access
– Cannot be turned into a double stroller
– Fragile basket fabric
– No car seat compatibility
# Baby Jogger City Mini 2 Stroller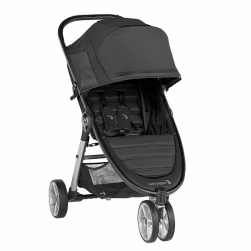 Pros:
Fabric is easy to clean
Ideal for everyday use
Folding is a breeze
It comes with a car seat adapter
The large canopy provides complete shade
Cons:
The storage compartment is difficult to access
No smaller storage compartments
Lack of parent console
Baby Jogger City Mini 2 is a lightweight stroller with a very quick and easy foldability as its key feature. This makes it great for those parents who are on the go often, providing them with the convenience of storage and transportation.
With a simple lift of an arm, you can fold it into a neat and easy-to-carry package. The stroller, when folded, is flat, without the usual hassle of removing components first. Simple and easy. Moreover, it only weighs 18.8 lbs., which allows it to be carried by only the strap. The weight is, however, heavier than the original City Mini stroller.
The City Mini 2 is an updated version of the predecessor, and the upgrade is the wider girth – from 24 inches to 25.70 inches. City Mini 2′ is three-wheeled and has a front wheel for pivoting. This also allows the stroller to be steered with one hand.
The tires are made of air rubber and come with an all-wheel suspension. What's more is the front wheels can be locked, which comes in handy when steering on uneven or rough surfaces.
In addition, its calf support adjustability can be raised or lowered to provide just the right level of comfort for your baby. Apart from that, the seat is padded, roomy, and can hold a baby of up to 65 lbs. The City Mini 2 is recommended for older babies who have developed head and neck control as it lays almost flat. However, if you have a newborn, then you can buy a pram separately.
Another reason why this is an easy-to-use stroller is that it is compatible with car seats. All you need is a car seat adapter, which is included in the purchase. The canopy that this stroller comes with is also uniquely designed to prevent the sun from bothering the baby. It is pretty large and does the job well. It also features a window through which you can keep a check on the baby without letting the sun bother them. All you need to do is roll up a flap.
The storage of the Mini City is one of the features it lacks. While the storage size is adequate, the basket under the seat is a bit inconvenient to access. If accessed from the frame, the opening is relatively more significant than the sides, but it is still a struggle – especially with a large diaper bag.
Moreover, the stroller lacks another smaller storage compartment for smaller belongings such as a phone, wallet, etc. It also does not have a parent console, which is something other competitors offer.
Overall, the City Mini 2 is a stroller easy to fold, maneuver, and clean. The compact, lightweight, and portable design make it completely worth the price – which is not as expensive as other strollers with such features. The only drawback is its storage, which is a pretty good deal for such an easy stroller if you can compromise on it.
Key features:
Adjustable leg rest
Car seat adaptability
Fast and compact foldability
Full recline seat
Large canopy with a transparent window
Front basket access
Has a volume of 8,472 cubic inches (folded)
# Baby Jogger City Mini GT2 All-Terrain Stroller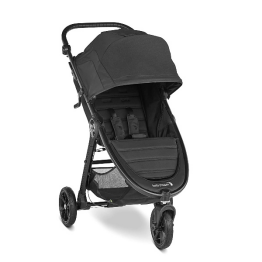 Pros:
One-hand fold
Sturdy and durable
Comfortable padded seat
Easy to steer on difficult terrain
Huge triple canopy
Cons:
No rain cover
No window on the hood for visibility
Does not fit into smaller car boots
The Baby Jogger City Mini GT2 (All-Terrain) is known for its "forever air" tires filled with foam and not air. Their all-wheel suspension makes it an all-terrain stroller; the agility is unmatched and suitable for any terrain. It also comes with features like adjustable leg rest and one-handed fold. While it isn't a very lightweight stroller, it is perfect for walking in parker, bumpy tracks, and other rocks terrains.
It has a seating capacity of 22 kg with generous width and depth, which sets it apart from other baby strollers. Moreover, it is effortless to fold thanks to its one-hand fold, making it an excellent portable stroller. While the stroller itself does not come with a carrycot, it does come with an adapter that allows other travel accessories, like a car seat, which can be attached easily.
The seat is padded, while the mattress pad is machine wash friendly, making it highly comfortable and easy to clean.
The canopy protection is also commendable, as it is UPF 50 and quite large. This is ideal if your baby likes to sleep when you're out on walks; it helps keep the sun out of his eyes. The seat is also highly comfortable as apart from the pad, it can also lay flat.
However, its straps are a bit fiddly, which can be a downside for many. The seat comes with a recline feature as well. The band at the back is used to choose which recline position your child prefers – from fully upright to completely flat.
The weight of the stroller is average, and many people do not find it cumbersome. The adjustable handlebar makes it very easy to push, while the all-wheel suspension allows a smooth ride. As expected, it rides effortlessly on an even surface, but the three-wheel design, "forever air" tires, and all-wheel suspension, make it perfect for off-road terrains. Thus, if you love adventures in rocky or rugged terrain, this is the stroller for your baby.
While the canopy does not come with a window for keeping an eye on your baby, it comes with two attachable peephole windows. Otherwise, you need to pull the canopy back to check on the baby. The storage basket is not as accessible as other strollers but spacious enough for more than a diaper bag.
While the City Mini GT2 can fit in most cars, you might need to remove one wheel at times. Moreover, it does not fit into smaller car boots. Lastly, it does not even fit into an airplane locker.
Key features:
Comes with a car seat adapter
All-wheel suspension
21. lbs weight
"Forever Air" Tires
5 Point harness
UV 50+ protection
# Baby Jogger City Mini GT2 Stroller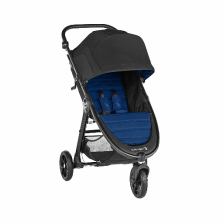 Pros:
Car seat compatibility
Lightweight
Handbrake
Suitable for all terrains
Cons:
Storage access is difficult
Prop up footrest
Baby Jogger's City Mini GT2 is almost the same as its all-terrain version. Its lightweight, one-hand fold, and all-wheel suspension are unmatched. The adjustable recline can become fully flat too, which makes it suitable for newborns. The maneuverability of this stroller is great, thanks to the forever-air tires and the all-wheel suspensions.
Despite popular belief, the City Mini G2 is not a stroller for jogging – often believed because of the three tires. It is made for everyday use, such as regular running or power walks in the park.
Its ability to tackle rough terrain is remarkable – ranging from grass to gravel to mulch. In addition, it becomes highly compact and lightweight when folded and can easily fit into any trunk, including small car trunks. It also comes in a double version if you have two kids.
Its canopy is big. It is a collection of three panels and two windows from where you can monitor the kids. Apart from that, the canopy is perfect for shielding your child from the sun. The only drawback is that the Velcro on the windows can be noisy.
The handlebar of this stroller is adjustable and can go from 30 to 42 inches from the ground. The seat is bigger than any other City Mini model out there and is lined with cushioned padding. It can accommodate a tall child easily.
The leg drop is about 11 inches high. The seat has a simple one-hand reclining mechanism featuring a strap system. All you need to do is pull the clip on the strap, and the seat will adjust according to your preferences.
Once the seat is reclined, there is a mesh window at the back for ventilation, which is especially important on a hot summer day. If the weather is cold, then you can cover the mesh opening. Its harness is padded and 5-point adjustable. Moreover, it can be attached to the back with small clips, so it is very convenient. The buckle is difficult to unlock for a toddler, but babies three and above will be able to figure it out.
The one-hand fold is one of its best features, as all you need to do is pull the strap on the seat. It also comes with an automatic lock, and once folded, it becomes highly compact. The only drawback of this stroller is its storage basket. It is adequate for a diaper bag but not easy to access.
Key features:
Large canopy design
Adjustable leg rest
21 lbs weight
All-wheel suspension
Peekaboo Windows
Conclusion
As a parent, there is a high chance you have either used or seen Baby Jogger City Mini strollers, which are one of the easiest strollers to use available on the market. Most of them are built in a way that your baby's comfort and safety are prioritized. That being said, by the end of this review, you probably know which features need to be kept in mind while shopping for your baby's stroller.
Happy shopping!
---
What Next?
Now that you've learned something about the Baby Jogger City Mini stroller, why don't you also check our related guides below for more information: