For numberless people across the world, traffic is one of the most inconvenient parts of their day. Parking is another big headache for those who travel by personal vehicle.
The good news is that these problems are spawning new solutions as well. Nowadays, several city dwellers worldwide prefer electric scooters for short-distance travel.
After all, these scooters are comfortable to ride, easy-to-park, and do not require a license. In addition to this, they contribute to reducing carbon emissions.
An electric scooter is a good choice if you want an affordable, environmentally friendly, and portable mode of transportation for your short-distance commute.
Hiboy S2 electric scooter is a well-known name gaining popularity among micro-mobility users. Let us learn more about this electric scooter and find out if it is worth buying.
An Overview of Hiboy S2 Electric Scooter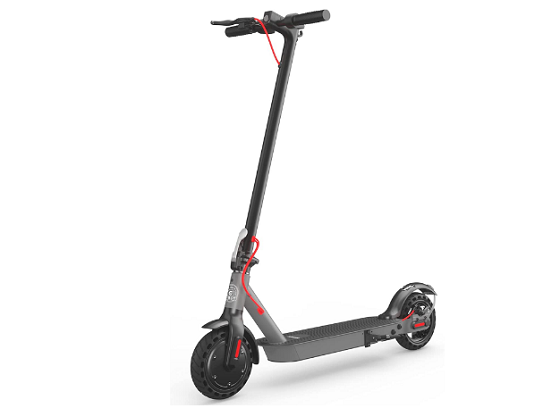 Max speed: 19 mph
Weight: 14kg
Wheel size: 8.5-inch
Range: 17 miles
Motor: 350W
Charging Time: 5 to 6 hours
Payload: Up to 260lbs
Warranty: 1 year
Rating: 4.2 stars
It is safe to ride an electric scooter by following proper precautions. Still, hundreds of people get injured riding them each year. In the United States alone, the figure reached forty thousand in four years.
While most of the time it happens due to human mistakes, electric scooters must become safer.
Hiboy has paid close attention to safety. The deck has rubber matting that provides the required grip and security. Besides this, there is a dual brake system that stops the ride immediately.
Furthermore, the scooter has red brake light that follows the hand brake. It will alert other drivers on the road that you are slowing down or stopping.
Pros
Flat-resistant 8.5-inch tires
Good speed and mileage
The dual braking system for extra safety
It comes with a dedicated app for riding and cruise control
Water-resistance rating (IP54)
Option for extra detachable scooter seat
Cons
Charging time could be reduced
Not that good on off-roads
Hiboy S2 Electric Scooter Review: Design
The design is among the crucial factors you should pay attention to when buying an electric scooter. Many people do not realize it, but it makes a significant impact on the rider's performance, comfort, and safety. Let's take a look at the design of the Hiboy S2 electric scooter.
Construction
When you look at the overall make of the scooter, you will notice that it has a sleek appearance. The handlebar and deck are well refined and made out of robust aluminum. You get rubber grips on handlebars that provide a better hold when riding.
In addition to the front stem and rear light, the scooter has an under-deck light, improving its aesthetic appeal.
Wheels
The 8.5-inch wheels not only handle bumps well but also let you climb up hills without much effort. Moreover, you get honeycomb tires that provide structural integrity and are flat-resistant.
On the rear wheel, you will see two shock springs that ensure a comfortable ride every time.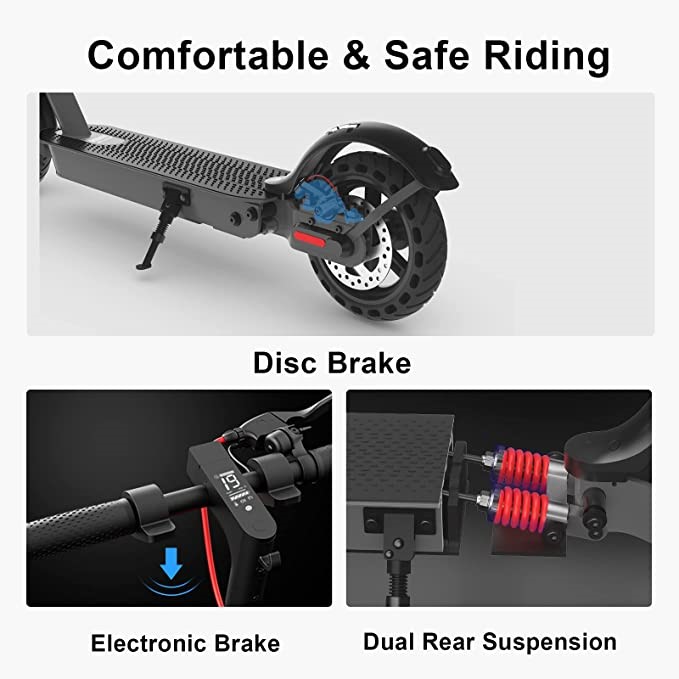 Brake
The braking system on an electric scooter is the most crucial safety feature. After all, it allows you to slow down or stop your scooter in a fraction of a second.
Hiboy seems to have paid extra attention to the braking mechanism. You get a dual braking system. The front eABS anti-lock brake and rear disc brake ensure foremost safety even if you ride high speed. You can apply the front brake with the thumb control given on the left handlebar.
We can conclude that the overall design of the scooter is outstanding, making it enjoyable to ride for both youngsters and adults.
Hiboy S2 Electric Scooter Review: Performance
Without a doubt, the Hiboy S2 electric scooter impresses us with its practical design. However, it is also true that design alone won't make it a suitable scooter. It is also true that design alone will not make it an ideal scooter. It has to be good at appearance as well as performance.
Let's see the performance of the Hiboy S2 electric scooter.
Top Speed
Hiboy S2 electric scooter comes with double-speed modes. You can switch between low and high-speed mode (19 and 13 mph) by simply tapping twice on the button on the dashboard.
The scooter gives a maximum speed of 19 mph, thanks to its 350-watt motor and excellent battery backup. We think it is more than a satisfying pace for kids as well as adults.
Keep in mind that the speed will be affected by both your body weight and the slope of the road.
You may notice a slight drop in speed while riding the scooter uphill, but that is normal.
You can control the speed of your scooter using the Hiboy S2 app. Just pair your smartphone with the scooter using Bluetooth, and you are good to go.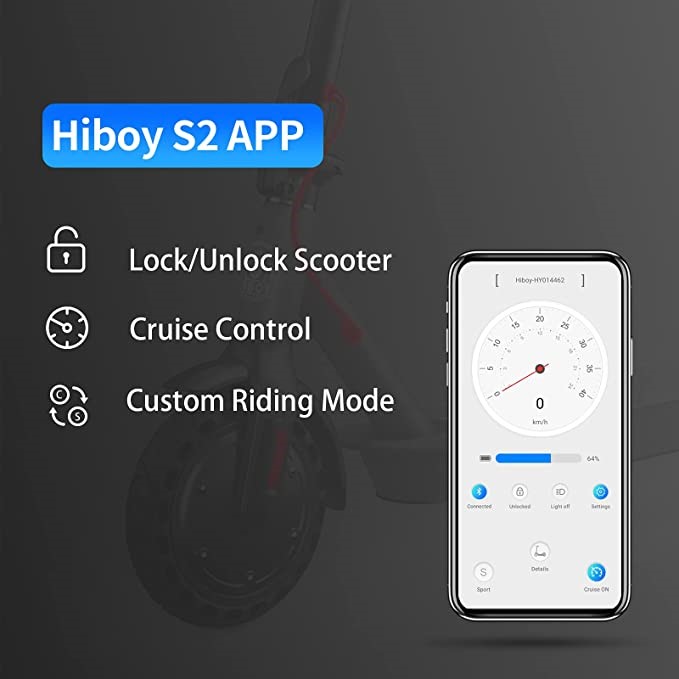 Frame
Hiboy S2 electric scooter features a matte-finish black frame, giving the scooter a classy appearance. You will find an aviation-grade aluminum alloy on the scooter for better strength.
As a result, the scooter can readily survive regular wear and tear. Surprisingly, despite the superior quality material, the weight of the scooter is just 31lbs.
Motor
The motor determines the speed, hill-climbing ability, energy consumption, and performance of an electric scooter. Hiboy S2 electric scooter excels in all of these areas, thanks to its 350-watt motor.
The company has used a brushless motor that ensures steady power output. Therefore, the scooter gives a top speed of 19mph for 17 miles. The brushless motor is an intelligent power system that gives you a safe and smooth riding experience.
Battery Life and Range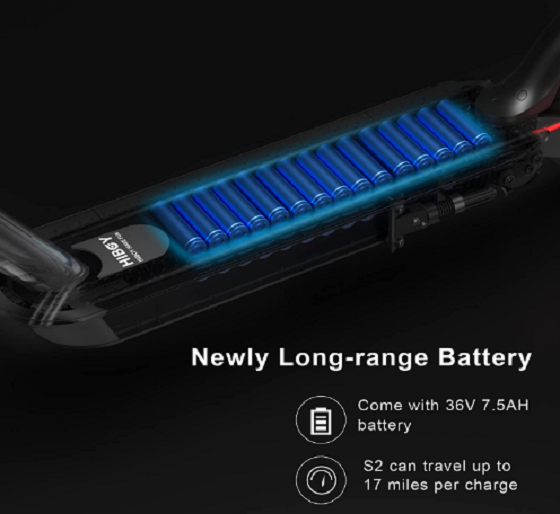 Hiboy S2 electric scooter comes with excellent battery life. On a single charge, you can ride up to 17 miles in normal road conditions.
The company tested the battery life with a load of 150 lbs. It means that even if you are an adult, the battery performance will not suffer much due to your weight.
We would say it is an acceptable range. If your destination is within 6 to 8 miles, you can confidently do up and down on a single charge.
The good thing is that the Hiboy S2 scooter can easily climb the hill up to 15 degrees. However, if you have more weight or you are riding on an unsurfaced road, the battery will drain before the average time.
The scooter has a removable battery mounted on the deck. It will just take you three seconds to replace it, thanks to its revolutionary design.
The battery takes between three to five hours to charge, which is a standard time with any battery of similar power.
Load Capacity
The scooter is ideal for growing children because it can support weights of up to 260 pounds.
Even if you are an average adult, the Hiboy S2 electric scooter can be your excellent choice for your everyday commute to work.
Though the scooter can support a reasonable amount of weight, it is relatively light. You can hold it along like you would a compact-sized suitcase.
Hiboy S2 Electric Scooter Review: User-Friendliness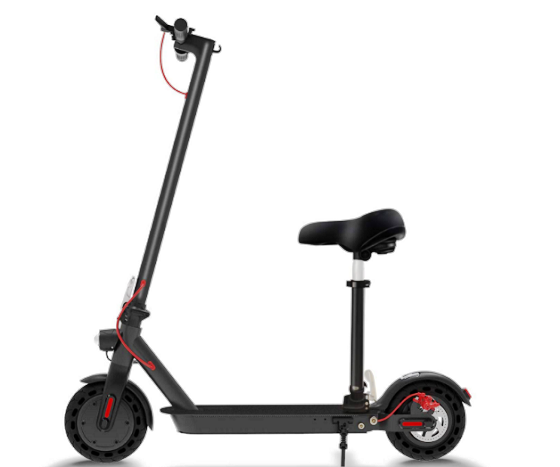 We found the Hiboy S2 electric scooter to be quite user-friendly. If we talk about its cockpit, it is straightforward. You get an easy-to-read display, round handgrips, and thumb controls on the handlebars.
Unlike some entry-level electric scooters, it has a high-mounted headlight for improved visibility in the dark. In addition to the headlight, you also get LED lights beneath the deck and on the rear tire.
Furthermore, you can fold the scooter in just three steps. Just pull down the folding lever, and the hook of the scooter will clasp onto a latch located on the back tire.
The company also gives you the option to attach a seat to the scooter. Thus you can make your commuting more fatigue less and comfortable.
Hiboy S2 Electric Scooter Review: Customer Experience
Hiboy S2 electric scooter has been receiving a good response from customers. On Amazon, the product has a 4.1 rating out of 5. 65% of people have given the product 5 stars out of 1431 global ratings.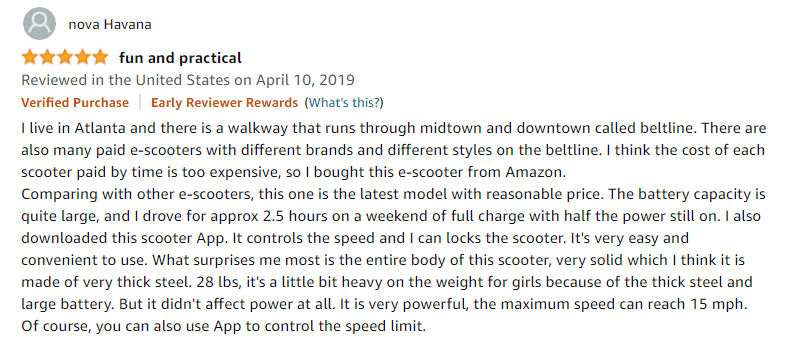 People like its build quality, excellent range, and decent battery life. If we talk about the children specifically, children appreciate its stylish design and brilliant under lights.
Whether you look at its 350W motor, dual braking system, or high-quality aluminum frame, you will find that the company went one step further to deliver the best customer experience.
Hiboy S2 Electric Scooter Warranty
Hiboy S2 electric scooter comes with a 12-month warranty against manufacturing defects.
While for most components, the warranty is one year, some parts, including battery and motor, are covered under a six-month warranty only.
Within six months, the manufacturer will replace or repair the defective battery free of cost.
You can claim the warranty on us.support@hiboy.com by giving the proofs of purchase along with videos or pictures of impaired parts.
Note: keep in mind that the warranty does not cover human-caused damage.
Who Should Buy Hiboy S2 Electric Scooter?
S2 electric scooter is Hiboy's one of the best selling products.
As previously said, the Hiboy S2 electric scooter is a lightweight, compact, and portable electric vehicle that provides an amazing strolling experience in a city. Moreover, it can withstand bumps and a little bit of offloading.
So we can say Hiboy S2 is an excellent choice if you want a high-end electric scooter with a plethora of features.
Summary
Taking everything into account, we can conclude that the Hiboy S2 electric scooter is well-designed and powerful enough to give a decent performance on almost all surfaces. The scooter is easy to operate, affordable, and fits into the lifestyle of mobility aficionados.
The manufacturer has designed the scooter, keeping style, comfort, and performance in mind. Superior design frame and three eye-appealing lights give you style, while dual rear suspension makes riding comfortable and smooth. The scooter includes a brushless hub motor of 350 W and a 270WH long-range battery for a strong performance.
Hiboy S2 electric scooter is getting positive feedback from both critics and riders. It will suit your personality and demands whether you are a college student or an office-going millennial.
If you're tired of being stuck in traffic on your way to work, make this scooter your go-to mode of transportation. Not only will you save money on fuel, but you will also help the environment.
Hiboy S2 electric scooter is feature-rich. You can connect it to the app Hiboy S2 app via Bluetooth to use custom riding mode. The app also lets your lock and unlock your scooter with a few taps on your mobile screen. You also get a cruise controlling feature on the application.
What Next?
Now since you have learned something about Hiboy S2 electric scooter, why don't you also check out our other related guides as follows:
Best Razor e scooters with seats
Best e scooters for adults
Best long range electric scooters
Best electric scooters for heavy adults