Introduction
The electric scooter business is at its peak, and you can be part of it. With the global market size estimated to hit USD 20.8 billion by the end of 2021, these e-scooters are treading, and everyone needs one.
If you are looking to get one of the bestselling and top-of-the-range scooters, we got you covered. Hiboy Max3 electric scooter is among the leading due to the high performance and sleek constriction.
Once you have this e-scooter, there are outstanding features like a Li-Ion battery, powerful 350W motor, and large deck, among others. We love the way the scooter is built and guarantee you will also love it.
Hiboy Max3 Electric Scooter Overview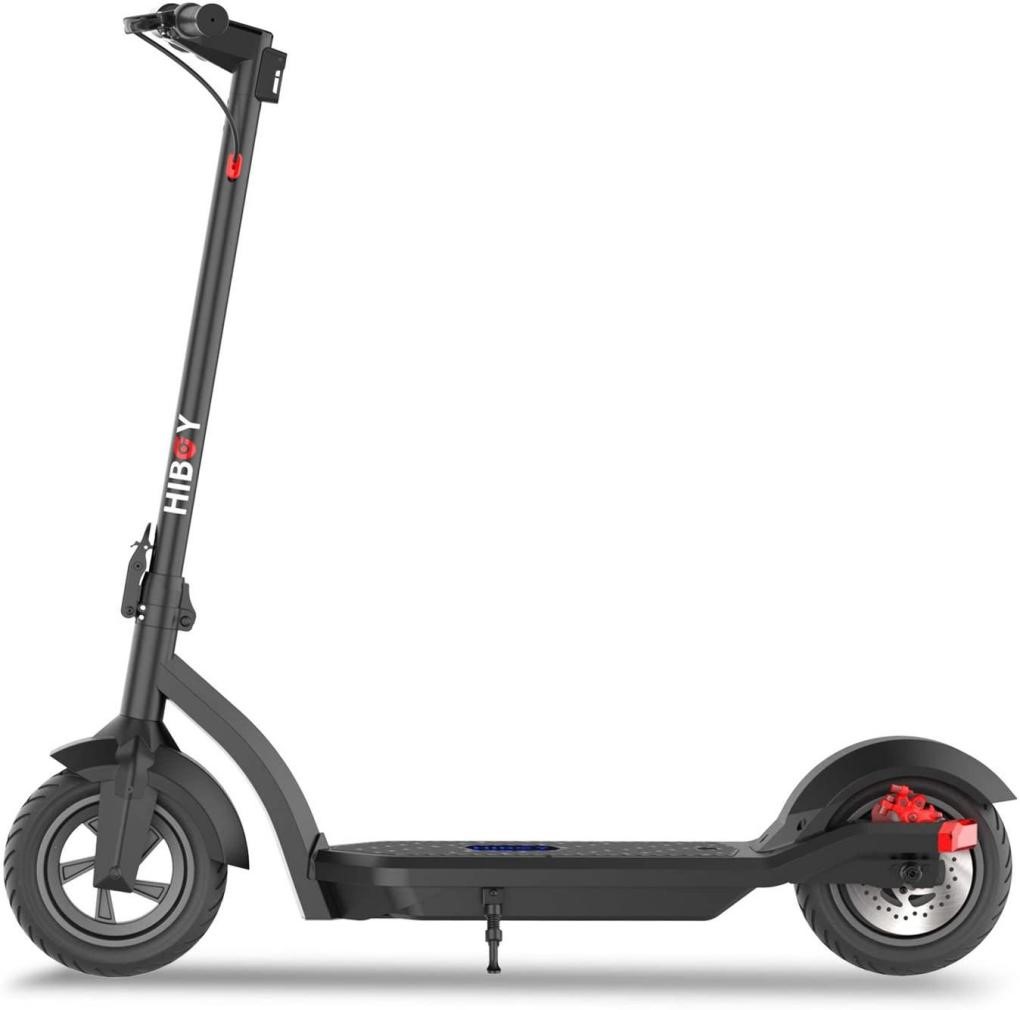 Top speed: 18.6mph
Battery: 36V, 7.5 Ah Li-Ion
Range: 17 Miles
Climbing ability: 15°
Motor: 350W
Weight: 40lbs
Age range: 16+
Warranty: 12 months
Rating: 4 stars
Pros
Lightweight and powerful lithium battery
The water-resistant body allows rides during rainy days
Extra strong aluminum alloy structure
Dual brake system for excellent safety
USB port for charging your phone
Digital LED display dash
Foldable design for easy storage
Cons
Lacks suspension system
Handlebar height isn't adjustable
Hiboy Max3 Electric Scooter Review: Design
As we have said, Hiboy Max3 is a great electric scooter with premium qualities. The design has a professional approach to ensure every rider gets the best experience. With that, let's check the overall design.
Construction
The general construction of this scooter aims at delivering the best performance and durability. That is, the manufacturer uses top-quality materials to ensure the scooter suits different applications.
Interestingly, the aviation aluminum alloy is used in making the frame. Not only is the material lightweight, but, offers exceptional sturdiness. A sleek black finish that never fades proves the scooter is built to last regardless of the situation.
A combination of different sturdy materials and a large textured deck allows for comfortable rides. The deck is capable of holding persons weighing 220 pounds without breaking or twisting.
Dual braking
Indeed, speed thrills but, bringing your e-scooter to a halt should not be a trial and error process. When onboard Hiboy Max3, safety is paramount since it possesses front and rear brakes.
Notably, e-brake and disc brakes at the rear wheel ensure the stoppage process is super-efficient.
Unlike other electric scooters, in this case, you get complete control of driving this one. A highly sensitive braking system allows for a short braking distance, thus excellent safety.
Wheels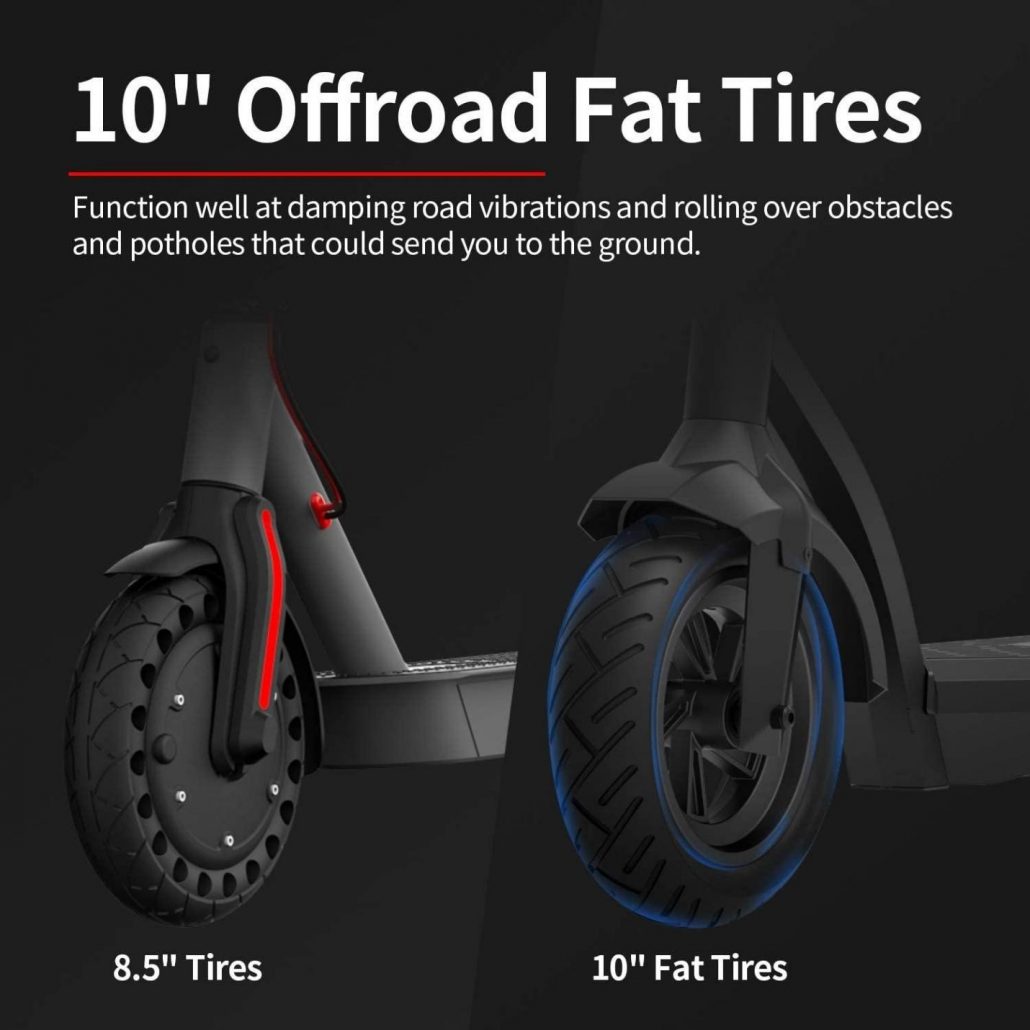 Forget about the cheap and unreliable e-scooters with substandard wheels. They are not suited for riding on unpaved surfaces, which is restrictive. The real deal is Max3 which offers large 10 inches wheels.
The fat tires are reliable to maintain the best traction in paved and off-road situations. Considering the front tire is air-filled, there is superb shock absorption. Additionally, the solid rear tire provides exceptional stability and traction.
Folding handlebar
Storage shouldn't be a problem for anyone who owns an electric scooter. When driving is over, Hiboy Max3 is easy to store even in compact places. The handlebar offers tool-free folding, which only takes 3 seconds.
Besides storage, having it in subways, elevators, and other places gives you an easy time. In only 3 seconds, and the handlebar folds down completely.
Digital LED dash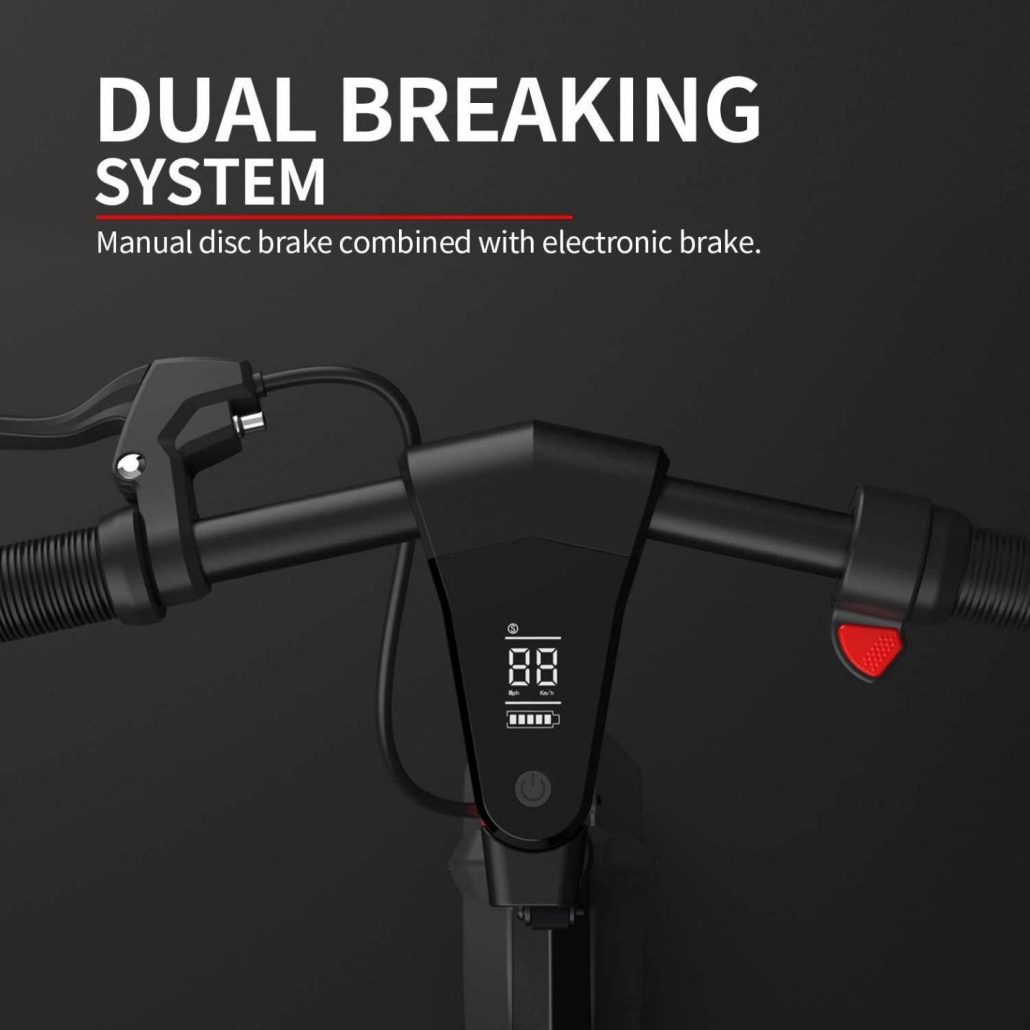 Some of the available electric scooters on the market don't come with a dashboard. But, this is over since Hiboy Max3 has a sleek and easy-to-read display.
The LED dash is easy to read day and night since it is lit. Despite being simple, you can see speed, riding mode, cruise information, and battery level. As a result, there is no need to connect your phone to the scooter to see vital information.
Frame and deck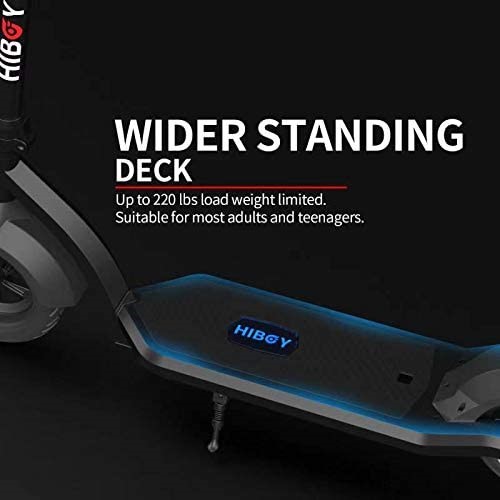 One of the integral parts of any scooter is the construction of the frame and material used. In this case, the frame, as mentioned earlier, is sturdy to support heavy riders. Manufactured from tough but lightweight material, there are stable rides.
Apart from the rigidity, the frame has less weight compared to other materials. Additionally, the deck also has reinforcement to ensure Hiboy Max3 performance is always at the top.
Comparing the deck area, it's broad to accommodate your feet comfortably. This not only keeps the rider comfortable but there is also stable and full scooter control.
Hiboy Max3 Electric Scooter Review: Performance
The performance of Hiboy Max3 is unmatchable, which gives it a reputation among the users.
Motor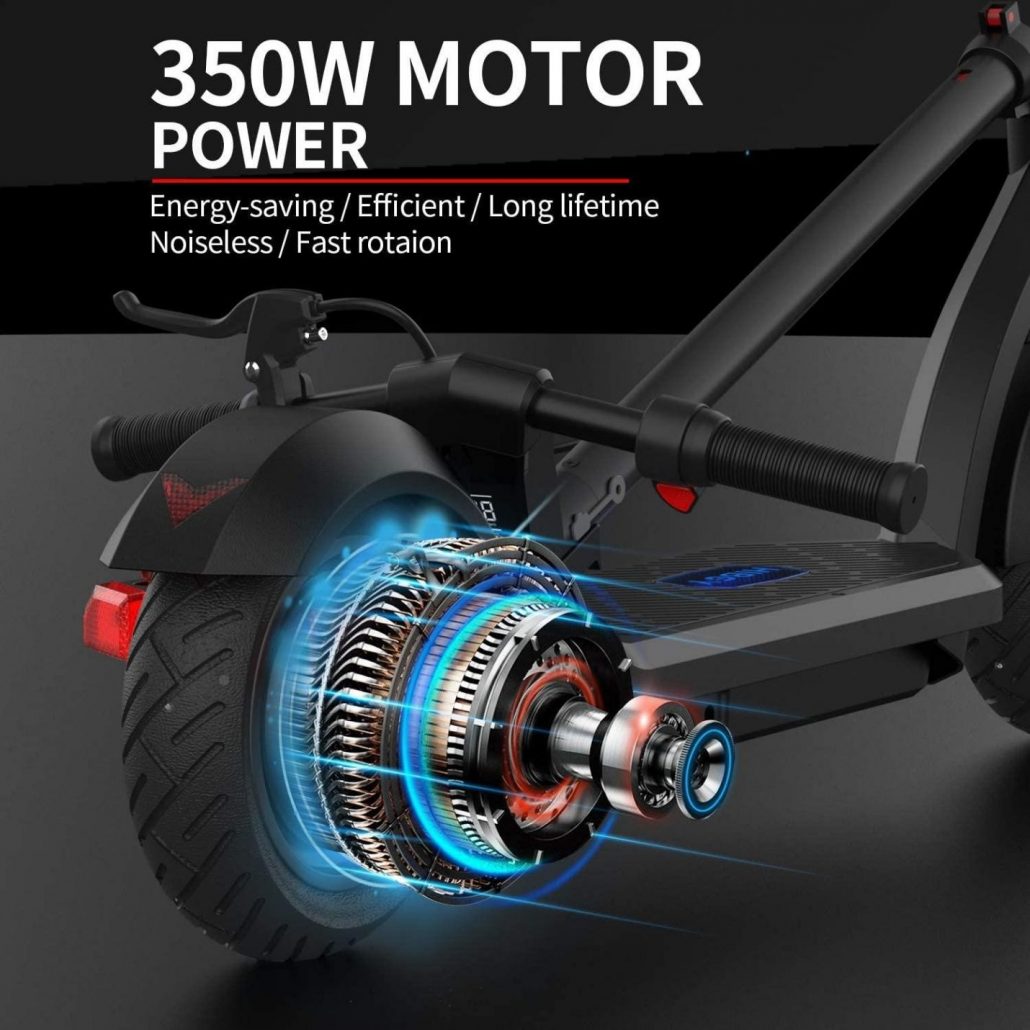 Boasting a 350 watts motor, its acceleration and power are guaranteed. Unlike most scooters with 250W, this coughs enough power necessary for the best speed experience.
Having a powerful motor enables the rider to achieve more speed and conquer different terrains. Amazingly, the scooter can manage to climb places with15% incline.
Powerful Li-Ion battery
A cheap battery only delivers a limited range. But this is now over. Anyone riding Hiboy Max3 can attest the battery is super powerful. Compared to Lead-Acid, this one is Lithium-ion based and delivers 36V, 7.5Ah.
The ability to power the scooter for 17miles is worth betting your money on this electric scooter. Besides, charging takes only 6 hours which is less than other types of batteries.
Top speed
Whether you are an expert or amateur in matters of e-scooters, you must be concerned about speed. However, the good thing is Hiboy Max3 has the speed needed for commuting and leisure.
Having a powerful motor and reliable battery helps this scooter to achieve 19mph. The top speed is subject to vary depending on the surface and the riding style. Thus, the travel range can reduce or increase.
With great maximum speed, there is a benefit of faster arrivals, not forgetting playing tricks.
3 Customized Riding Modes
Maybe your previous or current electric scooter allows only one riding mode. This, to some riders, isn't satisfactory and needs more agility.
Hiboy Max3 provides three riding modes, which are thrilling when you want to experience various modes. It doesn't matter the riding experience level, whether beginner or expert, the right mode lets you enjoy great tricks.
USB charging port
Worried about your phone dying while outdoors? It's time to relax and enjoy seamless charging as you ride an e-scooter. The integrated USB port in that folding handle is superb and handy. You can charge different devices while enjoying the ride.
Besides, the port has a protective cover to ensure water doesn't get in. Consequently, there is no risk of short-circuiting due to water getting into the USB port.
LED Lighting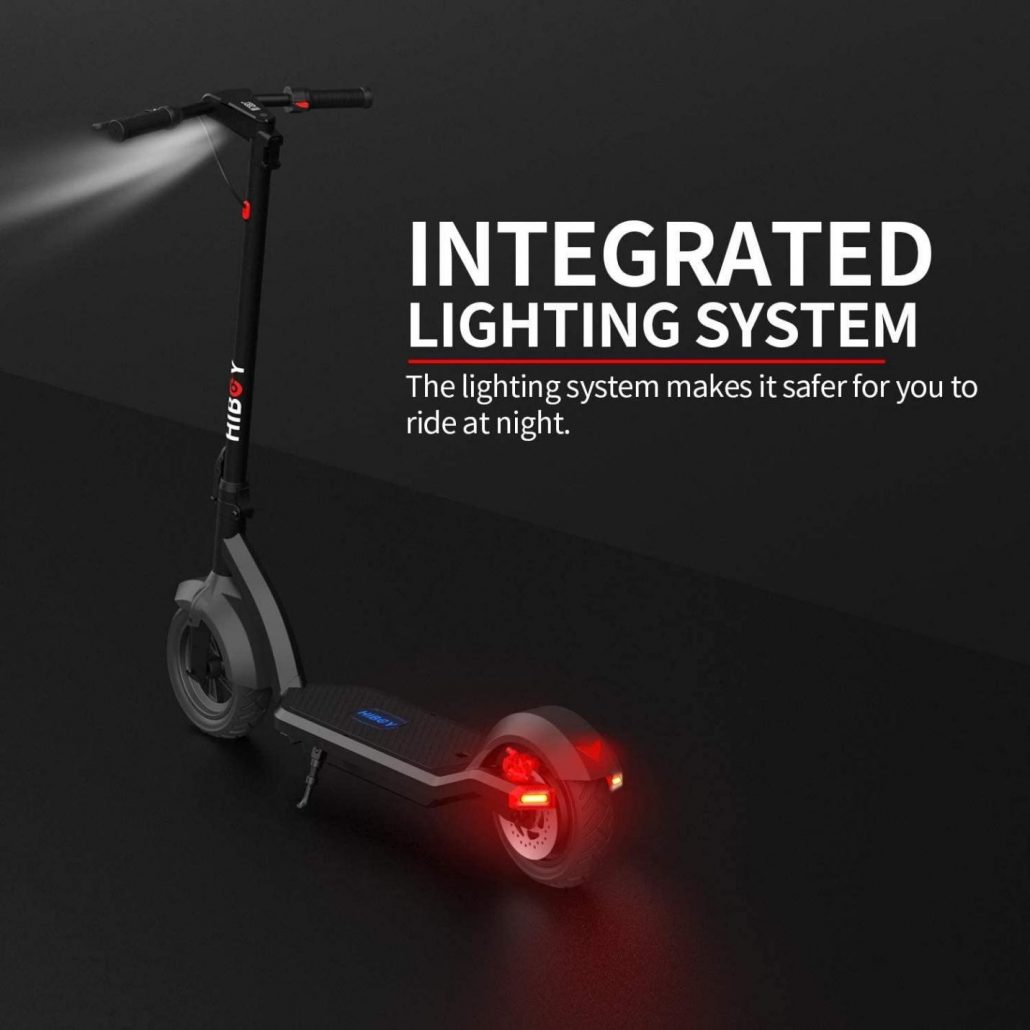 Do you love riding at night? There are no more carrying a flashlight as there are inbuilt LED lights. High illumination headlight allows long illumination allowing riders to enjoy safe rides at night.
Besides, tail lights keep you visible to motorists and other riders. Since the LED lights are powerful and efficient, there is no excessive charge draining from the battery.
Water-Resistant Body
The time when people used to fear rain would damage their electric scooters is over. Everyone riding Hiboy Max3 knows a wet surface can't damage this scooter.
High engineering and use of the latest materials ensure excellent waterproofing. Rated IP54, riding in the rain won't cause any damage to the scooter.
Apart from the rain, the Hiboy Max3 is also great for wet surfaces. The sealed body design prevents damage by low-pressure water like rain and splashes.
Hiboy Max3 Electric Scooter Review: Customer Experience
Hiboy Max3's customer base is large, and experience has been great so far. Whether it's the general design, comfort, or performance, this scooter has a lot of positivity.
One of the big areas where this electric scooter scores big is performance. Unlike other similar range scooters, Max3 has a powerful motor that enables it to offer more power.
Apart from the high performance, the heavy-duty battery provides a better range. Essentially, there is no comparison with the same capacity of Lead-acid batteries when it comes to endurance. The endurance is also superb on the type of batteries used in these electric scooters. This makes the equipment the right choice for short and medium-distance traveling.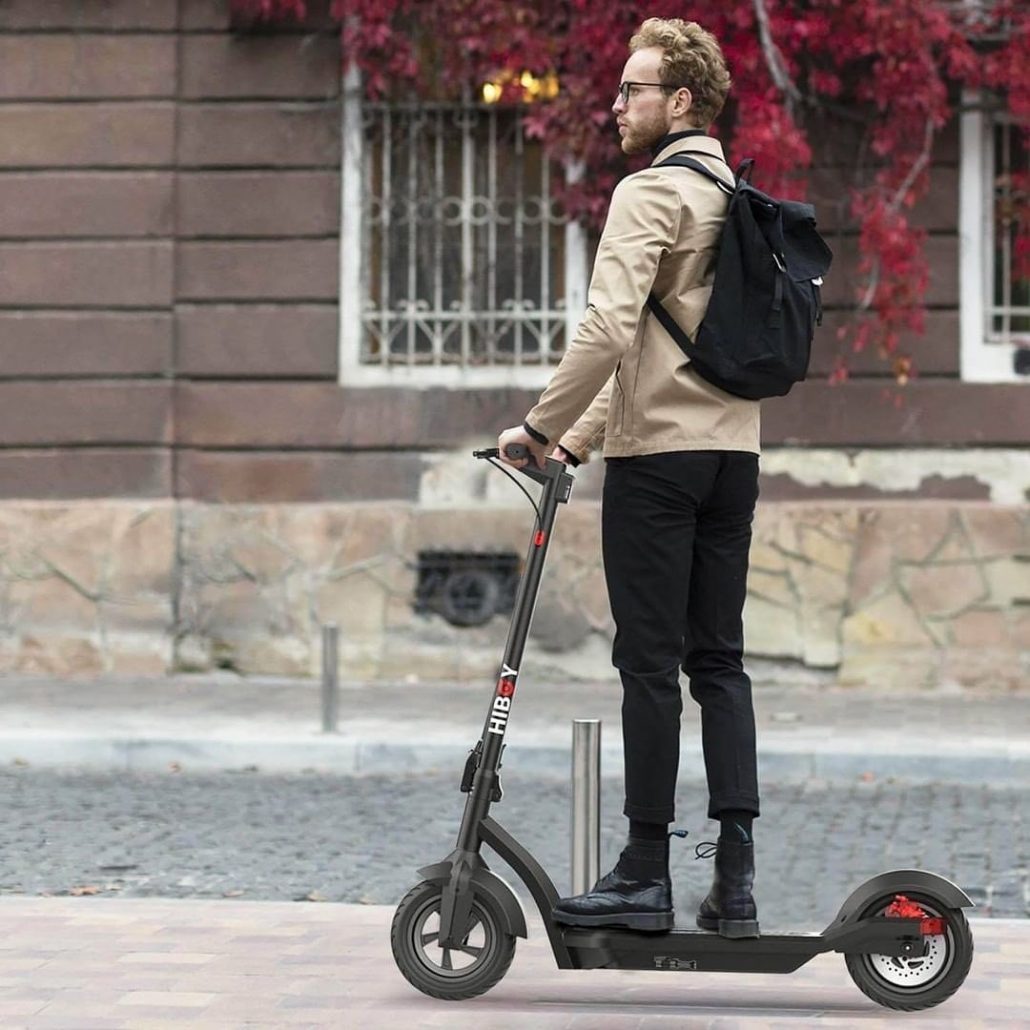 Not only is performance the unique quality. The quality of Hiboy Max3 is undeniably leading in the industry. The use of aviation-grade aluminum alloy and premium motor components renders the scooter high-quality.
Bearing in mind the type of features available in this scooter, it is worth having. Amazingly, Hiboy Max3 is one of the best electric scooters under $500, yet its quality goes beyond regular scooters.
Riding Max3 feels solid and secure than other cheap scooters. The reason behind this is the utilization of solid tires which ensures less damage even under high torque.
All isn't rosy for Max3 since the scooter is a bit heavy. With 40 pounds, carrying can be a bit hectic. Additionally, the battery isn't detachable, making it challenging to switch even when you have a backup one.
Value for money?
Wondering whether it's worth investing in this electric scooter? A simple answer is yes, Hiboy Max3 is worth your money without looking back?
Notably, the quality of this scooter is way ahead compared to others of a similar range. One main thing to note is how powerful the motor is and its ability to deliver a big toque.
Despite being cheaper than rivals, it gives riders pro features and experience. Great speed, USB charging port, and heavy-duty tires will let you enjoy the best value for your money.
Comparison of Hiboy Electric Scooters
Apart from the Hiboy Max3, there are great e-scooters from the same manufacturer. They are closely related, but performance and features differ depending on the model.
It is important to note that all the models are from Hiboy, which gives a broad scope of the quality of e-scooters they manufacture.
Let's check some of the top alternatives and how they compare in the table below.
| | | | | | |
| --- | --- | --- | --- | --- | --- |
| | Hiboy MAX3 Electric Scooter | Hiboy Titan Electric Scooter | Hiboy S2 Pro Electric Scooter | Hiboy S2 Electric Scooter | Hiboy S2 Lite Electric Scooter |
| Motor | 350W | 800W | 500W | 350W | 250W |
| Battery capacity | 270WH, 36V, 7.5Ah | 12.5AH | 36V/11.6AH | 270WH, 36V, 7.5Ah | 5Ah |
| Color | Black | Black | Black | Black | White |
| Max range | 17 Miles | 28 Miles | 25 Miles | 17 Miles | 10.6 Miles |
| Max speed | 19mph | 28mph | 19mph | 19mph | 13mph |
| Payload | 220lbs | 286lbs | 220lbs | 220lbs | 180lbs |
| Seat | No seat | No seat | No seat | No seat | No seat |
| Handlebar | Foldable | Foldable | Foldable | Foldable | Foldable |
| Brake | E brakes and disc brakes | Disc brakes | E-ABS and regenerative Anti-lock brakes | Electric and disc braking | E-brake and pedal brake |
| Frame | Aluminum | Aluminum | Aluminum | Aluminum | Aluminum |
| Wheels | 10 inches air-filled front and solid rear | 10 inches air-filled tires | 10 inches solid tires | 8.5 tires | 6.5 inches |
| Number of wheels | 2 | 2 | 2 | 2 | 2 |
| Wheel materials | Aluminum and rubber | Rubber and aluminum | Aluminum and rubber | Rubber and aluminum | Rubber and aluminum |
| Lighting | LED | LED | LED | LED | LED |
| Scooter Weight | 40 lbs. | 50.7lbs | 36lbs | 31 lbs. | 21lbs |
| Age | 16 years and over | Adults | Adults | Adults | Teen and big kids |
| Hill climb | 15% | 20% | 15% | 15% | 15% |
| App | No | No | Hiboy S2 app | Hiboy S2 APP | No |
| Water resistance | IP54 | IP54 | IP54 | IP54 | IP54 |
Hiboy Max3 Electric Scooter Review: Summary
Hiboy Max3 is the kind of scooter that balances power, style, and price. The very affordable price tag and high engineering make it one of the best e-scooter every rider should yearn to have.
While the scooter boasts fat tires, you can enjoy even some essence of off-roading without issues. Great packaging, robust structure, and extended warranty make the scooter reliable and help you to enjoy peace of mind.
The high acceleration, speed, and different riding modes are perfect for different users. Generally, it's the right electric scooter that balances everything and is worth your investment.
What Next?
Now since you have learned something about the Hiboy Max3 electric scooter, why don't you also check out our other related guides as follows: