Introduction
Let's face the truth; most of us are not into spending several hundreds of dollars for an electric scooter. The case is even intense if someone is looking for the cheapest electric scooter for the first time. Are you looking for the best kid's product? Willing to change your traveling style across the town? Or even motorizing your commute is the deal? We've got you covered!
Getting your hands on the right electric scooter is indeed a challenge. With this in mind, we have carefully built this best cheap electric scooter buying guide for our readers. The list of features to consider is long enough to spin your head.
Whether max speed is your requirement, or you are more into extra features like cruise control, read till the end. In the end, only the price range will be your concern. The rest is all sorted in this in-depth guide.
Our Picks For the Cheapest Electric Scooter
Cheapest Electric Scooter Under $200
Razor Power Core E90 Electric Scooter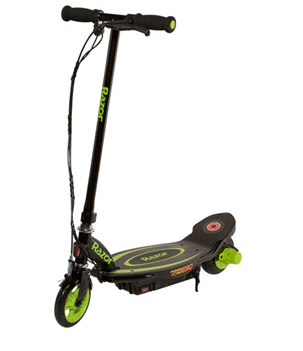 Max Speed: 10 MPH (16 KPH)
Weight: 21.22 lbs (9.5 kg)
Wheel size: 8"
Range: 13 miles (21 km)
Motor: 85W, hub-motor
Battey: 12V, lead-acid
Age Range: 8+
Warranty: 3 months
Rating: 4.6 stars
When it comes to creating some quality kids-friendly e-scooters, Razor owns a reputation in the market. Razor Power Core E90 is no exception here. With a decent build quality, no pneumatic tires, and robust solid feel, we will put E90 on top of the list, one of the best cheapest electric scooters for kids.
The E90's urethane tires ensure unbeatable comfort when it comes to short bursts across the block. Having a solid kick-start option, E90 is specially designed to ensure the rider is safe from any accidental takeoffs. Indeed the best thing is when your kids are just starting to learn how to ride the cheapest electric scooter.
Being the best cheap electric scooter under $200 for kids, the Razor Core E90 will be a no-brainer for your children. They will quickly learn how to handle this e-scooter. Excited to see them riding in just a few minutes?
Pros
Excellent price
Safety features (push-button throttle)
Friction rear brake
Kick-to-start functionality
Durable materials
Extremely lightweight
Portable
Cons
Prolong charging time
Not for adults or teens
Gotrax GKS Electric Scooter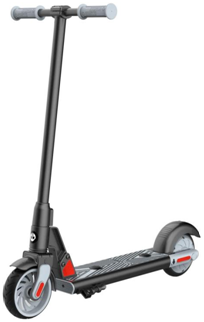 Maximum Speed: 7.5 mph
Weight: 17.8lbs
Wheel size: 6"
Range: up to 4 miles
Motor: 150 Watt
Battery: 25.2 V 2.6 Ah
Age Range: 6-12
Warranty: 6 months
Rating: 4.5 out of 5
The cheapest electric scooters aren't just for adults. Your kids also deserve lightweight, fun rides. GoTrax GKS serves the purpose perfectly. Available within the range of $200, the safety and affordability of GKS are unbeatable.
Kids and parents both love this electric scooter alike. Well, the credit goes to the safety start tech, being the most impressive feature. This unique feature ensures that the e-scooter won't start unless your child has both feet on the two-button present on the foot dock. Not only this, but the braking system is all alert when it senses any pressure.
When kids wish to stop the electric scooter, they need to take their back foot off the rear button. Doing so will kill the motor; hence, the scooter will slow down. Last but not least, the dual-tone design is another most remarkable feature. A few funky color options available are green, pink, blue, and black.
Pros
Cheapest kids scooter
It comes in a range of vibrant colors
Safety Start Technology
Lightweight design
Durable frame
Simple assembly
Cons
Long charge time
Doesn't fold
Cheapest Electric Scooter Under $300
1. Hover-1 Journey E Folding Scooter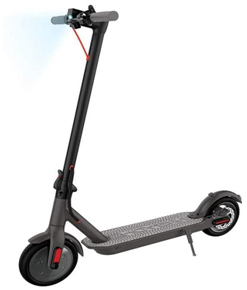 Maximum Speed: up to 14 MPH
Weight: 32.4 Pounds (21lbs)
Wheel size: 8.5"
Range: 16 miles
Motor: 300 Watts
Battery: 36Vdc
Age Range: 5 Years+
Warranty: 3 months
Rating: 4.1 out of 5
The Hover-1 Journey Electric Folding Scooter is another winner in the list of the best cheap electric scooter. The basic design of this modest e-scooter promotes a fantastic mode of travel. Do you know what the best part is? The price point has no significant interference in enjoying such traveling.
The Hover-1 Journey is available with a 300 W motor along with an ultra-safe 36V battery pack. Both the features promote a reasonable range with a maximum weight limit of 220 lbs. The whole thing is easy to fold and portable. Being very lightweight, the Hover-1 Journey is the best choice if you enjoy peacefully silent journeys.
Overall, it is an excellent pick in the better price range of the cheapest electric scooter.
Pros
Folding design for easy storage
Lightweight
Decent electric scooter
8.5-inch to ensure stability
Less charging time (4.5-6.5 hours)
Quiet operation
Great acceleration
Cons
A low maximum speed (14 mph)
Not the best to ride for wet surfaces/puddles
Gotrax GXL V2 Commuting Electric Scooter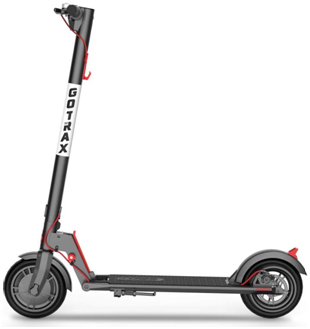 Maximum Speed: 15.5 MPH
Weight: 27 Pounds (26.4 lbs)
Wheel size: 8.5"
Range: 9-12 Miles
Motor: 250W
Battery: 36V Battery 5.2AH
Max Load: up to 220 lbs
Warranty: 3 months
Rating: 4.2 out of 5
One of the top qualities that make the Gotrax brand unique is worth the money. If you are looking for something valuable in terms of your hard-earned money, go for this cheap electric scooter.
Gotrax GXL V2 Commuting Electric Scooter, best-known for its outclass braking system, tops the list for the least expensive and most reliable option other than walking. The regen braking up front, grippy pneumatic tires, and a disc outback can never make your ride go wrong.
The GXL V2 comes with cruise control. Well, there is no visual indicator or audio to indicate when the cruise control is working. But still, the disability option covers the lousy part. In terms of raw transportation per dollar, nothing can beat Gotrax GXL V2. The e-scooter lacks a tail light and has a rear reflector instead.
Pros
Excellent Value for money
14-degree hill capacity
Easy to fold and store
Good recharge time
Digital display
Cons
Shorter range
Average acceleration
Cheapest Electric Scooter Under $500
HX X7 Folding 5AH E Scooter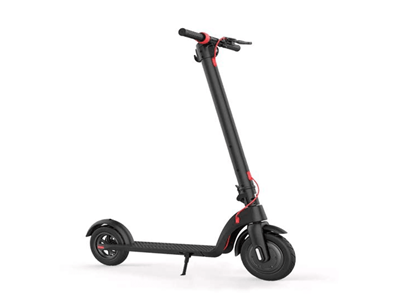 Maximum Speed: 15 MPH
Weight: 28 LBS (12.5 kg)
Wheel size: 8.5"
Range: 16 Miles
Motor: 350W
Battery: 36V, 7.5 Ah, 187.2 Vh
Age Range: Adults
Warranty: 1 year
Rating: 4.2 out of 5
Coming with an innovative portable folding design, you can fold the HX X7 cheapest electric scooter in only 3 seconds. The compact nature and portability of the vehicle are just unique. Being lightweight, it can be put into the trunk easily. But such a light weight doesn't mean it cannot handle heavyweights. HX X7 has the capability of carrying at least 300 kg.
On the other hand, the intelligent battery management system by the manufacturers is extremely power-saving. It also ensures battery safety and extends battery life. HX X7 comes with a powerful 250W motor, allowing easy coping with the steep 30° hill. An ideal off-road feature indeed.
Last but not least, the multi-function console is another fantastic feature. The LED display ensures that all the critical indications (speed mode, power lock status, speed, etc.) are prominent. The latest high-brightness LED lamp can function for more than 124 hours. What else do you need in this price range?
Pros
Detachable battery
Unique design
Triple Braking
User Friendly
Cons
Hiboy S2 Lite Electric Scooter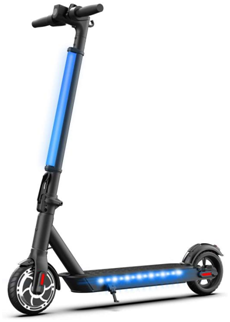 Maximum Speed: 13 MPH
Weight: 21 LBS (9.95 kg)
Wheel size: 6.5"
Range: 8-10.6 Miles
Motor: 250W
Battery: 5 Ah
Age Range: Teens
Warranty: 1 month
Rating: 4.3 out of 5
No one has ever been able to find the cheapest electric scooter that can beat the Hiboy S2 Lite Electric Scooter. Even if you are willing to spend some more dollars, forget about chasing the acceleration, braking, and speed offered by S2. Even the rear suspension of this best cheap electric scooter delivers a surprisingly not-terrible ride.
Well, S2 was once a scooter that was on the reject list of many initial users. But with the period and the more experts rode it, the results were different. Currently, the e-scooter is making its way to the top for Value, being too cheap, among other options.
The maintenance-free honeycomb tires enhance the beauty of this quality ride. Also, the e-scooter comes with a unique app. The rider can easily adjust the intensity of acceleration and braking with the help of this app. You can also select a suitable sport mode to fine-tune the sporty feel.
Pros
Excellent top speed
Durable and robust frame
Lightweight
Portable
Double braking system
In-app technology
Cons
Long charging time
Lacks off-road functionality
Conclusion
The best affordable electric scooter market is getting saturated day by day. The list of new manufacturers entering the market is long enough to analyze. As a result, buying the cheapest electric scooter is becoming a challenge. To ease this tricky decision, we presented the list of the best budget e-scooters.
Based on our hands-on testing and years of background knowledge, the above information is ideal for easing your buying challenge. With prices ranging as low as $200 to $500 per unit, choosing the cheapest electric scooter is no longer a task. So, if you are seeking a quality e-scooter for kids or entertaining your sporty nature, we have a solution for the smallest budget even.
What Next?
Now since you have learned something about the cheapest electric scooters, why don't you also check out our other related guides as follows:
Top electric scooters for commuting
Best electric scooters for heavy adults