Introduction
Skateboards have been with us for a long time. However, who thought a time would come when they would evolve and be motorized? Well, these days, electric skateboards are the talk of the town.
Since the introduction of these skateboards, many people have used them for leisure and commuting. However, before purchase, there is a need to check the quality and specifications of the target product.
Instead of buying a standard one, this buying guide presents the best long-range electric skateboards. They are heavy-duty, certified, and safe to ride without risks of exploding batteries.
Our Picks for Best Long Range Electric Longboards:
1. LumBuy Maxfind FF-Street Automatic Long-range Skateboard – Best Overall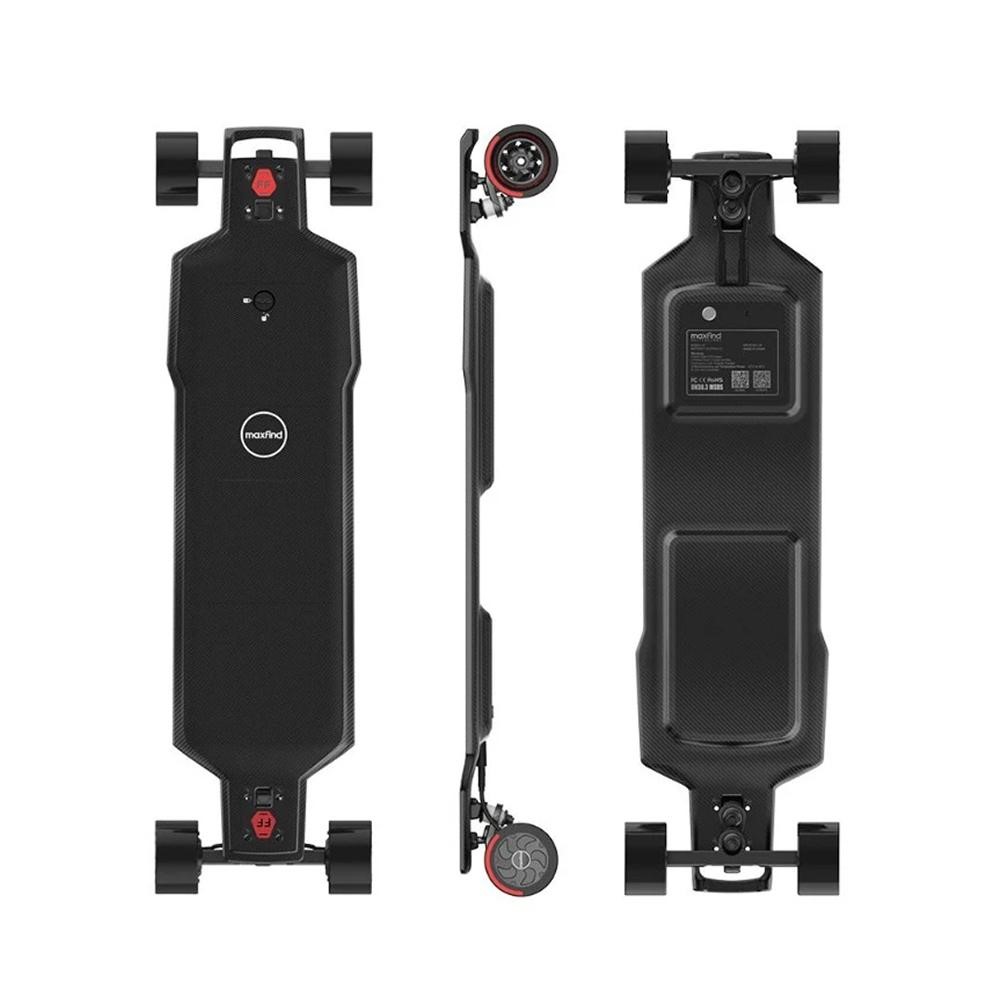 Motor: 750W×2
Range: 51 Miles
Weight: 20lbs
Payload: 220lbs
Waterproof: IP65
Rating: 4.3
When you find commuting with an e-skateboard fun, the ultimate step is to buy one. Maxfind FF-street electric skateboard from LumBuydelivers the expected performance.
One of the leading and notable features that make the skateboard unique is its powerful wheel motors. The dual hub motors each have 750W, hence giving the board thrilling torque.
Besides the powerful motors, the battery is also remarkable. Equipped with a Samsung 30Q Li-ion battery, it stored enough power to propel the skateboard for 51 miles. This offers the ability to move longer on a single charge.
Unlike the unpowered skateboards, this offers easy operation through the 2.6GHz remote control. With four modes, LCD screen, it keeps controls at your fingertips.
A sturdy deck made from PPS and glass fibers enables carrying up to 220 pounds. Above all, a highly engineered motherboard allows for the best performance and control.
Pros
Lightweight and durable deck
Powerful and quick charging battery
Great for paved and off-road
Cons
No smartphone control app
2. LumBuy TeamGee H20 Urban Flatbed Electric Hoverboard – Best Priced
Motor: 600W×2
Range: 31 Miles
Weight: 21 lbs
Payload: 286 Ibs
Waterproof: IP54
Rating: 4.3
Do you aspire to get freedom when relaxing or going to work? Relax, LumBuy TeamGee H20 flatbed long-range hoverboard offers the best experience. Being among the best choices, you are expected to get an extra-long range per charge.
The powerful motors propel this hoverboard to a maximum speed of 31 miles per hour. Additionally, places with up to 30% slope are easy to maneuver without alighting.
Apart from the speed and power, the manufacturing of TeamGee H2O is superb. Boasting multiple layers of Canadian maple and fiberglass, they are reliable materials that support 250 pounds. Therefore, riding feels stable and no wobbling, which can compromise the rider's safety. Although wheels are extra durable, they are also replicable easily to ensure maximum grip always. Moreover, the 270Wh battery is safe, reliable, and takes 6 hours to charge fully.
Pros
Extra durable multilayer deck
Smart wireless control system
Easy to replace wheels
An efficient electronic braking mechanism
Cons
3. LumBuy Maxfind FF Plus All-Terrain Longboard Skateboard – Best Off-Road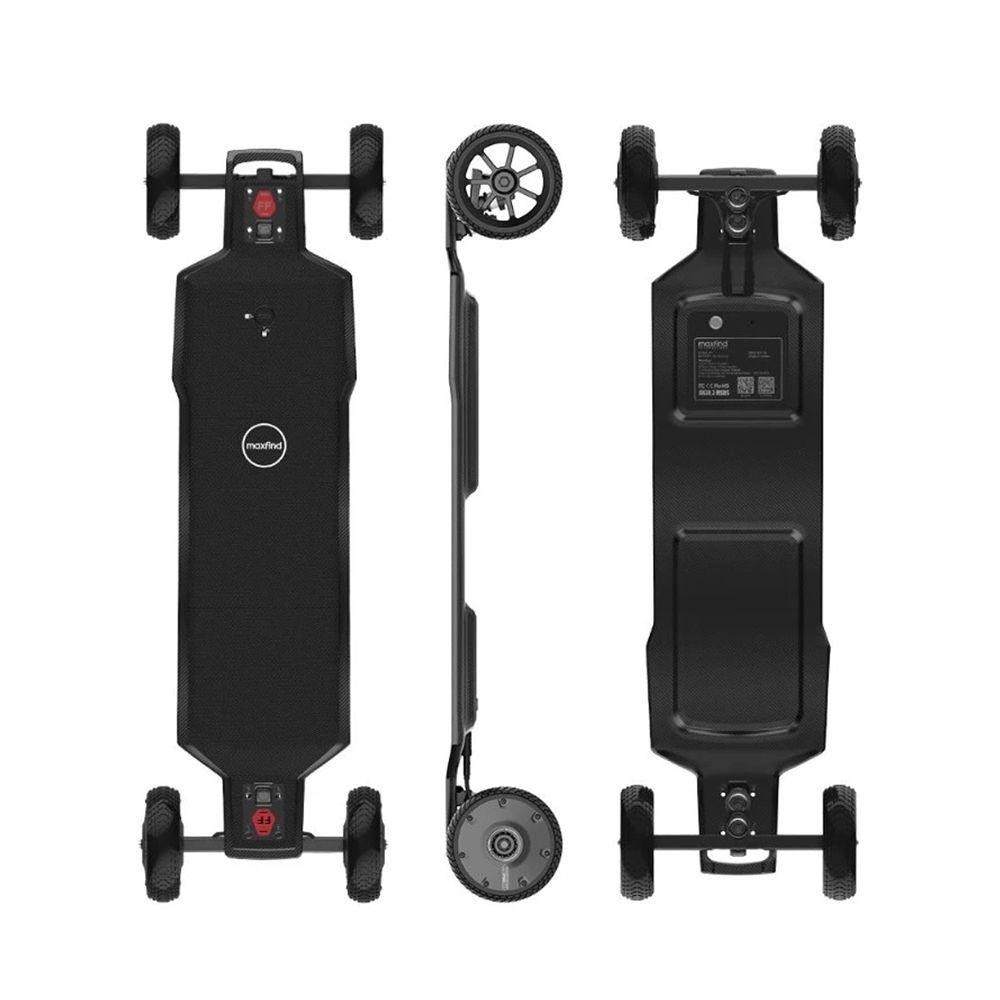 Motor: 1200W×2
Top speed: 24mph
Range: 30 Miles
Weight: 24 lbs
Waterproof: IP65
Rating: 4.4
Do you need a long-range electric skateboard that mixes performance, sleekness, and reliability? Maxfind FF Plus All-Terrain Skateboard from LumBuy provides all the qualities every rider is looking for. Regarding its speed, it delivers 24mph, which is super for commuting and performing tricks.
Not only do you enjoy speed, but the skateboard boasts heavy-duty construction. With super flex PPS and glass fiber, durability is a guarantee. Moreover, the surface has a silicone coat for an extra-strong grip.
Riding isn't only restricted to paved surfaces; the large wheels measuring 6.5 inches allow for off-road rides. In addition to wheels, high-power 1200W dual motors are super strong. In that, as you enjoy more speed, it's also to cruise slopes up to 35%.
An intuitive control system is fun to work with since all functions are finger-controlled. Whether speed brakes, accelerations, they are easy with high definition LCD remote control.
Pros
High definition display remote control
Powerful motors than rivals
Perfect for beginners and experts skaters
Ideal for off-road conditions
Cons
4. Maxfind MAX2 PRO Small Fish Plate Longboard – Best Styled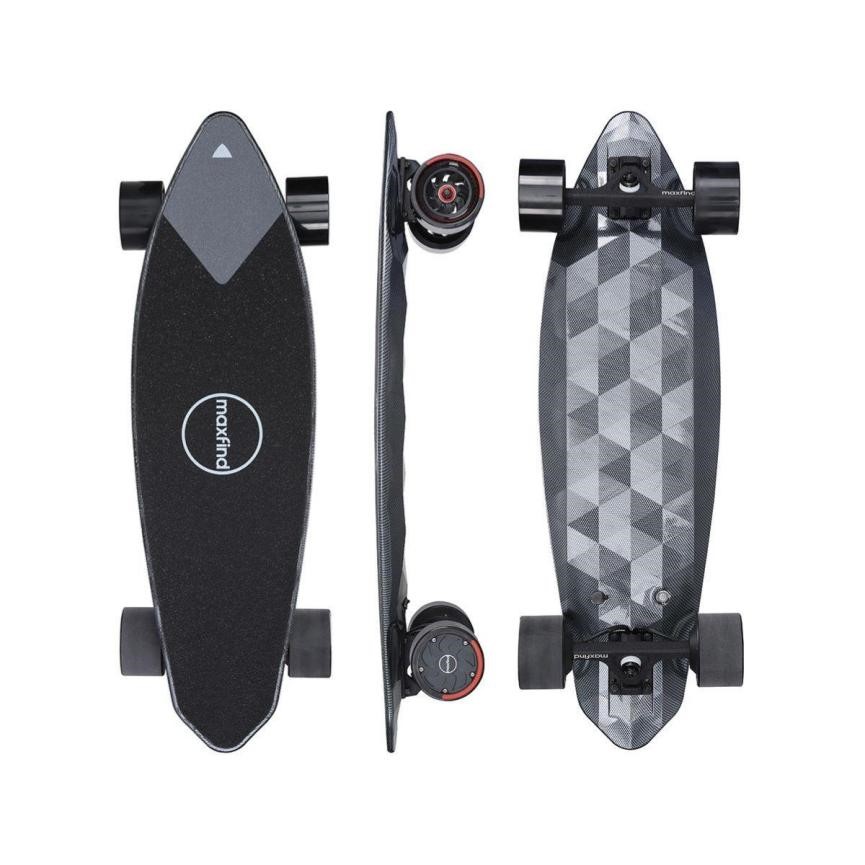 Motor: 1200W×2
Top speed: 24mph
Range: 24 Miles
Weight: 15 lbs
Waterproof: IP65
Rating: 4.3
Tired of charging your current long-range e-skateboard after 5 miles? It's time for a change to acquire a more reliable one. The right target is the Maxfind MAX2 PRO longboard with an extra-long range.
Compared to other long-range electric skateboards, this has extra powerful dual motors with each rated 1200W. Unlike the belt drives, these are hub motors, thereby increasing the efficiency.
Maneuvering through tight streets is easy as the truck has 45 degrees slope. Not only does the hoverboard have excellent maneuverability, but control is also convenient through intelligent remote control. Amazingly, the dual FM band provides seamless connectivity.
Boasting the new Hobbywing ESC, Maxifind MAX2 PRO offers intuitive operation. As a result, acceleration, braking, and other functions have high precision control. To give the longboard extra range, it has a 158.4Wh Samsung high-density Li-Ion battery.
Pros
Fast charging battery
Latest operating system
High maneuverability
Cons
Weaker battery than rivals
5. LumBuy Wowgo AT2 4 Wheel Dual Drive Longboard – Best Performance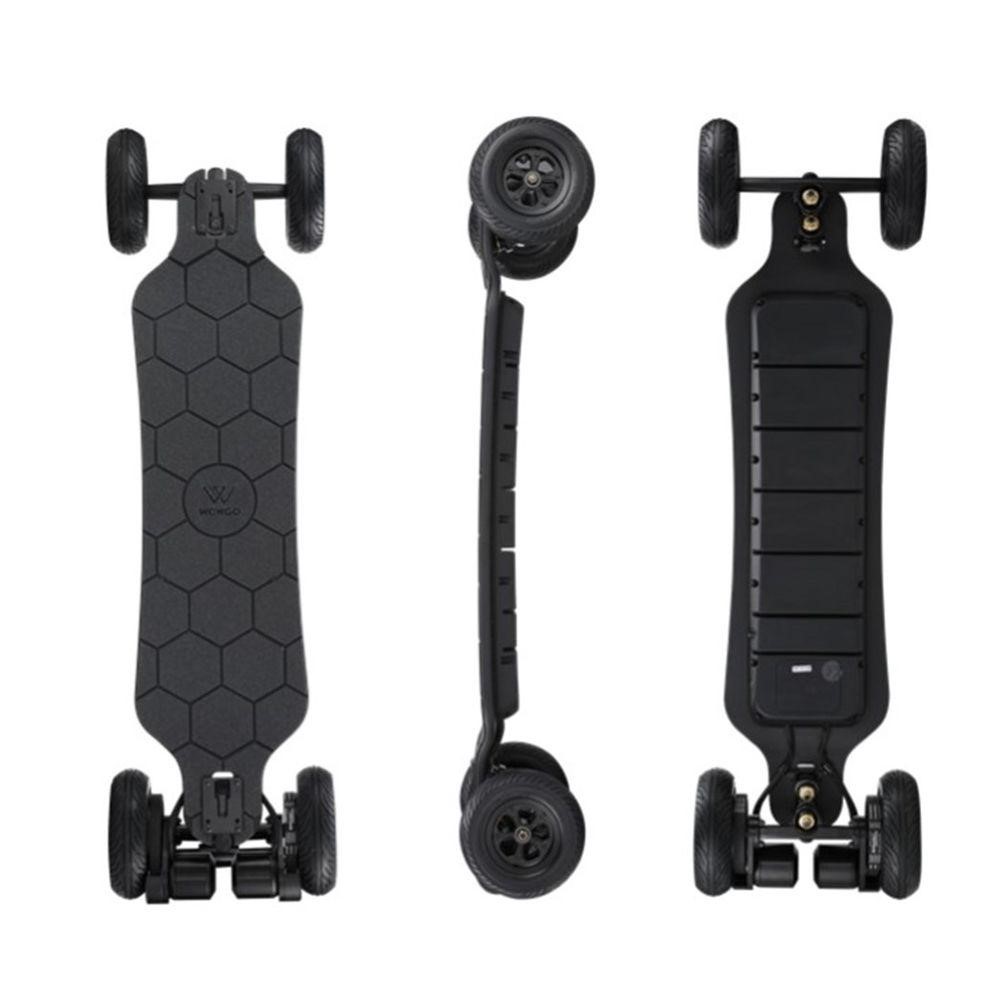 Motor: 1500W×2
Top speed: 24mph
Range: 24 Miles
Weight: 27.9 lbs
Waterproof: IP65
Rating: 4.2
When you don't have enough skateboarding, a good skateboard is a perfect choice. However, no long-range e-skateboards can best WowGo AT2 dual-drive skateboard with dual 1500W hub motors from LumBuy. The electric motors deliver great power that helps to achieve 25mph.
As the race intensifies to look for the latest updated skateboards, WowGo AT2 brings outstanding technology. With upgraded ESC, there is more power, acceleration, and braking.
Apart from enjoying more power, durability is also remarkable. Manufacturing boasts fiberglass, bamboo, and Canadian maple with the latest fusing technology. Consequently, the deck is sturdy to carry 220 pounds. Not only is the deck sturdy, but pneumatic all-terrain wheels are also great for rugged surfaces and absorbing impact. For extra-long skating, 14Wh Sanyo battery provides enough juice to cover 24 miles on a single charge.
Pros
Shock absorbing pneumatic tires
Multiple layer materials deck
HD OLED remote control
Latest upgraded Hobbywing ESC
Cons
No silicone layer on the deck
6. LumBuy Wowgo 3X Electric Longboard – Best for Beginner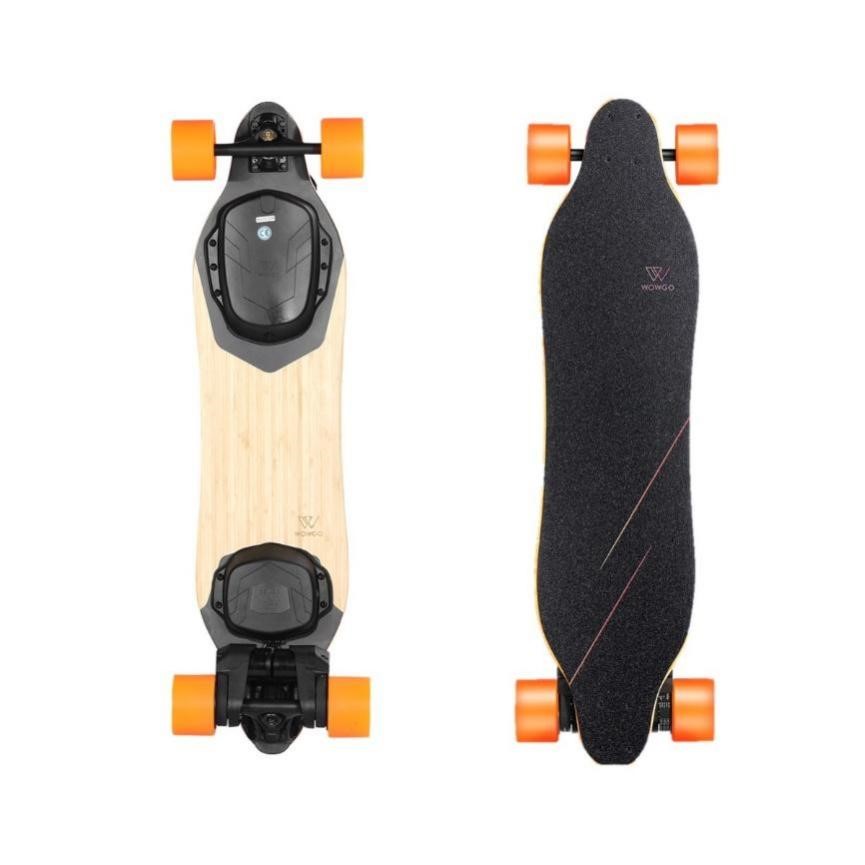 Motor: 600W×2
Top speed: 24mph
Range: 24 Miles
Payload: 330 Ibs
Waterproof: IP65
Rating: 4.2
Another long-range electric longboard featured here is WowGo 3X from LumBuy that has amazing range and power. The skateboard is worth the investment since the dual 600W hubs mean less maintenance and high efficiency.
Besides the powerful motors, the processor and running programs ensure perfect balancing. Therefore, it's easy to enjoy smooth acceleration, speed, and braking.
We can't talk about WowGo 3X without mentioning the new Samsung 30Q battery. Not only does it offer 24 miles range, but charging is also fast. There is no more waiting for a whole day for the skateboard to charge.
With a balanced V2 front truck, skateboarding is now super enjoyable. The nonslip deck also is amazing since no slipping even when performing extreme tricks. Utilizing 5M belts, Curvilinear shear-resistant teeth ensure there is durability and unmatched performance.
Pros
Extra durable drive belt
Highly affordable
Rot-resistant bamboo surface
Cons
No Bluetooth connectivity
7. LumBuy Teamgee H20T Electric Skateboard – Best Eco-Friendly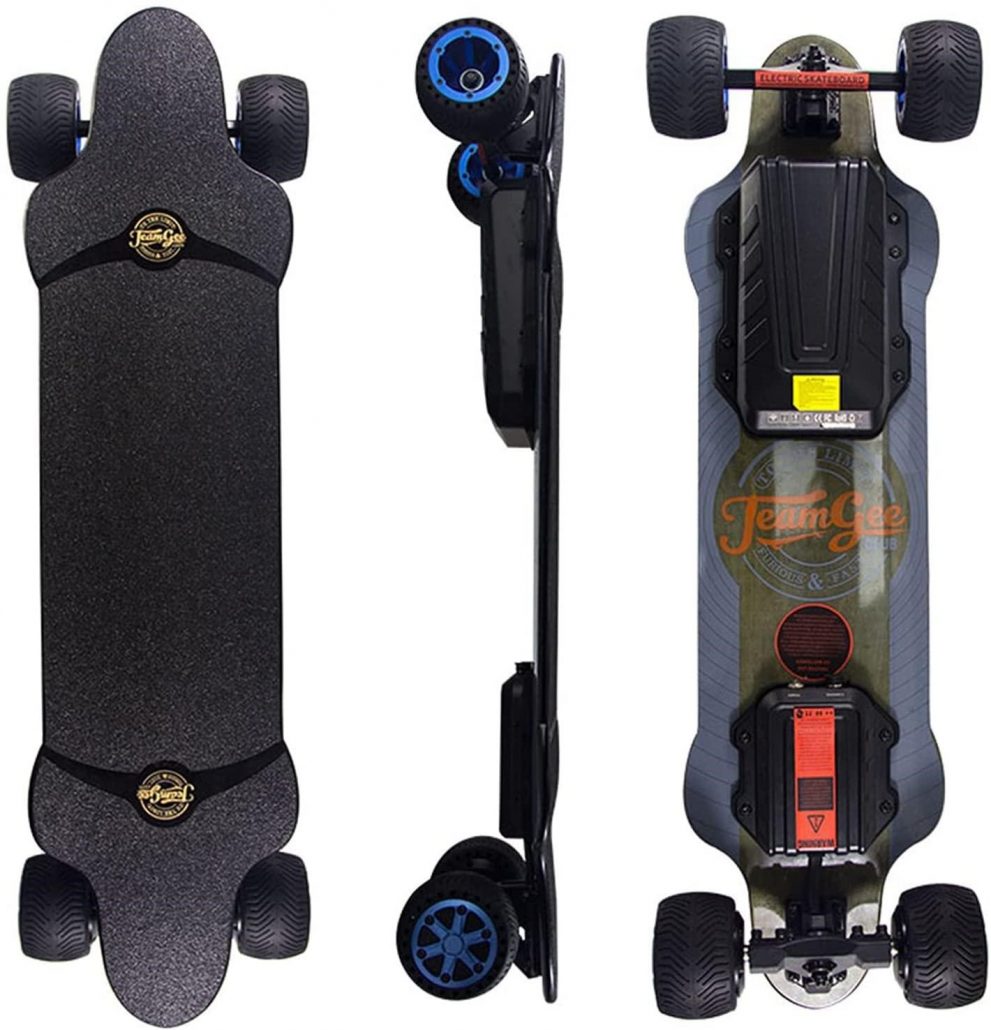 Motor: 600W×2
Top speed: 26mph
Range: 22 Miles
Weight: 20.9lbs
Waterproof: IP65
Rating: 4.3
Are you a skateboarding enthusiast? We have this Teamgee H20T long-range electric skateboard that offers seamless performance. Weighing 20.9 pounds, it's highly portable it's without bulkiness. Additionally, the seahorse remote control with LCD allows for efficient operation.
The selection of premium fiberglass and Canadian maple for the deck construction make it reliable. Moreover, the high torque motors with low current requirements offer excellent propulsion.
Enjoying skateboarding is now on another level since there are high traction tires. Actually, the rubber wheels have special V-shaped trends, and efficient shock absorption ensures smooth rides.
Cruising at a maximum speed of 26mph, Teamgee H20T also has a range of 22 miles. Furthermore, the equipped battery has enough power to enjoy more uptime before recharging.
Pros
Eco-friendly materials
Large LCD screen
High traction rubber tires
Slip-resistant deck
Cons
How to Choose the Best Long Range Electric Longboard
Choosing the best long-range electric longboard is a dream for everyone. But, what do you need to check? Here are some of the top considerations.
Range
One of the top considerations when choosing a long-range hoverboard is the range. Unlike standard skateboards, the long-range ones provide extra cruising ability. The range is always dependent on the battery, carrying weight, and motor power.
Battery
The other thing that will influence the range of an electric skateboard is the battery. There are different batteries available on the market. However, the higher watts per hour a battery is, the more powerful it is.
You don't have to be a geek to buy a skateboard with a powerful battery. For extra-long range, choose a skateboard with at least 350Wh.
Deck construction
Although most people will concentrate on motors and brakes, deck quality is also essential. A sturdy deck is important to accept heavier people without breaking. Most materials you are likely to find are aluminum, fiberglass, reinforced wood, and others.
With different materials, always ensure you have the best, which enables more support and extended durability.
Motor
Electric skateboards utilize motors for propulsion. Therefore, the quality and power of motors are essential for overall performance. With power rated in watts, higher wattage translates to more power.
Basic long-range skateboards have 1200W motors, but premium ones can have 1500W motors. Although higher wattage longboards are a bit costly, they are worth the investment.
Long-Range Electric Skateboard FAQ
Is it possible to increase the electric skateboard range?
Yes, you can add a more powerful battery, avoid overloading and riding on flat surfaces.
Are electric longboards heavy?
Most of the long-range electric longboards aren't bulky; you can easily carry them when the battery dies.
Are electric skateboards road legal?
Although they are excellent commuting equipment, electric skateboards are not road legal in most countries.
Related: Laws about e-skating in different countries
Do long-range electric longboards have a suspension system?
Most of the available brands don't have suspension systems; however, a few models have.
Summary
Comparing long-range electric skateboards with standard ones, they are remarkable. With more travel range, it's possible to enjoy an excellent experience.
Like LumBuy Maxfind FF-street Automatic Longboard Skateboard, it provides the best range among the featured products.
On the other hand, LumBuy TeamGee H20 Urban is the most affordable among the products.