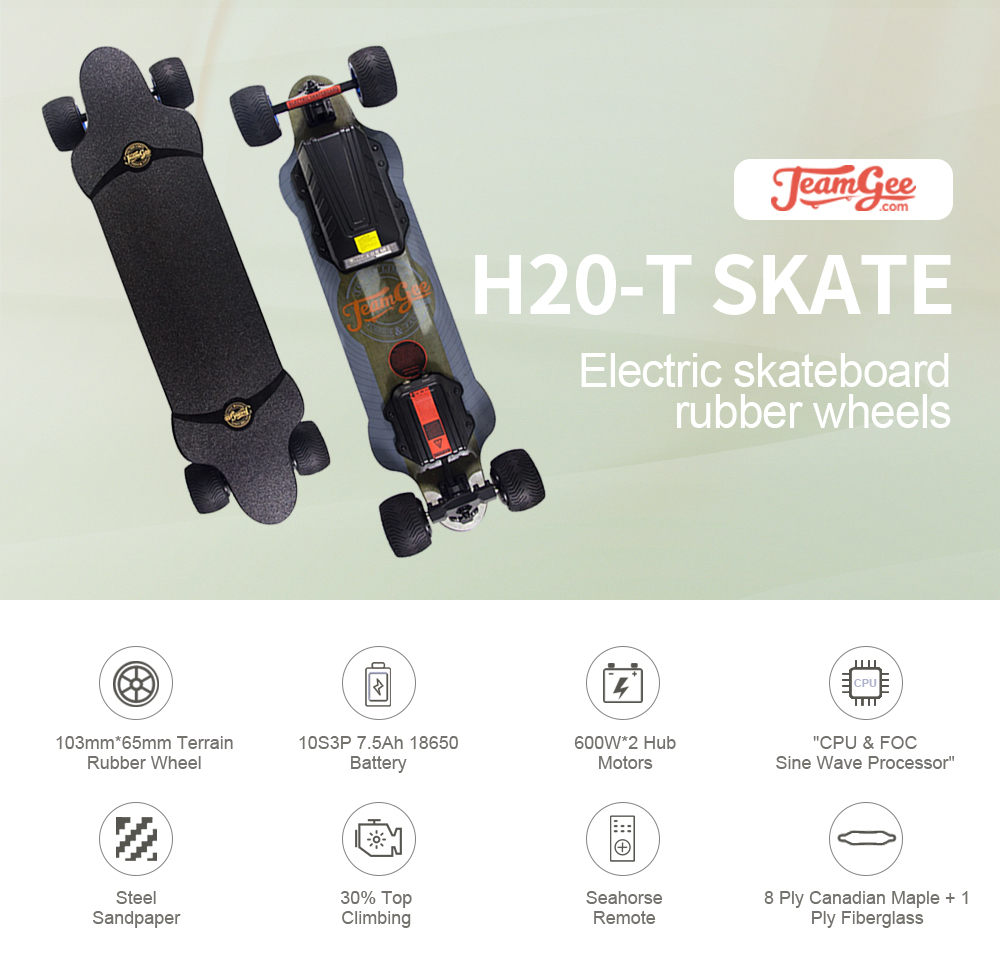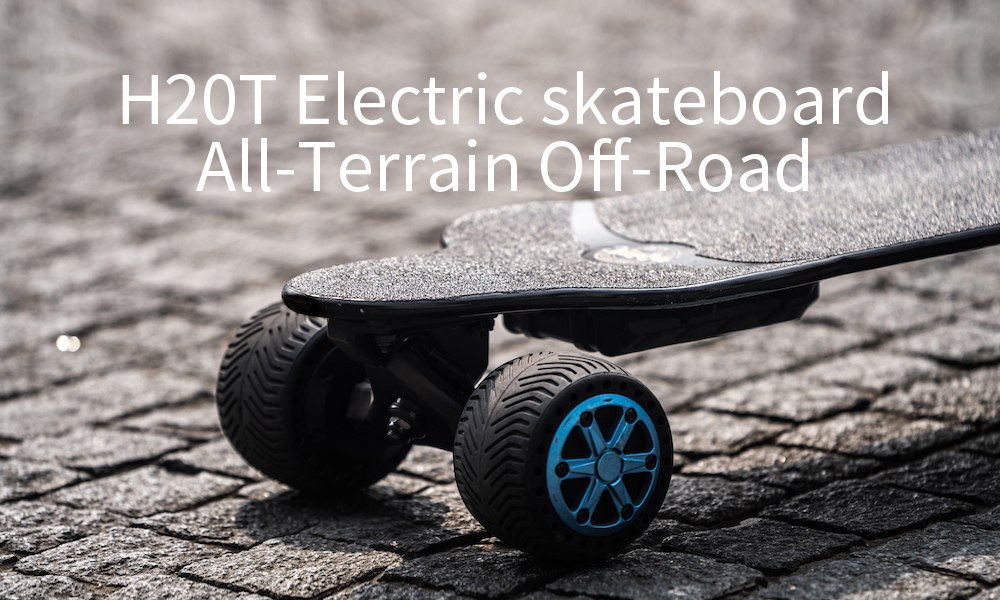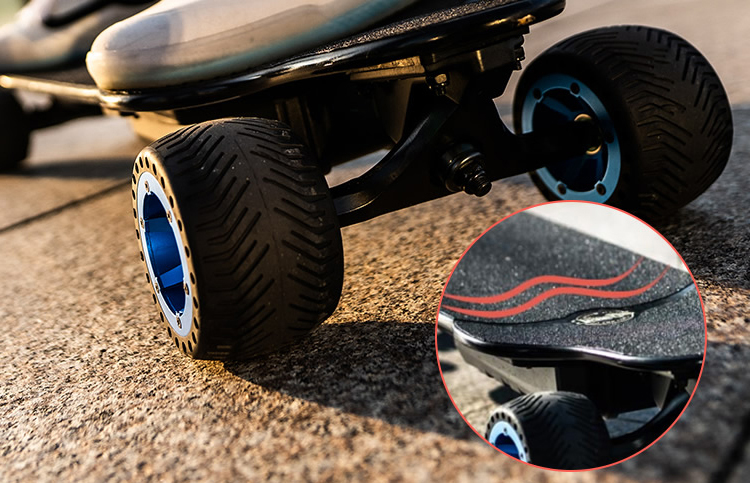 2 x 600w Hub Motors
Teamgee H20T comes with 2x600w motors that have more torque with a smaller input current. The internal structure of the motor is optimized, which means that the PU sleeve is easier to replace, effectively reducing noise.
Reducing Noise
2x600w Motors
Smaller Input Current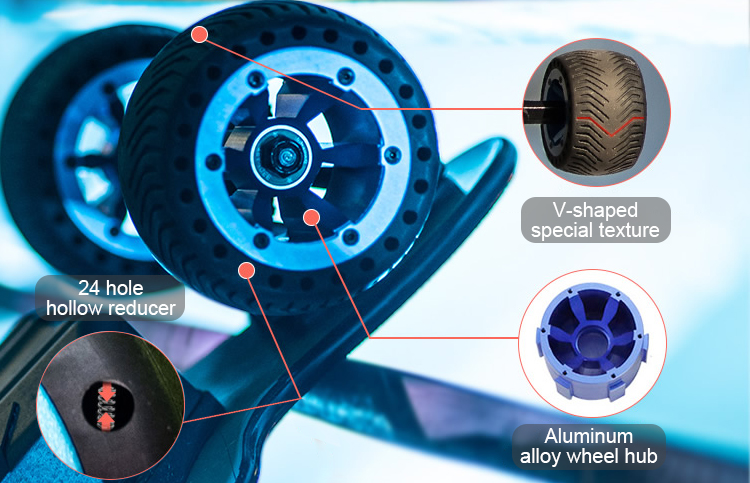 Shock-absorbing 103 x 65mm Rubber Wheel
Non-slip and wear-resistant rubber wheels provide you with an excellently smooth riding experience. Make sure you can ride and brake safely. You can use both rubber wheels and PU wheels, matching your board to the terrain.
Non-slip
wear-resistant
ride and brake safely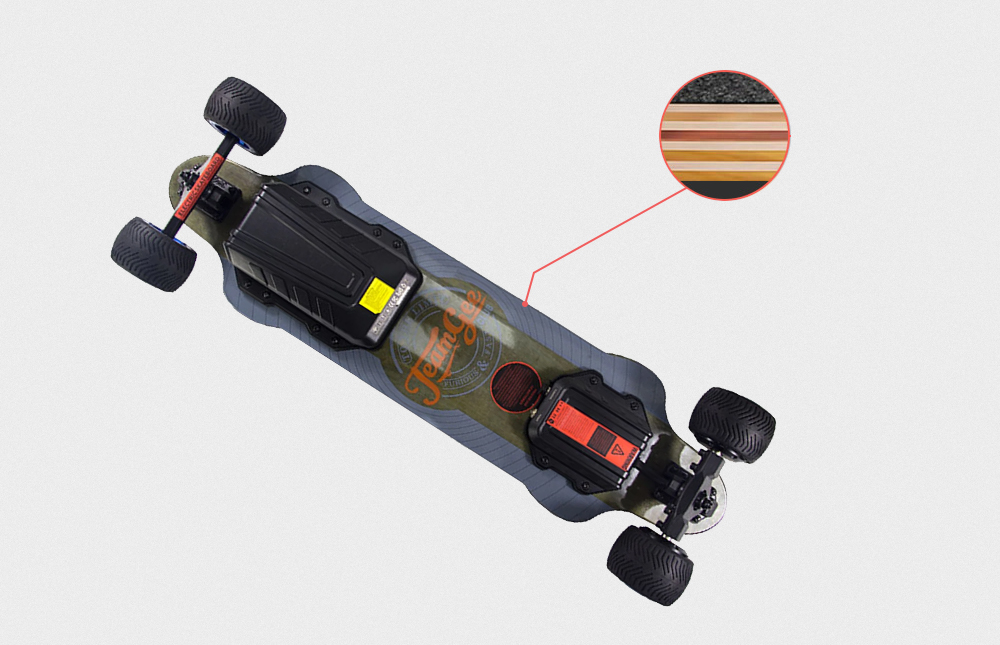 Designed Unique Deck
Teamgee H20T uses the eco-friendly composite material, which is 8 ply Canadian maple + 1 ply fiberglass, offering riders a super stable platform at higher speeds. You will enjoy the high performance and comfortable riding experience.
eco-friendly
super stable
high performance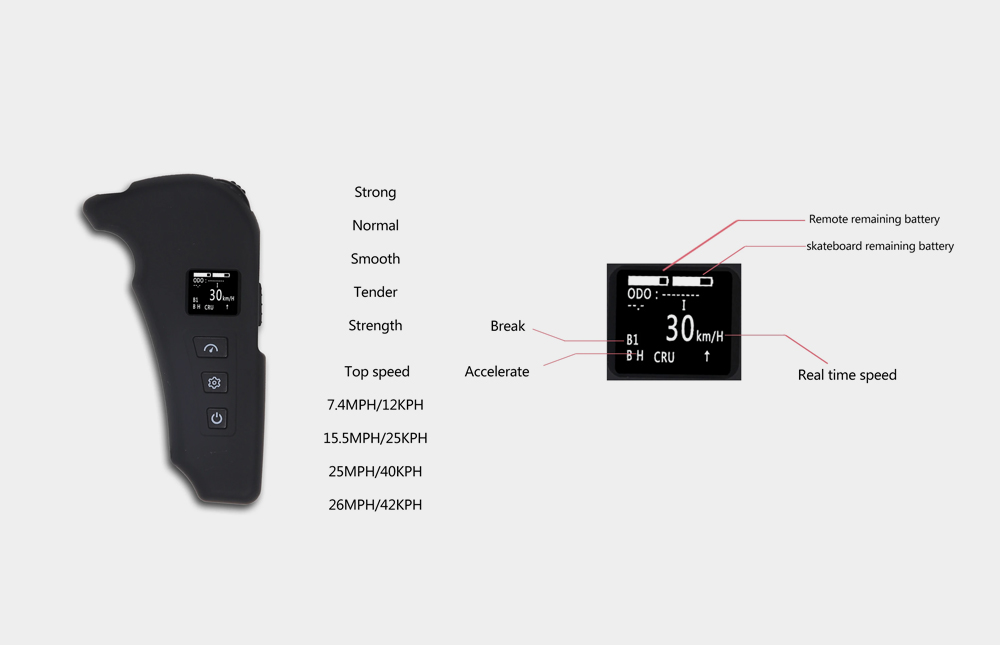 Seahorse Remote
The Teamgee H20 supports powerful acceleration. It's lightweight and also comfortable. It also has four-speed modes. The new LCD screen on the remote control allows viewing the driving speed, speed mode, making it more uncomplicated and fun.
four-speed modes
lightweight
comfortable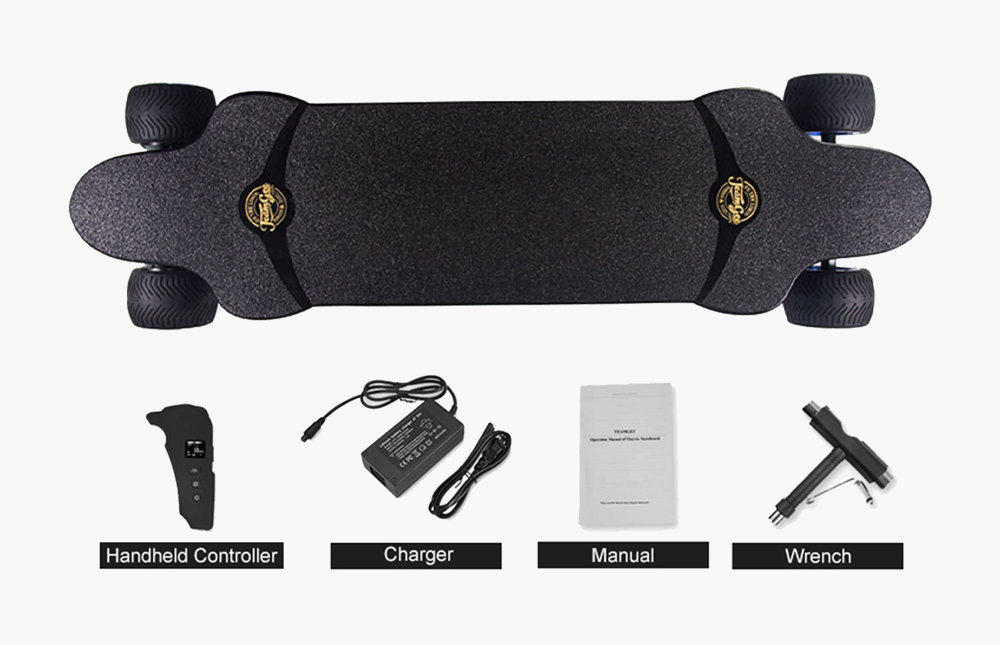 Ultra-Long Life Battery
The Teamgee H20 comes with a high-quality battery. It can make you driving smoothly on the road—no fear of outdoor long-distance riding.
25 kilometers battery range
35 kilometers battery
Long-Distance Riding
SHIPPING & FAQ
Standard Shipping:
Order now, then we will ship your skateboard by sea / by train
Arrives at US / Canada about 35-50 Working Days(After shipment)
Arrives at UK about 40-55 Working Days (After shipment)
Arrives in Europe about 60-70 Working Days (After shipment)
Air Shipping:
Order now, then we will ship your skateboard by air
Arrives at US about 7-15 Working Days (After shipment)
Arrives in Europe, Canada about 15-20 Working Days (After shipment)
Arrives at Asian countries about 7-15 Working Days (After shipment)
* We will update the delivery time in real time according to the feedback of the logistics company.
Q:What is the shipping date?
The board will be shipped out within two working days. (The tracking number will be updated several days later.)
Q: May I modify my order after placing it?
Yep! Please contact us within 1 hours after purchase. However, we cannot assure you that will change the order successfully as it is difficult to modify the order once sent to the factory.
Q: Can I modify my address after the order has been shipped?
Please contact us at SERVICE@LUMBUY.COM, then we will always do our best to assist, but do not make any guarantees. Sometimes it is too late, and the courier no longer allows the change. If there is an additional charge for changing the address, we will notify the customer before deciding to change if they want to proceed. The customer will be responsible for any additional fee incurred.
Q: Will you send me a tracking number?
Yep! You will receive an email with a tracking number after shipment.
Q: How about water-resistant for this board?
It is not waterproof. After using the circuit board for a long time, it may be reduced the water resistance. Water may injury the board, so we suggest that you could not ride around water and far away from icy or wet surfaces. It is very dangerous to ride on wet or icy surfaces as it is easily out of control of the strong boards.
Q: Do the batteries need to recharge after I received the board?
Yes, you could do that. Because we will not fully charge the battery before shipment (for protecting the battery for long-distance shipping) and it may be low upon arrival.
Q: What is the maximum weight that the board can carry?
The max loading of the board is 130kg. If it exceeds this weight, it may affect the speed and performance of the board.
Q: How to regulate steering sensitivity?
You can use a T-wrench to regulate the tightness of the nut on the front of the truck. Then loosen the nut to achieve flexible steering. Tightening the nuts will harden the steering.
Q: How fast can I get on the board?
Q: How can I match the remote with the board?
It's simply! 1: Please turn off the remote and board. 2: Meanwhile, long-press the power button on the board and the remote over 5 seconds. 3: When the remote shocks, it means the pairing is successful.
Q: How can I get support when the board has problem?
Please contact us by email: SERVICE@LUMBUY.COM. And attach pictures or videos of product problems in the email. We will reply as soon as possible.
Q: How to maintain and clean your Wowgo electric skateboard?
Keep your board away from water. Especially keep the power button and charging port away from water.
Charge the battery when the battery is about 20%-50%. Don't wait until the battery is completely exhausted and then charge it.
Avoid using T-mode (Turbo Mode) for long climbs as much as possible, which will increase battery loss and ultimately may affect battery life. The best way is to use the mode 3 (Fast Speed Mode) to climb the hill. But if riding on the flat ground. Using T-mode won't be any problem.
Avoid driving on bad roads, because sharp stones or sharp objects may cut the PU attached to the wheels.
If you won't use the board for a long time, please charge the battery to 60%and charge it once per month.
Avoid huge impacts and barriers on the road.
Do not disassemble your board unless instructed by a professional.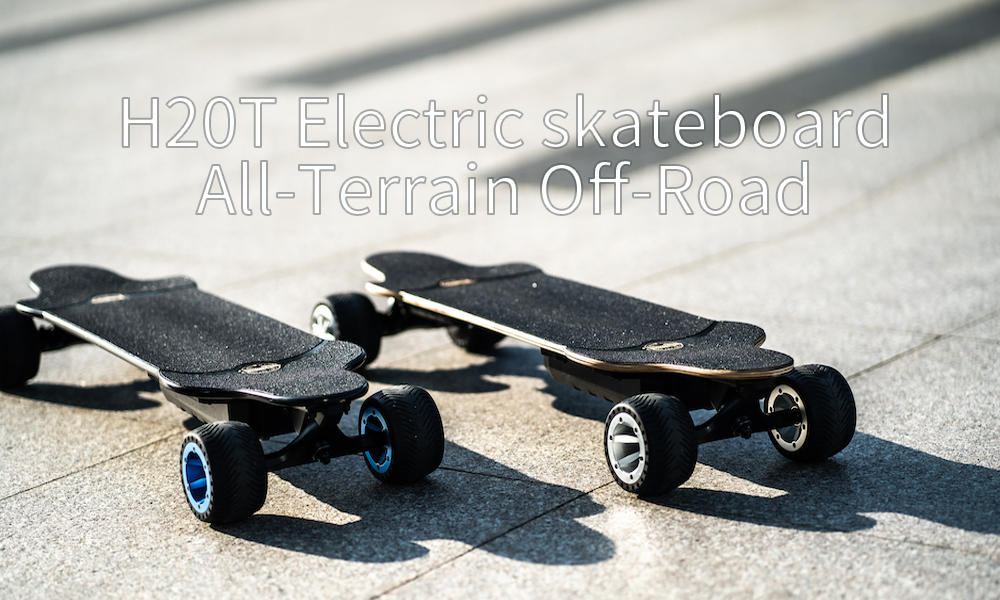 LumBuy electric skateboard focuses on quality, timeliness, and price. Professional pre-sale and after-sales service are never out of reach. Whether you are a green hand or an experienced rider, you can choose an electric board that suits you. LumBuy has become partners with multiple brands at the same time so that you can buy with confidence. All LumBuy electric skateboards are perfect if you are commuting public transportation as it is excellent to accompany and easy to carry on and off buses.
Shipping Fast

: The best options for you – Standard Shipping or Air Shipping

Excellent After-Service

: To contact our customer service department anytime

Variety of Brands

: WowGo,TeamGee,Maxfind