Electric unicycles are some of the best inventions in personal transportation. They are convenient, eco-friendly, and a blast to ride. They can cruise at incredible speeds and travel far distances, making them a great option for thrill-seekers and commuters.
With various models on the market, all featuring different specifications, determining which EUC is the best for you can prove a daunting task. This is where this e-unicycle buying guide comes into place.
Not only have we reviewed the best electric unicycles, but we've also outlined the features and specifications to consider when buying one and answered the frequently asked questions about EUCs. By the end of this article, you'll be able to select the right motorized unicycle for your needs.
In this article,
Our Picks for the Best Electric Unicycles
What is an Electric Unicycle / Motorized Unicycle?
An electric unicycle is a one wheel transportation device powered by a rechargeable battery. It's also referred to as a motorized unicycle, an e-unicycle or a EUC. It works on the principle of self-balancing and makes use of gyroscopes.
There's a pedal on each side of the wheel where you rest each foot. Subtle changes to your body position dictate where the unicycle goes and at what speed. When you lean forward, the device accelerates. When you lean backwards, the wheel slows down so you can come to a stop.
10 Best Electric Unicycles Reviewed
1. Kingsong KS-16S Electric Unicycle-Best Overall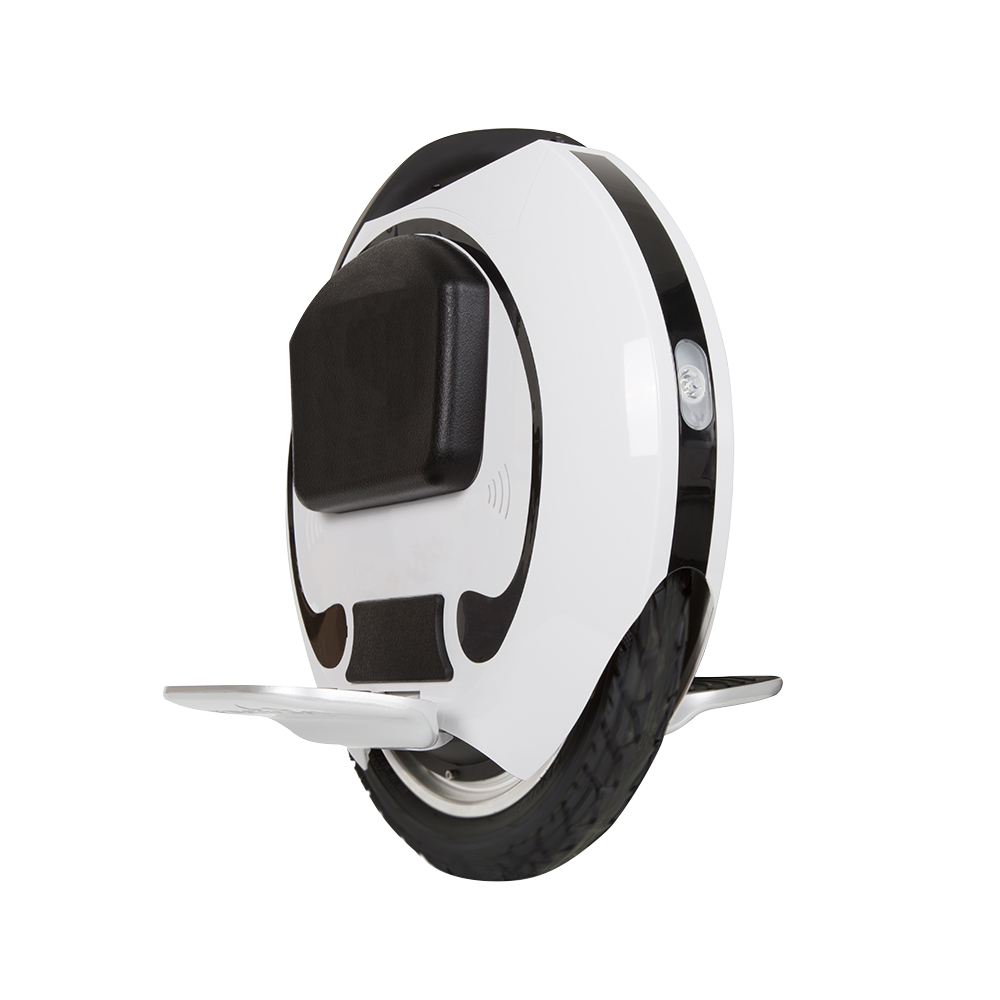 Max Speed: 35km/h
Weight: 17.4kg
Wheel Size: 16 Inch
Range: 70 to 80 km
Motor: 1200W
Battery: 840Wh
A self-balancing unicycle equipped with a powerful motor, the Kingsong KS-16S is the best motorized unicycle for all skill levels. The self-balancing mechanism has a built-in sensor that monitors the status of the unicycle and helps maintain balance and stability, making it easier for beginners to ride.
On the other end of the spectrum, the powerful motor and 35km/h top speed cater to experienced riders seeking a powerful motorized unicycle. The 16-inch tire with good traction delivers smooth and stable rides on various surfaces.
Durability and style are top notches too. The shell is constructed with a water-resistant and durable polymer material. And there are a variety of attractive finishes to choose from.
Last but not least, you won't struggle to figure out the status of your EUC. This Kingsong KS-16S comes with a Bluetooth app providing real-time riding statistics. You'll appreciate its ergonomic design with a suitcase handlebar whenever you need to carry the unicycle.
Pros
Suits all skill levels
150kg maximum load limit
Rolls well on smooth and rough surfaces
Attractive and long-lasting construction
Easy to carry with a suitcase handlebar
Cons
The battery takes 7 hours to recharge
2. INMOTION V8F Electric Unicycle – Best Versatile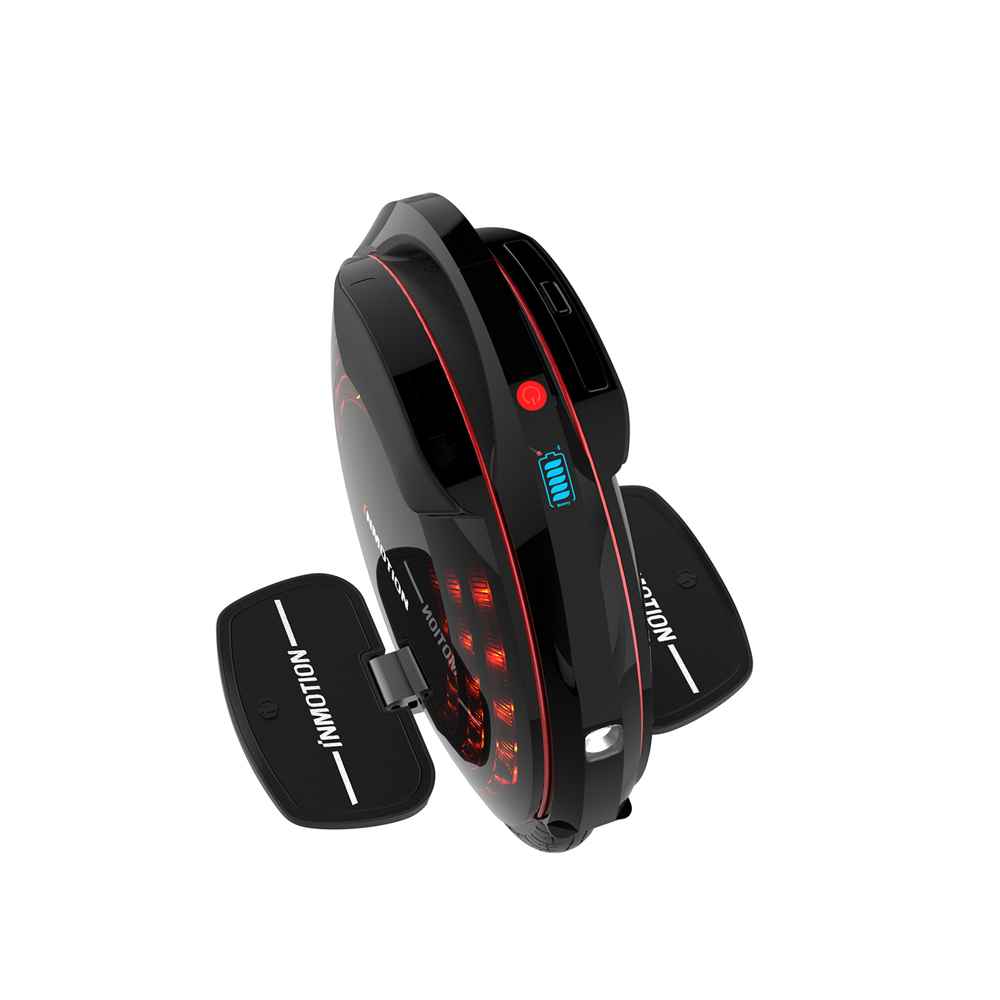 Max Speed: 22 mph/35km/h
Weight: 32lbs
Wheel Size: 16 Inch
Range: 34.0-37.5 Miles
Motor: 1000W
Battery: 518Wh
The INMOTION V8F is a versatile electric unicycle that can do it all. It is a fantastic option for riding on urban streets and paths. With a motor torque force of up to 80 nanometers, it can also handle light off-road use.
Once fully charged, the battery powers the motorized unicycle for a range of 34.0-37.5 miles. The battery recharges in 4.5 hours, making this EUC an excellent option for commuting. You can always tell the battery status at a glance on the high-definition display.
If you plan to use your electric unicycle for commuting, you will also appreciate the ergonomic design and suitcase handlebar of the INMOTION V8F. It's easy to handle and carry when you need to.
Safety features include front and rear braking lights and leg pads that prevent bruising on the legs. Overall, the INMOTION V8F electric unicycle may not boast the most robust motor or battery, but it delivers incredible value for money.
Pros
Rides well on a range of surfaces
Good value for the money
Legs pads help prevent bruising
Ergonomic design for ease of handling  
Easy to carry thanks to the retractable handle
Cons
Battery capacity and range are on the low end for the money
3. INMOTION V10/V10F Smart Electric Unicycle – Best with Music Speakers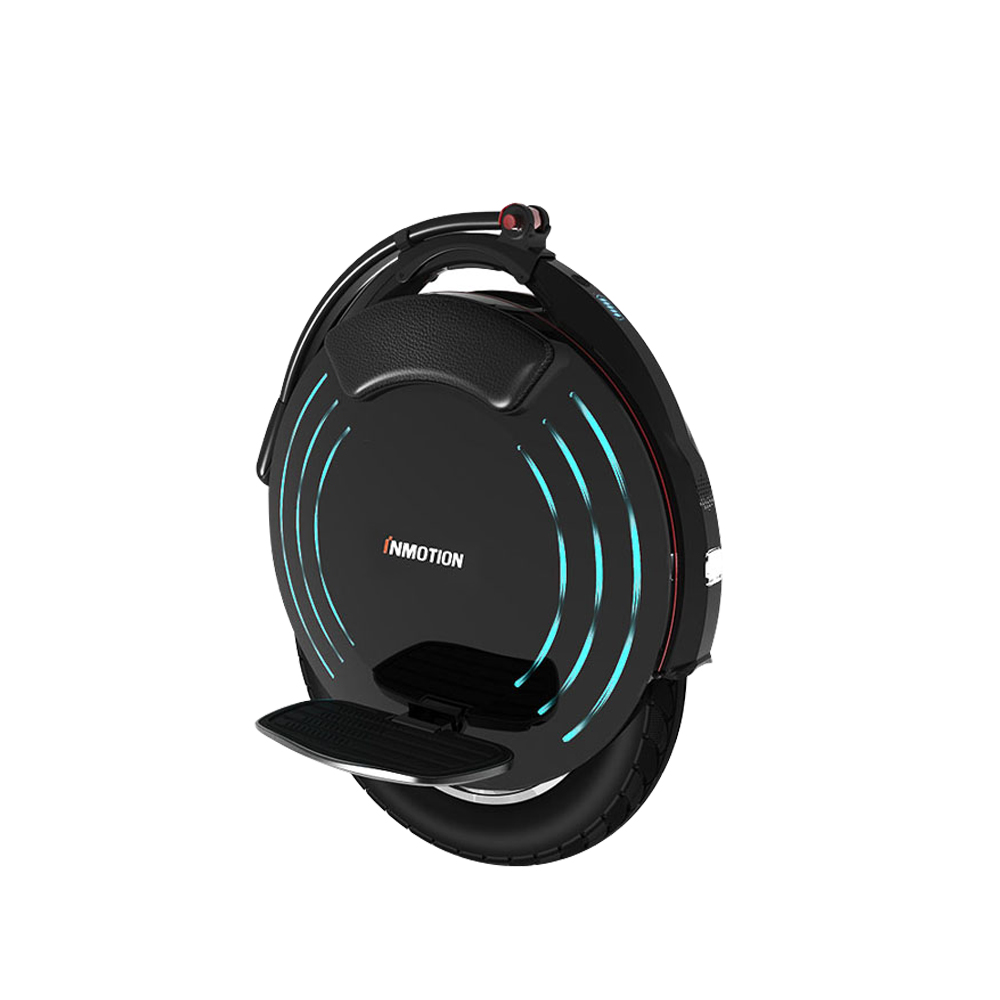 Max Speed: 40km/h
Weight: 20.5kg
Wheel Size: 16 Inch
Range: 55-62 miles
Motor: 2000W
Battery: 960WH
Would you like to listen to your favourite songs on your daily commute or during adventure riding expeditions? Consider the INMOTION V10/V10F e unicycle with music.
Powered by a high-torque motor and high capacity battery, the motorized unicycle packs enough torque to power all your high-speed rides. It can cruise at top speeds of 40km/h, and the large 16-inch tire can roll on any surface without hiccups.
You'll also enjoy what an easy ride the V10/V10F is. Thanks to a self-balancing mechanism, achieving balance isn't difficult on this e-unicycle. Additionally, it features spacious pedals with silicone cushions to provide superior riding control and comfort.
Glide as fast as you want without worrying about overheating. This EUC has a powerful cooling system that protects the sensitive internal components from damage due to heat buildup.
Smart app connectivity, Bluetooth music speakers, and an external handlebar deliver convenience and elevate your riding experience. Plus, its LED lights put out 200 lumens of light, keeping you visible in low light conditions.
Pros
Allows you to play your favourite music
Comfortable and grippy pedals
High intensity LED lights
Handlebar makes it easier to ride
Reliable cooling system
Cons
Average battery and speed, given the cost
4. Gotway Msuper X Electric Unicycle – Best Off-Road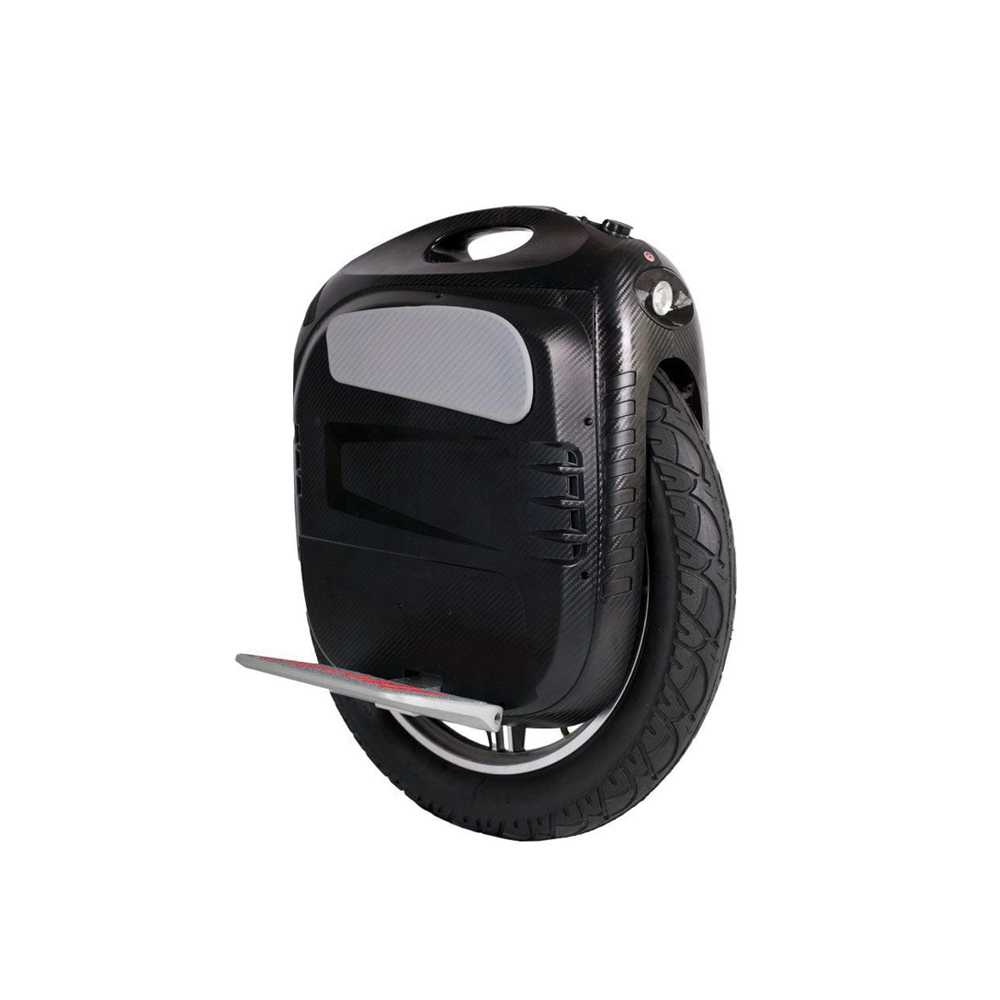 Max Speed: 50km/h
Weight: 23.5kg
Wheel Size: 19 inch
Range: 60km
Motor: 2500W
Battery: 1600WH
If you're searching for the best off-road motorized unicycle, search no further. The Gotway Msuper X was designed with off-road use in mind.
First off, it's equipped with a rugged 19-inch wheel that can roll on rough terrain without wearing out fast. The anti-slip and hard-wearing traction ensure safety when riding on slippery surfaces.
The 2500W C30 motor supplies enough torque to tackle rugged surfaces and can withstand the stress that off-road riders are bound to experience. And the long-lasting Sanyo battery supplies enough juice to cover a long distance before recharging it.
There's nothing to complain about when it comes to speed as the Gotway Msuper X can cover as much as 50km per hour. As for safety, the EUC features powerful automotive-grade brake lights and high-intensity headlights to ensure visibility.
Pros
Excellent for off-road use
Large tire for smooth rides
Powerful motor
High-intensity lighting
Slip-resistant tire traction
Hard-wearing construction
Cons
A high-end model with a premium price tag
5. Kingsong KS-14M Electric Unicycle – Best Budget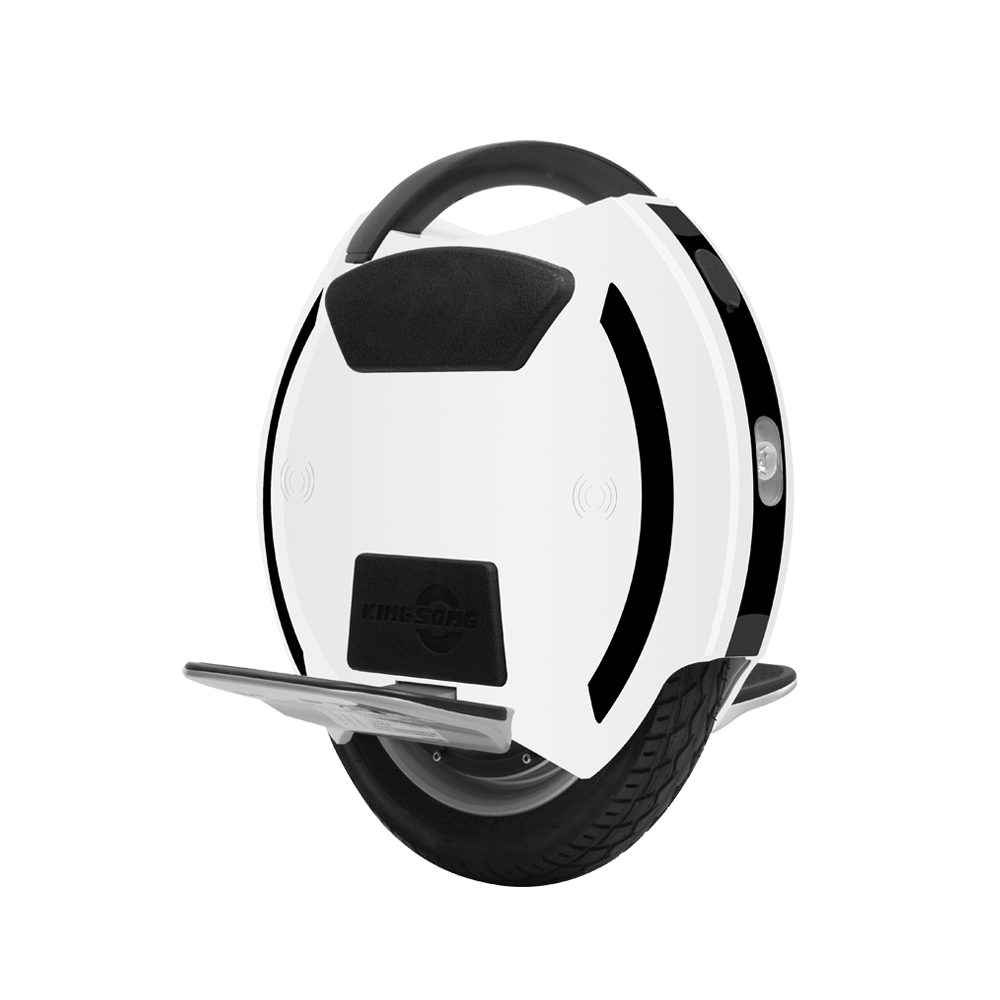 Max Speed: 20km/h
Weight: 13.2kg
Wheel Size: 14 Inch
Range: 18-20km
Motor: 800W
Battery: 210Wh
As the most affordable electric unicycle on this list, the Kingsong KS-14M is the best motorized unicycle for anyone on a tight budget. Its lightweight build also makes it an excellent commuting monowheel electric unicycle.
This one wheel electric unicycle delivers adequate performance for commuters. 800W is ample torque for commuting, and the unicycle can cruise at 20km/h. You can count on a speedy and enjoyable commuting experience.
The battery has a capacity of 210Wh and covers up to a 20km range, but the 2 hour charging time makes up for it. You can pair the EUC to your mobile phone via Bluetooth 4.0 technology.
Build quality is good too. The one wheel unicycle is made of strong ABS plastic and finished with piano baked polyurethane lacquer that lends it a non-fade gloss. It looks good and wears out well.
Pros
Cheapest motorized unicycle on this list
A great option for commuters
Lightweight and easy to carry
Attractive non-fade finish
Battery recharges in two hours
Cons
Low-end specs and performance
6. Kingsong KS-S22 Electric Unicycle with Seat – Best with Suspension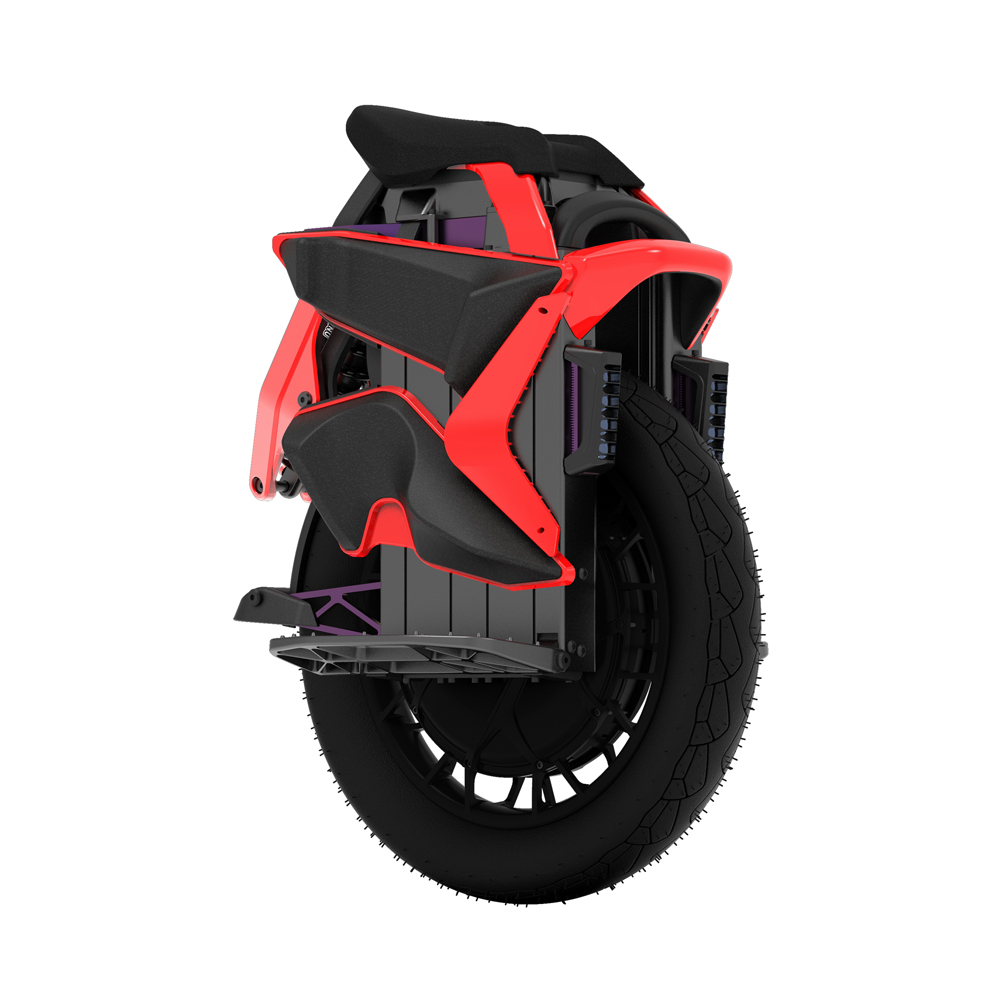 Max Speed: 70km/h
Weight: 35kg
Wheel Size: 20 Inch
Range: 200km
Motor: 3300W
Battery: 2220wh
The Kingsong KS-S22 offers everything the best motorized unicycle should offer, from impressive speed and range to a suspension system, seats, and handlebar.
For beginners, the self-balancing mechanism combined with the seat and handlebars make it a breeze to handle. The coil suspension system improves steering stability and dampens vibrations when riding on bumpy paths. The modular controller also adds to the ease of use.
For long-distance rides on off-road terrain, it doesn't get better than the KS-S22. It features a 3300W brushless motor that delivers top speeds of up to 70km/h. The 2220wh battery powers up to 200km on a single charge. Even more impressive, this massive battery recharges in 4-5 hours using the 10A charger included.
Visibility is stellar. The electric unicycle is equipped with large adjustable headlights on both sides, bright rear brake lights, and turn signals. As for cooling, this off-road mono-wheel scooter has 16 cooling columns for efficient heat dissipation.
Pros
Superior stability and comfort
Impressive top speed and range
Fast-charging battery with a large capacity
Large wheels for off-road rides
Efficient cooling system
Seat provides comfort during long rides
Handlebar offers ease of use
Cons
One of the most expensive EUCs
7. Kingsong KS-16X Electric Unicycle – Best for Performance and Features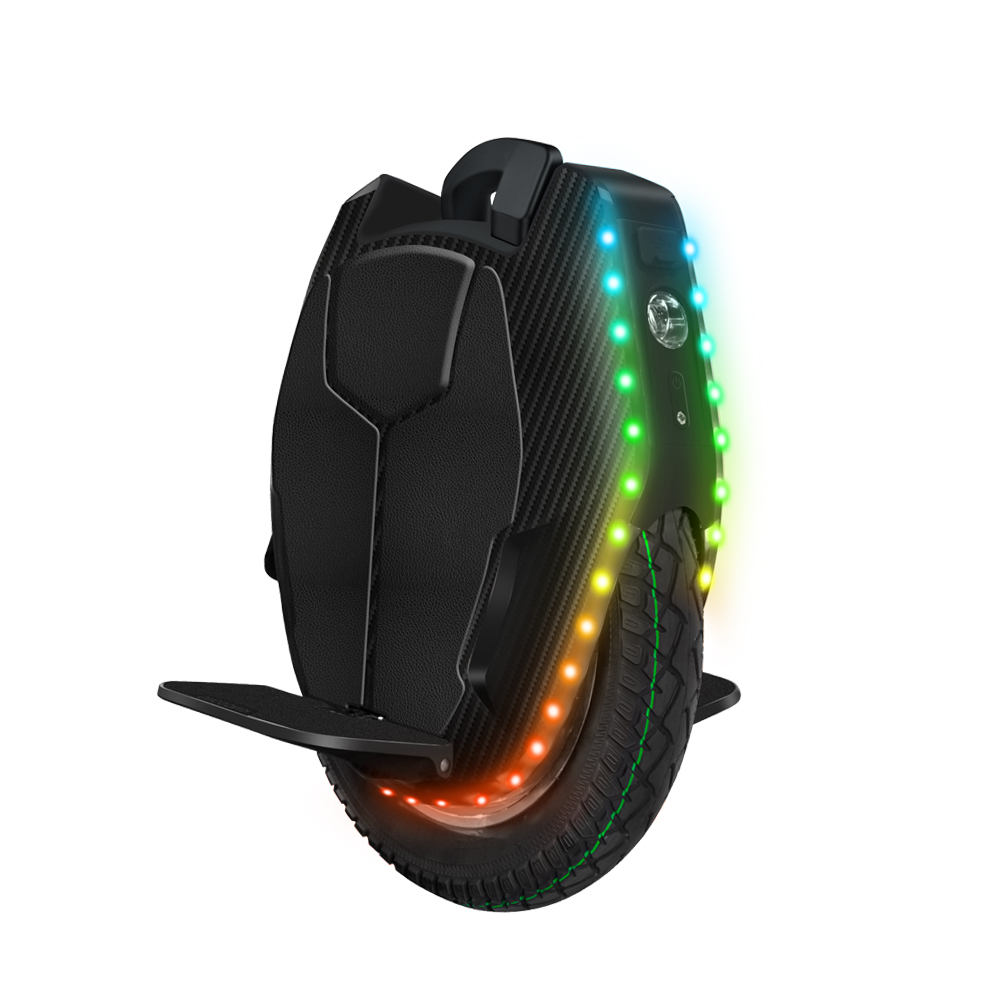 Max Speed: 50km/h
Weight: 24.4kg
Wheel Size: 16 Inch
Range: 150km
Motor: 2200W
Battery: 1554Wh
When it comes to the state of the art features, the Kingsong KS-16X outshines most of the EUCs you'll come across. The first feature to catch the eye is the multi-coloured RGB lighting. It lends this e unicycle a cool look and also ensures your safety when riding in poor visibility conditions.
The Kingsong KS-16X also features powerful turning and braking lights. High-quality speakers that emit high fidelity sound allow you to enjoy quality music as you ride. On top of this, a Bluetooth App offers a way to check the riding statistics, while a retractable trolley handle makes it easier to handle and move.
The performance is impressive as well. Powered by a 2200 watt motor, the electric unicycle accelerates quickly and achieves excellent top speed. It runs on a high-capacity battery, giving it one of the longest ranges for a unicycle. You can ride it for 150km before you've to look for an outlet to plug it in.
Pros
Cool unicycle with RGB lighting
High-quality music speakers
Cool motorized unicycle
Long-distance range and good speed
Retractable handle for ease of carrying
Cons
The large-capacity battery takes 8.4 hours to charge
8. Gotway Mcm5 Electric Unicycle – Best Value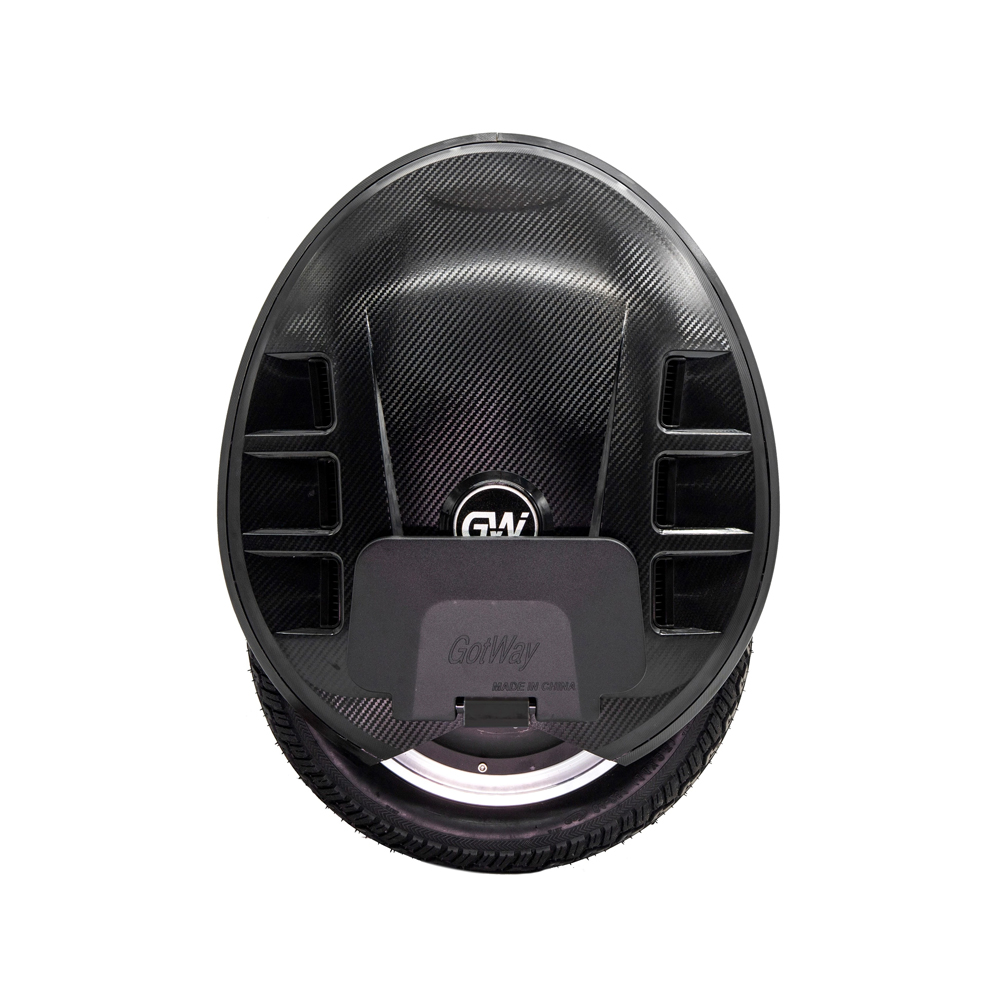 Max Speed: 40km/h
Weight: 16.9 kg
Wheel Size: 14 Inch
Range: 60-80KM
Motor: 1500W
Battery: 800Wh
For the money, the Gotway Mcm5 delivers plenty of motor power. The maximum speed and range are also good, making it a fantastic value for your money.
What else sets it apart from the other electric unicycles on this list is a super-sensitive six-axis gyroscope. It makes quick calculations and provides fast response ensuring a stable and safe riding experience.
The Gotway Mcm5 is built to last too. The brushless permanent magnet motor is long-lasting, and the weather-resistant battery protection prolongs the battery lifespan.
Finally, the electric monowheel features high-intensity lighting and has an intelligent carry mode.
Pros
Great features and specs for the money
Super responsive gyroscope
Good top speed and range
Easy to carry
Cons
Smaller wheel not very stable on rough terrain
9. Veteran Sherman MAX 20″ Electric Unicycle – Best Premium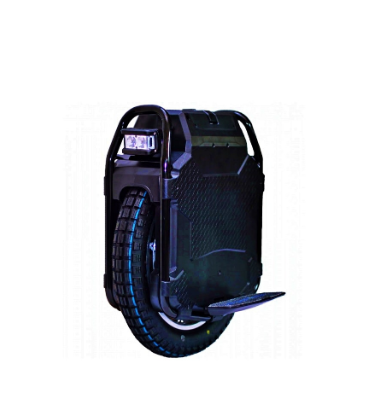 Max Speed: 45 Mph/72 Km/H
Weight: 39 Kg
Wheel Size: 20 Inch
Range: 230km
Motor: 2800W
Battery: 3600Wh
Serious about riding e unicycles and looking to invest in a high-performance one-wheel electric unicycle? The Veteran Sherman electric unicycle is the ultimate premium EUC to get. Everything about it is top of the range and unrivalled.
The motor not only packs 2800 watts of power and boasts a unique design that boosts performance. As a result, the Veteran Sherman Max can achieve an impressive 72 km/h top speed.
This top speed isn't at the expense of range. Thanks to a gigantic 3600WH battery, the motorized unicycle can travel 230km on a single charge. Large wheels deliver stable and comfortable rides even on off-road trails.
Top tier safety features ranging from bright lights to inclination and overheat protection ensure your safety while riding. Other features include an intuitive LCD screen that displays all the necessary data and a trolley handle for ease of carrying.
Robust build quality guarantees that this is a long-term investment. A metal cage protects both the frame and wheel.
Pros
One of the most robust EUCs with superlative capabilities
Fast charging battery – in 8.5 hours
Excellent safety features
Build to last a lifetime
Rides well on all types of surfaces
Cons
The most expensive EUC on this list
10. INMOTION V5F Airwheel Electric Unicycle – Best for Beginners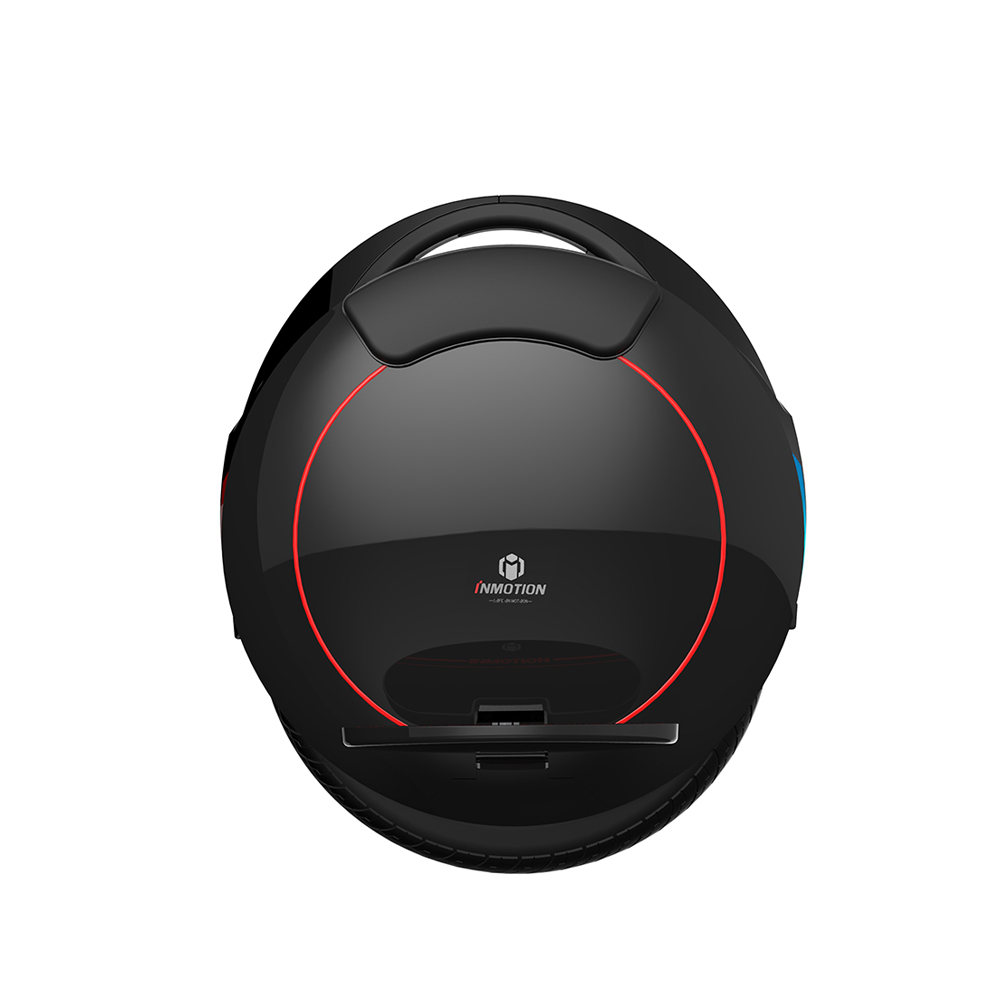 Max Speed: 28km/h
Weight: 11.9kg
Wheel Size: 14 Inch
Range: 30 -35km
Motor: 450W
Battery: 320WH
Priced at under $1000 and equipped with handlebars, the INMOTION V5F Airwheel is a great electric monowheel option for beginners. The handlebars reduce the learning curve and deliver a more confident, inspiring riding experience for first-time riders.
At 11.9kg, it's also the lightest and easiest to carry model on this list. This is because it's made of a lightweight yet durable aluminium-magnesium alloy.
When it's time to carry it, all you have to do is activate the smart carry button and stop tire rotation, allowing you to take it with ease.
Other noteworthy features of the INMOTION V5F Airwheel include a blue front lamp, a red rear brake light, and a Bluetooth App.
Pros
Affordable pricing
Easier to use for first-time riders
Has handlebars for ease of riding
Lightweight and easy to carry
Cons
Battery capacity and motor power on the lower end
What Features to Consider While Buying a Motorized Unicycle
An electric unicycle is no small purchase. Furthermore, electric unicycles come in a variety of specs. It's essential to do your homework to make the right choice for your needs.
To help you out, here's an overview of the factors to consider, so you can choose a model that will suit the purpose you're buying it for and the terrain you'll be riding it on.
Battery Capacity and Range
The first consideration is how far the motorized unicycle can go on a single charge. After all, it's wise to ensure the model you're considering can take you where you plan to go without running out of juice along the way.
The distance range depends on the battery capacity. The higher the mAh capacity of the battery, the farther the motorized unicycle can travel before you've to replenish the battery. On top of this, it's a bonus if the unicycle comes with a fast charger that refills the battery in record time.
Most electric unicycles available in the market cover around 15-20 miles on a single charge. On the high end, some models can cover 70 to 100 miles.
Keep in mind that the rider's weight and terrain incline have an effect on the maximum range. The heavier the rider and the steeper the incline is, the lower the range will be.
Top Speed
Speed is the second most crucial spec to pay attention to. Check the top speed the electric unicycle you're considering can achieve, and ensure that it is enough for your requirements.
The top speed for motorized unicycles ranges from 10km/h to 70 km/h. A low top seed is okay for commuting, while the fastest electric unicycles are designed for adventurers looking for high-speed rides.
Motor Power
The motor power indicates how much torque a motorized unicycle packs and how fast it can go. The more powerful the motor, the stronger the electric unicycle and the faster it glides.
Motor power is also a telltale sign of how well the unicycle can scale inclines when riding on hilly terrain. High torque motors can also withstand more stress and thus last longer.
Standard motorized unicycles have motor powers ranging from 400 to 1000W. If you're after the most powerful option, there are models boasting upwards of 2000W of motor power.
Tire Size
A big tire is a must-have if you will be riding on rugged terrain. Large wheels absorb shock well, providing stability and ensuring a smooth ride even on uneven or rough terrain.
Most electric unicycles come with 14-inch, 16-inch, and 18-inch tires. These smaller tires are okay for rides on smooth terrain. Mountain and touring unicycles come with the largest wheels ranging from 26 to 36 inches.
Safety Features
As with any other personal vehicle, safety should always come first when selecting a motorized unicycle. Here is a checklist of the safety features to look out for:
Bright headlights and taillights for visibility in low-light conditions
LED rings on either side of the wheel to keep you visible as you ride
Look for a UL2272 certification that shows the model passed strict safety tests.
Grip tape on the pedals ensures a secure grip when riding in wet and slippery conditions.
Additional safety features include speed control and a motor kill switch.
Size of the Electric Unicycle
Electric unicycles range from compact models to large off-road models. A compact, lightweight model is the way to go if you often need to carry the unicycle up the stairs or stow it in a tight space when you're not using it. A large unicycle, on the other hand, provides power for tackling rough terrain.
Weight and size also affect how the electric unicycle rides. Lighter unicycles are easier to control when accelerating, decelerating, or turning. More powerful motorized unicycles are on the heavier side. Compact devices, on the other hand, can make sharp turns more easily.
Weight Capacity
Different battery-powered unicycles are designed to handle different load limits. Make sure the model you go for can comfortably support your weight. Riding on a low capacity e-unicycle will decrease its efficiency and lower its speed. Most e-unicycles can support a load of 265 pounds, but some models can hold 330 pounds.
High-Quality Build
A unicycle takes a lot of abuse from the terrain and weather elements. The build quality of the unicycle affects its longevity and its efficiency.
The body should be made of high-quality materials, and the other components should be robust and durable. If you're looking for an off-road e-unicycle, go for one with a rugged build.
Since you'll be using the motorized unicycle outdoors, it should be able to withstand the elements. Look for a weather resistance rating of at least IP55. Such a EUC can withstand exposure to dust and light rain without damaging internal components such as the battery.
Additional Features
Beyond the above essential features, there are other nice-to-have features that can make your riding experience even better. They can add flair to your device or allow you to personalize your riding experience. Such features include:
An accessible panel that indicates the current speed and battery status and allows you to customize the settings easily.
Bluetooth speakers to play your favourite music from your phone.
If you plan to go on long rides, padded seats can provide all-day comfort.
Price and Value
How much an e unicycle costs is also an important consideration to make. Electric unicycles cost around $1000. High-end models can cost as high as $3000.
However, the cheapest unicycle isn't necessarily the best option. It's best to choose a model that offers the best value for money. Assess the power, range, and features you're getting for the price.
Electric Unicycle FAQs Part
1. Are Electric Unicycles Safe?
Being a self-balancing vehicle with a single wheel, a motorized unicycle has its own share of risks. They are safe to ride as long as you observe the following safety measures:
Always wear a helmet while riding. If you are cruising at top speed, you should add other safety gear, including wrist guards, elbow pads, knee pads, and padded clothing to protect your wrists, elbows, knees, and body.
Always remain aware of your surroundings and know how to respond to emergencies.
As a beginner, it's best to ride it slowly at first. Only unleash the maximum power when you're a confident, experienced rider.
Don't ride a single wheel scooter on ice or snow. Slow down when riding on risky surfaces such as slick roads.
2. Are Electric Unicycles Hard to Ride?
The hardest part of riding a unicycle is achieving balance. Featuring a single wheel, a unicycle can prove tricky for a beginner to ride. There's a steep learning curve to conquer.
It's crucially important to practice riding one on open ground before you can start riding the unicycle on the roads. Work on speeding up, taking turns, slowing down, stopping, and getting on and off.
3. How Fast is An Electric Unicycle?
Most e unicycles have top speeds of 35mph/55kph. Low-end battery-powered unicycles cruise at around ten mph, while some of the fastest electric unicycles can sustain speeds of 45mph.
However, it would help if you always abode by the laws governing the speed of personal electric vehicles in your location.
4. Are Electric Unicycles Legal?
Electric unicycles are legal. They are governed by the same rules as bicycles. Still, be sure to find out what the local law is in your area. This way, you will know for sure whether motorized unicycles are legal in your place and what rules govern their usage.
5. How Much Does An Electric Unicycle Cost?
Most electric unicycles cost around $1000. The most affordable models cost about $500, while the most powerful e unicycles can cost as high as $3000.
Conclusion
Electric unicycles have risen in popularity in recent years, and it's easy to see why. Motorized unicycles provide the most fun out of the unique, eco-friendly, and fun personal modes of transportation today, such as e scooters, e skateboards, and hover shoes. We hope the above reviews of the best electric unicycles and the buying guide make it for you to find the right option for your needs.