Introduction
Walking by the street, we often spot schoolgoers riding e-scooters on their way to school. Electric scooters are a quirky alternative to what we conventionally call a scooter. It is less expensive, needs less effort for maintenance, and is pretty simple to ride.
An electric scooter is an affordable solution for teenagers. Simple design, zero fuel expense, and trendy appearance are the basic advantages that a teenager gets from an electric scooter. We all have been through the pocket money constraint as teenagers. With an electric scooter, a teenager can easily save daily transport costs and use the money for other fun teenage activities.
Now, if you are a parent of a teenager, or an elder person looking for an affordable yet trendy-looking long-lasting electric scooter for the teenager in your house, then you've landed in the right place. In this article, we'll list out for you the eight best electric scooters for teenagers.
Our Picks for the Best Electric Scooter for Teens
How to Find the Perfect Electric Scooter for Teenagers
Choosing the right electric scooter is a hectic job, especially when so many options are available in the market. Moreover, you have to consider the type of electric scooter that will suit your teenager and his/her style. Let's understand the components and features you should look for while buying an electric scooter.
Weight
This has to be one of the most important aspects of buying an electric scooter. The weight will determine how your kid will use it. For instance, if your child travels a long distance, opting for a lightweight scooter would be the best option.
Wheel Size
Choosing the size of the wheel will entirely depend on the types of roads your child avails of. For example, if the roads are rough and bumpy, you should go for larger wheels. However, if the roads are smooth, small or average-size tiers will do the work.
Motor Power
If you live where there is steep terrain, you want to have a powerful motor. It will help you to drive on slopes effortlessly. Moreover, going down and up on slopes can make your child lose control and speed. So, a powerful motor can keep everything under control.
Batteries
Most electric scooters available in the market use Lithium-ion batteries, which are pretty expensive. However, you can easily find some cheap options, but they won't last long. So, we recommend you choose a battery according to your budget.
Tire Size
Electric scooters mostly use air-filled tires and solid rubber tires. The air-filled tires are also known as pneumatic tires, and they are far more comfortable to ride. However, these tires have air tubes, and you need to re-fill them at regular intervals. But if your child travels on rough surfaces with sharp objects, go with solid rubber tires.
Brand & Product Warranty
Most reputable brands will give you at least six months' warranty after purchasing an electric scooter. However, you also need to know what parts they are willing to replace in the warranty period. So, compare the brands and products and then choose accordingly.
1. Best Portable: Segway Ninebot MAX Electric Scooter for Teenagers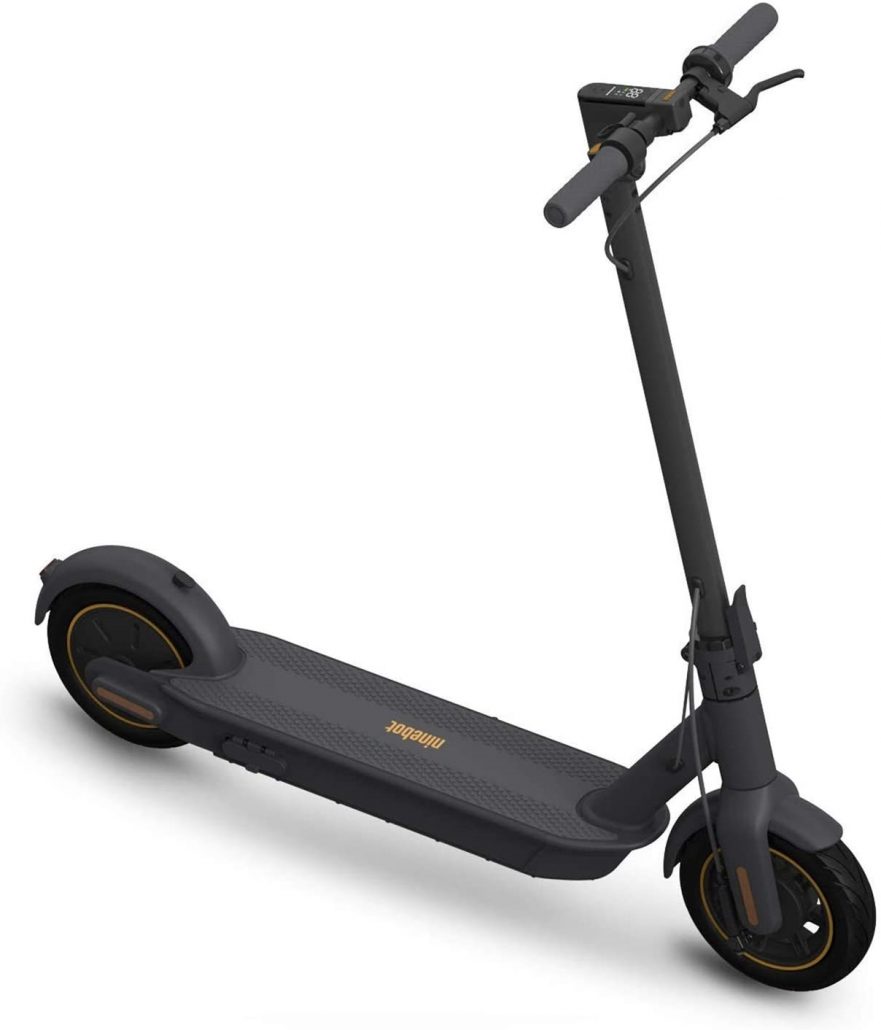 Max speed: 18.6 mph
Age range: 14+
Range: 25 miles
Payload: 220 lbs
Handlebar: Foldable
Number of wheels: 2
Weight: 38.6 pounds
Handle height: 45.1 inches
Rating: 4.6
It is the best portable electric scooter solution for teenagers above the age of 14. With an effective and long-lasting 350W motor, Segway Ninebot MAX G30LP Electric Kick Scooter covers almost 25 miles.
The speed ranges up to 18.6 mph, and it can bear a load of up to 220lbs. In addition, 20% hill grade and 10 inches thick pneumatic tires enhance the riding experience to a great extent. The scooter provides three modes of riding featured on an LED dashboard that helps the rider change riding styles.
Apart from that, the product has a Smart Battery Management System to provide an increased power supply and effective battery safety. Furthermore, the outstanding design with a soothing gray color makes the Segway Ninebot MAX G30LP Electric Scooter one of the best in the current market.
Pros
Lightweight and easy to carry.
Affordable pricing.
Shock-proof and durable battery service.
Cons
2. Best Power and Durable: Gotrax XR Elite Electric Scooter for Teenagers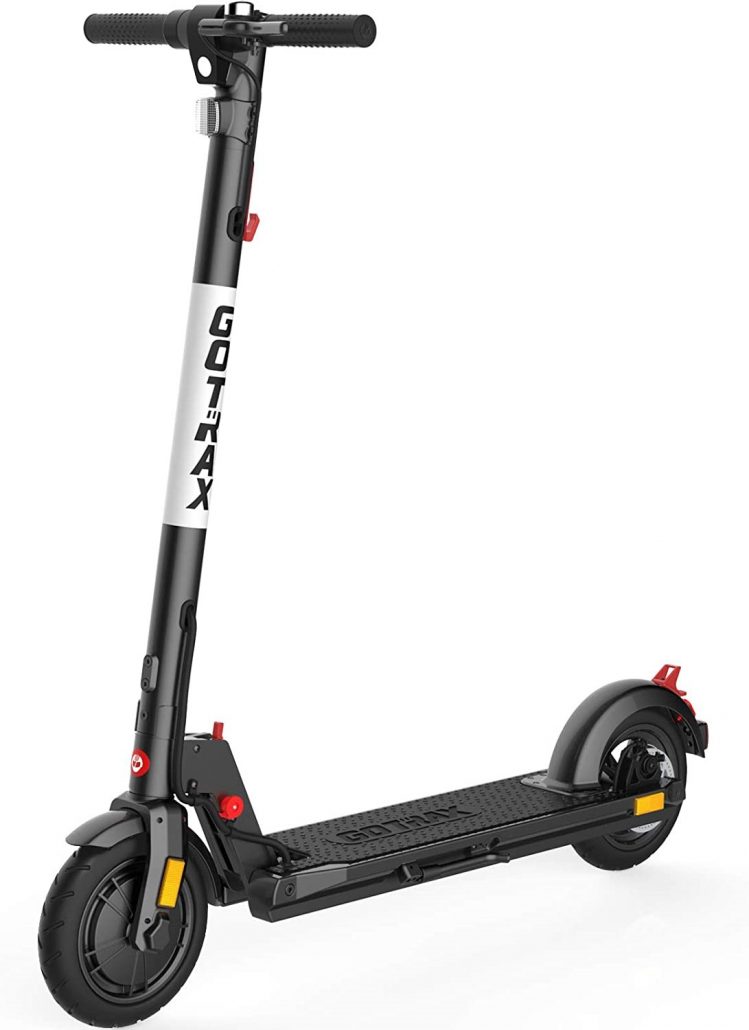 Max speed: 15.5 mph
Age range: 15+
Range: 18.6 miles
Climbing hill: 15°
Handlebar: Foldable
Weight: 49.79 pounds
Brake: Rear Brake
Platform size: 6.6 inches
Rating: 4.2
In terms of power and durability, this Gotrax XR Elite Electric Scooter leaves many behind. This UL Certified Electric Commuter Scooter is the best choice for teenagers aged 15 and more.
The scooter provides a superior riding performance with its 300W motor, which helps to reach a speed of up to 15.5 mph. In addition, the 280.8 Wh high-capacity battery allows the rider to have a continuous ride of up to 18.6 miles.
The best feature is its dual braking facility and a super powerful headlight to enhance visibility.
Pros
Wide deck provides comfort.
Foldable and portable.
Affordable for teenagers.
Cons
Only suitable for smooth roads.
Not suitable for teens under 15.
3. Best Design: Segway Ninebot ES4 Electric Scooter for Teens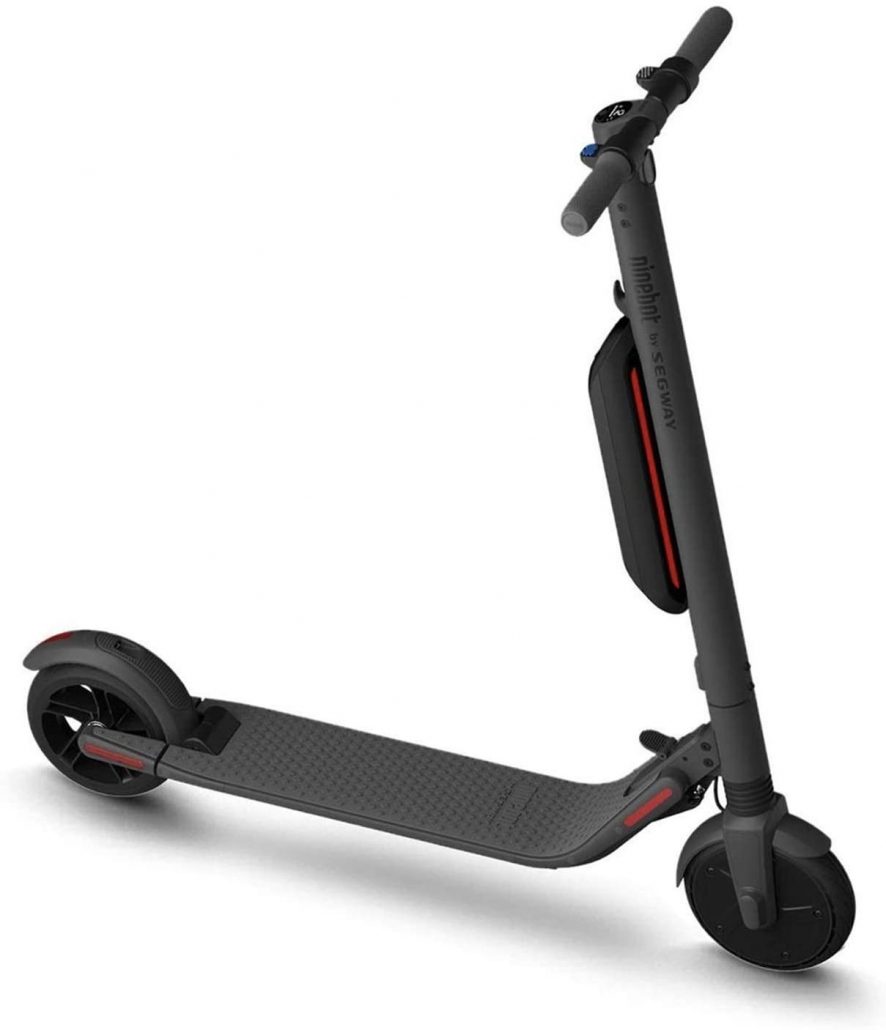 Max speed: 18.6 mph
Age range: 14+
Range: 28 miles
Handlebar: Foldable
Payload: 220 lbs
Number of wheels: 2
Weight: 14kgs
Battery: External
Rating: 4
When you look for a smart and trendy design for your teenager's electric scooter, this Segway Ninebot ES4 Electric Kick Scooter should be your pick. The product is best for teenagers more than the age of 14.
With its dual battery facility and upgraded motor, this scooter elevates up to 800W power and covers 28 miles distance at a time. Single-step folding, riding comfort, sleek design, and intelligent Bluetooth connection facility are some of the best features of Segway Ninebot ES4.
Moreover, this electric scooter offers Smart Segway-Ninebot App that shows the riding statistics, intelligent lock system, and firmware updates.
Pros
Sleek and smart design
Affordable pricing
Great speed coverage
Cons
The brake system needs betterment
4. Best Premium: Electric Scooter, RND F14 Scooters for Teens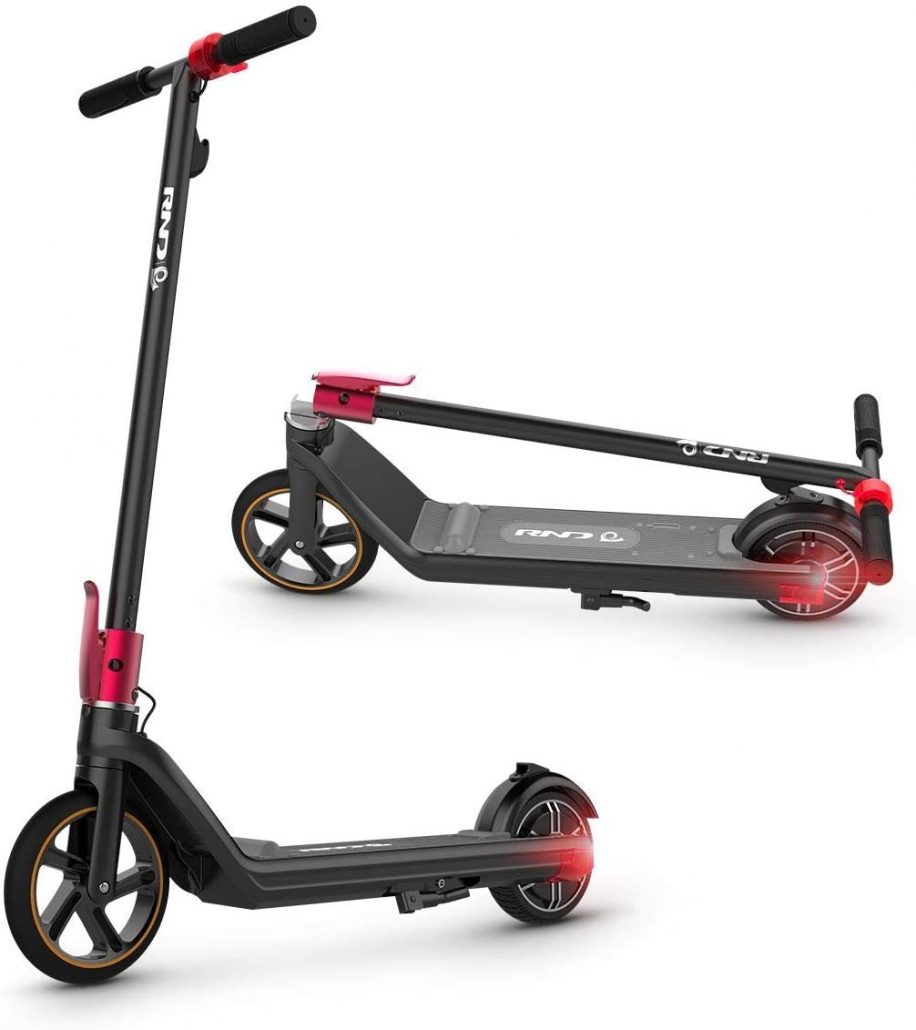 Max speed: 10 to 15 mph
Age range: 12+
Range: 10 miles
Frame material: Aluminum
Number of wheels: 2
Weight: 8.9 kilograms
Wheel size: 6.5 inches
Folded size: 34*17*39 inches
Rating: 3.8
If you are looking for a simple and minimalistic design for your teenager's electric scooter, then you should choose this RND F14 Electric Scooter for Teens. This is the perfect scooter for teens aged 12 and beyond.
This premium quality electric scooter features foot accelerator control along with E-braking and fender braking facilities. Besides, the prominent LED display and safety taillight are here to help the rider to have a hazard-free riding experience.
150W power motor, 8″ solid front, 6.5″ solid rubber wheels, and two-step folding are some of the best features of this product.
Pros
Enhanced safety with rear light
Dual brake system
Premium-quality design at an affordable price
Cons
The switch doesn't work when the scooter moves
5. Best Comfortable: Razor EcoSmart Metro and SUP Electric Scooter
Max speed: 18 mph
Age range: 16+
Range: 12 miles
Wheel type: Pneumatic
Wheel size: 16 inches
Number of wheels: 2
Weight: 65.3 lbs.
Battery: 36V, lead-acid
Rating: 4.4
When style and comfort are your primary concern, you should go for this Razor EcoSmart Metro and SUP Electric Scooter. The scooter comes with a padded seat and a wide deck to rest the feet. Sixteen inches thick tires are air-filled, and they help the rider to ride on uneven surfaces smoothly.
Twist-grip handlebars and advanced rear brake systems effectively control the vehicle and enhance the rider's safety. A 500W power motor can make the scooter reach up to 18 mph speed and cover up to 12 miles in a single ride.
However, the best part of the scooter is the cargo carrier. It enables the rider to carry essentials like a school backpack, a teenager's tote, books, etc.
Pros
Comfortable for teens
Padded seat and wide deck
Advanced brake system
Cons
Not suitable for teens below 16
6. Best Overall: UNAGI Model One Electric Scooter for Teenagers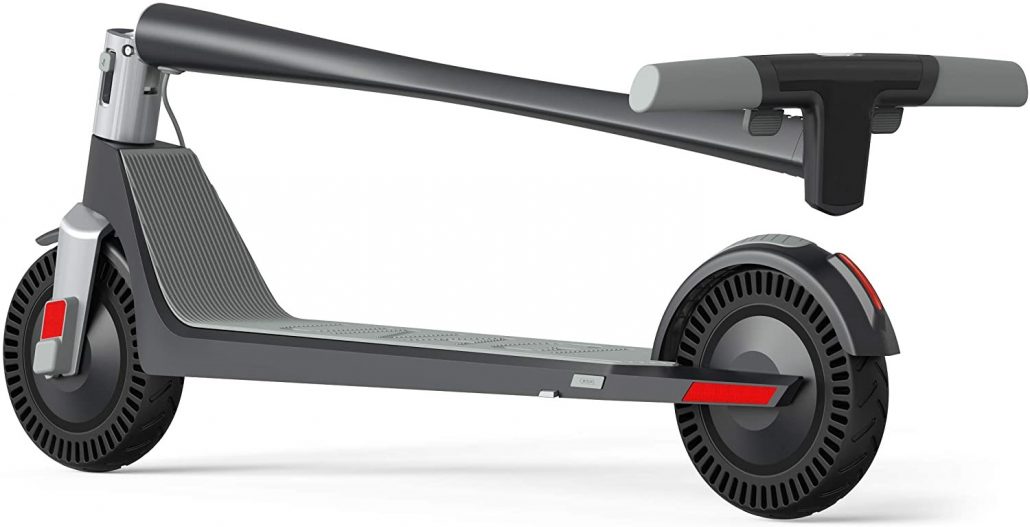 Max speed: 20 mph
Age range: 17+
Wheel type: Solid
Range: 15 miles
Handlebar: Fixed
Number of wheels: 2
Weight: 11.8 kg
Suspension type: Dual
Rating: 3.9
When you are looking for an electric scooter for teenagers, this is the right choice for you that gives an overall satisfactory outcome in terms of safety, style, and comfort. UNAGI Model One E500 – Dual Motor Folding Electric Scooter has the perfect blend of aluminum and alloy steel frame materials.
The Japanese TORAY carbon filter offers the right combination of lightweight and strength. A dual electronic anti-locking brake system and ergonomically strengthened lever enhance the safety of the rider and ensure durability.
Apart from all these, the best features of this electric scooter include an advanced LED headlight, excellent torque, horn, and simple folding options. Overall, this is an ideal electric scooter for teenagers.
Pros
Easy to carry
Affordable for teens
Safety with dual brake controls
Cons
Tires not suitable for uneven surfaces
7. Best Versatile: Razor E200 Electric Scooter for Teens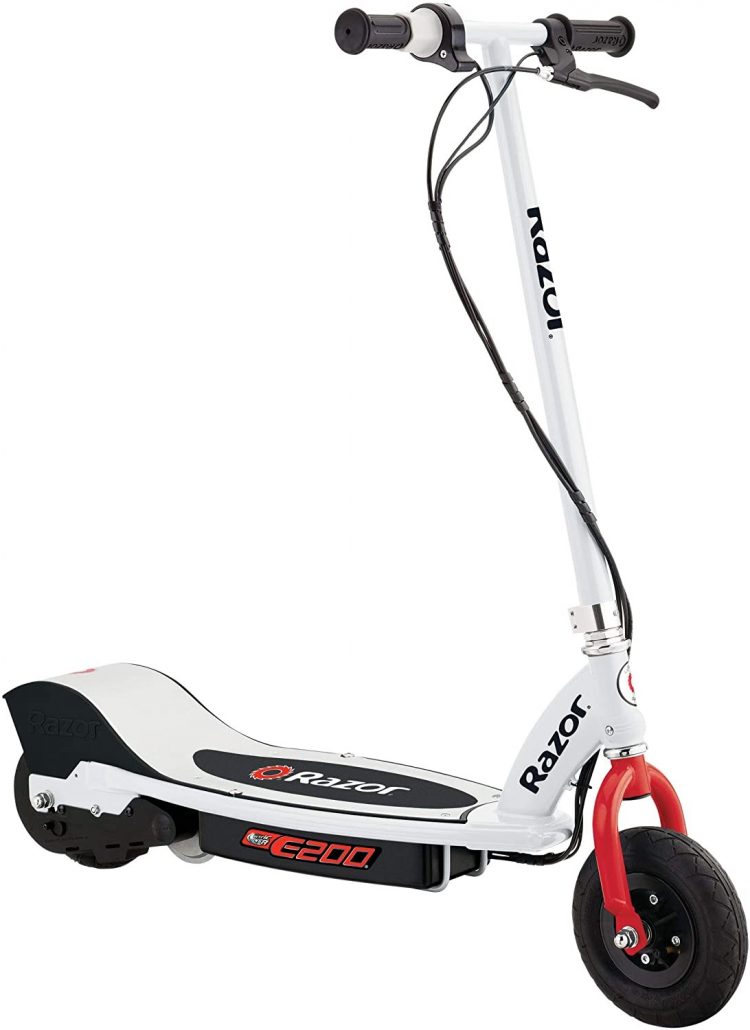 Max speed: 12 mph
Age range: 13+
Range: 8 miles
Wheel size: 8 inches
Number of wheels: 2
Weight: 19.3 kg
Brake style: Rear Braking
Frame material: Aluminum
Rating: 4.6
If versatility is your concern when purchasing an electric scooter for teens, then this Razor E200 Electric Scooter is what you need. Geared with a 200W power system, this e-scooter is a perfect choice for teens above 13.
The vehicle has two rechargeable sealed 12V lead-acid batteries that offer almost 40 minutes of continuous riding experience. The 8 inches-thick front and rear wheels help the rider to ride the uneven surfaces seamlessly.
Sturdy design, bright white color, high torque, and wide deck are some of the best features that you'll find in this electric scooter.
Pros
Dual battery system
High torque available
Affordable and versatile
Cons
8. Top Pick: VIRO Rides Transforming Electric Scooter & Mini Bike for Teenagers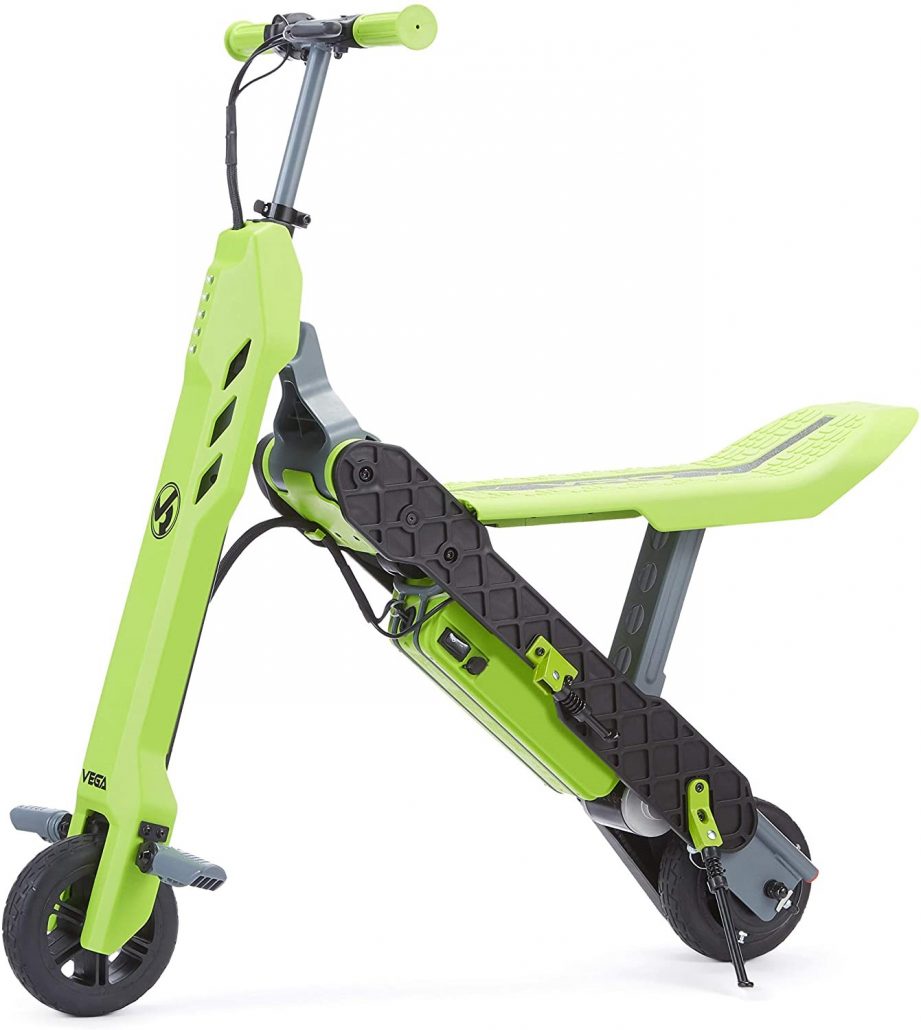 Max speed: 10 mph
Mini Bike Mode: Yes
Age range: 8+
Range: 6 miles
Handlebar: Adjustable
Number of wheels: 2
Weight: 42 pounds
Brake style: Rear Braking
Rating: 4.1
This bright green VIRO Rides Vega 2-in-1 Transforming Electric Scooter is the top pick by teenage communities for very valid reasons. The scooter has many advanced features, from a cool and trendy design to handlebars with a height adjustment facility.
You can easily transform this electric scooter into a minibike. Children aged 8 and above can ride this scooter safely. The effective rear brake is lever-activated and can provide optimum safety to the rider.
Moreover, this lightweight electric scooter has 100W power DC motor that covers as long as 6 miles in a single ride with a maximum speed of 10 mph.
Pros
Transformable into a mini bike
Powerful dual kickstand
Foldable and portable
Cons
The distance range is relatively less
What Next?
Now that you have learned something about the best electric scooters for teenagers, why don't you also check out our other related guides as follows: