Introduction
Imagine it is a sunny summer day. You feel like having a lovely skateboard session with your closest friends and drinking some cold drinks later. However, you realise your electric skateboard remote isn't working at all! A perfect day down in the dumps.
Why should you compromise a perfectly normal plan to the woes of fate? If you are a skateboard enthusiast, read on to understand – how you can replace your current electric skateboard remote with ones of outstanding quality, which features to look out for in an ideal electric skateboard remote and much more!
Why should you buy an electric skateboard?
Let's be honest with each other. Walking, cycling and average skateboarding are activities that make us sweat so much! It is not a pretty sight to arrive at your place of work or a friend's housewarming party wholly drenched in sweat. Instead, we have a beautiful manufactured solution for this incredibly icky first-world problem: Electric skateboards!
With the infamous electric skateboard in your hands, you can get anywhere you would like to with surprising swiftness and efficiency. You have the luxury of enjoying a relaxing, refreshing ride all the while reaching your destination on time. Aside from this, the affordability factor with electric skateboards makes them an extremely worthwhile investment. Imagine saving all that maintenance money you'd have to spend on a bike or the daily cab fare that you'd have to dole out for a work commute. The point is, an electric skateboard makes it possible for you to travel at the speed of traffic, have great control over sloped terrains and has user-friendly maintenance features.
If nothing else convinces you, there is always the universal fact that electric skateboards are very fun to use. It is a bonus that your coolness factor goes up by a notch too! While it does have a few flaws, it seems evident to us that the pros outweigh the cons in this case.
How does an Electric Skateboard remote work?
The beauty of riding an electric skateboard lies in its ridiculous ease of use. Controlled by an efficient skateboard remote, it is the most simple form of commute an outdoorsy person can choose for themselves. The technology that goes behind developing the small, intelligent electric skateboard remote is worth looking at! Before we get into the nitty-gritty details of the advanced electric remotes, it might help to understand how the essential electric skateboard remote functions.
The fact is that your remote is a miniature computer. It detects the position of your throttle and sends a signal to your ESC (ESC). Kind of like a GPS signal. Depending on how your ESC is configured, the further you move the throttle forward or backwards, the faster you will be able to accelerate or brake with ease.
Since we have used remote controls for devices of all kinds, it should be easy to visually understand how the essential function of the electric skateboard remote is carried out. A hand-held remote throttle is the most effective technique to control an electric skateboard. You may modify your speed and power with an electric skateboard controller primarily connected to your skateboard's motors. We will address the essential features of a perfect electric skateboard remote later in the article. Stay tuned to know more about those key points!
When is the right time to replace my electric skateboard remote?
If you are planning on investing in an electric skateboard, you would already know that there are a lot of positives and negatives that come with owning an electric skateboard remote. As a not so recent invention, one would imagine that the technology might have advanced enough to give us a good amount of quality remotes. However, such is not the case.
While there exist a significant number of brands that provide electric skateboard remotes of excellent quality, there is an equal number of false brands that sell cheap quality remotes at unreasonably high prices. Average quality materials are often used in cheap remotes sold on many famous electronic commerce platforms. It becomes essential to identify among those to have the best experience with an electric skateboard!
Furthermore, current prices and new models are essential considerations to make while thinking of a new purchase. Most models lie within the range of $25-$50. However, the high-end models might cost you just a smidge over the $50 limit.
Lastly, if you are convinced about investing in an electric skateboard, we say that every time is the right time to buy an electric skateboard controller. The need for a good remote is undeniable for the efficient use of an electric skateboard. In such a case, it does not matter if you wait a while or if you buy it at the earliest. The choice truly lies with you!
Key Features of Electric Skateboard Remote to look out for while buying a replacement controller:
Material quality and User-friendly designs: Probably one of the most underrated aspects of an electric skateboard remote, it is essential to take note of the manufacturing quality of your controller. Cheap quality materials tend to wear often and make for bad grips in the long run. Furthermore, the durability of high-quality material is worth the money that you will be investing in the electric skateboard remote itself. Finally, the ergonomics of a suitable controller are visible in the quality of performance it delivers, and the satisfaction of using it will be proportionate to that performance.
Transmission speed: One of the most important things to look out for include the transmission speed of the electric skateboard remote that you will purchase. The remote should receive enough signal to catch up with the command that your skateboard is reciprocating. To maintain the rider's safety, it helps to make sure that the signal of the remote is powerful.
Ease of access: In addition to the buttons and throttle, your gadget should have elements that reflect the state of your skateboard. These should show you the condition of your battery and power, as well as the speed of your device. Other companies include an electric skateboard remote app that allows you to control your skateboard from your smartphone for a more detailed experience.
Remember the receiver: Your remote is essentially of very little practical use if you don't have a receiver. It would help to note that the receiver is often either built into the ESC or attached to a separate module.
Here are some of the best Electric Skateboard Remotes in the market:
When it comes to buying electric skateboard remotes, it is best to do your research thoroughly. Every user's remote needs differ from the requirements of the electric skateboard itself. In this section, we will be mentioning a few of the best electric skateboard remotes available in the market at this very moment. We suggest you run an eye over this part of the article before purchasing your very own electric skateboard remote.
1. VANPRO Electric Skateboard Mini Wireless Remote Control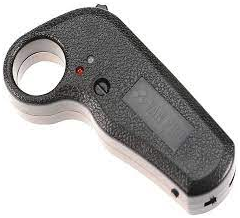 Description: VANPRO Electric Skateboard Mini Wireless Remote Control is one of the best electric skateboard controllers on the market. With a signal connection of nearly eighty meters, the most significant positive about investing in this electric skateboard remote is its incredible bandwidth. It is a highly high-speed remote that supports a 2.4GHz bandwidth. This is the standard across most electric skateboards and has a high probability it would work well with your skateboard too! The most significant advantage of having a range of this kind is conducting test rides of your skateboard without actually riding it. How cool is that?
Aside from this, unlike other models, the VANPRO Electric Skateboard Mini Wireless Remote Control supports a finger-hole that allows for good grip and even better aesthetic appeal. The connecting capacity of this remote is robust. All in all, it seems like this electric skateboard controller is very reliable, trustworthy and stylish!
2. VX2 Pro remote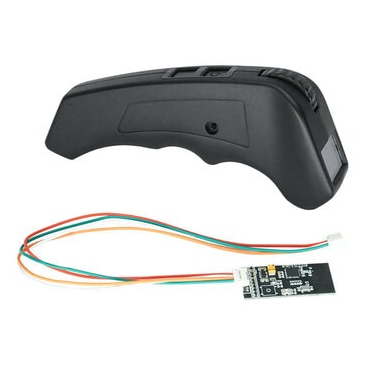 As one of the rare electric skateboard remotes that comes with a display screen, the VX2 Pro remote is a new generation controller that is blowing up in the market at this very moment. Aside from its enviable screen showing telemetry, the setup allows the user to type in the gear ratio. This means that the electric skateboard remote will display your speed with the utmost accuracy.
Inspired by the likes of high-end luxury cars, this incredible electric skateboard remote supports a cruise control feature. It is of immense help when your finger gets tired of thumbing the button all day. We say, go ahead and try it out for yourself! Overall, the VX2 Pro remote controller reviews seem to be positive and on the reliable end.
3. Vikye Mini Remote Controller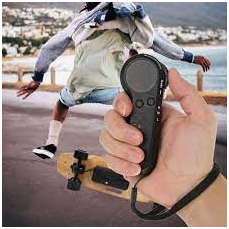 The Vikye Mini Remote Controller is a professionally manufactured electric skateboard remote that is here to fulfil all of your skateboard needs! Not only does it come with a convenient lanyard that makes for simple safety, but it also supports an ergonomic design that is very comfortable for the user in the long run.
Talking of the linking speed of this product alone will have us raving for years! The connection happens in under a minute, thanks to a 2.4GHz multi-point frequency hopping technology. Given that its features are unbelievably user-friendly and universal, it makes for the perfect controller to use for most 4-wheeled electric skateboards on the market.
All in all, the reliability and outstanding performance is thanks to its professional make and manufacturing. In the interest of avoiding confusion, we strongly suggest you consider having an official assembly of the electric skateboard remote the first time around.
4. Fafeicy Electric Skateboard Controller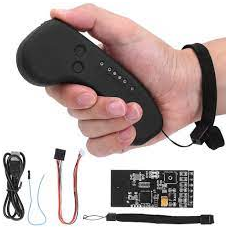 The Fafeicy Electric Skateboard Controller is a top-notch electric skateboard controller. The controller is a highly coveted model thanks to its modern feel, supporting a powerful anti-interference capacity to hold on to significant signals. It comes with an anti-slip strap, which makes for an iron grip coupled with finger-like indents on the lower half.
Just as a luxury feature, it supports a constant speed mode that imitates the cruise control version of high-end cars. If this is not enough to convince you, you would be optimistic about purchasing this remote controller after hearing about its battery life. It's incredibly long battery cycle is every electric skateboarder's dream. With user-friendly reminder features, this is easily the best electric skateboard remote you can purchase right now!
5. PUAI Hand-held Wireless Remote Controller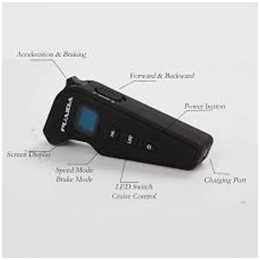 The PUAI Hand-held Wireless Remote Controller is the best electric skateboard remote for you looking for an easy to pair controller. As an electric skateboards user, the worst thing can be the snail-paced connections and bad signal range of many remotes on the market. Fortunately, the PUAI Hand-held Wireless Remote Controller is a user-friendly product that comes with clear and precise function buttons!
Aside from its easy to locate buttons, the clever featherweight design of this electric skateboard remote makes it perfect for carrying around all day. It comes with a helpful charging cable. This essentially means you wouldn't have to go about searching for wires to suit your charging needs! It is the ideal choice for absolute beginners in electric skateboarding.
In conclusion, aside from its low waterproof quality, you can invest in this remote without much hesitation.
6. Joom Electric Skateboard Wireless LED Display Remote Control with Adjustable Speed Braking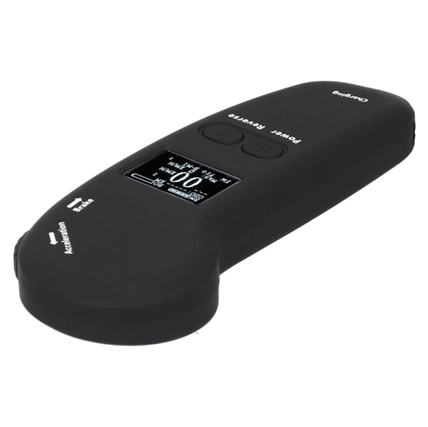 The Joom Electric Skateboard Remote is a marvel in its own right. Made out of High-quality material, this controller is very durable, solid and has an impressively long service life. Furthermore, The comfort of the grip has been designed by keeping the long arc-shaped design practices to reduce unnecessary strain on the hand of the skateboarder. The electric skateboard remote supports a remote Control Capacity of 400mAh, impressive indeed, keeping in mind its long battery cycle.
Additionally, the Joom Electric Skateboard Remote is installed with a vibration motor that serves as an efficient reminder. Finally, the controller has a power indicator light. The best part about this electric skateboard remote is that it comes along with the luxurious cruise control feature that most skateboarders love to invest in.
If you are looking for an affordable yet high quality remote to replace your current remote with, this is the ideal choice for your future purchase considerations.
Conclusion
The fad behind buying electric skateboards is not a new one and isn't going down anytime soon. If you are a new electric skateboard user, we have one thing to say to you: Your remote forms a critical part of your board. A buyer shouldn't disregard it, much like a good helmet is necessary for a safe bike ride. We support and provide all-electric skateboarders with top-notch products at affordable prices. Check out our website to know more!