Kids are always amazed to get new gifts. If your kid is growing up and you want something new and fun for them, getting the best electric children's skateboard can be the right choice. You must always keep in your mind that surrounding your kids with tech gadgets will reduce their physical activity. So, you must get something that improves your physical activity.
The electric skateboards are designed to provide your kid the fun they want, along with not needing to tire the kids. However, selecting the best one can be a difficult task for some people. So, here you will learn about things that you must check when selecting an electric skateboard.
How to choose the best Electric Skateboard for kids?
If you are facing the difficulty of not making the purchase decision, you need some professional assistance. Well, there are a few things that you need to check, and we have them listed for you so that you can make your purchase decision accordingly.
You must be getting your product from a reputable brand
First things first, the brand you are selecting matters a lot! You need to consider the brand that brings more value instead of bringing in the cheapest products. There are a lot of things that you must care about in this regard, and some of them are:
Customer service
After-sales support and service
Repute in market
What customers say about them
Checking all of these things will ensure that you are getting a product from the right brand.
The electric skateboard must be durable and safe.
The next thing you need to check is its durability and safety. Well, skateboards come in all different shapes and sizes. What you need to care for are the following things:
Is the upper surface of the skateboard slippery or provides a good grip?
Is the surface area comfortable enough to place both feels for a long time?
Is the material used for making the skateboard long-lasting and durable?
Make sure to get the skateboard with the best material as your kids will harshly use their skateboard, so the durable ones will bring more value.
The motor of the automatic skateboard for kids must show a slow acceleration curve.
Buying an automatic skateboard means that the motors will show their power. However, that power must be controllable for the kids. So, it is always better to get the product with a motor that provides a slow acceleration curve instead of rapid acceleration. In this way controlling the board will be easier for your kid.
Brakes are as important as all the other factors of the kids skateboards are
No matter what the movement technology is, the brakes must be top-notch. So, whether you are getting a skateboard with a single-wheel acceleration model, a hub driven, or belt driven, the brakes must perform exceptionally well.
Portability in these products is always a plus point
As you cannot always be along with your kids, the kid must get their skateboard wherever they want. So, you must look for the lightweight option. Getting some decent size will also be a good choice.
Battery range can be a fun killer if not cared about
Consider the kid is having fun, and suddenly the battery dies. Well, it can be an absolute fun killer for the kid. Make sure that you are getting the product that provides the highest battery range.
The electric skateboard you get for the kids does not need to be the fastest option out there.
The last thing, and unarguably one of the most important things to consider, is the top speed. Your kid might ask for the fastest available, but considering their fun and safety, you must get the one with a decent speed. In this way, the kid will be able to control the scoreboard in a better way. By checking all of these things, you will be ensuring that you are getting the best electric skateboard for kids, whether it is for some holiday present or their birthday present.
Longboards have been trending for a long time now, and finally, kids get to use their own as well. These are the boards which are longer than the standard skateboards, so it provides a lot of balance and control. Moreover, these boards are great for comfort and some tricks.
Features
Convenient carrying handle making it very portable
To start with the features, you will see a hole cut through the side of the middle of this skateboard. Well, it is for easy carrying of the skateboard. With this feature, your kid can easily take their skateboard anywhere single-handedly.
Lithium-ion battery for longest range
These skateboards have a very well-engineered battery system. On average, these can last for 6 to 10 miles, which means a lot of fun time for your kid.
Abrasive Anti-Slip grip surface
The top surface comes with an abrasive surface to ensure that the kid gets the best grip on the skateboard and their safety while using it. It provides a better group to the wearer.
Rechargeable remote control
Just like the skateboard itself, the remote comes with charging features as well. It means that you will not have to worry about changing the batteries of the remote. The remote also comes with convenient acceleration and deceleration buttons along with skill level-based modes.
Pros
Shock absorbing design for a better experience and longer life
Replaceable wheels mean that your kid can use the skateboard relentlessly and still do not worry about the wheels
3.5-inch huge wheels for the best skateboard experience regardless of the surface of the earth.
Cons
The width of the longboard is only 4.5 inches
Long charging time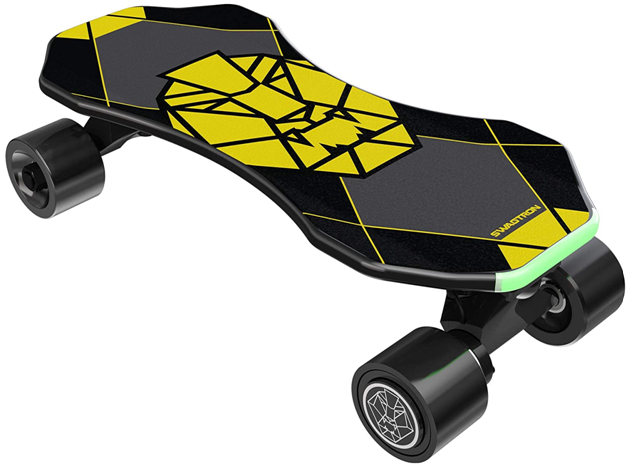 While the main concept of these skateboards is to be as portable as possible, they still pack a punch in that small size. This is a short skateboard that is driven with an electric motor. It comes with all the amazing features and benefits that your kid has been looking for.
Features
Kick assist for the best control.
Unlike most electric skateboards, this one comes with a lot of intelligent features. One of them is the kick to assist feature. With that feature, you can kick to set the speed of the skateboard, and it will maintain that speed for as long as you want.
AI Smart Sensors
The skateboard is designed to be perfect in every manner. With its smart sensors, the skateboard can maintain speed according to the rider's weight as well as their balance. Additionally, as long as you get off the skateboard, it stops within seconds.
LED indicators
One of the features that your kids will love about this electric skateboard is that it comes with LED lights. These lights are not only there to provide some aesthetics. They serve proper functionality like telling the state of the skateboard.
Best top speed for an amazing experience of an electric skateboard
This short skateboard goes only up to 9.3 mph. This is a perfect choice for the kids as they are more about the enjoyment than unsafe skateboarding experience.
Pros
The size of this skateboard makes it extremely portable for the kids to carry around.
It can support up to 150 pounds of load.
The skateboard comes with an almost 9-inch wide deck which means comfortable feet placement.
Cons
The total range on a single charge is about 4 miles which can be a deal-breaker for some people.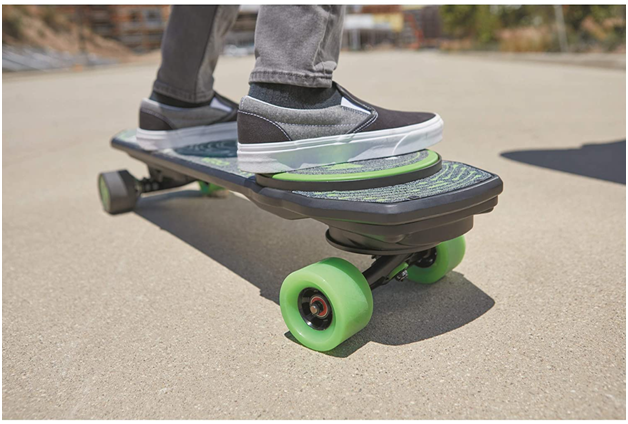 Some kids love to learn new tricks, and this skateboard is exactly made for all that extra bit of action. With its controlled wheels, there are endless opportunities for learning new tricks with this skateboard.
Features
Comfortable top speed
So, the first thing you will note is the top speed of these. It comes with a top speed of 10 mph which is perfect for a kids' skateboard. Moreover, the speed is controllable, making the experience fully customized according to the rider's will.
Range enough for most kids
On average, this skateboard can last up to 6 miles, which means a whole day full of fun for your kids. Although it is not the longest range, it is still more than enough for most kids.
Wireless controller
The skateboard comes with a wireless speed controller, which means that there is no need to manually control the speed of this skateboard with buttons installed below. So, the riders can fully concentrate on their skateboarding experience.
Drifting design
One pair of wheels on this skateboard can move up to 36 degrees on both sides. In this way, the experience of this skateboard is a lot more different than the regular skateboards as well as the electric skateboards. So, it is up to the kids whether they use it for drifting or turning around with convenience.
Pros
The skateboard comes with electric braking, which provides a very safer experience.
The polyurethane wheels on this skateboard provide better grip and durability on all types of surfaces.
The non-slip grip tape deck provides the best foot grip for the rider.
Cons
If misused, the drift technology can go bad, making this skateboard very dangerous to use, making it almost useless.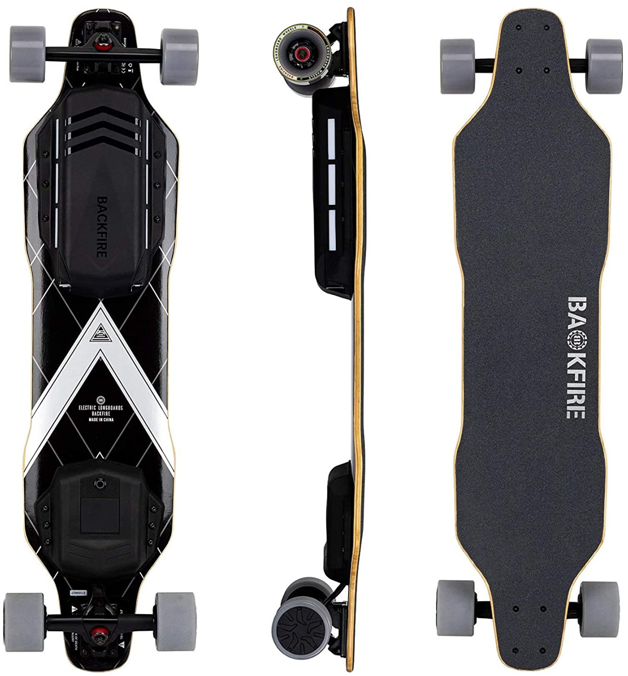 If you are up for getting something premium for your teenage kids, then there might be no better choice in comparison to this one. There is no feature that you ask for, and it is not available on this skateboard. If your kid is careful enough, then this might be the best product to buy for them.
Features
The top speed that keeps them ahead of all
Teenage is the age where kids want the most action, and this skateboard is exactly made for that type of action. It comes with a controllable top speed of 28.5 miles per hour, making it a toy full of activities for your kids.
Durable and very well designed deck
So, the most important thing about this skateboard is its deck. It comes with the following features:
Bamboo wood brings flexibility which results in a better control
The 9-inch wide deck is more than enough to place feet comfortably
The abrasive surface of the deck is the best choice for a comfortable yet strong grip on the skateboard.
Load capacity made for teens
This skateboard comes with a load capacity of 240 pounds. So, if your kid is a healthy one, they will have no issue riding this skateboard.
Long-range for the best experience
One single charge of this skateboard means that it can be ridden for almost 18.5 miles on average. So, there is no killing the fun because of the battery range of this skateboard.
Pros
Belt driven system provides the best reactive yet smooth acceleration
The dual-motor system provides the best torque for high acceleration
It comes with the latest features like USB charging as well as LED lights for darker situations.
Cons
If your kid is not a responsible kid, then the top speed can be an issue
If you want larger wheels, you need to buy them separately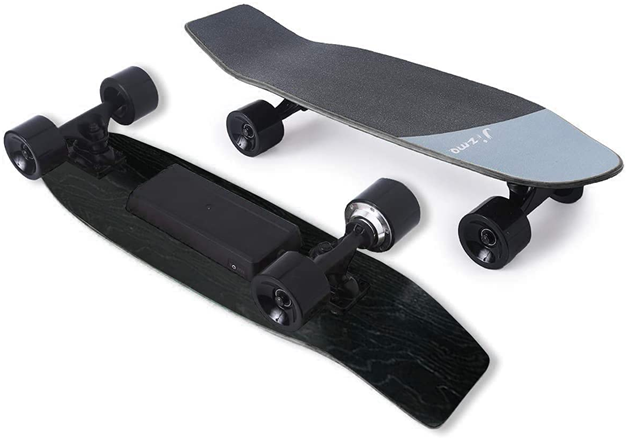 When it comes to controlling the skateboard, it is not all about the control of the motor speed. It is also necessary that the body balance is maintained, and this is where this starboard leads all other options. Its deck is very well designed, which helps in this regard.
Features
Range more than enough
This skateboard comes with a total of 7.5 miles of range which is more than enough for a whole day of action for your kids.
Convenient top speed
The top speed of this skateboard is 12 miles per hour which means you will not have to worry about your kid overspeeding with this skateboard.
Enough weight capacity
With a load capacity of up to 220 pounds, even the healthiest of kids can have fun using this skateboard.
Deck width for comfort
The deck of this skateboard is 7 inches wide. In this way, the kid can easily place both of their feet on the deck without any issues.
Pros
Allowed to carry on place as it is a safe air product
It can climb ramps having slope up to 9 degrees
Maple wood in a curved design brings the best of flexibility and control
The wireless remote provides the best control on four speeds as well as smooth breaking
Cons
Uses specific charger pin
There are no LED lights pre-installed on it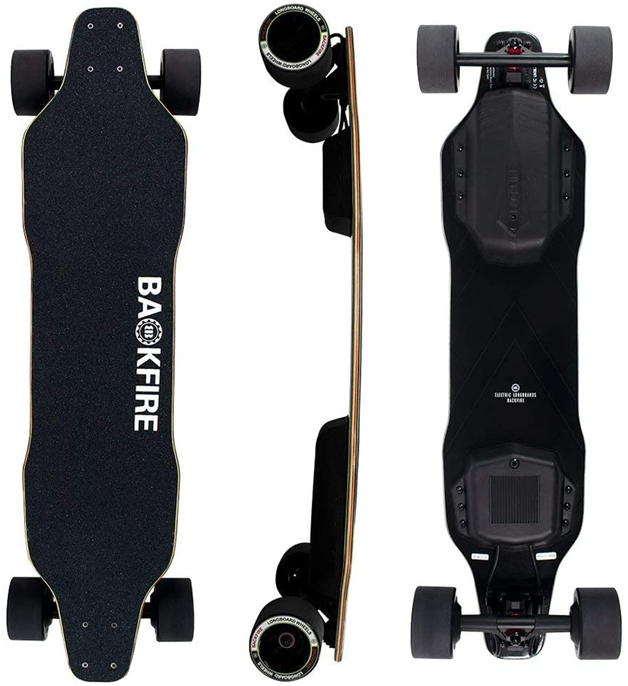 If you are up for all types of reliability, then it is the best choice for you. With all of the latest marketing leading specifications, it comes with the best of reliability in all terms.
Features
Plastic material means durability.
So, the plastic deck of this skateboard means that there will be no issues with wet feet as well as cleaning. However, it is still recommended to stay careful.
Wide enough deck
Despite the long design, the deck of this skateboard is 9 inches wide, providing a confident and comfortable foot grip.
Best speed and range combo
The top speed of this skateboard is 23 miles per hour, while it can last up to 12.5 miles which provides the best combination of speed and range.
It comes with a warranty.
To enhance the reliability and provide you with peace of mind, it comes with six months of warranty.
Pros
The skateboard comes with a max load of 240 pounds meaning that the healthiest teens can use it as well.
It packs 400w hub motors for the best electric skateboard experience.
The remote control comes with a digital speed monitoring screen which makes the experience more premium than ever.
Cons
It is not the easiest to carry a skateboard as portability is an issue. There are no handles as well as the size makes carrying it all the time difficult.
These were some of the best electric skateboard choices that you can get for your kid.
Conclusion
Whether you are a tech guy or not, getting the best product for your kid can always be a difficult situation. Not because you do not know what you will buy, but because you can be confused by the wide range of available options.
So, if you are looking to buy an electric skateboard for kids, you can check the buying guide shared above. For the best experience and least brainstorming, you can also go for the products we shared above. Just go for the type you want, and we are sure that you, as well as your kid, will love the experience of that electric skateboard for kids that you select from our list of selected products.