Electric skateboards, as the name suggests, are skateboards that run on electricity. Since their launch, electric skateboards have revolutionized the world of skating. The primary benefit of electric skateboards is that they can reach more speed than traditional skateboards and have an integrated braking system.
Many hardcore skaters are always searching for the best electric skateboards they can get on the market, and now, more than ever, these skateboards have become quite popular. Moreover, with so many varieties on the market, people get confused about what electric skateboards they should buy.
Today, we will discuss some of the best electric skateboards.
Eight best electric skateboards that hardcore skaters should consider buying in 2021.
Below-specified was the eight best electric skateboards in 2021.
Our Picks for The Best Electric Skateboard
Fastest Longboard 30mph Top Speed: Backfire Zealot S
Price Under 300: Teamgee H20 T
Best 30% Climbing Ability: Meepo V3
Best 9-Month After-Sale Warranty: WowGo 3X
Best Long Range 31 Miles: Evolve Bamboo GTR
Best Motorized 3000W: Raldey Carbon G3
Best Longboard for All Ages: Exway Flex
Backfire Zealot S is one of the smoothest and most high-performance electric skateboards of 2021. This electric skateboard is an upgraded version of Backfire Zealot. The upgrades done by Backfire have made the board more stable as compared to its previous version, which was not very lithe. The deck is also durable as it is made of maple and glass fiber and has raised edges that provide a great and solid stance.
Moreover, Backfire Zealot S can reach up to 30 miles per hour and has an astonishing range of 24 miles. In addition, the board also has an integrated dual belt system. The two belt motors through which Backfire Zealot S is powered are around 875 W.
It is worth mentioning the board itself has 96mm stock wheels made of polyurethane, which provides a solid grip. However, you can also fit in 105mm Cloud wheels to have a more dynamic skateboarding experience due to these belt motors.
Cloud wheels do not come with Backfire Zealot S but can be purchased from online stores, such as Lumby. Nevertheless, the board is stylish and pops out in the dark because of the cohesive ambient lights. The ambient lights help you navigate your way in the dark as well.
In addition, the battery fitted in Backfire Zealot S has a rating of 9.6 Ah and lasts long. Hence, with Backfire Zealot S, there is less charging and more skating. Overall, the electric skateboard is not expensive and is priced at $999.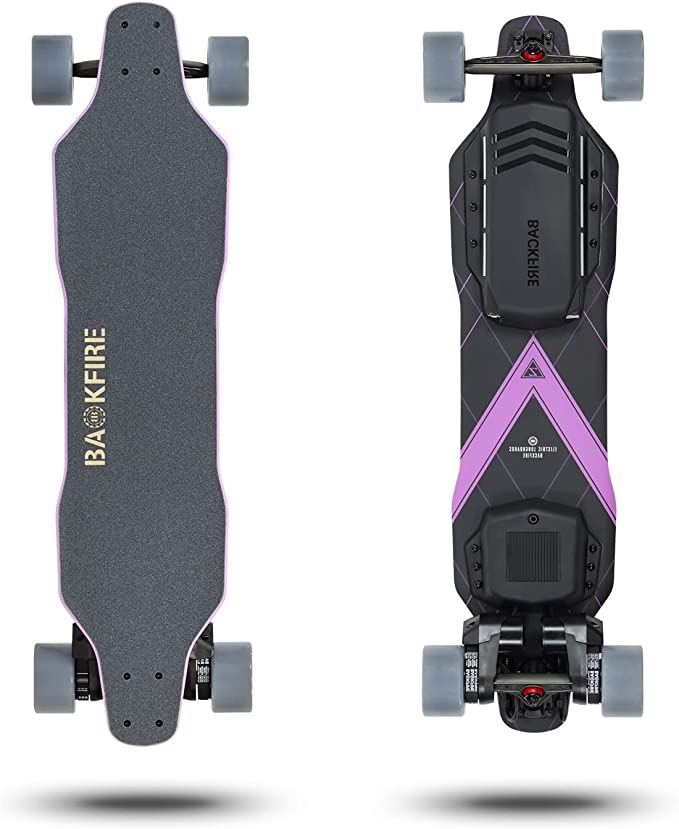 Pros
Excellent build quality (durability)
ABS braking technology
Flexible skateboard deck
Comfortable stance
You can change wheels according to your preference. 
Six months warranty
Cons
Costly
It does not support kick push
Overheating of motors is an issue
We cannot forget Team gee H20 T when discussing the best electric skateboards of 2021. Team gee H20 T is one of the most comfortable electric skateboards. The board is good for everyday travel because of its overall design and tire characteristics.
The skateboard deck is highly durable, made from fiber and flexible maple, and is built to last. Moreover, the board's deck can bear immense weight. It is reported that a person weighing around 130 kg can also ride the skateboard. Now that is something impressive! All this makes this electric skateboard an ideal choice for skating on rough terrain.
Other than all this, the 103 mm stock wheels of the skateboard are made of airless rubber, which provides great traction. Moreover, being made entirely of rubber, the 103mm wheels are also shock absorbent.
Furthermore, the board has a top speed of 26 miles per hour and a range of 22 miles. Moreover, Team gee H20 T is powered by powerful dual 600 W hub motors, due to which the skateboard can also go uphill. There are two variants of Team gee H20 T. The overall features of both variants are the same. However, both of them have different batteries. One has an integrated battery of 7.5 Ah, while the other has a 9.6 Ah battery.
There are four-speed modes, which you can adjust accordingly. Moreover, there are also four braking modes. The best part about the skateboard is that you get a controller with it, which allows you to view your selected braking and speed mode, the remaining battery, and the speed at which you are cruising at.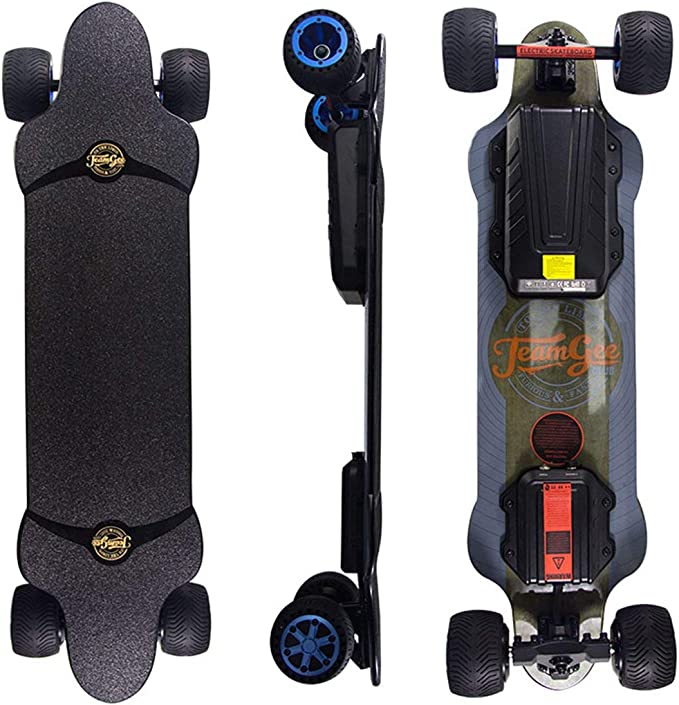 Pros
Numerous options 
The board costs around $599, which is affordable
Water-resistant and splashproof electric skateboard
Comfortable deck shape
Supports kick-push system
You get a warranty of 3 months
Great for everyday transportation 
Cons
Team gee H20 T weighs around 10 kg, which is a bit heavy. Due to this, the board is also not easy to carry.
You cannot use wheels other than its stock wheels. So, you cannot use Cloud wheels and other wheels to match your riding style. 
Overall, the board is affordable and provides excellent performance. If you are a hardcore skateboarder who wants to experience diverse skateboarding options, Team gee H20 T might be your gateway.
Meepo V3 is another one of the best electric skateboards that skateboarders should consider buying. The best part about Meevo V3 is that it only costs $469, which is highly cost-effective. This labeled price make the Meepo V3 one of the best-selling and in-budget electric skateboard.
Overall, the specs of Meepo V3 are great and deliver optimal performance. There are two models of the Meevo V3 electric skateboard. The first one is the standard version, with only 11 miles and a top speed of 28 mph. On the other hand, the different version, V3 ER, has a fascinating range of 20 miles and a maximum speed of 29 miles per hour.
However, the V3 ER variant is priced at around $600, which can be hard to buy if you are on a budget. Moreover, if you are looking for solid build quality, you should consider buying the standard version, as its deck is made of Bamboo-Fiber glass. Being made of Bamboo, the standard version provides high flex, which makes it optimal for paved roads, and provides a stable and comfortable stance.
In addition, Meevo V3 is waterproof and powered by dual 540W hub motors that provide great force to climb up. Because of the powerful integrated hub motors, Meevo V3 electric skateboard has greater torque and a braking system.
Meepo V3 consists of 96 mm-105mm wheels made of polyurethane that reduces slippage and provides great traction.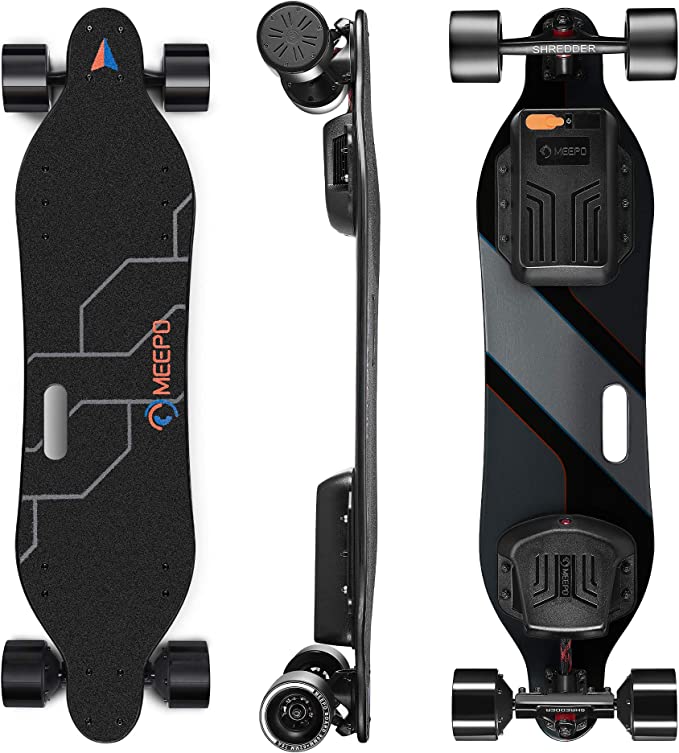 Pros
144 HW lithium-ion battery takes only 2 hours to get fully charged and lasts a long.
Can bear loads up to 100 kgs 
Easy to carry as the electric board weighs around 7.5 kg. 
Convenient design 
Cost-effective
Great acceleration 
Six months warranty
Supports the kick-push system
Cons
Less range 
It becomes a bit unstable when it reaches its maximum speed.
Overall, the board is good and provides great value for money. So, if you are on a budget, and want to get the best electric skateboard with numerous options and high-performance capability, make sure to check out Meepo V3.
WowGo 3x is one of the best electric skateboards that gives you the optimal feel of riding a traditional longboard. WowGo 3x is an absolute beast when it comes to performance. And how can it not be when it is made of brand-generic components of Paris Trucks, Zealous, and Samsung batteries?
This electric skateboard has integrated 2 x 600W motors, which deliver great trajectory and a considerably fast speed of around 24 miles per hour. However, as there are two-speed modes, the board can only reach 24 miles per hour when it is in Pro or Turbo mode. In regular mode, the top speed that Wow Go 3x can reach is only 18 miles per hour.
The deck of the board is developed using Bamboo and Fiberglass. Hence, the electric skateboard is highly durable. Moreover, Wow Go 3x has 92×62 mm PU (polyurethane wheels) that provide a great road grip and are made using shock absorbent technology.
The electric skateboard has a 6 Ah 10s2P Samsung 30Q battery, which only takes about 3 hours to get fully charged and has a range of 12-14 miles.
The electric skateboard also has a remote with an integrated LCD screen on which you can view the current speed, mode, and battery charge. The remote is made using 2.4G RF technology, which makes it super responsive.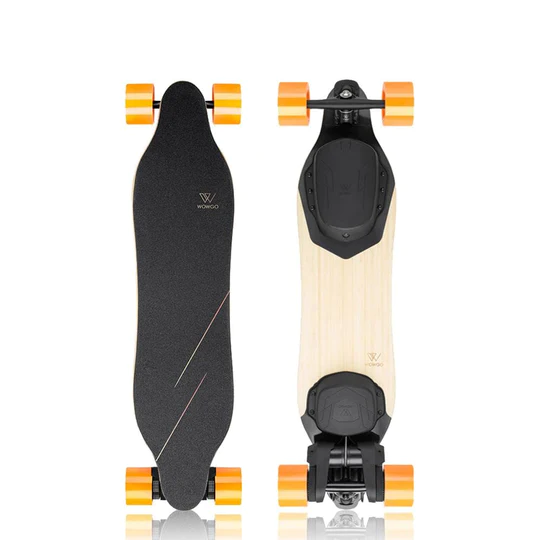 Pros
Water and splashproof
The new and advanced Hobby wing ESC technology makes this board dust-resistant as well. 
Unique deck design
Removable wheels
Quick remote charging 
Long-lasting battery
Available in two dynamic colors, black, and orange.
Cons
Low battery range
It weighs around 10kg, which makes the board hard to carry.
The evolve bamboo GTR series is from the evolve skateboards series. The evolved Bamboo GTR is known to function expertly on all types of ground: rough or bumpy. It is a version of an electric skateboard that uses two wheels that enables the utmost customization. The series of electric skateboards from the evolve that is evolve bamboo GTR uses the old school looks and craftsmanship to give the skateboards a much vintage yet classy look.
An excellent electric skateboard requires a good battery running time. Therefore, when it comes to evolving bamboo GTR the battery life and other specs of the electric skateboards are up to mark. The main goal of the evolved bamboo GTR is to give its client a much better look that includes aesthetics as well.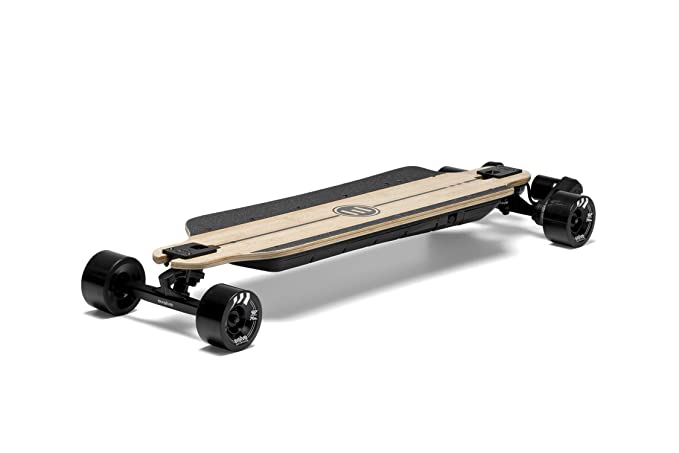 There are several other pros and cons of the Evolve bamboo GTR that are mentioned below.
Pros
Ideal for skating on tall and heavy rides. 
It gives the best performance and rides almost anywhere
Includes the flexible deck that provides the highest comfort level.
It provides the best and most versatile look to the Evolve bamboo GTR.
A good skateboard for beginners as well.
It feels almost as if you are surfing on the road.
Light and easy feel while skateboarding.
Lightest board and is quite travel-friendly.
Cons
It can be expensive and not a good option for those who are looking for affordable skateboards.
The battery tends to sag uphill.
It cannot work without being fully charged.
Often leads to remote disconnections.
Raldey carbon G3 is considered one of the best electric skateboards for several reasons but most precisely for its top speed. However, the speed of Raldey carbon G3 can be somehow lower than the other mentioned electric skateboards, but it offers a good speed at a reasonable price.
The Raldey carbon G3 is induced with the sleek and integrated electronics inside the carbon deck. The Raldey carbon G3 electric skateboard is ideal for beginners to learn and have a fun-filled experience alongside as well. Hence, if you want to buy an electric skateboard that is perfect for daily skating, then Raldey Carbon G3 is your go-to option.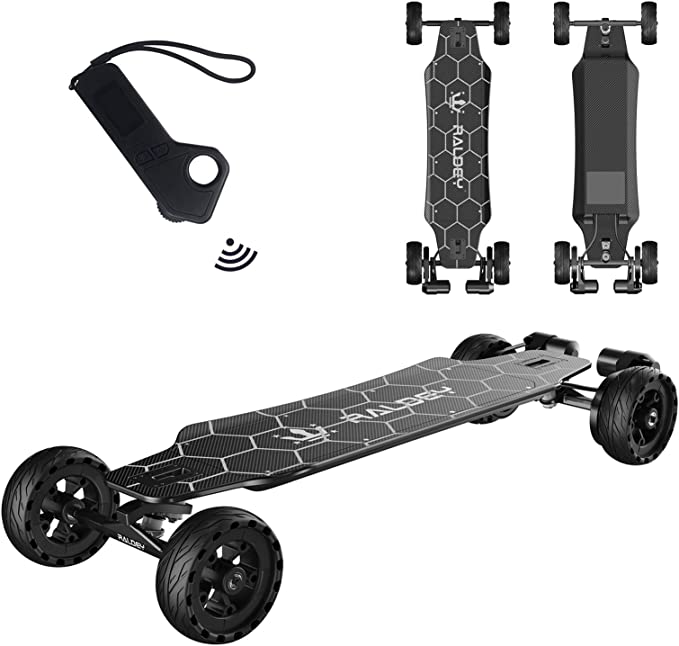 Pros
It offers a good sliding base.
It has a fantastic carving and sophisticated look.
It offers a super sleek and stylish look.
You can change the wheels if you want.
Good for bumpy or untextured roads.
Cons
It does not support the kick-push.
Exway Flex
Last but not least, the exway flex is yet another top-rated electric skateboard. Exway is one of the largest and most famous companies to produce the ideal electric skateboards for today's generation. There is no doubt that the exway flex is known worldwide for its fantastic engineering while they manufacture exway flex electric skateboards.
The exway flex has a relatively decent and flexy concave deck that does not feel uncomfortable when skating. The exway flex electric skateboard has raised and broad shoulders to let your feet sit on the surface at the most comfortable level. Moreover, the foam grip is also present on the top of the skateboard.
The foam grip functions as the shock or vibration absorber from the road to make your skating more fun and comfortable. It consists of a removable or changeable battery system. It means you can carry multiple charged batteries to make it work and last longer. The use of multiple batteries can also help you to increase the range of your exway flex electric skateboard.
The exway flex also includes an interchangeable drivetrain that can be very easy for you to change between the hub motors and the belt drives easily. The changing between the hub motors and the belt drives is effortless and does not take time. So you do not have to worry about your time being consumed.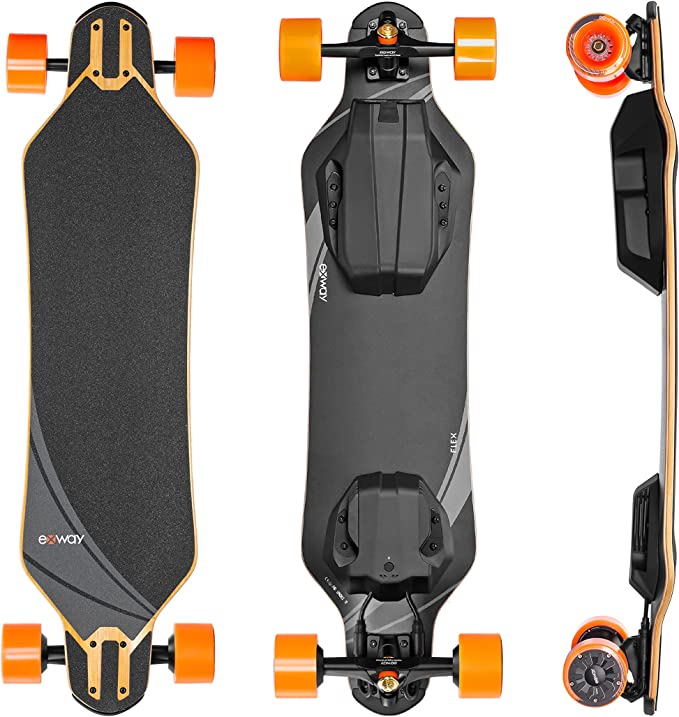 Some of the pros and cons of the exway flex are mentioned below.
Pros
Good for the money. The exway flex is reasonable in price according to its functions.
It offers a very comfortable and easy ride.
It can be customized accordingly to the way you want to ride.
Well-built and professionally designed.
It offers a 12-month or one-year warranty.
It offers a good battery life of around 18650 216Wh.
Cons
Not suitable for hard carving.
Average performance specs provide more cool looks instead. 
Conclusion
The information mentioned above explains the top 8 electric skateboards.