Each passing year takes us to a more modernized age, which needs us to change our living style as well. Have you ever heard the saying, "Modern problems need modern solutions" or "Modern age needs modern equipment?" The world is moving toward luxurious automatic equipment, so should you. Today we've gathered information on one of the most modernized items. That's the fastest electric skateboard in the world.
Yes, you read it right. From manual skateboards to electric skateboards, we are standing at another level of advancement. We all have had at least one skateboard in our childhood. Nostalgic memories, right? Now we have some more advanced, refined, and super fast electric skateboards.
If you're an experienced skate rider, you should not skip the insanely fast speed of new technology electric skateboards. That's why we dug deep into the skateboard world and came up with some amazing electric skateboards at top speed.
In this article:
Our Picks for the Fastest Electric Skateboard in the World:
How Fast Do Electric Skateboards Go?
Well! There's no straightforward answer to this question. Each electric longboard has different construction and technology, and you should not expect the same speed from two different longboards. To get a perfect speed, you must know the purpose of a skateboard ride. Whether you just want it for the daily commute, adventure, or a little neighborhood trip.
But to clear your mind, we will give you an idea. An average electric skateboard can achieve a speed between 20 mph to 30 mph. However, you need to read the complete description and specification of the longboard before buying it.
Do you need faster speed? Fastest? The fastest electric board can go from 35 mph to 55+ mph. Insane right? The recorded fastest speed of an electric skateboard is 59 mph. Which one? You'll get to know the answer in the coming sections of the article.
After experimenting and evaluating all the fastest electric skateboards, we concluded the factors that affect the speed of electric longboards.
Motor power: the more powerful the motor is, the more speedy ride you'll get.
Terrain: the type of surface you are riding on is also an important factor affecting speed.
Rider's weight: The rider's weight can reduce/increase the speed of the fast electric longboard.
Design: the maneuvering design of the skateboard helps the rider handle the board better, which affects the board's speed.
Top 10 Fastest Electric Skateboard in the World
World's Fastest Electric Skateboard – NGV Next Board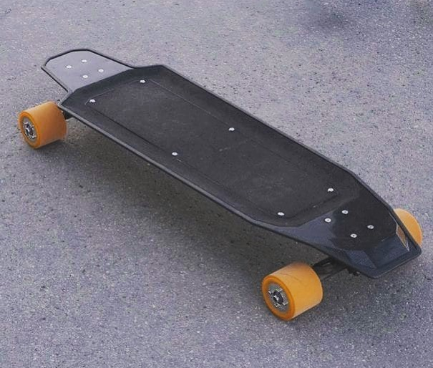 Max Speed: 68 mph
Dimensions: 103*30*15cm
Motors: 2000W 180 kV in-wheel
Range: 10 miles with one 6S battery
Battery: LiPo Battery
Weight: 9.5 kg
We heard you want lunatic speed? What is the fastest electric skateboard? NGV Next board will give you that kind of speed. Don't even think of getting it if you're not experienced enough to handle the crazy speed it offers. You will get endless features from this insanely speedy e skateboard.
From material to stability, everything outclassed other fastest electric skateboards. That's why we listed this one at the top number. The 103cm long deck is built on high-grade carbon fibers that allow it to be lightweight and water-proof. You won't have to find a shelter to keep your expensive electric skateboard from getting wet.
Replaceable 85 mm wheels with a unique urethane mixture make the ride smooth on all kinds of surfaces. You can control the ride with a Bluetooth remote with two-speed settings.
The range can be varied by changing the power of the battery. For example, you can cover 10 miles with one 6S battery, and 20 miles with two 6S batteries in parallel. Speaking of top speed, you can achieve 68mph with a 12S battery. We can't recommend the world's fastest electric longboard to an amateur or a beginner.
Pros
Anti Lock regenerative brakes
Top speed in the world
The water-proof material of the deck
LiPo battery provides enough current
Cons
The battery is not included in the package
Best Comfortable Fastest Electric Skateboard – Bioboard Plutonium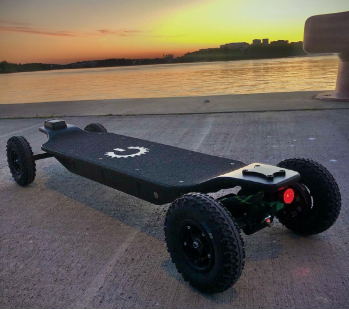 Max Speed: 57 mph
Motors: 5400W sensored motors
Range: 19 miles
Battery:1380 Wh/280A
Hill Climb: 40°
Warranty: 6 months
With the power of 4×18000, the billboard made the fastest e skateboard that can make you go wow. The main concern is speed here, so let's go there. The top speed of the plutonium is 57 mph with all the favorable factors. You can change the speed by changing wheels, amount of motors, and batteries.
The deck with 46″ length and 11″ width has a dropdown design made of Canadian maple and fiberglass. Your feet will be locked in securely thanks to rough grip tape and a bit of concave shape of the deck. Another heart-winning feature, you can even sync all your rides with a mobile app that even informs you about battery status and other details.
Have you heard of a company that doesn't recommend their product at all? The bioboard is the one. Wondering why? Because its dangerous speed can harm you if you fall from it. Better watch yourself out.
Pros
Quieter than other fastest electric longboard
Can get charged under 2.5 hours
Quality building
Super long range
Ride syncing mobile app
Cons
Not for inexperienced riders
Best Innovative Fastest Electric Skateboard – Carvon EVO 4WD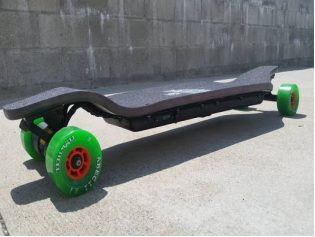 Max Speed: 50 mph
Motors: 2500 W V4 Speed Drive
Range: 25 miles
Battery: Samsung 30Q Battery
Weight: 20+ kg
Hill Climb: 25°
The list of the fastest electric longboard is incomplete without mentioning Carvon EVO. The EVO is one of the innovative skateboards with socks blowing speed. Uniquely built motors are the perfect combination of power, stability, and torque. As for motors, the four powerful motors allow the rider to achieve a top speed of 50 mph. Furthermore, replacing wheels isn't a time-consuming task anymore as disassembling the whole equipment won't be necessary and you can easily remove the attached wheels and replace them.
When it comes to other features, the 39″ stiff deck provides stability during high speed and on bumpy roads. Durability comes from the full-urethane wheel, making the wheel thick and long-lasting. A comfortable ride is possible no matter which type of surface you're riding on this fastest electric skateboard, thanks to all the fantastic features of the 4WD.
The company made quite an effort by potting on electronic parts of the skateboard, which protect it from water and cracking. This feature makes it even more special and worth investing in.
Pros
Advanced motor design
Easy wheel replacement The stable design of the deck
Doesn't make a lot of noise
Durable wheel causes comfortable ride
Cons
Heavier because of four motors
Not for amateur
Best Powerful Fastest Electric Skateboard – BajaBoard Pantera
Max Speed: 45 mph
Motors: 4×3.5 kW motors
Range: 28 miles /45 km
Battery Capacity: 1100Wh
Weight: 26 kg
Payload: 350lbs
From Zero speed to 30 mph in 3 seconds? Is it possible? Yes, it is possible with BajaBoard Pantera. One of the most powerful and fastest electric longboards with a speed of 70 kph and power of 8000W. Four motors drive each wheel with the same power and energy. The company has to put four 110 amp motor controllers because of the peak power of the motors. The Pantera takes hilly or climbing areas very well because of the good inclining capacity. This electric skateboard is not suitable for beginners as you may end up injuring yourself.
To make the ride as smooth as cream, the company made sure to put in all the necessary efforts. The black anodized alloy suspension layout allows a relaxing ride even on the bumpiest terrain. Never try any kind of stunt on public roads. You might not like the results otherwise. You can consider your private property to utilize the top speed of the fastest electric skateboard.
Pros
Fast and comfortable ride
Four powerful motors
Best for hill climbing
Good range and peak power
Cons
Best Overall Fastest Electric Skateboard – Lacroix Nazaré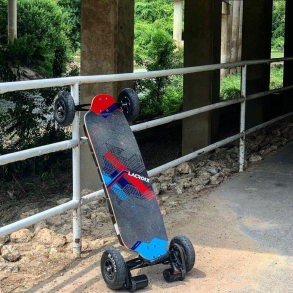 Max Speed: 45 mph
Range: 28 miles
Battery: 882 Wh
Weight: 35-51lbs
Hill Climb: 40°
Warranty: 3 months
Lacroix has developed some of the most remarkable and fastest electric skateboards. Nazaré is one of them. Handling speed jumps while providing a better riding experience is one of the main features of this hero. The concave design of the deck will hug your feet and offer a comfortable place to settle in. Besides, the fiberglass layer on the deck makes it long-lasting and sturdy as well.
The company also offers customized features according to your preferences. The list of the features is endless, and you'll get more features with this power pack. Don't forget that the skateboard can't take more weight than 350 lbs. You can't enjoy the crazy ride of this fastest electric longboard if you're heavier. The charging time of this board is 1.5 hours, which is less than the ones mentioned above.
Pros
Lesser charging time
40% hill climbing
The concave design of the deck
Handle crack, rumble strips very well
Cons
Best Accelerated Fastest Electric Skateboard – Kaly Nyc 2.0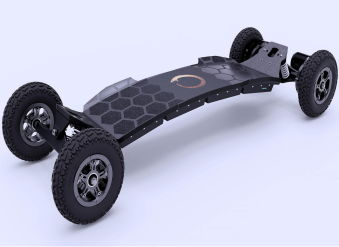 Max Speed: 38 mph
Motors: Hub in-wheel motor
Range: 24 miles
Battery: 700 Wh
Weight: 24 kg
Warranty: 2 months
Kaly Nyc never disappoints anyone as it is one of the most trusted brands regarding the fastest electric skateboard in the world. Kaly NYC 2.0 is one of their jaw-dropping and well-built boards in the market. From riding experience to acceleration, Kaly 2.0 got everything right. The 200mm pneumatic tires will make you feel floating on the road. The board can take you places with insane acceleration. It can go from zero to the maximum in milk seconds.
Unlike other boards, the noise coming from the skateboard motors is not annoying. The sound it creates can tell the pedestrians that someone is behind them.
Moreover, the stylish deck of the board provides excellent stability to the feet because of the stiffness of the material. The material of the fast electric skateboard is water-resistant, not water-proof. It can be saved from water vapor or rain but don't take it to the beach.
Pros
Amazing acceleration
Remote has a 3-speed setting
Strong braking
Cons
Not for beginners
Not water-proof
Best Luxury Fastest Electric Skateboard – BajaBoard G4X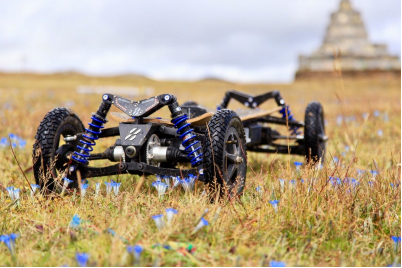 Max Speed: 37 mph
Motors: 2×63 Brushless Motors
Range:21 miles/34km
Battery: 550 or 900 Wh
Weight: 55 lbs
Charge time: 2-3.5 hours
Are you searching for a powerhouse of the fastest electric skateboard? Bajaboard G4X would be your guy. The G4X took a duty to impress everyone with its unmatched top speed of 35-37 mph. You must not have a faint heart to take a good ride on it. Despite a lot of power, you would have everything under control with a super functional controller. This feature makes the ride experience even more comfortable. Responsive controllers and smooth brakes allow the riders to keep themselves safe at maximum speed.
The top-speed electric skateboard has four powerful brushless motors that drive each 10-inch wheel. Aside from motors, the maple composite deck keeps your feet in place and relaxed. Being an expert rider, you must experience the ultimate joy of this fastest electric longboard. The adrenaline rush you get during the ride is terrifying and fun at the same time. Let's unlock the absolute power punch!
Pros
Tackle all terrains effectively
45% grade hill climbing
Belt drive transmission
Head and brake lights
4 wheel regenerative brakes
Cons
Not budget-friendly
A bit heavy
Best Quality Fastest Electric Skateboard – Metroboard X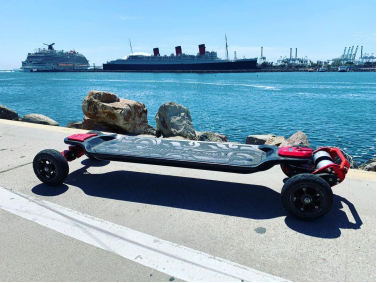 Max Speed: 31-36 mph
Motors: 2×3000W
Range:20-30 miles
Charge time: 5 hours
Weight: 28-29 lbs
Warranty: 6 months
If you ask about the best quality fastest electric skateboard worth spending your hard-earned money on, we would suggest the Metroboard X. The attention-grabbing design makes you look even more classy and stylish. You will enjoy the ride with dual kingpin trucks. Unlike Kaly 2.0, you have the freedom to change the wheel the way you like. The feature we love the most is an excellent range with amazing balance. You no longer have to worry about those high street jumps, as experiencing the smoothest ride isn't a dream anymore.
Integrated lights on the skateboard increase the visibility in the dark. The responsive remote controls everything, from speed to light. Besides, the longevity of the material is significantly increased by glass infusing formula. All of your long commutes can be handled by this fastest electric longboard.
Pros
Integrated lights
Replacing wheel
Customize features
Amazing range
Cons
Heavier
Create a little noise
Best Dual-Belt Fastest Electric Skateboard – ONSRA Black Crave 2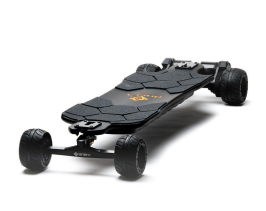 Max Speed: 35 mph
Motors: 2×1300 Watt
Range: 32 miles (52km)
Battery: 648 Wh
Weight: 12.5 kg
Warranty: a year
Under budget? Do you want to buy a cheap fast electric skateboard? We have the best solution. The ONSRA Black Crave 2 can be your long commute companion, and it won't make you break the bank. You'll get ready to ride a phenomenal skateboard, a charger, a cable, LCD remote control, and an instruction manual. Getting all required accessories at half price as other electric skateboards is a big deal. The maximum speed limit equals any high-end and high-priced fast electric skateboard. Let's go into an endless list of impressive features.
Easy to remove swappable wheels provide a feeling of floating on the ocean. The bouncy and light ride is possible due to a mixture of maple, bamboo, and fiberglass material. The ergonomic design of the fast electric skateboard makes it the center of attention when you take it around the public. The easy-to-use remote offers an LCD of speed, battery status, and 3-speed settings. You can get 10-meter wireless connectivity to the skateboard with the remote. The only pitfall we felt was 6 hours of charging time which is quite long.
Pros
Cheap fast electric skateboard
The light material of the deck
Good range and top speed
Swappable wheels
Wireless connection to remote
Cons
Best All-Terrain Fastest Electric Skateboard – Meepo Hurricane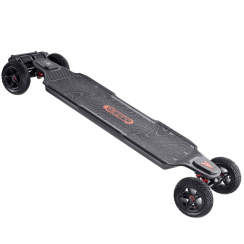 Max Speed: 35 mph
Motors: 2×3500W
Range: 31-44 miles
Battery: 725.8 Wh
Payload: 552lbs (250kg)
Warranty: 1 year
Meepo Hurricane Skateboard has everything you could wish for in the fastest electric skateboard. It offers long battery timing, fantastic acceleration, a strong deck, motor controller, temperature endurance ability, and whatnot. You can ride it on all kinds of terrain, no matter if it's grass, concrete, bumpy road, or a slope.
Did we mention that it's not that expensive? No? Let us tell you that it won't empty your bank account, unlike other fastest electric longboards. Getting a one-year warranty is another favorable point. In terms of charging, the battery gets fully charged within 2.5 hours which is quite a decent timing. So, are you going to experience phenomenal speed and excellent acceleration at a reasonable cost? Don't skip this amazing offer. It's one of the fastest off-road electric skateboards.
Pros
Sturdy deck material
Cost-effective
High torque
One year warranty
46% hill climbing
Effective for all terrains
Cons
The range could be better
What Factors Determine Fast Electric Skateboard Top Speed:
We already mentioned that the top speed of the fastest electric skateboard doesn't only depend on the motor or battery. Multiple factors control the speed of the longboard. Let's dig deep this time.
Motor Power
The acceleration of the skateboard highly depends on the power of the motors. The higher the power, the higher the speed and acceleration you get. You can't expect to fly on the road from a skateboard with less motor power.
Riders Weight
This factor is relatively straightforward itself. The bigger rider is, the slower speed will be. If your weight exceeds the weight limit of the e-board, the speed will be a lot lesser than the actual or expected speed.
Type of Terrain
Riding on grass or riding on a road? You will notice a difference in speed on each surface. The speed will automatically be slower on a bumpier or rough road. But we have listed some of the most stable skateboards in the previous section. Some are the fastest off-road electric skateboards that can ride phenomenally on all terrain.
Battery Power
The motor power and battery power work together to reach the top speed of the skateboard. If the motor is strong enough, but the battery doesn't have the same energy or power, the board can't produce the same output.
Things To Look For While Choosing the Fastest Electric Skateboard:
Spending hard-earned money on something you don't know much about is an absurd and foolish thing to do. That's why we went the extra mile to bring the following features you consider while choosing the fastest e skateboard. So that you won't end up getting ripped off.
Range and Speed
Asking yourself different questions before buying anything is always a great idea. So do you need an electric skateboard for fun? Do you want to use it as a means of transport? After that, decide and buy the fastest electric longboard according to your purpose. Getting the answer to the questions mentioned above will clear your mind and help you get a perfect range and speed e-board.
Performance
Wheels, deck, and trucks are the fundamental features to judge the performance and durability of the skateboard. Does this skateboard survive without an electric setup? The answer will make your mind. The sturdy wheels of the skateboard allow you to fly even without an electric setup. Moreover, you should be looking for swappable wheels. It'll be easier to replace them. Now come to the deck. The deck's material should be lightweight and stable but sturdy enough to handle your weight.
Remote Control
The handy remote controller makes the whole experience convenient. A remote should be easy to use with an LCD display that shows all the details, such as current speed, battery percentage, and different speed settings. Besides, another important feature to look at in a remote is an index finger or a thumb controller. Go for the one which is most suitable for you. But the index finger trigger does feel more comfortable and easy to access.
Price
Before going for the fastest electric skateboard, you should know the price range. The fastest electric longboard doesn't come cheap at all. It would help if you did the proper research beforehand, and a couple of cheap fast electric skateboards shared above may do you a favor. One of them is the Meepo Hurricane which is more budget-friendly than other e-boards. Also, a famous saying, "you get what you pay for," says it all.
Safety Tips On Riding the Fastest Electric Skateboard
Riding the fastest electric skateboard is a lot of fun. However, it comes with some safety concerns. You should keep following safety tips in mind to save yourself.
If you're not an expert, don't do any dangerous stunts with the above skateboards.
Advanced riding skills are a must to ride any fastest electric longboard.
Don't forget to wear protective gear, such as a good helmet, gloves, and knee and elbow pads.
Don't go over speed if you can't handle it.
FAQs Related to Fastest Electric Skateboard
Q1. What is the fastest electric skateboard?
NVG Next board is the skateboard that made a record of the world's fastest skateboard. We have mentioned all the specifications of the board. You should be an expert skate rider to even think about it.
Q2. Can I increase the speed of my fast electric longboard?
Yes, you can. Changing the wheels of the skateboard will make it faster than before. This action will also increase the amount of torque and acceleration overall, so beware of that change.
Q3. Can an amateur ride the fastest electric skateboard?
No, never. We would never recommend any beginner to experience such a high-speed ride. You can hurt yourself real bad. Even companies advertise the skateboard with clear warnings.