Electric skateboards, especially the longboard (long and wide skateboard), allow for a stable, comfortable, and fast commute through the city. But along with speed and agility come the issues of bulkiness and difficulty to carry these big e-boards around town,
That's why many e-board brands have come up with the idea of a compact and sophisticated mini electric skateboard for urban use. These revolutionary designs are light, can be easily carried, and are quite affordable.
Today we'll be highlighting what makes a mini electric skateboard so unique and attractive, and we'll be providing you with a brief overview of the best mini and small electric skateboards commercially available.
Advantages of a Mini Electric Skateboard
Before we begin with the reviews – why should you even contemplate purchasing an electric skateboard with such small dimensions?
Even though longboard electric boards are usually widely considered superior in performance and more convenient to ride, the mini electric skateboard has some splendid advantages as well.
Performance
Contrary to popular belief, smaller electric skateboards also deliver fantastic performance similar to electric longboards. In fact, the only variance between a company's longboard and mini e-board in most cases is the deck.
Fun fact: you can also switch the batteries between a longboard and mini e-board so that the performance somewhat remains the same between smaller and larger boards.
Portability
Traveling with a huge, heavy electric skateboard on a bus or tram can be very difficult. So if your routine involves daily long commutes, then a portable mini electric skateboard is a great option for you. In fact, it can even fit in your backpack!
Lightweight
Sort of similar to the previous point, carrying an electric skateboard in a bus or up a staircase can be extremely exhausting, especially if there's no lift. Hence, a light and appropriately sized mini electric skateboard is a very convenient option.
Air Travel
Unfortunately, most electric skateboards cannot be transported on a plane. So if you are a regular flyer, considering a mini electric skateboard is best. The latter can be your best air travel companions.
Maneuvering
Even though electric longboards generally always have enhanced control and offer an even ride, the chances of smacking into something, particularly in tight spaces, are always high.
Speaking of small electric skateboards, they provide better maneuvering, but mini electric skateboards measuring less than 30 inches are perfect for squeezing into tight spaces.
Affordability
Longboard electric skateboards aren't cheap; however, mini electric skateboards are generally $300 to $500 cheaper than their counterparts.
But this doesn't mean it's compromised on quality. On the contrary, mini electric boards are cheaper since less material is used in their manufacturing process. Companies also realize that there is a profitable market for these compact and convenient boards.
So if you don't want to invest a huge sum of money on an electric skateboard, consider buying a smaller skateboard.
Things to Consider When Buying an Urban Mini Electric Skateboard
Before we begin reviewing the best mini electric skateboards, here are a few things you should consider.
Battery
Smaller skateboards don't have sufficient space for a huge battery, so your range perhaps won't be best. That's why it's important to purchase a board that features an efficient and high-quality battery with a single charge.
Weight
An urban mini electric skateboard must be small yet light. However, electric skateboards feature an electric motor and a battery that reduces human effort while riding and adds extra weight.
Some electric skateboards also feature a single motor, while others contain a dual motor or four motors (4WD). But the more motors, the heavier the electric skateboards.
So, when buying a mini electric skateboard, consider the battery and motor size (and their number), along with the deck, wheels, and trucks.
Motor
The question to consider here is: Belt or Hub motor?
Hub motors are quieter and lighter, whereas belt-driven motors can be used with normal wheels. Hub motors also offer more rotation, heightened acceleration, and more hill-climbing power as compared to belt motors.
Wheels
Always choose wheels with an accurate diameter. Since the deck of a mini electric skateboard is tiny, a proper set of wheels will reduce vibrations on rough roads and make rides more comfortable.
Air Travel
If you want to carry your electric skateboard on an airplane, your battery cannot exceed a 160 Watt-hours capacity. Due to considerable battery capacities, most e-boards are not suitable for air travel. So if you tend to travel by air a lot, it's better to opt for an air-friendly model.
Customer Service
And last but not least, when buying products, efficient and friendly customer support is a must – it's usually the differentiating line between feeling lost and frustrated and adequately satisfied.
Product Overviews: The Best Mini Electric Skateboards
Now that we've gotten the basics down let's review the best mini electric boards available in the market right now. Let's get right into it!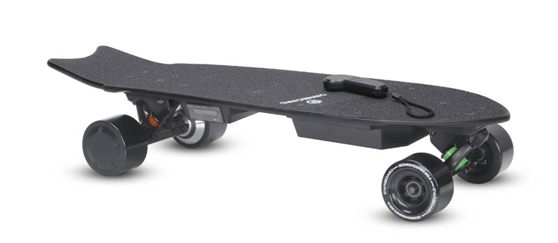 The Ownboard Mini KT flaunts substantial power, speed, and range. Surprisingly under-rated, this electric penny board can climb a 200-foot hill with extraordinary ease. And for just $449, it's a solid deal.
Its standard range is 14 miles, but for a higher range of 19 miles, you can purchase the somewhat expensive Sanyo Tesla 8.1Ah battery – that'll make the overall price of the board $549.
| | |
| --- | --- |
| Top Speed | 25 mph |
| Range | 14 miles for Samsung 6.0Ah battery; 19 miles for Sanyo 8.1Ah battery |
| Weight | 17.2 lbs |
| Weight Capacity | 265 lbs |
| Incline Rate | 30 percent |
| Deck Size | 30 inches |
| Motor | Dual Hub (250 Watts) |
| Cost | Starts at $449 |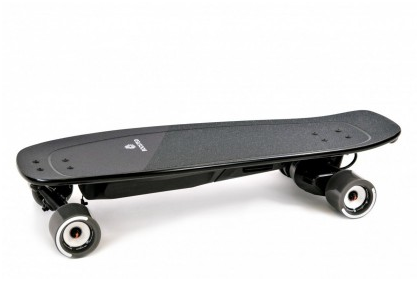 Boosted is one of the most popular e-skateboard brands available. They may be a bit expensive than the standard skateboard but provide amazing performance. The announcement of their mini skateboard range provided cheaper and more compact varieties of the Boosted brand.
The Boosted Mini X features a concaved stiff deck that provides exceptional agility and control. It also excels at sharp turns around tight corners. In addition, enthusiasts can pair the board with a super sensitive and reactive remote to boost their experience.
| | |
| --- | --- |
| Top Speed | 20 mph |
| Range | 14 miles |
| Weight | 18 lbs |
| Weight Capacity | 250 lbs |
| Incline Rate | 20 percent |
| Deck Size | 29.5 inches |
| Motor | 1,000 Watts |
| Cost | $999 |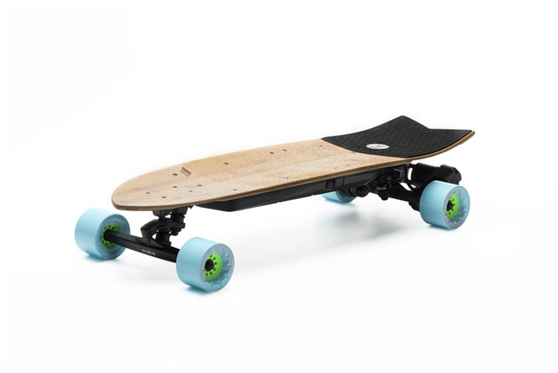 The Evolve Carbon GTR series is quite expensive, but their electric boards never disappoint. Its 33.5 inches length makes it a rather long mini electric skateboard, and it has the best-motorized system of dual 1,500-watt motor scores it10/10 reviews by enthusiasts.
| | |
| --- | --- |
| Top Speed | 22 mph |
| Range | 10 miles |
| Weight | 17.9 lbs |
| Weight Capacity | 220 lbs |
| Incline Rate | 30 percent |
| Deck Size | 33.5 inches |
| Motor | Dual 1,500 Watts |
| Cost | $1,299 |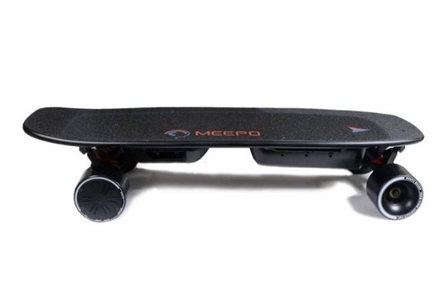 The advanced version of the Meepo Mini 2 delivers exceptional and un-parallel performance. The specifications stand out as compared to any other board available in the market. And for a very affordable price of $609, you should certainly consider buying this board.
A tip for newbies: if the price still seems too expensive, you can buy the old version of the Meep Mini 2 (no ER battery) for just $409; the only thing difference is the mile range (11 miles). Also, this board is quite fast, so ride it carefully.
| | |
| --- | --- |
| Top Speed | 29 mph |
| Range | 20 miles |
| Weight | 18 lbs |
| Weight Capacity | 300 lbs |
| Incline Rate | 30 percent |
| Deck Size | 30 inches |
| Motor | Dual 540 Watts |
| Cost | $609 |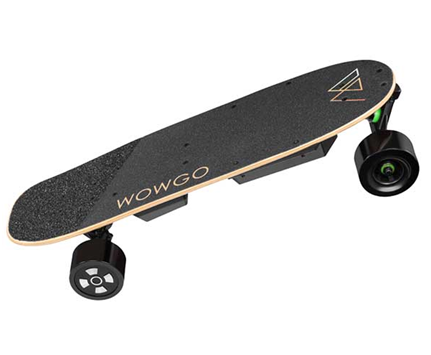 WowGo is a Chinese e-skateboard brand that's taking the market by storm. Not only does this mini skateboard perform better when compared to the Boosted Mini X, but it is also available at half its price!
The WowGo takes exceptional turns, is extremely responsive, and does not feel stiff. And weighing only 15.4 lbs. with a 28-inch deck, it's the classification as portable.
| | |
| --- | --- |
| Top Speed | 23 mph |
| Range | 12 miles (can be upgraded) |
| Weight | 15.4 lbs |
| Weight Capacity | 330 lbs |
| Incline Rate | 30 percent |
| Deck Size | 28 inches |
| Motor | Dual (250 Watts) |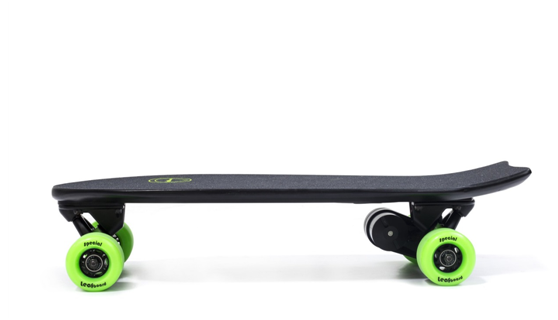 Some people claim that Leafboard is among the original mini electric skateboards that pushed the drive for smaller and cheaper boards. But, in fact, it is the lightest electric skateboard on our list.
Currently, Leafboard features three unique and super stylish electric boards that are a lot cooler and hip-looking than most of the dull and basic-looking e-boards available. Also, you can select the kind of wood for your deck; options include birch, oak, bamboo, walnut, etc.
And if you're a real enthusiast, you may also upgrade the board's original wheels to Orangatang Kegel 80mm Wheels for an additional cost of $40.
| | |
| --- | --- |
| Top Speed | 20 mph |
| Range | 12.4 miles |
| Weight | 10.5 lbs |
| Weight Capacity | 240 lbs |
| Incline Rate | 20 percent |
| Deck Size | 25 inches |
| Motor | 1800 Watts |
| Cost | $489 |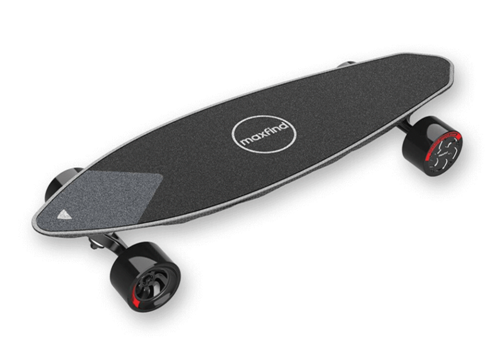 MaxFind skateboards are fantastic electric boards featuring exceptional quality. The Max 2 Pro showcases an attractive design finish and is the first diamond-cut electric skateboard in the world. In addition, its deck is 31 inches long and weighs only 14 pounds, which is a quite reasonable deck size-to-weight ratio for a mini skateboard!
The Max 2 is available in two versions: single and dual motor. We recommend the Dual Motor due to its enhanced specs as compared to the single motor. But if you're tight on budget, the single-motor version costs $90 less and still delivers a fantastic performance.
| | |
| --- | --- |
| Top Speed | 24 mph |
| Range | 15 miles |
| Weight | 14 lbs |
| Weight Capacity | 220 lbs |
| Incline Rate | 25 percent |
| Deck Size | 31 inches |
| Motor | Dual 600 Watt |
| Cost | $619 |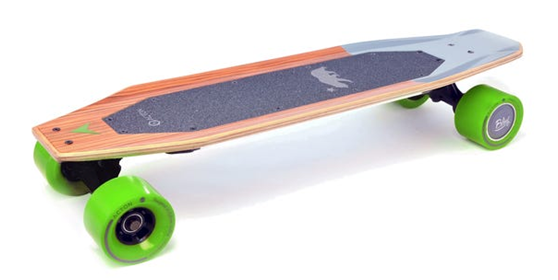 Acton is among the popular brands of electric skateboards, and the Acton Blink S2 is their most popular product. Even though it isn't the speediest e-board out there, it is still extremely fun with exceptional maneuvering and smooth riding.
As for additional safety and better vision, the Blink S2 is equipped with front headlights, sidelights, and rear tail lights to be visible to traffic at night. And another amazing feature about this board is the Acton app which helps you track your board, the number of rides, battery percentage, probable range and allows you to match your ride miles with other Acton riders from across the world.
| | |
| --- | --- |
| Top Speed | 18 mph |
| Range | 14 miles |
| Weight | 15 lbs |
| Weight Capacity | 250 lbs |
| Incline Rate | 20 percent |
| Deck Size | 31.5 inches |
| Motor | 1000 Watts |
| Cost | $599 |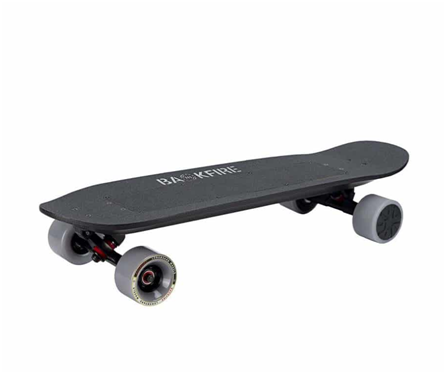 Weighing less than 13 lbs., the Backfire Mini is designed for portability and is the perfect choice for a city commute. In addition, its range can be prolonged with its replaceable battery (Standard: 175Wh, Airborne: 99Wh), which is separately offered for purchase.
Overall, the banana board skateboard features carbon fiber and is available with a standard wheel size of 85mm in diameter. It has an IP rating of 65, and is water-resistant, but not recommended for extremely rainy days since the wheels can slip.
Another exciting feature is it is remote, consisting of an R2 Oled display that allows you to check its status and change any settings on the go.
| | |
| --- | --- |
| Top Speed | 26mph |
| Range | 9-11 miles |
| Weight | 12.8 lbs |
| Weight Capacity | 240 lbs |
| Motor | 450W*2 |
| Cost | $599 |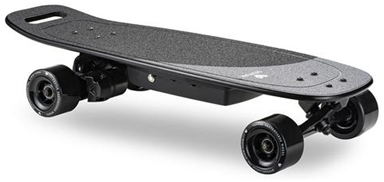 Only slightly heavier than the Backfire Mini, the Vestar Mini shortboard provides more range and superior speed. The latter is the result of powerful dual motors.
This mini e-skateboard can go up to speeds of about 27 miles per hour, boasting an impressive range of twelve miles. In addition, its 7-layer deck made of maple gives the board a sturdy look with great texture. And with a maximum weight of 280 pounds, this extremely lightweight e-board showcases quite a few features which many similar models don't offer.
| | |
| --- | --- |
| Top Speed | 27mph |
| Range | 12 miles |
| Weight | 13 lbs |
| Weight Capacity | 260 lbs |
| Motor | Standard: 5.2 AH SANYO: 7.0 AH |
| Cost | $529.99 |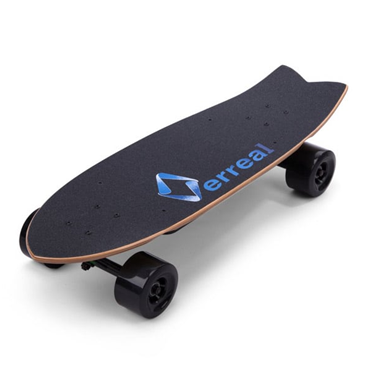 The Verreal Mini is available in two options: either a single motor or a dual-motor version. Since dual motors boost the performance of most models, we recommend those who can afford an increase in the price opt for the two motor boards.
As per specs, the Verreal mini electric penny board can attain a maximum speed of 18.6 miles and boasts a range of 10 miles on a single charge. Even though it's a little heavier than the other models on our list, it is still categorized as a lightweight board.
| | |
| --- | --- |
| Top Speed | 18.6mph |
| Range | 10 miles |
| Weight | 15.4 lbs |
| Weight Capacity | 220 lbs |
| Motor | 1 x 250 Watts 2 x 250 Watts |
| Cost | $ 279 – Single Motor $ 318 – Dual Motor |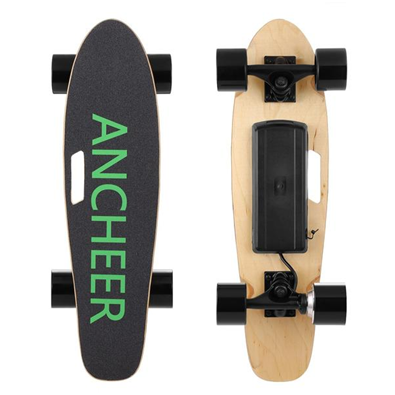 The Ancheer mini skateboard is a total underdog. Ancheer mainly manufactures electric bikes and sports gear/equipment. They tried their hands at an electric skateboard, and they managed to deliver something amazing!
The Ancheer mini skateboard is among the most affordable e-boards on the market. While its performance and range are not the greatest, it's the best fit for a small electric skateboard for urban commutes if you're not looking for too much power and want to save a few bucks at the same time.
| | |
| --- | --- |
| Top Speed | 12mph |
| Range | 6 miles |
| Weight | 8.6 lbs |
| Weight Capacity | 132 lbs |
| Motor | 64.7 Wh |
| Cost | $ 164.99 |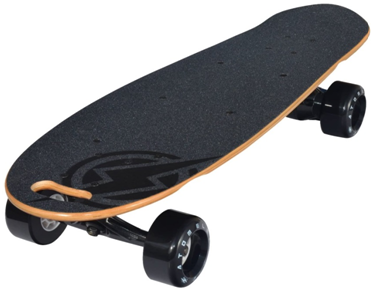 The Atom shortboard does not offer the most exceptional performance: its range is somewhat low, and its maximum speed isn't amazing either. Also, with a 12 percent incline rate, you'll have problems traveling up even the smallest hills.
The only exciting thing this electric mini-board offers is a 1000 watts motor. And the maple deck and board provide a rather attractive artwork and design.
Owing to its 275 pounds weight capacity, it is best suited for kids and teenagers. So if you're a heavier grown-up, it'll be better to opt for some other board.
| | |
| --- | --- |
| Top Speed | 16 mph |
| Range | 7 miles |
| Weight | 11 lbs |
| Weight Capacity | 275 lbs |
| Incline Rate | 12 percent |
| Deck Size | 29.5 inches |
| Motor | 1000 Watts |
| Cost | $449 |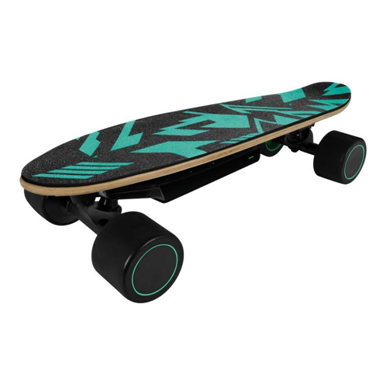 The Swagtron brand features many products, such as hoverboards, and electric scooters, bikes, and skateboards. Most of the products offer reasonable quality and cool designs, and their mini electric skateboards are the most compact and shortest in the market – they can fit in your backpack.
But undoubtedly, the best feature of a Swagtron is the app that lets you control the skateboard from your phone and locks it for safety, chooses ride modes, and offers many more options.
| | |
| --- | --- |
| Top Speed | 16 mph |
| Range | 12.4 miles |
| Weight | 12.5 lbs |
| Weight Capacity | No info. available* |
| Incline Rate | 15 percent |
| Deck Size | 19.4 inches |
| Motor | No info. available* |
| Cost | $799 |
Backfire mini VS Meepo mini 2 er
Meepo mini 2 er is better than the backfire mini in terms of battery life, load, speed, and motor power. And in terms of price, they are also very close.
| | | | |
| --- | --- | --- | --- |
| Backfire mini | | Meepo mini | |
| Top speed | 26mph | Top speed | 29mph |
| Range | 9-11 miles | Range | 20 miles |
| Weight Capacity | 240lbs | Weight capacity | 300lbs |
| Motor | 450W*2 | Motor | Dual 540 Watts |
Final Thoughts
It surely is tempting to invest a thousand bucks on an e-skateboard. Still, smaller e-boards are more affordable and viable, offering comparable performance to their giant, extremely pricey electric longboard counterparts.
Moreover, mini-boards are a much more practical option for a commuter; they can easily fit inside your backpack and be carried on the bus, train, or even under your arm as you walk to your destination.
But remember: an electric skateboard, no matter what its size, can be dangerous, and with mini-boards, there is even less room for standing.
So always ride carefully and reduce your speed when you need to.
We hope this article will help you make a calculated decision when buying your mini skateboard.