A tattoo artist is utterly reliant on his tattoo equipment. Whatever level of ink artistry you have, the best wireless tattoo machine can take your work to new heights.
Compared to wired tattoo guns, tattoo machines equipped with a wireless power supply are more practical, economical and user-friendly. The portability allows you to take your cordless tattoo gun wherever you want. If you travel a lot for work purposes, then the wireless machine will be one of the best options for you.
So we've decided to write an article about the best cordless tattoo machines on Amazon. Various types are included, such as wireless tattoo pens and cordless rotary tattoo machines. The machines reviewed in this article are all popular and high-quality devices available on the market. Perfect for both beginners and professionals, they can help tattoo artists keep creating brilliant tattoo artwork!
In this article,
Our Picks for the 10 Best Wireless Tattoo Machines
1. Mast Archer Wireless Tattoo Machine (Pen Rotary Style) – Good for Beginners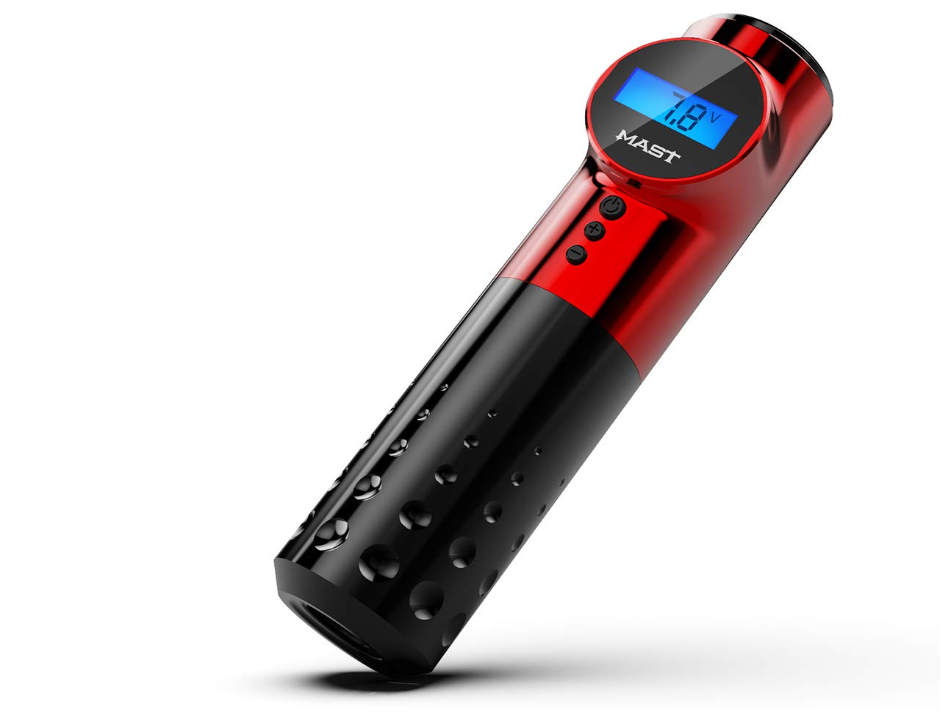 Weight: 186g
Length and diameter: 132mm; 32mm
Battery: 2000mAh built-in battery with Type-c jark
Warranty: 1 year
Stroke length: 3.5mm
Rating: 4.5/5.0
Mast Archer wireless tattoo pen is one well-known rotary tattoo machine with an average price. It's an innovative device friendly to beginners. The gear system is quiet, gentle, and soft, offering you an amazingly comfortable handling experience.
One-piece Body Design
Weighing 186g, the cordless tattoo pen is easy to carry. The seamless body design ensures a suitable grip.
Battery
Mast Archer is equipped with a 2000mAh built-in battery, with a capacity of working 8 hours for every single charge without any trouble. Besides, the battery has overcharge and short circuit protection, providing a safe and comfortable experience. Only a few hours are required to fully recharge the cordless tattoo pen.
Custom Mast Coreless Motor
The coreless motor of the Mast Archer rotary tattoo pen is 12V-10500rpm. The innovative motor guarantees a smooth use, allowing the pen to gently transfer the ink to the skin and create sharp shades and lines. It's a reliable motor with smooth speed change. Almost no maintenance costs and no vibration while using.
Adjustable Voltage and LCD Screen
The voltage of the Mast Archer can be easily adjusted according to your needs, from the starting 5v to the highest 12v. The voltage range gives you a chance to try any tattoo idea you like. Moreover, the innovative LCD screen allows you to read and adjust the voltage freely.
Wide Applications
The Mast Archer wireless tattoo pen is compatible with cartridge needles of all sizes. It suits all skin types and generates amazing healing results.
What is in the Package
A Mast Archer cordless rotary tattoo pen machine, a USB-C type fast charging, a welcome guide, etc.
Pros
Affordable price
Adjustable voltage and needle depth
Friendly to beginners
Low maintenance costs and seamless body design
High voltage range
Portable
Cons
The tattoo pen might be a little chunky for some people
More time is required to adjust the needles
2. Solong Wireless Tattoo Pen Kit (Rotary Tattoo Machine Gun)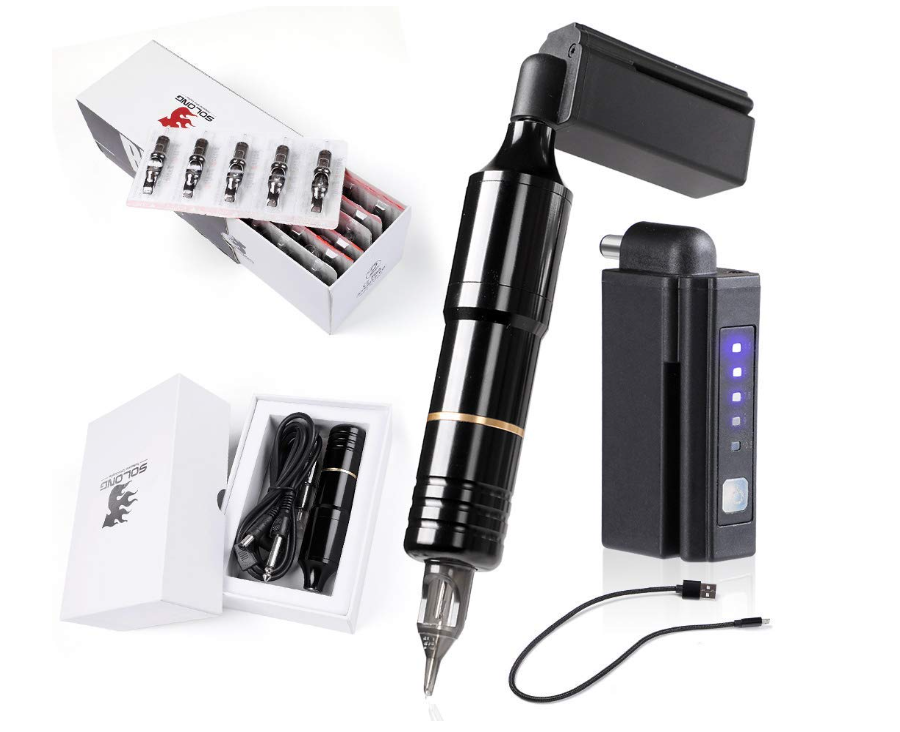 Weight: 10.58 ounces
Operating voltage: 7-11V
Stroke: 3.5mm
Battery: 1500mAh rechargeable battery
Warranty: one year
Rating: 4.5/5.0
Solong is another well-known brand that has produced tattoo equipment for over ten years. Thanks to its rich experience, Solong knows tattoo artists' needs well. This Solong cordless rotary tattoo pen is made of aircraft aluminium alloy with an anodized finish, offering you high durability and reliability in the best possible way.
Battery
Solong wireless tattoo pen kit is equipped with a cordless power supply, that is, a rechargeable battery. Due to the wireless design, you can start tattooing very easily. Just plug into the tattoo pen kit and turn on the button. No connection line is required. Besides, since the battery is only 1500mAh, lower than that of Mast Archer, it would be very helpful for you to get a backup in case it's not enough.
Moreover, the battery allows voltage adjustments and works 2-3 hours after full charge, effectively enhancing the stability of the cordless tattoo machine. Because the tattoo pen kit comes with a DC5.5 connection, you can just take the battery as an ordinary power supply. The battery suits all tattoo pens' DC5.5 connectors.
In addition, you can also see the battery power from the display, helping you tattoo better. A plug adapter allows the pen to work with tattoo power supplies from other brands.
10W Taiwan Motor
Solong wireless rotary tattoo pen kit features a 10W Taiwan motor. In contrast to other motors, this motor produces less noise, lasts longer, and won't become hot after a long time of working. It's strong and stable, allowing you to do any artwork you like, such as tattooing, lip line, permanent eyebrows makeup, or eye line. Beautiful colours, lines, and shades will no longer be a hard issue with the Solong tattoo pen.
Voltage
The maximum operating voltage of the wireless tattoo machine is only 11v. So remember, do not run the pen higher than 11v; otherwise, the motor may be overheated, leading to mechanical wear.
Other Highlights
This lightweight cordless tattoo machine comes with an ergonomic design, offering you a comfortable tattooing experience.
Furthermore, the wireless tattoo pen has a CE certification and one year warranty. The needles are separately packed and carefully sterilized for better ink flow.
What is in the Package
one hybrid tattoo pen, one cordless power supply (1500mAh rechargeable battery), 50 cartridge tattoo needles, and a DC5.5 connection.
Pros
High-quality CE-certified wireless tattoo machine
The feeling of using an actual pen
Wide applications
Made of quality materials
Can work stably with almost no sound and vibration
Friendly to beginners
Cons
Some people complained it might break after a few days using.
3. Mast Tour Wireless Rotary Tattoo Pen Kit Machine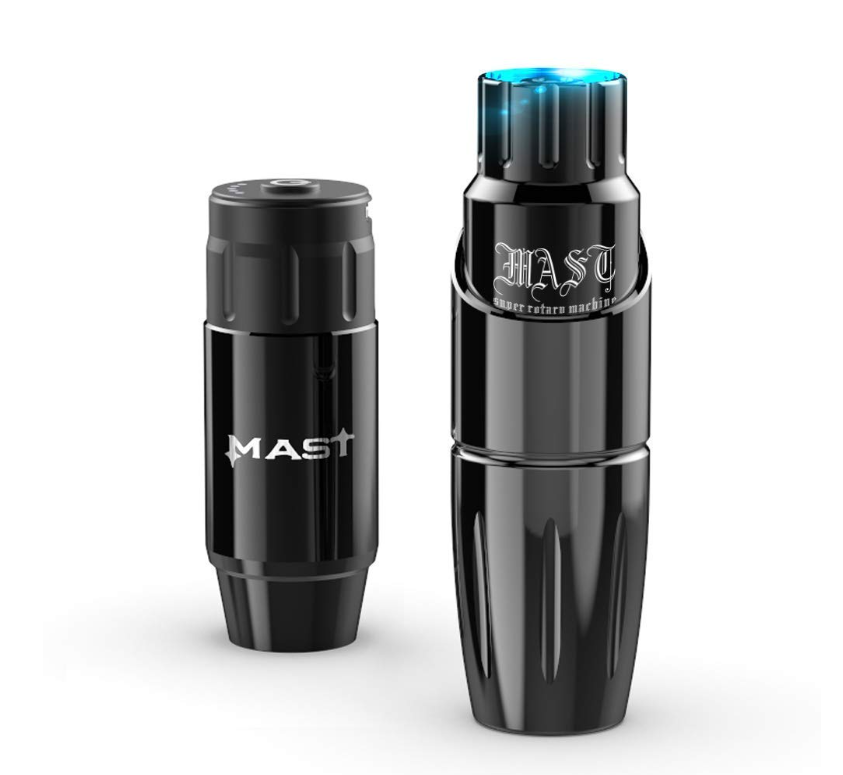 Weight: 82g (0.18lbs)
Battery: 3-hour charging from 0%
Grip size: 25mm
Stroke: 3.5mm
Stitch frequency: 25-160Hz
Rating: 4.4/5.0
The Mast Tour wireless tattoo pen kit is one of the world-class products made by Dragonhawk, one of the world's best-known brands related to tattooing. The amazing performance offers you a chance to perform delicate linework and shading very precisely.
Lightweight Design
Weighing 82 grams (0.18lbs), the wireless tattoo machine is a small pen with only a 25mm grip. With the small body, you can easily pack it into your bag. It's one of the best choices for tattooers who need to travel a lot.
Battery
The battery of the Mast Tour can work for at least 3 hours without interruptions and help the cordless tattoo machine stay balanced. Only 3 hours are required for a full charge. Besides, the power button is at the end of the pen top, allowing you to see the remaining power with no effort.
Japanese Coreless Motor
The motor of the Mast Tour rotary tattoo pen is a coreless motor made in Japan. It's quiet to use and can work at least 3000 hours. The high-quality design ensures a smooth and soft operation, helping generate ideal healing results. You won't be bothered by any vibration.
Stroke Length and Needle Depth
The stroke length of the wireless tattoo machine is 3.5mm, the same as the two products we talked about above.
You can adjust the needle from 0 to 4mm at max by rotating the tattoo pen's battery. With the adjustable needle depth and a stroke length of 3.5mm, creating unique tattoo designs will be just a piece of cake.
Other Highlights
Mast Tour cordless tattoo pen features an innovative special mechanism, making a good direct hit together.
In addition, the classic and simple design makes it a perfect machine for tattoo artists, giving you the possibility to draw precise lines, create black and grey shading, and pack colours faster.
What is in the Package
One Mast Tour rotary tattoo pen machine and one Mast wireless power supply (battery).
Pros
More quality and less painful
Amazing performance
Lightweight and travel-friendly
Powerful Japanese coreless motor and battery
Ideal healing results
Quiet to use
Cons
You may need a backup battery if you're travelling and don't have time to recharge the battery often.
It may require time for you to get used to the needle.
4. HAWINK Corn Rotary Tattoo Pen Kit (Wireless Tattoo Machine) – Cheap Option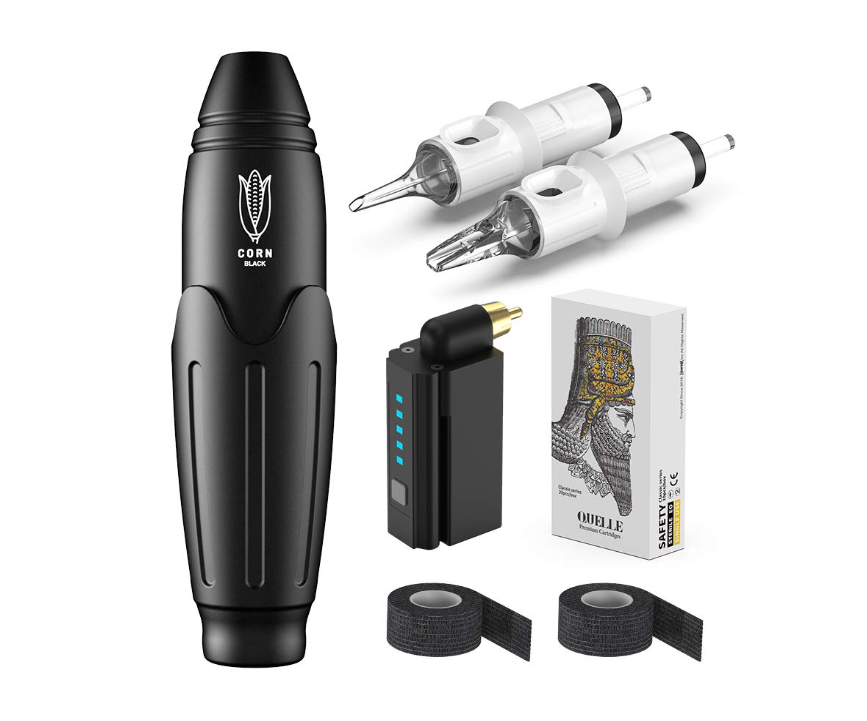 Battery: 1500mAh rechargeable battery
Stroke: 3mm
Operating voltage: 7-11v
Needle length: 0-4mm
Drive: coreless motor
Rating: 4.5/5.0
This Corn Rotary Tattoo Kit is named because the barrel is shaped like a corncob. The fantastic tattoo machine is a newly-designed product of Hawink and comes up with mixed packs to let you get your artistry right away. Let's have a look.
Battery
The Hawink wireless tattoo machine has a rechargeable lithium battery with a capacity of 1500mAh. An RCA cord connection is available for charging purposes. Weighing 50 grams, the battery can work for more than 3 hours after a full charge, although the specific time depends on the voltage level.
Besides, it only takes 2.5 hours to fully recharge the battery.
Motor
The Core Rotary tattoo pen comes with an impressive motor system. The high-quality design ensures smooth shaft rotation and vigorous torque.
Lightweight & Ergonomic Design
This cordless tattoo gun is a pen-style machine with an ergonomic design. It can perform perfectly by guaranteeing a much more comfortable and precise tattooing procedure, compared to other traditional machines. Besides, the machine just feels like an actual pen.
Other Highlights
The Hawink Core tattoo pen works well with every cartridge needle type. It's easy to use, with an operating voltage range from 7v to 11v. Therefore, it's important to notice that you do not run the pen higher than 11v; otherwise, the motor may be overheated, leading to mechanical wear.
In addition, considering many buyers complain about receiving the kit with damaged packaging, Hawink has arranged customer support to help people solve this problem. So if you, by any chance, get the kit with damaged packaging, you can freely contact them. They will send you the replacement.
What is in the Package
Tattoo machines, tattoo needles, a tattoo power supply, tattoo grips, foot pedal, etc.
Pros
Easy to use
Affordable price
Nice customer after-sales service
Sturdy
Cons
Less stroke length compared to other products.
5. Stigma Rotary Tattoo Kit Wireless Tattoo Pen Machine (EM125)
Weight: 112g
Battery: 1500mAh
Operation voltage: DC 12v
Stroke: 3mm
Needle depth: 0-4.5mm
Rating: 4.6/5.0
Stigma is also one famous brand that makes cheap wireless tattoo machine kits. Stigma EM125 rotary tattoo pen is made of Space aluminium frame, ensuring quality and comfortable use.
Two Batteries
Stigma EM125 cordless tattoo machine comes with two batteries, with a capacity of 1500mAh. It's totally worth the money, right?
The two batteries allow you to work with one while recharging the other one, greatly enhancing the efficiency of your tattoo artwork. Besides, there are also indicator lights telling you when to switch them.
Talking about indicator lights, they can also show you the voltage level. One light suggests the voltage is at the lowest level, and five lights mean the tattoo pen works at the highest level. To protect the machine and its power supply, you should remember that you'd better not run the pen over 12V (the maximum working voltage).
Furthermore, the tattoo pen can work for 3-6 hours with a full charge, depending on the output voltage.
Robust Motor and Strong Gear System
The Stigma EM125 wireless tattoo pen features a powerful Japanese motor and robust gear system. That way, you will be no longer bothered by any vibration or noise while working. The advanced motor and gear system combined guarantee quiet and stable operation.
Performance
If you want a liner, you should never miss Stigma EM125. It's a perfect choice in terms of lining work. The ergonomic and lightweight design helps you create more impressive artwork.
Other Highlights
The wireless tattoo machine has a 3mm long stroke and an adjustable needle depth from 0mm to 4.5mm. It's compatible with every cartridge needle.
Moreover, 20 cartridge needles of the most common size are included. They are pre-sterilized by E.O gas and packed independently.
Last but not least, a hard plastic box will be delivered with the kit to protect the device from distortion.
What is in the Package
A rotary tattoo pen, two batteries, 20 pre-sterilized cartridge needles, a plastic carrying box, grip bandages, etc.
Pros
Ergonomic and lightweight pen
Two batteries for changing
CE-certified
Compatible with all cartridge needles
One-year warranty
Attractive appearance
Cons
You may need to replace the batteries, which seems a little troublesome.
6. Dragonhawk Atom Wireless Cartridge Tattoo Pen Machine Kit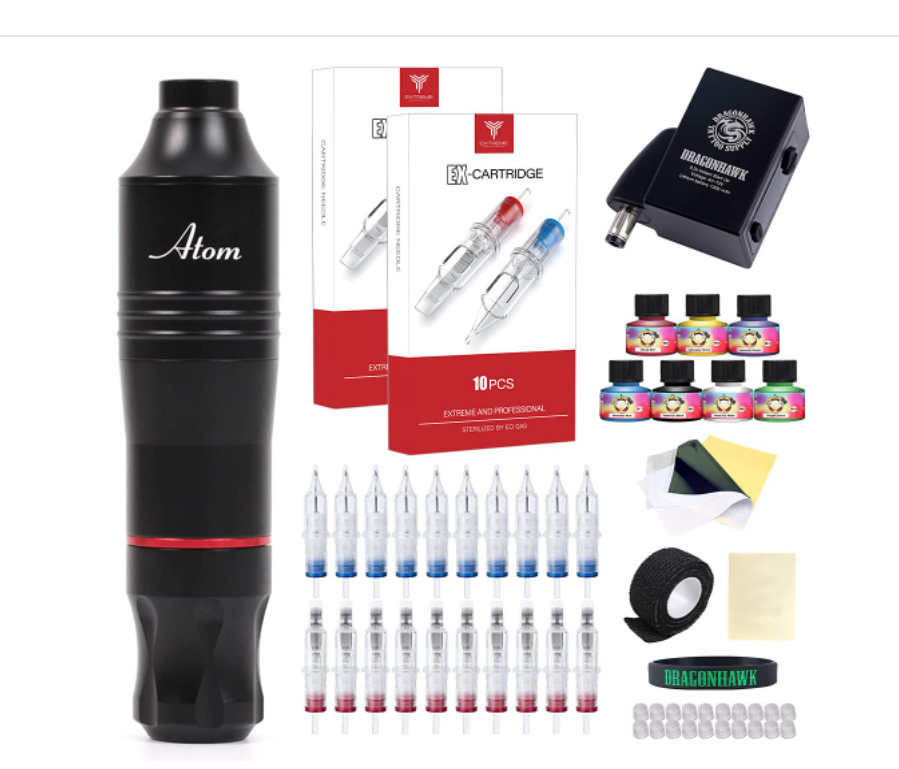 Package weight: 2.05 pounds
Battery: 1300mAh battery
Operating voltage: 4V-12V
Suitable: beginners
Rating: 4.6/5.0
Dragonhawk is a renowned brand that has spent about 15 years focusing on beginner tattoo equipment. The first-generation Dragonhawk Atom tattoo machine has sold over 10,000 every year, proven to be one of the best types by many tattoo artists.
Battery
This wireless tattoo machine kit features a Dragonhawk B1 battery, making the device a perfect choice for travelling and outdoor tattooing. You can record your inspiration at any time without worrying about where to find a plug.
Weighing only 40g, the B1 tattoo battery is best compatible with the atom machine, with a capacity of 1300mAh. The high capacity allows the rotary tattoo pen to work for 3 to 4 hours after a full charge. Besides, it's quite easy to replace the wireless parts.
Motor and Operating System
The motor of the Atom wireless tattoo pen is independently developed by Dragonhawk. The high-quality motor allows continuous and stable operation with low noise.
Besides, the Atom tattoo machine has a simple operating system. You can adjust the voltage according to your tattooing needs and read the power percentage and voltage number from the equipped LCD display screen.
Performance
The Dragonhawok Atom tattoo machine kit is an absolute rocker if you're looking for some machine that can do excellent lining and shading. It's a reliable device for all-purpose artwork with maximum control and stability.
What is in the Package
One tattoo pen machine, one 1300mAh battery, seven colours inks, 20pcs cartridge needles, and Dragonhawk gift(s).
Pros
Made by a well-known brand
Beginner-friendly
Lightweight and stable
Quiet to use
Cons
The battery capacity can be larger.
7. HAWINK Rotary Tatto Pen Machine Kit with 2 Cordless Power Supply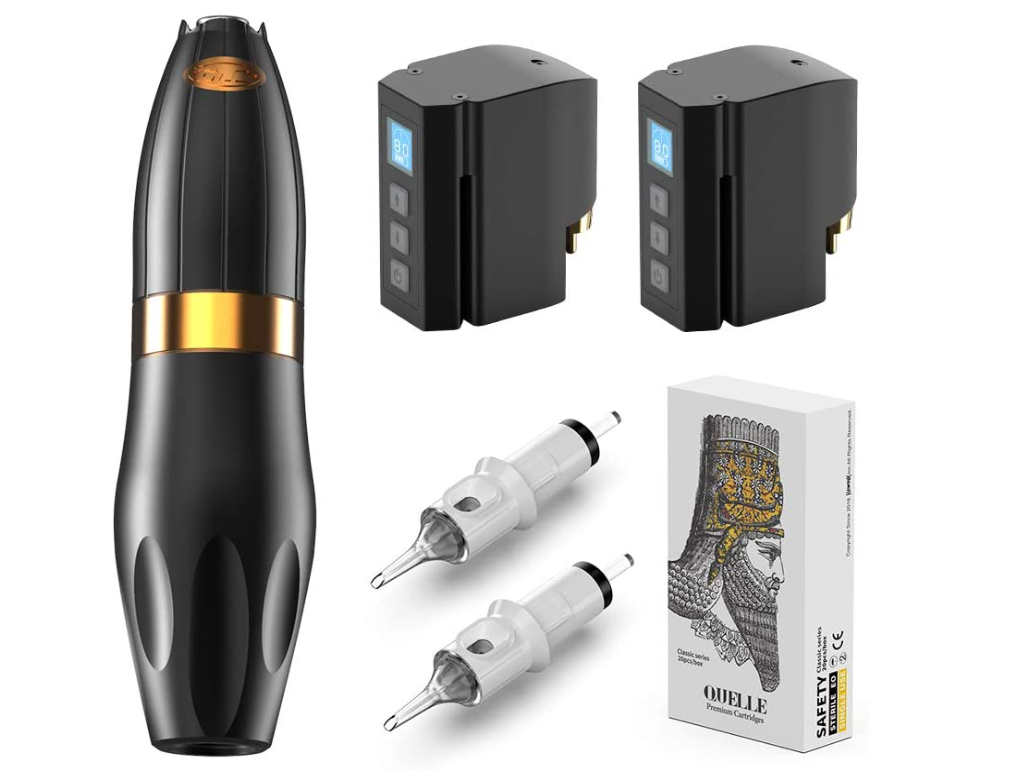 Weight: 162g
Operating voltage: 5V-14V
Stroke: 3.2mm
Needle depth: 0-4mm
Drive: coreless motor
Rating: 4.1/5.0
This is another high-quality wireless tattoo machine made by Hawink. It has amazing specifications that you're definitely gonna love. Let's check it out.
Two Batteries
One of the greatest advantages of this Hawink product is that it comes with two batteries, which can be used interchangeably to make your artwork more efficient. You no longer need to worry about the charge for long tattooing work. There is always a backup battery. Great value for your money, right?
In addition, the battery has overload protection, ensuring safe use.
Operating Voltage
The wireless tattoo machine has an operating voltage from 5V to 14V. Since the maximum voltage is 14V, it'd be better if you don't run the device higher than 14V; otherwise, the motor may be overheated, resulting in mechanical wear. But overall, 14V is already a quite high voltage level. Very few wireless tattoo pens can work at this level.
Performance
In contrast to traditional machines, this product can help you perform more precise tattooing procedures. You can use this almost flawless pen to make shades, lines, and colours.
This Hawink tattoo pen produces low noise and hits the exact amount of ink to create amazing tattoos, especially some intricate small designs.
Other Highlights
The ergonomic design gives you a feeling of using an actual pen. Thanks to the robust motor, you can do your tattooing more comfortably without worries about the vibration.
Moreover, the rotary tattoo pen has an adjustable needle length from 0 to 4mm. The stroke was 3.2mm with an RCA cord connection. Similar to other products mentioned above, this Hawink machine can also work well with all cartridge needles.
What is in the Package
Tattoo machines, tattoo needles, two batteries, etc.
Pros
Exquisite and attractive appearance
Highly stable
Two batteries included
High operating voltage
Perfect for both beginners and professionals
Cons
8. HAKWINK Rotary Tattoo Machine Pen Kit – Cheap Option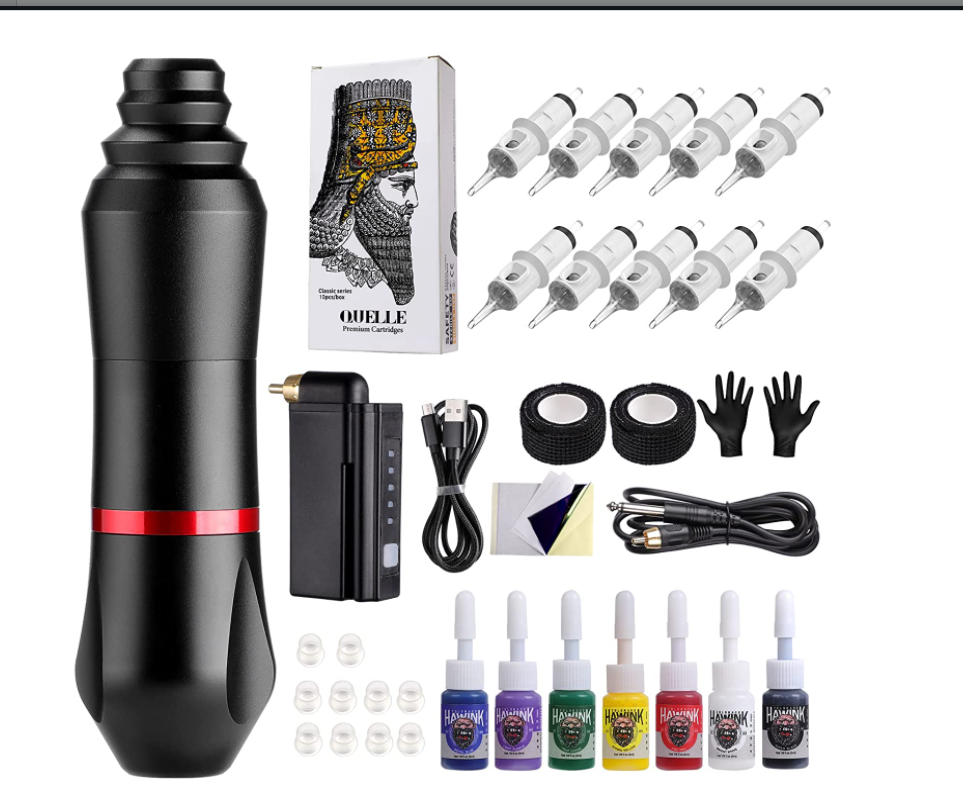 Battery capacity: 1600mAh
Operating voltage: 5V-11V
Rating: 4.3/5.0
This wireless tattoo machine pen also comes from Hawink. As a popular Hawink product, the hybrid tattoo pen won't let you down. It is pretty simple to use.
Battery
This Hawink tattoo pen kit has a mini wireless power supply with a capacity of 1600mAh. You can press the button for 3s to turn the battery on or off. The blue indicator shows the remaining battery percentage. You can check it anytime by quickly pressing the button. Super easy, right?
Powerful Motor
The robust coreless motor makes the tattoo pen as impressive as it is. Tattooers will love this device because of the strong power produced.
Other Highlights
The wireless tattoo machine is designed to offer tattoo artists the feeling of using an actual pen. The light weight and attractive appearance make more precise and comfortable tattooing a reality.
Moreover, the tattoo pen is quite stable and quiet without any vibration. Almost no notice is heard while using.
As to compatibility, this device can work with most cartridge needles and tattoo power, making it a very suitable choice for beginner tattoo artists.
Last but not least, Hawink provides very nice customer support. Any problems related to product use are welcomed. If you have any, just contact them. They will help you address the problem as soon as they can.
What is in the Package
One tattoo machine, one tattoo battery, one RCA cord, one tattoo ink set, ten small tattoo cups, ten pre-sterilized tattoo needles (1003RL & 1005RL), two rubble gloves, one tattoo grip cover tape, transfer paper, etc.
Pros
Renowned brand
Beginner-friendly
Cheap price
Complete tattoo kit
Nice customer support
Cons
You may need a backup battery for travel purposes.
9. Hawink We Pen-style Rotary Wireless Tattoo Machine
Weight: 176g
Battery: two 900mAh batteries
Operating voltage: 5V-11V
Stroke: 3.5mm
Needle depth: 0-4mm
Rating: 4.1/5.0
Hawink We rotary tattoo pen is the first wireless tattoo machine manufactured by Hawink. It's a really high-quality cheap machine. Check how.
Battery
The wireless tattoo pen is equipped with two power supplies. I guess the only downside here is that the capacity of each battery is only 900 mAh. But anyway, you can have two.
Each power supply can run for 3.5-9 hours, as calculated by Hawink's team. Besides, the energy efficiency rate can reach 85%, and only 1.5 hours are required to have it fully recharged.
Moreover, there are rainbow LEDs telling you the remaining power.
WE Motor
The cordless tattoo machine features a motor named "WE", designed by Hawink individually. The WE motor is the shortest drive they have made until now. Since the machine is not a direct drive, it can achieve many tattoo effects. Low vibration is guaranteed.
Furthermore, the motor has low energy consumption, consistent with the green concept of WE. Impressive, right?
Other Highlights
The stroke length of the Hawink WE tattoo pen is 3.5 mm, and the needle depth can be adjusted from 0 mm to 4 mm. The Type-C cord is available for fast charge.
Besides, considering beginners may have some issues with using it, the package comes with a professional manual to address their concerns.
Tattooists may think this product is a little heavy (176 grams). Even though it's still recommendable because around 80% of the weight is focused on the grip to provide users with a comfortable experience.
Last but not least, Hawink offers a one-year warranty for customers buying this cordless tattoo pen. Discounts are available from time to time.
What is in the Package
One tattoo machine, two batteries, one Type-C cord, and one professional manual.
Pros
High-quality machine at a cheap price
Two batteries with high energy efficiency
WE motor
One year warranty
Cons
Some tattooists may think it's a little heavy
The capacity of batteries can be improved
10. Ambition Soldier Rotary Wireless Tattoo Machine Pen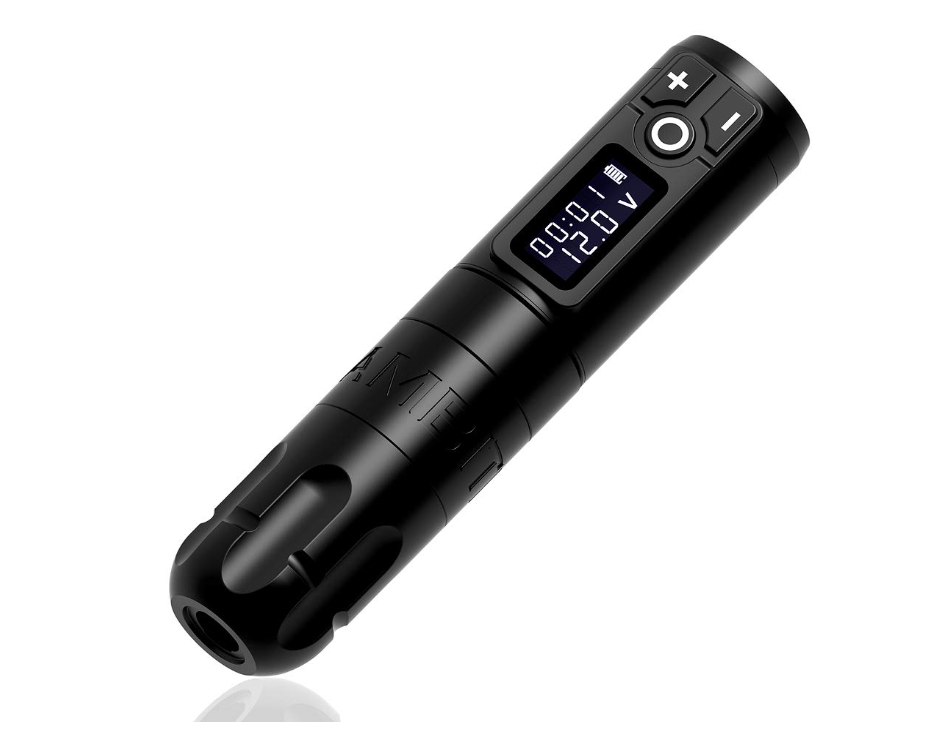 Weight: 210g
Battery: 1950mAh
Operating voltage: 5V-12V
Motor max speed: 10800rpm
Stroke: 3.5mm
Rating: 4.5/5.0
The rotary tattoo pen from Ambition is also a popular product among tattoo artists. Easy to detach, it has an impressive appearance and amazing features.
Battery
The wireless tattoo machine comes with a built-in 3×650mAh lithium battery, with a total capacity of 1950mAh. Thanks to the powerful battery, the device can work for a long time. If the output voltage is 8V or under, it can keep working for 5-6 hours. More importantly, it only takes two hours at most to get the machine fully recharged.
Besides, the battery is replaceable at any time you want. A digital LED display screen is equipped to help you know the power and voltage.
Japanese Coreless Motor
The Ambition rotary tattoo pen has a built-in coreless motor made in Japan, with a speed of 10V-9000rpm. The high-quality motor produces very low noise and won't become hot after long-time work.
Overall, it's a powerful and steady motor that can perform well in lining, color packing, shading, etc.
Wide Applications
The wireless tattoo machine can work well with all cartridge needles. It suits all skin types, allowing you to safely use it on your or your customers' skins with no worries.
The sophisticated direct drive system makes the machine a stronger shader and liner, bringing ideal healing results.
Other Highlights
The tattoo pen is easy to detach with an aluminium alloy frame, and CNC carved shell. You can easily disassemble the device and replace the spare parts. If you don't mind using a heavy machine, you can take a try.
What is in the Package
One battery tattoo pen, one RCA adapter, one 4.0mm eccentric wheel, one USB fast-charge data cable, and one box.
Pros
A built-in battery with a strong capacity
Flexible to use
High-quality motor
Impressive performance
Cons
A little heavy for some tattooists
How to Choose the Best Cordless Tattoo Machine
After reading our reviews about the best tattoo machines, you may gain a general idea of what a good wireless tattoo machine should look like. Here is a quick summary:
Lightweight
Low noise and vibration
Strong battery capacity
Powerful motor
Easy to use and adjust
Suits all cartridge needle types
Suits all skin types
Good weight balance
Excellent performance
The list is not over. To be honest, it's always difficult to select the best out of many. To help you out, we also write a detailed guide below to let you know what features you should consider.
Battery
When choosing a wireless tattoo machine, the battery is always the first thing to think about. You have to check out the battery's capacity, running time, charging time as well as durability. All these criteria are important.
If the running time is not enough, you have to bring a backup battery for an emergency. Besides, it's of vital importance to monitor any power change while making tattoos because it may indicate that the battery is going wrong.
Weight
In contrast to tattoo machines with cords, a wireless tattoo machine is usually more flexible and convenient. You don't have to handle those cords, greatly enhancing your productivity.
But the added battery will make the machine heavier. So it can increase the difficulty of working with a machine if you haven't gotten used to a heavy device.
Therefore, do keep in mind the overall weight while buying a wireless tattoo machine. If you don't like heavy ones, then it would be better to look for a lightweight cordless machine.
Voltage
Because many people try to compensate for the machines' wrong operation or design problems by simply upping the operating voltage on their power sources, the operating voltage is a critical factor. As a result, the voltages differ by two or more times from the optimum.
As a result, the devices burn out, heat up more quickly, and stop performing correctly or consistently.
Compatibility
Some good tattoo machines are compatible with all cartridge needle types. But since most machines have their own specific needle depth. So they may be not compatible with other needles. Therefore, it'd be better if you could buy some needles that can work well with your machine.
Or some packages will include a certain number of tattoo needles provided by the manufacturers.
Comfort
Comfort is also one important factor that you should take into account. Different people have different experiences. For example, some people prefer to hold a pen with ribs, while others prefer a pen without ribs and a smooth grip surface.
Overall, it's advised to choose one tattoo machine that is simple to handle and comfortable to use. Nowadays, many producers have introduced ergonomically-designed tattoo pens with a great grip, offering you a feeling of using an actual pen. Worth a try!
Machine Kit
Generally, a wireless tattoo machine comes with a tattoo kit, including batteries, adapters, compatible needles, foot pedal, etc.
You have to make a tradeoff when selecting a machine. Because prices are different based on these additional parts. A higher price often provides more functions with higher quality.
Budget
It can be tough to keep the costs of tattoo pen machines under control due to the best possible architecture. Furthermore, most high-end coil machines are less expensive than pen-style machines.
As a result, it is vital to purchase those that are cost-effective while maintaining operating efficiency.
Reputation
Before choosing a pen-style rotary tattoo machine, make sure the brand has a good reputation. Choosing brands such as FK Irons, Hummingbird, Dragonhawk, and others is recommended to make a rewarding purchase.
Some pens will not "accept" cartridges from other manufacturers, so be sure you get the proper one if you're used to a particular brand. You should be aware that it is preferable to use high-quality cartridges with membranes with high-end equipment. Consider that for a moment.
Frequently Asked Questions
1. What Happens If a Tattoo Needle is Inserted Too Far Into the Skin?
Blowouts are an uncomfortable but common tattoo problem that arises when the artist applies the ink too profoundly. If the ink is applied too deeply, it will spread throughout the skin layers. Keloids affect some persons more than others, especially those with darker skin, and should be cautious while obtaining a tattoo or piercing.
2. What Does a Novice Tattoo Artist Require?
Needles, tubes, tips, grips, ink, a machine, stencil materials, and a power supply should all include in your tattooing supplies for a decent start. The appropriate tattooing equipment can help you get started on generating gorgeous works that your customers will appreciate.
3. What is the Ideal Depth for a Tattoo Needle?
So, how deep should a needle be inserted into the skin? The fluid is injected about 1/16th inch deep into the skin. It means that the ink will be deposited precisely between the dermis layer's two millimeters.
4. Do Tattoo Lines Become Hazy As They Heal?
During the healing process, tattoos can appear sloppy and fuzzy. While your skin is mending itself, you may notice some ink leakage and grey lines. However, if your skin has healed and the lines of your tattoo are smudged and uneven, you have a tattoo blowout. Allow a few weeks for your tattoo to heal.
Conclusion
There are many options in the market to get you completely confused. A wireless tattoo machine that works for you might not work for others, and vice versa. Purchasing a device can be difficult if you don't know what to look for them.
We've compiled a list of the top 10 best cordless tattoo machines, one of which will undoubtedly meet your needs. To assist you even more, we've outlined the selection criteria to assist you in making a better educated final decision. Consider the buyer's guide listed above.
Finally, it's critical to have the tattoo design executed correctly using the appropriate instruments, but it's also crucial to remember to follow the aftercare instructions.