If you have limited time to go through the best tactical dog vest review, our top pick is ICEFANG Tactical Dog Vest.
Every day more than 900 people suffer dog injuries in the US. And many of them are adolescents and kids. Having complete control over your dog is a step toward minimizing dog-related injuries.
Sometimes dogs can jerk away from the leash unexpectedly. Imagine your Pitbull breaking away accidentally from your hold while in a crowded park.
Don't wait for the accident to happen. Get the best dog tactical vest and enjoy easy control of the pet when hiking or hunting.
Read on for the sturdy, reliable, and simple-to-use tactical vests.
Our Top Picks of the Best Tactical Dog Vest
Brief Overview of Tactical Dog Vests
What is a Dog Tactical Vest
A dog tactical vest is also termed a tactical or military vest. When you wear it to your dog, the pet becomes easy to control, comfortable and safe. On the sides of the vest are slots, a MOLLE system, and adhesive strips for attaching lightweight bags.
How Does a Tactical Dog Vest Work?
A tactical vest exerts easy control over the dog without causing pain in the throat and chest. The ordinary leash and collar require much effort and predispose both parties to injuries.
A training vest straps the dog to various vital points. That way, the harnessing spreads out the pressure and limits discomfort on the animal. Most military vests strap the canine at the chest, upper spine, shoulder, and abdomen.
Also, a leash attachment at the chest and top handle minimizes the pulling effect by the pet during hiking. Besides exerting control, a tactical vest shows a dog's identity.
Dogs that Need a Military Vest
Not all dogs require tactical vests. Remember, the chief benefits of a military vest are easy to control, quick identification, enhanced safety, and hand-free carrying of light loads. Consequently, a tactical vest is ideal for:
Police dogs
Service dogs
Hunting dogs
Companion dogs
Detailed Reviews About the 10 Best Tactical Dog Vests
1. Best Overall: ICEFANG Full Body Tactical Dog Vest | Military Service Dog Vest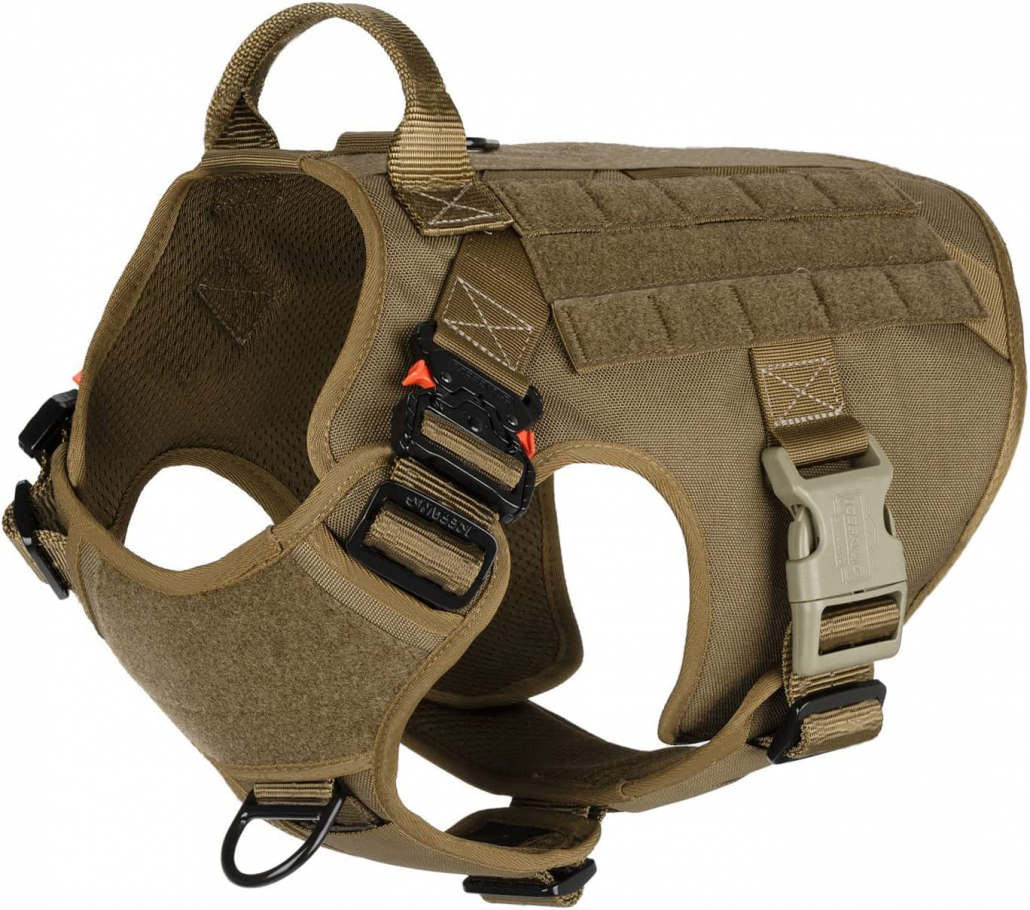 Color: Brown
Weight: 1.43 Pounds
Material: Military-grade Nylon
Brand: ICEFANG
Rating: 4.7 out of 5.0
The ICEFANG tactical dog vest with 2X metal buckles boasts a durable design. On the shoulder and chest position, it has sturdy metal buckles that can take on pulling of 1000lbs. On the other hand, the buckles on the belly tolerate up to a pull load of 250lbs.
When walking your dog, the D ring on the back of the neck comes to your aid. And during no pull training, you use the D clip on the chest region.
Sometimes you need your dog close by your side, for example, when in a crowd. So, by using the sturdy nylon top handle, you exercise control and safe handling of the dog.
Unlike other tactical dog vests, ICEFANG employs five adjustment points on the shoulder and chest. Adjusting the dog vest to achieve a snug fit is hence trouble-free. However, it taps on reliable stitching on heavy load points to prevent snapping off.
On either side of the ICEFANG tactical dog vest is a molle system that supports hands-free carrying of gear when training, hiking, or walking your pet.
Pros
Comfortable to the skin
Available in 10 different colors
Durable design
Easy to adjust the fit
Cons
2. Top Pick: OneTigris Strong Tactical Dog Vest with Handle | Tactical Puppy Harness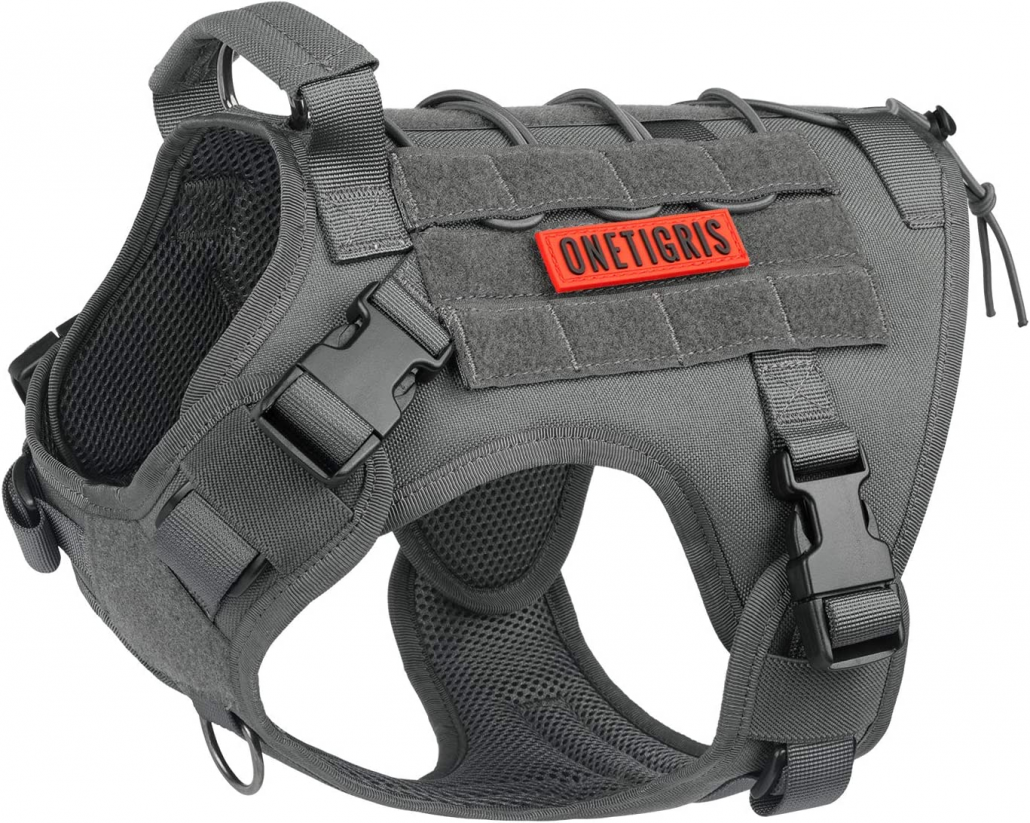 Brand: OneTigris
Color: Gray
Closure type: Buckle
Material: 1000D Nylon
Rating: 4.6 out of 5.0
The premium 1000D nylon material and the soft mesh padding make the OneTigris tactical dog vest hard to beat. That means all the pressure points won't bite into your dog's skin.
By blending the top handle and stainless-steel D rings, Onetigris tactical vest for dogs gives easy control of your dog in high-traffic areas. The front V Shaped ring makes it trouble-free to attach a dog leash.
Wearing the tactical vest should not strain you since it has four quick-to-release buckles. Whether you need to attach a morale patch or ID badge, the tactical vest doesn't disappoint. On top of its molle system, the tactical no-pull service dog vest has plenty of heavy-duty loop panels on either side.
Pros
Available in 5 sizes and colors
Durable but comfortable material
Allows you to attach badges and hiking gear to the vest
Easy to adjust Dog vests
Cons
Its pouches can't support heavy loads
3. Best for Enhanced Visibility: Auroth Tactical Dog Vest for Large Dogs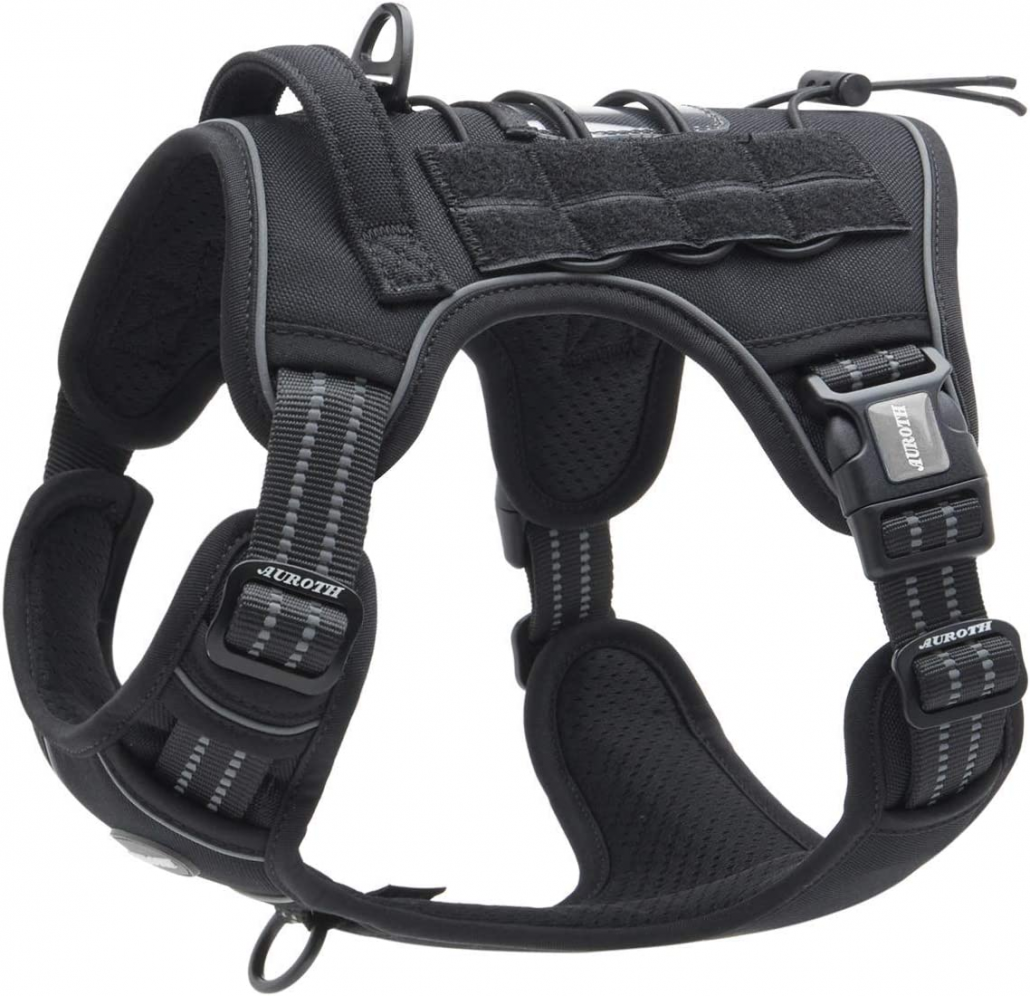 Brand: Auroth
Color: Black
Material: 900D Nylon
Weight: 1.1 Pounds
Rating: 4.6 out of 5.0
Talk of the best tactical dog vest with outstanding durability, and the Auroth looks promising. The 900D nylon material, sturdy stitching, and the D rings that tolerate 1200lbs say it all.
Each of the strips on the vest is broad and has soft padding on pressure points. Furthermore, the equipment also employs four adjustable straps on the chest and shoulder. So your dog can feel comfortable and move about with ease.
The metal leash adjustment ring in the front and back makes controlling or walking the dog more convenient. Even though the Auroth tactical vest has plastic buckles, they are sturdy and promising in durability.
Pros
Large and comfortable Velcro strips on each side
Dual ways for attaching a metal leash
Available in 15 different colors
Durable construction
Reflective edges
Cons
Some buckles are plastic though promising in durability.
4. Best for Large Breeds: Rabbitgoo Tactical Dog Vest for Large Dogs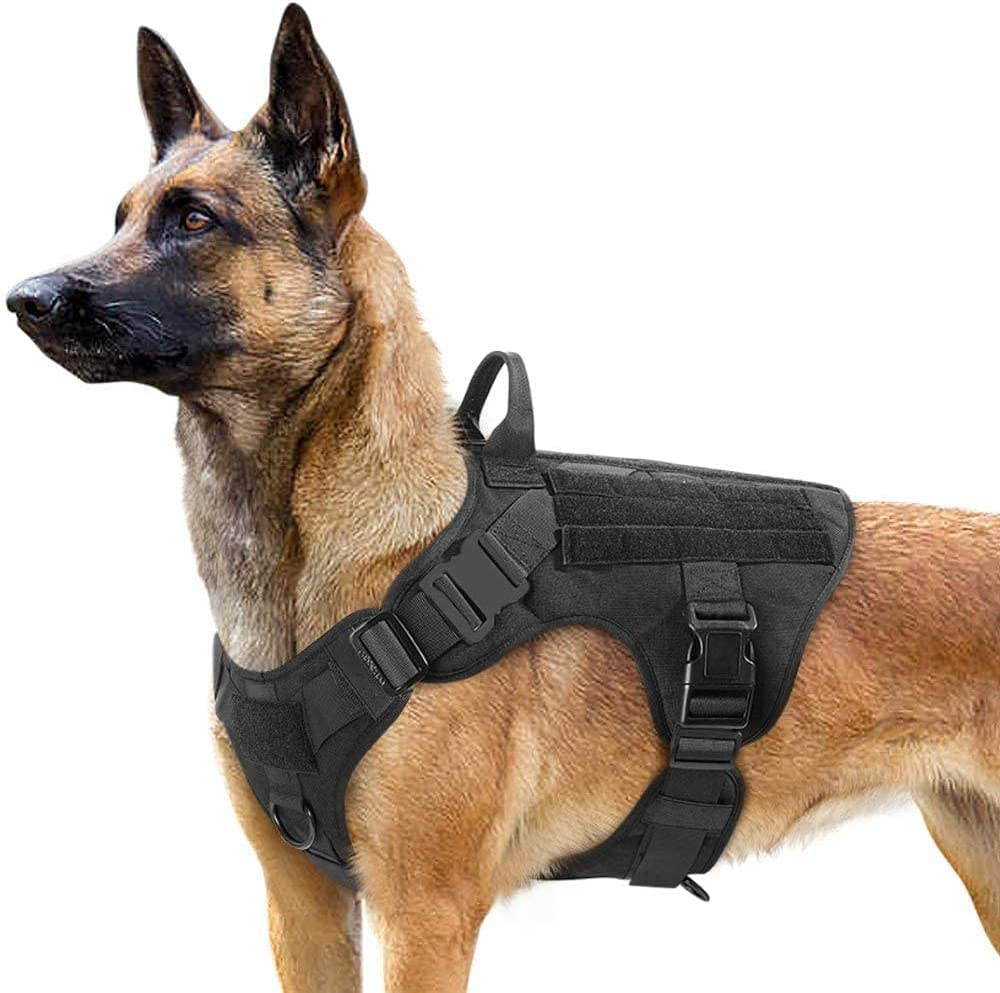 Brand: Rabbitgoo
Color: Black
Material: 1050D Nylon
Closure Type: Metal Buckle
Rating: 4.4 out of 5.0
Large dog breeds such as German Shepherd and Golden retrievers need sturdy tactical vests. And to cater to such large dogs, Rabbitgoo vests for large dogs feature military-grade 1050D nylon material that's tear and wear-resistant.
Its metallic shoulder buckles and reinforced stitches withstand the great pulling of your pet. While lifting your dog to the car or in a crowd, the top handle of the vest proves trustworthy. Unlike other brands, the breathable Rabbitgoo tactical dog vest incorporates adequate padding of pressure points.
During hiking or hunting trips, the molle system on the dog vest helps carry tactical gear. At the same time, the big loops and hoops make room for attaching morale patches and ID badges.
Pros
Available in 6 different colors
Numerous adjustment points ensure the snug-fitting vest
Durable and breathable dog vest
Comfortable to wear
Cons
Challenging in finding the right size
5. Best Value: PET ARTIST Tactical Dog Vest for Hiking and Training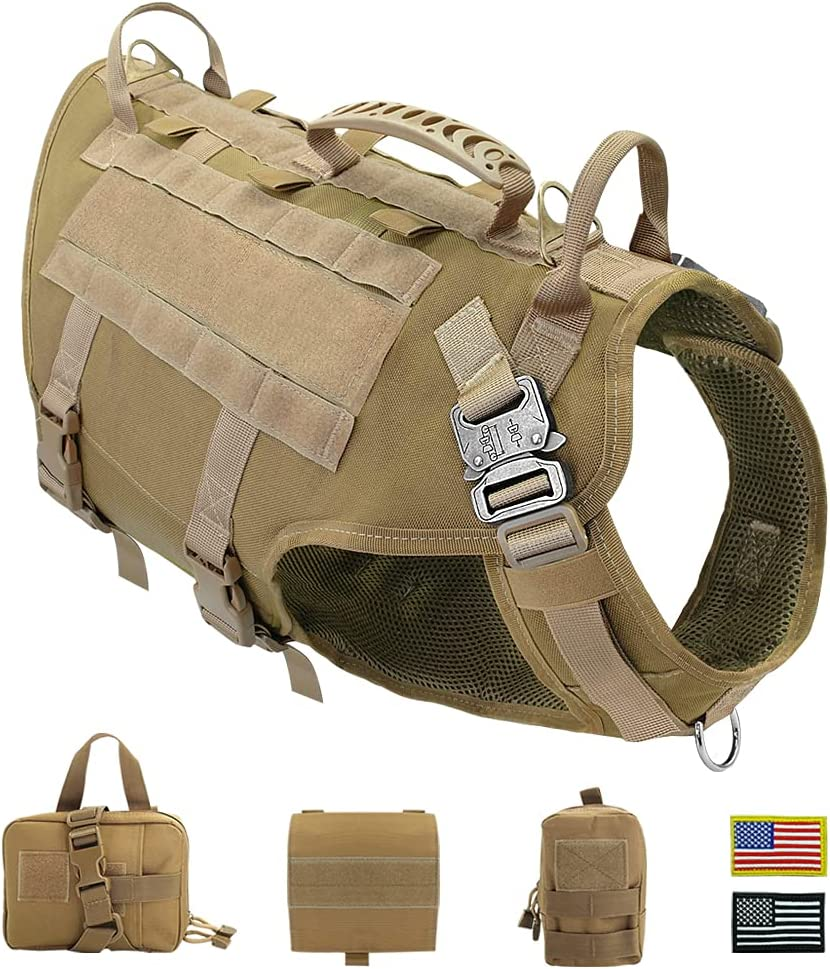 Brand: Pet Artist dog carrier vest
Color: Coyote Brown
Material: Nylon
Rating: 4.4 out of 5.0
Some hiking and training vests for dogs irritate during hot weather. Nevertheless, Pet Artist stands as the best tactical dog vest for hot weather since it's breathable. Furthermore, the 4-point adjustment system and mesh padding add to its comfortability.
Plastic buckles often fail with great pulling force. That's why the vest uses two metal buckles of 1000lbs capacity and reinforced stitches on strategic points. It then balances it with 125lbs plastic straps on areas that experience less pulling effect.
Lifting a dog over a barrier, when injured or navigating a crowd, can be stressful. Therefore, the Pet Artist tactical dog vest simplifies the task using three strategically located nylon handles.
On each side of the no-pull training vest, there is room to attach an identity badge and other accessories. As a bonus, the package gives you several pouches.
Pros
Multiple handles on the back make lifting the dog trouble-free
Mesh padding on the entire tactical vest interior gives complete comfort
The package offers three carriage molle pouches
Cons
Molle pouches require reinforcement.
6. Premium Pick: OneTigris Tactical Dog Vest for Large Dog Full Metal Buckled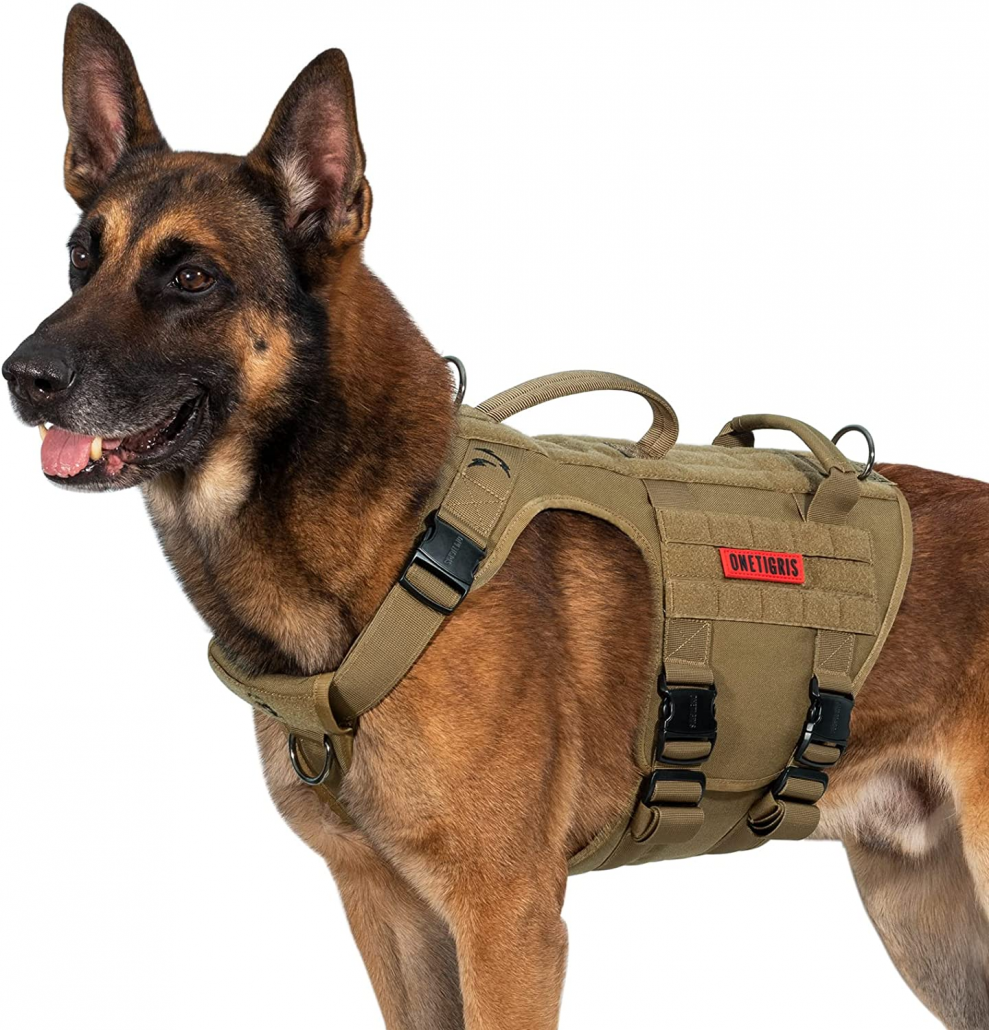 Brand: OneTigris dog carrier vest
Material: 1000D Military-Grade Nylon
Color: Brown
Rating: 4.6 out of 5.0
When your Pit bull breaks away from every dog collar you own, try this OneTigris vest. It combines complete stainless-steel buckles and military-grade 1000D Nylon. That's why the no-pull dog vest withstands the pulling force of a 485lbs dog.
Though it features a long length, the tactical dog vest has full adjustability. So, the OneTigris full metal buckled vest offers a snug fit on dogs of various sizes without compromising mobility.
Besides durability, the equipment gives diverse ways of attaching a leash using three sturdy D rings. This means controlling the dog and exercising safety restraint in a crowd isn't a problem.
Because of light padding on strategic pressure points, your dog won't experience pain on the skin or incur difficulty in walking.
Pros
Highly adjustable to fit dogs of varying sizes
Complete metal buckles
Water, dirt, and scratch-proof nylon material
Doesn't restrict movement
Cons
It should have been more breathable
High price tag
7. Cheap Option: BUMBIN Army Tactical Dog Vest for Medium Dogs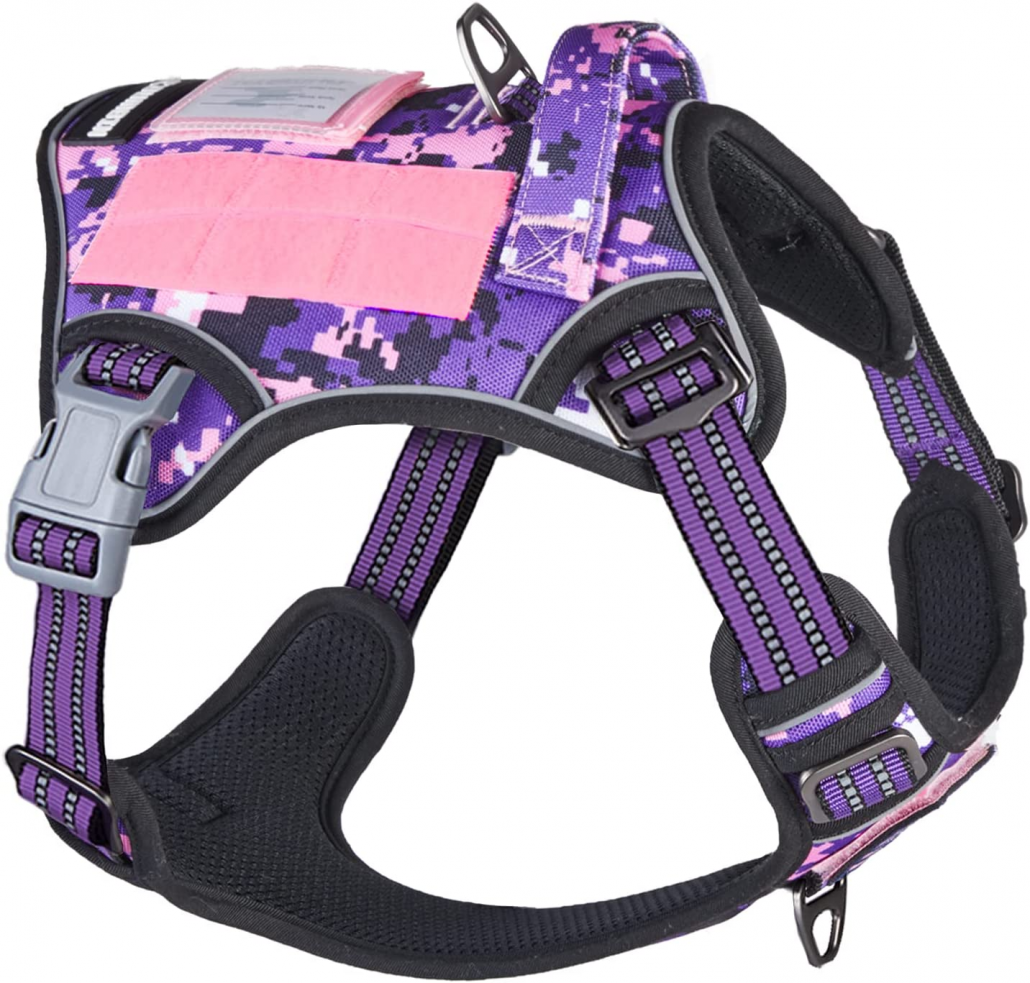 Brand: Bumbin dog carrier vest
Color: CamoPurple
Material: Blends Nylon, Plastic, and Mesh Lining
Weight: Ounces
Rating: 4.6 out of 5.0
When jogging with your pet at twilight, the Bumbin has a reflective feature that boosts your visibility. Whereas this tactical dog vest has plastic buckles, they are strong enough to tolerate 2000N force.
Regarding comfortability, the breathable material and soft interior padding stand out. The harness has an arced back to prevent the vest from scratching the skin. Moreover, the neck and chest girth is easy to adjust. And did I mention you won't have to adjust the vest every time your dog wears it?
When you need the best tactical dog vest that's pocket-friendly and delivers value, try the Bumbin dog vest.
Pros
Uses a durable and breathable cotton material
Boost your safety during dim light hours
Provides easy adjustment of fit
Dog coat friendly
Cons
Some people don't like the blue patches, but they are removable.
8. Most Affordable: PETAGE Tactical Dog Vest for Small, Medium, and Large Dogs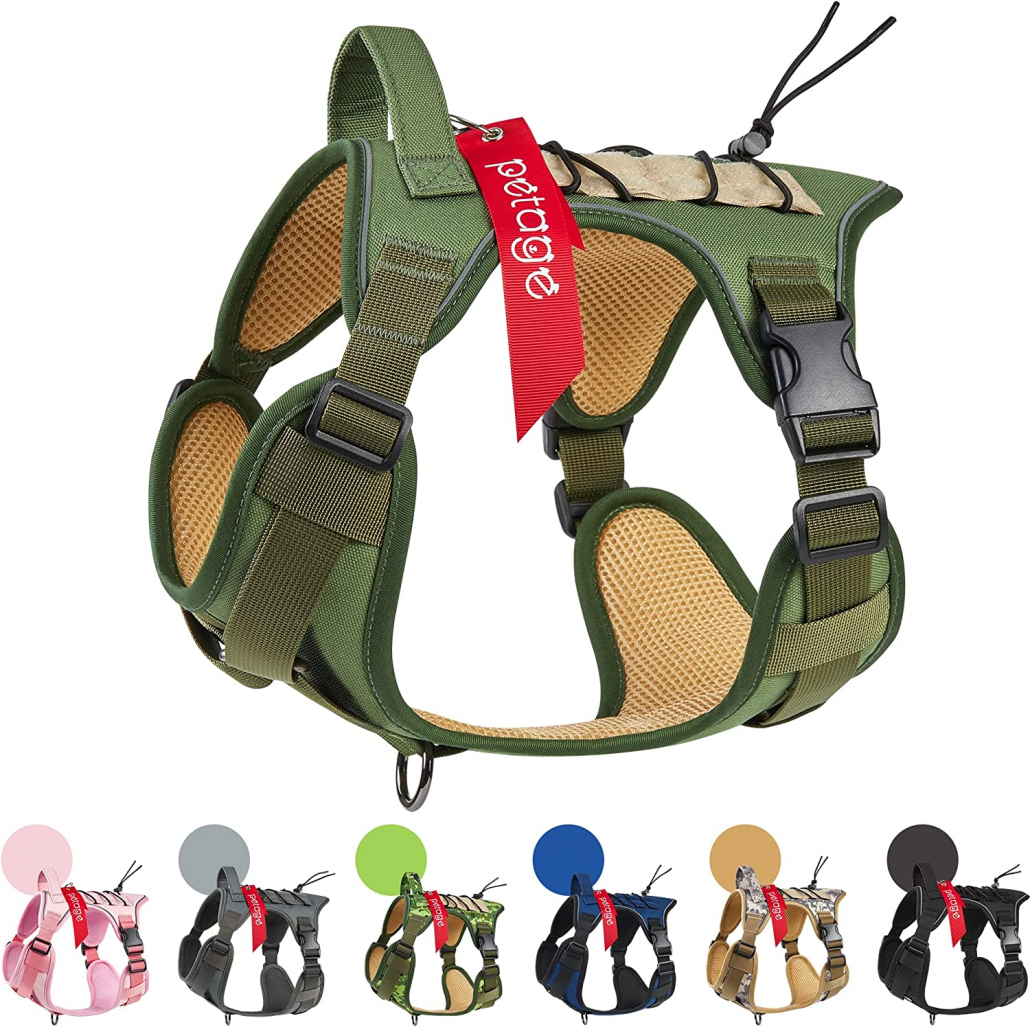 Brand: Petage
Color: Army Green
Material: 1050D Nylon
Rating: 4.5 out of 5.0
Besides comfort, a quality tactical dog vest should present a robust design. Petage brand's combination of four metal attachment rings, sturdy handles, and durable stitching single it out. Such a durable construction is reliable when exerting control over the dog or lifting it.
Because of the tough 1050D Nylon, the harness fits hiking, hunting, or jogging expeditions. Even under a 1503lbs pulling force, its dual V rings still prove trustworthy. Compared to other brands, the seamless stitching and mesh padding gives the Petage vest unparalleled comfort.
Your dog can wear the tactical vest all day long without feeling excessive heat. The numerous hook and loop system accommodates morale patches and badges.
Pros
Available in six different colors
Comfortable mesh and seamless stitch
Durable and reliable metal rings
Keeps the dog ventilated throughout
Easy to wear
Cons
Slightly demanding to adjust the front shoulder straps
9. Best Features: OneTigris Large Tactical Dog Vest Army Tactical Gear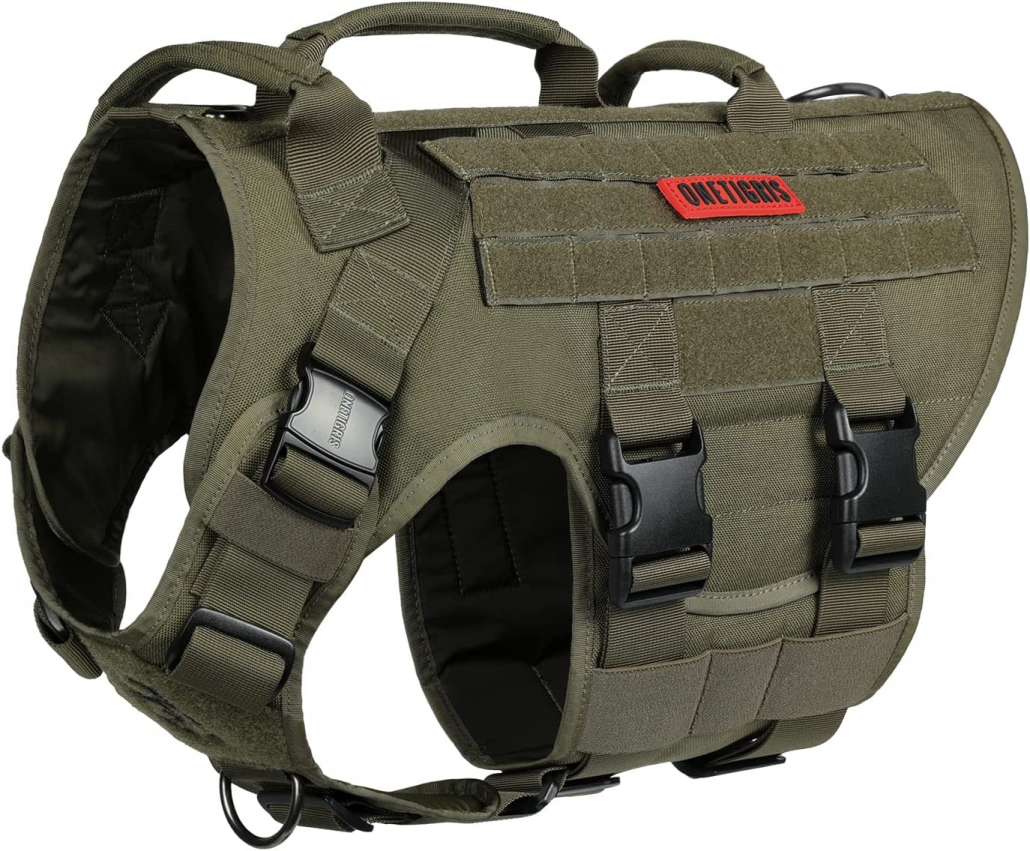 Brand: OneTigris
Color: Green
Material: 1000D Nylon
Rating: 4.6 out of 5.0
A talk about the top-quality tactical dog vest isn't complete without mentioning the OneTigris brand. As the best dog tactical vest for large hounds, it employs three metal D rings and 3 top handles at strategic locations. For convenience, the handles are on horizontal and vertical planes.
Added to the military quality nylon, exercising no pull training or keeping the dog at a close range in a crowd is sure. When wearing and adjusting the fit of the large dog vest, the quick-release metal and UTX buckles make the process simple.
The diverse colors and sizes make it easy to find a fitting tactical vest. As a sign of quality, the manufacturer offers a one-year warranty for the harness. Like most top-quality dog harnesses, OneTigris gives the provisions for attaching patches and badges and carrying a lightweight load.
Pros
Sturdy construction
Multiple top handles and D rings
Straightforward to adjust clips on all sides
Comfortable padding
Cons
It appears very stiff initially but takes a few days to break in
10. Wide Use: Tactical Dog Vest Bundle Includes Tactical Leash & Tactical Bag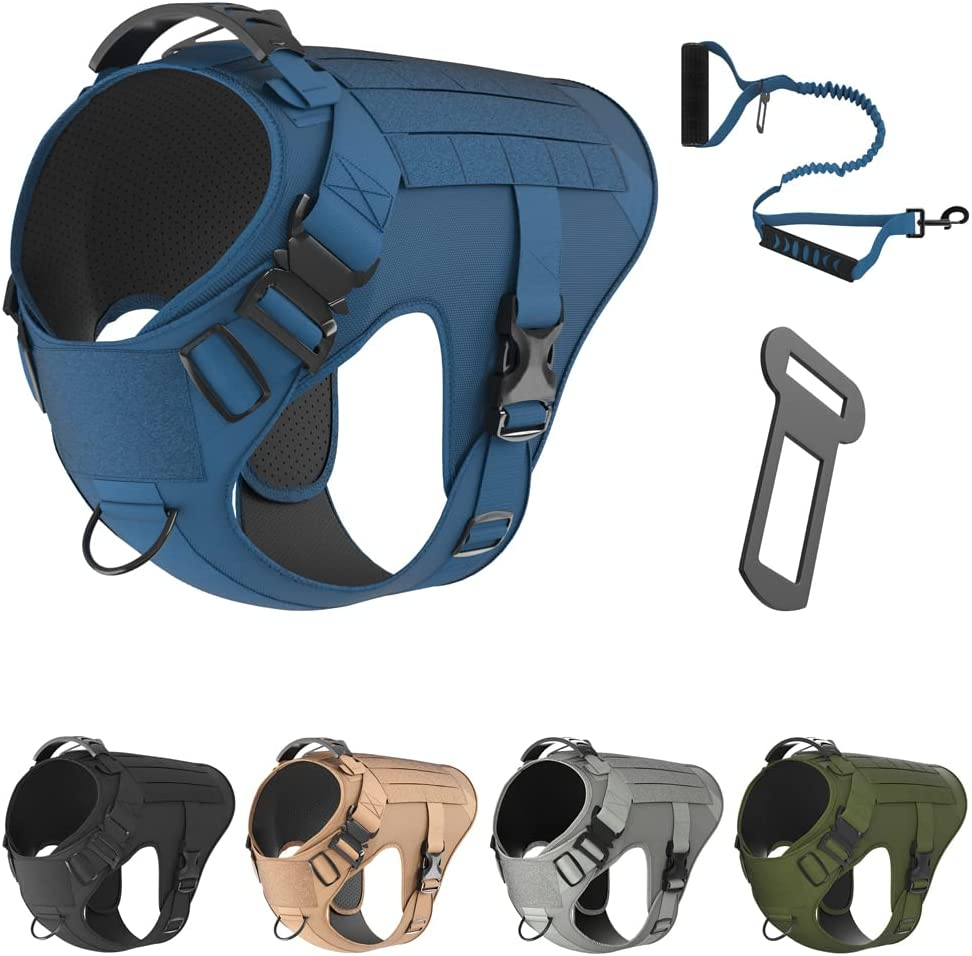 Brand: 561Products
Color: Bermuda Blue
Care Instructions: Hand Wash
Rating: 4.4 out of 5.0
The 561Products brand comes in a package with three-in-one benefits for your pet. That includes a tactical dog vest, leash, and accessory bag. You can travel with your dog in the car (no caging) or walk him stress-free.
Whereas the no-pull vest has high-quality metal buckles at the front, it features lightweight plastic buckles at the rear for safe harnessing. At the chest, there is a rubber-padded handle and a triangle ring at the top neck. Thus, when navigating traffic, you enjoy safe control of the hound.
The multipurpose tactical leash incorporates a padded handle, seat belt clip, traffic control handle, and anti-shock stretchable cord. Each of the five straps is adjustable and gives safe and comfortable harnessing.
Pros
Multifunctional
Fully adjustable buckles
Large Velcro strips on the sides
Simple to take off and put on
Cons
It may take a while to get used to the tactical leash
How to Choose the Best Tactical Dog Vest
Fitting Size
An ill-fitting tactical dog vest deprives your pet of optimum protection and comfort. Before making a purchase, know the measurement of your pet. Measure the circumference of the lower neck and the distance from the head to the base of the tail.
Use the measurements to guide you in choosing the best tactical vest. If possible, settle on the harness that has an adjustable fit on numerous points.
Durable Vest
The sturdy tactical vest awards you optimum control over your dog. It's therefore vital to reflect on the following points:
Material
The strength of the material determines the durability of the vest. Prioritize Nylon or polyester fabric with a loading proof of at least 1000D lbs. Ideally, it should be water and tear-resistant. Look for reliable stitching that reinforces the equipment's strength.
Top Quality Buckles
A military vest with all metal buckles is the best option. But sturdy plastic can also do on the rare part of the vest. When pulling a significant load, plastic clips are inadequate.
Mesh Padding
A breathable mesh padding is a necessary feature. Besides cushioning the coat, it keeps the pet ventilated. That means all-day long comfort for your canine. Prioritize a tactical dog vest that has a ventilation system.
Molle System
The Molle system and other attachment provisions are beneficial. Often, you may need your service dog to carry a light load or wear an identity badge.
Instead of carrying all the load, you can attach a removable bag to the molle system. Such a pouch may store water, dog treats, and a flashlight. That's only possible on tactical vests with badge slots and Velcro strips on the sides.
Convenient and Sturdy Handles
There are situations when you need more than a leash attachment. When lifting off your pet into a truck or navigating a crowd, a sturdy handle makes it simpler. The best tactical dog vest should have many handles.
A tactical top handle close to the neck keeps your pet close by your side. On the other hand, a handle at the center of the vest lets you lift the pet off the ground with ease. At best, you need a combination of two types of handles.
Simple to Put On and Off
Wearing on and off a dog tactical vest should take less time and be stress-free. A dog owner shouldn't struggle to push the harness over the pet's head; it makes a dog nervous. On that note, easy-release buckles become convenient.
Versatile Leash Attachment Provision
There isn't one leash attachment point that suits all dogs in every situation. And hence versatile leash attachment options (three or two points) play a critical role.
For example, to restrain an untrained dog from unexpected sprints, the chest attachment provision helps.
Safety When Wearing Tactical Vests for Your Dogs
A military vest offers protection and comfort to the dog, but only if you use it correctly. Otherwise, it may inconvenience your pet in various ways.
Molle system and adhesive straps on a tactical vest help accommodate pouches and badges. Before loading your dog, determine how much weight the pet can bear, lest you give the animal an excessive load.
Ensure that you distribute the load equally on either side of the service vest. Or else the unbalanced weight will hinder the dog's mobility. In addition, begin with a lightweight vest and increase the capacity over days once the dog gets accustomed to it.
Remember, a tactical vest takes up a significant area of the dog. And a military vest with poor ventilation encourages overheating. Keep checking the animal for any signs of heat stroke or overheating.
Conclusion
You can enjoy outdoor trips with your dog when you have the best tactical dog vest. When the canine threatens to jerk away, the military vest restrains it. The numerous leash attachment points make it safe and secure during leisure walks.
All the above tactical dog vests are high quality, but our overall winner is the ICEFANG Tactical Dog Vest. That's due to the five adjustment points, military-quality Nylon, reliable stitching, and metal buckles on the chest. However, comb through the entire review and choose the best military vest that meets your demand.