Why An Electric Melting Furnace?
Are you worried about greenhouse gas emissions caused by non-electric melting furnaces? Well, then going electric is the best solution. Electric furnaces replace unit processes that use fossil energy with electricity in smelting.
Worth Knowing; Types of Electric Melting Furnaces
Among the key parameters you should consider when choosing the right electric melting furnace is the type or kind. Below are the common and popular types of electric metal foundry elaborated:
Induction Furnaces
This type of electric melting furnace uses an electric charge to produce induction, producing a magnetic field. It is the vibrations that are caused by the electromagnetic field that cause the target metal to be molten. One advantage of this electric melting furnace is that you can melt all types of metals or metal alloys.
Cupola Furnaces
These are one of the best large scales casting furnace. They are popularly used for melting cast irons. The constituents of the Cupola electric melting furnaces are; coke, limestone, metal parts, and other alloying elements. Utilizing a charge inside a large cylinder coated with a refractory liner, the electric cupola furnaces are one of the most effective if you think of going large scale.
Crucible Furnaces
The crucible electric melting furnaces are popularly used for melting metals that are non-ferrous alloys. This is because such metals require low melting temperatures. The melting pots of the crucible furnaces are made from refractory materials. The crucible furnaces use burning fuel to heat the melting pot centrally placed in the crucible. Coal and natural gas are common fuel types used in crucible furnaces.
There are three variations of crucible furnaces that are worthwhile knowing. They include;
The stationary pot crucible furnaces
This has the pot being stationary in the furnace. There is a tap installed at the bottom of the furnace. The tap is used to drain the molten metal from the stationary pot.
Lift-out pot crucible furnace
With the help of cranes at the manufacturing site, the pot is lifted after the metal is fully molted. The molten metal is then served to the molds for further processing.
Tilting pot furnace
The furnace system is tilted when pouring the molten metal hence the name tilting pot furnace. However, it is good to note that the pot is stationary inside the crucible furnace. All other parameters for this particular type of furnace are the same.
The Electric Arc Furnaces
These are among the most influential electric furnaces as they can melt metal up to 45 tonnes per hour. Electric arc furnaces are best-used foundries with a need for large mass production of molten metals. They are very easy to operate as the working principle of the arc electric melting furnaces is very simple.
An electric current is used to produce heat and an electric arc. The heat is then used to melt the metal most swiftly and effectively. However, it is best to note that with this kind of electric melting furnace, you will have to incur high energy consumption compared to other methods.
If you want to make the most out of metal scraps on whichever scale, then you need to be conversant with the metal melting furnace trends. The metal melting furnaces can be electrical or non-electrical. Melting metals can be a dangerous and tricky affair; hence you need to choose the best melting furnace to be safe and efficient in your work.
This article gives you a collection of the best options to choose from based on the qualities of the melting furnace. Stick and read entirely to make not only a formed but an informed decision on your next melting furnace.
Our Picks for the Best Metal Melting Furnaces
Best Overall: USA Cast Master Deluxe KIT Propane Furnace
Best Value: TOAUTO Gold Melting Furnace
Best Premium: GONGYI USA Propane Melting Furnace
Best Versatile: FASTTOBUY Propane Melting Furnace
Best Budget: CANALHOUT Propane Gas Melting Furnace
Best Popular: Automatic Graphite Gold Melting Furnace
Best Overall: USA Cast Master Deluxe KIT Propane Furnace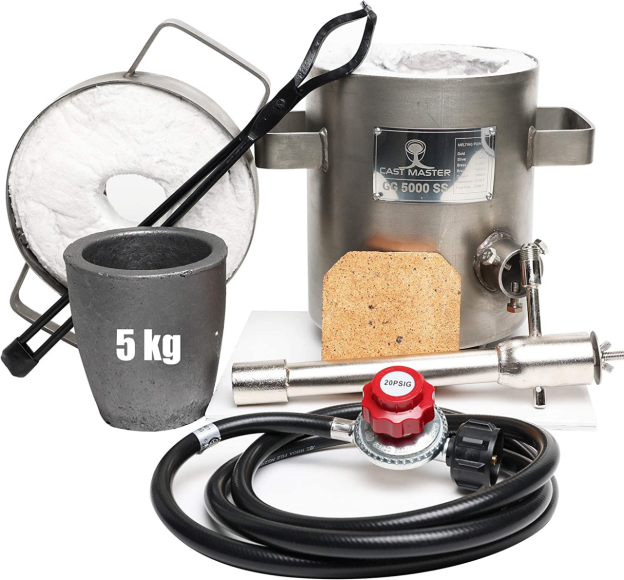 Brand Name: Cast Master
Dimensions: 14.6 x 13.8 x 12.2"
Item Weight: 18 pounds
Rating: 4.5
Thrilling Smelting Experience
This melting furnace will give the best smelting experience based on its properties and characteristics. The brand has a number of reputable furnaces and smelting products that you can explore with a lot of reliability.
Tough Design
The manufacturer of this particular melting furnace has an impeccable experience in the engineering of melting furnaces, whether for commercial or home use. The propane-fueled melting furnace has a 5kg metal capacity. You can easily explore a wide range of projects with this kind of workhorse.
Multiple Uses
You can host a range of projects from large to small with this kind of 5kg crucible capacity melting furnace. The crucible can perfectly handle old cans, copper pipes, and metals. It can also melt Aluminum, Silver, and Gold perfectly, after which you can pour the molten metal into an ingot mold.
Fully Detachable, No-Hinge Lid
The lid for this specific melting furnace is insulated. It does not have a hinge, hence ensuring little or no energy loss to the surrounding. You will get an 80K BTU burner that produces about 2700o F of temperature. The design makes melting efficient and fun, not to mention taking the short time possible for the entire process.
High Power, High Efficiency
Unlike traditional furnaces, the Cast Master is propane propelled melting furnace. You can easily compare the energy efficiency of this particular furnace to that of an electric melting furnace.
Pros
High energy efficiency
Large crucible capacity
Top-notch safety standards
Cons
Needs careful handling of the hinge handles
Slightly expensive as compared to home-made furnaces
Best Value: TOAUTO Gold Melting Furnace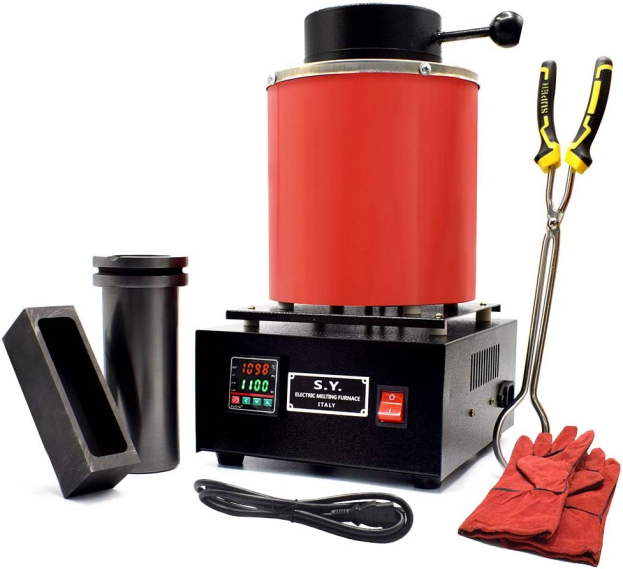 Brand Name: TOAUTO
Dimensions: 16.8 x 12.3 x 12.2"
Item Weight: 18.8 Pounds
Rating: 4
Melting Metals Made Fun!
Digitalization of the TOAUTO melting furnace has made to be one of the best furnaces you can enjoy using. Whether you are melting metals as a hobby or for home use, the TOAUTO melting furnace has covered you. It is professionally designed and, above all, automated. You can trust it with your precious metals like Gold, Copper, or Silver.
Design and Energy Use
The TOAUTO melting furnace has a large capacity of up to 6KG. It is portable and made of a quality graphite crucible. The design has ensured high-temperature control through digitalized PID modules. You don't have to manually monitor the temperatures as the control systems are enhanced to automate the temperatures using an automated system.
Smelting Time and Efficiency
The heating of the furnace seal wire is quick and short. The furnace can achieve a maximum temperature of about 2000oF Degrees in about 40 to 60 minutes. These optimal degrees can effectively see 0.7 kilos of aluminium or 3KG of copper molten with no huddles.
Wide Range of Applications
There are a number of metals you can melt and mold using this type of melting furnace that would otherwise require an electric melting furnace. The Kit is designed so that it is a seven-in-one melting kit. This saves you both the time and the costs of melting different types of metals.
Power Ratings and Voltage
The TOAUTO melting furnace is a 1400W-rated furnace. It uses a voltage of about 220V to achieve maximum heating temperature in the shortest time possible. Be sure to check on the fusion points of different metals you wish to heat to get the best voltage requirement, melting time, and temperature.
Pros
7-in-1 Melting Kit
Durable materials that are professionally built
Graphite ingot mold
It comes with a designed crucible tong
Cons
Automation can fail with time
It comes with a price
Best Premium: GONGYI USA Propane Melting Furnace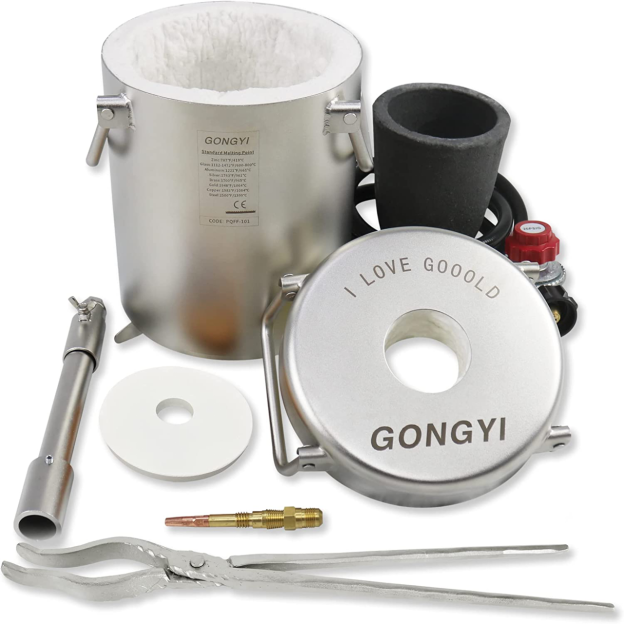 Brand Name: GONGYI
Dimensions: 8 x 8 x 12"
Item Weight: 15 pounds
Rating: 4.6
Multiple Application
With the GONGYI it is now easy to melt a wide variety of metals like copper, aluminum, silver, or Gold compared to old times. You can now easily earn a living from your waste metals with no hustle. All you need is to get approved and maybe a little help from the community.
Design and Components
This melting furnace can compete favorably with any other electric melting furnace. Most of the parts are made from stainless steel, about 1.5mm. It has a 6.5 ft gas hose with a regulator with an output of 5/8 inches, 30PSI. The crucible is quite ergonomic, with a capacity of about 6 kg for copper, 7, 13, and 1.8kg for silver, Gold, and Aluminum, respectively.
Energy and Efficiency
The GONGYI melting furnace can withstand a temperature of up to 1800oC, higher than the clay graphite crucible. You can heat metals in the least time possible, in about 10 minutes. The furnace is best for your DIY and jewelry processing, using propane as the energy source.
Other Features
This melting furnace is designed to use a propane tank that is USA standard. The tank is connected via a gas horse and gas regulator, which hooks up directly. You will get technical support to enjoy the whole fun of smelting your metals.
Pros
Extremely durable
Wide application
Best and Quality material
Cons
Need updating of crucibles with time
It has a limited lifetime as compared to its peers.
Best Versatile: FASTTOBUY Propane Melting Furnace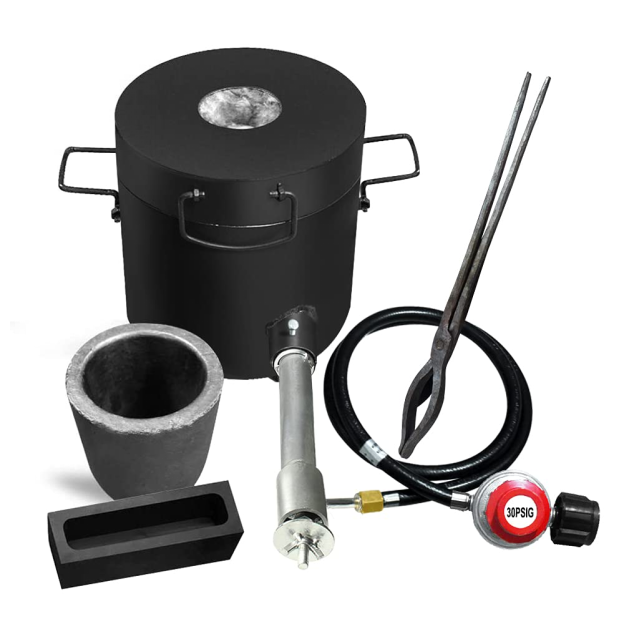 Brand Name: FASTOBUY
Dimensions: 15.2 x 14.4 x 14.2
Item Weight: 16.5 pounds
Rating: 3.9
Multi-application Product
With the FASTTOBUY melting furnace, you will have fun melting your crap metals and get a wide range of applications. This aluminum melting forge handles a wide range of metals and has the most capacity for your feed material. In one melting machine, you can enjoy melting precious metals like Gold, silver, copper, and aluminum. If you want a relaxing experience doing your metal work, then the FASTTOBUY melting furnace is the best option.
Size and Capacity
This home melting equipment can hold up to 6kgs of copper, 12kg of Gold, 1.6kg of aluminum, and 7kg of silver. The ingot mold can hold up to 2kgs of Gold, 1kg of copper, and 1.2 kg of silver. The crucible has a general capacity of about 6kgs.
Energy and Heat parameters
With the best ceramic cotton and refractory 1" material, this melting furnace makes it one of the top energy savers. The FASTTOBUY melting furnace refractory material can hold approximately 1425 degrees Celsius. This amount of energy saved means there is about 40 percent fuel efficiency, increasing the refractory life to about 50 percent.
Smelting Made Easy and More fun!
If you have a passion for smelting, especially turning waste into a treasure, then the FASTTOBUY melting furnace got your needs. It is a stress reliever as you don't have to struggle to mold your precious metals into treasures that you could love. You will easily do projects that will not only impress you but are also worth showcasing to your friends or the world.
More Features
You will get a high-quality burner that has standard safety features adhered to. You will also get heavy-duty tongs that are specifically designed for the job. The installation instructions are straightforward to follow in multiple languages.
Pros
Fast melting, 5-6 minutes preheat
Comes with heat gloves
It comes with a gas pressure control system
Easy to assemble and use for beginners
Cons
It has a temperature limit of about 1400 degrees Celsius for optimal life
It needs 3 hours of cool time after twice use
Best Budget: CANALHOUT Propane Gas Melting Furnace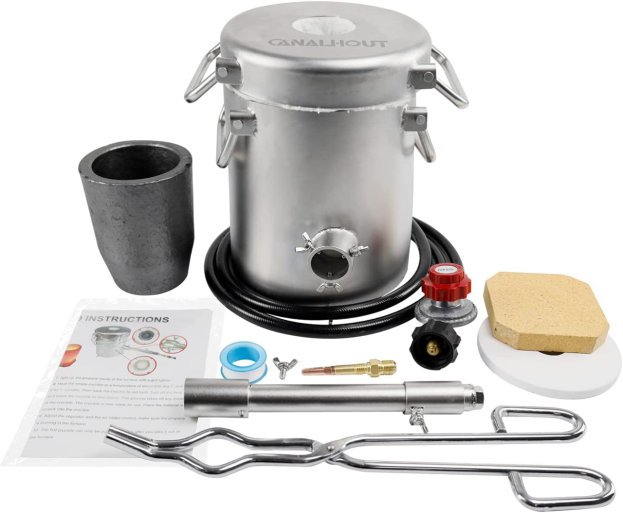 Brand Name: CANALHOUT
Size and Dimensions: 15.6 x 12.4 x 11.57"
Item Weight: 18.3 pounds
Rating: 4.4
Energy and Reliability
You can rely on this melting furnace to a great extent. It has a regulator for your gas with a pipe which is 6.5 FT hence quite convenient. Well-insulated with side handles, this ensures that you will smelt safely for an extended period of time. You will be sure of your melting furnace having a long-life service due to this fact as compared to having an electric melting furnace.
Design and Durability
This kind of melting furnace can withstand temperatures up to 1800 degrees Celsius. The main body of the CANAHOUT melting furnace is made from 304 stainless steel. It has four rotatable stainless-steel handles for easy handling and saving space.
It has a ceramic-built furnace with the material being about 1". The top cover is also fitted with a 2" thick ceramic material. The ceramic insulation ensures good strong durability of the melting furnace.
Wide Range Use
Materials inside the furnace can be heated with efficient burners and well insulated by ceramic fibers. The crucible has a large capacity and can melt silver, Gold, copper, aluminum, and other metals.
Control System
The CANALHOUT melting furnace has an air intake control that can be opened or closed depending on the need. The injector pipes can be disconnected as a safety measure. You can also be able to control the amount of power and energy.
Melting for Fun!
This melting furnace uses propane as compared to an electric melting furnace. The use of propane as an energy source for this melting furnace means cheap and low costs on energy while maximizing output and efficiency. High energy efficiency and heat reduce the heating time and melting process.
Pros
Short heating and melting time
Uses propane as the primary source of energy
It has high safety standards as compared to its peers
Easy and straightforward to use
Cons
It might require gas horse replacements in case of wrong length or compatibility issues.
Gas bottle sizes differ based on location.
Best Popular: Automatic Graphite Gold Melting Furnace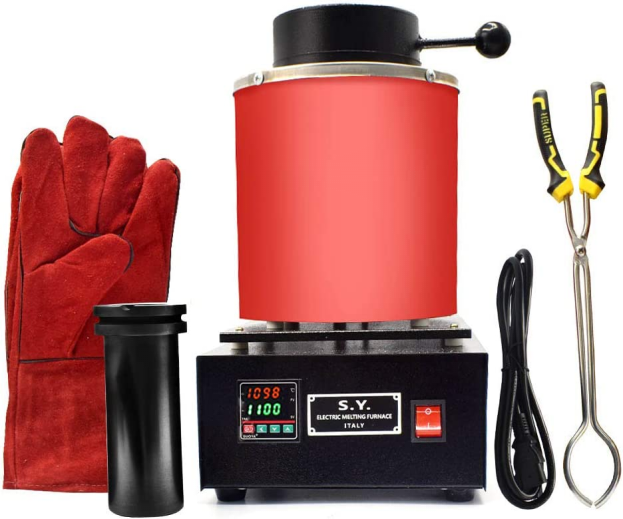 Brand Name: Goodcrafter
Dimensions: 16.7 x 12.4 x 12.3"
Item Weight: 18.5 Pounds
Rating: 4.2
Energy and Capacity
The crucible has a capacity of 2kg. With a power supply of 110V, it can have a maximum temperature of up to 1100 degree Celsius. The efficiency of the crucible is top-notch as the furnace is integrated with a seal wire hence quick heating. Given the optimal temperature, the estimated heating time is about 45 minutes.
Advanced Digital Control
Integrating the advanced PID module and the digital control system provides a convenient melting process. You won't be worrying about any overheating or cooling down hustles. This also ensures and promotes safety during the melting process. You will additionally get a pair of tongs that fit the groove.
Durability and Material
This melting furnace is made from stainless material. Its QualityQuality is high-end and top-notch due to the professional design building. The products have been tested and rated well by many users over a long period, proving outstanding in the market. You will get a 12-month warranty for the product, under which you can get free replacements or repairs in case of failure.
Pros
Integrated digital technology
Ergonomic design and safety standards
It has a 1-year warranty
Cons
Can't work for a longer time without being cooled for 3 hours
It may cause burns if the operator is not well protected.
FAQS
What are the types of melting furnaces?
Furnaces can be electrical or non-electric energy sourced. Four types of furnaces are the cupola furnace, induction, and open-hearth furnace.
Which furnace is the best to melt scrap?
Furnaces can be rated based on price, energy convenience, or even design. However, based on ratings and reviews from most customers, the induction furnaces are considered the best of their peers. This has also been proved over time by experts.
How is metal melted?
Metals have a higher melting temperature than other materials and can change their forms when heated up – unlike wood which only decomposes. The metal's ions vibrate when temperatures rise enough to break the bonds they have with each other and allow them to move freely.
Fluid is formed when the metal's internal structure shifts and its bonds become looser. The melting point of a metal is determined by the strength of its bond, which is determined by the material. Metal alloys may have different melting points than individual metals, so they might not melt as smoothly.