Back in 2016, Teamgee ventured into the e-skateboard business, and since then, they have been doing reasonably well in the Chinese market. The creative mind behind Teamgee electric skateboards was the company's owner, Mr. Sun, who wasn't a skater himself but was avidly involved in sports.
The innovative ideology behind Teamgee aims at developing premium electric skateboards featuring sophisticated design and a superior riding experience. In today's article, we'll be reviewing four Teamgee electric skateboards: the Teamgee H9, H20, H20 Mini, and H5, and exploring what makes them so special.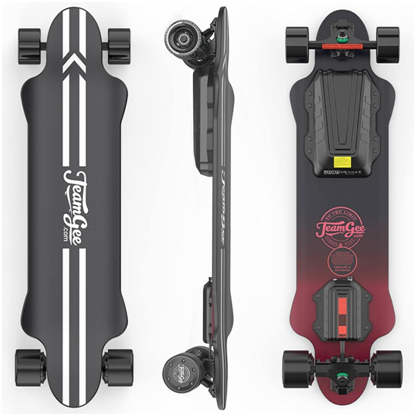 The new Teamgee H20 skateboard series is considerably bigger and better than the company's previous models because the battery and ESC are located in inserts beneath the deck and because of superior ride-ability and performance.
Teamgee H20 electric skateboards are great for newbies and intermediary riders. They are easy to handle, comfy to ride, and is not too powerful or fast, so beginners can easily use them to learn how to ride.
Moreover, it lets you access advanced modes which are appropriate enough to keep up with top riders.
So having introduced the basics, let's now look into the details of the Teamgee H20 skateboards.
Main Features:
| | |
| --- | --- |
| Top Speed | 26.5mph (42kph) |
| Range | 25 miles (40km) |
| Incline | 13 percent |
| Price | $499 |
| Wheels | 90mm 83A wheels |
| Battery | 7.5Ah (270Wh) |
| Motor | Dual 540W hub motors |
Deck
The deck of the Teamgee H20 skateboards stands out for many reasons.
First, it is a drop-down deck, and beginners can easily get used to standing and riding on it. Second, it features a somewhat W-shape concave across the deck. At the same time, the middle area is quite flat, and the edges are elevated sufficiently enough to safeguard your feet without being uncomfortable.
This perfect combination of drop-down and concave creates the ideal crevices at the ends of the e-board to adequately place your feet. Bottom line: you don't have to worry about your feet sliding or slipping off the board when riding.
Wheels
Teamgee H20 skateboards feature 90mm 83A wheels, which are among the more comfortable options available in the market. In addition, these wheels absorb significant vibration when riding on uneven or damaged roads due to their bigger size and softer durometer.
On a smooth and vast stretch of path, you can ride easily with confidence that these wheels will clutch the ground and ensure you stay steady and safe. And for advance riders, you can upgrade the wheels to Cloudwheel Donuts for extra comfort and more attainable top speed.
Trucks
The trucks on Teamgee H20 skateboards are simply generic; there's nothing extra special about them.
However, the turning circle of this electric board is incredible and effortless due to the arrangement between the trucks, deck, and bushings.
Battery
This is the main reason Teamgee branched off from their nominally designed electric boards. Instead, they wanted to create an electric skateboard that could deliver performance comparable to their competitors, such as Meepo and Lycaon.
The Teamgee H20 battery is in an array of 18650 in 10S3P with cells rated at 7.5Ah, 270Wh. That is a very decent-sized battery that can help you achieve a range of about 25 miles (40km).
However, one drawback here is that it is incredibly difficult to access the battery – the only method is to pull up the grip tape or cut out small holes where screws are adjusted.
Motors
The Teamgee H20 features dual 540W hub motors, a total of 1,080 watts of power. This will achieve top speeds of about 26mph (42kmh) and climb hills with a 13 percent incline.
The PU sleeves surrounding these motors are also replaceable.
Remote and ESC
The Teamgee H20 has a lightweight remote featuring a matte finish and appropriately placed finger grooves on the sides for additional comfort.
Despite the thumbwheel having an extremely small distance between neutral and maximum, there isn't any jolting while acceleration and braking because of the powerful ESC.
The remote also features a display with all the standard information like board and remote battery, trip length, odometer, riding modes, current speed, speed modes, and reverse and cruise control. In short, the latter is a very comfortable, reliable, and smooth controller.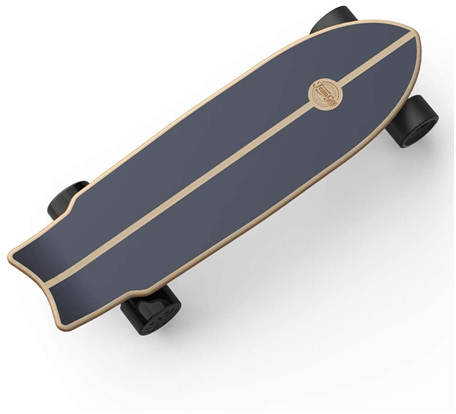 If you're not willing to invest a lot of money for a mini electric skateboard, the Teamgee H20 mini is a reasonable and affordable option. With a price of only$499, this mini skateboard ranks right in the middle of the budget realm of the mini electric skateboards available in the market.
And despite being cheaper than most of its counterparts, the Teamgee H20 mini still features top-quality machinery and appreciable specs to out-perform even some of the more premium models.
So if you're looking for an e-board that will give you that concrete-surfing feeling and will allow you to comfortably and swiftly ride on longer cruises, the H20 Mini is made for you.
Main Features:
| | |
| --- | --- |
| Top Speed | 24mph (38kmh) |
| Range | 18 miles (30km) |
| Incline | 25 percent |
| Price | $419 |
| Wheels | 80mm |
| Battery | 7.5 AH |
| Motor | Dual 450 Watts |
Deck
The Teamgee H20 mini is 31 inches long and 9 inches wide and is manufactured entirely from Canadian maple. Unfortunately, this makes it rather stiff with almost zero flexibility.
The deck features a slight concave which is barely noticeable but allows for safe cornering and keeps your feet locked onto the board.
Wheels and Trucks
The Teamgee H20 mini has 80mm wheels which are among the smallest on any mini e-skateboard in the market. In addition, the trucks are generic (¼ inches risers), and the bushings resemble a cone on the top and a barrel on the bottom, making riding the board a truly wonderful experience.
This setup is similar to a traditional skateboard ride but is surprisingly much better than most electric skateboards. And you can always replace the existing wheels with Cloudwheel donuts.
Motors and Battery
The Teamgee H20 Mini comes with dual 450W hub motors, along with a 7.5Ah battery. It's a huge change for Teamgee to go from crafting slim-line decks exhibiting average power to creating enclosure decks that deliver serious performance.
The cutting-edge Hobby wing ESC powers the Teamgee H20 mini. That's what primarily controls the speed of the skateboard, its overall acceleration, and braking.
However, similar to all hub motor skateboards, getting the H20 to climb hills was a struggle.
Tip with hub motors: kick push off as much as possible before hitting the throttle; this improves battery consumption and provides a better range.
Remote
Last but not least, the remote for the H20 Mini is amazing – it's quite big, very convenient to hang on to, and will be a delight for those with big hands who often struggle with clicking small buttons and operating little gadgets. Also, it features four-speed modes, along with cruise control and reverse.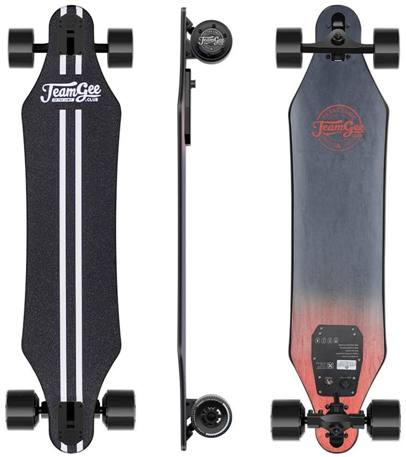 Even though it doesn't attain the fastest speed, nor does it feature the longest range, the Teamgee H5 electric skateboard is not a bad investment in terms of a reasonably priced board.
The board is about half an inch thick, which ranks it among some of the sleekest and thinnest boards on the market, and is 8.7 inches in width and 38 inches in length. In addition, the Teamgee H5 electric skateboard weighs a mere 14.5 lbs., making it extremely convenient to carry around.
Main Features:
| | |
| --- | --- |
| Top Speed | 22 mph (35km/h) |
| Range | 11 mph |
| Incline | 20 percent |
| Price | $429 |
| Wheels | 90mm |
| Battery | – |
| Motor | DUAL 380 Watts Hub motors |
Deck
The Teamgee H5 board features a drop-through design, allowing the rider to mount the trucks (through the bottom of the board) and mount it on top. This allows for a smoother and closer ride to the ground.
Also, it provides the electric skateboard with more stability while riding and making turns and curves so that you don't feel like drifting, falling, or wobbling around.
Wheels
The Teamgee H5 features 90mm wheels, which grant the board more sturdiness and comfort as compared to many other boards equipped with only 80mm sized wheels.
Trucks
Loosening the trucks provides a more agile feel, which is pretty much the case with any skateboard. However, to avoid experiencing wheel-bites, tighten your trucks, get some risers, or get smaller wheels. All the options work well.
Battery
The lithium extremely lightweight battery is among the most notable features on this board, and it's installed inside the board. So while it may look and feel like just a regular long board, it is an electric skateboard!
Motors
The Teamgee H5 comes with two 380 Watts HUB motors (760 watts total). This allows the board to attain a top speed of about 21 to 22 mph (35km/h) and a distance of around 10 or 11 miles.
However, the top speed depends on many factors, such as rider weight (200lbs (90kg)), incline, terrain, etc. manufacturers claim that the board can climb hills with a 25 percent incline. However, most riders confirm that they could ride up hills with at least a 20 percent inclination with absolute ease and no dips.
Remote
The remote accompanying the Teamgee H5 features an LCD screen that displays both the battery percentage of the remote and the board. In addition, the screen lets you know how fast you're riding (in kilometers), and there's also an odometer reader on the remote.
The remote needs to be charged after about three or four rides and has an extremely comfortable grip and feel. It also features a helpful and very bright LED light for when you're riding in the dark. Also, the remote has an on/off button, forward and reverse throttle feature and a high/low-speed function. There is also a very sturdy strap on the remote along with a tightening slip so that riders can safely secure the remote to their wrist without the fear of it falling off.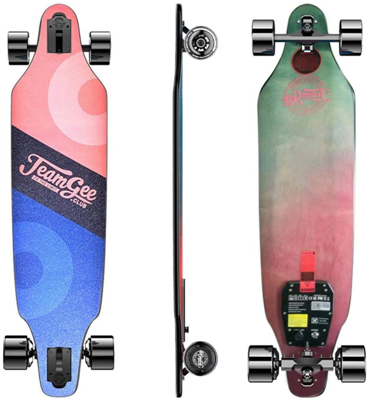 The Teamgee H9 board is extremely durable, delivers a smooth and comfortable ride, as well as is surprisingly well balanced. The mighty, sophisticated, and ultra-thin polymer battery hidden within its design is what makes it so refreshingly advanced and appealing.
For people who travel daily through flat terrains, this keyboard is a win-win – it's one of the best mid-range boards with a reasonable price for anyone looking to buy a budget-oriented and skilled electric skateboard.
Main Features:
| | |
| --- | --- |
| Top Speed | 25 Mph (40Kph) |
| Range | 11-Mile (18km) |
| Incline | 20 percent |
| Price | $549 |
| Wheels | Strong PU Wheels |
| Battery | Single 960-Watt Hub Motor |
| Motor | – |
The Teamgee electric long board is extremely well balanced. It doesn't have an external motor or powerful capsule and can attain speeds of about 23 mph with a 20 percent grade hill climb.
Its high-performance battery requires only two hours of charging, giving the user up to 11 hours of riding time. However, the number of miles ultimately depends on the rider's weight, terrain and road conditions, etc.
As mentioned, the battery is embedded deep within the board but is still replaceable. So you can easily achieve 150 miles from the board without even a single drop in the battery's efficiency. And replacement is usually required after two to three years.
In terms of ride-ability, the H9 is built keeping hardcore riders in mind. But still, the board is very novice-accessible. It features quality shock absorbers, adequately large wheels, and a smooth and comfortable riding experience. Also, the extremely elastic and sturdy wheels ensure no slipping.
Moving now to the remote, this is elegantly designed, efficient, and extremely intuitive to help riders control the board immediately. It is also easy to navigate, which is an essential feature when a quick reaction is needed.
Last, the board's deceleration is based on the different brake settings – gentle or harsh. Ultimately, the fantastic H9 can serve as an appropriate piece of technology for educating beginners about balancing and control while riding a skateboard.
Final Thoughts
Teamgee has undoubtedly lived up to expectations and delivered a line of reasonably priced and fashionable electric skateboards featuring the latest in technology. Their product line is comparable to some of the best electric skateboards on the market and is extremely appropriate for daily urban commuters and beginners.
We hope our review will help you understand the many aspects and features that need to be considered before buying an electric skateboard. And we wish you the best as you begin your skateboarding journey! But remember always to be safe and follow all the safety precautions when you ride your skateboard. Surely, speed thrills but slays.