Slant boards, or incline boards, are amazing health and workout equipment. They are simple in their look and operation but bring about massive benefits. From strengthening your knees to reducing inflammation, the right slant board can take your fitness to the next level.
However, choosing the best slant board for your needs can be tricky. There are plenty of things to consider, including the angle of incline, the size, the construction quality, etc.
To help out, we've conducted extensive research and narrowed the search to the 10 best slant board options. We also outline the most important factors to consider to pick the right incline board for stretching.
In addition, you will learn the many benefits you will reap by incorporating an angled board into your workout routine and find answers to the questions you may have about incline board stretches and exercises.
Our Picks for the Best Slant Board
What is a Slant Board?
A slant board is a fitness tool that features a flat, inclined surface. It resembles a large wedge and is also referred to as a VMO board or an incline calf stretcher. Standing, squatting, or exercising on an incline board keeps your muscles and tendons in tip-top shape.
Benefits of Calf Stretching on Slant Boards
A slant board may be just a basic piece of fitness equipment, but the benefits it brings are amazing.
Incline board stretches and exercises can improve everything from knee strength to breathing and digestion.
Here is an overview of the different ways working out on one will improve your health and fitness:
Levels Up Stretches
Using a slant stretch board can take your stretches and squats to the next level. Just standing on a wedge stretches different parts of your legs. Your ankles and calves get a fantastic stretch that releases tension in the heels, ankles, calves, knees, and thighs.
Improves Balance
This is the primary goal of using a slant board. Whether standing or squatting on a sloped surface, it strains and strengthens your muscles and connective tissues. This improves your stability and balance control.
Reduces and Prevents Inflammation
Incline board stretching causes your muscles to stretch fully, which boosts blood circulation and reduces swelling and pain. Using a slant board can aid recovery from conditions such as Achilles tendonitis, patellar tendonitis, plantar fasciitis, ankle sprains, shin splints, calf strains, and even back pain.
Reduces Risk of Injury
With your muscles and joints strengthened and your balance improved, you're less prone to falling and injuring yourself.
Helps with Rehabilitation
Slant boards also aid rehab and physical therapy efforts. Besides improving balance and posture and strengthening and reducing inflammation, a slant board forces your center of gravity to move forward. This relieves strain from the affected muscles or joints and promotes healing and mobility after surgery or injury.
Strengthens the Knees
Stretching or squatting on a slant board targets the VMO muscles and improves their kneecap stabilizing ability. This also strengthens the knees, alleviates pain, and keeps injuries at bay.
Reduces Post-Workout Pain
If you're looking for a way to prevent the aches and pains you feel after exercise, slant board stretches are it. They relieve stress around the muscles and help ease the accumulation of lactic acid. Add a wedge stretch to your preference and post-workout routine, and you'll see the difference.
Improves Posture
Working out on a slant stretch board forces your body to revert to its proper form and adopt a proper posture. It promotes a natural stance for everything from squatting to walking.
Helps Athletes Develop Explosive Power
Slant board exercises achieve deep muscle activation and responsiveness. They stimulate your core and improve your strength, stamina, reflexes, agility, flexibility, and reaction time. The result is an amplified sprint, jump, lift, or tumble.
Other Benefits
Besides the above physical benefits, knees over toes exercises are also associated with easier breathing, better digestion, and relief from headaches.
Reviews of 10 Best Slant Boards for Calf Stretching
1. Best Overall: StrongTek Adjustable Wooden Slant Board, Professional Incline Board and Calf Stretcher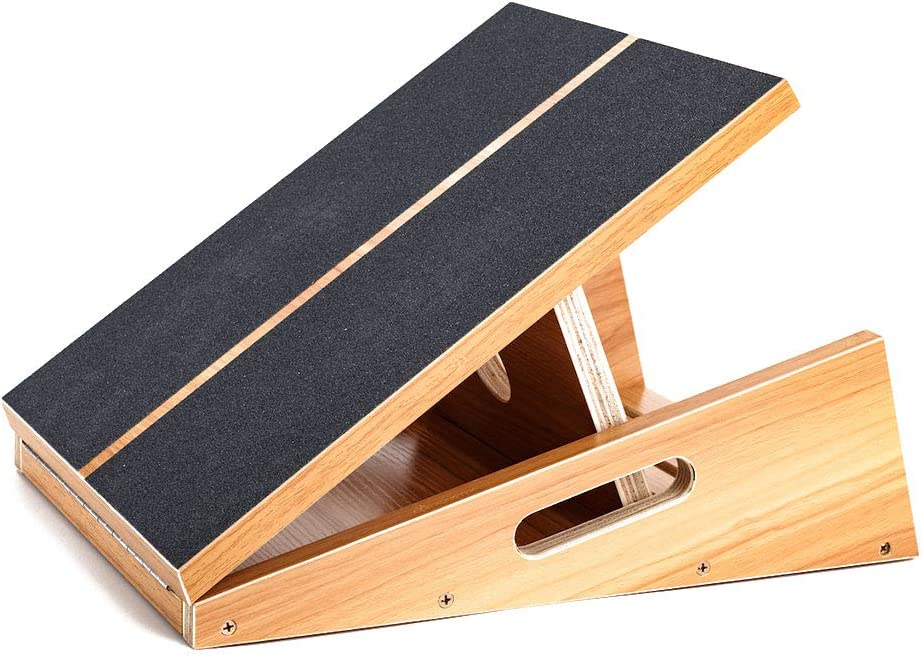 Dimensions: 18 x 16 x 6 Inches
Weight Capacity: 400 Pounds
Adjustable Angles: 15°, 20°, 25°, 30°, and 35°
Material: Lauan Hardwood Plywood
Rating: 4.8 out of 5.0
Thanks to a great design, superior stability, and adjustable incline positions, the StrongTek calf stretch board is the best overall slant board on our list. It suits people of all shapes and sizes and offers limitless versatility when it comes to the exercises you can perform.
Thousands of 5-star reviews attest to its effectiveness in a variety of situations.
With an extra large surface area, the StrongTek slant board is the best option for anyone with big feet. It measures 18 inches deep, 16 inches wide, and 12 inches high.
Made of high-strength plywood hardwood, this heavy-duty platform can handle up to 400 pounds. The surface is rigid and stable enough to perform any stretch, including ATG Patrick Steps.
Anti-slip treads on the bottom and surface ensure the slant board and your feet stay put as you perform your stretches.
The incline angle is adjustable and has five levels: 15°, 20°, 25°, 30°, and 35°. You can start with the lower angles and gradually raise the incline to challenge yourself.
Lastly, moving the slant board around isn't an issue. Simply grab and lift it by the side handles. As you can see, the Strong Tek is an outstanding incline board that deserves the top spot.
Pros
Extra large surface area for big feet
Allows you to adjust the angle of the incline
Thousands of five-star ratings attest to its quality
Stable enough for all kinds of movements
High-quality and durable hardwood plywood build
Side handles for ease of carrying
The slip-resistant bottom keeps the board in place
Anti-slip surface offers excellent grip for your feet
Cons
Hardwood construction makes it a little heavy
2. Best Value: Flybold Adjustable Incline Slant Board (Ankle Calf Stretcher)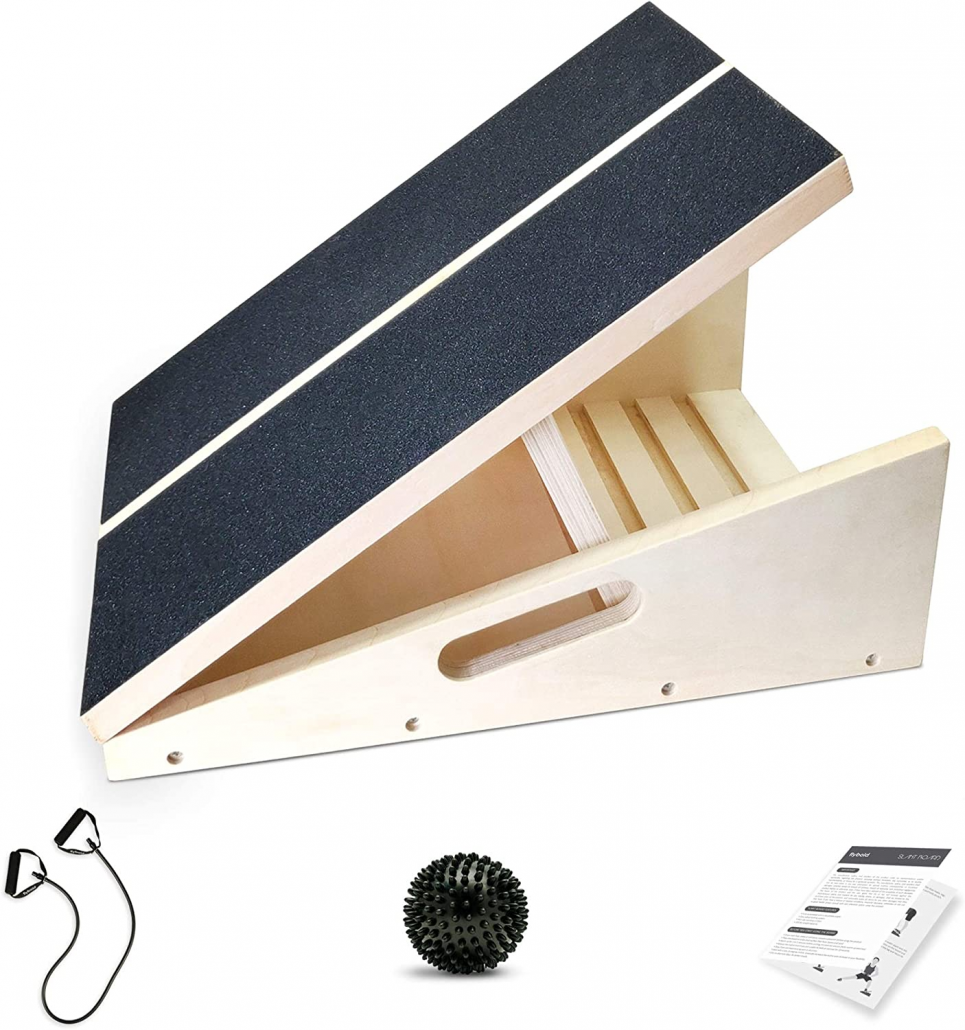 Dimensions: 16 x 12.5 x 5.5 Inches
Weight Capacity: 450 Pounds
Adjustable Angles: 15°, 20°, 25°, 30°, and 35°
Material: Plywood
Rating: 4.7 out of 5.0
For a budget-friendly option, the Flybold incline board is a high-quality wooden slant board at a low price. It's affordable without sacrificing stability, versatility, or quality. The glowing reviews confirm that it's well-made and practical.
Add a heel massage spike ball, a resistance band, and a slant board exercise guide to the package, and the Flybold slant board for stretching offers excellent value for money.
The calf stretch board is made of high-quality plywood with a birch finish to lend an attractive look. In fact, the slant board is sturdy enough to handle a load of 450 pounds.
It offers five levels of incline adjustment: 15°, 20°, 25°, 30°, and 35°. This is a nice range for performing a variety of stretches to maximize the benefits. Reviews show that it's easy to adjust to the angle you prefer.
The top surface has anti-slip traction, providing a good grip when wearing shoes. And when you're done, side handles make it easier to lift the incline board and move it to storage. Overall, this is a great option when shopping on a tight budget.
Pros
Affordable slant board that delivers excellent value for money
The package includes a resistance band and a spike ball
Comes with a slant board exercise guide
Five levels of height adjustment
Easy to adjust the height
The slip-resistant tread provides a good grip
Side handles for ease of carrying the board
Sturdy and durable plywood calf stretching board
Arrives in 3D packaging that resembles a slant board
Cons
There are complaints that the anti-slip layer wears out with time
3. Most Versatile: Yes4All Adjustable Wooden Slant Board/Calf Incline Board with Anti-slip Surface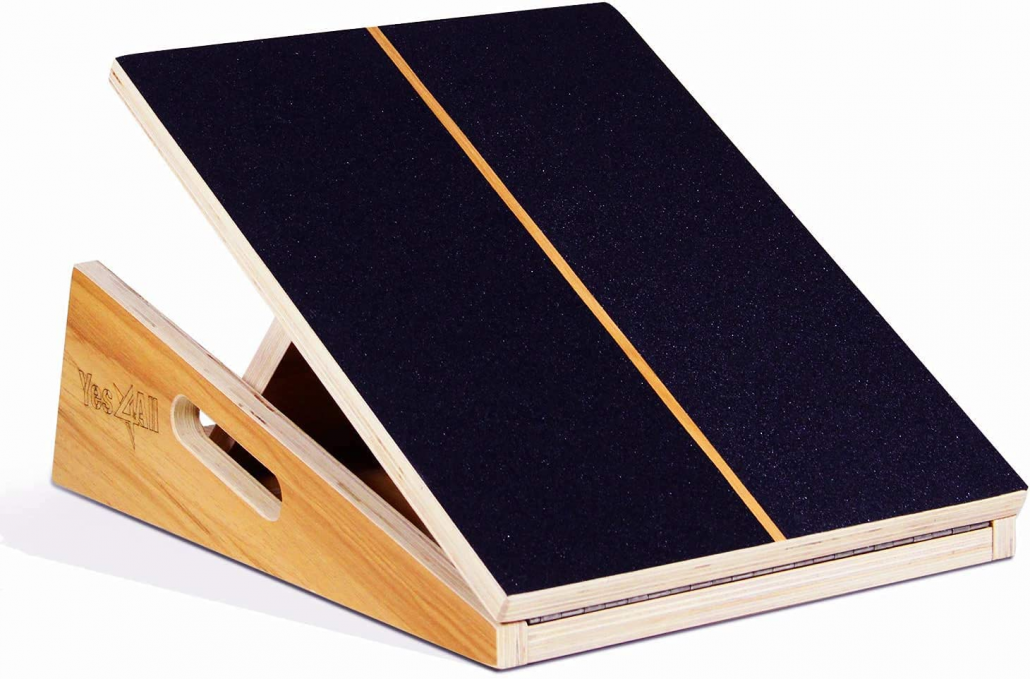 Dimensions: 16 x 12 x 6 Inches
Weight Capacity: 450 Pounds
Adjustable Angles: 15°, 20°, 25°, 30°, and 35°
Material: Wood
Warranty: One Year
Rating: 4.6 out of 5.0
Large and sturdy yet adjustable and portable, the Yes4All calf stretcher is an incredibly versatile slant board that suits anyone. Beginners and pro athletes can use it, and it's suitable for use at home, gym, and rehabilitation centers.
Made of solid plywood material, the incline board is highly sturdy and rated to support up to 450 pounds. If you're larger than average and have huge feet, rest assured it will handle your size without issue and give you the stability you need to work out.
With five levels of incline angle adjustment, the calf stretch board provides great stretching abilities. Adjusting to the desired height is a piece of cake. You can then secure the incline using the included safety locks, ensuring the board remains stable and safe to use even after the adjustment.
Featuring a sandpaper top surface, the surface you stand on provides a firm grip whether you're barefoot or have shoes on. Non-skid feet on the bottom prevent the slant board from skidding and slipping, whether you're exercising on wood, concrete, cork, or carpet flooring.
Despite the sturdy build and large size, the Yes4All wedge board is easy to carry and store. It folds down into a compact package. Two side handles make it easy to lift and move it. No matter how you intend to use a calf stretch board, the Yes4All will suit your needs.
Pros
Limitless versatility of use
Suits individual, professional, and rehabilitation use
5 levels of incline height adjustment
Safety locks keep the board stable at any angle
The large surface area accommodates large feet
Offers storage and transportation convenience
The sandpaper top surface provides excellent grip
Non-skid feet stay put on any flooring
Backed by a one-year warranty
Cons
Wood construction is a bit bulky
4. Best Budget: DALOJOE Slant Board, 3 Pcs Foam Calf Stretcher with 5 Adjustable Angles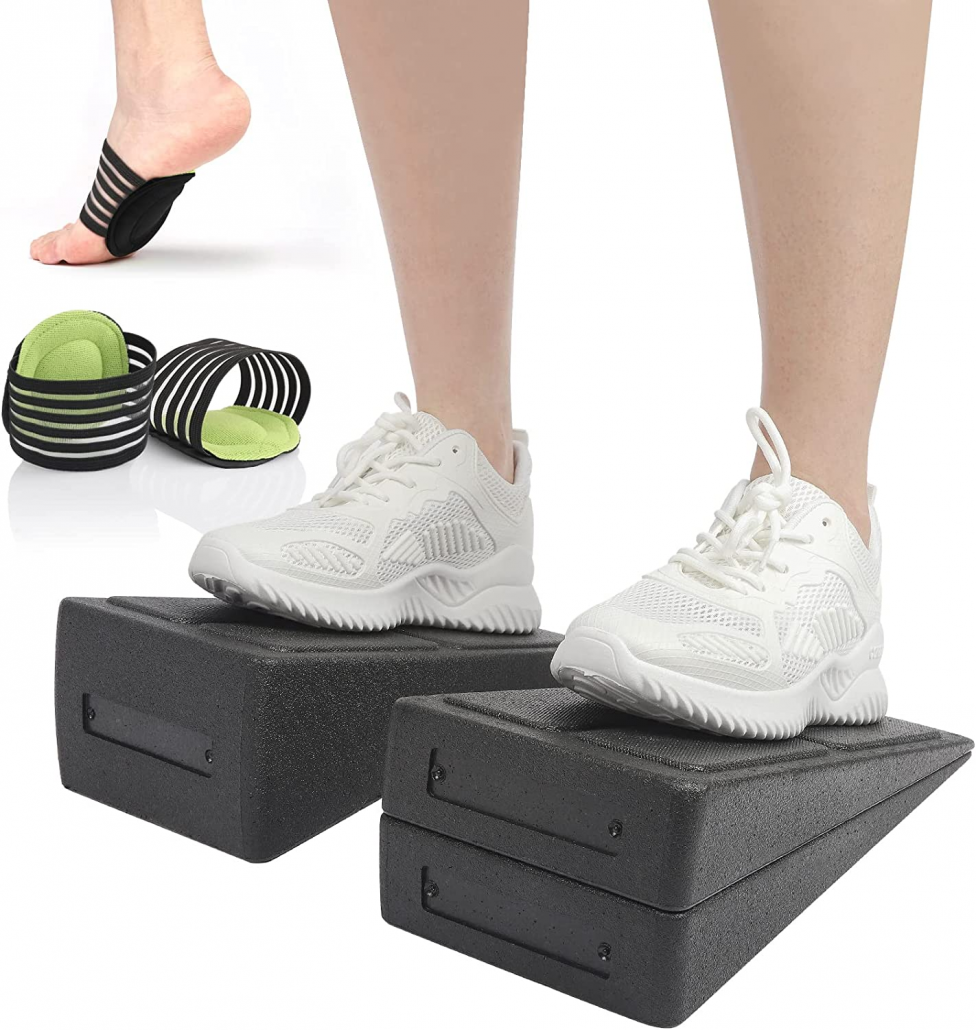 Dimensions: 12.2 x 6.3 x 4.5 Inches and 12.2 x 6.5 x 4 inches
Weight Capacity: 480 Pounds
Adjustable Angles: 8.5°, 17°, 25.5°, 34°, and 180°
Weight: 0.9 Pounds
Material: EPP Foam
Rating: 4.7 out of 5.0
Here is a perfect set for a beginner in slant board stretches at an affordable price. It has the lowest starting incline and comes as a set. You get three wedge boards, two arch support sleeves, and an instructional booklet that outlines many ways to use the wedges.
Two wedges feature an 8.5 degrees incline while the third is 17 degrees. As a beginner, you can start with a low angle. You can stack the pieces together as you progress to raise the incline angle. For example, you can create different angles for each foot or join all the pieces into a 34° wedge for an intensive stretch.
This is the lightest and most affordable slant stretch board on this list. Despite this, it doesn't compromise on quality. Made of high-quality EPP foam, it's highly sturdy and boasts a weight capacity of 480 pounds.
Slip-resistant particle design gives you a good grip as you stretch. Storing and transporting the slant boards is easy as they are lightweight and stack together into a compact package. If you're buying your very first incline board, this calf stretcher set is a fantastic deal to get you started.
Pros
Lightweight foam slant board (0.9 lbs)
Inexpensive and a budget-friendly option
You can use different inclines for each foot
Easy to stack together to achieve the desired angle
Sturdy and durable hard foam build
The anti-slip design provides a sure grip
Boards stack together for storage and transportation
Cons
Foam is not as durable as wood and steel
5. Best for Yoga and Pilates: Nooncrazy Foam Slant Board for Calf Stretching (Foot Stretcher for Physical Therapy)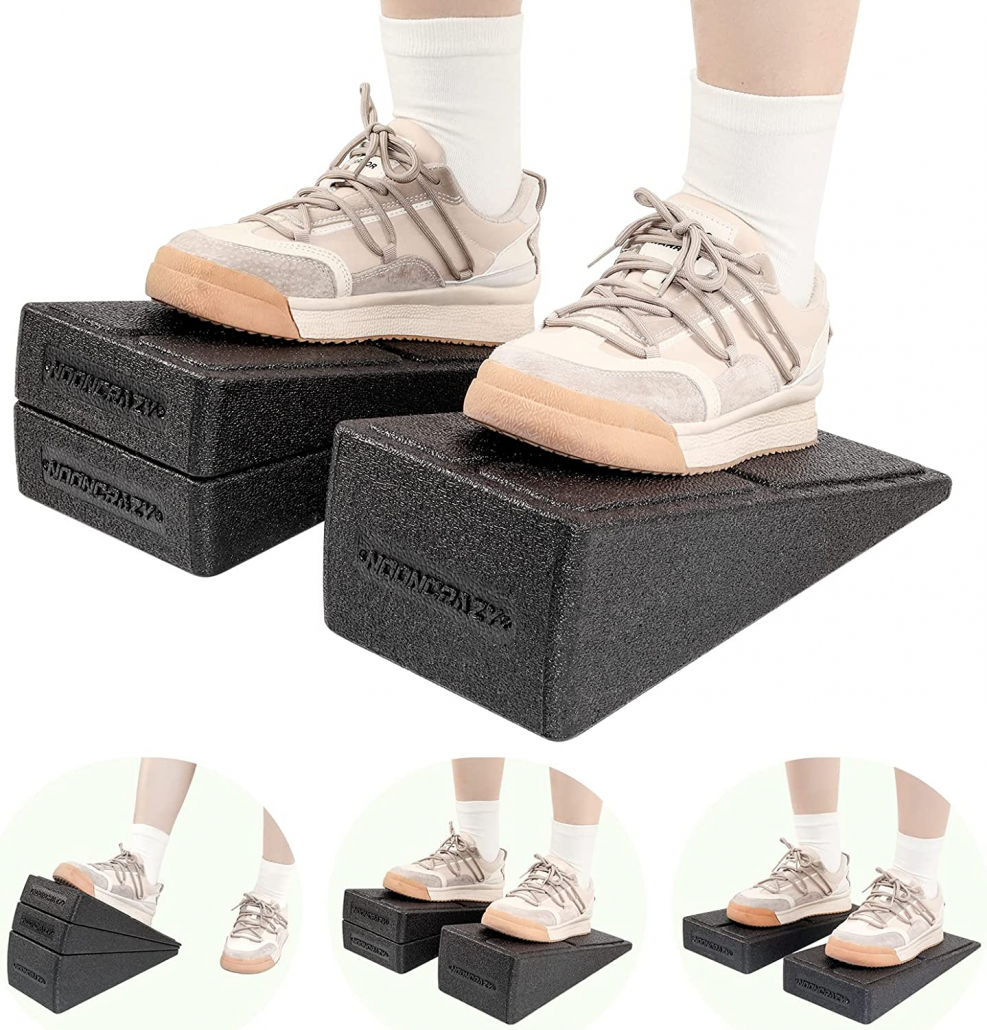 Dimensions: 12 x 6.5 x4 and 12 x 6.5 x 2 Inches
Weight Capacity: 480 Pounds
Adjustable Angles: 8.5°, 17°, 25.5°, 34°, and 180°
Weight: 1 Pound
Material: EPP Foam
Warranty: 90-day Money Back Guarantee and 1-year Warranty
Rating: 4.6 out of 5.0
Made of dense yet comfortable foam, this is the best slant board for pilates and yoga. It's the chosen Amazon slant board for pilates reformers.
The lightweight and stackable design makes it easy to carry to and from the yoga studio. But this doesn't mean it can't handle other forms of exercise. It's a sturdy platform that can support up to 480 pounds.
The best thing about these incline boards is that you can use them individually or in combination to create the desired incline angle. You get three wedges; two with an 8.5° incline and one with 17°. You can easily fit the calf stretchers together to create 25.5° and 34° blocks.
Another advantage of these foam foot stretchers is that they don't stain. Simply wipe them with a cloth and rinse them with water to keep them in pristine condition.
Pros
Comfortable platform for yoga and pilates
Sturdy wedge board with a high-weight capacity
Four different angles of inclination
Stackable design for ease of storage and carrying
Stain resistant and easy to clean
Reasonably priced and great value for money
Professional slant board for physical therapy and home exercise
Cons
The boards tend to slide on the floor, but you can place them on a rubber mat
6. Best for Pain Relief: MUCITAGF Professional Adjustable Slant Board (Incline Board) for Calf Stretching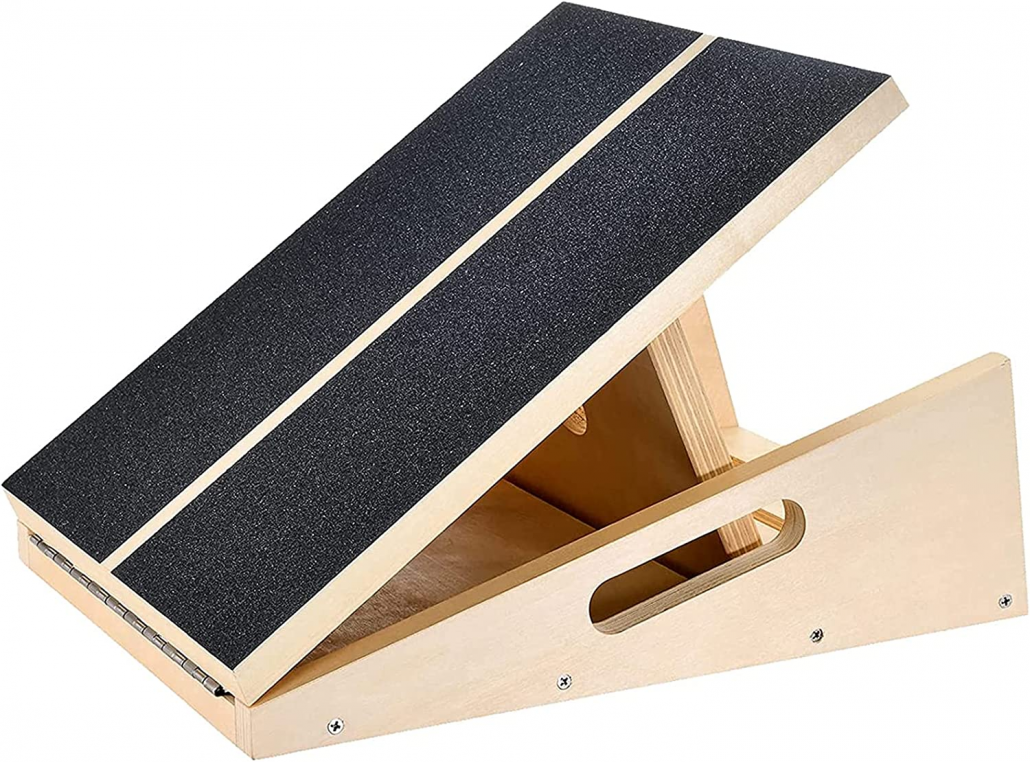 Dimensions: 16 x 12.5 x 5.5 Inches
Weight Capacity: 450 Pounds
Adjustable Angles: 15°, 20°, 25°, 30°, and 35°
Material: Plywood
Warranty: 3 Years
Rating: 4.7 out of 5.0
The MUCITAGF is a top-rated wooden slant board for pain alleviation. Featuring an adjustable incline, you can perform mild to strong calf stretches to get yourself to recover from ankle or foot injuries like calf muscle strain, plantar fasciitis, Achilles tendinitis, and shin splints.
A quick-adjust locking system lets you set the desired slant angle and firmly lock the incline board into position. Choose from five angles 15°, 20°, 25°, 30°, and 35°.
Protected by a three-year warranty, rest assured this is a quality and long-lasting calf stretching board. It's constructed with hardwood plywood and decorated with a birch finish.
As for stability during use, the top surface features anti-slip sandpaper traction while an EVA base keeps the board in place. The slant stretch board folds down for storage and has side handles for easy transportation.
Pros
Adjustable height with 5 incline levels
Non-slip top surface and non-skid bottom
Easy to carry with a side handle
Folds down for space-efficient storage
Made out of solid wood and incredibly sturdy
Safe to use with prop 65 compliance
Comes with a visual exercise guide
Comes packaged in a 3D gift box
Backed by a three-year warranty
Cons
7. Best for Steel Design: WL Professional Steel Slant Board (Adjustable Incline Board and Calf Stretcher)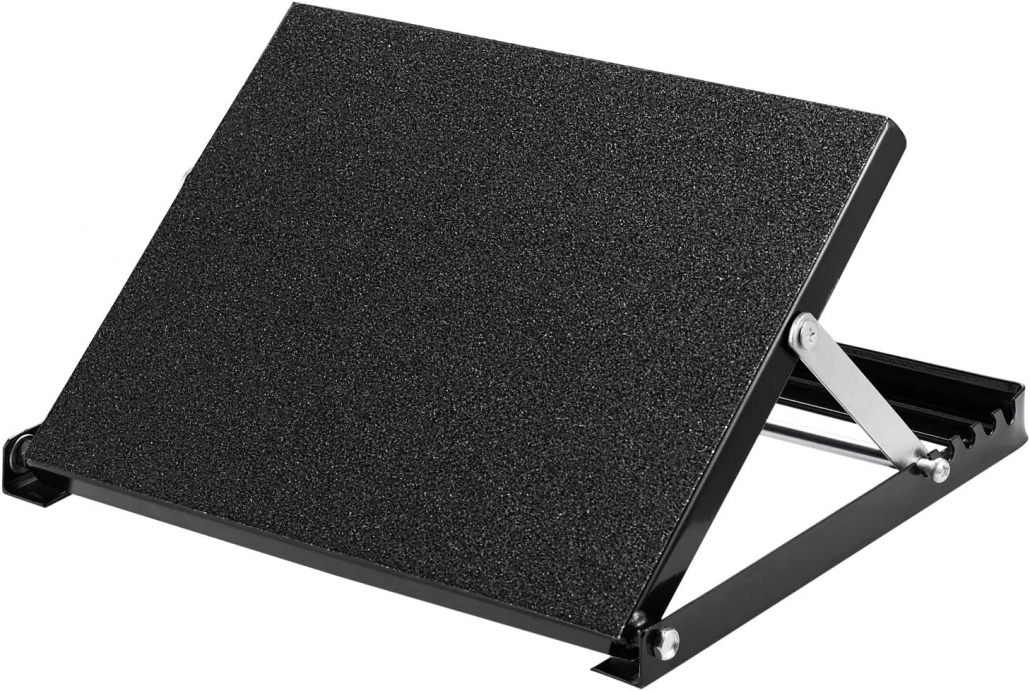 Dimensions: 16.9 x 13.7 x 1.2 Inches
Weight Capacity: 500 Pounds
Adjustable Angles: 15, 25, 30, and 35 degrees
Weight: 7.5 Pounds
Material: Alloy Steel
Rating: 4.6 out of 5.0
Heavy-duty steel construction makes this physical equipment the most sturdy and durable slant board on this list. It can handle an impressive load of 500 pounds without the risk of bending or breaking, making it the best incline board for larger frames.
An adjustable incline allows you to challenge yourself with different levels of stretches. You can start with the lowest angle and gradually move to deeper exercises. The four angles include 15°, 25°, 30°, and 35°.
The standing surface features a full grip surface that's super grippy yet gentle on bare feet. Though this is a heavy-duty steel slant board, carrying and storing it is easy because it collapses into a flat, slim form.
Pros
Made of high-strength and durable steel
500-pound weight capacity suits large frames
Adjustable slant with four different positions
Has excellent grip even without shoes on
Affordably priced and incredible value
Collapsible design is easy to store and carry
Backed by a one-year replacement guarantee
Cons
Steel build is on the heavy side at 7.5 pounds
8. Best for Use with Resistance Tube: PACEARTH Professional Wooden Slant Board with Resistance Tube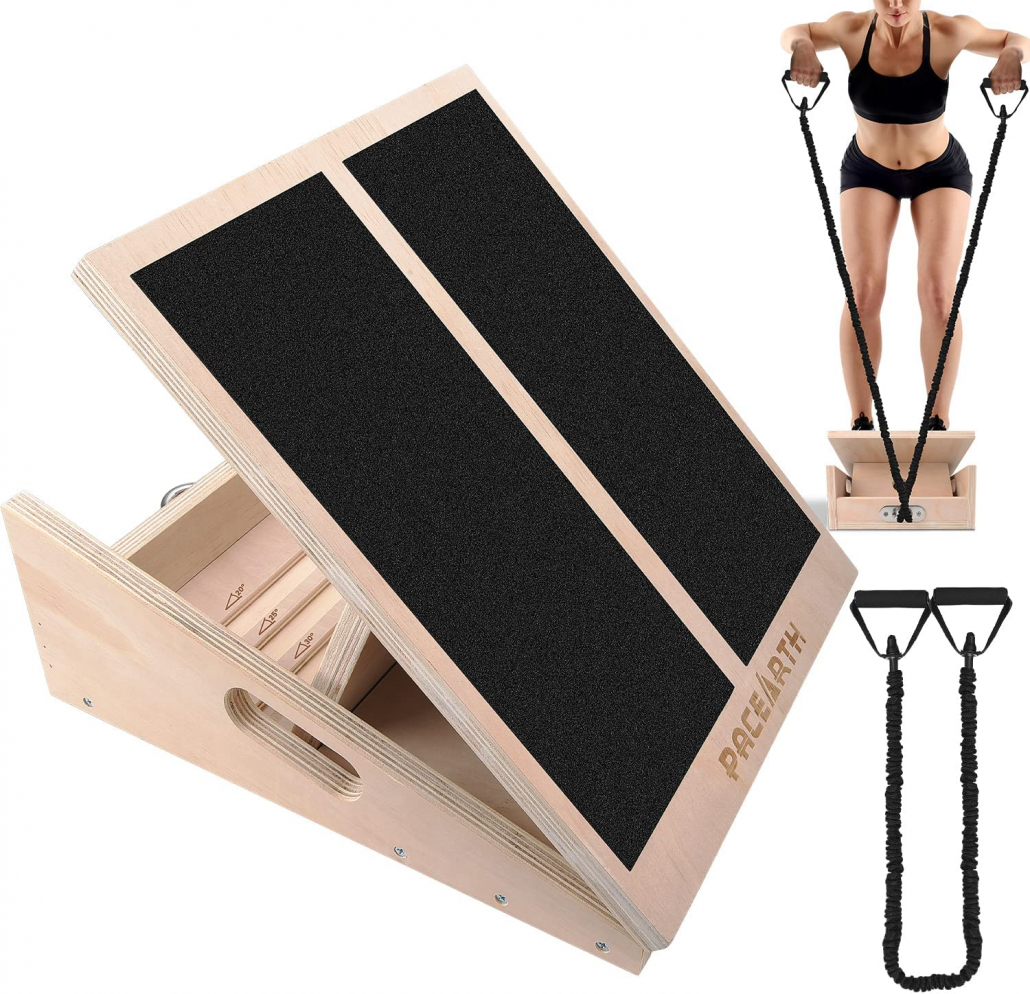 Dimensions: 15 x 12.6 x 5.6 Inches
Weight Capacity: 450 Pounds
Adjustable Angles: 15°, 20°, 25°, 30°, and 35°
Material: Plywood
Rating: 4.6 out of 5.0
PACEARTH's slant board allows you to take your calf stretches to the next level. You can do arm resistance training as you stretch your feet and legs. The board has a metal ring through which you can loop resistance bands.
Adjustable incline angles allow you to stretch out your tendons and muscles at increasing intensity. Simply begin with the lowest level and gradually up to higher levels. The great physical therapy equipment has five marked angles: 15°, 20°, 25°, 30°, and 35°.
Crafted with rigid plywood and reinforced with steel hinges, this wooden slant board is strong enough to hold up to 450 pounds.
The standing area has generous room for even large feet. It features sandpaper traction to keep you from slipping, while the bottom has four rubber stops to keep the incline board from sliding.
Pros
Has a metal ring for use with resistance bands
Comes with a set of resistance bands
Adjustable incline with 5 levels
Angles are marked and easy to adjust
Very well-constructed and durable calf stretching board
Pretty sturdy and stable with a high load limit
Plenty of space for bigger feet
Non-slip tread prevents slipping and falling
Rubber stops keep the bottom from skidding
Has side slots for ease of carrying
Cons
Quite heavy hardwood build
9. Best Foam: OPTP PRO-Slant – Professional Foam Incline Slant Boards for Foot, Ankle, and Calf Stretching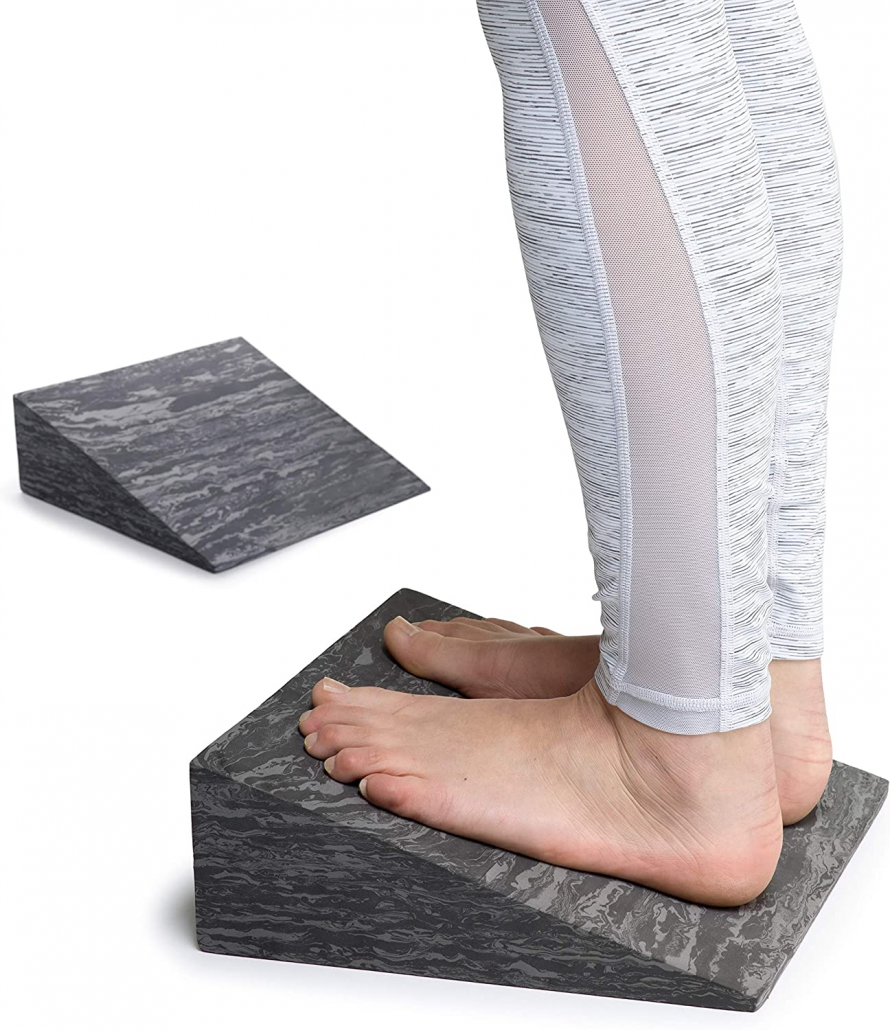 Dimensions: 11.75 x 11.75 x 3.75 Inches
Incline Angle: 18˚
Weight: 1.07 pounds
Material: Closed Cell Foam
Rating: 4.7 out of 5.0
With an 18˚ incline angle, the OPTP PRO-Slant is one of the best calf and Achilles stretchers. It provides a great stretch for rehabilitation and strengthening exercises.
This makes it ideal for physical therapy after a sports injury or post-surgery. Additionally, it's a flexible and comfortable surface for yoga stretches.
As a foam incline board, it's lightweight and easy to carry around and exercise on the go. There's no need to worry about sturdiness. Crafted with dense closed-cell foam, the boards are rigid enough to withstand a heavy load.
You get two calf stretch boards you can use individually or in combination for various exercises. Each slant board is spacious enough to accommodate both feet simultaneously. The standing surface is slip-resistant, while the bottom is textured to resist skidding.
Pros
Fantastic Achilles and calf stretch board
Ideal for rehabilitative physical training
Flexible and comfortable platform
Comes as a pair that you can use separately or together
Dense and durable closed-cell foam construction
Lightweight and easy to carry around
Slip-resistant surface and textured bottom to resist slipping
Cons
Does not have a variety of incline angles
10. Best Plastic: AIFUSI Slant Board, Calf Stretcher Ankle, and Foot Incline Board for Stretching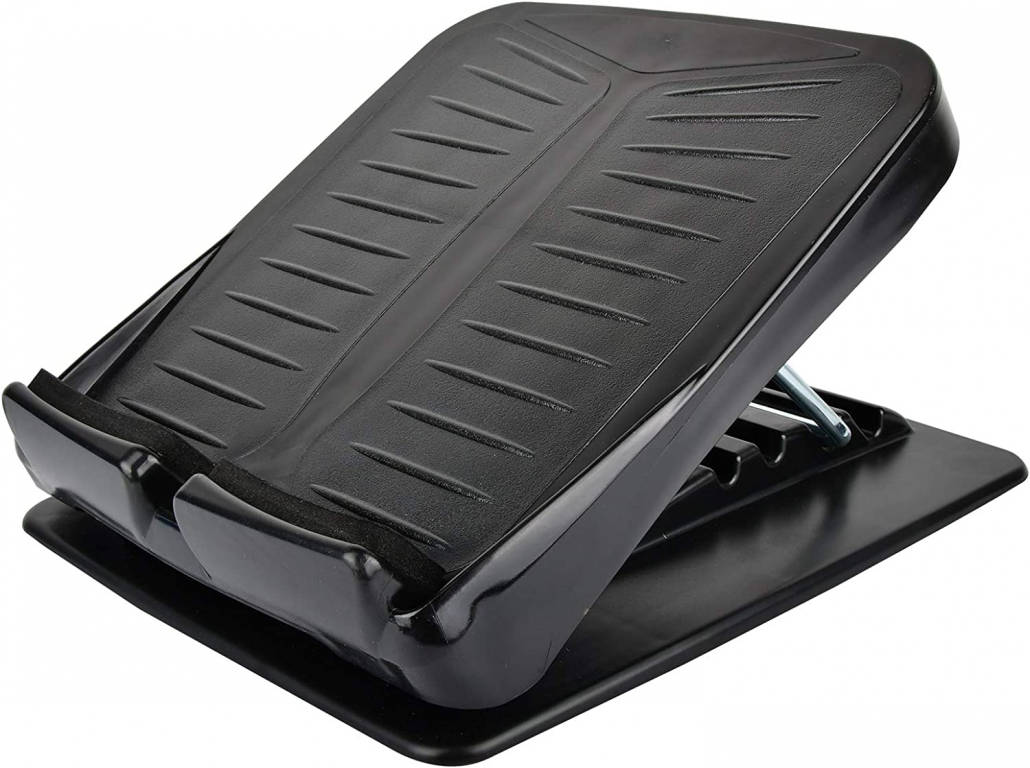 Dimensions: 12 x 10.44 x 3.23 Inches
Weight Capacity: 330 Pounds
Adjustable Angles: 20°, 30°, 40°, and 45°
Weight: 1.45 KG
Material: ABS Plastic
Rating: 4.5 out of 5.0
The AIFUSI plastic slant board works great for calf and shin stretching. 20°, 30°, 40°, and 45° incline options allow you to keep your feet and legs fully extended.
Since it's lightweight and easy to transport, you can use it at home, in the office as a footrest to correct posture, and even during travel.
Even though it's made of plastic, this slant board is by no means flimsy. It's constructed with high-quality ABS plastic and stainless steel and can support up to 330 pounds.
The slant stretch board boasts superior slip protection. Besides a non-slip textured surface, a rubber lip supports the heel and protects the feet from sliding off the board.
On the bottom are anti-slip felts to protect the board from skidding on the floor.
Pros
Excellent calf and shin stretcher
Four levels of incline adjustment
Lightweight and portable slant board
Very sturdy and can handle 330 pounds
Well-constructed and durable
Rubber foot pad keeps the heels in place
Inexpensively priced and great bang for the buck
Cons
The standing surface could use more foot space
How to Choose the Right Slant Board for Calf Stretching
Unlocking the benefits of a slant board requires that you have the right physical therapy tool. It's, therefore, essential to exercise careful consideration when picking a VMO board. Pay attention to the following factors when buying an ankle and calf stretch board.
Build Quality
To ensure the incline board you end up with is strong enough to handle your weight and pressure when performing a range of workouts, consider its quality of construction.
The ideal build material depends on the exercises you plan to do. Angled boards constructed with wood or steel are solid and rigid enough to handle even weighted exercises.
If you need something lightweight, you can opt for a slant board made of foam or plastic. These are good enough for yoga and basic exercises. However, they lack the rigidity and stability required to handle heavy loads and intense pressure.
Keep in mind that the build quality also affects durability. Steel and wooden slant boards are, of course, more durable than those made of plastic or foam.
Angle of Incline
All slant boards have an incline, but not all the incline angles are the same. The good thing is that most slant boards have multiple slant positions to choose from.
The ideal slant angle depends on your experience level and the type of exercises you plan to do.
We recommend you start with the lowest angle if this is your first time using a slant board. Here is an overview of what the lower and higher angles deliver.
22° decline is perfect for a range of exercises, from stretches to squats. It's also effective for treating knee and ankle pain.
30° incline delivers deep calf and Achilles stretches. However, it's a bit too steep for squats and step-ups.
35° and 40° inclines are designed to deliver the most intensive stretches.
For knees over toes (ATG) exercises, choose an adjustable slant board with variable settings. This will allow you to adjust the steepness as you perform Patrick, Poliquin, and Peterson step-ups and calf raises.
Full vs. Split Slant Boards
Full splint boards are solid one-piece wedges with a large surface area to accommodate both feet. Split slant board for stretching, on the other hand, come in pairs, one for each leg.
Split wedges work great for single-leg stretches. They also come in handy for stances that are hard to perform on a full stretching board.
Surface Area
Confirm that the top surface of the calf stretcher you're considering is large enough to accommodate both your feet. Some slant boards are so narrow and/or short that your feet can't fit on the platform.
Measure your feet and check the physical dimensions of the slant board. Choose an extra large wedge board designed for very big feet if you've really large feet.
Having your entire foot or feet resting on the calf stretch board is important because it lends stability to your movements. Furthermore, you need a large surface area to perform wide squat stances comfortably.
Non-Slip Surface and Bottom
Since you will be standing, squatting, or stretching on a sloping surface, the surface of a slant board should provide excellent grip.
Slip-resistant traction minimizes the risk of slipping, falling, and injuring yourself. It gives you the peace of mind to focus on your movements without worrying about losing your foot.
If you plan to do yoga while barefoot, you should look for a soft yet firm slant board that provides superior grip underfoot.
The bottom of the foot stretcher should also have non-skid traction or rubber feet to prevent the board from skidding or slipping on the floor.
Weight Capacity
Since you will be resting all your weight and applying pressure on the wedge board, it should be strong enough to support a heavy load without bending, collapsing, or breaking.
The good news is that most slant boards have maximum weight capacities above 400 pounds. Some heavy-duty models can even support 500 pounds. Still, there are lightweight plastic slant boards with a maximum load limit between 220 and 330 pounds.
Make sure the slant board you choose has a rated weight capacity above your body weight. If you intend to do weighted exercises as you stretch or squat, be sure the slant board you choose can handle that.
Portability
Do you intend to use the calf stretch board on the go? Opt for a lightweight and foldable slant board you can transport with ease.
Consider foam and plastic slant boards because they are lightweight and easy to carry. Wood and steel incline boards tend to be too bulky and heavy to lug around.
Features
Last but not least, check the features on the slant board. Most stretchers have side slots to ease lifting and moving the board around.
Other typical features include pads to prevent the heels from sliding off the board and rings for attaching other exercise accessories, such as resistance bands.
FAQs About Slant Boards
1. Is a Slant Board Worth It?
A slant board is an incredibly valuable training aid. It makes a world of difference in the effectiveness of a stretch routine.
Using a slant stretch board promotes knee, calf, and muscle health. It will boost your training efforts, help you keep injuries at bay, and take your fitness and performance to the next level.
These returns make an angled board worth the investment.
2. Are Slant Boards Good for Knees?
Yes, training on a slant board improves knee health. It isolates the VMO muscles that support the knees, which leads to stronger knees. However, you shouldn't use a slant board if you have acute knee injuries.
3. How Long Should You Stay on a Slant Board?
The recommended duration on a slant board is 4 to 5 minutes. Still, the ideal length of time to stay on an incline board depends on the type of exercise you're doing and the fitness goals you're pursuing. You can spend as much as 10 minutes on a single session.
4. Are Slant Boards Good for Abs?
Slant boards are a versatile piece of fitness equipment that can amplify any training, including strength training and cardio. From promoting muscle responsiveness to exercises to preventing injuries, the calf stretching board will make your abs training more effective.
5. Do Slant Boards Help With Plantar Fasciitis?
Slant board stretches help alleviate pain and other symptoms of plantar fasciitis. In fact, plantar fascia stretches are among the easiest exercises to do on an incline board.
6. How Much Weight Can a Slant Board Hold?
Different slant boards have different weight limits. Most steel and wooden slant boards can support between 400 and 500 pounds, while plastic incline boards have a lower load limit of 220 to 330 pounds.
7. Who Needs a Slant Board?
Pro athletes and people undergoing rehabilitative physical therapy need a slant board as a stretching aid. However, slant boards are suitable for all ages and fitness levels.
You will benefit from slant board stretches whether you're just beginning to exercise or are a seasoned fitness enthusiast. The only contraindication is having a major underlying condition(s).
8. What Can I Use If I Don't Have a Slant Board?
Some slant board alternatives you can use include weight plates and weight-lifting shoes. You can also improvise and use oversized door stoppers or stacked books.
Conclusion
There's a calf stretching exercise craze for good reason; a slant board is one of the most effective exercise tools.
Using one will benefit you whether you're facing mobility issues, recovering from an injury, or just want to take your athletic performance to the next level.
After going through the best slant board reviews and buying guide, you should be able to pick the right incline board for your needs. Use it correctly and consistently and reap the many benefits of stretch board exercises.