Introduction
The best way to get around town is not always on foot. If you are searching for a more efficient and environmentally friendly means of transportation, consider an electric scooter. They are making their mark in cities as they have become increasingly popular with residents fed up with traffic woes and high parking fees.
But what if you're looking for something a little more feminine? Like a Pink electric scooter!
Here are the seven best electric scooters in the soft color that we could find! They can be found in different weight sizes, wheel sizes, brake capability, and more. So get out there and enjoy an eco-friendly ride like never before.
Pick your favorite.
Our Picks for Best Pink Electric Scooter
1. Best Razor Pink Electric Scooter for Offroading
Max speed: 10 MPH
Weight: 26 lbs (11 kg)
Battery: 24V, lead-acid
Wheel size: 8 Inches
Range: 6.5 miles (10 km)
Motor: 100W, chain-drive
Age range: 8+
Warranty: 2 years
Rating: 4.5
Who says you can only go fast when riding a motorbike? The Razor E100 Electric Scooter takes on twisty tarmac, grass, and dirt with ease. Get to school or find your friends at the local park in style while avoiding obstacles like cars that may be slowing down other riders. With a maximum of 40 minutes of continuous use from one charge (on city streets), this little scoot packs quite an impressive punch for such compact proportions; it's perfect if speed is what matters most.
The pink electric scooter is a great way to explore new places in style. Not only does it have two air-filled tires, but it also handles bumps at low speeds well enough on paved surfaces! So if you're going offroading or just want something lightweight for your commute, then these scooters are what you need – they'll keep rolling even when things get rough out there.
Pros
All steel construction
Chain driven motor
Pneumatic tires
Cons
Heavy
High charge time (12 hours)
2. Best Foldable Pink Electric Scooter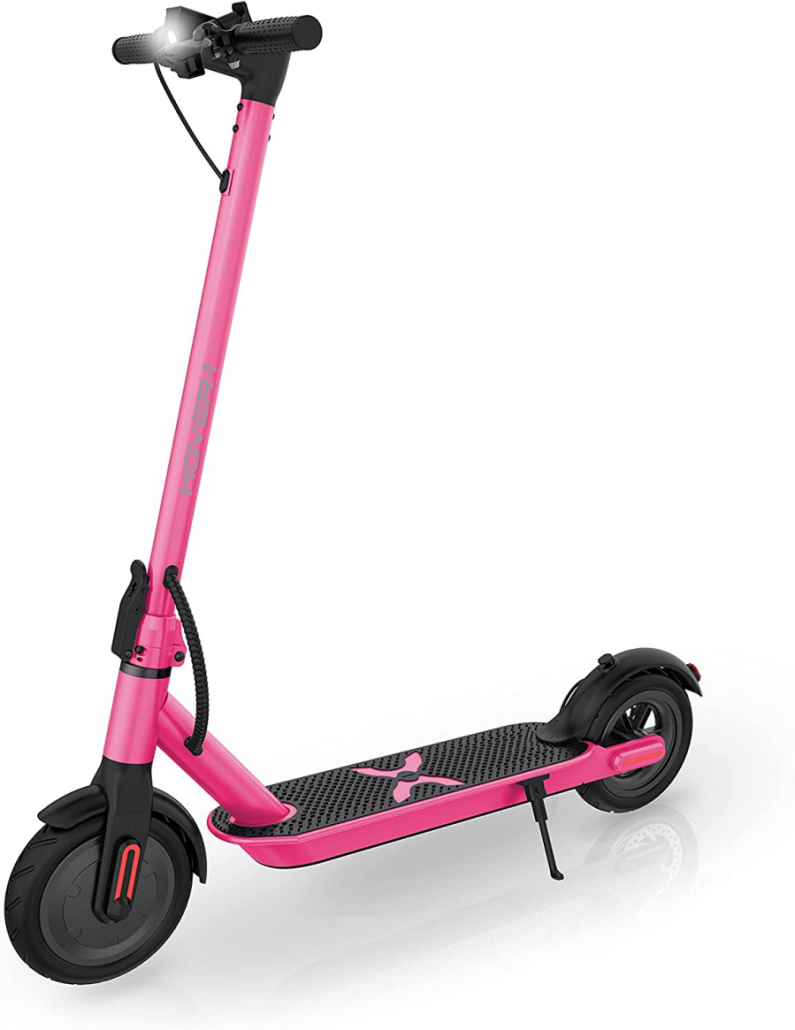 Max speed: up to 14 MPH
Weight: 10 kg
Wheel size: 8.5 Inches
Motor: 450 Watts
Range: 16 miles
Battery: 36V UL 2272 Certified
Payload: 264lbs
Warranty: 90 days
Rating: 4
The Hover-1 Journey pink electric scooter is a faster, more stable, and easy means of transportation. It has 8.5-inch tires that provide greater traction – which makes going over bumps easy! With an electric brake system in place to prevent accidents from happening on your ride, this scooter can take you wherever you need to go without any hassle at all.
The 36V UL 2272 Certified BATTERY pack ensures a safe and reliable ride with up to speeds of 14 mph. This scooter also features an electronic/foot brake capability, which assists it to complete stop safely. Its foldable design makes transportation convenient as well as stylish.
Pros
Foldable design
Easy to charger
Thick tires for greater stability
Cons
Low speed
Cannot ride through wet surfaces
3. Best Pink Electric Scooter with a Backrest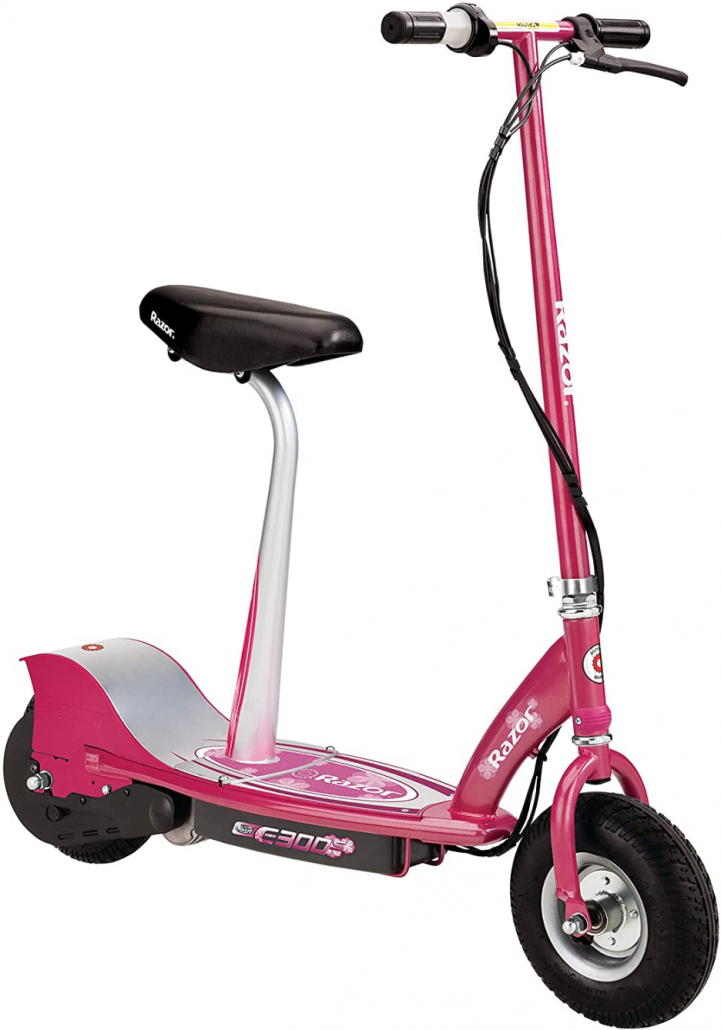 Max speed: 15 mph (24 kph)
Weight: 23138 Grams
Wheel size: 10 Inches
Range: 10 miles
Battery: 24V (two 12V)
Age range: 13+
Payload: 220lbs
Warranty: 90 days
Rating: 4.5
The Razor E300S Seated pink electric scooter is the perfect way to get low-priced transportation for school, work, or any other outing. This sleek and stylish scooter comes with all of your needs covered. It features an electric starting chain-driven motor that will help you commute more efficiently than ever before while also keeping up on errands around town like grocery shopping at $0 cost thanks to its 24V sealed battery system.
Cruising through town is easy with the help of this two-wheeled vehicle. With powerful brakes and an unintimidating throttle, you can go up to 15 miles per hour on your journey without worry. Now there's no need for concern; after installing our upgraded seat post collar design, you won't be any less safe than before while taking short excursions outside city limits with adjustable backrests.
Pros
Affordable
Powerful brakes
Long battery life
Convenient charging
Cons
Heavy
High charge time (12 hours)
4. Best Pink Electric Scooter for Kids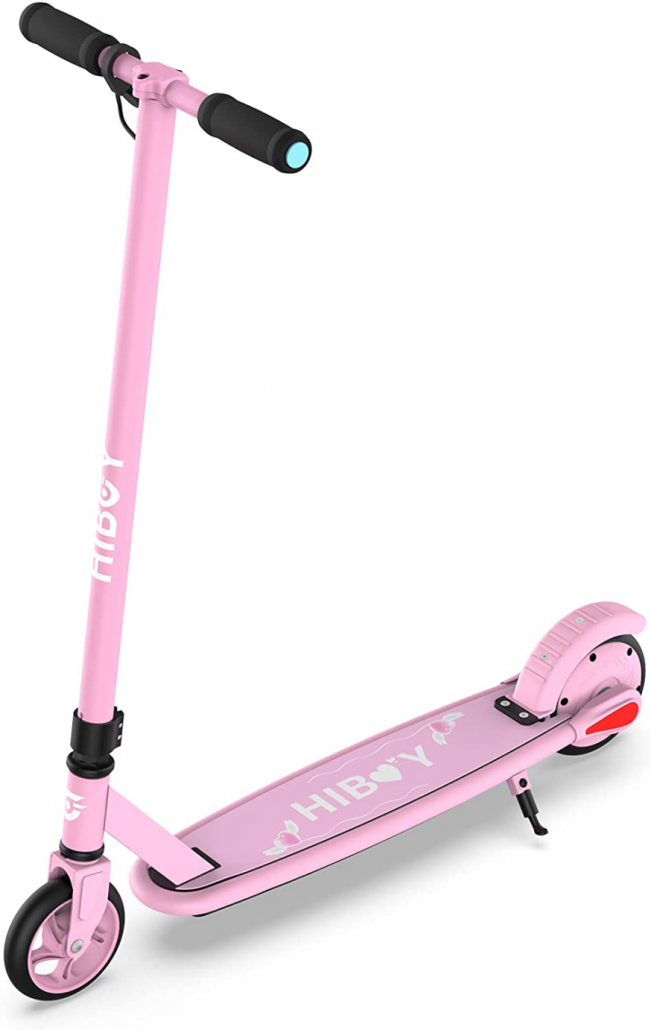 Max speed: 8 mph
Weight: 15.84 Pounds
Wheel size: 5.5 Inches
Range: 5 miles
Motor: 120 Watt
Age range: 6-15 years old
Charge time: 4 hours
Warranty: One year
Rating: 5
Hiboy is a great way to get around town on two wheels. You can use it as an electric scooter or pedal-powered vehicle, depending on your needs and preferences. The first step onto the front button with one foot, then push hard enough. When released from the accelerator at 1.8 mph (3 kph), this will jump Hiboy to speeds of 8 mph or more – all without touching any brakes.
Hiboy scooters are perfect for children 4-12 years old and 132.2 pounds or less, so they're sure to be delighted by this gift that's also easy for them to handle themselves. The assembly only requires the installation of one part – your child will take care of everything else of this pink electric scooter.
Pros
Easy to assemble
24-hour customer service
Electric and pedal accelerator
Cons
No rating for water-resistant
Suspension missing
5. Best Pink Razor Electric Scooter for Varied Weather Conditions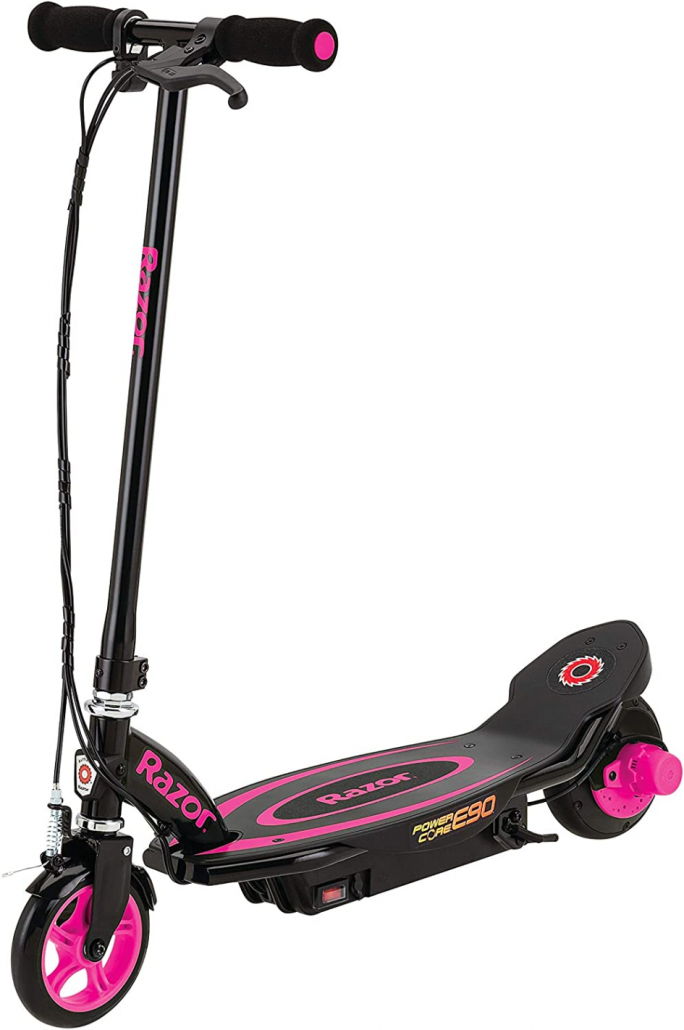 Max speed: 10 MPH (16 KPH)
Weight: 22 Pounds
Max rider weight: 120lbs
Range: 13 miles (21 km)
Motor: 85W, hub-m1otor
Battery life: 80 mins
Age range: 8+
Warranty: 90 days
Rating: 4.5
The Power Core E90 is not your average electric scooter. Unlike other models that typically last only 20 minutes on an extended ride, this one lasts 80 and has 50% more power than before. It also features a hub motor for increased efficiency and steel frame construction which makes it weigh less so you can go further without getting tired out early in the game.
Razor pink electric scooter is the best of both worlds. It has all of your exercise needs in one little package! The power core hub motor technology creates more torque than ever before and provides you with an increased riding time (2X longer than the original). With a speed of up to 10 mph, this pink scooter will take care of any terrain or weather condition imaginable.
Pros
2X enhanced ride time
retractable kickstand
rear-wheel drive for increased traction and control
Maintenance-free
Cons
Not for wet surfaces
Limited speed control
6. Best Pink Electric Scooter for Adults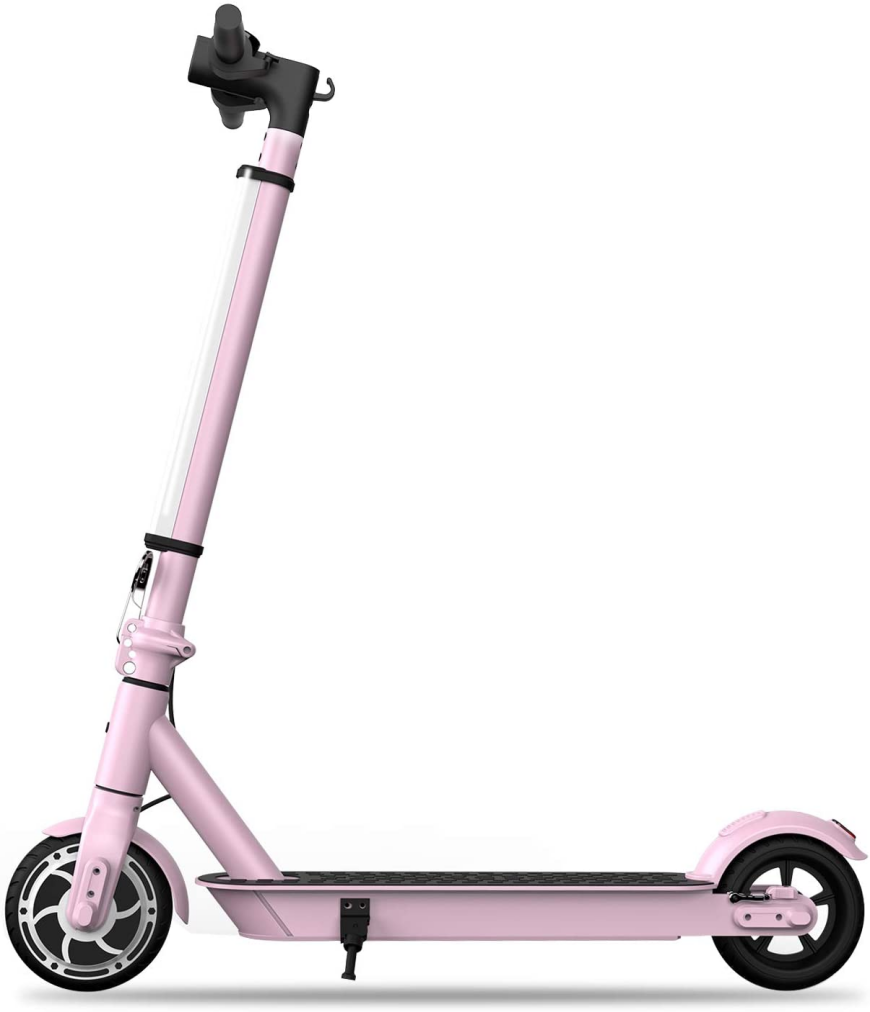 Max speed: 13 MPH
Weight: 21 lbs
Wheel size: 6.5 Inches
Range: 8-10.6 Miles
Motor: 250W
Battery: 5Ah
Age range: 13+
Payload: 180lbs
Rating: 4.5
The Hiboy S2 Lite is the perfect scooter for teens. With its top speed of 13mph and 250-watt power motor, this lightweight ride will keep you rolling smoothly even on an inclined road with a 15% slope. The maximum weight capacity means adults can enjoy riding but performance may degrade over time because it's not designed specifically for them.
The Hiboy S2 Lite scooter is the perfect combination of fun and function. With its powerful double braking system, four reflectors in front for added safety while riding at night time, e-brake to stop quickly whether you're coming or going with an easy storage feature. The lightweight frame design folds up into itself, making it highly portable, perfect if you're looking to store one under your closet.
Pros
Double braking system
Front flights
Affordable price
Lightweight
Cons
Short weight capacity
Long battery charging required
7. Best Pink Electric Scooter with a Seat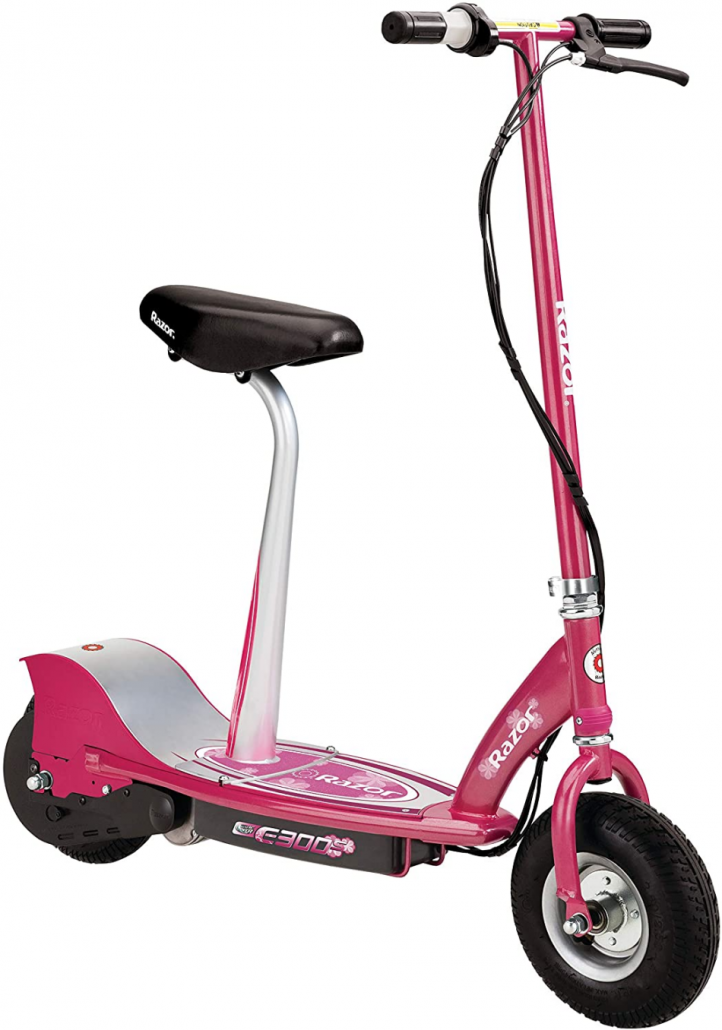 Max speed: 15 mph
Weight: 99 lbs
Wheel size: 10″ pneumatic tyres
Motor: Chain driven motor
Battery: 24 V, lead-acid
Age range: 12+
Payload: 220 pounds
Warranty: 90 days
Rating: 4.5
You'll be swooning over this electric scooter as it is the perfect pink color, has a sleek design and lightweight frame. What will make you fall for it even more? The cutting-edge finish.
Razor's new electric scooter is the best for any kid to ride. With its high-tech and quality materials, it will surely win your little one's heart with an inspired design that adapts well to all riders' needs. With proper assembly needed before use begins (and only takes about 10 minutes), these sweet pea edition models are pretty cute indeed.
Pros
Removable seat
Lightweight
Better grip
No irritable sounds while riding
Longer lasting rechargeable battery
Cons
Not that easy to install
Charging requires long hours
Summing up
The seven best pink electric scooters are highlighted here for your convenience. We are hopeful that this list will help you find what you're looking for, and we look forward to hearing about your experience with these products, so please leave us a comment! And if there's anything else we can do to help make the process of finding an electric scooter easier for you, don't hesitate to reach out.
What Next?
Now since you have learned something about the best pink electric scooters, why don't you also check out our other related guides as follows:
Best electric scooters for kids
Top electric scooters for commuting
Best electric scooters for teenagers
Razor E100 electric scooters reviewed
Electric scooter lock