The Victorian era saw the rise in craze for women accessories which symbolized and enhanced their female characteristics. Women used bows, satin, silk, hats, and stockings to add to their feminine attributes, and along with socks came the concept of garter belts. Garter belts were used to keep lingerie and stockings tight up the thighs. The belts not only provided support to the female garments but also increased female desirability and elegance quotient.
Earlier versions of garter belts had tie-ups, and later, elastics were introduced. Also, the straps provided mini wallets to keep money and liquor. It became a trend to keep guns called derringers in the waistband for safety. Lace garter belts became a favorite with women and stayed in style till the 1900s. What's even more impressive is that this concept became such a massive hit that garter belt tattoos became more popular than the garter belt itself.
Women sensuous tattoos of jewelry like anklets, toe-rings, rings, bracelets saw the rise in demand, and in came the garter belt tattoos. The garter belt tattoos came in as a style statement and took over as social status mark. Women of high social strata preferred garter belts for trend and to show off their refined taste.
Garter tattoos are made above the knee on the thigh region exactly where the garter belts were worn. The straps are not in trend for centuries now, but the charm of lace garter tattoos keeps the women's hearts fluttering.
With a variety of hundred plus designs, creative knacks, color schemes, and a soft, delicate feminine touch of lace patterns, garter tattoos offer a wide range of choices for a twenty-first-century woman to choose from.
One prime parameter while deciding on the tattoo is to determine the thickness of the garter tattoo, which varies as per the choice of the tattoo artists.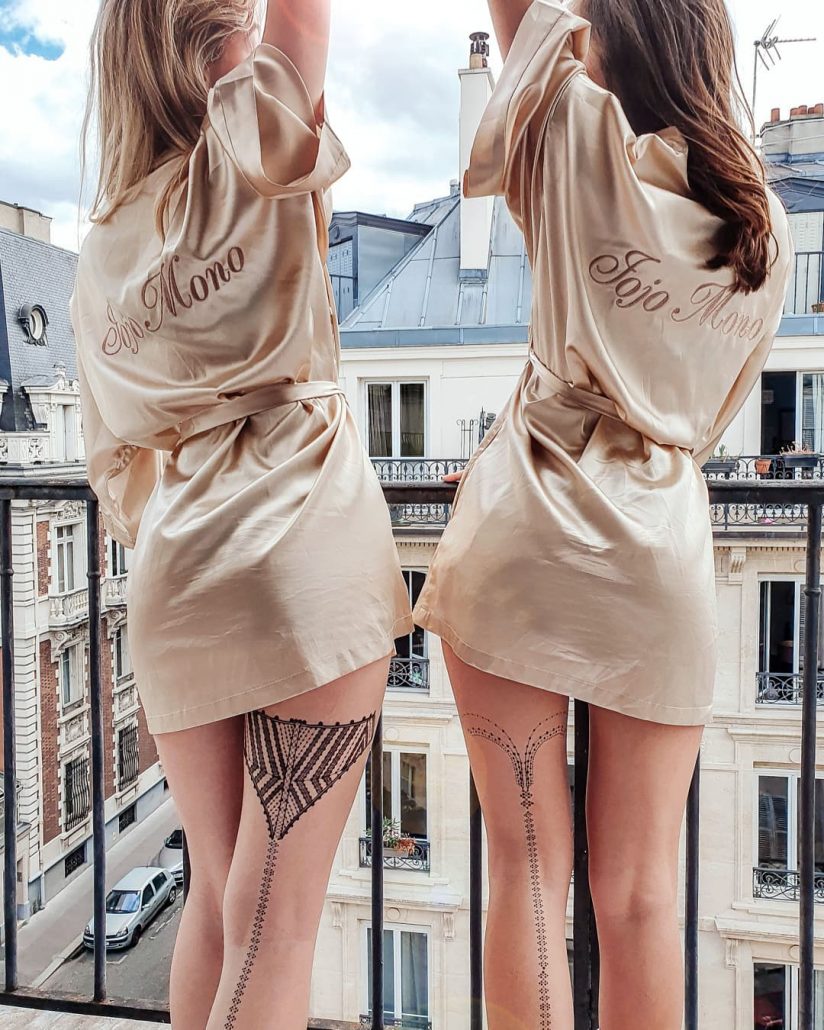 Here goes the list of some beautiful designs which are loved the most by tattoo loving women across all generations:
Embellished Garter Design– A fascinating new approach to garter tattoo designs lies in the use of the decorated style that may seem very alluring to women. If you wish to give a snazzy and graceful touch to an ordinary garter tattoo, the easiest way is to add a jeweled element such as a resplendent gemstone to the garter tattoo design. This way, you can make a traditional design appear more spectacular.
Ribbon Garter Design– Following closely in the footsteps of the conventional garter design, the ribbon-styled garter tattoo has adopted the elegant, feminine trait that the former stands to represent. The lace band of the tattoo reflects intricacy in the most graceful manner, while the bow tied at the end adds an oomph effect. This tattoo has a stunning as well as a sultry character attached to it.
Henna Design Garter Tattoo– Taking inspiration from the South-Asian culture of using the Henna art, for your garter tattoo, you can opt for a delicate design of flowers and laurels enmeshed together to make a band of beauty. You can stick to the traditional pattern and choose your ink in a subtle black shade, or you can also go all out and add a splash of color to bring your tattoo to life.
Derringer garter– These were small-sized guns kept in the garter by women for security reasons. The style is unique, and the most liked one by women as it symbolizes strong and courageous independent women of the modern era.
Jewelry garter– Designed with motifs, beads, and other exquisite jewelry patterns like bracelets and anklets. These patterns represent feminine touch. Women with soft and yin energy prefer to embrace jewelry look the most.
Knife garter– The way women prefer to keep derringer in garter similarly some women used to mark a knife in their garter for security and to show independence. Some women prefer a knife over a derringer because it is more convenient to use and reflects a savage image.
Many unconventional designs are not opted for by many. But the designs are selected by the women who want to stay out-of-the-box and love to carry their unique traits.
Some of the unconventional designs in garter tattoos are:
A subtle addition to the garter like lipstick, brush, or other make-up products is adored and loved by many women who do not shy away from showcasing their love for make-up.
Tribal patterns look chic and are incorporated to give the garter a bohemian look. These looks are different from the traditional garter patterns.
Symmetrical tattoos on both thighs are something not preferred by many women. Then there come certain women who can pull off identical tattoos with ease and grace.
Best friends can also opt to have identical tattoos each. Some patterns with memories could also be used in the garter as a mark of forever-lasting friendship.
Couples opting for matching garter tattoos is a rare concept. However, a few men would like to take the plunge and make identical tattoos with their partners: a unique symbol and an even more unique way to express the bond of love.
Diamonds are undoubtedly a girl's best friend. Garter belts patterned with embellished diamonds give an aesthetic image to the tattoo.
In an honest opinion, 2D tattoos are considered to work best. 3D tattoos are bold and beautiful, which enhances the look and invites more glances. Women with bold choices and free spirits prefer 3D tattoos over 2D ones.
Flowers, fragrances, and women have had an unbreakable relation for centuries. Women from the ancient era used flowers to make jewelry, garments, and braids, now, however, the scenario has changed, and they lovingly add flowers to their tattoos.
Quotes could also be shaped as a garter with fonts similar to laces. Mostly used quotes are inked in the Urdu language.
While many opt for colored garters, some make a vintage choice of grey and black tattoos.