Introduction
Are you on the lookout for the best electric scooter out there? Do you need some guidance with what characteristics and features to look for in an electric scooter? Indeed, you've come to the right place. Continue reading this article to find out the best Gotrax electric scooters available in the market and the perfect fit for you. With thousands of electric scooter options, it is safe to say that the Gotrax brand delivers quality alongside economical prices. Therefore, Gotrax electric scooters are the way to go for someone looking to get to destination A to B in style, speed, and comfort.
Our Picks for the best Gotrax Electric Scooter
1. Gotrax GXL V2 Commuting Electric Scooter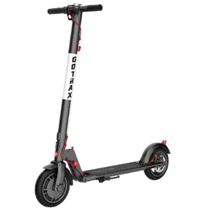 Max speed: 15.5 mph
Weight: 27 Pounds
Wheel size: 8.5 inches
Range: 9-12 miles per charge
Motor: 250 Watt Motor
Battery: 36V 5.2AH extended-range lithium-ion battery
Age range:18+
Warranty: 180-day warranty
Rating: 4.2/5
If you are looking for an inexpensive electric scooter that gets the job done, the Gotrax GXL Commuter V2 is the scooter for you. It is built-in with the best quality features assuring the rider with a comfortable ride. This scooter can be used by beginners who have not hopped on the bandwagon of using electric scooters to commute with cities. Being a very lightweight scooter, along with not putting a dent in your bank account, many customers have raved about how practical the features are and how you are getting more with the money you've invested.
The 8.5-inch air-filled tires allow for a smooth and bump-less ride through the paved streets of the city and leave space to go a little adventurous with graveled roads and rugged grounds. Moreover, the digital display on the middle of the handle space allows the user to turn the headlights on, view the speed and battery life of the e scooter.
Pros
One of the cheapest Gotrax electric scooter
Very easy to fold and transport
High quality for the price paid
Cons
Takes a long time to charge
Brakes are sensitive
Related: Gotrax GXL V2 commuting scooter reviewed
2. Gotrax XR Elite Electric Scooter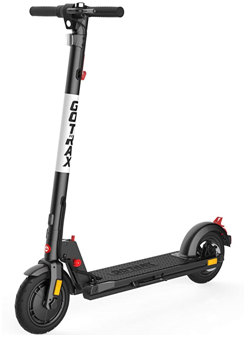 Max speed: 15.5 mph
Weight: 49.79 pounds
Wheel size: 8.5 inches
Range: 18.6 miles per charge
Motor: 300W motor
Battery: 36V 7.8 lithium-ion battery
Age range: Adults
Warranty: 180-day warranty
Rating: 4.2/5
For someone looking to buy a midrange electric scooter, the Gotrax XR Elite sets new standards in terms of performance and style. This scooter has been upgraded to have more power, speed, and comfort. The 6.6-inch platform lets the rider stand with more comfort and gives you a relaxed ride.
The power on this scooter is amazing. It can reach accelerations of 0-15mph in 8 seconds with carrying its maximum weight. With speeds like that, the scooter is also equipped with high quality, reliable dual disc brake system, one at the front and one at the back. The elite name plays its purpose when it comes to the LCD on this scooter. It is located at the center of the lean ergonomic handlebar with functions such as basic essential controls.
Pros
Cruise control
It has a smart LED display
Solid disc brakes
Cons
Lacks performance in hill climbing
3. Gotrax GKS Electric Scooter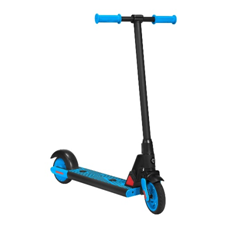 Max speed: 7.5 mph
Weight:17.8 pounds
Wheel size: 6 inches
Range: 4 miles per charge
Motor: 150W motor
Battery: 25.2V high capacity battery
Age range: 6-12 years old
Warranty: 90 days limited
Rating: 4.5/5
The Gotrax GKS scooter is a perfect ride for your child ranging from the ages 6 to 12 and is one of the safest options in the market. Though this might not have heavy shock-absorbent tires, this scooter most definitely gives a smooth enough ride for kids to enjoy on concrete roads and paved parks. Moreover, for the price you're paying, this is the best option compared to its competitors. The scooter is simple to use and maneuver with its unique start-safe technology and the two sensors built in the deck.
Pros
Very stylish and variety of colors to choose from
Lightweight
Safe for children
Cons
Does not fold
Charge time is long
4. Gotrax GKS PRO Kids Electric Scooter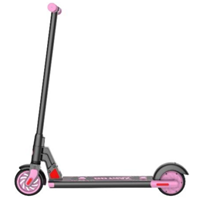 Max speed: 9mph
Weight: 19 pounds
Wheel size:6 inches
Range: 5 miles
Motor: 150 W motor
Battery: 65.52 Wh Li-battery
Age range: 8- 13 years old
Warranty: 90 days limited
Rating: 3.8/5
The Gotrax PKS Pro electric scooter is best classified for pre-teens who want more fun and speed but are still too young to use the heavier scooters with 300W motors. This Gotrax e scooter brings an upgraded version of the Gotrax GKS, which had less power. With the safe gravity sensor feature, kids can better control the scooter and bring it to a stop without any safety hazards.
Moreover, the larger deck provides a comfortable platform for longer rides. When talking bout speeds, thanks to the 150W motor, the Gotrax GKS Pro scooter can reach up to a maximum speed of 9mph. To add the cherry on top, the scooter comes in various colors that your children can pick from that best fit their style.
Pros
Safety gravity sensor
Comfortable platform
Powerful scooter
Cons
5. Gotrax Vibe Electric Kick Scooter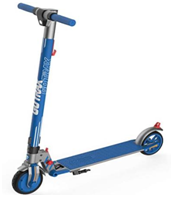 Max speed: 12 mph
Weight: 20.9 pounds
Wheel size: 6.5 inches
Range: 7 miles
Motor: 200W motor
Battery: Long-range battery
Age range: 8-15 years old
Warranty: Limited
Rating: 4.3/5
The Gotrax Vibe electric scooter is made for teenagers as it's a powerhouse with increased speeds alongside safety assurance allowing for an enjoyable ride. This becomes one of the best transports for young adults who have not yet reached the legal age of driving.
The scooter can reach up to 12 mph and have features such as cruise control which can be activated by holding the throttle for 10 seconds. It can go on for 7 miles in one charge, making it the perfect ride for going to school, a park, and just riding around the city. Do you need to put the scooter in your car to take to the park? Well, the Gotrax Vibe scooter is foldable and can be easily stored in the back of your trunk.
Pros
Portable and foldable
Cruise control
Cons
Problems on going up hills
6. Gotrax G Max Ultra Commuting Electric Scooter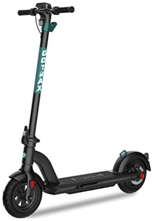 Max speed: 20mph
Weight: 46.3 pounds
Wheel size: 10 inches
Range: 45 miles per charge
Motor: 350W motor
Battery: 36V 17.5aH LG battery
Age range: Adults
Warranty: 6-month warranty
Rating: 4.1/5
The Gotrax GMAX Ultra electric scooter is a one-in-all. It has improved speed, strength, and stability. It can go up to a speed of 20 mph and can travel a distance of 45 miles before needing a charge. The GMAX ultra holds a pretty simple display where you can read the speed, battery life, odometer, digital clock, and status of your headlights. Leaving your scooter outside the store while you quickly run inside to get a few groceries won't be a hesitance anymore as it comes with the anti-lock system, which allows you to set up your code on the digital screen. Moreover, with a speed of 20mph, the scooter provides the rider with safe stopping through its disc brake.
Pros
Speed and stability
Cruise control
Amazing range
Cons
7. Gotrax G4 Commuting Electric Scooter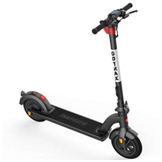 Max speed: 20mph
Weight: 37.5 pounds
Wheel size: 10 inches
Range: 25 miles per charge
Motor: 350W motor
Battery: 36V 10.4aH battery
Age range: Adults
Warranty: 6-month warranty
Rating: 4.3/5
Created with a 350W motor that allows it to reach speeds up to 20 mph, the Gotrax G4 electric scooter is considered a powerhouse. With features such as an anti-theft combination lock, dual braking system, 10-inch shock-absorbing tires, ultra-long-range battery, and much more, the Gotrax G4 is a crowd-pleaser.
Pros
Safe and stable
Built-in combination lock
Cons
How to Choose the Right Gotrax Scooter?
Selecting a scooter that fits you like a glove can be very difficult, with so many options available that make the decision process overwhelming. There are multiple factors that a buyer must consider when purchasing a Gotrax scooter. Such as what is the reason you are buying it? Is it to travel from point A to B? Or is it more for an entertainment purpose.
Below is a list of factors you must keep in mind when looking for the perfect electric scooter for you:
Speed and power
Portability
How user-friendly is it?
Balance and comfort
Charge time and range
Maintenance
Frequently Asked Questions
1. Are the Gotrax scooters waterproof?
Almost all the Gotrax scooters are water-resistant. However, they are not fully waterproof and should not be submerged in water as that will cause problems. They can be taken out on rainy days with slight rain showers but not heavily pouring rain.
2. Are Gotrax scooters portable?
Gotrax scooters can be folded and either carried depending on the model you buy. However, a few models do not have the function of folding and cannot be stored in tight spaces.
3. What level of complexity are the Gotrax scooters?
These scooters have been mainly made for first-timers and entry-level riders who do not have enough experience using electric scooters. They have very simple, user-friendly functions that the user can easily understand.
What Next?
Now since you have learned something about the best Gotrax scooters, why don't you also check out our other related guides as follows:
How to ride e scooters as beginners
Best e scooters for teenagers
Best electric scooters with seats
Razor E300 e scooter reviewed
Best long range electric scooters