Are you an e-skateboarding enthusiast or looking to take your first thrilling ride on an electric skateboard? An electric skateboard helmet is the one thing you must wear every time you are skateboarding.
Skateboard helmets go a long way in protecting you from incurring severe injuries on your head if you fall or crash while riding your electric skateboard. A skateboard helmet reduces your risk of traumatic head injury by 51% and death from impact injury by 41%.
Our top pick for the best electric skateboard helmet:
Why Should You Wear A Helmet While E-Skating
A helmet helps protect one of your most important organs, the brain, from injury in a skateboarding fall.
As an electric skateboarder, you are prone to accidental falls, which can even be fatal. These accidents can be caused by anything, be it overspeeding on the skateboard, collision with other road users, or even unforeseen inconsistencies on the road.
A helmet protects your head from irreversible injury, and as such, it is essential to wear one that is certified safe to use and gives you good head coverage. You could also consider investing in an electric skateboard helmet that covers your ears and jawline for added protection in case of a significant fall.
Electric Skateboard Helmet Buying Guide
There are a lot of considerations you should make when you set out to buy an electric skateboard helmet. Most importantly, you should make sure you understand what a skate helmet is and why you should wear it instead of other types of helmets available in the market.
An electric skateboard helmet is specially designed to withstand high-impact falls or crashes. Most skateboarding accidents result in the rider falling backward on impact. For this reason, you should ensure your electric skateboard helmet gives you full coverage on the back of your head.
Ensuring the electric skateboard helmet you buy fits you comfortably enough to allow you a smooth, safe ride on your electric skateboard is imperative. An overly tight helmet can restrict your head movements, while an oversized one can easily fall off while you are in motion, exposing your head to injury.
To know if the helmet you choose to buy fits you perfectly, check for how it sits on your head. It should not be too high or too low on your ears. The back of the electric skateboard helmet should be slightly above your neck. Additionally, the front rim of your helmet for an electric skateboard should always align with your eyebrows to give you full head coverage.
The shell of your electric skateboard helmet should be made of impact-resistant material. The inner part of the helmet should also be lined with shock-absorbing foam and soft pads to reduce the impact of a fall.
Your electric skateboard helmet should fit well enough to allow you clear vision ahead. It should also allow you clear side-to-side vision when you are in motion. The straps of your skate helmet should make a V-shaped snug fit under your ears. Ensure the straps sit slightly in front of them to ensure your overall balance while in motion.
A perfect electric skateboard helmet should have vents to allow sufficient air in and out of the helmet to keep you feeling cool during your ride. These vents also help reduce sweat which, if uncontrolled, could compromise the overall fit of your helmet.
Choose from our top 7 electric skateboard helmet options below:
1. OutdoorMaster Skateboard Cycling Helmet- Top Choice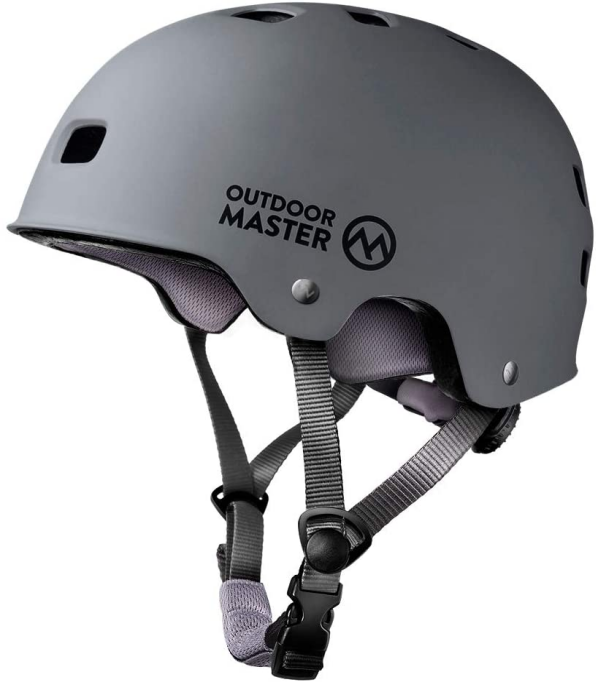 Weight: 13.86 Ounces
Age range: 5 years +
Rating: 4.6 stars
The OutdoorMaster Skateboard Cycling Helmet is the go-to helmet for any outdoor sports enthusiast passionate about a thrilling but safe ride out in the open.
This helmet goes all out in providing you with a safe cover for your head with its reinforced shock absorbing core and impact-resistant shell. The double adjustable straps allow you a secure and comfortable fit around your head.
The OutdoorMaster Skateboard Cycling Helmet comes with two extra liners in different head sizes. These liners are removable, making it easy to clean them as often as after every use. The multiple vents on this electric skateboard helmet allow air to flow inside, cooling you off to reduce the sliding effects of sweat.
This outdoor electric longboard helmet can be used by both male and female skateboarders and is available in multiple color options for your selection.
Pros
It is ideal for all types of outdoor sports
Available in multiple color options
It is easy to keep clean
Cons
Slightly heavy compared to others in its range
2. JBM Skateboard Helmet for Adults- Best for Adults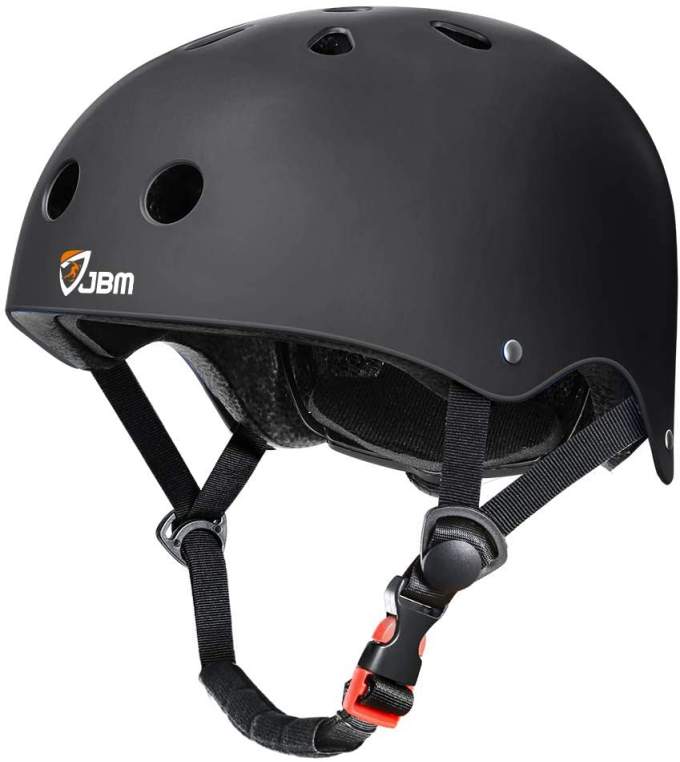 Size: small (18.1" – 19.7" ) ; medium (19.7" – 22.8" ); large (20.9" – 23.2" )
Age range: 5 years +
Rating: 4.6 stars
If you are looking for a strong helmet that combines safety with great aesthetics, look no further than the JM Skateboard Helmet. This helmet is ideal for electric skateboarding as well as other types of outdoor sports.
The JBM skateboard helmet for adults comes in a Multi-Sports Head Protection shell that resists impact should you fall over while in motion. The exterior is made of high-quality PVC and PC material. It is then lined with EPS foam which also helps to protect your head from the impact of a sudden fall.
This slim-looking, classic design helmet has adjustable straps which allow you to fit the helmet safely on your head. To keep you cool and comfortable while e-skateboarding, this helmet has multiple vents that enable free movement of air inside it to prevent excessive sweating.
Pros
Available in a wide range of sizes
Lightweight compared to other brands in the same range
Ideal for male and female skateboarders
Cons
Clear size charts are unavailable.
3. Besmall Adjustable Skateboard Skate Helmet- Best Budget
Size: small (48-52cm); medium (52-57cm); Large (57-62cm)
Age range: kids only
Rating: 4.5 stars
The Besmall Adjustable Skateboard Helmet comes in a classic cut design. It is designed to give you full head coverage, preventing you from suffering severe injury from impact during a fall.
Rated among the best electric skateboard helmet options available in the market today, the Besmall Adjustable Skateboard Helmets features an outstandingly breathable inner lining that doubles up as shockproof padding for your head. The helmet also features 11 vents that help improve air circulation inside it to keep you comfortable during your ride.
Its adjustable straps come with high-quality velcro closures that help to keep your helmet well secured around your chin.
Pros
Great overall fit
Features an adjustable chin strap
It comes in a complete set of protective skateboarding gear
Affordably priced
Cons
It may require a chin guard to protect your throat from being pressed by the chin strap
4. SkateBoard Bike Helmet CPSC Certified- Best Design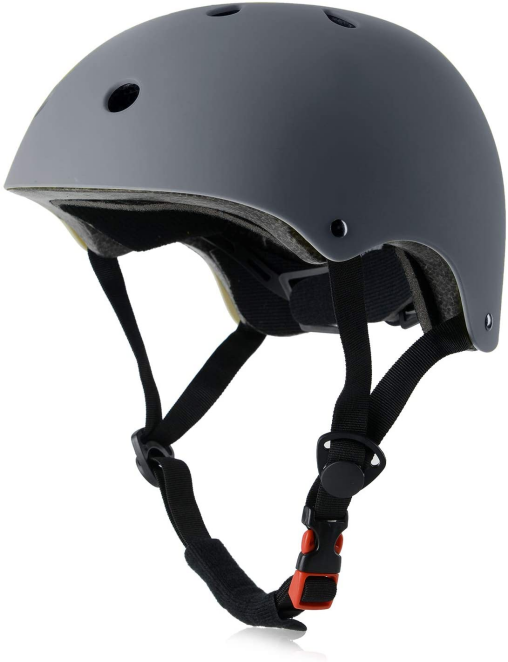 Size: small (48-54cm); medium (54-57cm); large (57-61cm)
Age range: kids and adults
Rating: 4.6 stars
This electric skateboard helmet has been tested and certified safe for you to use by the Consumer Product Safety Commission, CPSC. Its outer shell is made of high-quality ABS material that helps to guard your head against impact. Its insides are lined with EPS foam to help absorb shock in the event of an accident.
As its name suggests, the Skateboard Bike Helmet CPSC Certified can be used for multiple outdoor sporting activities. It comes with fully adjustable buckle straps that help you safely secure it on your chin.
The insides of this impact-resistant electric skateboard helmet are lined with soft pads that protect your skin from bruising. It also features 11 vents positioned on the top and front parts of the helmet to allow good air circulation when in use.
Pros
It comes in a wide range of size options to suit different users
It has extra replacement pads and a storage bag
Available in multiple color options
Affordably priced
Cons
The adjustable strap is very light.
5. Triple Eight Dual Certified Helmet- Teens' Choice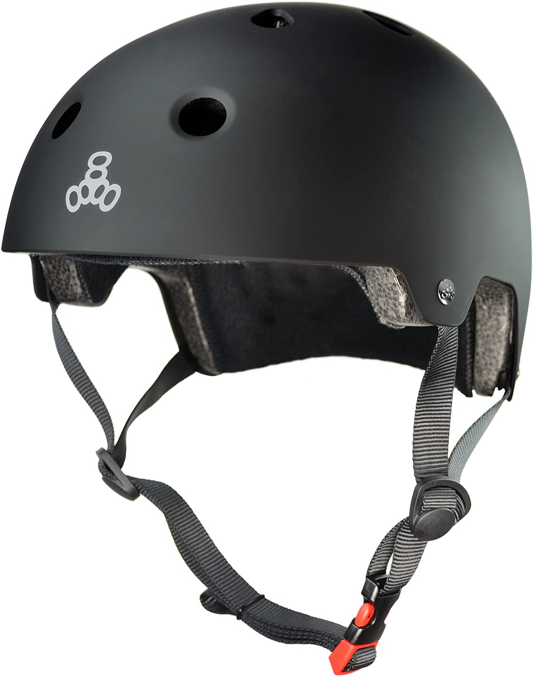 Size: XS/S (48-54cm); S/M (55-58cm); L/XL (59-61cm)
Age range: teens and adults
Rating: 4.7 stars
The Triple Eight Dual Certified Helmet is designed in compliance with CPSC and ASTM F-1492 Skater safety standards, and as such, it is safe for skateboarding and bike riding. It comes with an impact-resistant ABS shell and is lined with EPS foam. EPS foam absorbs shock to keep your head from sustaining an injury in the event of a fall.
This helmet comes in a classic design that offers you full head coverage and a remarkably comfortable fit. You can customize the helmet to fit you using either of the two adjustable Sweat Saver fit pads that come with the helmet. This helmet also comes with adjustable chin straps and a quick-release buckle for easy closing and opening of the straps.
Pros
Safe and sturdy shell
Lightweight fit
It fits well with sunglasses
Available in multiple color options
Cons
6. TurboSke Skateboard Helmet- Most Versatile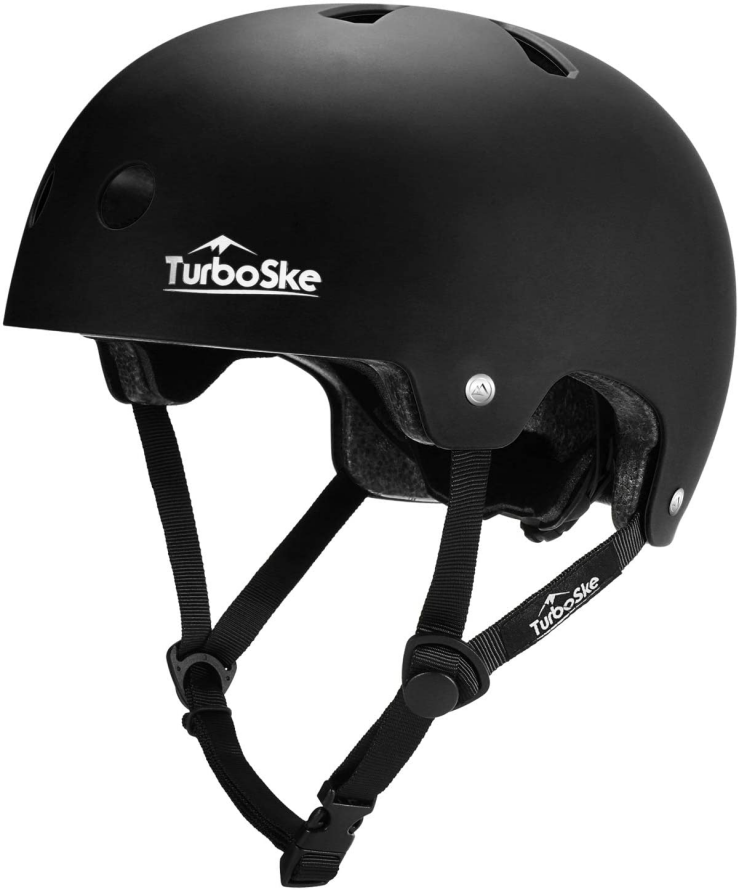 Size: S/M (52-58cm); L/XL (58-61cm)
Age range: kids, youth, adults
Rating: 4.7 stars
The TurboSke Skateboard Helmet comes in two-size fittings. You can customize it to fit by turning the provided adjustment dial button on the helmet. The manufacturers of this helmet have also provided you with two extra sets of foam pads with different thicknesses to help you adjust the helmet to your ideal fit.
This helmet has 11 vents for sufficient breathability and is certified safe for most outdoor sports. Its sturdy shell is made of ABS material, and it comes with two reinforced inner layers that help absorb impact to keep you safe from injury.
Pros
Adjustable dial for effective size customization
Remarkably lightweight fit
Attractively vibrant color options
Cons
Confusing size indications
Difficult to adjust straps
7. G4Free Skateboard Kids Bike Helmet- Best for Kids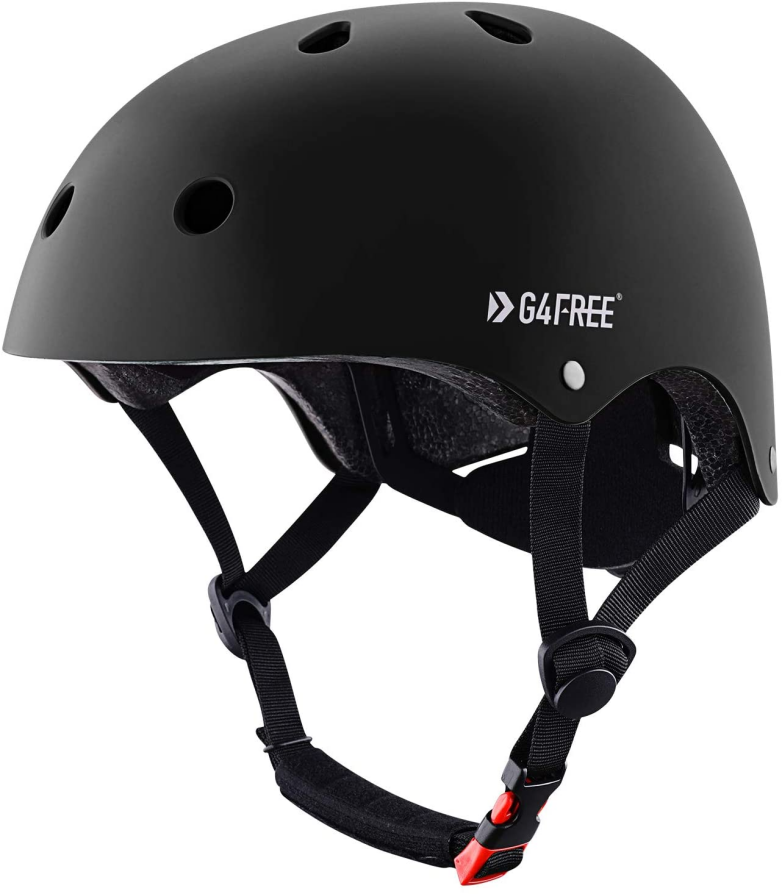 Size: small (51-54cm); medium (54-58cm); large (58-61cm)
Age range: kids, youth, adults
Rating: 4.6 stars
The G4Free skateboard Kids Bike Helmet is ideal for both kids and adult e-skateboarders. It comes in a wide range of size options with extra padding to adjust the helmet to your perfect size. This outdoor electric skateboard helmet has an adjustable dial system that makes it easy to enlarge or reduce the headband to your comfortable fit.
The sturdy helmet of this skate helmet is made using ABS material known for its high resistance to impact. It is also lined with shock-absorbing EMS material, which collapses upon impact to protect your head from getting injured.
You can use your G4Free skateboard helmet in various outdoor sports activities to protect your head from injury.
Pros
Adjustable straps for comfortable fitting
Extra padding for size adjustment
Attractive color options
Affordably priced
Cons
Weak clasps that keep loosening
Frequently Asked Questions
1. Must I wear a helmet while skateboarding a short distance?
Yes, you must wear a helmet no matter the distance or your level of skateboarding experience. Skateboard accidents can happen due to reasons that are absolutely out of your control, like lack of balance, collision with other road users, mistakenly pressing the speed button on the skateboard's hand control, and many different reasons. While you cannot always prevent accidents, you can control the severity of injury that you may suffer in the case of a fall by wearing a skate helmet every time you skate.
2. Are skateboard helmets the same as bike helmets?
No. Skateboard helmets are different from bike helmets in design and protection levels. Skateboard helmets are designed to resist multiple impact levels while protecting the back of your head from injury since most skateboard accidents push you to fall backward. Bike helmets withstand only one level of impact and have no coverage for the back of your head.
3. Can I use my bike helmet while riding my skateboard?
Absolutely NO. No matter the distance, always use a skateboard helmet when riding your skateboard. Skateboard helmets give you full head coverage and can resist multiple impacts from a fall better than bike helmets.
4. How can I know my helmet size?
You can use a well-marked measuring tape to get your actual size. Wrap the tape around your head, ensuring it sits above your ears, on the same level at the front and back of your head. Once you get your most comfortable size measurement, you can then buy a helmet that conforms to your size or is adjustable to fit your size.
5. Where can I buy a skateboard helmet?
Skateboard helmets are readily available in sports shops near you. You can also buy your electric skateboard helmet online. We have included a purchase link for each of our recommended skateboard options above. Click on the link, make your purchase, and the helmet will be delivered right to your door.
What Next?
Now since you have learned something about electric skateboard helmets, why don't you also check out our other related guides as follows: