If you are passionate about DIY electric skateboard, why not consider an electric skateboard kit?
Electric skateboard DIY groups mainly include electric skateboard enthusiasts and regular skateboard veterans (who want to achieve a stunning transformation of the skateboard through modifications). Which group do you belong to?
If you want to make your electric skateboard different and unique, then you'd better not buy a finished skateboard. You can choose to DIY an electric skateboard, but DIY electric skateboard is not as easy as a DIY cake since almost all the equipment and parts on the board are related to electronics. If you are not a professional, it might be hard enough to choose suitable and powerful accessories. Imagine installing ESC, motor, wheels all closely together on the skateboard decks. Can you make it right? And sometimes, you also need to make sure different electronic parts are programmatically compatible, which is often the most difficult because it also requires you to know much about electronics and programming.
Advantages of Electric skateboard conversion kits
If you're like me, you lack the relevant knowledge, expertise, and hands-on skills but are keen on making something with your hands. Then start immersing ourselves in various forums, reading posts, and watching videos, but eventually only to find that DIY is a vast amount of work. The truth is although electric skateboards are small, the modification difficulty is not even as complex as car repairing.
So, why not consider DIY with a whole set of electric skateboard conversion kits? It's like the half-finished food we buy at the supermarket, we then need to put it in the microwave, and a delicacy is made. With a complete electric skateboard conversion kit, what you need to do is follow the instructions. Or you can go to find some videos and do as the videos showing. In short, adopting a conversion kit to DIY electric skateboard is always much more accessible than buying a bunch of accessories to DIY. Not only is the manual process simple, but also the knowledge and skills required to be simple.
Another reason that makes the electric skateboard conversion kit worth buying is that it gives you the freedom to use the decks you want, making your ride unique and distinctive.
Disadvantages

of Electric skateboard conversion kits
The conversion kit does not provide a higher degree of customization, personalization as the manufacturers integrate all gadgets for you. But honestly, this is also the advantage it has. Meanwhile, you may find it a little expensive than you buy kits separately, partly because manufacturers do most work for you. 
Things to consider when buying an electric skateboard conversion kit
Power

 Performance 
The main reason that most players choose to DIY electric skateboards is that they can customize the performance of the electric skateboard as their wish. When selecting the skateboard kit, pay attention to the specs and other indicators of the equipment, and see whether these specs meet your expectations. 
Although in some cases, the spec figures cannot accurately reflect the performance of the kit. But due to conversion kits already produced and assembled by the factory, you can regard the products' parameters as reference. 
Of course, if there is no display of parameters, you can ask customer service or search for relevant videos and reviews on google. If you cannot get the product-related parameters through the above methods, my advice does not buy this one.
Component quality
It is imperative and necessary to buy quality electric skateboard kits. On the one hand, you have to assemble it yourself. If the screws and nuts type size deviation, you can hardly fix the conversion kits on the board, or at first it was well, but later when you are riding the electric skateboard, the kits cannot withstand the long ride and eventually fall off.
Quality affects not only the assembly process but also your riding experience. A set of poor-quality conversion kits are indeed the culprit of accidents during the ride. The kit manufacturer will not insure your body. Safety is always the first consideration.
Suitability issues
Firstly, the deck and the kit. Whether you buy the deck first or buy the electric skateboard kit first, you have to consider the adaptation of each other. On the one hand, it is a size issue. Make sure the kit will fit on the deck. 
There are many types of decks, and different decks are suitable for other road conditions. Do you often ride in the countryside? Does the road condition flat or uneven and rugged? Or you use the e-skateboard commuting in the city? Besides, what is your expected speed of the board? Because some boards are suitable for high-speed riding, but some are not. Therefore, if you buy a high-power motor then with the fish board, this is not suitable.
Second, the kit and wheel. Currently, the famous electric longboard kits on the market adopt hub motor (without wheels). This means you need to buy wheels on your own. There are many kinds of wheel materials, colors, patterns, but the most critical factor is to fit the motor size.
Assembly difficulty
It depends on what you think. If you are passionate about calculating, cutting, welding, you can buy separate gadgets and then put them together. But remember, don't take your passion for granted, because in this case, knowledge and skills matter. 
Most e-commerce sites currently sell skateboard conversion kits integrating accessories, circuitry, and electrical wiring organized for you. You need to use the tool to screw them on the decks when you receive the goods.
The five products introduced later also belong to this type.
After-sales service
For most of us, this is essential since no matter where we buy the kits; we don't want our products to be without a warranty. If there is a broken wire, or a short circuit, or such problem, consumers often cannot solve it. So, before or when you buy the electric skateboard, take note of the warranty terms.
Best electric skateboard conversion kits review
BKB electric skateboard kits
BKB is one of the most popular KITs today. This brand's features include easy installation, high performance, complete accessories. All of these features enable you to enjoy the fun of DIY but do not need to put in a lot of hard work.
The reason why I recommend this one to you is. First of all, it contains a complete set of all the parts and tools needed to make an electric skateboard, even decks. But the quality of BKB is excellent, although it is a kit. You will find its overall quality and even beat some big brands on the market. Secondly, the price of the BKB kit is favorable, mainly because it is lower than the price of all the parts and tools you buy separately on your own.
BKB's high performance is also one of the major reasons for popular praise. When I was researching on the internet. I saw many videos and reviews on YouTube, and the most common reaction after people skating, was like: How can it possible for a kit to have such strong performance!
By now, BKB has two types of electric skateboard kit, BKB Tayto electric skateboard kit and BKB Duo electric skateboard kit, and the latter is a new style.
BKB Tayto electric skateboard kit has two modes, single motor and dual motor. The difference between these two models is the number of the motor. And this difference determines the range of the electric skateboard, but both of these two can make you enjoy surging power. The single motor's range is 14 miles and the dual motor's range is 20 miles. But this is also influenced by the wheel type. Another product BKB has is the BKB Duo Electric Skateboard kit. The main differences that differentiate it from the Tayto type are the deck and attached accessories. Another advantage of BKB is, since its drivetrain is modular, so it can adopt hundreds of types of wheels. This enables you to make your DIY more personalized.
Also, as equipped with VESC (Vedder electric speed controller), you can further customize your electric skateboard. VESC is more advanced than ESC, mainly because the former one can be programmed, which means you can change the settings of acceleration and deceleration. And with Bluetooth programming, you can free yourself from the regular remote control. Finally, here it is. Both two BKB kits adopt dual 3000W motors! Combine, you have 6000W peak power! So, whatever hill you encounter, just go on.
The mellow drive is also a pioneering brand among conversion kits. What impressed me the most is the exquisite design of its official website and beautiful display pictures. Of course, these designs and displays are not useless, on the contrary, they can make consumers have a clear understanding of the products. This characteristic is also in line with the German temperament, to a certain extent. And mellow claims they are in line with German craftsmanship art.
One of the advantages of mellow kit is that it is very easy to install, much easier than BKB's kits. As a compact and integrated kit, the mellow drive includes wheels, battery pack, remote, lanyard, charger, and screws. such a combination can be mounted on any decks.
Specs details:
Range: 7.5 miles-10miles/ 12km-15km
Battery pack: Full-charge 3/5 hours, fast charge time 45min.
Top speed: 25mph / 40kph
Revel electric skateboard kit is a direct drive motor kit. The direct drive is its uniqueness. The advantage of the direct-drive motor is its low power loss. And you don't have to worry about the belt worn out the problem. Providing the same power is applied to belt drive motor and direct drive motor system, the former can bring more driving force. You can know more information about the different motor in our previous article. Click here.
This model fits most decks on the market. In terms of appearance, Verel and Mellow drive are almost similar. Both of these two kits are compact and integrated. Probably the main difference between Revel kit and Mellow drive is the price.
Specs details:
Range: 6-10 miles/10-16km for standard range battery; 10-15 miles/16-24km for extended range battery.
Motor group: 1100W Dual Brushless Motors.
Unlimited×Loaded kits probably the most expensive but awesome electric skateboard kit today. The kits are one of the easiest kits you can install. Its three models are simple and can fit on almost any deck. Both companies, Unlimited and Loaded, are pioneers in their respective fields.
Unlimited has a very strong technical team, all the members have excellent technical study and practice backgrounds in engineering, and are also sports enthusiasts. Unlimited has helped many companies design accessories and their products have been featured in many competitions. In 2017, Unlimited launched the electric skateboard conversion kit through two crowdfunding platforms, IndieGoGo and Kickstarter, which quickly sold out.
Loaded has a history of 19 years of making decks up to now. Through their official websites, you can see that their products are very unique and personalized. Loaded is currently focused on producing high-quality performance skateboards and snowboards. At the same time, loaded also had a partnership with boosted for several years, during which it helped boosted to produce decks.
So when these two companies, Unlimited and Loaded, work together to offer electric skateboard kit, you can almost buy them without hesitancy (I mean the product itself)
As for their products, I made this graphic to help you understand the differences between them.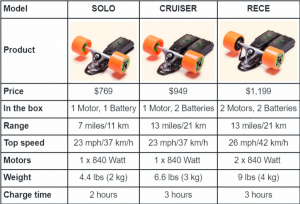 Of all Unlimited × Loaded products, they have 3 features:
Modular. All three models possess different accessories as shown on the above chart.
Customizable. All of these three models have similar structures, which means customers can buy extra accessories from Unlimited × Loaded websites. You can make an RECE model from the SOLO model on your own.
Hardware upgradable. You can upgrade your hardware through the mobile app.