Introduction
Electric skateboards take the thrill of skateboarding to the next level. Thanks to the motorized propulsion, you can glide much faster and travel much further than a regular skateboard. Add remote control to the mix, and controlling the skateboard becomes effortless. Skateboarding becomes easier and much more fun.
If you're looking for the best electric skateboard with remote to use for commutes, getting around, or riding for fun, we've got you covered with expert, hand-picked motorized skateboards that come with remote controllers. In addition, our safety considerations and answers to frequently asked questions will help you make the most of your new electric skateboard.
Our Picks for the Best Electric Skateboard with Remote
How Does the Remote Control Work?
First, let's take a look at how a remote controller works to control an electric skateboard.
Electric skateboards have a motor (or two motors), a braking system, a battery, and an electric speed controller (ESC).
The motor propels the skateboard, the battery powers the motor, and the brake provides stopping power. The ESC relays signals from the remote to the battery, motor, and brake.
The remote controller places the control of the skateboard in your hands literally. You can use it to control the speed, reverse, brake, fine-tune the steering, and choose the speed mode.
The remote and ESC communicate via Bluetooth technology. When you pull the throttle, thumb the wheel or joystick, or press a button on the remote control, the remote wirelessly transmits the signal to the ESC. The ESC then relays the signals to the battery and motor or brake.
Want to speed up? Just use the accelerate button. The battery will increase the power supply and cause the motor to propel the wheels faster.
To brake, press the braking button gently. The battery will reduce the power supply to slow down the motor and activate the braking mechanism.
1. 35inch Electric Longboard with Remote – Best Overall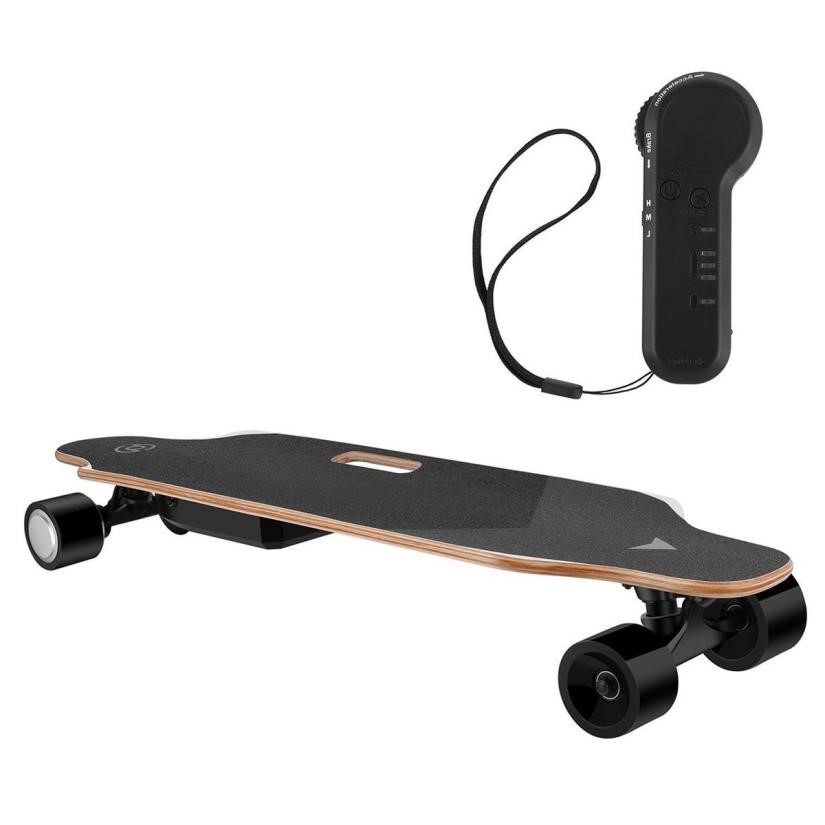 Max Speed: 12.7mph
Weight: 7.5lbs
Range: 7-9 Miles
Motor: 350W
Length: 35 Inches
Battery: 4000mAh
This 35inch electric longboard is the whole package: quality, value for money, and a ton of fun to ride! It's a high-quality motorized skateboard offered at an accessible price. Propelled by a single 350W brushless hub motor, the skateboard is smooth and silent as it rolls. The speed is just right for quick movement without sacrificing safety.
Controlling the skateboard is easy with the included remote control. It conforms to your palm, offers a clear display of the current mode and speed, and responds fast whether you're accelerating or coming to a stop. The hub motor offers little resistance should the need arise to kick push the motorized skateboard like a regular skateboard. You're getting the best of both worlds!
Construction quality is top-notch. You can count on the longboard to last years. The 8-ply maple deck provides a stable platform, while the multi-layer construction featuring muscle, ligament, and keel layers makes the skateboard tough and resistant to corrosion. As for stability, the non-slip surface with grip tape keeps you glued to the board as you ride.
Pros
Affordable pricing
Smooth and fast gliding
Easy to kick push
Shock-absorbing PU Wheel
Easy to change wheel sleeves
Remote comes with a lanyard
Strong multi-layer structure
Compact and lightweight
Cons
PU wheels are prone to damage on rough paths
2. Teamgee H5 37″ Electric Skateboard with Remote – Best Ultrathin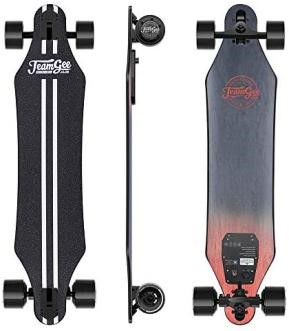 Max Speed: 22mph
Weight: 13.7lbs
Motor: 380W*2
Battery: 7.5 AH
Range: 11 Miles
Rating: 4.3 Stars
At 12mm in thickness, the Teamgee H5 electric skateboard is one of the thinnest e skateboards on the market. The slimness doesn't mean that the board is flimsy or slow. Driven by a 760W dual-motor system and 90 mm PU wheels, it glides fast and has no trouble scaling up slopes. It's nimble in its turning, thanks to a concave deck with soft bushing.
Advanced riders find it fun to ride, and beginners have a great time too. The Teamgee H5 delivers superior stability and a confidence-inspiring ride for first-time e skateboarders due to a drop-through deck with an exceptionally low center of gravity. The remote controller is easy to use, and the skateboard accelerates and brakes smoothly.
Despite being ultrathin, the Teamgee H5 is strong enough to support a 220 pounds load. Ten ply maple combined with one-ply fiberglass makes for a strong skateboard with just the right amount of flex for comfort. Finally, flashing lights keep you visible in low-light conditions.
Pros
Attractive finish
Powerful dual-motor
Beginner-friendly
Accessibly priced
Flashing lighting
Four-speed modes
Extremely thin at 12mm
Cons
PU wheels are not designed for rough roads
3. Maxfind MAX2 PRO Small Fish Plate Longboard – Best Premium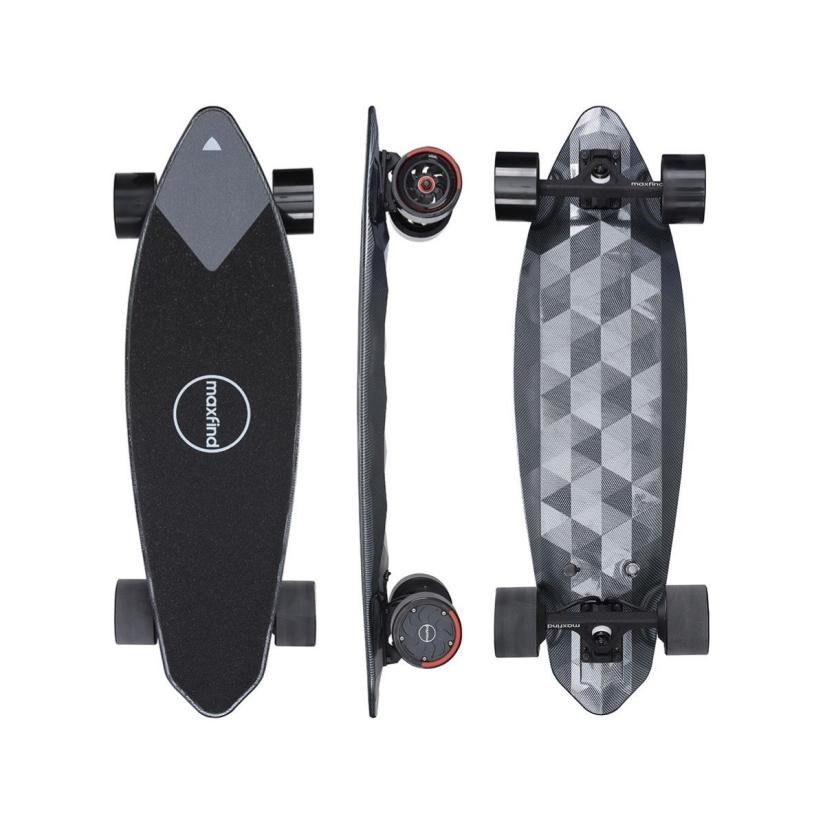 Max Speed: 24mph
Weight: 15lbs
Range: 9-24 Miles
Motor: 600W*2
Length: 31 Inches
Battery: 4400mAh
When it comes to power and reliability, the Maxfind MAX2 PRO electric skateboard is hard to beat. First of all, it's propelled by a dual-motor system that delivers a combined 1200W of power. This kind of torque translates to an impressive top speed and climbing ability.
What else makes the MAX2 PRO stand out from the other remote-controlled electric skateboards on this list is that the remote has a dual-band frequency. Having two bands instead of one minimizes poor connectivity issues.
Utilizing a Hobbywing ESC and remote controller, the pairing, acceleration, and braking are all smooth. The remote has an ergonomic design and comes complete with a lanyard. Premium build quality rounds off the board, making it a great investment. The deck is made of nylon fiber and glass fiber with a wear-resistant carbon fiber coating.
Pros
Powerful dual drive motors
Great speed and range
Dual-band remote frequency
Ergonomic remote design
Remote comes with a lanyard
Sturdy and wear-resistant deck
Cons
Relatively high price tag
4. Meepo Mini 2 Electric Skateboard with Remote Control – Fastest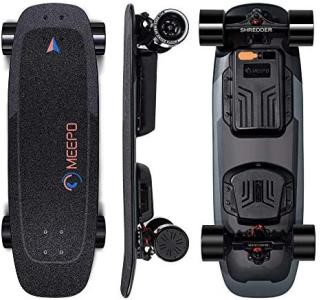 Max Speed: 28mph
Weight: 17lbs
Length: 32 Inches
Range: 11 Miles
Motor: 540W*2
Rating: 4.5 Stars
The Meepo Mini 2 e skateboard packs an impressive amount of torque in a small package (32 inches long). Propelled by two 540 watts hub motors, it's the fastest skateboard on this list. Twenty-eight miles per hour is bound to get your adrenaline pumping, even if you're a seasoned skater.
The short deck with a kicktail design makes it a blast to ride. It turns easily and allows you to perform impressive tricks. Thanks to a wide stance, the Meepo Mini 2 is still stable and comfortable to ride, despite its compactness. As for the speed control and braking, the M4 remote controller is smooth and reliable in its functions.
Rated for up to 300 pounds, Meepo Mini 2 is a heavy-duty electric shortboard featuring an eight-ply construction fortified with muscle, ligament, and keel layers. The PU wheels are both resilient and cushioning.
Pros
Powerful and fast
Nimble and turns easily
Great for tricks
Compact and easy to carry
High-quality build
Strong climber
Reputable company
Cons
A little expensive
On the heavy side for a shortboard
5. Maxfind FF Plus All-Terrain Longboard Skateboard – Best Off-Road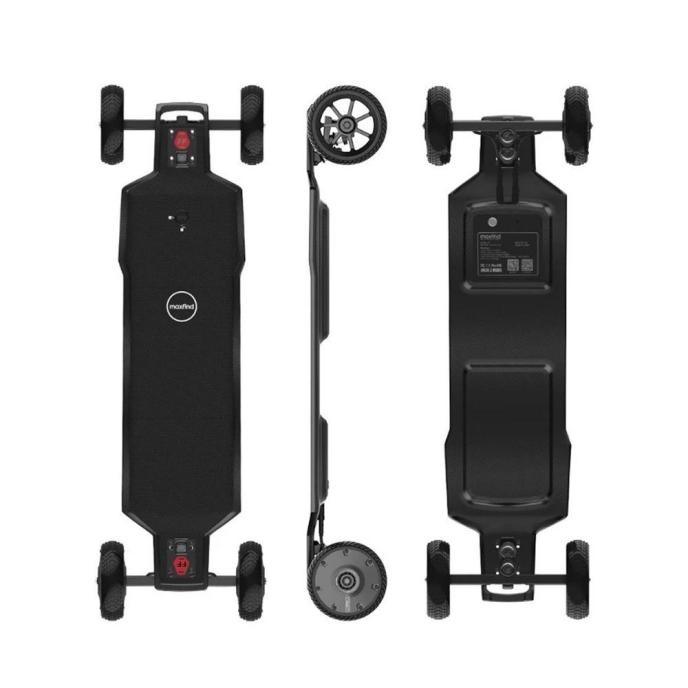 Maximum Speed: 24mph
Weight: 24lbs.
Length: 38 Inches
Range: 10-30 Miles
Motor: 1200W*2
Battery: 216Wh
For off-road e skateboarding adventures, the Maxfind FF Plus electric skateboard delivers the best experience. Equipped with 165mm rubber wheels, it can tackle any type of terrain you ride it on. The tires have excellent traction and absorb shocks to smoothen rides on rough grounds.
A powerful dual motor drive delivers 1200W, allowing you to cruise up to 24 miles per hour and climb steep 35% grade hills without breaking a sweat. Double-kingpin trucks provide smoothness and stability while making carving a breeze. The remote control has four-speed modes to choose from, giving you great control of your experience.
Designed for demanding rides, the Maxfind FF Plus comes equipped with a powerful 216Wh battery that can last up to 30 miles. Of course, the deck is built extremely tough. It's a blend of PPS and glass fiber with a coating of carbon fiber. The result is a strong yet flexible and sleek skateboard that's a joy to ride.
Pros
All-terrain wheels
Large rubber wheels
Wear-resistant build
Double-kingpin trucks
Superior stability
Four-speed modes
High capacity battery
Cons
One of the more expensive options
6. Teamgee H20T Electric Skateboard with Remote – Best Versatile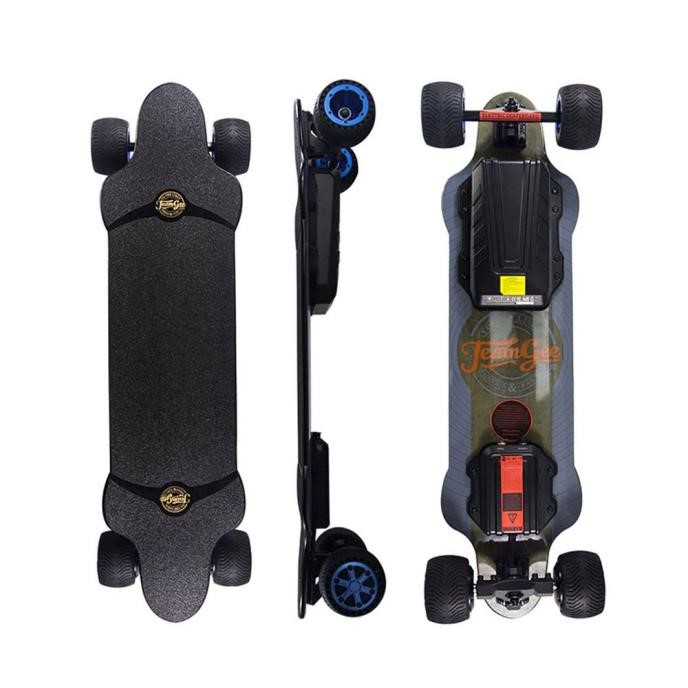 ax Speed: 26mph
Weight: 20.9lb
Range: 18 Miles
Motor: 600W*2
Battery: 7500mAh
Rating: 4.4 Stars
For an electric skateboard that you can ride on all types of terrain, you can't go wrong with the Teamgee H20T longboard. It's a thrill to ride on off-road terrain and is equally at home on city streets.
It comes equipped with shock-absorbing, heat-dissipating, and skid-resistant off-road rubber wheels. On top of this, the package includes poly sleeves and an extra set of PU wheels allowing you to swap the tires to suit any terrain.
With two motors providing 600W of power each, the Teamgee H20T accelerates well and can achieve exhilarating speeds. It can even go up 30-degree inclines. The Seahorse remote control is easy to hold and has four-speed and four brake settings, giving you a high level of control over your rides.
Lastly, the all-terrain skateboard is built to withstand rough rides. The deck is composed of 8 ply maple and one-ply fiberglass, making it stable yet flexible. The stability is enhanced further by a w-shaped foot socket, warped sides, and a concave design.
Pros
All-terrain skateboard
Two sets of wheels
Replaceable sleeves
Powerful motors
Amazing stability
Four-speed settings
Four brake settings
Cons
Heavy and not very easy to carry
7. WowGo 3 Dual Drive E-Skateboard with Remote Control – Best Eco-Friendly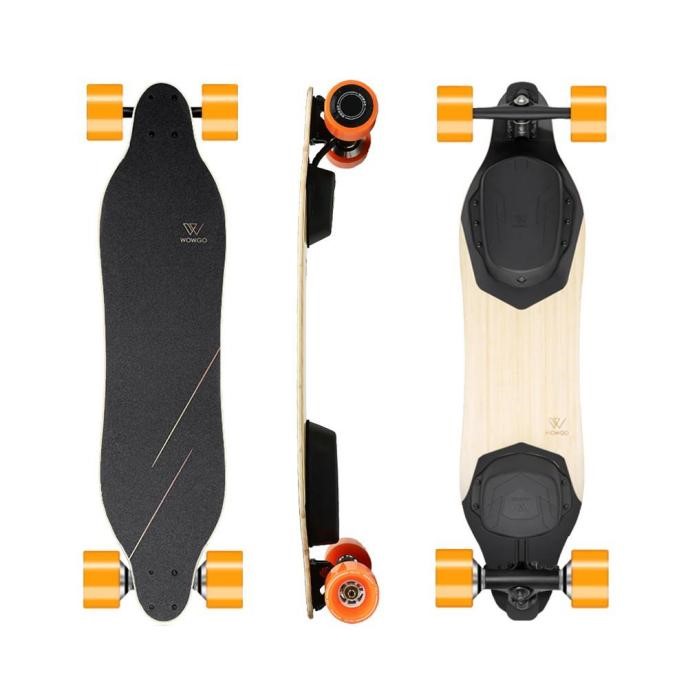 Max Speed: 24mph
Weight: 17.2 Pounds
Length: 38.9 Inches
Range: 11-20 Miles
Motor: 250W*2
Battery: 6AH
All electric skateboards are environmentally friendly, but the WowGo 3 motorized skateboard takes the eco-friendliness to the next level. Not only does it cut down on harmful emissions, but it's also made of renewable and sustainable bamboo and fiberglass.
This composite build is strong yet flexible. On top of it, a carbon fiber coating makes it even more impact-resistant, while a grip tape surface provides sure footing.
Equipped with two 250W motors, its dual drive system packs 500W of power.
Combined with large 90mm wheels, you can zoom by at up to 39kph and climb 30% grade hills without a hiccup. Thanks to Paris V2 front trucks, the carving experience on the WowGo 3 is fantastic. The battery stores enough juice to last up to 20 miles.
An upgraded Hobbywing FOC ESC paired with an intelligent remote controller makes accelerating and braking smooth. The remote is easy to hold and has simple one-button control.
Pros
Eco-friendly composite build
Powerful and fast
Proficient climber
Effortless carving
Long-range battery
Improved ESC
Single-button interface
Large eccentric wheels
331 pounds weight limit
Cons
Heavy-duty thus a bit bulky
8. WOOKRAYS Electric Skateboard with Remote Control -Coolest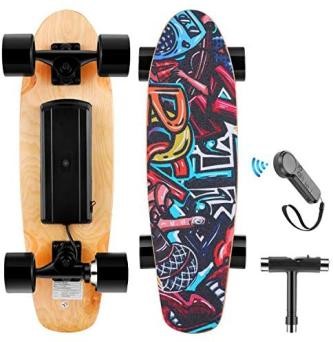 Max Speed: 12.4mph
Weight: 8.6lb
Range: 5 Miles
Motor: 350W
Battery: 2000mAh
Rating: 4.3 Stars
The vibrant graphics on the deck surface makes the WOOKRAYS shortboard such a cool and stylish e skateboard for teenagers. The concave design and kick tail make it stable and easy to steer, even for beginners and young riders.
Powered by a 350W motor and rolling on PU wheels, it glides smoothly and is a blast to ride. The remote control is simple, responsive, and has three-speed modes. If you run out of power, you can easily kick-push it like a regular skateboard.
Composed of 7 layers of maple wood, the WOOKRAYS is one stable skateboard. It can stand up to numerous stampings without breaking. At the same time, it has the right level of flex for a comfortable experience. Even the trucks are top-notch quality and easy to adjust. Finally, the skateboard is compact and lightweight, thus easy to lift and carry.
Pros
Attractive graphics
Top rated for teens
Easy to steer and ride
Highly portable
Affordable pricing
Rock-solid quality
Cons
Not a very powerful option
9. Blitzart Hurricane Electric Longboard with Remote Control – Top Pick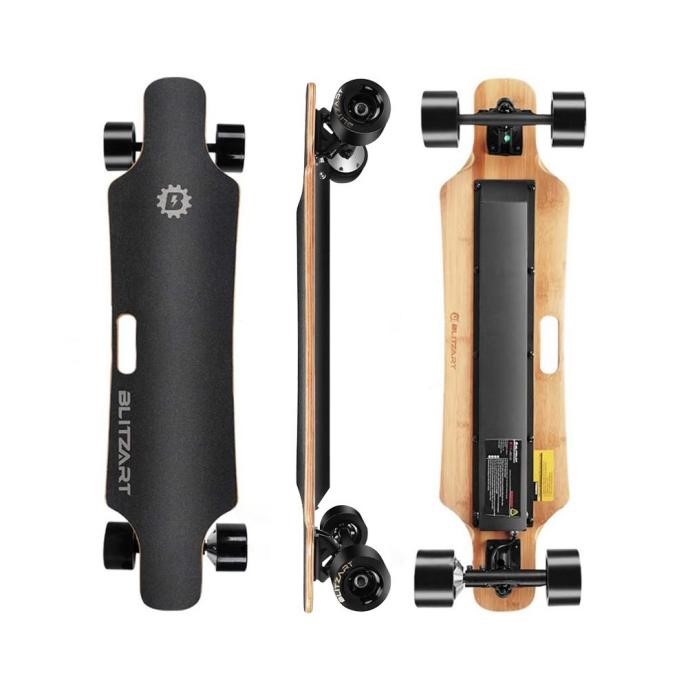 Max Speed: 19mph
Weight: 13.6lbs
Range: 6-10 Miles
Motor: 350W
Battery: 144Wh
Rating: 4 Stars
True to the name Hurricane, the Blitzart 38″ Hurricane motorized longboard is incredibly fast. Sure, the motor only packs 350W, but the 38-inch length and large wheels boost its gliding ability, enabling it to move surprisingly fast.
The remote control pairs easily and has two-speed modes, a hold function, and reverse capability. If the battery runs out or the wireless connectivity is poor, no worries, as you can still ride the Blitzart manually.
The deck features seven layers of maple sandwiched in between two layers of bamboo. This structure makes for a strong yet flexible standing surface. It can bear up to 250 pounds but still has the required flex for smooth rides. The concave deck with a grip tape surface keeps you secure on the board. With its length and strong construction, the Blitzart Hurricane isn't the most compact or lightweight motorized skateboard here. However, it comes with an attached carry handle, so you can still carry it with ease.
Pros
Fast and smooth
Has a carry handle
Remote has a hold function
Tires are replaceable
Sturdy build quality
Four color options
California based company
Cons
10. JKING Electric Skateboard with Remote – Best Budget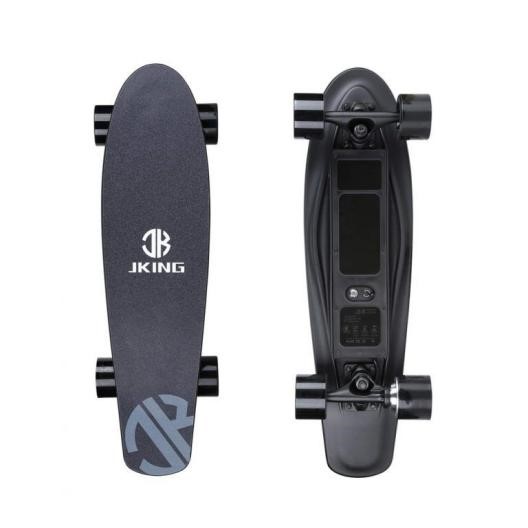 Max Speed: 12.4mph
Weight: 8.8lb
Range: 5.2 Miles
Motor: 350W
Battery: 2000mAh
Rating: 4.4 Stars
Finally, the JKING e shortboard is the best electric skateboard for beginners. It comes at an affordable price tag and is easy to ride for first-time electric skateboard users.
A 350W hub motor delivers a fun ride without gliding too fast. The skateboard can easily tackle gentle hills. If you run out of battery, you can still easily push it by kick pushing and shifting your weight. The 72mm PU wheels have just the right mix of hardness and elasticity. Grip tape deck surface ensures you and the board don't get separated. The high-density polypropylene deck is strong enough to bear a 160 pounds load yet flexible enough to provide a comfortable ride. Measuring 27.75 inches long and weighing 8.8 pounds, the JKING motorized skateboard is also a great option if portability is a top priority.
Pros
Accessible pricing
Beginner-friendly
Sturdy yet flexible
Non-slip platform
Highly portable
Cons
Not as powerful and fast as some other options here
Safety Considerations on E-Skateboarding with Remote
Due to the high speed of an electric skateboard, the safety risks are higher than when riding a conventional skateboard. It's, therefore, vital to take safety seriously and follow all necessary precautions. Here are the safety considerations to make when buying and riding a remote-controlled electric skateboard.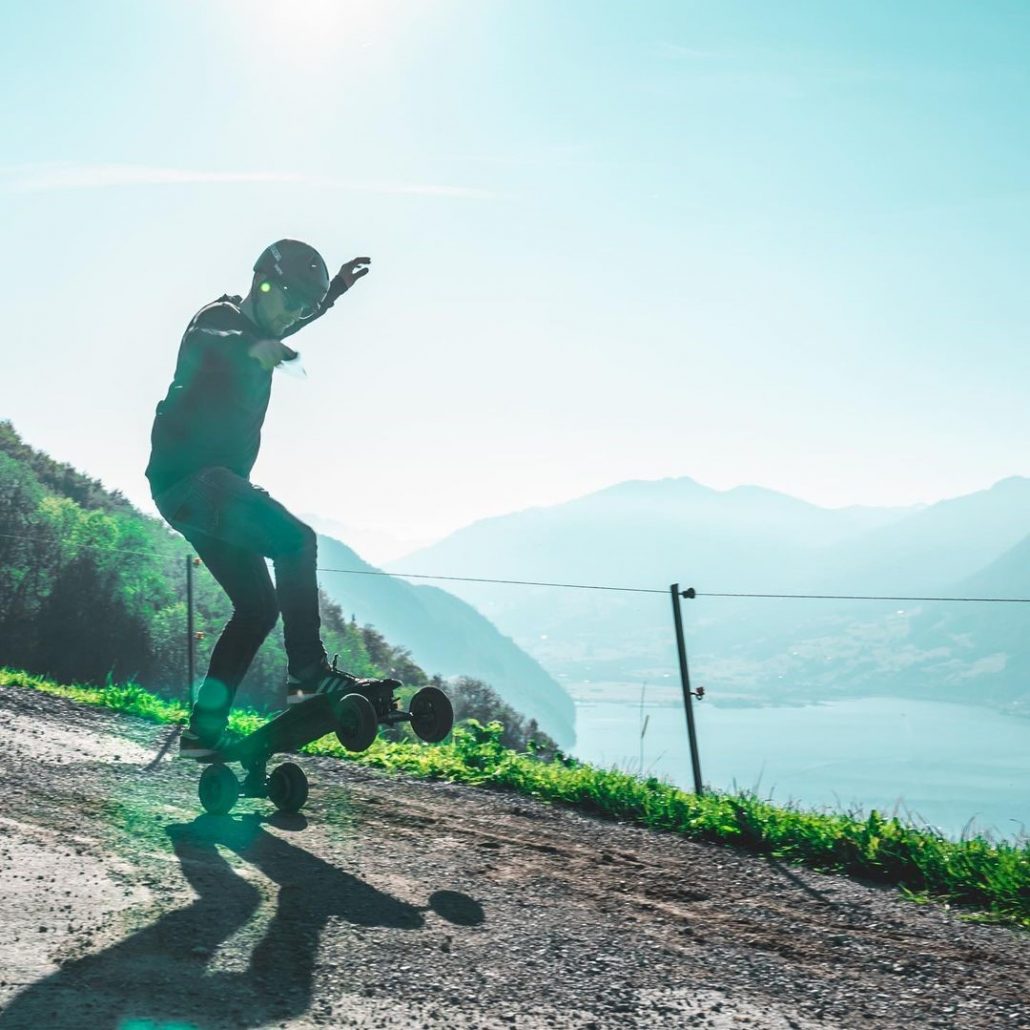 Wear Safety Gear
Always wear personal protective equipment when e-skateboarding. In case of a fall, having on a helmet, knee pads, elbow, and wrist pads can help you emerge unscathed.
Beware of Remote Controller Sensitivity
Remote controllers for electric skateboards are designed with sensitive throttles and buttons. A slight push or pull can have a powerful impact and cause you to lose balance. Try out the remote in a safe setting, so you get a feel for it and know what to expect.
Tighten the Truck settings
As a beginner riding an electric skateboard, it's best to have the trucks nice and tight. Tightened trucks minimize speed wobbles and also make it easy to control the board. As you build up experience and confidence, you can gradually loosen the trucks to increase flexibility and make sharper turns.
Braking Responsiveness and Reliability
The brake is the most critical safety component in an electric skateboard. In the event of an emergency, the electric skateboard should respond and come to a stop quickly. Remember that braking hard can result in a loss of balance.
Learn how to use the remote to decelerate and brake without losing stability. Remember to lean back slightly in readiness for your weight to shift forward when the board comes to a stop.
Although you will be using a remote control to decelerate and stop, you should still know how to come to a halt manually. Familiarize yourself with the braking system by practicing in a safe environment, so you know how to react in an emergency.
Practice Riding the E Skateboard Manually
As with any other electronic device, the electric skateboard remote controller can malfunction or fail. The battery can run out, or the remote can become unresponsive due to signal congestion or interference.
You can also drop the remote accidentally. Knowing how to ride the electric skateboard manually ensures that you can still control the skateboard confidently even without the remote controller.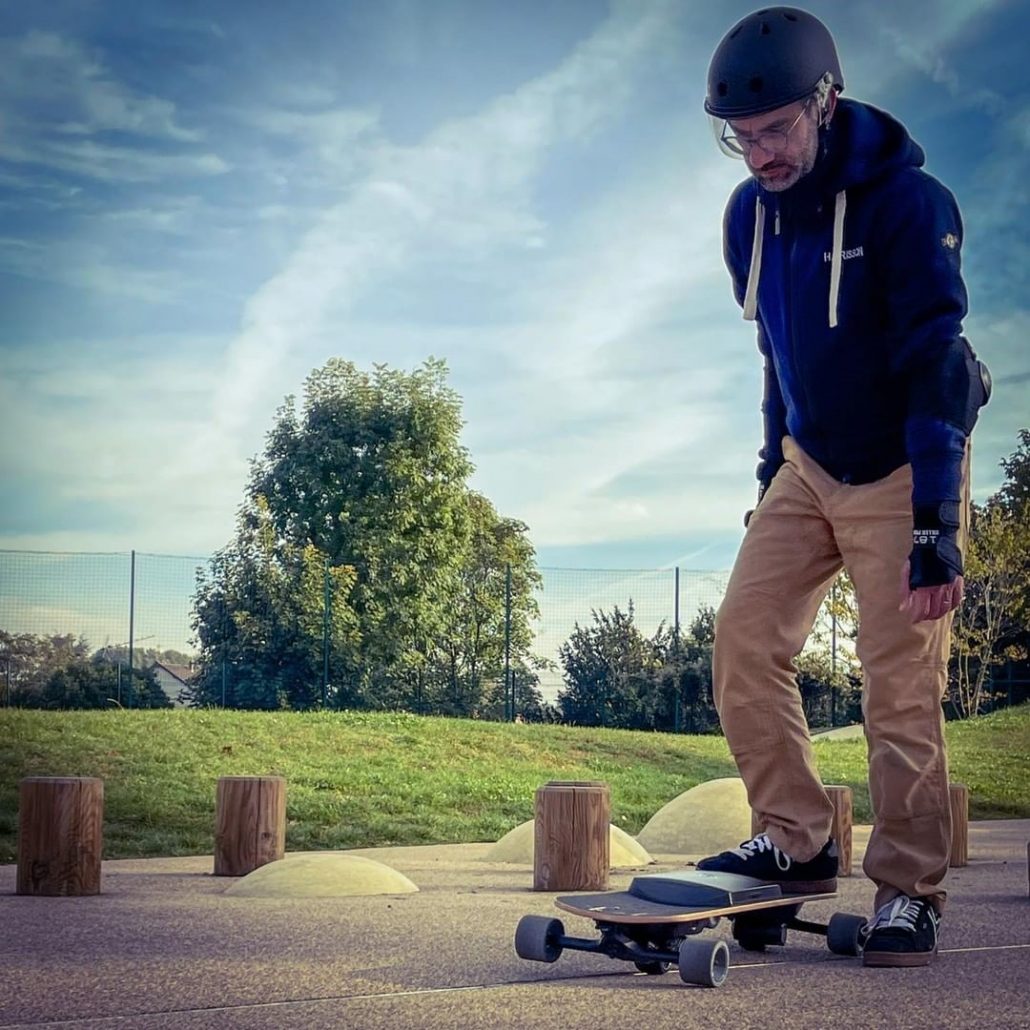 Learn How to Fall Properly
Falling is part and parcel of skateboarding. Knowing how to fall to minimize injuries is crucial. The right falling strategies spread the impact and reduce injuries. Here's a guide on how to fall off a skateboard safely. Practice these maneuvers on a soft surface, so you will know how to react if you find yourself falling while on the road.
Adhere to Speed Limits
Although motorized electric skateboards can sail incredibly fast, adhering to the set speed limits is important for your safety and that of other riders, pedestrians, and motorists. Find out the speed limit on the road or path you're using and obey it. You will still move fast but while ensuring you can react effectively in an emergency.
Secure the Remote with a Lanyard
It's easy to drop the remote controller when using your arms for balance. The remote can also slip and fall. To prevent this from happening, use a lanyard to secure the remote control to your person.
High Visibility Lighting and Reflectors
You should remain visible to motorists, pedestrians, and other riders from all directions and in all conditions. If the skateboard you get doesn't have reliable head and tail lights, wear a brightly colored vest or pants with reflectors. You should also have a bell or horn for audible warnings.
Sure Footing on the Deck
To ride and control an electric skateboard safely, you should be attached to your skateboard securely. Grip tape or foot strap on the deck surface minimizes the risk of separating from your skateboard.
FAQ Section
1. How Do Electric Skateboards with Remote Differ from Regular Skateboards?
Electric skateboards with remote controllers have batteries, motors, RSCs, and remote controllers. Regular skateboards do not have these components. You can use a remote to control the speed, braking, and reversing on an electric skateboard. On the other hand, you can only control a regular skateboard by shifting your balance and body weight around.
2. Can You Ride An Electric Skateboard Like A Regular Skateboard?
You can still ride an e skateboard as a regular skateboard without using a remote. Electric skateboards featuring hub motors are easier to push manually than those equipped with belt motors.
3. Are Electric Skateboards Good for Beginners?
Electric skateboards are easy for beginners to ride. However, it's important to practice riding it as a regular skateboard. Doing this will help you fine-tune your balancing skills. It will also ensure you can still control the electric skateboard if the battery runs out or the remote becomes unresponsive.
4. Are Electric Skateboards Legal?
Electric skateboards are not legal everywhere. Each country has its own rules and regulations regarding the classification of motorized skateboards and where to ride them. Some states and cities also set their own rules. Before you ride an electric skateboard, find out whether they are allowed in the area and the rules and regulations you should abide by.
Related: laws about e-skating in different countries
5. Can You Take an Electric Skateboard on a Plane?
Different airlines have different rules regarding what you can bring on a plane. The only way to find out whether you can travel with your e skateboard is to check the airline regulations online or call their customer care desk to inquire.
6. How Fast are Electric Skateboards?
Electric skateboards can cruise at 10 to 50 mph (16 – 80 km/h). The exact speed comes down to the motor power. However, there are speed regulations on roads and bike paths. The permitted maximum speed, however, is way lower – typically 15mph.
7. Can Electric Skateboards Go Uphill?
E skateboards can climb slopes. However, the climbing ability and speed depend on the motor and battery power. However, you should only go uphill with caution. If you've doubts, it's better to pick up the electric skateboard and climb the hill on foot.
8. Are Electric Skateboards Safe?
Electric skateboards have their fair share of risks. Still, they are fun to ride as long as you know how to control and ride them safely and observe all the necessary safety precautions.
9. How to Turn on an Electric Skateboard with Remote?
You turn an electric skateboard the same way you do a traditional skateboard. Bend your knees and lean your body in the direction you wish to face. The skateboard will follow you. If you need to make a sharp turn, you can step off the board, lift it, and point it towards the desired direction.
10. Can You Do Tricks on an Electric Skateboard?
Due to the addition of the motor and battery, electric skateboards are heavier than non-electric skateboards. Coupled with an uneven distribution of weight, this makes it harder to flip the motorized skateboard. You are limited to the tricks you can do with the skateboard remaining immobile.
Conclusion
There you have a list of the best electric skateboard with remote controls. All you have to do is pick one that suits your needs best. When you receive it, be sure to practice riding and controlling it in a safe place. This way, you will feel comfortable riding it when out there.
What Next?
Now since you have learned something about the best electric skateboard with remote control, why don't you also check out our other related guides as follows: