Introduction
Kids' electric scooters are the talk of the hour as they are convenient and fun too. Are you Back to school? The electric scooter will come in handy. Want to Visit a neighborhood? An electric scooter will be your companion. The overwhelming variety of electric scooters in the market will do nothing but make your decision difficult. The Viro Rides Electric Scooter will make your decision easy as it is one of the many scooters for kids in the market.
Keeping kids engaged in outdoor and sports activities in the digital era is no less than a challenge. To reduce their screen time, you must find something fun and exciting for kids. A Viro electric scooter can serve you in this matter. We dug deep and assembled a detailed review of the Viro Rides electric scooter for you. Keep on reading and get your decision right.
An Overview of Viro 550E Rides Electric Scooter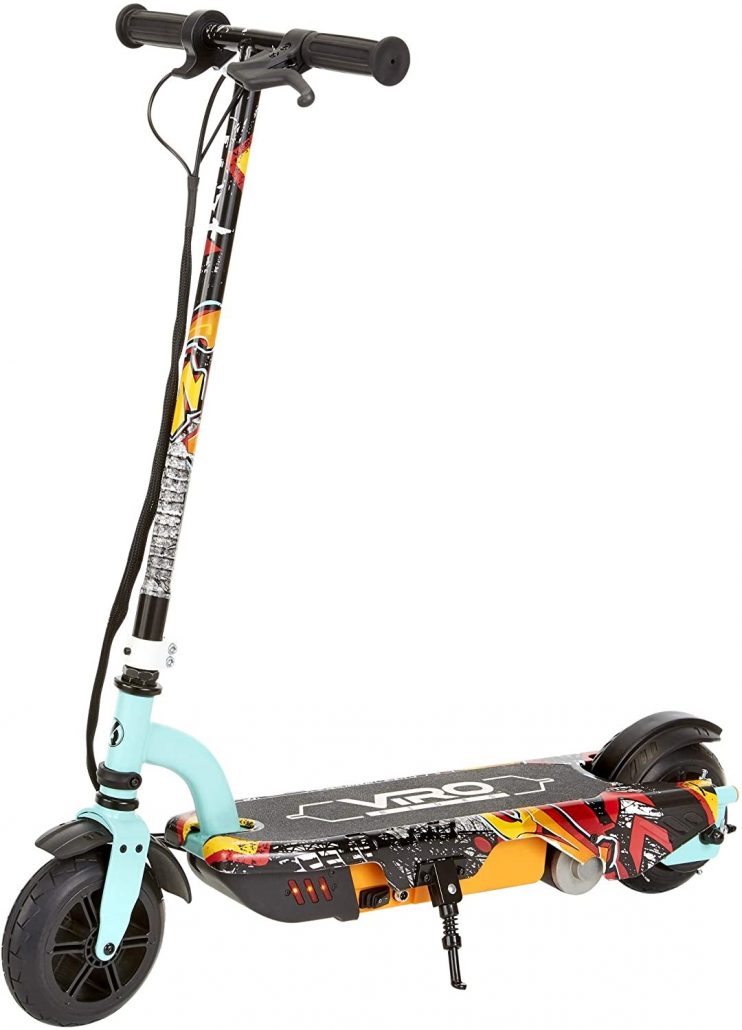 Range: 6 miles
Top Speed: 10MPH
Motor: 100W DC Motor
Battery: 12 V 7 Ah SLA Battery
Tires Size: 175mm in diameter
Weight: 26lbs
The Viro Rides electric scooter comes to mind when we talk about aesthetically pleasing scooters. Fantastic quality frame to the remarkably made wheels. Everything seems promising. A strong braking system is what makes the scooter safe and secure. Moreover, a powerful battery offers good speed and range compared to other scooters at the same price.
You enjoy a pretty ride on this scooter if you're 120 lbs or less. LED lights allow you to reach your destination safely in the dark. Most kids love this because of its unique and classy style.
Key Features:
With 40 minutes run-time along with a 6 miles range, your kid can visit the whole neighborhood.
The hand-activated durable rear brake features optimal control on the scooter.
The sturdy and well-made wheel gives a smooth ride.
An adjustable handlebar is another convenient feature that adds value to the experience.
The charging time of the scooter is 12 hours. An overnight charging session would be enough for the next day's ride.
Thumb throttle helps the rider to manage optimum speed.
UL-Certified SLA battery ensures a safe and powerful ride.
The artistic street design on the scooter adds an extra flavor.
What will you get in a package?
Easy to assemble scooter pieces separated at handlebar pole
Battery charger and assembly tools
Instructions to use
Scooter warranty card
Pros
Easy assembly
Artistic design and beautiful colors
The sturdy and robust braking system
Hand-activated rear brake
Easy on pocket
UL Certified battery
Cons
A bit noisy motor
A bit heavy for kids to move
12 hours charging time is quite a lot
Viro Rides 550E Electric Scooter: Construction
Brake
One instant and robust brakes make a scooter worthy and safe to ride for kids. The durable hand-activated brakes of a Viro Rides electric scooter are doing the same. Your kid won't have any danger of losing control and falling off.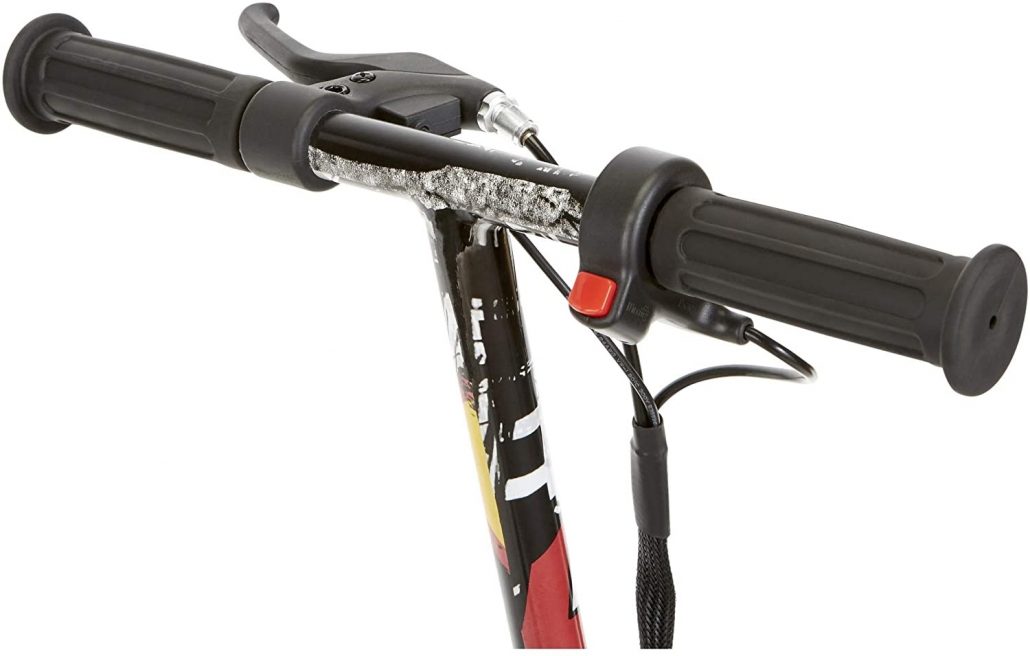 Wheels
Two polyurethane wheels provide a ride as smooth as cream on even bumpy and rough roads. The balance of the scooter is possible because of solid tires. You'll get a hustle-free experience as the tires don't need any inflation. No deformation of tires will happen even under harsh conditions such as cracks and huge bumpers.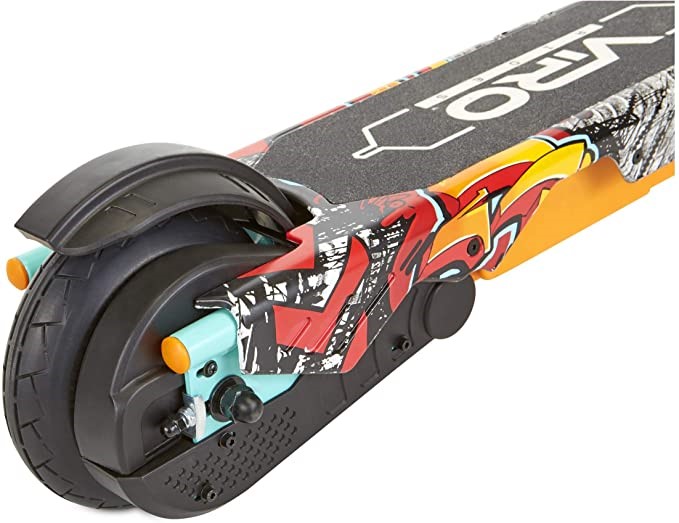 Weight
The scooter's weight is 20 lbs that could be a little heavier for kids to carry around. But a healthy kid can easily manage it when not riding. Kids with 120 lbs or less are ideal for this scooter. The lesser your weight is, the more excellent it is.
Design
The artistic design is something that made us a fan of this scooter. The Viro Rides electric scooter has a very classy vibe that could be the talk of the neighborhood. The street artwork gives it a unique flavor which makes it eye-captivating for kids.

Viro Rides 550E Electric Scooter: Performance
Range
How fast? How much power? 10 MPH speed with a total run of 40 minutes is not much but more than enough for a kid who just wants to play around. The 6-miles range can be pretty upsetting for parents, but your kids will enjoy every spent moment with this scooter.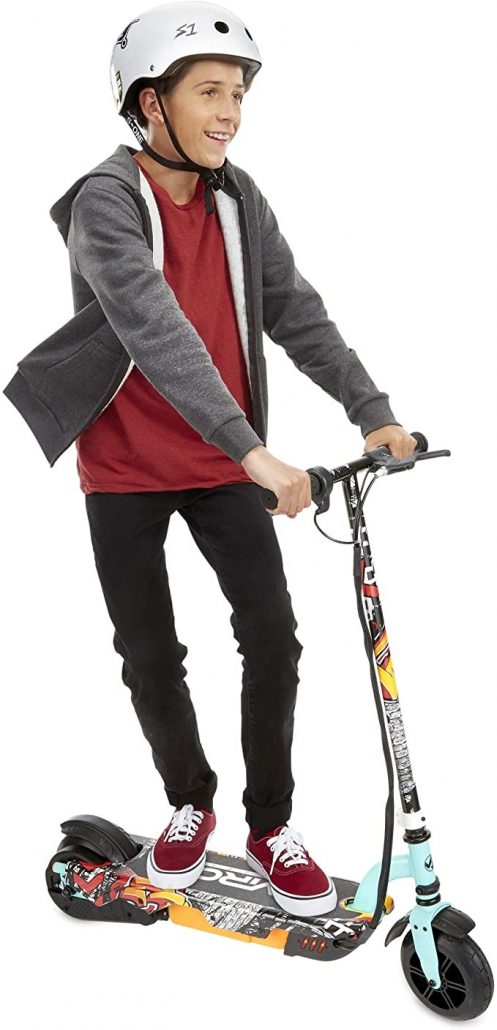 Speed
Speed can also be affected by the weight of the rider. A higher weight than 120 lbs will highly affect the speed of the scooter. Don't consider buying it if you're heavier than the optimum weight for the scooter.
Motor
Scooters are checked by the performance of the battery and motor as well. The Viro Rides scooter features a 100W DC motor supported with a chain drive that is safe and reliable. Parents shouldn't worry about the credibility of the electric components of the scooter.
Battery
What about the battery? Is it UL-certified? So the answer is yes. The Viro Rides 550E electric scooter has a non-universal lead-acid battery. The battery is completely safe for your kid as it has gone through rigorous tests. The rechargeable battery is placed underfoot so that it is kept secure. The twelve hours charging time of the scooter could be not so favorite of yours. But you can put it on charge for a night and enjoy its ride the following day.
Battery drained? No worries. The scooter can be used as a traditional one if it runs out of battery as the maximum running time is 40 minutes.
Viro Rides 550E Electric Scooter: Customer Experience
Things they love
Easy Setup
Unlike other scooters, the Viro Rides 550E electric scooter offers easy assembly, which parents love. You don't have to spend a lot of time arranging the pieces of the scooter. A detailed instructions manual also assists in this matter.
LED Lights
Coming home in the dark is no more a problem for kids and anxiety for parents, thanks to bright LED lights. Those headlights allow your child to see in dark terrain.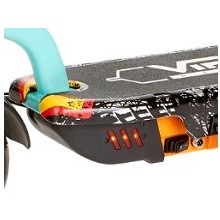 Other Features
Some other small but valuable details are the most loved and convenient features. Such as:
The adjustable handlebar allows kids to arrange the handle according to their comfort level.
Every electronic component is covered properly so that it can be protected from any potential damage.
Thumb throttle provides kids the freedom to manage and control the speed of the scooter accordingly.
The kickstand of the scooter looks sturdy and helps to keep the scooter in place while charging.
Things they want to get improved
Charging Time
Twelve hours of charging time are quite a lot compared to other scooters. A Lot of parents complain about charging and running time also.
Noise
The scooter's motor gets noisy after two to three minutes, which can irritate and disturb people in the street or road.
Weight
A normal skinny kid can't easily move the scooter as it is a bit heavy with 20 pounds. A lesser weight would be convenient and easy to handle.
Summary
The Viro Rides 550E electric scooter is one of the loveable scooters as it stands out in the crowd with all the striking features. Are you looking for a low-budget scooter for kids? This Viro scooter will be your all-time guy.
Besides, the uniqueness of the scooter design makes it even more attractive and different. The scooter is designed for kids that certainly fulfill all their needs. But the scooter still needs some improvements to make. These potential improvements can't take precedence over other significant features.
Frequently Asked Questions
1. Is a Viro Rides 550E electric scooter foldable?
The answer is no. The Viro electric scooter is not foldable as the steel and aluminum made the scooter's frame are joined tightly. Your kid can't carry it around easily, which could be a deal-breaking point.
2. What safety measures should we keep in mind?
Always remember to wear a strong helmet while riding any scooter. Good quality helmets provide extra protection from severe head injuries. Also, the Viro Rides 550E scooter is only meant for kids. Adults shouldn't ride it.
3. Who should buy the Viro Rides electric scooter?
Long commutes? Hilly rides? If you're expecting a scooter, then this Viro Rides might not be a good option for you. Consider buying it if your 8-year-old just wants to play around, visit a neighborhood and go to a park.
You may also like:
Best commuting electric scooter
Best off-road electric scooter
4. What about riding on a wet road or a rainy day?
Riding this Viro Rides 550E electric scooter during rain isn't recommended by us. The scooter doesn't have any water resistance feature, so avoid such situations; otherwise, you'll ruin your scooter real bad.
What Next?
Now since you have learned something about Viro Rides 550E electric scooter, why don't you also check out our other related guides as follows:
Best Razor e scooters with seats
Best e scooters for adults
Best long range electric scooters
Best electric scooters for heavy adults