Are you about to give up on indoor gardening because you do not have the space or the right tools? Well, do not let your plant love die, at least not until you have used the key to perfect gardening; a 4×4 grow tent. Because love for gardening is a seed once sown that never dies.
Most of you- the gardening experts, would be already familiar with using a grow tent and witnessing the plants thriving in it. While some of you- the newbies who found solace in indoor gardening as an escape during the Covid-19 lockdown might be clueless about it. Whichever the case, we understand that gardening can go wrong if you do not provide the perfect area and conditions for the plants. Grow tents can yield up to 2-2.5 lbs. from different strains.
Therefore, to help you liven up your surroundings and get some homegrown organic food on the table, we have encapsulated the best 4×4 grow tents. So grow the hope for tomorrow in the smallest space available.
In the era we are living in, technology has proved to be a blessing in disguise. Grow tents allow you to grow and cultivate all kinds of fruits and vegetables, both indoors and outdoors, throughout the year. It allows you to control and alter the conditions for any plan. Furthermore, the 4×4 grow tent provides a haven and protects your mini garden from plant insects that can destroy the food crop.
All of the enlisted brands have been mindfully handpicked for you and provide a perfect gardening opportunity. However, learn what is best for you because, in the end, the decision is always yours.
Our Picks for The Best 4×4 Grow Tents
VIVOSUN 48″x48″x80″ Indoor Plant Growing 4'X4′ Tent
CoolGrows 48″x48″x80″ Indoor Mylar Hydroponics Grow Tent
Gorilla Heavy-Duty 4'X4′ Grow Tent
VIPARSPECTRA 48″x48″x80″ Reflective Hydroponic Grow Tent
VIVOSUN 48″x48″x80″ Indoor Plant Growing 4'X4′ Tent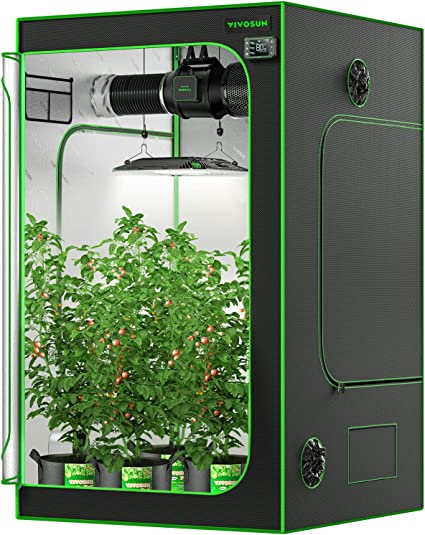 VIVOSUN is the brand maestro that is building the perfect grow tents preferred by gardeners. Moreover, this Mylar Hydroponic is another exceptional high-quality tarpaulin by VIVOSUN that ticks all the right boxes for a grow tent.
For adequate support and stability, this 4×4 tent measures 48″x48″x80″ and is made out of a double stitched material, a 600D. It is a lightproof canvas that comes with an observation window and black-lined zipper. It prevents light from escaping and allows at least 97-98% of the light to reflect on the tent's inhabitants- your beloved plants. Better light increases the chances of good growth and survival for the plant by many folds.
Along with a strong metal framework, this grow tent is tear-proof which helps it retain strength and withstand harsh weather conditions, keeping your plants safe. In addition, the Mylar Hydroponic grow tent is structured to allow the user easy access via a high-quality zipper door so that you can view the plants whenever you want without disrupting the growing conditions.
Moreover, the best part that has made it gain 4.4 stars from over 5000 customers is extremely easy to assemble. You do not have to be a gardening expert; all you need is the user guide, and you are good to go.
Features:
A metal framework consisting of poles and corner clamps or adapters
An easy-to-clean, removable, and waterproof floor tray
Observation window
High-quality (SBS) zipper
Pros
Non-toxic and no smell PE material that makes it thick and safe.
Long-lasting 600D double-stitched canvas
Black lining with lightproof zippers
Easy assembling with tool organizers
Mylar light reflective material
Money-back guarantee within 90 days
This grow tent comes with a 1-year warranty!
Cons
Possibility of light leak
The zipper does not adequately seal
Expensive
CoolGrows 48″x48″x80″ Indoor Mylar Hydroponics Grow Tent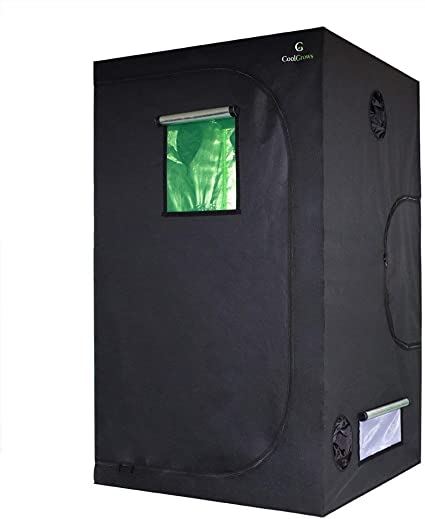 If you are a newbie, who is still settling in with the gardening basics and trying to understand where you went wrong, this CoolGrows grow tent is your savior. It is a 4×4 hydroponic grow tent with the dimension of 48'x48″x80″ that provides an optimal environment for many indoor and even off-season plants to thrive.
The observation window is designed in this grow tent that allows easy monitoring of the plant growth without altering the conditions. The grow tent is tear-proof 600D double-stitched material and has a solid metal framework comprising bars and connectors.
Once you are done assembling the grow tent, the unit seals and prevents any escape of light when closed. The entrapment of light and its maximum reflection is a result of Mylar lighting reflective material. In addition, it comes with a waterproof, removable floor tray that allows easy removal of excess water.
Assembling the CoolGrows Mylar grow tent requires no expertise. Just follow the instructions enclosed in the user guide and build a home without any labor for your plants.
Features:
Highly retentive metal framework
Removable, water-resistant tray
Mylar light-reflective interior
Observation window
600D double-stitched material
Pros
Durable, strong, and long-lasting
Tear-proof and lightproof
Easy to assemble
Great window design
Odor control
Easy-to-use high-quality zippers
Relatively inexpensive
Excellent customer service with a 1-year warranty
Cons
The user guide is unclear.
Gorilla Heavy-Duty 4'X4′ Grow Tent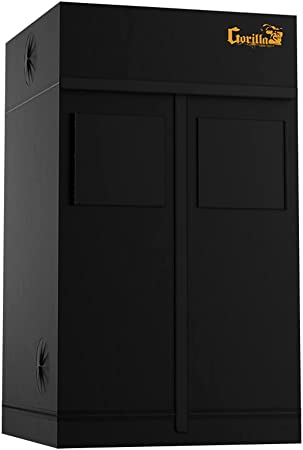 Have you been encountering sleepless nights because the health of your plants worries you? Well, the Gorilla grow tent allows gardening experts and beginners to level up their planting game. Made with a reliable and durable material, this grow tent has a unique feature of height adjustment to have easy access to the tent door.
In addition, it comes with a tool kit that allows an extension from 1 inch to 10 feet. Therefore, it makes a perfect fit for a spacious garden or can sneak into the little corner of your living room without taking up much space.
The durability is unmatchable because this 4×4 grow tent is crafted from a 680D density material, making it at least nine times dense and stronger than any other grow tent. Gorilla heavy-duty grow tent stands unbeatable in the market by its competitors.
It has brought a safety interlocking pin mechanism into the metal (steel) structure with poles and corner adapters. Therefore this grow tent can survive the worst weather conditions and still stand tall and unharmed. The strength of the metal poles allows this grow tent to hold 500 lbs.
With 10-inch double-cinching duct ports and a diamond-reflective interior, it allows minimal waste and easy maintenance.
Features:
Adjustable height
Durable zippers
Strong steel framework
Observation (EX) window
Easy-to-use access door
Pros
Maximum safety and security
Easy light entrapment and redistribution
Steel interlocking mechanism for retention and strength
Steel framework ensures stability and durability
Flexible and convenient
Cons
Heavy to carry
Fairly difficult to assemble
Costly
VIPARSPECTRA 48″x48″x80″ Reflective Hydroponic Grow Tent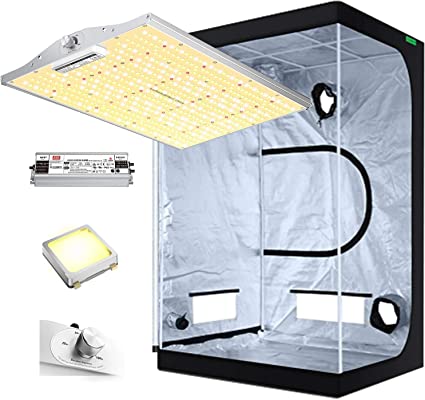 Whether gardening is your passion or a hobby, the only thing going wrong is choosing the wrong growing conditions or stuffing your plants in a dark, gloomy corner of your apartment.
With heavy-duty zippers and double-stitched 600D material, this 4×4 grow tent is a great choice to provide optimal, isolated growing conditions. In addition, this grow tent has an in-built feature to keep all the insects and crawlers away, the mesh ducting window.
The tent framework stands tall and strong on metal holes and connectors, making it long-lasting and durable. Moreover, unlike the others, it offers a 100% waterproof and lightproof environment because it uses Velcro for a perfect seal and closure alongside the reflective Mylar interior. A 30-day trial with return guaranteed and easy assembling is a complete win-win for this grow tent.
The seamless service with after-warranty equipment checkups has made this brand one of the customer favorites.
Features:
A user manual with clear instructions from the manufacturer is available
Removable and waterproof floor tray
Reflective interior
Pros
Metal framework with maximum stability
100% waterproof and life-proof
Carefully curated tent design
Can carry up to 100lbs
Vents for adequate filtration
Easy and speedy tool-free assembling
Ventilation sock to cover the vents for a perfect inner seal
Warranty with a 30-day money-back guarantee
Cons
Unable to sustain filters on top
What is needed for a 4×4 grow tent?
You must be thinking about what good a grow tent would do to your plants if, at some point, you think of giving up on your gardening dream. Well, here is the good news, you can deconstruct it and put it away at any time. Therefore, if you are a fan of growing organic produce at home or want to enhance your surroundings and cleanse the aura with some green beauty, get yourself a grow tent because:
Not everyone is privileged enough to have outdoor spaces, and even if they do grow tents, they save the hassle of constructing a full grow room.
Travel with your greens! The grow tents and portable, so even if you have to move your apartment, you do not have to worry about the transportation of your plants.
A portable grow tent that can fit in any corner of your living room saves you money compared to a grow room.
Are you bored of gardening? Or did it not work for you? Then, De-assemble the grow tent and put it away, or you can sell it if you want; just saying.
You can grow anything you like at any time of the year, even if it's off-season.
Therefore there is no harm in stating that grow tents are a beautiful innovation of advanced technology that makes our lives easier and gardening manageable. You no longer have to prepare the ground and layers of soil or wait for summer to enjoy the mangoes. Instead, Instead, 4×4 grow tents allow you to take control of your life and your garden.
How to set up a 4×4 grow tent?
The level of excitement is unexplainable when a plant lover gets their long-awaited grow tent delivered. However, all the happiness can quickly evade if you do not know how to assemble it. This is why we say knowledge is power.
Although there is no expertise or certification required to set up a 4×4 grow tent. There are still a few tips and tricks to learn so that you can save time, especially if it is your first time using it.
The right setup of a grow tent ensures its stability and safety with the adequate seal of the zippers, so there are no chances of light leaks. However, the crucial point to keep in mind is that a grown tent only provides a structure or a space. But to yield fruitful or vegetable-full results, you need other types of equipment such as a light, fan, and thermostat for a state-of-the-art grow tent set up.
Here is the list of things that will help you set up a fail-proof gardening environment:
A grow tent
A grow light
Ventilation equipment
Thermostat and humidity gauge
Assembly tools
Duct tape and fasteners
And the star of the show, your plants
Once you have everything at your disposal, take some time and follow this systematic guide with a clear head. You are building a home for your baby-like plants, so maneuver them perfectly.
Grow Tent:
Assemble the grow tent in a place where space is not an issue and it fits perfectly. Adjust the height of the access door so that there is no hindrance in accommodating different plants. Majorly assembling your grow tent depends on the brand you have bought and its user manual.
Grow Lights/ Reflectors/ Straps:
You can give all the food and water to the plants you want, but if there is inadequate light, there is no way they can process the nutrients. If you want your plants not to wilt and die, get a grow light, reflector, strap, or holder that will perfectly fit the grow tent.
If you think using a larger light would produce more light, the plants will thieve; you could not have been more wrong. Larger lights can burn plants due to the excessive heat generated by them. Hence is you have a small or medium-sized grow tent, use a 2.5x.25 grow light.
Ventilation and Air:
Just like humans, plants also need healthy air to breathe in. The air in the tent should be exchanged or replaced 20 times in an hour. Adequate ventilation aids in regulating temperature and humidity.
Temperature and Humidity Gauge:
You can grow anything you like, with the right conditions. While in a grow tent, it is preferable to grow plants that share the same temperature and humidity levels to yield different produce. Outdoor gardening depends on Mother Nature, and you can do nothing about it; you get what you get.
However, in a grow tent, you are the one who creates nature for your plants. Therefore, learn the temperature and humidity levels of the plants you are growing and set the gauge accordingly.
Odor Control:
Plants are living things. I know that is basic science. I am just stating a fact that, like us, humans' plants excrete too. Therefore, the air should be constantly filtered using a carbon filter, adequate ducting, and inline fans.
Miscellaneous:
You can add whatever you think is best for your plants. Timers and plant supports are some of the few things that can aid in better growth.
Once you have set up the grow tent, here is what you need to do next:
Decide what you need to grow
Select the right hydroponic system
Work with your seeds
Supply nutrients and water regular
Monitor the grow tent conditions and alter them accordingly
And repeat!
How many plants can a 4×4 grow tent accommodate?
4×4 grow tent appears to be a seemingly easy and interesting option for all indoor gardeners; however, things can easily go wrong. Once a plant lover gets hold of the grows tent, their goal is to grow to their heart's content, which they should not. Furthermore, grow tents are designed to accommodate a specific number of plants. Hence, you cannot go stuffing it just for the sake of it.
A 4×4 grow tent can easily yield around 2-2.5 lbs. However, there are certain yield-deciding factors, such as:
Type of grow light:
Light wattage:
Style of growing:
Density:
16 on each 1m2
20 on each 1m2
Or more
The strain
These factors will collectively determine the number of plants that can fit and thrive in the 4×4 grown tents. For example, it is estimated that a 400W-600W light on a 1m2 area can yield maximum results.
If you grow cannabis plants, 6 medium-large or 8 small-medium plants can easily fit in the 4×4 grow tents for up to three months. Naturally, therefore, the yield varies from plant to plant alongside all the other factors. But then again, gardening is an experiment full of trials and errors; see what works for you.
With the speed at which the population is increasing, and natural resources are extinguishing, it is painful to see our Earth lose its greenery. So, if you are upset because not having enough space keeps you from making this planet greener and better, get yourself, a 4×4 grow tent and plant! But, even if you are not a gardener or expert, you can begin your planting journey today.