Whether you are buying a skateboard for the first time or upgrading your taste, there are numerous electric skateboards that you can go for. The advancement in technology and feature upgrades might make it quite hectic for you to decide what you can go for. The wide range of features, including the off-road all-terrain capabilities and use of batteries or motors, make the skateboard world fascinating.
Reading this article, you will get the best knowledge on the trending off-road skateboards with a comprehensive buying guide. Read through the entire article to avoid regrets in purchasing or upgrading your skateboard collection.
Our Picks for 8 Best Off-road Electric Skateboards:
What is an Off-Road Electric Skateboard?
These are regular skateboards with an electric feature operated using a remote control and can move on different surfaces that regular skateboards wouldn't.
With an all-terrain electric skateboard, you have the advantage of getting the thrill of exploring the beaches and woods at turbo speeds and flexibility. These devices come with a charging feature and battery that determines how far you will ride them without stopping. Now that you have the idea of what an off-road electric skateboard is let's discuss how it compares to a regular skateboard.
The regular electric skateboard help commuters transverse the city through smooth surfaces. This explains why they use hub motors. These skateboards have an excellent range limit but don't tend to be as powerful and fast as off-road electric skateboards.
In contrast, off-road electric skateboards upgrade the regular electric skateboard as they feature a wider surface ratio, better speeds, and more torque to allow riders to have an easier time navigating through rough surfaces. Due to their power and speed, all-terrain electric skateboards are normally used in sports such as downhill racing and other games. These boards give riders an acceleration advantage and have superb braking.
What Are the Advantages of Off-Road Electric Skateboard?
All-terrain electric skateboards are generally expensive and pretty big. So, why would anyone buy these boards?
Well, just as their name suggests, off-road electric skateboards can be ridden off the road and thus gives more options of places to ride. They do not limit a rider to city roads only but can also skate in rougher terrain in the countryside or beach, where you will get the ultimate skateboarding experience. Who doesn't want the freedom or riding anywhere they like?
With all-terrain e-boards, you can ride virtually anywhere, such as gravel paths, grassland, beaches, rough asphalt, and even through forest trails. Imagine riding through cool and quiet forest trails using your board instead of your mountain bike – Doesn't this sound awesome?
Off-road electric skateboards make this dream a reality. They make rides on both tarmac and off-road terrains smoother. They are fitted with shock absorbers that make your rides smoother, even on rough terrain. You will not feel bumps and uneven sand on the beach, thanks to their great construction.
Our Reviews of the Best Off-Road and All-Terrain Electric Skateboard
1. WowGo AT2 Electric Skateboard for All-terrain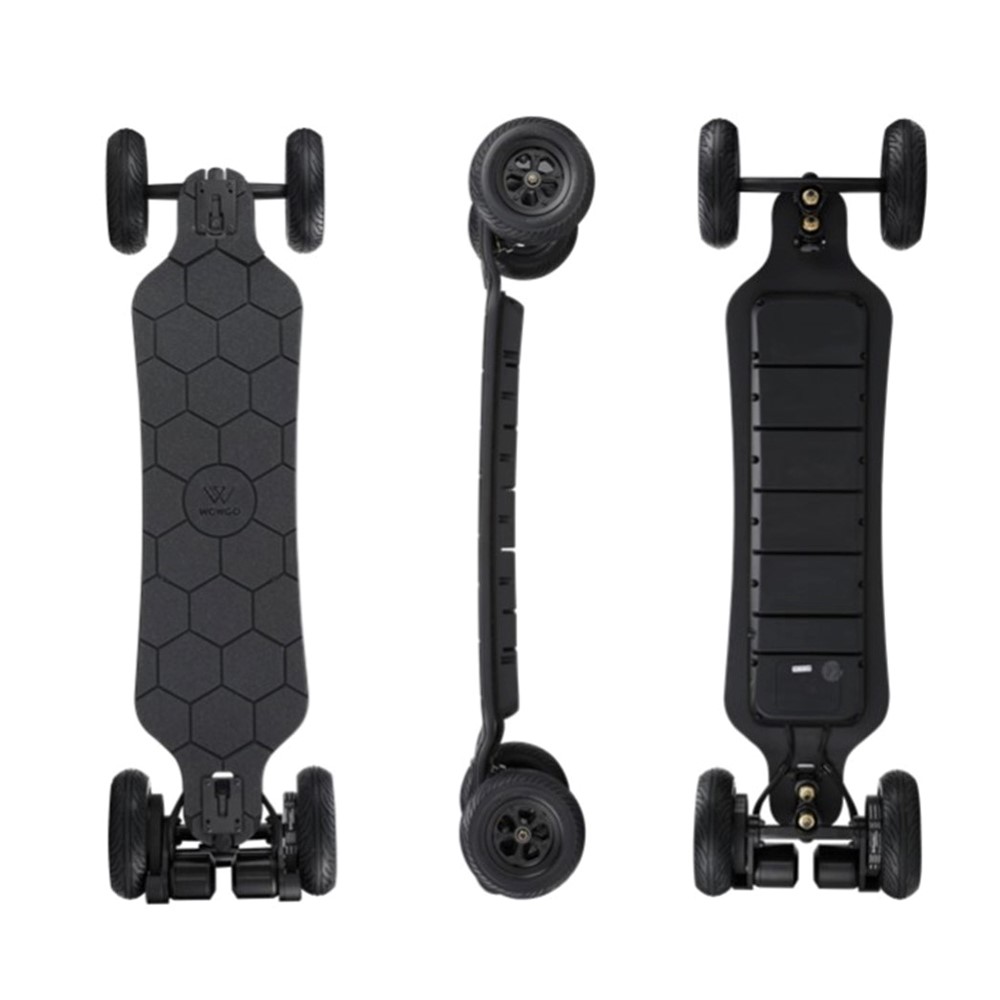 Weight: 19KG
Dimensions: 120x 40x 22 cm
Wheels: cloud/pneumatic
Speed: 20-40 km/h
Battery: 14Ah/504 Wh Sanyo
Slope: 25%-30%
Getting the value of your money is quite an assurance with the WowGo AT2 electric skateboard. Many features have been developed not only to embrace performance but also comfort. The WowGo AT2 gives the best all-terrain wheels and street wheels that are pretty easy to replace. Other than comfort on the wheels, you will have a high response in terms of shock absorbance while riding.
You can adjust the hardness of the tires with ease to your liking and needs. The powerful motors that have been keenly assembled will give you the best stability, impact resistance, and high output for power. The intelligence features like using a remote to control your skating board make the riding or skating experience more fun. You can get numerous features with the WowGo AT2 electric skateboard should you try it out.
Pros
Has high power motors
It has a great battery for off-road
Cons
Might require regular upgrade and maintenance
2. Maxfind FF Plus Off-road Electric Skateboard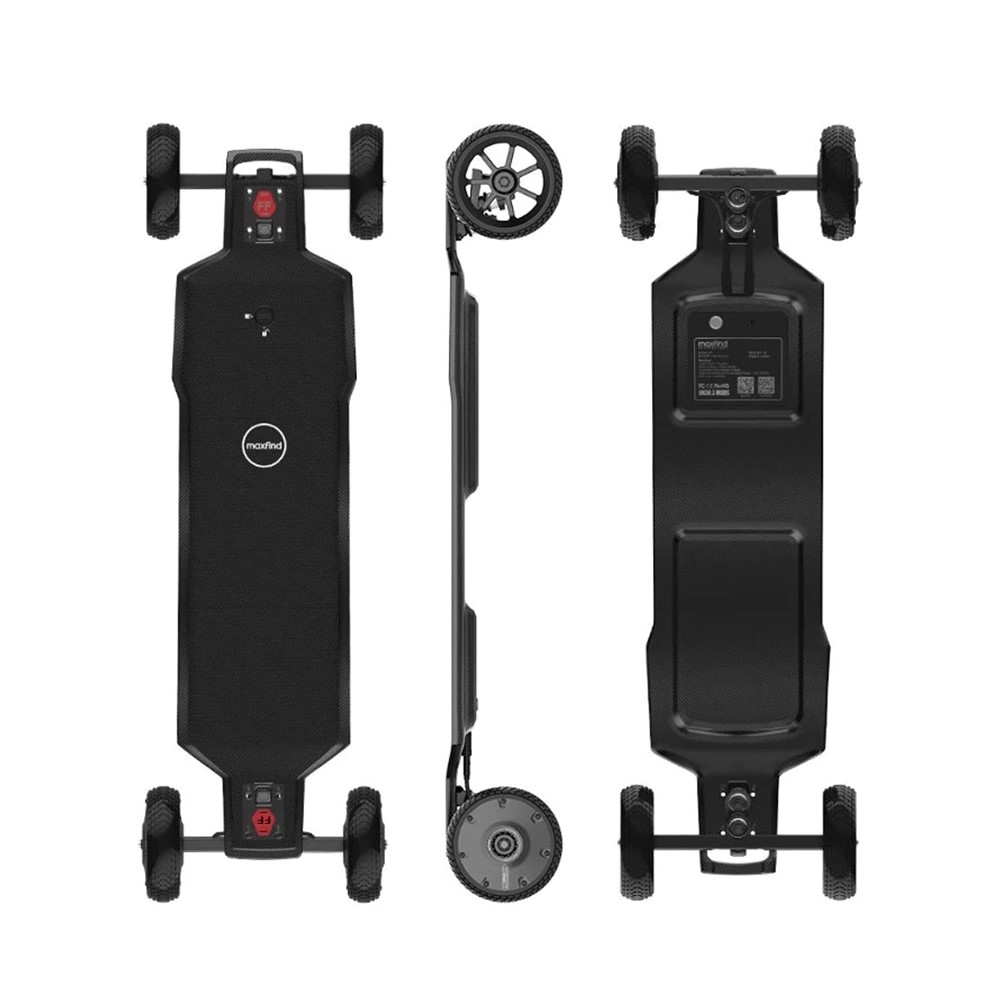 Size: 38"x13.4"x6"
Weight: 11.2kg
Wheels: 6.5″ all-terrain
Top Speed: 38 km/h
Battery: 36V 216Wh 10sp Samsung
Slope: 30%-35%
One smiling factor for this type of electric skateboard is that it has a dynamic base and a superior motor. The ultimate performance quality is guaranteed with minimum noise, high stability, and impact-resisting abilities. The noise minimization ability is a trait that most off-road skateboards lack.
The vacuum rubber wheel for the Maxfind plus provides an excellent off-road experience, such as the fantastic gripping ability and riding stability through even gravity distribution. The tires are about 160mm thick with shock-absorbing technologies. The wheels are removable and are quite easy or simple to replace.
The Maxifind FF plus has the best sturdy deck as per most reviewers after purchasing. The deck has a sleek and clean look due to the flex and glass fiber coating used to make it. You are sure to get not only the most out of the riding experience but also high performance.
Pros
Has a superior and powerful motor
Has shock and impact-absorbing technologies
It has a luxurious and smart look
Cons
Quite expensive to buy and maintain
Requires complex procedures to install batteries
3. Teamgee H20T 39′ Off-road Electric Skateboard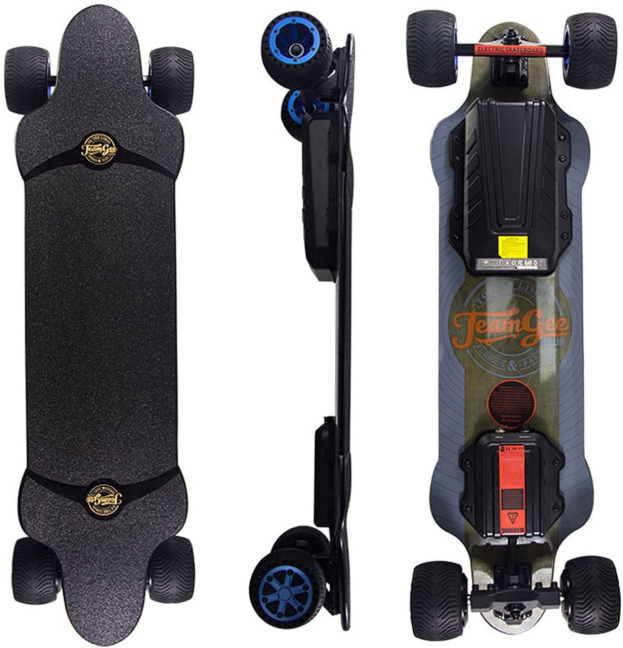 Weight: 9.5kg
Range: 12-18 miles
Top Speed: 42 km/h
Slope: 25%-30%
Motors: 1200W hub motors
Warranty: 180 days
Teamgee is one of the brands that you have to trust for the service you will get as a customer. You are assured of the best safety test at high rates, and above all, this off-road skateboard comes with a warrant. This kind of all-terrain electric skateboard has the best wheels with enhanced tire technology.
The improved shock absorption capabilities make the Teamgee the best all-terrain electric skateboard available. With the adjustable wireless remote, you will get the most out of the capable 1200W hub motors. You will love the design and how sturdy this type of skateboard is.
The board has a luxurious design with W-shaped foot sockets. The V-shaped tire technology used in developing the tires ensures enough friction while you are skating to avoid skidding.
Pros
Powerful motors with a high-speed efficiency
Power efficiency management system
Luxurious design
Good for holidays and beach holidays
Cons
A little expensive
Requires regular battery replacement and thorough maintenance
4. Evolve Carbon GTR AT E Skateboard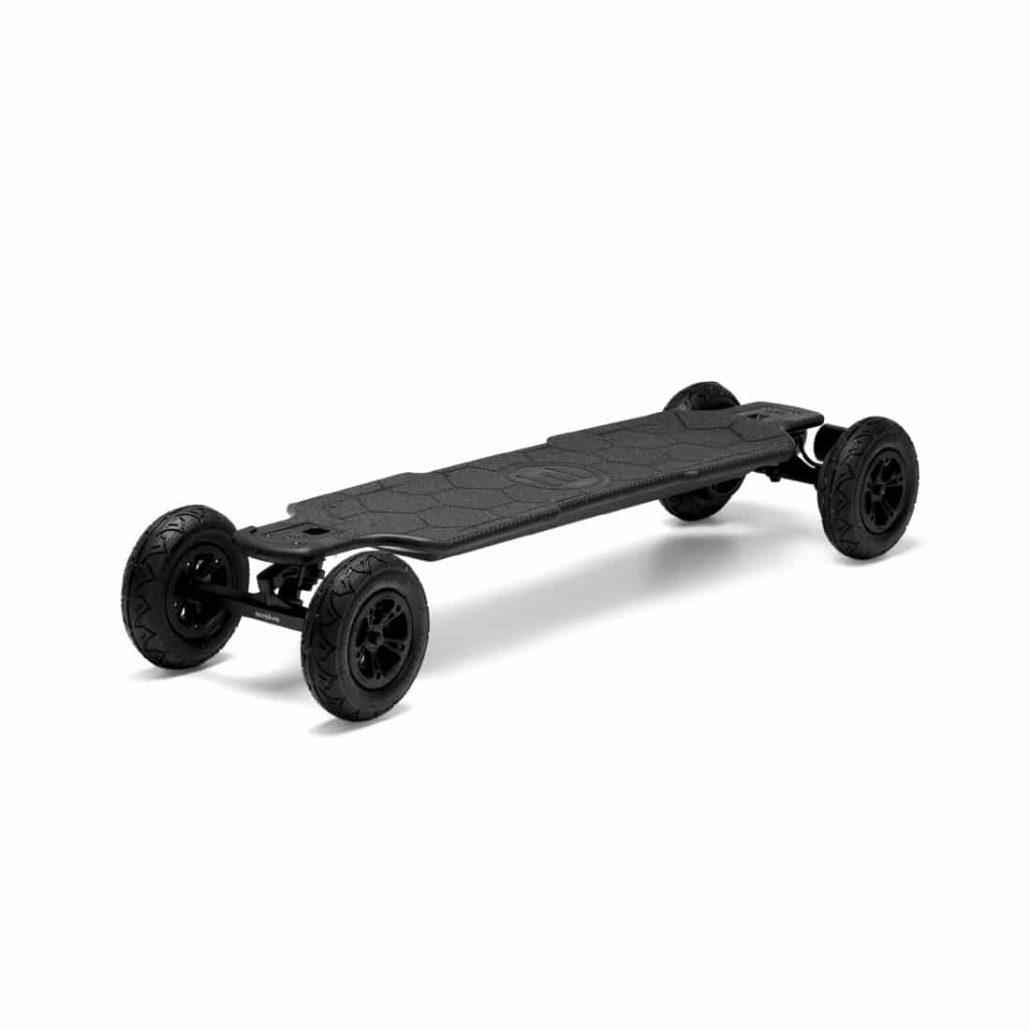 Weight: 10.7 kg
Range: 30 km
Top speed: 36 km/h
Slope: 25%
Motors: 1500 dual belt
Warranty: 2 years
Evolve Carbon GTR is a powerhouse dirt skateboard made for acceleration, range, speed, control, and build quality. It's ideal for experienced riders looking for an electric mountain board to tackle just about any terrain the road throws at you.
The off-road electric skateboard comes with two types of wheel options for street riding and all-terrain riding. Its design offers you a good flex to cruise effortlessly over bumps. The deck is strong to home up to 220 pounds, which is impressive.
However, it weighs 10.7 kg, which is heavy for such a premium board. The board is a game-changer for range lovers with a 14 Ah Samsung lithium-ion battery that can ride up a distance of 31 miles on a single charge. The 1500-watt dual brushless motors allow you to reach a high speed of 22 – 26 mph, which is thrilling for off-road skaters. The only downside is the battery takes up to 4 to 5 hours to charge.
Pros
It has a premium quality build

It offers an excellent range

You can ride anywhere

It comes with a 2-year manufacturer warranty
Cons
It's relatively heavy

It comes with a long battery charging time
5. Moto Tec 1600W Dirt Off-road Electric Skateboard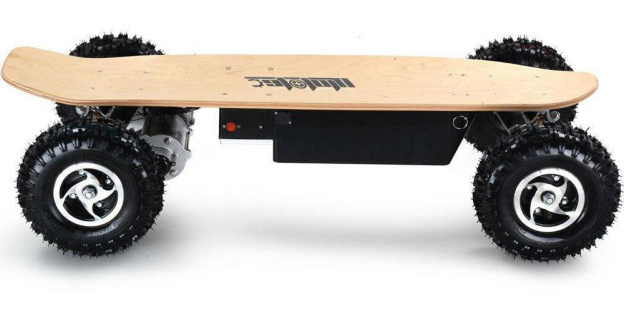 Weight: 77 pounds
Range: 10 miles
Top Speed: 22 mph
Charge time: 3-5 hours
Motors: 800Wx2 Hub Motors
Payload: 260 pounds
This is what you would an actual all-terrain board. This electronic board allows you to do all sorts of tricks to wow any onlookers. Riding the machine outdoors will leave you in awe because it makes you feel in total control, thanks to the adjustable speed feature.
The off-road board can go fast or slow, which is a great feature for beginners who want to learn to balance. The Moto Tec features 1600W dual belt motors that can achieve a max speed of 18-22 mph.
The Moto Tec MT SKT is made with functional AH batteries and can run for a decent 10 miles on a single charge. A full charge could take two to three hours, which is fair.The deck features a durable build from 12 layers of maple wood, which is strong enough to hold 260 lbs. The design includes raised edges for a comfortable and stable ride. Moreover, the off-road electric skateboard also comes with large air-filled tires that can absorb rigorous shocks when skating off-road.
Pros
Offers a robust and durable chassis

Has the most robust deck in any e-boards

Offers great suspensions
Cons
6. Outstorm All-Terrain Electric Skateboard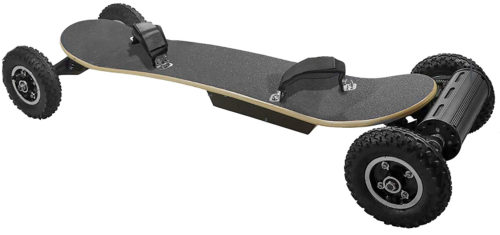 Weight: 32 lbs
Range: 19 miles
Top speed: 25 mph
Battery: 36V/11Ah/Lithium-ion
Motor: 3300w dual (1650*2)
Warranty: 1 year
Here is a great choice for speed demons, featuring a powerful motor and battery system to tackle just about any terrain. This electric mountain board features a terrific range with wide and stable trucks.
Its pneumatic wheels are made from rubber, which makes them excellent at shock absorption and traction, which is a necessity going off-road. It's suitable for roads with humps, hole bumps, humps, and the like.
The battery offers a decent amount of life because a charge is enough for 19 miles with a velocity of 30km/h. This off-road electric skateboard also shines when it comes to maneuverability since it brakes and reverses with a lower center of gravity, and the board provides enough clearance not to scrape the bottom.
The deck features 11 layers of Canadian maple, which is durable and aids in flexibility. The all-terrain board can support 287 pounds of weight. This cross-country electrical board comes with a reversible wireless remote controller to adjust speed (3 levels) and incorporates a battery indicator.
Pros
It's strong enough to handle hurdles of off-roading

Has a bigger battery life and impressive range

Can hold up to 290 pounds

It's beginner-friendly
Cons
The top speed is a bit shaky due to the DW motor
7. Azbo Off-Road 3300W Electric Skateboard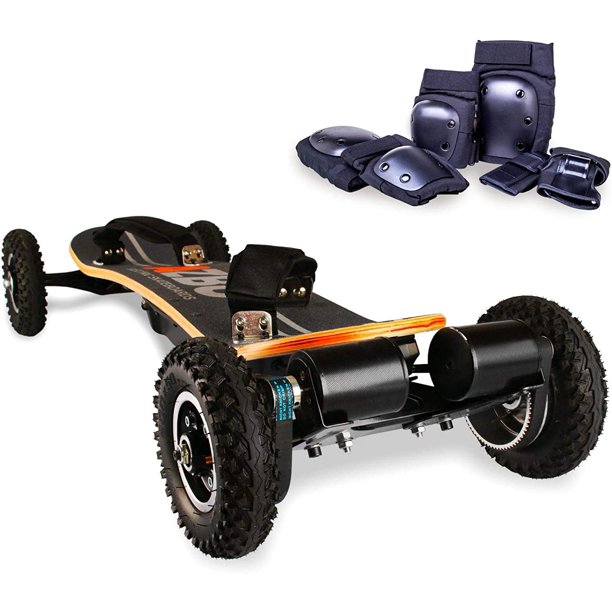 Weight: 30 lbs
Range: Up to 19 miles
Top speed: 25 mph
Charge time: Up to 3 hrs
Motor: 1500w*2 dual hub
Warranty: 1 year
The Azbo off-road electric skateboard is sleek and extremely powerful, with many features for beginners and pros who love to perform skateboard tricks.
The skateboard features high maximum speed, wonderfully responsive controls, decent agility, and good aesthetics. With the Azbo electric skateboard, you can easily ride off-road just as easily as on a smooth road.
The all-terrain board comes with a repair kit to allow users to fine-tune the screws and connections to fit their preferences. The most experienced riders will find this level of customization excellent, while novice riders will find it more comfortable.
The maximum speed of this board is 25 miles per hour with a powerful 3300w motor. The handheld rechargeable remote is very user-friendly, allowing you to adjust speed and modes effortlessly. The deck is sturdy and secure, featuring an 11-ply maple deck that offers superior strength compared to other boards.
Pros
It offers smooth acceleration and responsive control

It has a maximum speed of 25 mph

Battery charge is quick

Comes with a 1-year warranty
Cons
New riders might find it challenging to calib

rate the foot straps
8. Backfire Ranger X2 All-terrain Electric Skateboard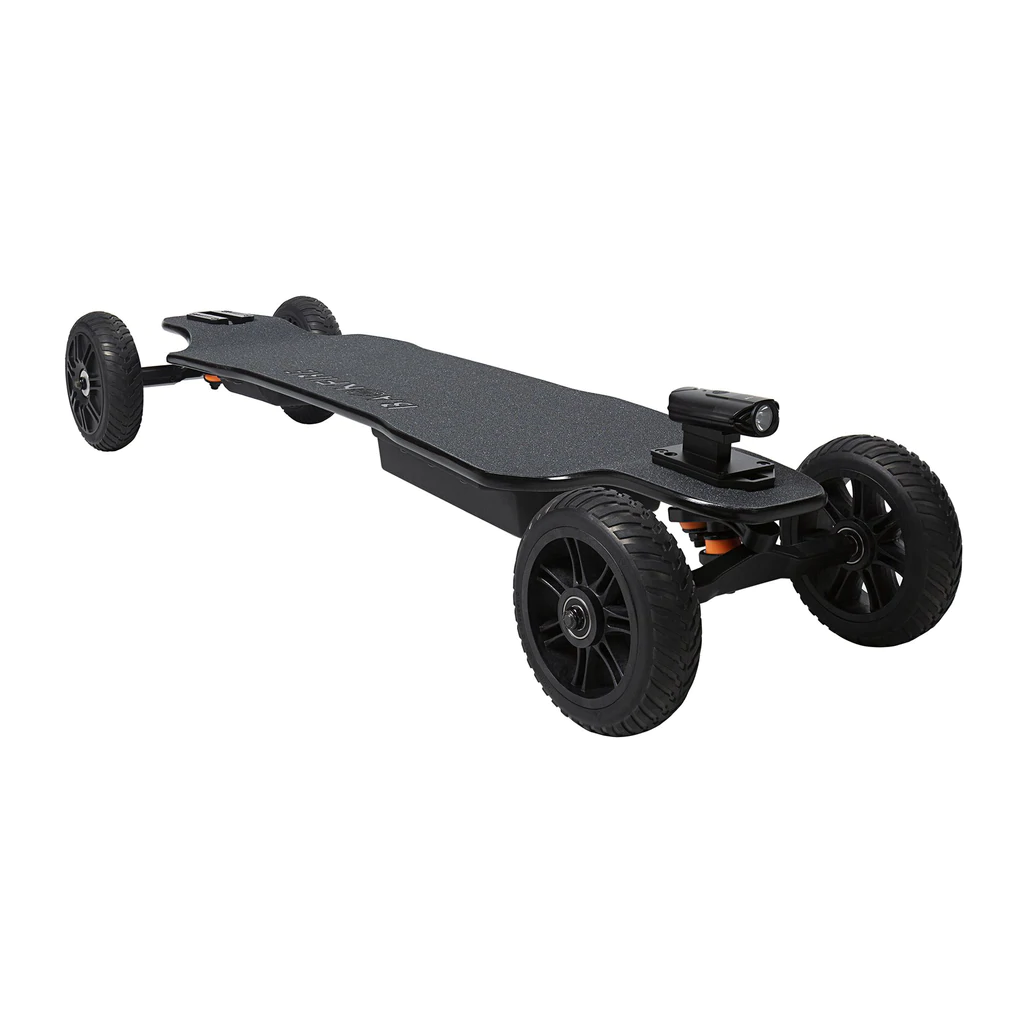 Range: 15-18.5 miles (24-30 km)
Speed: 22 mph / 35 kmh
Battery: 454Wh 50.4V, Sanyo GA3500mAh
Wheels: 6.5 inch airless rubber tires
Motor: 1200W*2 Ultra-high torque hub
Warranty: 180 days
The Backfire Ranger X2 is among the best all-terrain boards out there. Its highlights include acceleration, durability, and smooth riding. The X2 has dual 1200W in-hub motors, which can accelerate to 22 mph and an impressive range of 18.5 miles. It's also powerful enough to glide seamlessly up hills of 30% grade.
The build is pretty solid with a springy deck and large airless wheels that can navigate just about any terrain and absorb any vibrations. Along with considerably larger wheels, this off-road electric skateboard has been fitted with dual kingpin trucks to ensure its carving abilities. The wide wheels aid in balance and allows you to stay stable at all times.
In addition, you don't have to worry about riding in wet conditions because the board is IP55 water-resistant to prevent moisture damage. Overall, the riding experience is really good, and the board is smooth on bumpy, dirt, sand, and grass. The board is fairly portable at 23 lbs. and can support up to 245 lbs. It also attaches with a rechargeable wireless remote control to adjust speed and modes.
Pros
Offers impressive speed and range

Has large airless tires for stability

It's water-resistant

It's fairly lightweight
Cons
The charging time is nearly 5 hours
Safety Tips on Riding Off-road Electric Skateboards
There are several considerations and precautions that you ought to take before and while riding off-road electric skateboards. Here are some of them; take a look.
Always wear helmets and reflectors before embarking on your ride.
It is best if you wear protective gear to prepare for any incident that might happen while riding.
Watch for traffic lights while riding in towns and streets. It is best to obey traffic laws.
Always ride at a manageable speed to avoid accidents. It is easy to cause accidents while at high speeds.
Ensure that your off-road electric skateboard is well maintained and serviced before going for a ride.
Best Off-Road Electric Skateboards FAQ

s
1.

What Terrains can One Ride an Off-road E Skateboard on?
Well, off-road boards can handle any terrain, including grass, gravel paths, dirty tracks, smooth surfaces, tarmac surfaces, forest trails, etc. They are designed to handle bumpy areas. However, you should confirm with the manufacturer to ensure the boards can be ridden on any terrain, including paved roads. Also, there are 2-in-1 models that require wheels to be changed to suit the terrain you want to ride on.
2.

What can I do to Keep My Off-road Electric Skateboard in Good Shape?
Firstly, a skateboard should be cleaned as dirt and moisture from off-road adventures may build up and mess up the protective surface of your board as well as metallic parts, thereby lowering its durability.
Use a dry cloth to wipe off all the dirt and moisture before storing your board. Also, don't disassemble the board if you are fully aware of how to assemble it back. If wrongly assembled, you can damage some parts. In addition, use the board with caution. Although built for off-road adventures, you don't need to bump it on an obstacle you find on your way. Exercise a little caution to protect your board.
3.

Are All-terrain Electric Skateboards Waterproof?
Most off-road electric skateboards are waterproof, but it does not mean you can submerge them into the water. Their waterproof rating indicates that they are safe on wet surfaces and cannot be damaged or malfunction due to wetness.
4.

Why are All-terrain Skateboards Pricier than Regular Electric Skateboards?
Off-road boards cost more than regular skateboards because they need bigger batteries, powerful motors, and a solid build. The battery is among the most expensive part of the board, and its size determines the range. Also, the fact that they are fitted with protective features to resist different elements on different terrains makes them pricier as well. Overall, the best off-road skateboards are worth their price.
Final Thoughts
Not long ago, electric skateboards were only suited for urban environments, but now, the all-terrain electric skateboards have changed this. You can now ride in the forest, on the beach, on pavements, and more thanks to their powerful motors, long-lasting batteries, and solid build.
Off-road electric skateboards stand out for durability, speed, and range. Make sure that the board you choose suits your needs, as there are all-terrain skateboards for beginners, young riders, and professionals.
We have reviewed the top 8 off-road electric skateboards in the market and also shared more information about these boards to make it easier for you to choose the right one. We do hope that you have found our guide helpful.
Remember- Always have your protective gear on (helmet, reflective jacket, elbow pads, wrist guards, and wrist guards on). Have fun riding!