RV is your temporary house on wheels. And what is one thing that makes a home livable? – a refrigerator. No matter how much we love to camp and spend weeks on the road, it simply can't happen in a fun and convenient way unless we have an RV refrigerator to keep the perishables safe.
RV refrigerator is more than just an appliance that brings convenience; it is an investment that allows everyone to have a chance at an adventure. New campers, people who rely on medication, and those who are scared of their first solo escapade get an opportunity to feel safe and prepared with an RV freezer accompanying them.
The problem is, the market has a lot to offer when it comes to RV refrigerators, and it tends to get overwhelming. That is why we are listing down the six best RV refrigerators and narrowing them down for you to choose from.
Let's dig in:
What To Look for When Buying RV Refrigerators
Purchasing an RV refrigerator is not just a hefty investment but a risky one. You entrust this refrigerator to sustain you during your trip. If you are a particularly adventurous soul, you might find yourself in the middle of nowhere from time to time, and in times like that, you cannot afford to have your RV refrigerator give out on you.
Are you a first-time buyer, or have you been poorly tricked in the past? We wouldn't want a repeat of that experience and hence strongly suggest reading through our guide. Armed with the proper knowledge, you can never go wrong with your purchase.
Let's jump into all the factors you need to look out for before handing over your money. Here you go:
Size and Capacity:
The first factor to pay attention to is the size and capacity of the RV refrigerator. Nothing is more frustrating than running out of space seconds before leaving for a long journey on the road. To make sure you make the right decision, look into your own pattern of traveling and the space in your RV. You need to measure out the available space in your RV before shopping for the refrigerator. Once you know the dimensions, you'd be able to pick the correct size.
As far as capacity goes, find out how many people you usually camp with, do you typically need to pack only your food or others' as well, and what is the longest trip you have ever taken. All these questions will help you figure out which capacity RV refrigerator is suitable for you.
If you end up with a problem and need more capacity but have less space, go for portable RV refrigerators.
Power source:
The RV lifestyle is spreading with time. With the expanding market, the manufacturers have also upped their game. If you begin your RV refrigerator shopping without background knowledge, you might end up with the wrong purchase. It's important to know which power source would be most convenient for you to use. If you have multiple means, you can go for 3-way RV refrigerators that run on AC, DC, and propane power sources.
AC power supply is the electric outlet we have in our homes, DC power supply is via a battery, and then there's propane (LPG). RV Refrigerator units with the latter option are the most efficient and noise-less. Initially, a loud refrigerator might not look like a problem, but they only get noisier on a long journey and while camping under the night sky. On the contrary, they require some effort and time to set up and only be placed on a flat surface. Battery-operated units, on the other end, are much more portable and suitable for camping.
Price:
When going for RV refrigerator shopping, we'd suggest keeping your budget high. The cheapest RV refrigerator might cost a little under $1,000, whereas pricey ones can go as far up as $4,000. As the special features add up in a mini-refrigerator, the price adds up. If you can afford a little luxury, you can look for expensive options. However, there are many budget-friendly RV refrigerators and freezers available that get the basic job done, keeping the food and drinks cold.
It's entirely normal for RV refrigerators to cost more than residential units, keeping in mind that the former is designed with heavy-duty material to stay durable.
Best RV Refrigerator for Sale
We have thoroughly combed through the market to handpick 6 of the best RV refrigerators and freezers for the happy campers. Keeping in mind that different people have different preferences, we have made sure to review top-of-the-line 2-way, 3-way, AC/DC, budget-friendly, and multipurpose RV refrigerators for you.
Our Top Picks:
| Best RV Refrigerators and Freezers | Category |
| --- | --- |
| SMETA 3-Way Refrigerator | Best 3-Way RV Refrigerator |
| Norcold 323TR Refrigerator | Best 2-Way RV Refrigerator |
| CASAWISE Mini Fridge | Best Small AC/DC Refrigerator |
| Alpicool C20 | Best Small Dual Fridge and Freezer |
| VzTrip 53 Quart Portable Car Freezer | Best 12V RV Refrigerator |
| Goture Portable Refrigrator | Best Budget RV Refrigerator |
1. Best 3-Way RV Refrigerator – SMETA 3 Way Fridge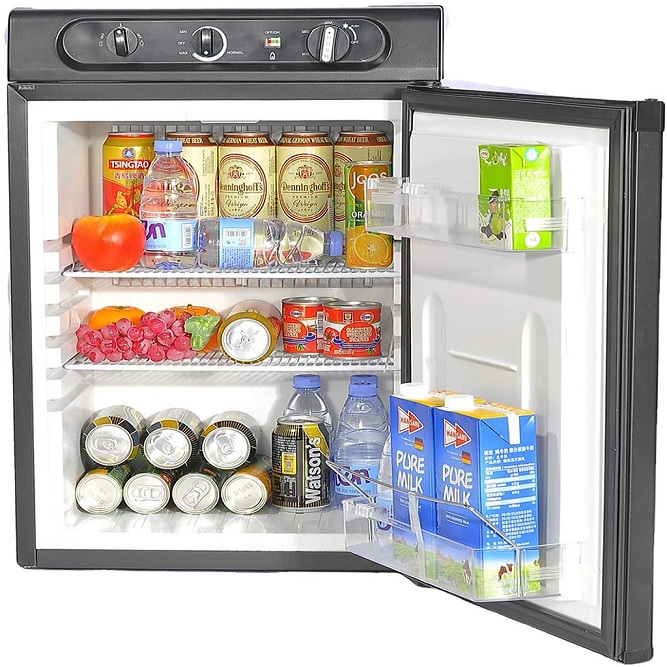 SMETA 3-Way Refrigerator brings a range of features in a compact and elegant design. This RV refrigerator made the top 6 because it's reliable in unpredictable circumstances and highly adaptable. Campers can run this refrigerator on AC 110v, DC 12 V, or propane. Moreover, you can place this RV refrigerator anywhere convenient in your recreational vehicle, and the reversible door hinges will make sure it works. The small design and multiple power sources allow you to move it around from your RV to a cabin or a camp.
If you have specifically hit the road to seek peace, this RV refrigerator is the right fit. It provides quick cooling, fully integrated functions, and yet runs quietly.
Product Specs
Large storage shelves with a total of 60L capacity
110V, 12V, and LPG/propane power sources
Removable shelves
Temperature range: 32°F to 50°F
Advance absorption system
Pros
Eco-friendly
It can be used indoors and outdoors
Spacious compartment with adjustable shelves
Operates on three sources of power
1-Year Warranty
Cons
It doesn't provide a freezer section
2. Best 2-Way RV Refrigerator – Norcold 323TR 1.7 cu. ft. Refrigerator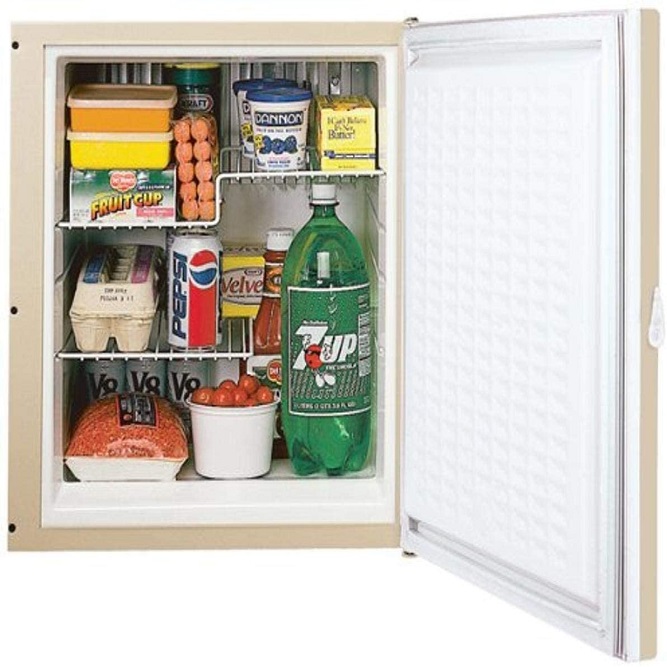 For all the minimalists out there, your search for a suitable RV refrigerator ends with the Norcold 323TR refrigerator. This small yet efficient appliance can be picked and placed on a picnic table, on the floor of the RV, or in your mini-cabin.
Norcold 1.7 cube feet is not just compact and light but also has reversible doors. This means, no matter how small the space is, you can conveniently position and use your RV refrigerator without worrying about the doors hitting the surroundings. Norcold allows the consumers to have options when it comes to a power source and can operate on both DC and LP. s
Product Specs
Removable and adjustable shelves
Tall storage container
Manual controls
Piezo gas ignition
The door opens 180° on its reversible hinges
The capacity of 1.7 cubic feet
Pros
Budget-friendly
High portability
Two-way power source
Lightweight
Suitable for indoors and outdoors
Cons
Low storage space
Manual controls
3. Best Small AC/DC Refrigerator – CASAWISE Mini Fridge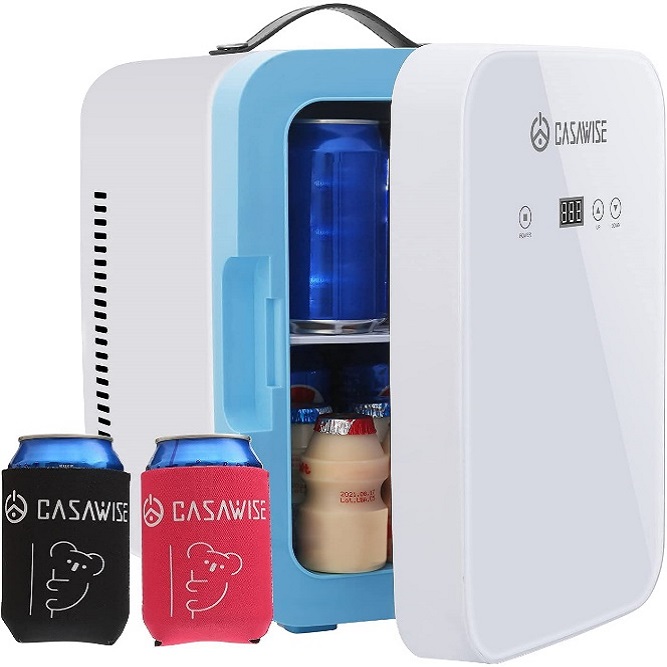 CASAWISE Mini Fridge is gaining attention in the market with its cutting-edge technology and eco-friendly design. This portable fridge is engineered to be energy-efficient while keeping the perishables warm or cool.
The attractive mini RV refrigerator can be operated via a standard wall socket or using the vehicle cigarette lighter, both AC and DC. This mini-fridge is just the convenient size and lightweight enough to be your constant companion on the road. The temperature displays on its sleek white doors combined with the touch buttons; make the unit aesthetically pleasing.
Product Specs
The RV refrigerator warms up food to up to 150°F
Contains standard wall socket
8-liter capacity
A cooling fan at the back to prevent overheating
Pros
Suitable for indoors and outdoors
Lightweight and compact
Two shelves
Light display
12-months warranty
It can be used to keep the food warm
Cons
It can only be used to keep the food cool or warm
4. Best Small Dual Fridge and Freezer – Alpicool C20 Portable RV Refrigerator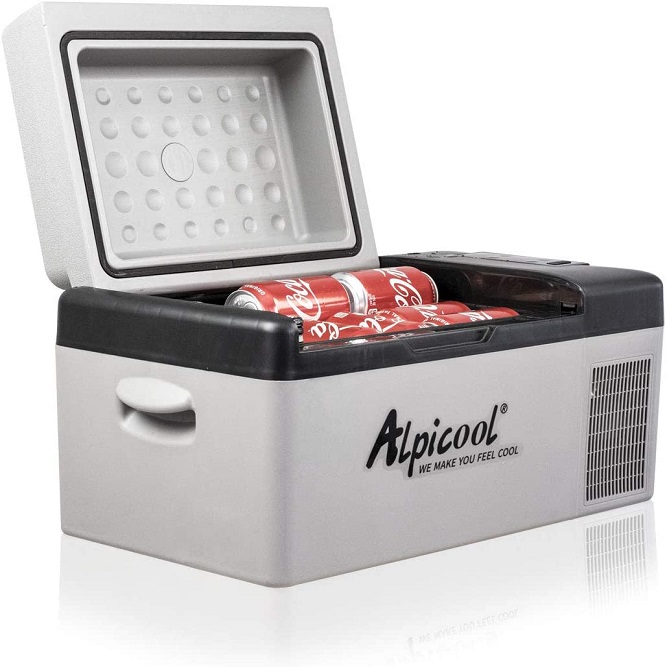 Alpicool C20 portable RV refrigerator and freezer can hold up to 25 cans of soda and still have some room to spare. This multifunctional unit is a compact and lightweight and top choice for people committed to months of life on the road, camping, and general adventures in nature.
This heavy-duty unit is made of wear-resistant material and is perfect for a little rough ride. The temperature goes up as far as -4°F and gives you ice-cold beverages without any ice. With its noise-less operation, this unit is a perfect travel companion for long road trips.
Product Specs
20-liters storage space
Deep chilling mode at -4°F
Weighs 19.8 pounds
Gray color
Eco mode available
Offers low, medium, and high settings for battery protection
Pros
It can be operated as a RV refrigerator or a freezer
Outer body constructed of durable plastic
Chills up extremely fast
It can be carried during a short hike
Battery protection feature
12-months warranty
Cons
Inaccurate temperature display
5. Best 12V RV Refrigerator – VzTrip 53 Quart Portable Car Freezer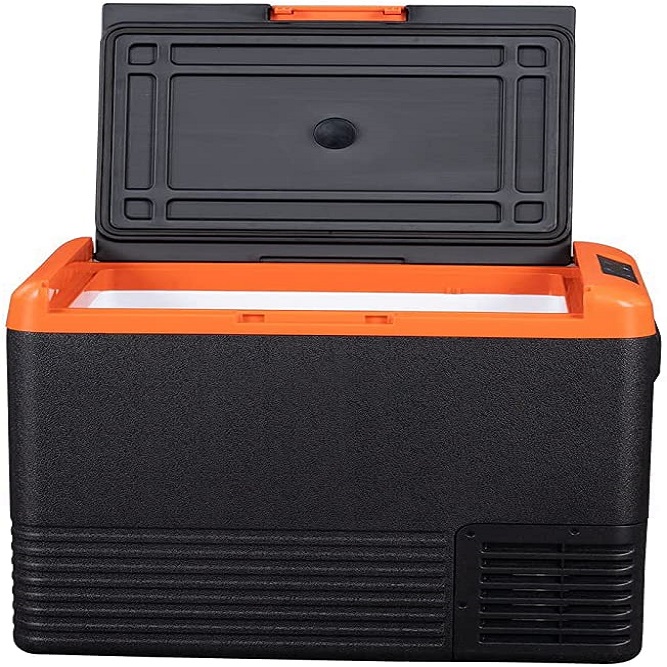 VzTrip 53 Quart Portable Car Freezer is the perfect fit for those with a big family of campers. VzTrip can be used as a RV refrigerator or a freezer and provides a reliable solution when you have a large group to cater to or stay on the road for an extended period.
Campers and big-time fishing enthusiasts can trust this unit to freeze their catch long enough to take it back home. The enormous storage container allows you to pack all the food for the long journey and save tons of money on truck stops.
Product Specs
Dimensions 22.6″x14.4″x19.3"
53 Quart (50 liters) capacity
Both AC and DC power cords
Provides battery protection with low, medium, and high operating options
Detachable and reversible lid
A wide range of cooling modes, including max mode and eco mode
Energy-saving option with eco mode
LCD
Touch control for temperature adjustment
Pros
Spacious storage
Suitable for all vehicles including RV, SUV, van, and truck
Energy efficient
Ease of usage with removable and reversible lid
Two handles make it easier to carry by two people
Multipurpose usage as a RV refrigerator or a freezer
Cons
Heavyweight and requires more than one person to carry
6. Best Budget RV Refrigerator – Goture Portable Refrigerator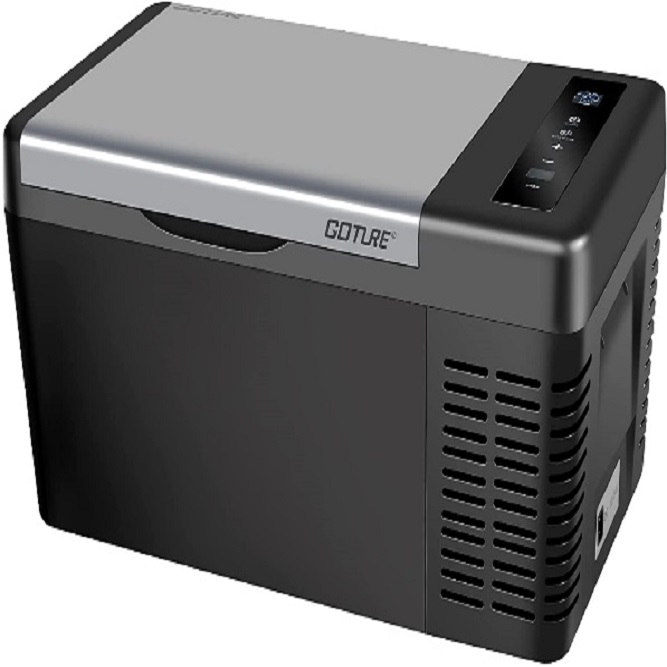 Goture Portable Refrigerator is easily the best one in the market and one you can never go wrong with. The high-end RV refrigerator is designed with an aluminum sheet on the insides to preserve the food's taste, prevent odor, and provide quick cooling action. Rapid cooling also makes the unit energy efficient. You can turn on the unit and get 32°F in 15 minutes and -7.6°F in under 40 minutes.
Additionally, the unit comes with a USB port so that you can charge your phone and eat fresh food during your trips. With its ease of usage and convenience, this RV refrigerator/freezer becomes a permanent part of your vehicle, making even vegetable shopping in the summer an easy breezy task.
Product Specs
Fitted with a German compressor for quick cooling
1060 aluminum internal material
Three levels of battery protection
20 quarts capacity
LCD touch display
USB port
Pros
2-years warranty
Fast cooling
Portable and easy to carry with two handles
Easy to operate with touch controls
Cons
It does not provide an AC power adapter
Bottom Line
The RV refrigerator market has a variety of options for buyers. You'd know you made the right choice when the unit meets all your expectations and stays reliable and durable during your great road adventures. If you are looking for versatility, we suggest going for a 3-way RV refrigerator. If you frequently switch between a fridge and a freezer, make sure your purchase gives you that option. Whatever you choose, make sure you find out what you need first before picking any of our top picks.